In the exciting world of DJing, finding the best DJ controllers for beginners can feel like hunting for a needle in a haystack. I remember my journey when I first started – the seemingly endless sea of options was both thrilling and intimidating. Over time, with a DJ controller becoming an extension of my musical self, I learned what truly matters in this crucial piece of equipment.
Fast forward to today, I've used my accumulated wisdom to navigate the market and handpick the top options tailored for newbies. This journey involved testing a diverse range of consoles, each with its unique character and capabilities.
In this guide, I'll be your DJing mentor, highlighting key considerations for your first controller purchase and presenting my top choices for beginners. Whether you're a fledgling DJ or a music lover eager to dive into the mixing and producing realm, this article is your roadmap, guiding you to the ideal beginner DJ controller for your needs.
Our pick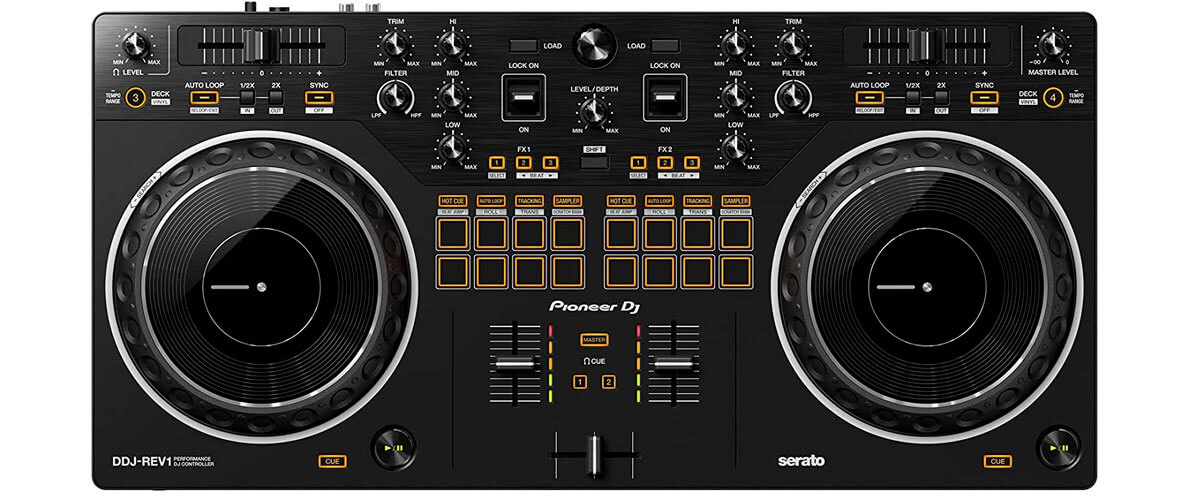 Pioneer DJ DDJ-REV1
Best DJ controller for beginners
The DDJ-REV1 matches perfectly with the free Serato DJ Lite software, boasting a brand-new battle-style layout that's easy to use and perfect for playing like a pro.
Read the full review
.
DJ controller for beginners comparison table
Name
Audio
Inputs
Outputs
USB
Review
Pioneer DJ DDJ-REV1

best overall

24-bit, 48kHz
1 microphone 1/4(6.35mm) TS
1 RCA stereo pair, 1 headphone 1/8(3.5mm) TRS
yes
Review
Native Instruments Traktor Kontrol S2 Mk3

also great

24-bit, 44.1/48kHz
1 microphone 1/4(6.35mm) TRS
2 RCA stereo pair, 1 headphone 1/8(3.5mm) TRS
yes
Review
Pioneer DJ DDJ-200

budget

N/A
N/A
2 RCA stereo pair
yes
Review
What to look for in a beginner DJ controller?
In this section, we will delve into the integral elements that make up an effective beginner's DJ setup and discuss key features to consider when buying your first DJ controller.
Build quality
When starting your DJ journey, build quality is an essential aspect to consider in your first console. A sturdy build ensures that your device can weather the storms of intense jamming sessions and live gigs. Reliable faders are a must, offering a smooth glide that maintains its responsiveness over time. High-quality knobs lend precision to your adjustments, perfectly balancing resistance and ease of use. Buttons, too, play a significant role – they should be robust, capable of withstanding prolonged use without losing their tactile feedback. Don't skimp on build quality, it's the foundation of your DJ setup, serving you faithfully as you hone your skills.
Included software
The included software acts as your primary audio interface, affecting how you mix, scratch, and control your beats. Some controllers come bundled with 'Lite' versions of popular software like Serato DJ or Rekordbox DJ. These offerings can be a cost-effective starting point for beginners, giving you hands-on experience with industry-standard software without the hefty price tag. Remember, the right software can make all the difference in the quality of your tracks.
Jog wheel responsiveness
A jog wheel is arguably the heart of a DJ controller. This key component plays an integral role in your mixing and scratching endeavors – it's where your hands engage directly with the music, guiding and manipulating it.
Jog wheels come in different sizes, and the right one for you is largely a matter of personal preference. Larger wheels offer more precision, allowing for detailed manipulation of your tracks. On the other hand, smaller ones make your controller more portable but might compromise some level of control.
A well-built jog wheel will feel responsive under your fingers, reacting instantaneously to your movements. It's like having a conversation with the music – there's no room for lag or delay. An underperforming wheel can throw your mix off-beat and hinder your creative flow.
In essence, when assessing your controller, give the jog wheel the attention it deserves. Test its responsiveness, get a feel for its size, and ensure it resonates with your DJing style.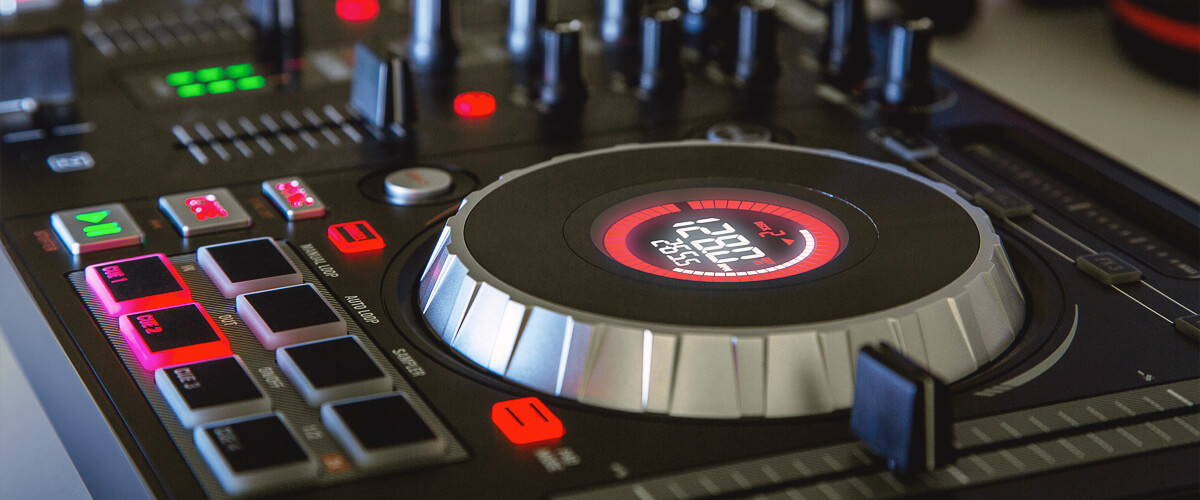 I/O options
Next on our checklist is the Inputs/Outputs, fondly known as the I/O options. The I/O configuration on your DJ console determines how you connect with the rest of your setup and audience. A headphone output is a must, allowing you to preview and cue tracks before they hit the main mix. Microphone inputs add versatility, enabling live voiceovers and MCing during sets.
As for audio outputs, variety is key. RCA connectors are standard, delivering audio to your speakers or amplifier. However, having options like XLR or 1/4 inch TRS outputs opens up professional-grade connections, offering superior sound quality and longer cable runs.
Your controller is the central hub of your DJ setup, so ensure it has the I/O options to accommodate your needs, both now and as you grow.
Mix control features
When it comes to starter DJ equipment, the adage 'less is more' doesn't necessarily apply. Yes, simplicity is valuable, but having access to essential mix control features can significantly elevate your DJing skills.
Let's start with EQ knobs. These are your tone shapers which allow you to fine-tune your tracks' low, mid, and high frequencies, thereby creating smooth transitions and maintaining a balanced sonic landscape.
Volume faders are equally critical. These linear potentiometers regulate the loudness of your tracks, letting you elegantly blend songs together or seamlessly switch from one track to another.
Next are pitch sliders, which control your track's playback speed and are vital for beatmatching – a fundamental DJing technique.
Lastly, we have cue buttons. They set markers in your tracks, letting you instantly return to a specific point – a perfect tool for rehearsing transitions or repeating catchy loops.
In summary, while your first console doesn't need to be a spaceship console, it should definitely possess these essential features. They provide you with the creative control required to craft a memorable set.
Ease of use
For beginners, the ease of use of a DJ controller is paramount. Good devices strike a delicate balance – they offer essential features without overwhelming a DJ with an overly complex interface. Ergonomic designs and intuitive layouts can smooth the learning process, allowing you to focus more on your creativity and less on deciphering controls. Remember, a well-designed device shouldn't stand between you and your music, it must serve as a comfortable tool to express your musical ideas.
Best DJ controller for beginners reviews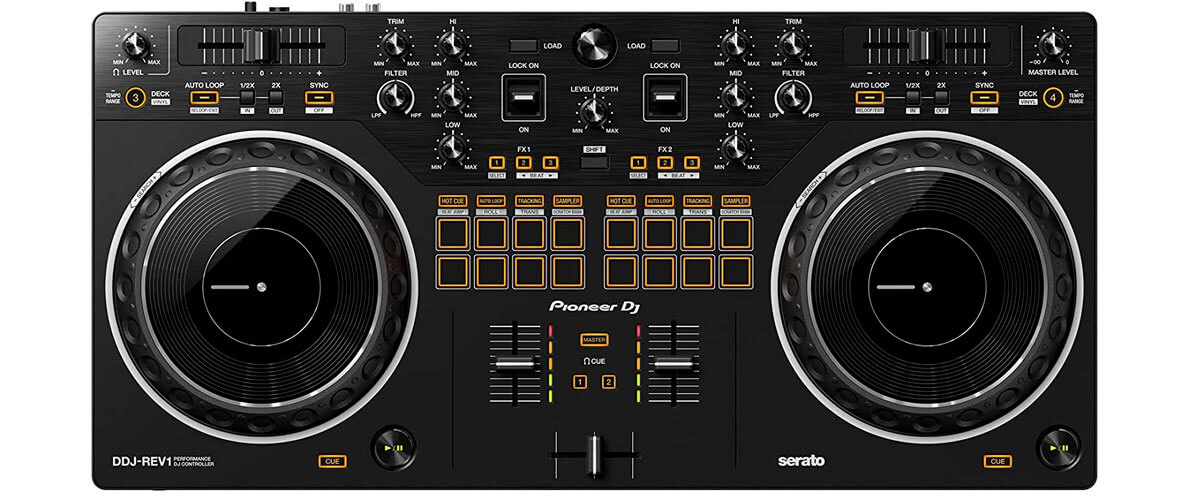 After spending ample time with the Pioneer DJ DDJ-REV1, I can confidently say it's an impressive piece of hardware that strongly appeals to those who want a truly authentic DJing experience.
The first thing you notice is how this emulates a professional DJM-S mixer and PLX turntable setup. With the horizontal tempo sliders that mirror PLX tables, you'll enjoy a level of control rarely seen in entry-level consoles. For example, when working on a complex mix that needs delicate tempo adjustments, these 60mm sliders offer a nuanced precision that is nothing short of a game-changer.
The design of the DDJ-REV1 is thoughtfully laid out, with plenty of room for mixing and scratching techniques. The performance pads have been moved to the mixer section, allowing more intuitive control when triggering effects and samples. The larger jog wheels are great for scratching, offering a tangible feel that mirrors higher-end models in the Pioneer range.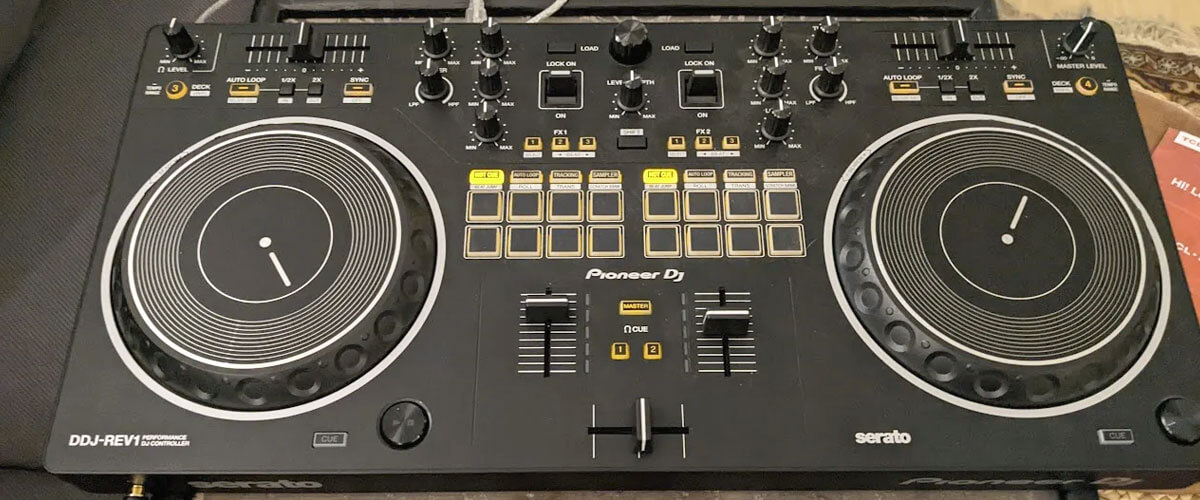 When put head-to-head with the Native Instruments Traktor Kontrol S2 Mk3, the DDJ-REV1 stands out with its professional-grade emulation and superior control features. However, the S2 Mk3 isn't left behind, offering a simplified club-standard layout and key Traktor specs that make it an equally robust pick for DJs aiming for straightforward simplicity.
So, why is the DDJ-REV my top pick? It's the blend of novice-friendly elements and pro-level emulation that takes the cake. It serves as an ideal platform for those with high DJ ambitions or those planning to level up.
In conclusion, Pioneer DJ DDJ-REV1 sets the bar high in the realm of beginner DJ gear. With an incredible amount of features, subtle customization options, yet simple and easy-to-use operation, it rightfully earned the title of the best DJ controller for beginners. More advanced musicians will also appreciate this model. DDJ-REV1 can be compared to the famous Genie. It can fulfill your every wish!
Key specs
Audio: 24-bit, 48kHz.
Inputs: 1 microphone 1/4(6.35mm) TS.
Outputs: 1 RCA stereo pair, 1 headphone 1/8(3.5mm) TRS.
USB: yes.
Weight, lbs/kg: 4/2.1.
Mac system requirements: Mac OS X 10.12 Sierra, Mac OS X 10.13 High Sierra, Intel® Core i3/1.07 GHz, RAM 4GB.
PC system requirements: Windows 7 SP1, Intel® Core i3/1.07 GHz, RAM 4GB.
Pros
Durable construction.
Well-equipped with features.
Versatile – suitable for home use, gigs, and house parties.
Works with the Rekordbox software, which enables DJs to deeply customize the controller and manage their music library with ease.
A great choice for getting used to different DJing setups, particularly for those who plan to move to a battle-style configuration.
Cons
Might be overkill for absolute beginners.
Users who prefer club-style CDJ setup might not find this console suitable for their needs.
Native Instruments Traktor Kontrol S2 Mk3 – also great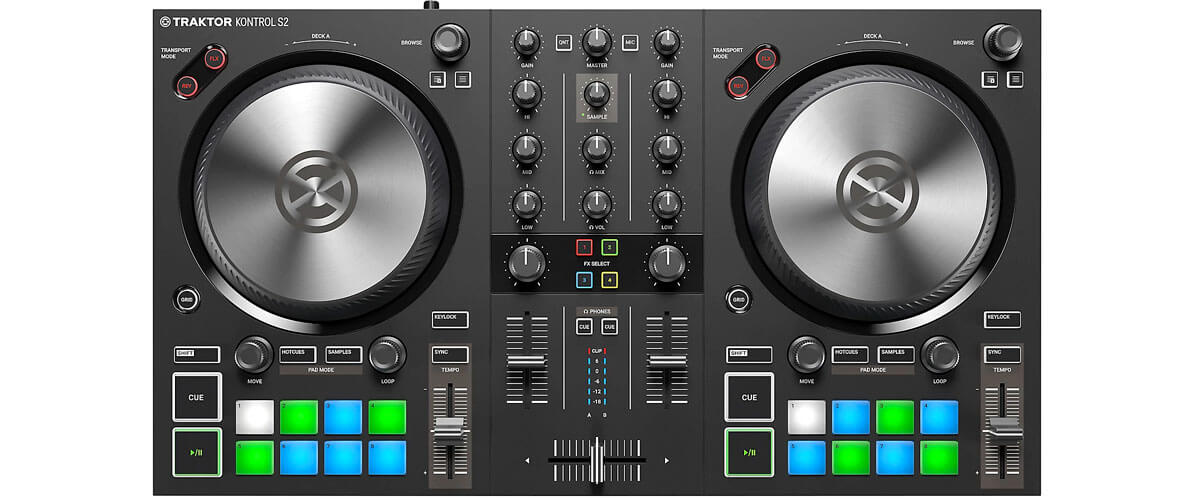 As you've already realized, in the world of DJing, having a controller that matches your style and skill level is crucial. After testing the Native Instruments Traktor Kontrol S2 Mk3, I'm convinced it's a highly reliable tool that shines with its simplicity and practicality, especially for beginners.
The S2 Mk3 stands out with its club-standard layout and the incorporation of key Traktor features. The machine's design is streamlined and familiar, which makes it feel like you're in a club setting right from your bedroom or garage. The jog mode offers a classic spin-to-nudge function, so, for instance, if you're spinning a house set and need to align the beats perfectly, the nudge feature lets you do this with remarkable precision.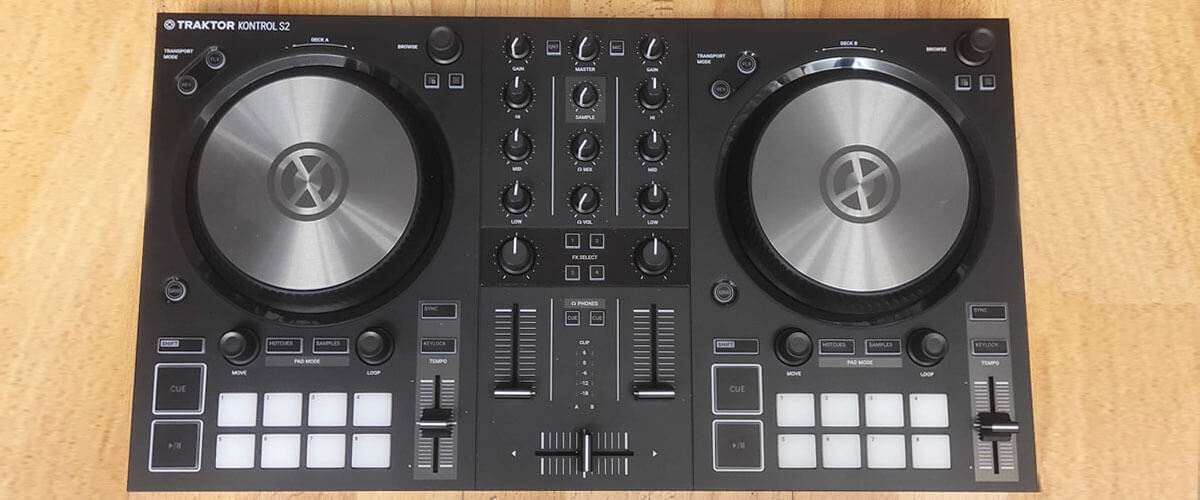 The addition of 16 RGB pads adds a layer of versatility. They can be used to trigger hot cues, loops, or samples, which opens up a world of creativity for building a unique sound. Additionally, the 3-band EQs, modeled after industry-standard mixer EQs, give you a broad spectrum of sound manipulation. These can transform a DJ's experience by allowing them to experiment with different sound textures and transitions seamlessly.
Where the Traktor Kontrol S2 Mk3 truly excels compared to my top pick, Pioneer DJ DDJ-REV1, is in its user-friendly nature. While the DDJ-REV1 is admirable for its pro-level emulation, the S2 Mk3 brings a sense of familiarity and ease of use that can be more appealing to DJs at the start of their journey.
To wrap things up, Native Instruments Traktor Kontrol S2 Mk3 firmly carves its place in the world of DJ controllers. Its intuitive design, practical features, and seamless TRAKTOR integration make it a strong contender for the "best beginner DJ controller" crown. A perfect harmony of simplicity and flexibility, it is indeed the right springboard for your DJing!
Key specs
Audio: 24-bit, 44.1/48kHz.
Inputs: 1 microphone 1/4(6.35mm) TRS.
Outputs: 2 RCA stereo pair, 1 headphone 1/8(3.5mm) TRS.
USB: yes.
Weight, lbs/kg: 4/2.1.
Mac system requirements: macOS 11, 12, 13 (latest update), iTunes 12 (latest update), Intel Core i5 or Apple M1/M2, 4GB RAM, HDD 1GB.
PC system requirements: Windows 10, 11 (latest service pack), Intel Core i5 or equivalent CPU, 4GB RAM, HDD 1GB.
Pros
Excellent build quality.
Lightweight and portable.
Easy setup process.
Nice, large jog wheels.
Comes with Traktor Pro 3 software – no need to purchase the software separately, adding to the overall value.
Cons
May not offer as fine control over tempo as the Pioneer DJ DDJ-REV1.
Less suitable for those who prefer Serato DJ Lite.
Pioneer DJ DDJ-200 – budget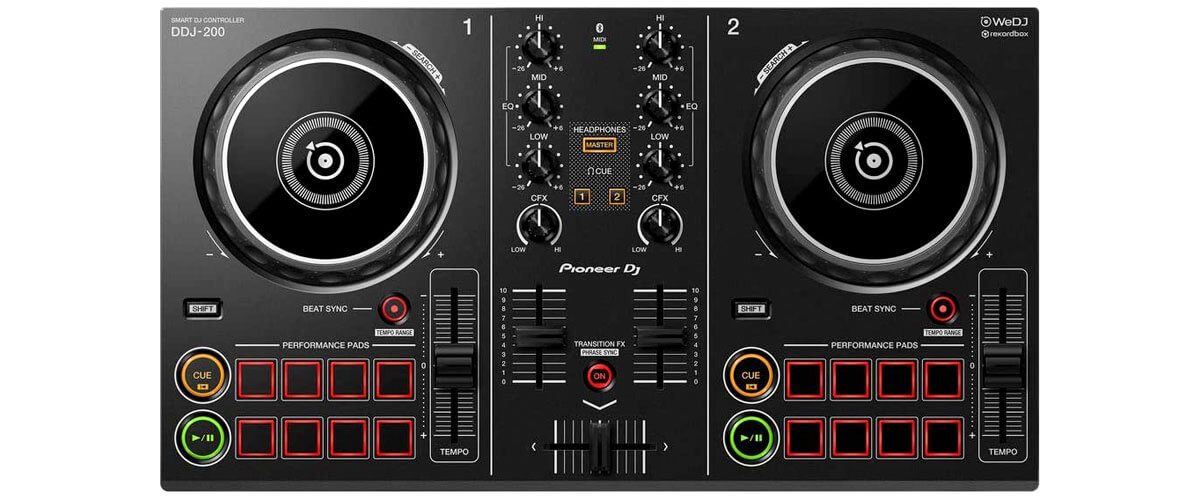 The Pioneer DJ DDJ-200 is a game-changer in the world of beginner-friendly DJ consoles, offering unparalleled features at an unbeatable price point.
So, let's dive into what makes the DDJ-200 one of the best entry-level DJ controllers on the market. For starters, Pioneer DJ, the masterminds behind the device, has teamed up with DJ HAPA of The DJ Coach to provide an invaluable, free WeDJ tutorial course. This course is a goldmine for novice DJs, teaching them to use the controller and introducing them to key DJ terms and basics. Think of it as DJing 101.
The DDJ-200 shines in the area of music streaming compatibility. Depending on your device and app pairing, you can stream and mix from various platforms, including Beatport LINK, SoundCloud Go+, Deezer, and even Spotify. The convenience here is fantastic, making your music library virtually limitless.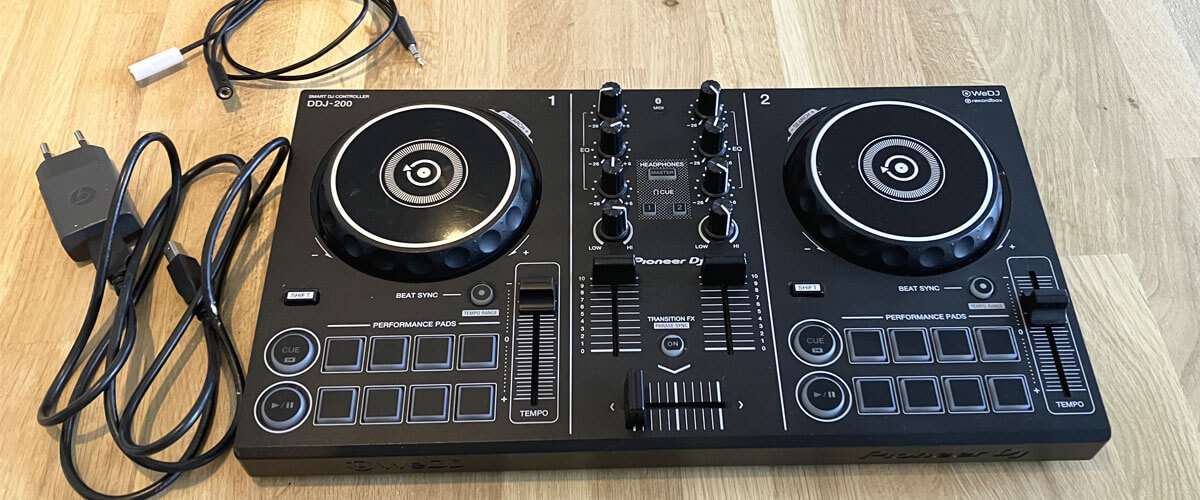 A real highlight of the DDJ-200 is the Transition FX feature. With 11 effect styles, you can slide the crossfader from one side to the other, creating professional-sounding track transitions. This feature makes the intimidating task of blending songs a breeze for newcomers.
But that's not all. The DDJ-200 is incredibly lightweight and portable, allowing you to ditch the bulky speakers. With options to power the console via an external battery, and the ability to play sound from your smartphone, tablet, or PC/Mac, you'll be spinning tracks wherever you go.
On top of all that, Pioneer offers free use of normally paid features in the WeDJ app for iPhone, enhancing the value proposition even further.
In conclusion, the Pioneer DJ DDJ-200 is an unmatched gateway into the world of DJing. Its robust tutorial offerings, wide-ranging music streaming compatibility, intuitive Transition FX feature, and portable design make it the perfect stepping stone for aspiring DJs on a budget.
Key specs
Audio: N/A.
Inputs: N/A.
Outputs: 2 RCA stereo pair.
USB: yes.
Weight, lbs/kg: 2.6/1.2.
Mac system requirements: Mac OS X 10.12 Sierra, Mac OS X 10.13 High Sierra, Intel® Core i3/1.07 GHz, RAM 4GB.
PC system requirements: Windows 7 SP1, Intel® Core i3/1.07 GHz, RAM 4GB.
Pros
Compact and portable.
Works seamlessly with the iPhone DJ app WeDJ and Rekordbox, with easy plug and play on PC.
The performance pads and platters feel good and easy-to-use.
Very responsive and has no lag over Bluetooth.
Comes with all the necessary software for a beginner DJ.
Cons
Lacks load control and loop controls, which some DJs find limiting.
Some features may not work properly if a sufficient battery does not power the controller.
Adaptors may be needed for devices with certain ports, like the iPhone's lightning port.
Roland DJ-202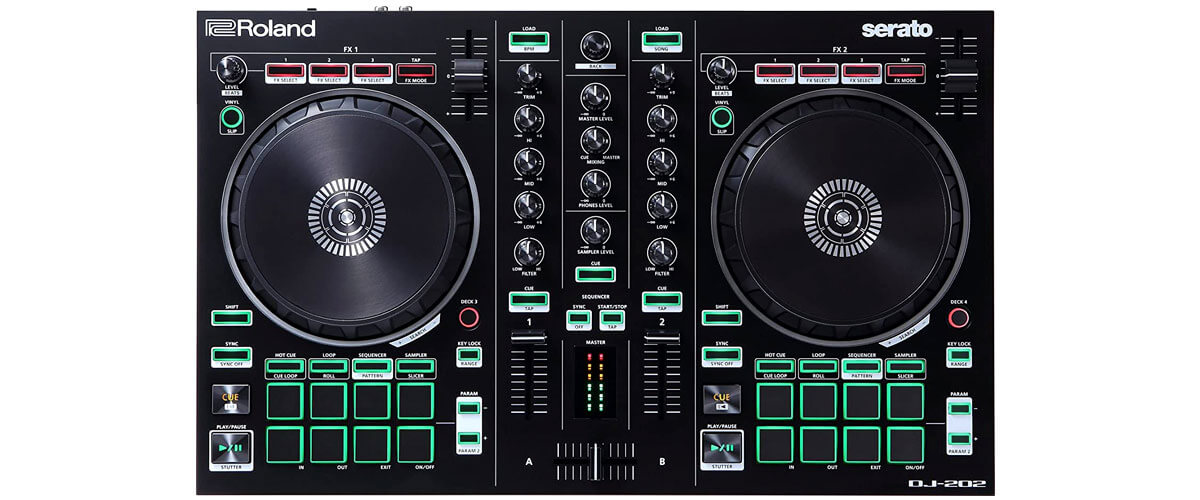 If you are ready to explore the vibrant world of DJing, the Roland DJ-202 might be just the right starter DJ controller you've been searching for. As a two-channel, four-deck device equipped with Serato DJ Lite, this compact powerhouse provides an array of features designed to enhance your mixing skills.
The low latency, large platters are optimized for scratching, giving an immediate, tactile response to your actions. Just picture it: you're at a house party, and with a swift flick of your wrist on these ultra-responsive platters, you execute a perfect scratch that sends the room into an uproar. And to up the game, it even comes with a free Serato DJ Pro upgrade for US customers. If you're based elsewhere, don't fret, you can always purchase the upgrade as your skills progress.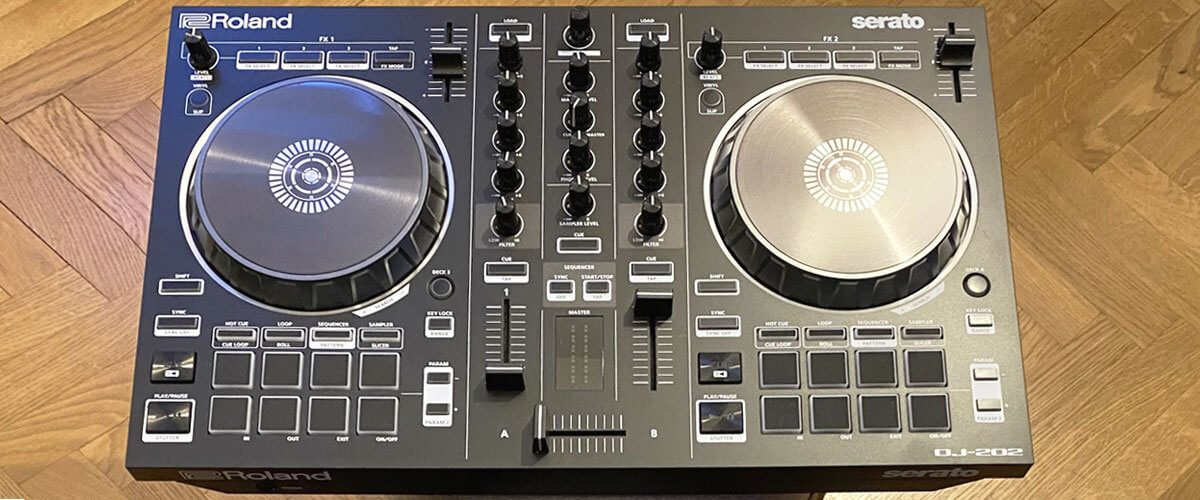 What really sets the DJ-202 apart is the built-in drum kits from Roland's legendary patterns, giving you the tools to create beats that resonate. Got a groovy rhythm playing in your head? With the onboard sequencer, you can bring that beat to life.
One potential downside is the controller's compact size, which might feel limiting. But hey, it makes it portable, ideal for taking your beats on the road. And with MIDI output and USB power, you can easily set up wherever inspiration strikes.
Roland DJ-202 is an optimal platform for your journey into DJing. Its variety of features wrapped up in a compact, easy-to-carry package, and most importantly, ease of use, makes it a worthy companion for the emerging DJ.
Key specs
Audio: 24-bit, 48 kHz.
Inputs: 1 microphone 1/4(6.35mm) TS.
Outputs: 1 RCA stereo pair, 1 headphone 1/4(6.35mm) TRS, MIDI.
USB: yes.
Weight, lbs/kg: 4/2.1.
Mac system requirements: macOS 10.12, OS X 10.10, Intel® Core i3/1.07 GHz, RAM 4GB, HDD 5GB.
PC system requirements: Windows 7 SP1, Intel® Core i3/1.07 GHz, RAM 4GB, HDD 5GB.
Pros
Sturdy and well-made.
Highly-portable – beneficial for those who perform at various locations.
Versatile – can perform multiple functions, making it useful for a variety of roles.
The platters and buttons have intentional resistance to prevent accidental touches.
The jog wheel has a weighted feel.
Cons
Does not have a booth output.
Might have a steeper learning curve.
Numark Mixtrack Platinum FX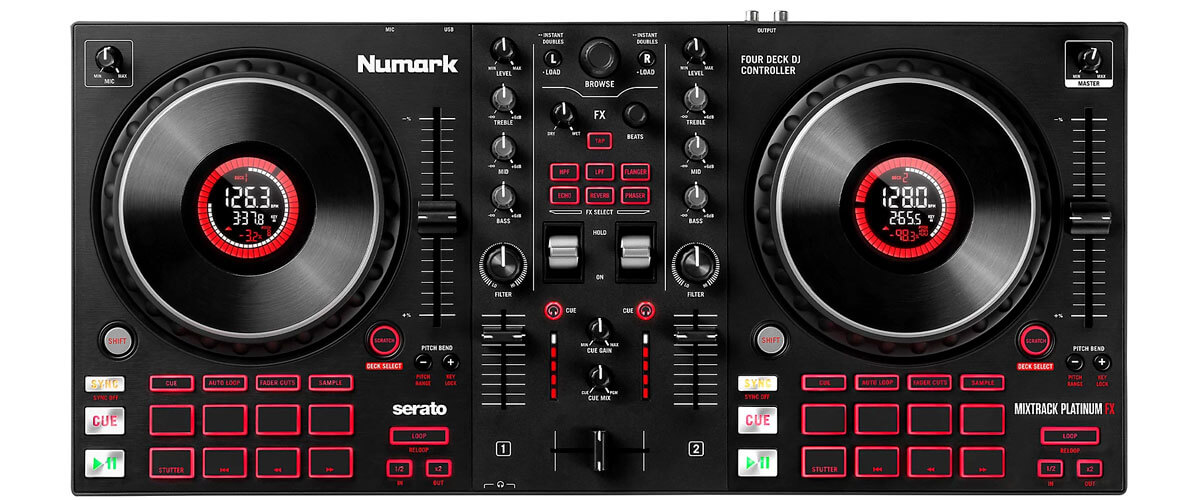 Numark Mixtrack Platinum FX is a versatile DJ set for beginners that offers an intuitive interface and quite a wide range of features. This brand may not be as well known to beginners as Pioneer or Roland, but believe me, it is also a worthy option.
The first thing that catches your eye is the large 6-inch capacitive-touch jog wheels. Not only do they offer a tactile response, but they also sport high-resolution color displays. Imagine seamlessly mixing a track while the screen flashes the beats per minute, helping you match the tempo perfectly to ignite the dance floor.
Unleash your creativity with the controller's six quick-launch FX and dedicated instant loop controls. At your next social gathering, you could be laying down a rhythm, suddenly engaging a mesmerizing echo or reverb, instantly transforming the room's atmosphere.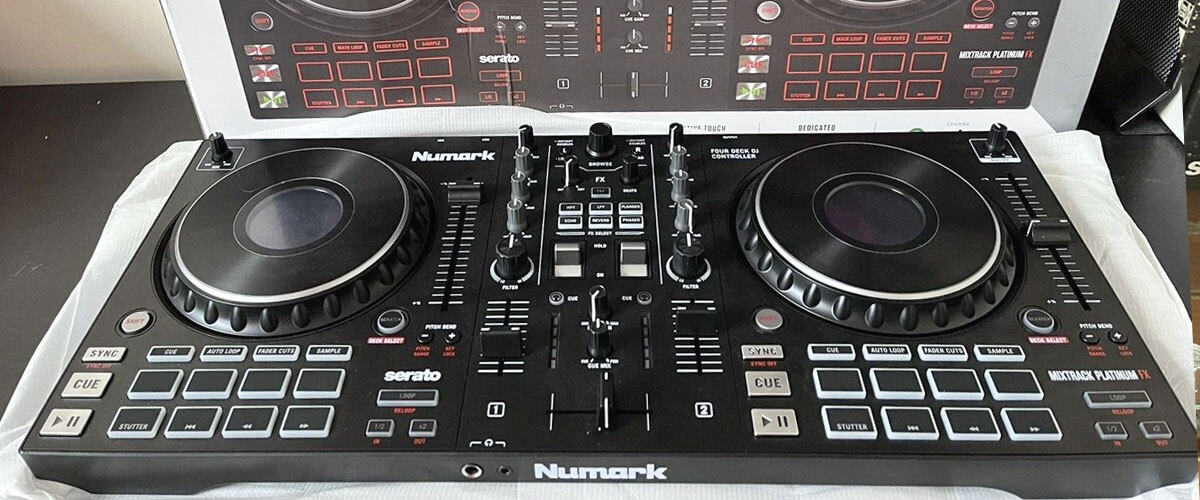 A possible caveat for newcomers could be the array of features that may initially seem daunting. But on the other hand, every knob, button, and fader is your playground – explore them at your own pace, and you'll soon turn these controls into tools for your unique mixes.
Stream directly in Serato DJ Lite and discover a treasure trove of fresh tracks. You'll need a stable internet connection, but with offline preparation, your set will be ready to roll in any situation.
The Numark Mixtrack Platinum FX is your ticket to a captivating DJing journey. Packed with engaging features and a hands-on approach to mixing, it's ready to turn your creative sparks into a full-blown sonic spectacle.
Key specs
Audio: 24-bit, 44.1kHz.
Inputs: 1 microphone 1/4(6.35mm) TS.
Outputs: 1 RCA stereo pair, 1 headphone 1/4(6.35mm) TRS, 1 headphone 1/8(3.5mm) TRS.
USB: yes.
Weight, lbs/kg: 5/2.
Mac system requirements: macOS Catalina 10.15, Mojave 10.14, High Sierra 10.13.
PC system requirements: Windows 10, 64-bit only.
Pros
Packed with features.
Lightweight and small – easy to transport and store.
Easy to learn and use.
Responsive controls.
Versatile software compatibility.
Cons
The crossfader feels cheap.
Only RCA outputs.
Determining your needs as a beginner DJ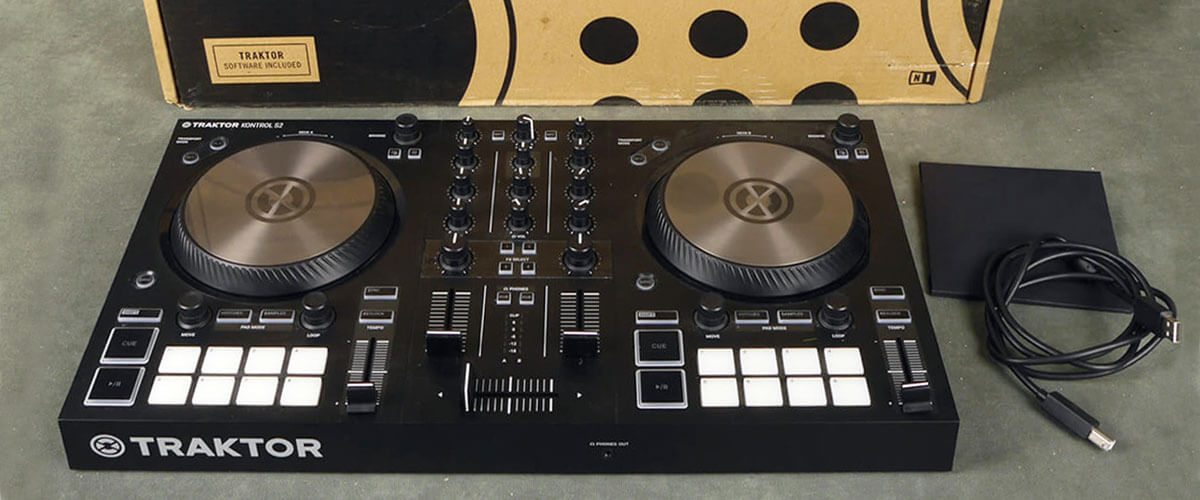 In this section, we'll discuss how to identify your unique needs as a beginner DJ, guiding you through budget considerations, size and portability preferences, software compatibility, and musical goals.
Identifying your budget
Most likely, your budget is a key determinant in choosing your first DJ controller. The price range for beginner-friendly controllers typically spans from $100 to $500. At the more affordable end, around $100, you'll find entry-level models that offer the basic essentials – perfect for learning the ropes.
As you climb the price ladder, you start seeing controllers that offer more than just the basics. These may include larger jog wheels, more input/output options, additional EQ knobs, and, sometimes, a more sophisticated software bundle.
Towards the top end, at around $500, you can expect higher build quality and advanced features – more detailed sound control, better jog wheel responsiveness, and even expanded software capabilities.
While determining your budget, consider your needs and growth as a DJ. A higher upfront investment could mean a longer-lasting controller that grows with you as you refine your skills.
Deciding on size and portability
The size and portability of your DJ controller should align with your intended use. If you're a budding DJ with plans to play gigs at various venues or limited home space, a compact and portable controller can be your best ally. It's easier to transport and requires less room to set up.
On the flip side, if you're setting up a dedicated home studio, a larger controller could be more fitting. These models often offer more comprehensive controls, enhancing your mixing capabilities. Consider your lifestyle, space constraints, and performance needs to make the right choice.
Considering the compatibility with DJ software
When selecting your first controller, compatibility with DJ software is a critical aspect to consider. Popular software like Serato, Rekordbox, and Traktor offer a range of features, each with its unique workflow and interface. The controller you choose should ideally be designed to work seamlessly with the software you're keen on mastering.
Some controllers are even tailored to specific software, providing an integrated experience that maximizes functionality and ease of use. Additionally, many controllers come bundled with 'Lite' or introductory versions of these software platforms, which can be a cost-effective way for beginners to gain hands-on experience without making a separate purchase. Ensure to research software compatibility to make an informed decision that supports your learning journey.
Your musical goals
Finally, consider your musical goals. The type of music you intend to spin, or your desired mixing style can influence the choice of your controller. For instance, if scratching is your jam, you'd want a controller with responsive and durable jog wheels. If electronic music piques your interest, a controller offering robust sample and loop control features would be more suitable. Remember that your DJ controller should not only match your current style but also support your aspirations, giving you room to grow and experiment.