A turntable is an old-school way of playing music, but nowadays the love for vinyl is making a major comeback. Typically, turntables aren't cheap models produced in bulk, but lucky for audiophiles, today's market offers quality record players for a reasonable price!
So, if you are looking for a great vinyl player under 300, you've come to the right place! We'll take a deep dive into models that I carefully selected and tested before writing this post. Expect in-depth reviews of each record player! I'll also share some insight on how to choose the best turntables under $300. Interested? Then let's get started!
What did I pay attention to when picking turntables under $300?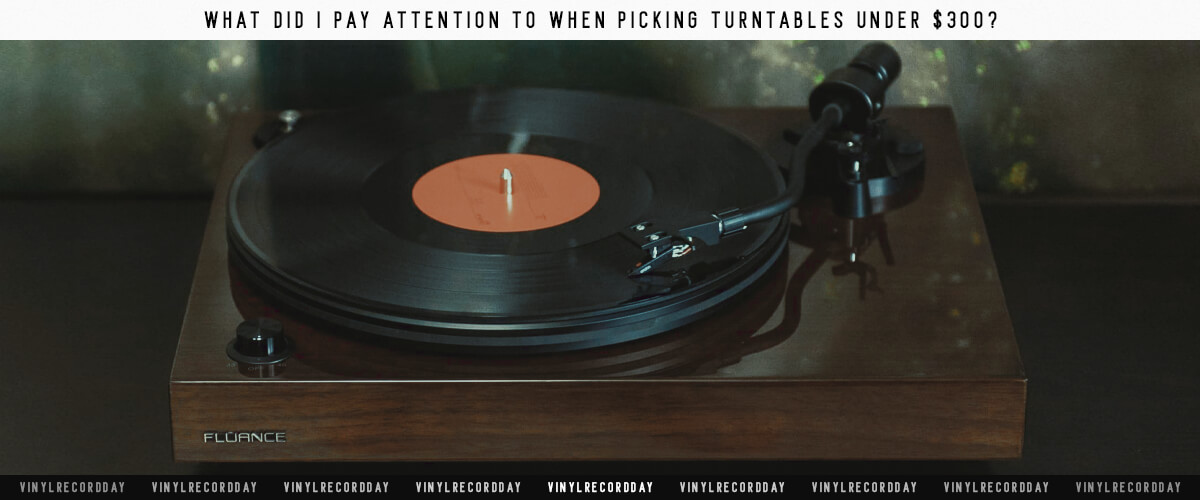 There are a number of factors that you should take into account when shopping for a turntable. This way, you'll ensure you get a high-quality product that meets all your needs.
When I tested record players for this review, I paid special attention to the following features and specs:
Plinth and platter material
Different plinth and platter materials can drastically affect the quality of the sound! But, remember, good solid engineering perfectly reduces and controls vibrations.
The best record players under $300 usually feature strong and dense aluminum plinths and weighted platters that help to produce resonate-free sound. In fact, the right platter and plinth design can even negate the need for a platter mat.
Well-designed tonearm
A tonearm is responsible for half of the sound quality you get when listening to records. A good tonearm must be made of materials that don't resonate, it also should feature an adjustable counterweight so that the weight of the cartridge and tonearm doesn't rest on the record. With a cheap plastic tonearm, your records may begin to sound deteriorated after just 10 plays.
Almost all turntables I'm reviewing here have aluminum tonearms – they effectively reduce vibrations and are lightweight enough to protect the needle and vinyl.
Phono cartridge
A phono cartridge is a crucial element responsible for converting vibrations into electrical impulses that can be amplified to produce music. Therefore, the quality of the cartridge significantly impacts the quality of the sound.
Cheaper turntables have non-removable cartridges, which make it difficult to replace them. Premium models boast removable cartridges so that users can choose any cartridge depending on their taste and budget.
Phono preamp
A phono preamplifier increases the turntable's small output to the level that a typical stereo amplifier can perform with. Although this is an important element of every vinyl player, some high-end models come without a built-in preamp. A phono-less turntable allows you to choose the right preamp yourself and improve the quality of the entire audio system. Personally, I use Rega – Fono Mini A2D preamp, it's a fine partner for turntables and helps them produce a great sound quality.
How I tested record players under $300
Being an audiophile, I seriously take the sound quality! I enjoy the "old school" format for a few years now and have used tens of different turntables. Honestly, vinyl is unbeatable for me! It provides a more natural feel and sounds much better than compressed digital representations.
Before writing this review, I've compared and tested some of the top vinyl players under $300 the market has to offer so that you can choose the right model for your home without ruining your family budget.
I used the following equipment to test the quality of the sound:
Stereo receiver – Yamaha R-N303
Phono preamplifier – Emotiva XPS-1
Speaker wire – AudioQuest Type-9
Bookshelf stereo speakers:

Klipsch RP-600M
Edifier R1280T
KEF Q350

Floor standing stereo speakers:

Polk Audio TSi500
Klipsch RP-8000F
Fluance Signature HiFi 3-Way
While testing, I was listening to my favorite recordings. Here's my list:
Bon Iver – Bon Iver [2011]
Stravinsky – The Rite of Spring [2017]
Pink Floyd – Dark Side of the Moon [1973]
John Williams – Jurassic Park [1993]
Dvorak – Symphony No.9 [2016]
Daft Punk – Random Access Memories [2013]
Radiohead – In Rainbows [2007]
Now, let's see the result of my work – a list of the top turntables under $300.
Our pick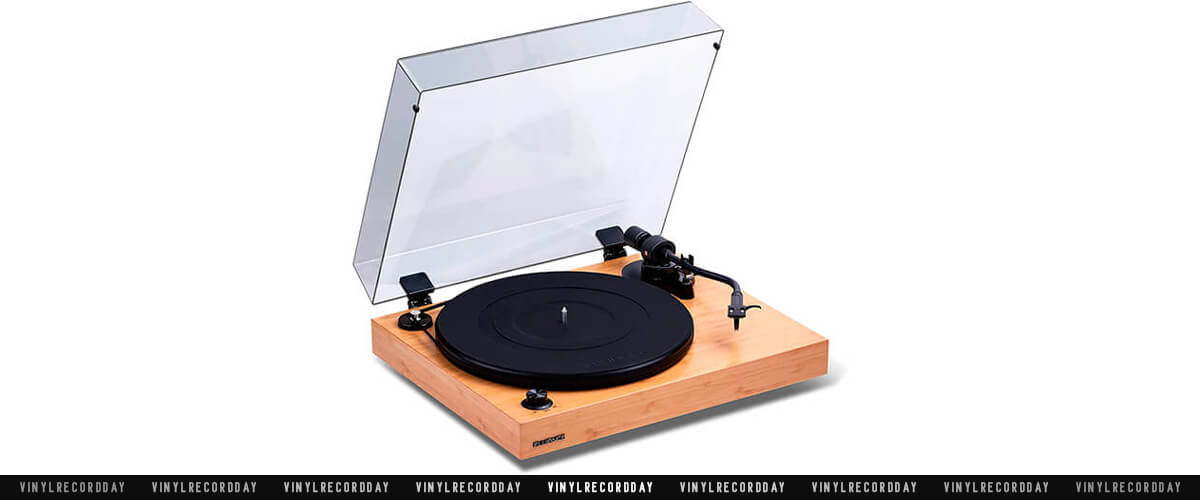 Fluance RT82
Best turntable under $300
Record Player with Ortofon OM 10 Cartridge, Speed Control Motor, Solid Wood Plinth, Vibration Isolation Feet.
Record players under 300 comparison table
Name
Speeds, RPM
Phono Pre-Amp
Bluetooth
USB
AUX
Review
Fluance RT82

best overall

33 1/3, 45
no
no
no
no
Review
Audio-Technica AT-LP120XUSB-BK

for DJ with direct drive

33 1/3, 45, 78
yes
no
yes
no
Review
House of Marley Stir It Up Wireless

eco-friendly

33 1/3, 45, 78
yes
yes
yes
yes
Review
Fluance RT81

best under $250

33 1/3, 45
yes
no
no
no
Review
Denon DP-300F

best full automatic

33 1/3, 45
yes
no
no
no
Review
Best Turntables Under $300 Reviews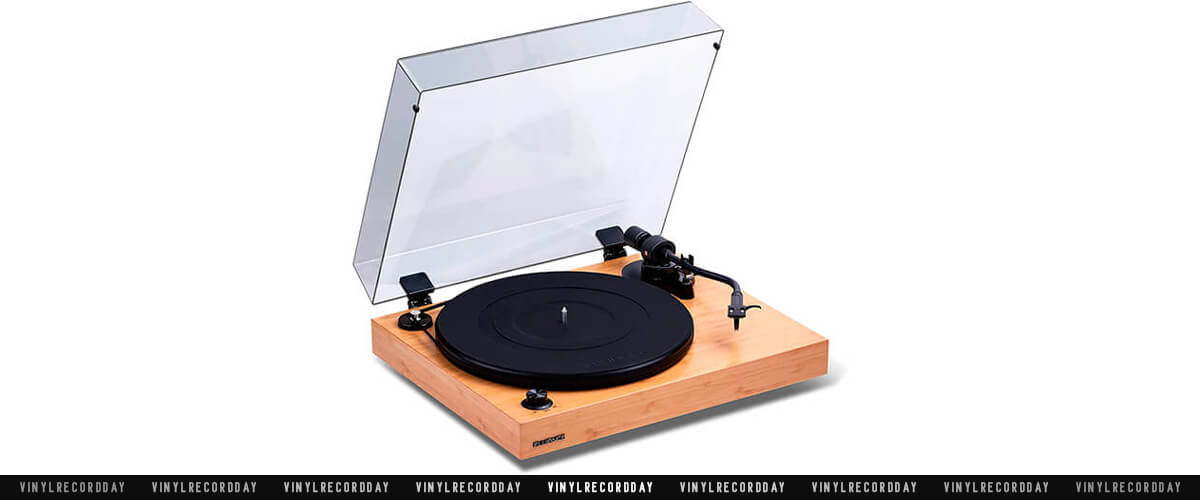 Fluance brand has a solid reputation in manufacturing turntables, and RT82 is no exception. This turntable is a totally value-focused model! It delivers premium sound quality due to the S-shaped tonearm and Ortofon OM10 elliptical cartridge – actually, I guess it would be difficult to beat this type of cartridge. In all honesty, with RT82, I heard sounds that I couldn't hear when played through cheaper cartridges.
The next thing I really appreciate is the isolated motor which helps to eliminate undesirable vibrations and noises, while the speed control system keeps the platter velocity constant. Speeds are 33 1/3, 45. RT82 features a manual operation type similar to models on the more expensive side. Another thing I love about this turntable is its sturdy wood plinth with a metal platter and customizable damping feet – it looks not only beautiful but also prevents undesirable vibrations.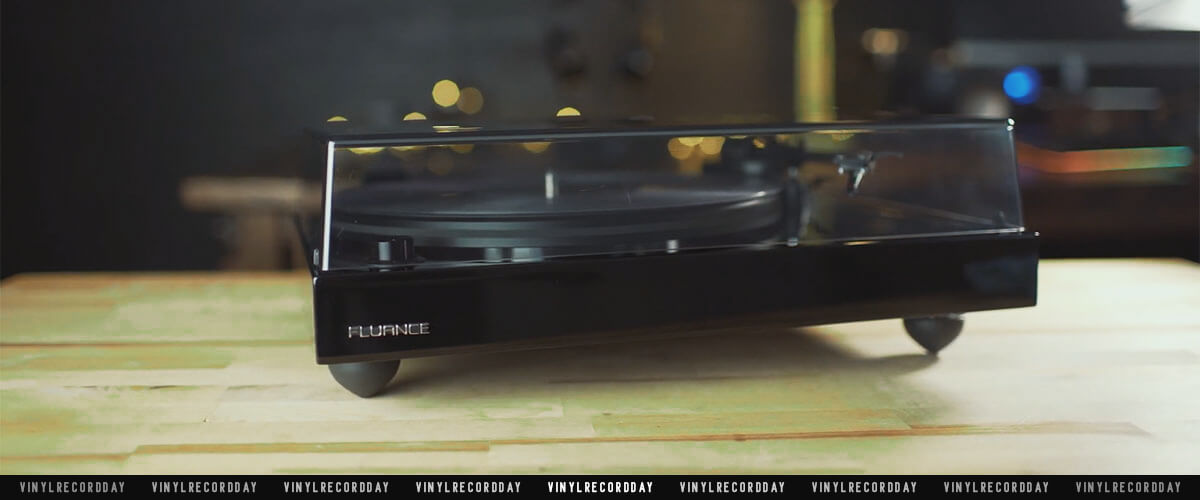 Naturally, I compared RT82 with its sibling RT81 and concluded that they are pretty similar, but the former lacks a phono preamp – it leaves room for future improvements.
I was pleasantly surprised by the price-quality ratio of the RT82, for me, it's the best turntable under $300 overall! If you're taking collecting vinyl seriously and dreaming about a quality yet affordable model, Fluance RT82 may be the right choice for you!
Key specs
Speeds, RPM: 33 1/3, 45
Phono Pre-Amp: no
Drive type: belt
Operation type: manual
Bluetooth: no
AUX: no
USB: yes
RCA: yes
Pros
Quality sound and musical accuracy
Features the auto-stop function
Removable headshell
Well-constructed, feels durable
Ati-skid adjustments
Cons
The cueing arm is a little jumpy, so a slow hand is required to hold the needle in place.
Audio-Technica AT-LP120XUSB-BK – for DJ with direct drive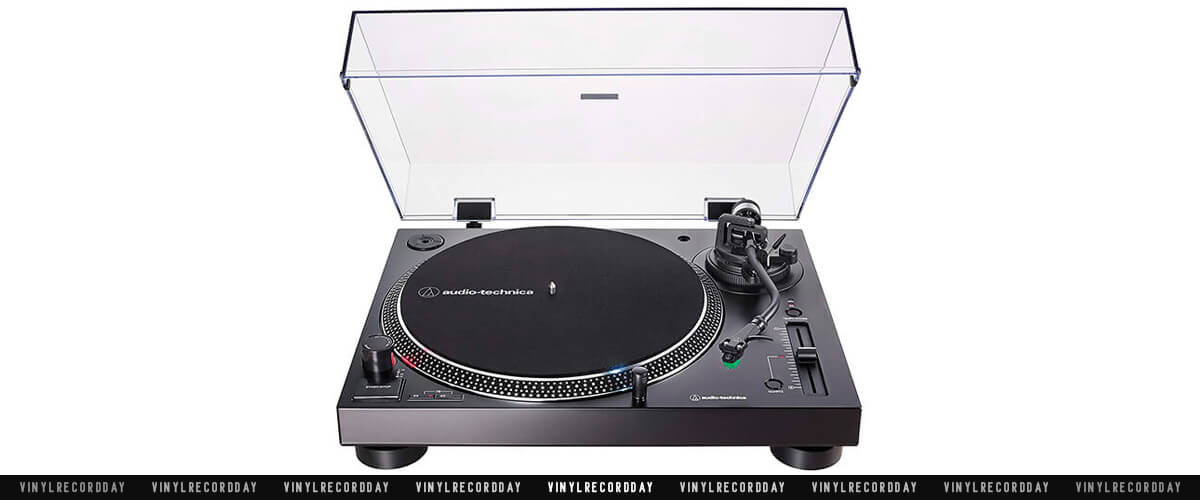 AT-LP 120XUSB-BK was engineered with music fans and DJs in mind. It's a totally new-generation model compared to its big brother LP120USB. I'm sure DJs will appreciate a quality direct-drive motor, a few upgraded features, and refreshed design of the AT-LP 120XUSB-BK model. This manual turntable plays 78 RPM records, the speed is 33-⅓, 45. It's equipped with a USB that allows easy connection to the computer and converting analog recordings into digital files.
AT-LP 120 can boast an S-shaped tonearm with a customizable tracking weight, universal headshell, and high-performance phono cartridge. By the way, the Audio-Technica brand has been the market leader in phono cartridge engineering for over 50 years.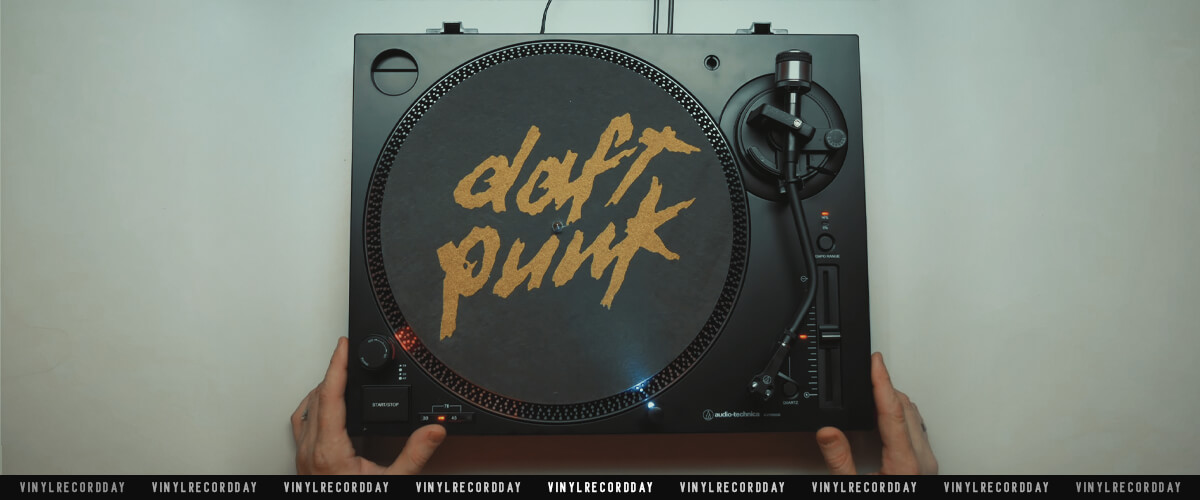 Speaking about the sound quality – when I listened to the 30-year-old record – Foolish Beat – and I swear, it sounded like it was pressed yesterday!
I love AT-LP 120XUSB – it looks good and sounds good. If you want to discover vinyl or are into DJing, you'll appreciate this turntable with direct drive too.
Key specs
Speeds, RPM: 33 1/3, 45, 78
Phono Pre-Amp: yes
Drive type: direct
Operation type: manual
Bluetooth: no
AUX: no
USB: yes
RCA: yes
Pros
Includes improved preamp and removable RCA cable
Improved anti-skate mechanism
The needle drops very gently
Die-cast aluminum anti-resonance platter
Beautiful design
Cons
Higher frequencies are somewhat muddy.
House of Marley Stir It Up Wireless – eco-friendly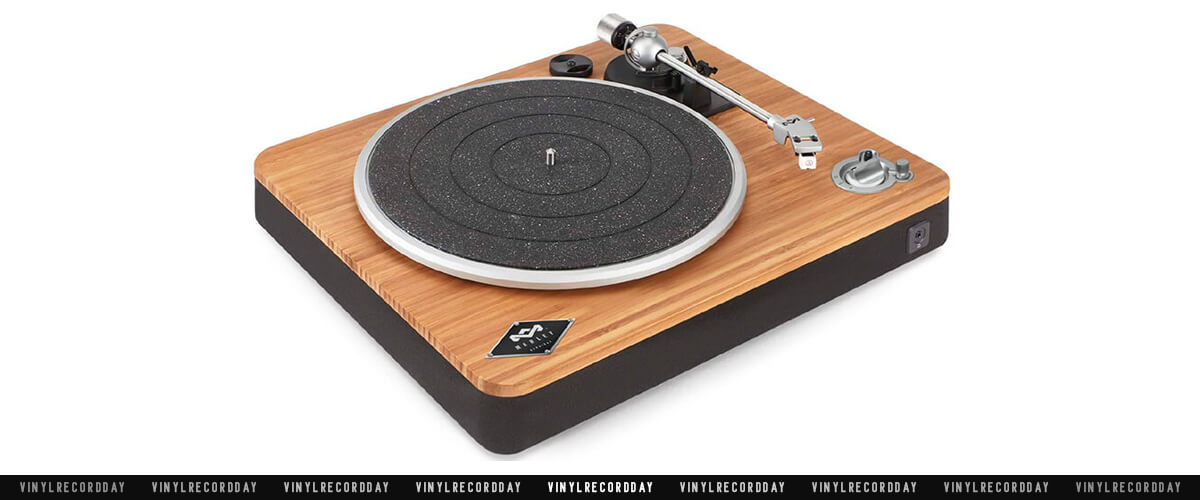 House of Marley's Stir It Up Wireless Turntable brings all the class and quality to you without breaking the bank. With this amazing product, you can enjoy vinyl recordings up to 45 rpm – perfect for that get-together with friends or romantic date night.
This innovative record player features Bluetooth connectivity, allowing you to stream music from your favorite devices without having to deal with messy wires! I checked the wireless function – it works up to 33 feet away. It was a pure joy to listen to my records at almost any spot in my apartment!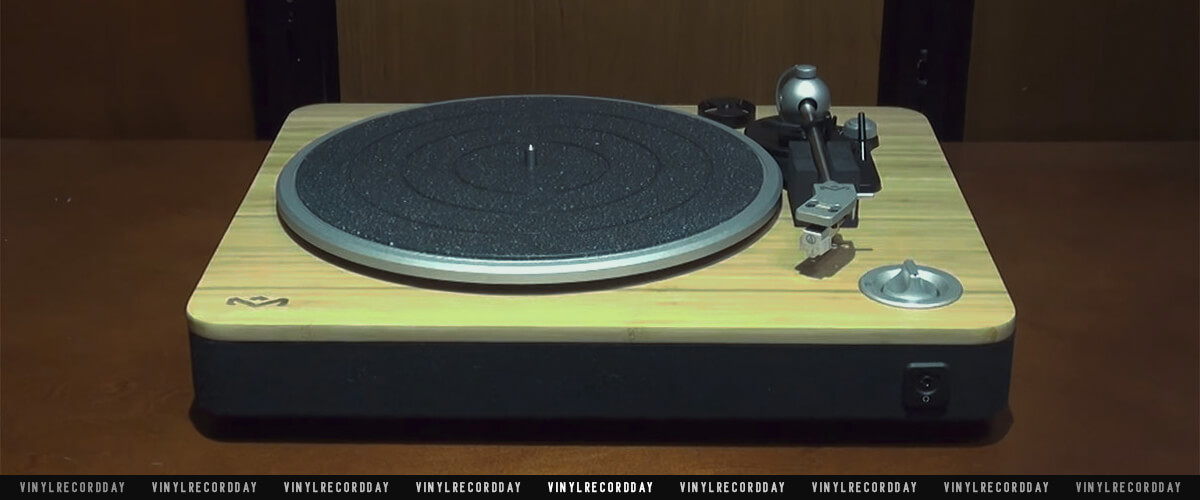 A built-in preamp also gives you the option to use RCA cables to connect the turntable directly into powered speakers, which makes upgrading your sound system incredibly simple. Want to digitize your vinyl collection? No problem! The USB port gives you such an opportunity!
The device itself is made from recycled wood and has a built-in handle for easy portability. In addition, it comes with everything you need to get started: an Ortofon OM5E cartridge and needle, RCA cables, and a 45 adapter.
Undoubtedly, House of Marley's Stir It Up Wireless is a great affordable turntable. But what I really appreciate in this model is its unique, eco-friendly housing! So, if you love nature and music, this is the right pick for you!
Key specs
Speeds, RPM: 33 1/3, 45, 78
Phono Pre-Amp: yes
Drive type: belt
Operation type: manual
Bluetooth: yes
AUX: yes
USB: yes
RCA: yes
Pros
Overall great sound, just incredible for listening to classic rock
Outstanding design
Comes with a cover for easy storage
Cons
Bluetooth may be a bit fiddly, but that depends on the type of speakers you are trying to hook up to.
Fluance RT81- best under $250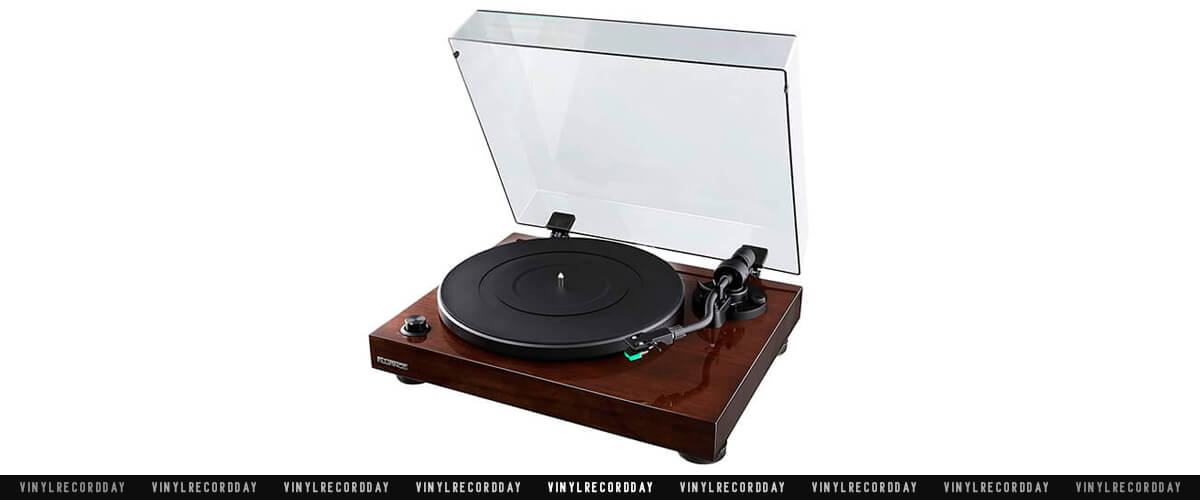 It won't be an exaggeration to say that Fluance RT81 is the best turntable under $250! I'm totally impressed with the specs and features of this device, considering its price!
The RT81 replaces the RT80 – the former now boasts heavier construction, improved feet and includes an Ortofon 2M Red cartridge fitted to its lightweight headshell. The heavy-duty motor has been improved too – it's now good for more torque and higher RPM accuracy (33 and 45 for the RT81).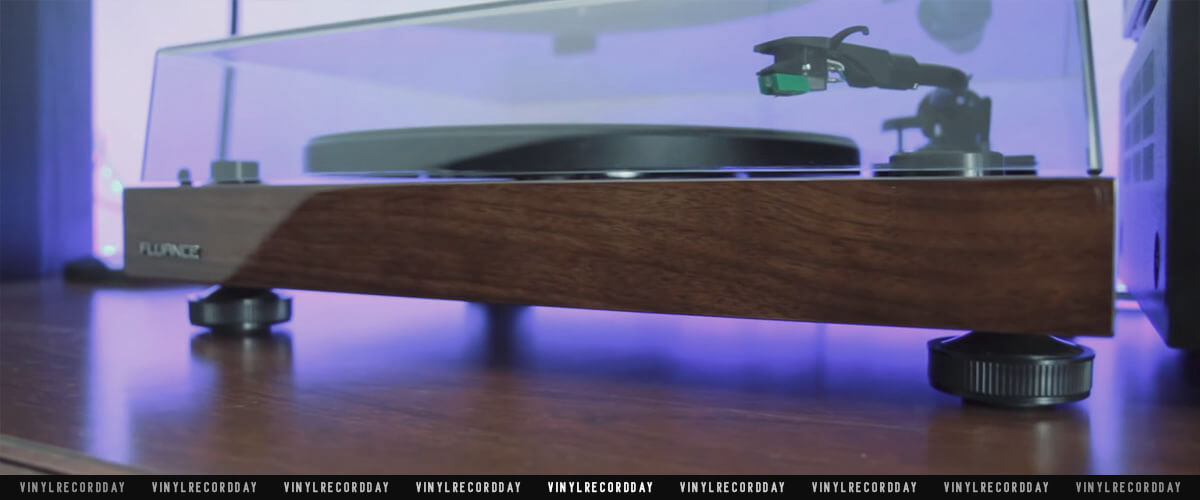 Fluance RT81 sounds great – clear and precise; there are no speed issues, just warm analog sound. In fact, the sound quality even surpasses my more expensive stereo setup (a Pro-Ject Debut III with Ortofon OM10 needle and acrylic platter). The guitar licks on Dazed & Confused particularly pleased me. I listened to both sides of this album and it seemed like I was hearing it for the first time.
Fluance RT81 is an elegant turntable that draws favorable comparisons in appearance to much more expensive models from Rega. If you aren't intending on DJing and simply want a high-quality home turntable, this model won't disappoint you!
Key specs
Speeds, RPM: 33 1/3, 45
Phono Pre-Amp: yes
Drive type: belt
Operation type: manual
Bluetooth: no
AUX: no
USB: no
RCA: yes
Pros
Delivers straightforward function
Features a TPE (thermoplastic elastomer) drive belt, which reduces 'cogging' of the platter by up to 50%
Gorgeous design
Cons
Adjustments for the RPM are placed on the bottom and are a bit difficult to reach.
Denon DP-300F – best full automatic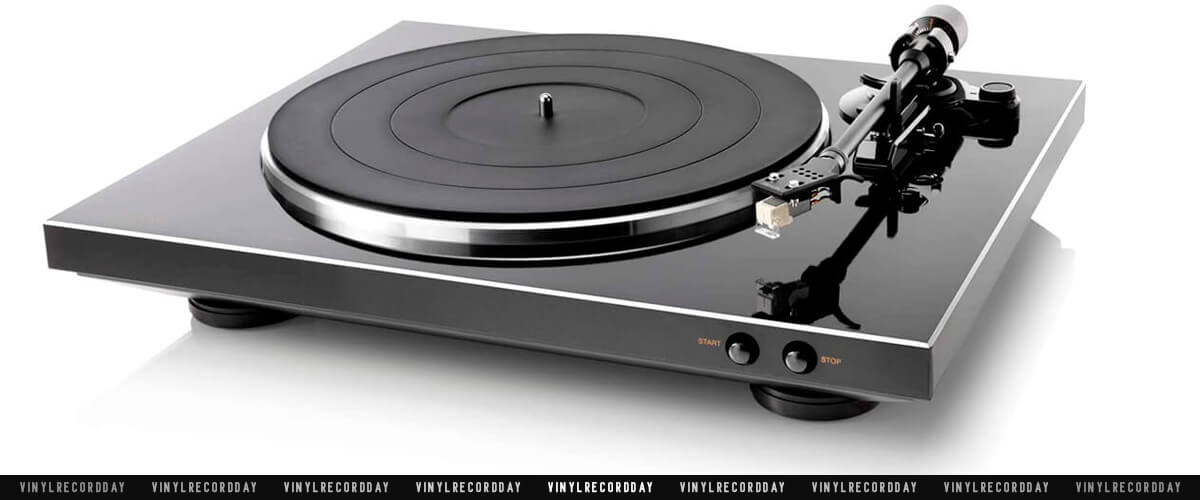 Denon has been around since 1910. In the 1930s, the company began manufacturing its own turntables and designing tonearms and earned a healthy reputation. The DP-300F became one of their top model tables where the price meets performance.
Denon DP-300F is a fully automatic belt-driven turntable that can play 33 1/3 rpm and 45 rpm records. The table comes with an integrated tonearm that features an adjustable counterweight, height adjustment, anti-skating control, and multiple connection terminals. Unfortunately, there's no "plinth," the body is plastic, but the turntable doesn't produce any discernible noise during playback.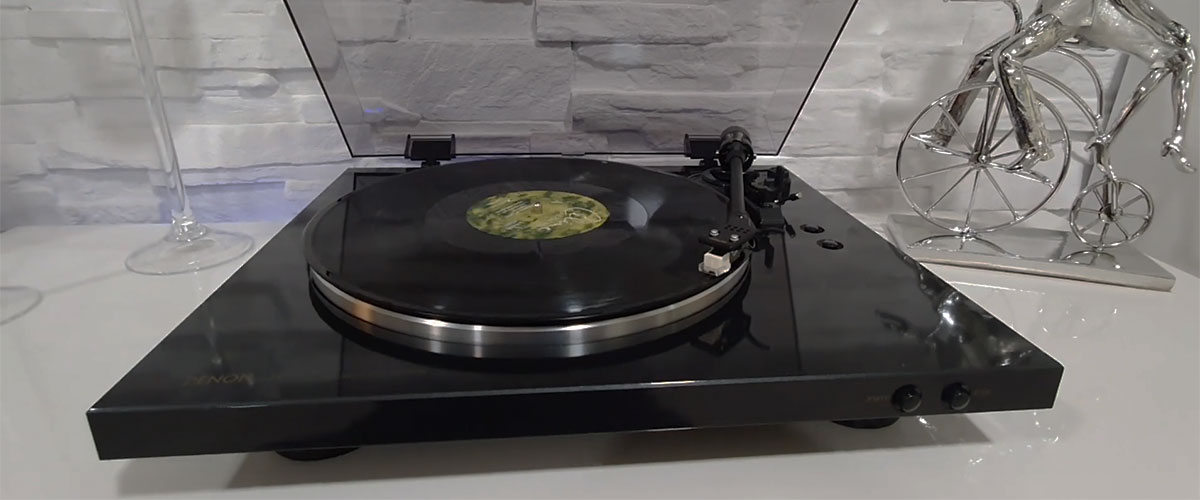 It works exactly as promised, and I really enjoyed the pure delight of vinyl while testing. MP3's definitely can't offer all those crisp highs, thunderous rumbling lows, and a warm mid-range!
In my humble opinion, Denon DP-300 is a top full automatic turntable under $300. It's famed by many audiophiles for its durability, excellent sound quality, and ease of use.
Key specs
Speeds, RPM: 33 1/3, 45
Phono Pre-Amp: yes
Drive type: belt
Operation type: fully automatic
Bluetooth: no
AUX: no
USB: no
RCA: yes
Pros
Vocalists, jazz, and vintage music sounds incredible
Easy to operate
Sleek design
Comes with an acrylic dust cover
Cons
No place to attach a ground wire for an external preamplifier.
Audio-Technica AT-LP60-BT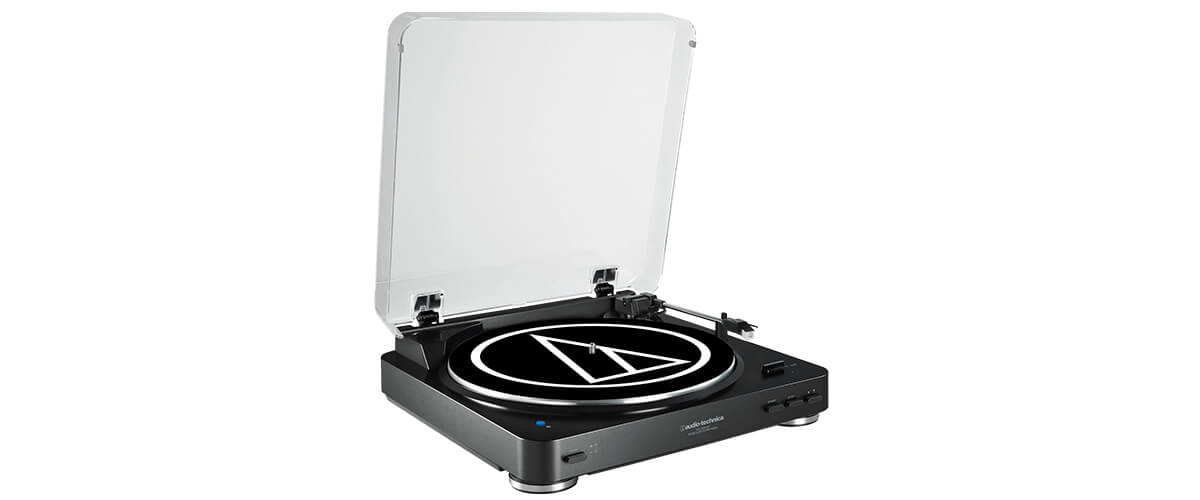 Audio Technica is one of the premier turntable manufacturers! And we've already discussed one of their manual turntables – AT-LP 120XUSB-BK – which is perfect for DJs. But if you're totally new to vinyl and want a fully automatic turntable, then you should take a closer look at AT-LP60-BT.
I love technological upgrades, that's why the convenience of Bluetooth connectivity is an essential factor for me. You can store up to 8 Bluetooth-compatible devices (speakers, headphones) in the turntable's memory. Although the AT-LP60-BT is a great model, it can't boast such a perk!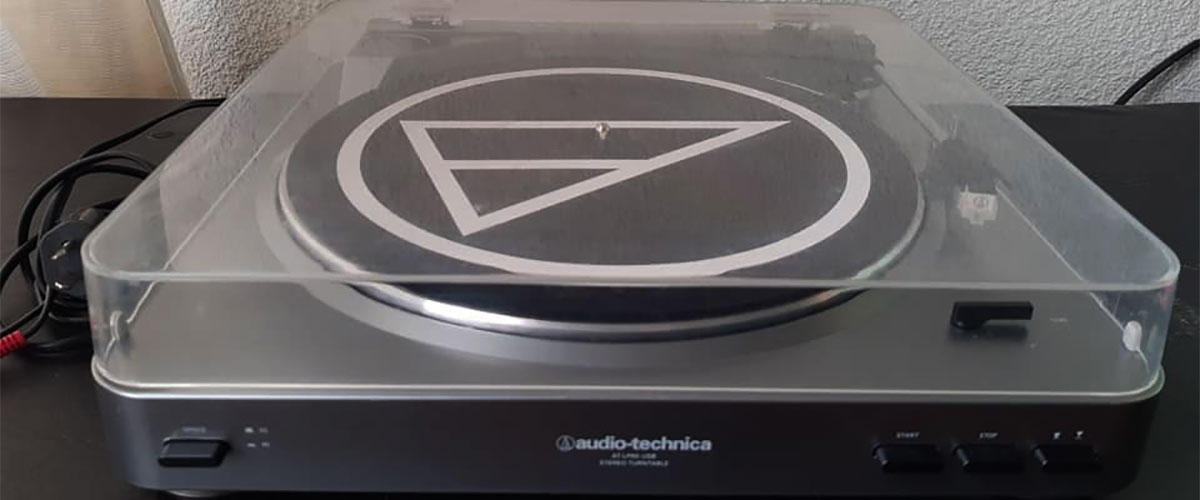 AT-LP60-BT brings the classic sound of vinyl to life. This machine actually provides a better audio experience than many other models in the same price segment. It produces crystal clear highs and lows, and vocals are as smooth as butter.
The die-cast, anti-resonance aluminum platter effectively minimizes vibrations, and the turntable itself feels sturdy and well-built. If you take proper care of it, you'll just need to replace the needle. By the way, Audio-Technica specializes in styluses, which is a great benefit!
For entry-level vinyl lovers, AT-LP60-BT is a great buy for the price! It produces quality sound, is easy to operate, and looks fantastic!
Key specs
Speeds, RPM: 33 1/3, 45
Phono Pre-Amp: yes
Drive type: belt
Operation type: fully automatic
Bluetooth: yes
AUX: no
USB: no
RCA: yes
Pros
Amazing build and finish
Easy to operate
Available in bright colors
Portable
Cons
Sometimes Bluetooth is a pain to connect.
Buyers guide
What to expect from a record player under $300
Determining the difference between a $200 and a $300 model isn't always straightforward. With that stated, there is a distinction to be made, and it is significant. A good $300 turntable will have better components and, in general, superior materials. We're talking about solid construction here. Many people reduce turntables to their most basic components, ignoring the framework or isolation between the platter and its surface.
While less expensive models may perform well in this aspect, a quality mid-range vinyl player will provide the most significant improvement in design and components. Turntables under $300 are usually pretty good when it comes to features and fundamental performance. You'll see that good cartridges and stylus options are being used. Most of these machines feature well-designed tonearms with many adjustment options, and most importantly, these devices sound pretty good.
The upgrade pathways accessible with mid-range turntables are one of the finest reasons to purchase one of them. Most likely you'll be able to replace a variety of components, considerably boosting your turntable's overall performance. Those who enjoy customizing their vinyl players may enjoy this price segment.
To summarize, the performance of the vinyl players under $300 is pretty close to what more expensive models have to offer. Besides, all machines I've listed above are a great value for entry-level vinyl lovers as well as for more critical ears. You won't grow out of these turntables for a long time!
Hopefully, you'll find the right player for your home here! If you have any suggestions or would like to add your favorite turntable to my list, leave a comment below!
FAQ
Which is better direct drive or belt drive turntable?
A turntable is just a mechanism that spins records into the direction of the tone-arm. This means that both direct
drive and belt drive turntables
have their pluses and minuses.
Is manual or automatic turntable better?
Manual turntables require the user to place the needle over the desired area of the vinyl manually. Automatic turntables do this for them, but some additional factors need to be considered.
What does Auto Stop mean on a record player?
Turntables that have this feature will automatically shut down when the tone-arm reaches the edge of the record. This means you don't need to worry about the needle skipping over the vinyl or scratching it.
How do you stop a vinyl from playing?
There are a few ways. A manual turntable will require you to manually place the tone-arm onto its resting position, whereas an automatic one will do it for you.
What is pitch control?
Pitch controls how fast or slows a record plays. A higher number means that the music will play slower and vice versa. Manual turntables will require you to move the pitch slider, whereas automatic ones have a fixed setting.
Does playing a record at the wrong speed damage it?
Playing a record at the wrong speed can damage it, but only if you play it for an extended period. Playing it once or twice will not damage the vinyl.
Playing records at the wrong speed means that specific parts of the groove may not be played. These could be loud or quiet parts, but it could also mean that the needle will skip over certain grooves entirely.