You'll need the best direct drive turntable if you want to take your music listening to the next level. It will help you get the most from your vinyl records. Besides, it's easy to use and provides a more consistent playback than a belt-driven model.
Our pick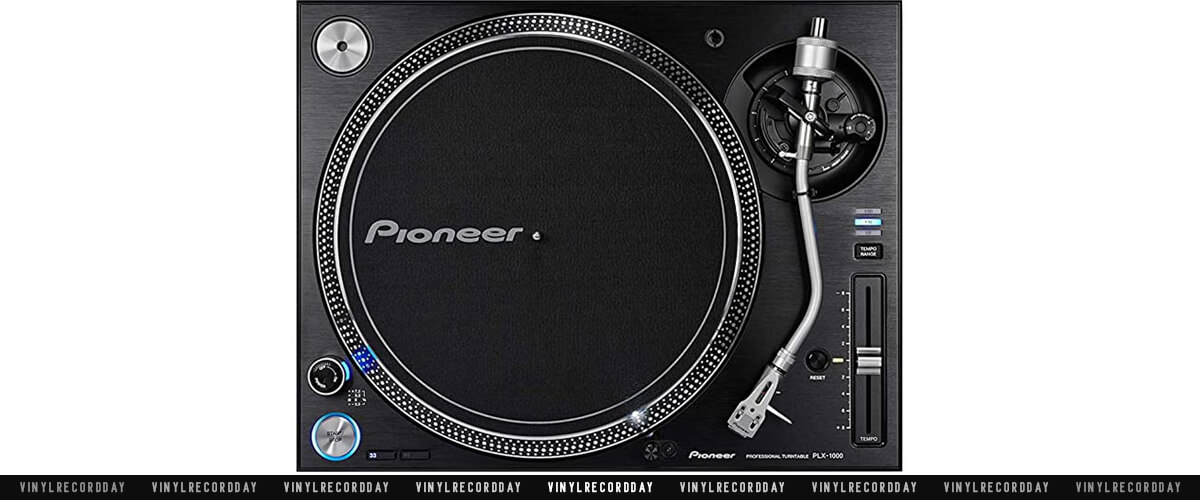 Pioneer PLX-1000
Best direct drive turntable
Simply add your choice of cartridge and stylus to the PLX-1000 and combine with your mixer for an ideal setup for turntablists.
Read the full review
.
So, if you're looking for a direct drive turntable, this article is for you! I've picked the highest-quality models from different price segments, so you can choose a suitable unit for you without ruining your family budget. Interested? Then let's get to the details!
Name
Speeds, RPM
Phono Pre-Amp
Bluetooth
USB
AUX
Review
Pioneer PLX-1000

best overall

33 1/3, 45
no
no
no
no
Review
Technics SL-100C

also a great choice

33 1/3, 45
no
no
no
no
Review
Audio-Technica AT-LP1240-USBXP

under $500

33 1/3, 45, 78
yes
no
yes
no
Review
Crosley C200

under $300

33 1/3, 45
yes
no
no
no
Review
How I tested direct drive turntables
The following equipment was used to test direct-drive record players:
I selected a variety of records to test the direct-drive turntables and discover how they would perform in various genres:
Best Direct Drive Turntable Reviews
Turntables under $1000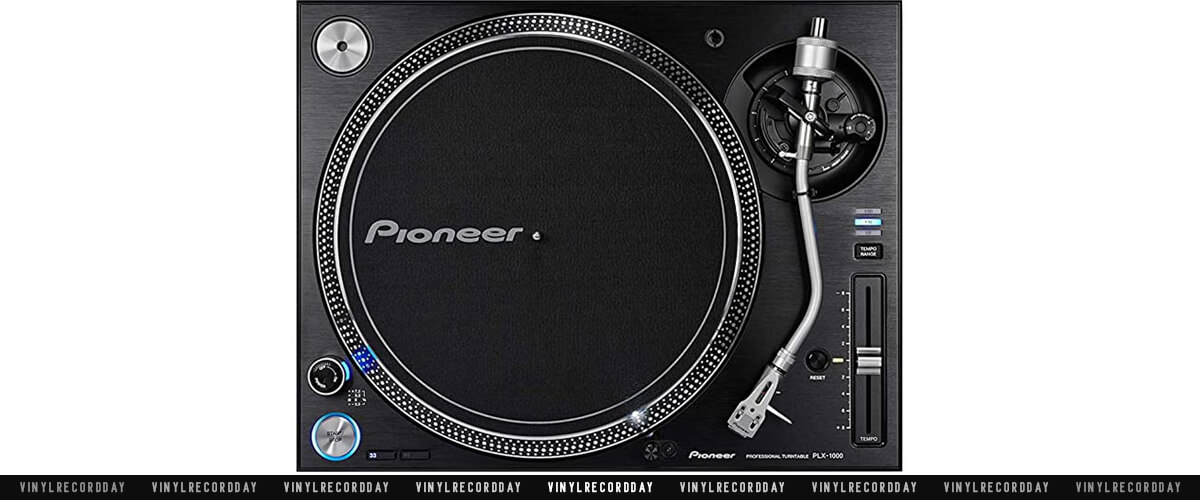 Pioneer PLX-1000 deserves to be at the top of my direct drive turntable reviews for many reasons.
First, Pioneer is a reputable brand that makes high-end vinyl players, and the PLX-1000 is no exception. Actually, this model outperforms its strongest competitors (e.g., Audio-Technica AT-LP1240-USBXP) in terms of sound quality and overall build.
Second, Pioneer PLX-1000 was designed to satisfy the needs of DJs and musicians mixing music genres from bass, house, hip-hop/reggae, D&B to drum 'n' bass. This vinyl player boasts a high torque direct drive motor with a tonearm constructed from aluminum and steel for outstanding durability. It also comes equipped with a stylus protection mechanism for worry-free DJ mixes, while an adjustable strobe disk ensures accurate speed between 33 1/3 to 45 RPM conversions.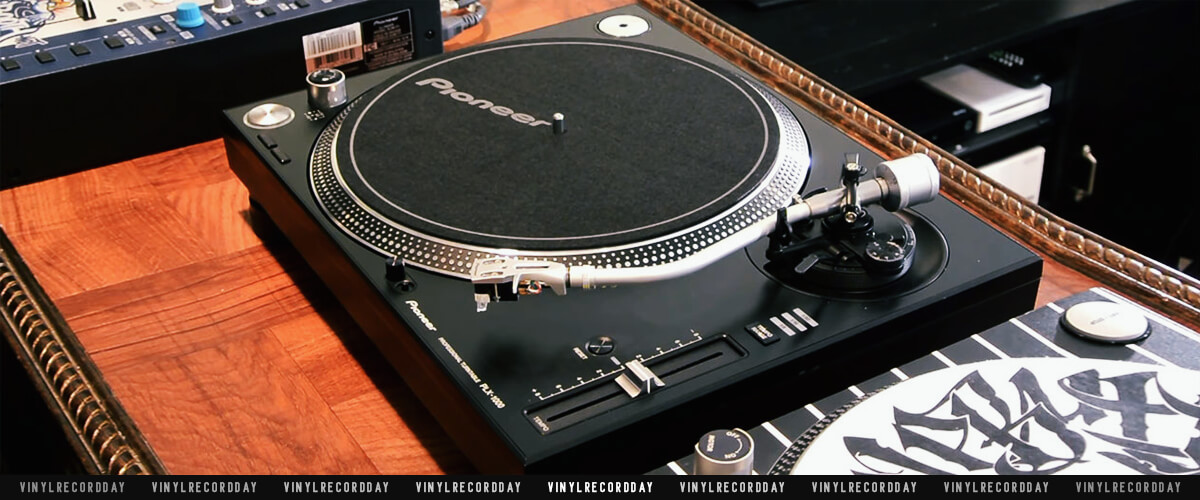 Detachable power and audio cables make connecting and replacing them a breeze, and gold-plated RCA output jacks provide low impedance and excellent sound quality.
The adjustable pitch control ranges from +/-6% to 0.1%, giving you the versatility and precision needed to adjust the beat speed with such fine increments. The slipmat and record will provide a smooth rotation, while the clear acrylic casing protects the turntable from dust damage. Finally, this stylish, matte black design fits into any DJ booth or home setup and is sure to be your go-to record player.
Pioneer PLX-1000 is the overall best direct drive turntable! It includes everything a professional DJ may dream about – a high-torque direct drive motor, multi-pitch control, interchangeable power & audio cables, and solidified construction. All this results in perfect vibration damping and beautifully transparent sound.
Key specs
Drive type: direct.
Operation type: manual.
Speeds, RPM: 33 1/3, 45.
Phono Pre-Amp: no.
Bluetooth: no.
USB: no.
AUX: no.
Pros
Decent DJ turntable.
Operates with precision.
Superb sound.
User-friendly.
Cons
Tonearm bearing may arrive loose.
Technics SL-100C – also a great choice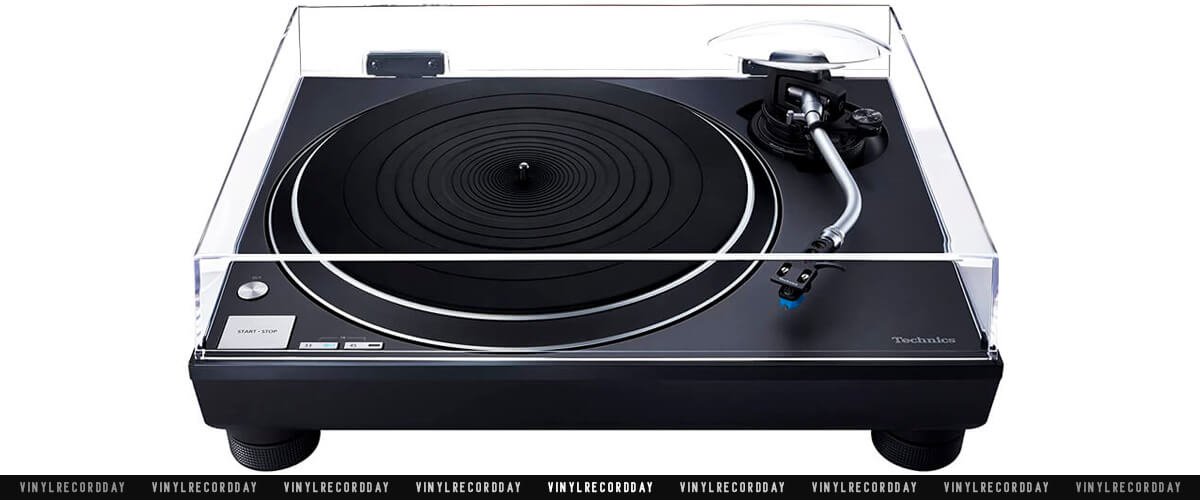 When it comes to your treasured record collection, you know that only the finest will do. Technics SL-100C is a top-class turntable with a stylish, minimalistic appearance and smooth, high-quality operation that will not disappoint even the most experienced, longtime vinyl enthusiast.
For smooth, stable playback, this model employs a single-rotor coreless, direct-drive brushless DC motor. The motor accelerates and decelerates quickly, and produces no audible noise.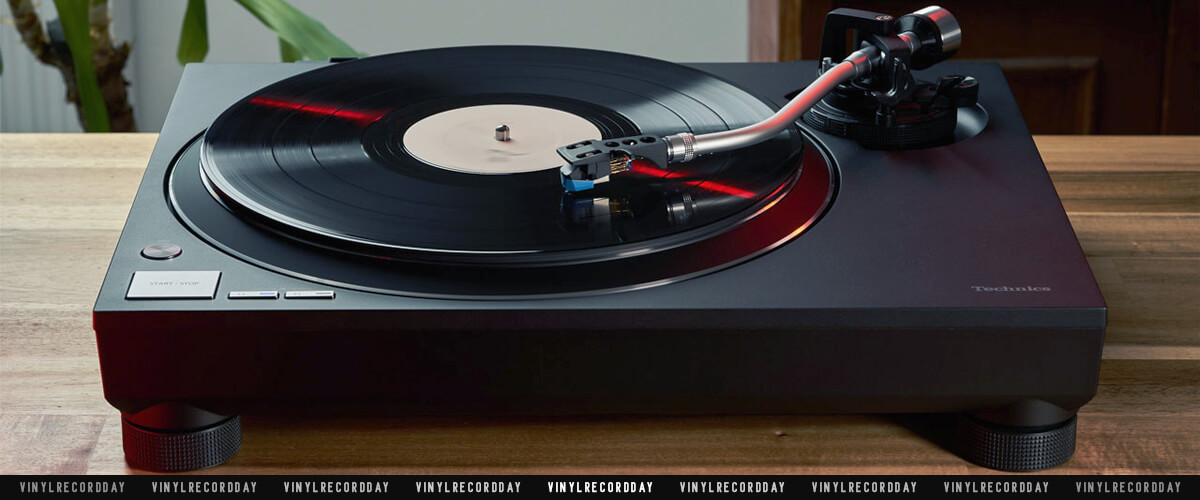 Solid yet high-sensitivity "S"-shaped tonearm reads all signals contained in grooves, allowing for precise tracking and rich aural reproduction. The tonearm is unexpectedly light and nimble – it opens a broad variety of cartridge upgrades. Further, excellent sound quality is guaranteed by the pre-installed high-quality Audio-Technica cartridge that comes with an expensive conical stylus. I have a large collection of classical vinyl, as well as a substantial number of jazz, rock, and hip-hop records, and the turntable handles every genre with ease.
And last but not least, the Auto Lifter feature automatically elevates the cartridge, preventing wear on the needle and the LPs.
Technics SL-100C is a high-end direct-drive turntable bathed in professionalism and modern technology. If you consider vinyl to be a passion and want to hear what it really offers, do consider this model!
Key specs
Drive type: direct.
Operation type: manual.
Speeds, RPM: 33 1/3, 45.
Phono Pre-Amp: no.
Bluetooth: no.
USB: no.
AUX: no.
Pros
Heavy duty – built to last.
Extremely well isolated from vibration.
Silent operation.
Audiophile-grade sound.
Upgradable cartridge.
Cons
If you have a very critical ear, you may want to change the cartridge.
Turntables under $500
Audio-Technica AT-LP1240-USBXP – best under $500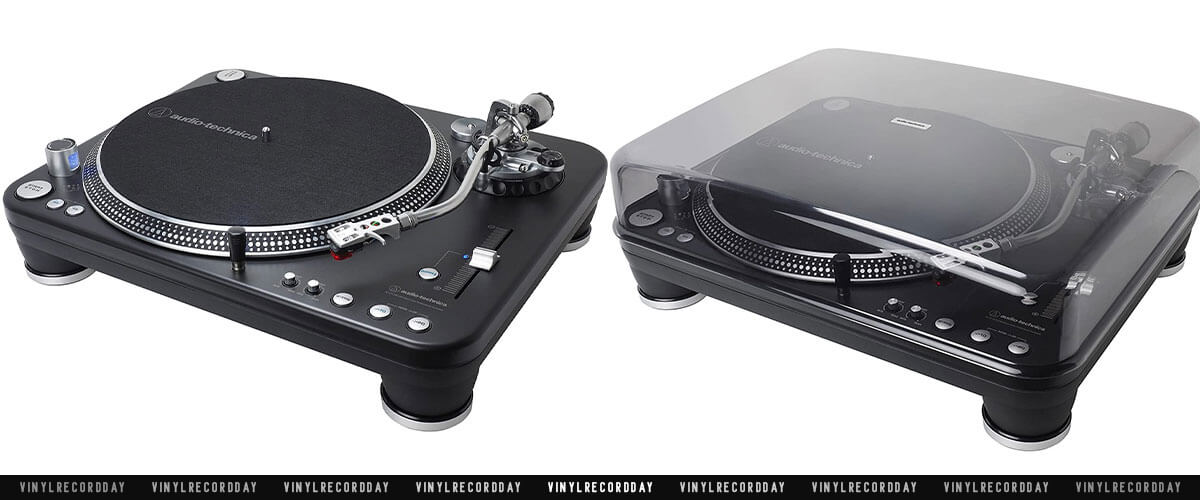 The Audio-Technica AT-LP1240-USBXP direct drive turntable is a high-quality device that enables you to switch between formats easily. It was designed with professional DJs in mind and can boast plenty of advanced features – that's why it outperforms its great sibling Audio-Technica AT-LP5X. So, let's take a closer look at those features.
The AT-LP1240-USBXP delivers a premium-quality sound and can withstand even the most rigorous conditions of professional use due to its solid, direct drive multipole, 3-phase motor. At 33-1/3, 45, or 78 RPM, it offers fast startup, consistent speed, effortless back-cueing, forward & reverse play, and silent operation. Furthermore, the AT-XP5 DJ phono cartridge ensures maximum DJ mixers compatibility.
The turntable has an integrated switchable phono pre-amp and RCA cables so that you can use it with various receivers, speakers, and other A/V equipment. It also includes a USB port, allowing you to connect it to your desktop for simple LP-to-digital conversion. More than that, you can easily convert the music on vinyl to WAV, MP3, and other formats by using Audacity® or other suitable software.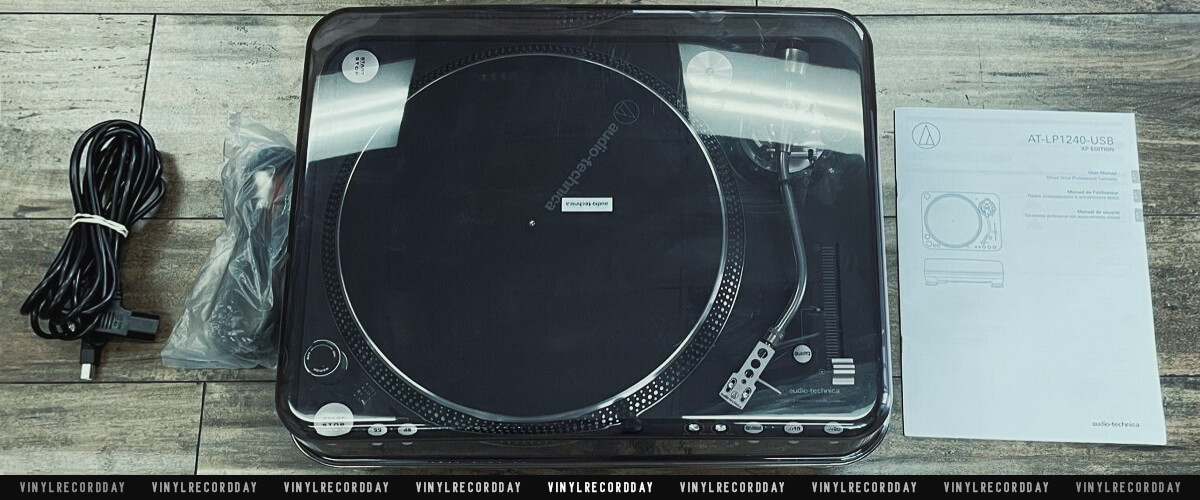 The added bonuses are an anti-resonance, cast-aluminum platter, adjustable pitch controller, bright speed indicator, and a special grounding lug for the tonearm.
An interesting detail: it's said that if you listen to certain '70 recordings backward on this turntable, you can hear a hidden message.
Audio-Technica AT-LP1240-USBXP is definitely the best direct drive turntable under $500. It is ideal for vinyl enthusiasts and professional DJs since it can boast plenty of excellent, upgraded features and superb sound without breaking the bank.
Key specs
Drive type: direct.
Operation type: manual.
Speeds, RPM: 33 1/3, 45, 78.
Phono Pre-Amp: yes.
Bluetooth: no.
USB: yes.
AUX: no.
Pros
Excellent sound quality – deep bass and clear highs.
Durable yet beautiful housing.
Damped die-cast aluminum platter.
Adjustable operation.
Cons
The USB connection needs improvements.
Doesn't have a dust cover.
Audio-Technica AT-LP5X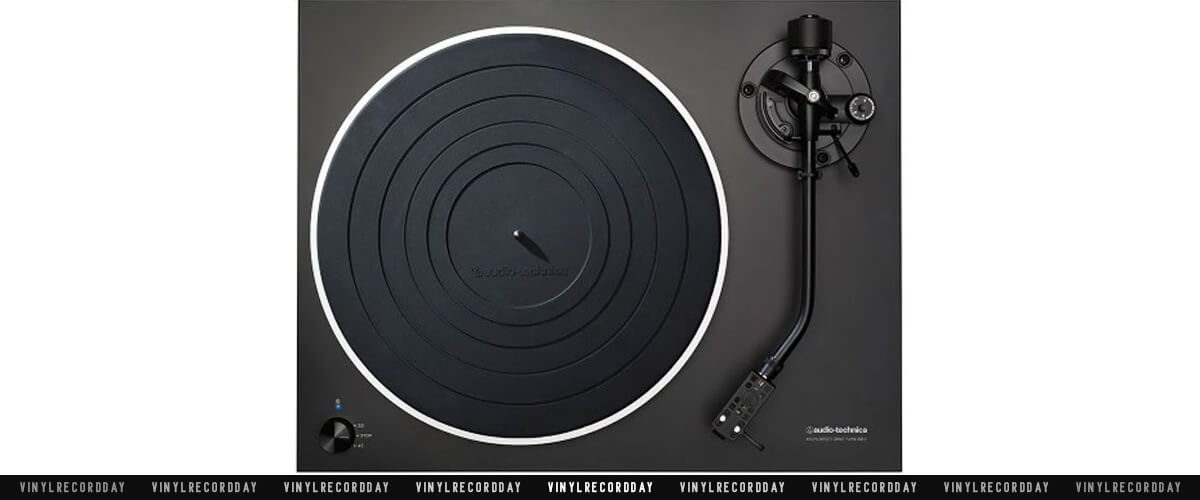 It wasn't difficult for me to include two Audio-Technica vinyl players in my list since the company makes great turntables that are reasonably priced. The AT-LP5X is an interesting model for many reasons, here are just some of them.
This is a 3-speed (33-1/3, 45, and 78 RPM) professional record player with Bluetooth connectivity, making it highly versatile and user-friendly. You can stream your vinyl through speakers without any wires. This product will give you hours of entertainment while automatically providing incredible sound quality, thanks to the Dual Moving Magnet stereo cartridge. The tonearm on this turntable allows for smoother tracking of records, and the use of anti-skating compensation will ensure less wear.
Next, AT-LP5X has adjustable pitch control, meaning you can change the playback speed without affecting its pitch or vice versa. A built-in RIAA equalizer phono preamplifier/headphone amplifier allows you to plug mono or mono/stereo RCA cables into the back of your speakers when using external amplifiers. However, if you plan on hooking up the turntable to a receiver, it's better to purchase a phono preamp as well.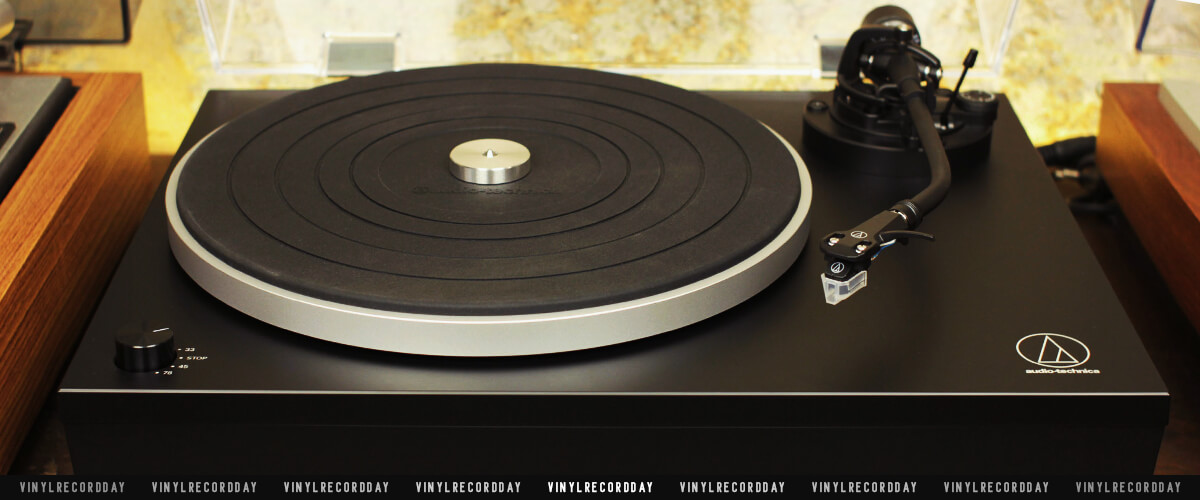 Additional features include rubber feet to reduce vibrations, a lightweight AT-HS6 headshell with preinstalled stylus protector and 45 RPM platter lock for more stability during use.
Finally, this player can boast a stylish and lightweight design, so you can carry or relocate it without problem.
Audio-Technica AT-LP5X is a perfect direct drive record player for both home users and entry-level DJs who plan on consistent playback with minimal breaks between each song.
Key specs
Drive type: direct.
Operation type: manual.
Speeds, RPM: 33 1/3, 45, 78.
Phono Pre-Amp: yes.
Bluetooth: no.
USB: yes.
AUX: yes.
Pros
Sturdy construction.
The cartridge provides a balanced, solid sound.
Features built-in phono stage and USB output.
The motor quickly starts and stops.
Includes a rubber mat.
Cons
The platter rotates with a very slight wobbling; however, it doesn't seem to affect the sound.
Turntables under $300
Crosley C200 – best under $300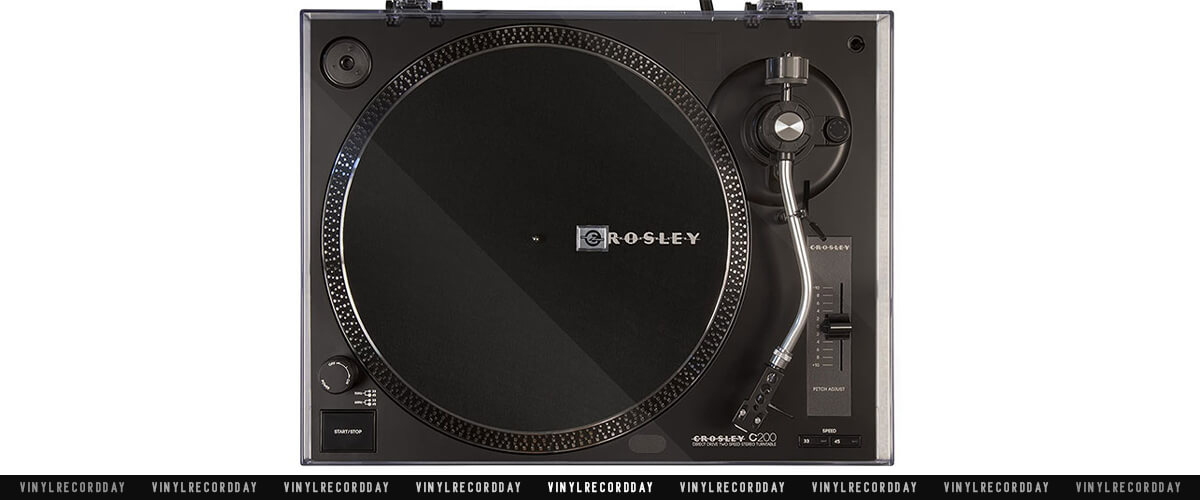 Crosley is an almost a hundred-year-old company that makes vintage-style turntables. They can boast low-cost yet high-value products.
Crosley C200 is a direct drive, high-torque motor turntable – great for any music lover. Whether you are an entry-level DJ or just an avid collector, the C200 has everything to make your listening experience smooth and seamless. I've tested the sound quality of this turntable with many different genres, and it didn't disappoint me at all, even at a deafening volume!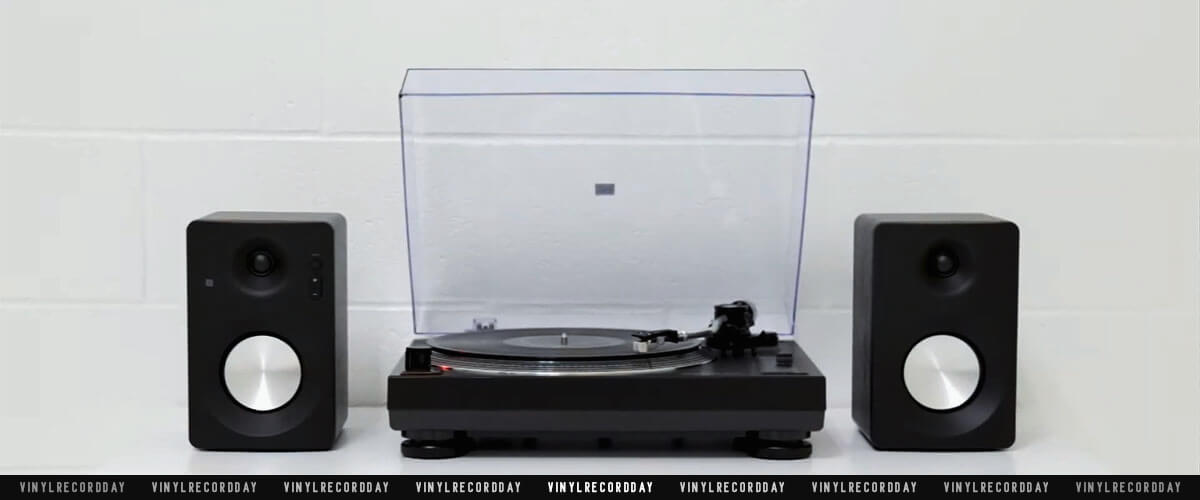 What features did I like the most? The turntable is easy to handle thanks to fully manual operation and start/stop control. Its S-shaped tonearm is perfectly balanced and has hydraulic lift control, anti-skate, height adjustment, and lockable rest. More advanced users will definitely appreciate an adjustable pitch control, which allows for regulating the pitch and tempo when DJing.
Further, the player is equipped with all necessary cables, including the detachable RCA output cables – it makes the unit ready to use right out of the box! This player also has a damped die-cast aluminum platter, ensuring minimal wear on your valuable records. Finally, the internal switchable phono preamp allows you to connect the turntable to your amplifier with ease and convenience!
Crosley C200 is the best direct drive turntable under $300. It sounds excellent, the design is terrific, it's easy to set up, and it comes with an advanced feature – a pitch control. So, if you start DJing or want a good turntable for your home, do consider Crosley C200!
Key specs
Drive type: direct.
Operation type: manual.
Speeds, RPM: 33 1/3, 45.
Phono Pre-Amp: yes.
Bluetooth: no.
USB: no.
AUX: no.
Pros
Sleek design.
Durable construction.
Easy to set up and maintain.
Great sound.
Cons
RCA cables are quite short.
Audio-Technica AT-LP120XUSB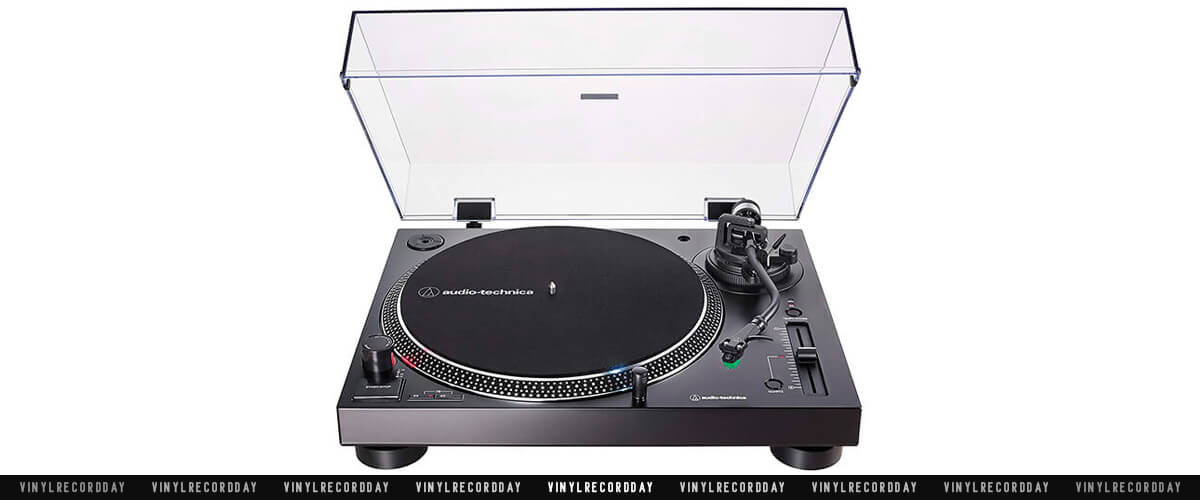 The AT-LP120XUSB is an update of the AT-LP120-USB and comes with plenty of amazing features. In fact, it's a great place to discover or rediscover vinyl.
This high-fidelity, direct drive record player allows you to quickly switch between 33, 45, and 78 RPM speeds. It has a built-in phono preamp, so you can plug and play it right from the box. However, there is a switch on the rear of the unit to disable the built-in preamp and connect an amplifier if you want to improve the sound.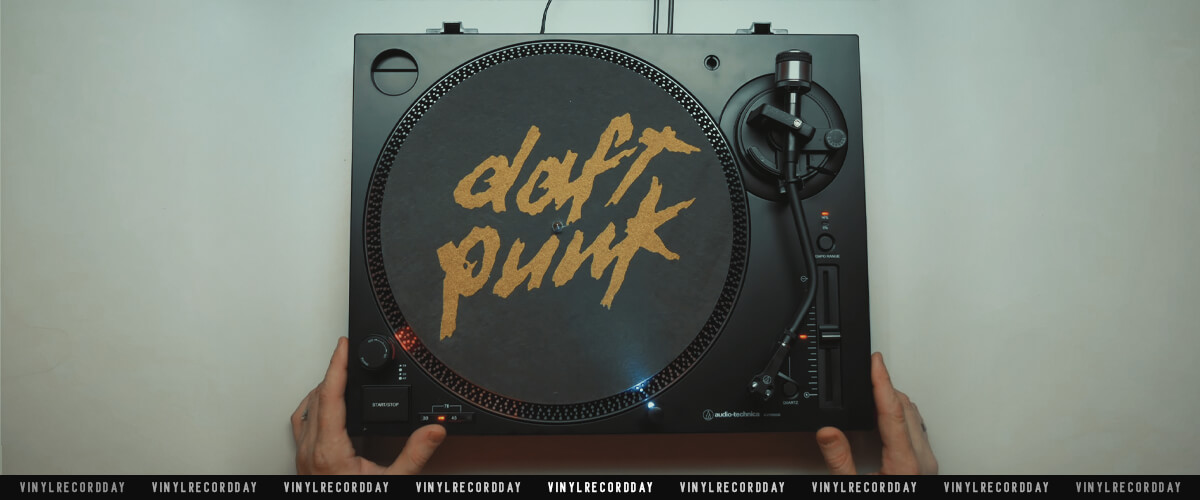 The fully manual operation features adjustable dynamic anti-skate control, variable pitch control with a quartz speed lock, and a balanced S-shaped tonearm with hydraulically damped lift control and lockable rest.
AT-LP120XUSB has a USB port that allows you to connect directly to your computer and digitize your old collection. In addition to the USB port, the unit includes a detachable dual RCA output for those who don't want to download their digital files as well as an AC adapter for those who do want to convert it immediately on playback. Housed in the removable hinged dust cover and base, this turntable requires no additional installation.
Audio-Technica AT-LP120XUSB is a direct drive motor turntable that provides a great set of features for its price! If you are an entry-level vinyl lover or want to digitize your records, do take a closer look at this model!
Key specs
Speeds, RPM: 33 1/3, 45, 78.
Phono Pre-Amp: yes.
Drive type: direct.
Operation type: manual.
Bluetooth: no.
AUX: no.
USB: yes.
Pros
Good construction.
Decent sound quality.
Zero motor noise.
The needle is dropped very gently.
Cons
Hardwire RCA cables – may be difficult to replace when damaged.
Buying guide
How to choose the right turntable?
When it comes to buying a turntable, it's essential to understand what features to look for:
System type – if you're a beginner, choose a fully-automatic or semi-automatic system. Such systems are more technological, hence, easier to use. In a manually operated system, you'll do all actions by hand, which is not that convenient. But if you really care about the sound quality, go for a manual player.
Vinyl record speed – it's better when the turntable has 3 degrees of speed – 33/45/78 RPM. It'll allow you to play any vinyl format.
Bluetooth – you'll be able to send audio to speakers, headphones, or soundbar.
USB port – allows you to digitize your vinyl records.
What is the difference between direct drive and belt drive turntable?
The market offers two types of turntables: direct drive and belt drive models. Both types have their own pros and cons, of course. I don't want to bore you with technical details, but you should know the following:
A belt driven system provides a more precise and stable rotation, making it resistant to vibrations. Such turntables are considered to produce a cleaner sound.
On the other hand, the best direct drive turntables are more reliable, easy to use and provide a long-term playback with high torque. These features are a huge benefit for DJs and other professionals.
FAQ
Can you DJ with a direct drive turntable?
The quick answer is yes, but it's not as easy as you might think. Direct drive turntables can stand up to the demands of the average DJ better than belt-driven models. For this reason, we recommend direct drive turntables to anyone starting with vinyl and looking for a good quality model.
What turntables do DJs use?
DJs use direct-drive turntables, which are made by companies like Technics, Vestax, and Gemini. Belt-driven turntables have their place in the market, but they aren't suited to scratching or any other kind of performance DJing because belts can slip at the wrong moment (read our guide on budget turntables for beginners here). A few direct drive turntables are designed for home listening and mixing, but these aren't suitable for DJing.
Are Audio Technica Turntables good for Djing?
They are great for DJing. However, we recommend the AT-LP120 if you don't need to scratch or mix, or the AT-LP1240 if you want to scratch and mix because of its solid build, sound quality, and reliability.
How do I know if my record player is a direct drive?
If your turntable has a motor that is connected directly to the center spindle, it's a direct drive. Belt-driven turntables have a motor that is connected via a belt to the platter.
Can you scratch on a belt-drive turntable?
In short, no. A belt-driven turntable is a fantastic choice for at-home listening and mixing, but they aren't suited to scratching or performance DJing because the belt can slip at the wrong moment.
Does scratching record damage the needle?
Scratching doesn't damage the needle, but practicing too much can wear down your record's grooves. So if you're just beginning to scratch, do it sparingly until you get used to the technique.