As a man who grew up in the 80s and still owns a record player, I am always on the lookout for new things that combine old music technology with modern advancements. Bluetooth is becoming an increasingly popular feature on turntables since it boosts convenience, allowing you to hook up your player wirelessly to the speakers or headphones.
Our pick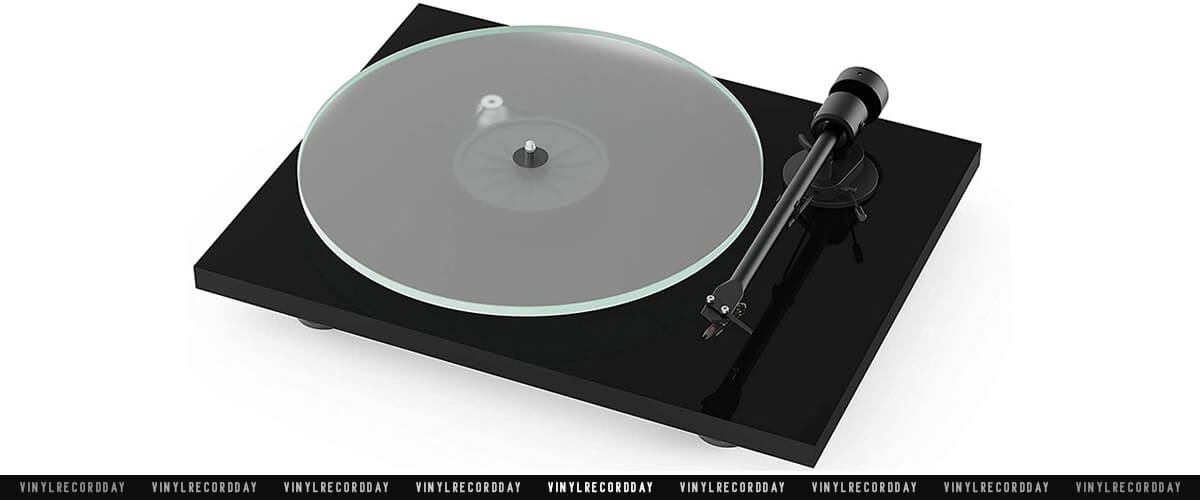 Pro-Ject T1 BT
Best bluetooth record player
The Pro-Ject T1 BT features a built-in phono stage and a BT transmitter for wireless music streaming to your favorite BT speakers and headphones, so it is ready to use straight out of the box.
Read the full review.
That's why I've decided to take a closer look at the best record players with Bluetooth available in today's market and share some insight with you. In this article, I'll answer the most common questions, review top-rated Bluetooth-enabled models, and help you choose a player that will meet all your needs. Interested? Then let's get to the details!
Name
Drive type
Operation type
Speeds
Phono Pre-Amp
Bluetooth
Review
Pro-Ject T1 BT

best overall

belt
manual
33 1/3, 45 RPM
yes
yes
Review
Electrohome Kingston 7-in-1

with built-in speakers

belt
semi-automatic
33 1/3, 45, 78 RPM
yes
yes
Review
Audio-Technica AT-LP120XBT-USB

direct drive

direct
manual
33 1/3, 45, 78 RPM
yes
yes
Review
How I tested Bluetooth record players
To test Bluetooth vinyl players, I used the following equipment:
To evaluate the sound quality of Bluetooth record players, I listened to the following records:
Leonard Cohen – Popular Problems [2014]
Jeff Buckley – Grace [1994]
John Williams – Jurassic Park [1993]
Four Tet – Sixteen Oceans [2020]
Pink Floyd – Dark Side of the Moon [1973]
Fleetwood Mac – Rumours [1977]
Best Bluetooth turntable reviews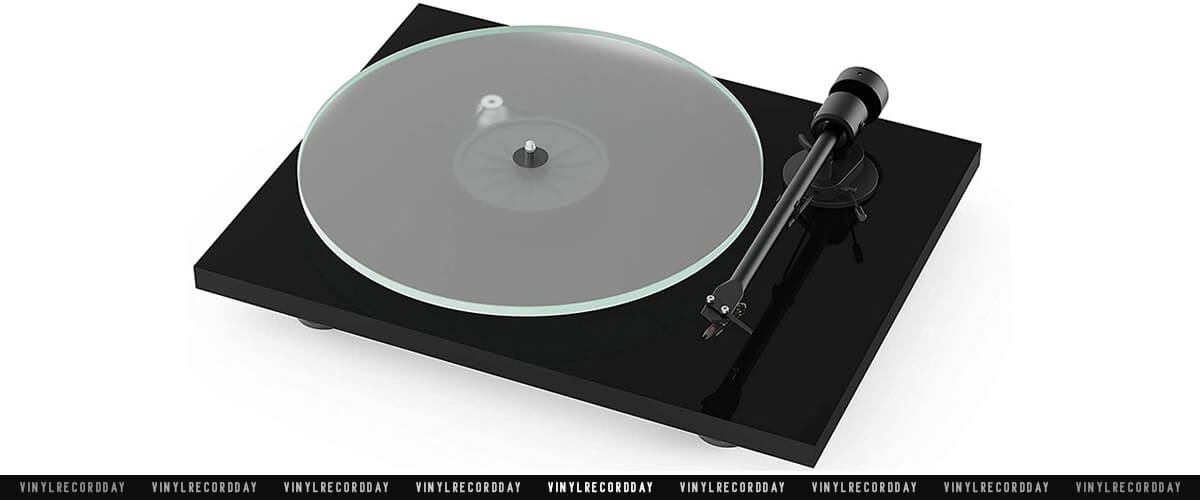 Pro-Ject's T1 BT is an audiophile-quality turntable that allows you to enjoy your records wirelessly everywhere without running cables through your living room floor.
This model outperforms its competitors (even such strong as Audio-Technica AT-LP120XBT-USB and Yamaha MusicCast Vinyl 500) in many aspects. First off, it boasts a beautiful CNC-machined plinth with no plastic components. Such a construction guarantees there aren't any hollow spaces inside – it effectively prevents vibrations and inhibits sound degradation. Next, an 8mm thick bead-blasted glass platter provides a smooth spin across any record surface for hours while maintaining perfect speed stability at all times.
The one-piece aluminum tonearm and Ortofon OM 5E cartridge ensure absolute accuracy and excellent sound quality. In addition, the included Allen key lets you adjust the tracking force on the stylus for optimum performance.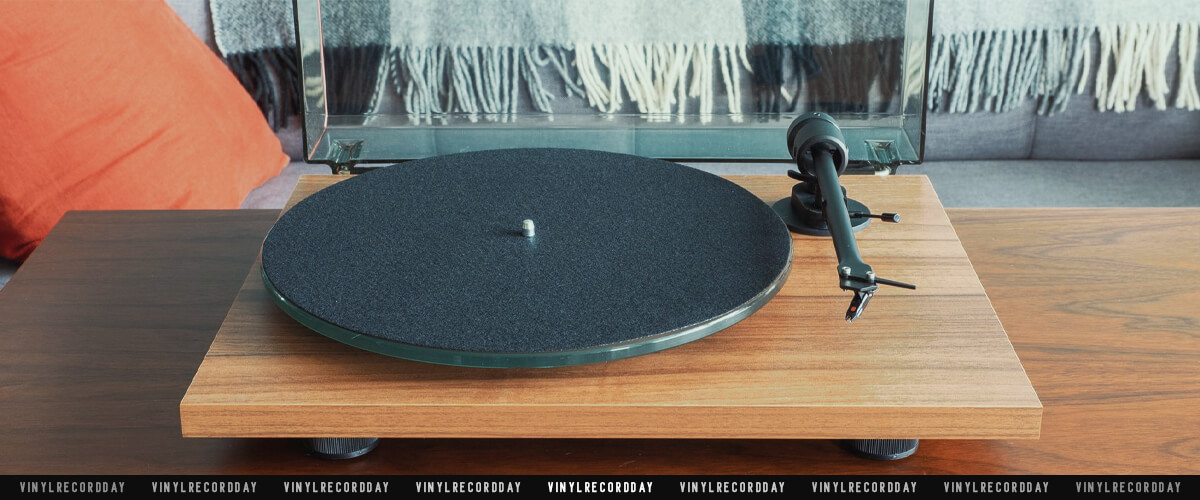 Finally, the player has an adapter for playing 7" singles and a power supply so you can get started listening right away.
Pro-Ject T1 BT is the overall best Bluetooth record player! With its premium-quality components and intelligent engineering, this model offers unparalleled sound reproduction combined with incredible convenience and ease of use.
Key specs
Drive type: belt.
Operation type: manual.
Speeds, RPM: 33 1/3, 45.
Phono Pre-Amp: yes.
Bluetooth: yes.
USB: no.
AUX: no.
Pros
Well-trusted brand.
Premium mechanical parts.
Built-in phono preamplifier.
The cartridge can be upgraded.
Setup is a breeze.
Cons
No anti-skating adjustment; however, the tonearm is optimized not to skate.
Electrohome Kingston 7-in-1 – with speakers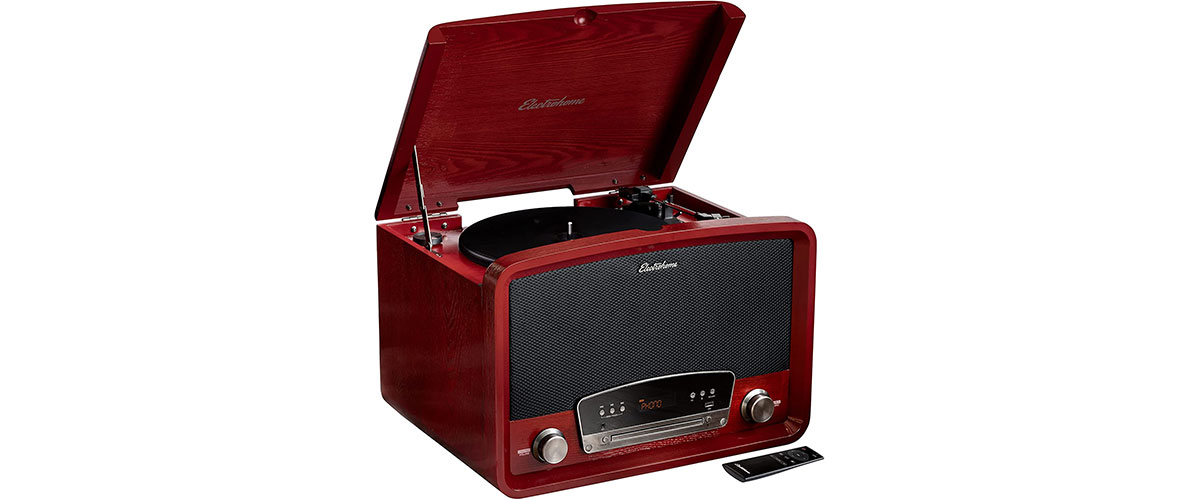 Electrohome is a long-term expert that has been in the market since 1907. This brand builds unique sound systems with a classic aesthetic and contemporary functionality. Kingston 7-in-1 is not an exception – it is an all-in-one turntable, ideal for beginners and seasoned vinyl collectors.
The player can spin records at 3 different speeds – 33, 45, or 78 RPM, making it stand out against competitors that typically have only 2 speeds. Another reason why this model has earned a place on my list is its high-quality integrated speakers – as for me, they produce unexpectedly big sound. On top of that, the turntable is generous with added bonuses such as Bluetooth, AM/FM radio, CD player, and USB.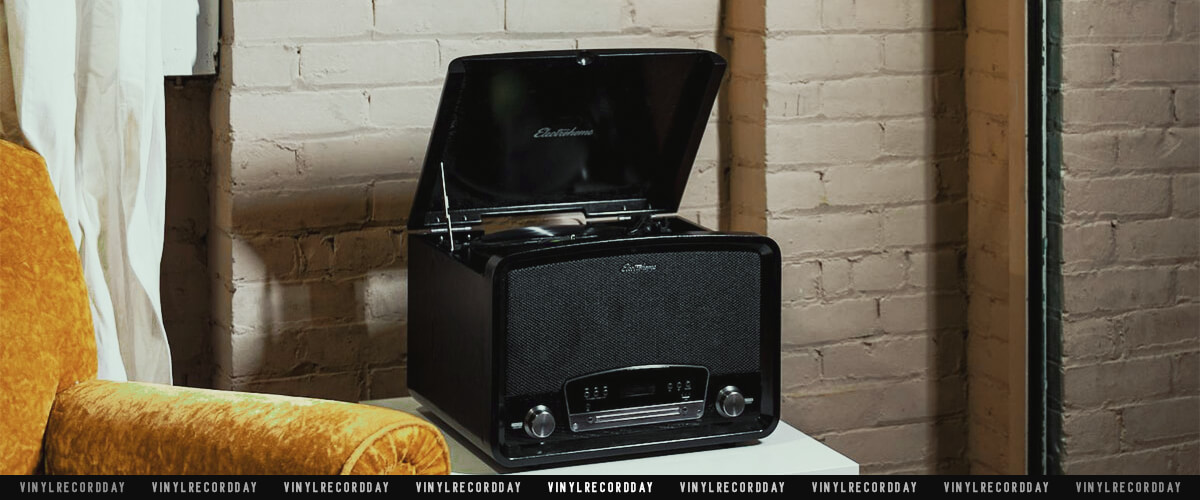 Last but not least, the handcrafted wooden chassis looks just stunning – it has a stylish retro appearance, complementing mid-century furnishings. The cabinet is also acoustically adapted to prevent vibrations and sound degradation. As a result, this phonograph sounds as great as it looks.
If you are hunting for a high-quality Bluetooth record player with speakers, you can end your search here! It'll pair immediately with your gadgets. Plus, the speaker is packed with more sound than you could expect, though it's not very loud.
Key specs
Drive type: belt.
Operation type: semi-automatic.
Speeds, RPM: 33 1/3, 45, 78.
Phono Pre-Amp: yes.
Bluetooth: yes.
USB: yes.
AUX: yes.
Built-in speakers: yes.
Speakers power, W: 40.
Pros
Decent sound.
Well-crafted.
Plug-n-play model.
Hugely versatile.
Beautiful piece of furniture.
Cons
If you want to amp the volume, you'll need additional speakers.
Audio-Technica AT-LP120XBT-USB – direct drive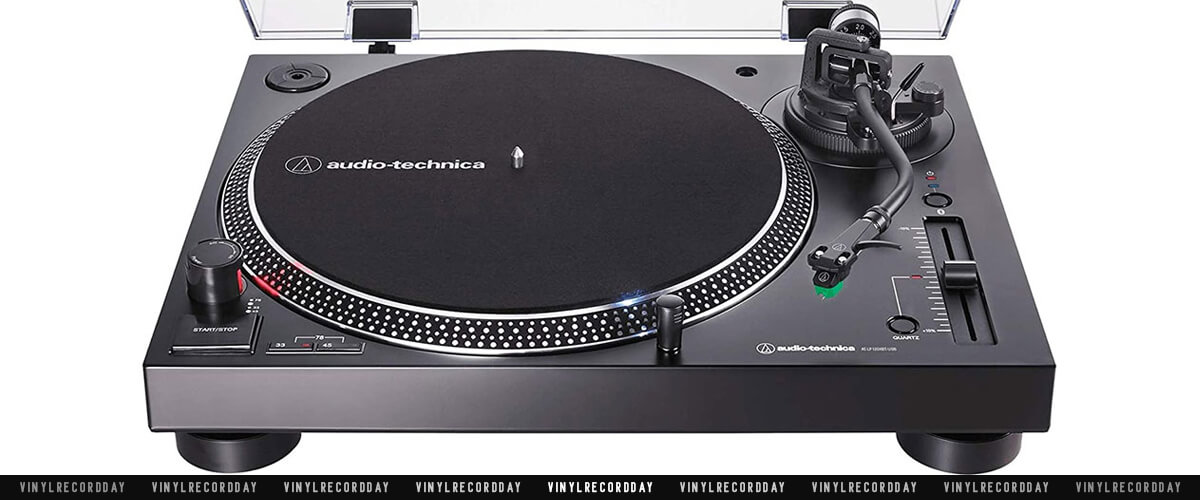 Many users choose direct-drive vinyl players since they provide a more consistent playback. And Audio-Technica AT-LP120XBT-USB is the best Bluetooth turntable among direct-drive models in a similar price range. Its specs are impressive for any vinyl lover who appreciates sound and overall feel.
The player comes with a built-in phono preamp, but if you want to improve the sound, a button on the back of the unit allows you to disable the preamp and connect an amplifier. Plus, you can instantly adjust between 33, 45, or 78 RPM speeds and listen to any vinyl format.
Fine-quality features like a stroboscopic platter with speed indicator, well-balanced S-shaped tonearm, replaceable AT-HS6 headshell, and AT-VM95E DMM cartridge with 0.3×0.7 elliptical needle make AT-LP120XBT-USB outperform its rivals in the same price segment. Moreover, this model's components are not worse than those found in our top-list product – Pro-Ject T1 BT.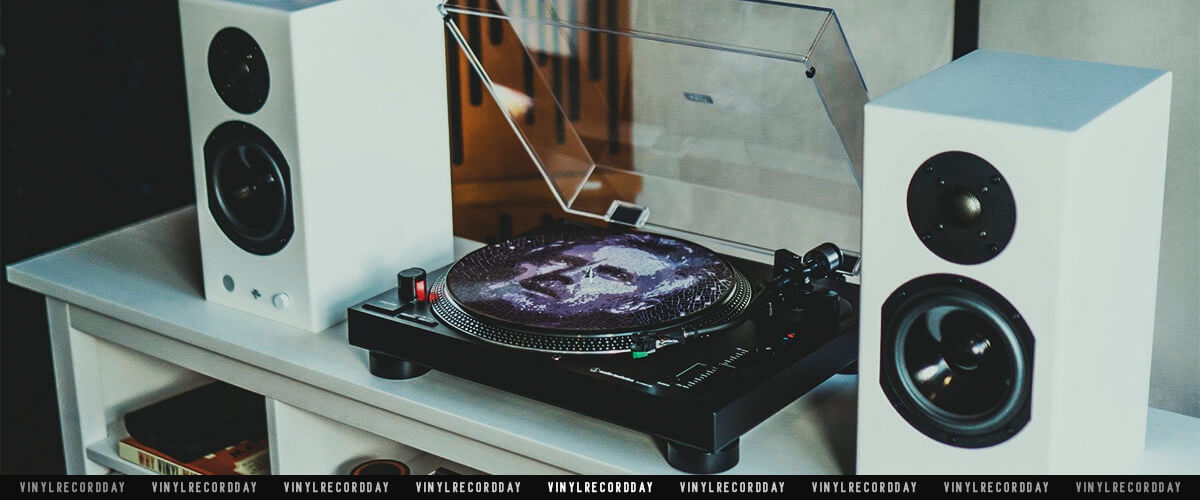 Finally, the turntable is really versatile with its 5.0 Bluetooth, USB port, and a detachable dual RCA output – stream your music, digitize it, or simply enjoy the warm analog sound.
Audio-Technica AT-LP120XBT-USB is a great record player with Bluetooth, especially for entry-level users. This model offers a superb balance of price, performance, and functionality!
Key specs
Drive type: direct.
Operation type: manual.
Speeds, RPM: 33 1/3, 45, 78.
Phono Pre-Amp: yes.
Bluetooth: yes.
USB: yes.
AUX: no.
Pros
Well-built.
Beautifully transparent sound.
No motor noise.
The needle drops softly.
Cons
When broken, hardwire RCA cables might be hard to replace.
Assembly may be a bit difficult for beginners.
Yamaha MusicCast Vinyl 500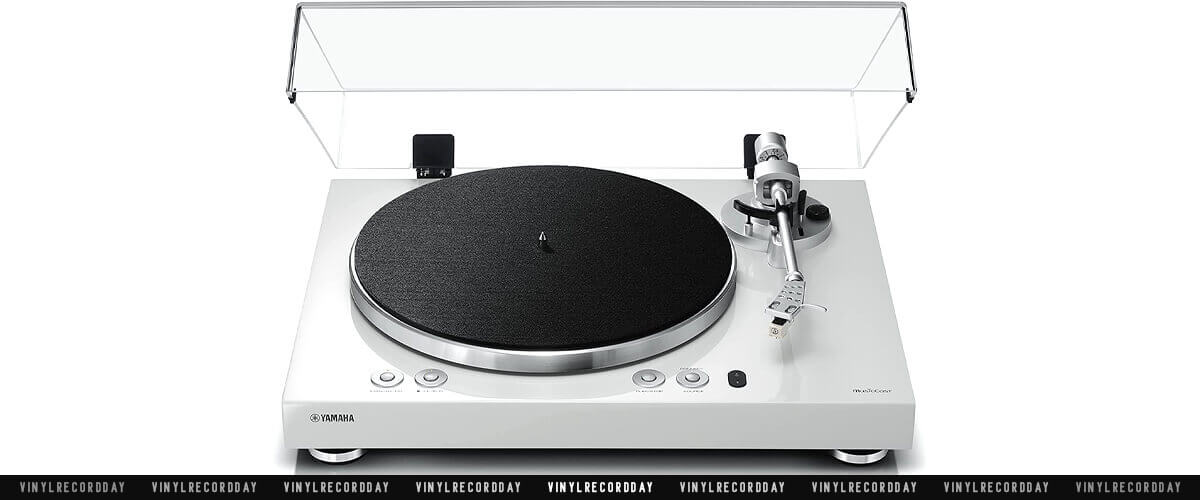 Yamaha MusicCast Vinyl 500 is an excellent choice for those looking to combine modern convenience with classic analog sound. With its Wi-Fi, Bluetooth, AirPlay 2, and Spotify Connect streaming capabilities, this model allows you to easily access your favorite music from various sources. I love its Bluetooth since it improves audio quality even more by reducing lip sync delays from digital formats. Voice control is also available through Alexa, Google Assistant devices, or Siri via Airplay 2 for added convenience.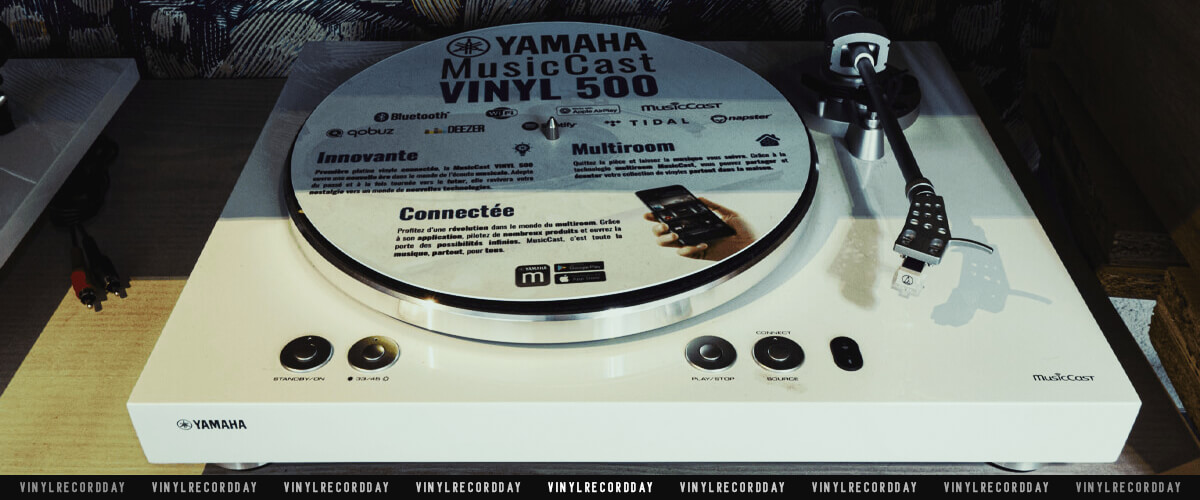 Under the hood, the Vinyl 500 is sure to impress audiophiles thanks to its powerful belt-drive motor which minimizes vibrations as well as a decent built-in phono preamp that provides accuracy and sonic purity. The player also has a straight tonearm, which offers optimal tracking and open sound. Furthermore, the slow drop lever operates smoothly and helps with correct needle positioning on the record grooves.
If you need a top-notch turntable with modern connectivity options and exceptional sound quality, do consider Yamaha MusicCast Vinyl 500! With its impressive list of features, this vinyl player can truly bring life to your collection of records!
Key specs
Drive type: direct.
Operation type: manual.
Speeds, RPM: 33 1/3, 45.
Phono Pre-Amp: yes.
Bluetooth: yes.
USB: yes.
AUX: no.
Pros
Elegant design.
Solidly built.
Provides 5.1 surround sound.
Quiet motor.
Hook up as many speakers as you want.
Cons
Works only with Yamaha MudiCast speakers.
No automatic features.
Crosley C100BT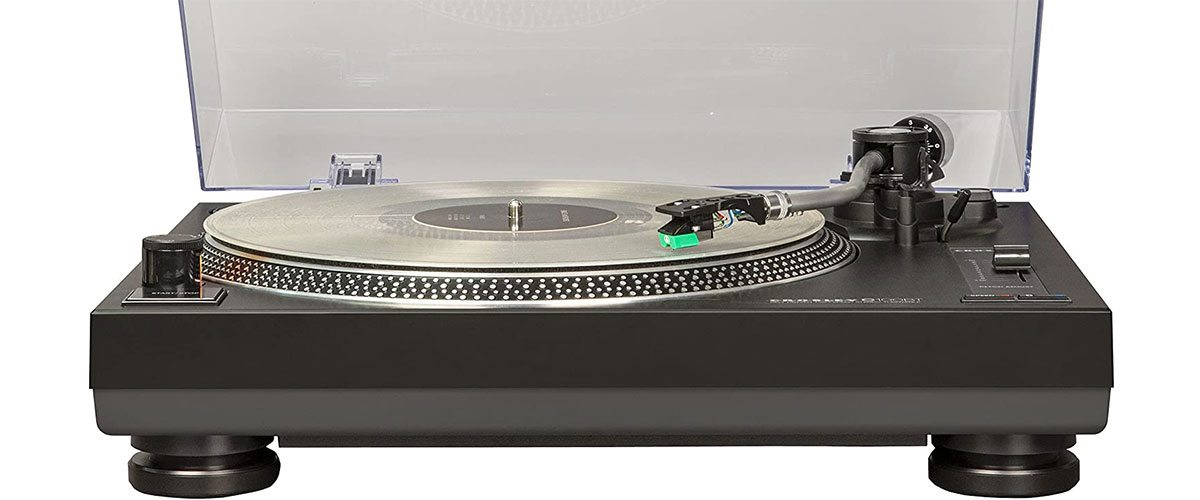 Crosley is a turntable manufacturer that has been around for almost a century – they produce affordable yet high-performance players.
The C100BT model is a perfect blend of price point and quality – it has all the essential features and uses good materials, making it an excellent pick for beginners.
This belt-driven, two-speed turntable has an s-shaped aluminum tonearm with an AT95E cartridge, providing impressive clarity and getting you in the groove with ease. In addition, the tonearm comes equipped with an adjustable counterweight. On top of that, more experienced users may appreciate an adjustable pitch control, which enables both pitch and tempo regulation.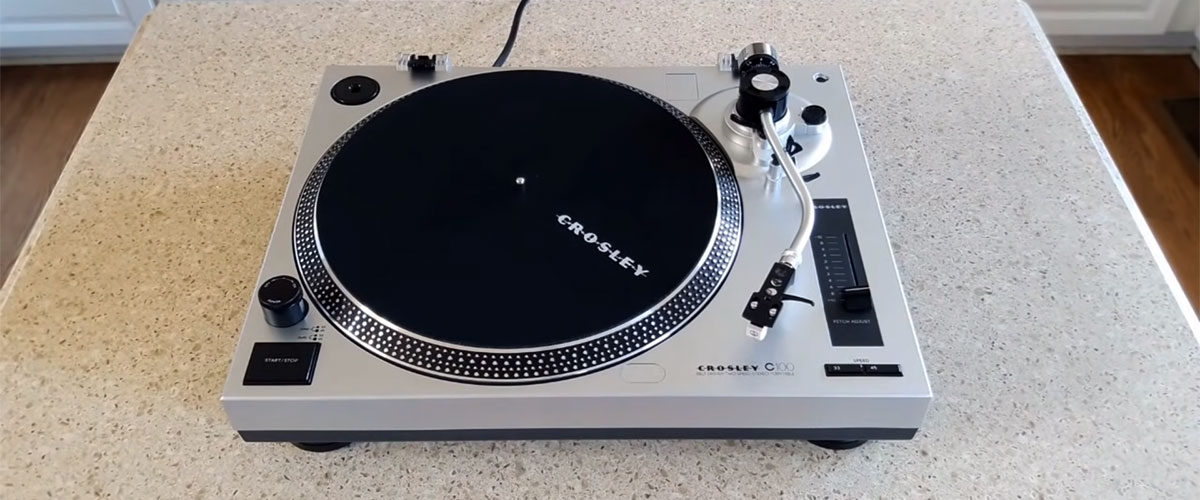 The C100BT has everything to make your listening experience more convenient – Bluetooth connectivity, RCA cable, and 45 RPM adaptor.
Crosley C100BT is a pretty strong competitor in today's market – it has most of the basic features you will find in higher-end turntables (e.g., Pro-Ject T1 BT), but the price is much lower. So, if you're a newbie looking for a decent-quality yet affordable vinyl player with Bluetooth, do take a closer look at this model!
Key specs
Drive type: belt.
Operation type: manual.
Speeds, RPM: 33 1/3, 45.
Phono Pre-Amp: yes.
Bluetooth: yes.
USB: no.
AUX: no.
Pros
Strong motor – picks up speed almost immediately.
Upgradable headshell and tonearm.
Solid aluminum platter.
Great price/quality ratio.
Cons
An integrated phono-preamp could use a little more oomph.
Feels not very durable.
Not for sophisticated listeners.
Sony PS-LX310BT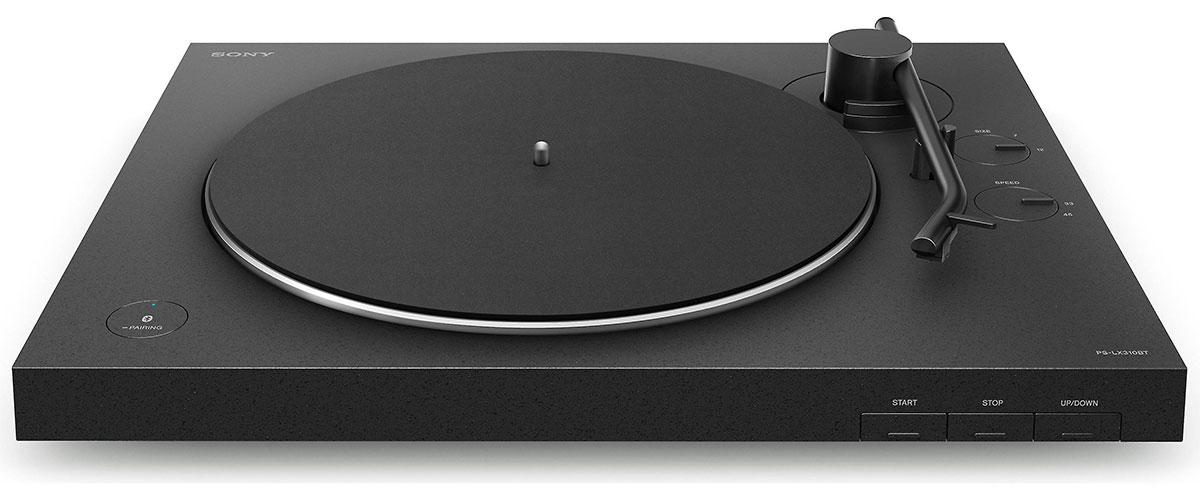 Sony PS-LX310BT prioritizes ease of use above anything else, making this model perfect for newbies.
This super-simple, fully automatic belt-drive deck will give you the freedom to listen to your tunes wirelessly. I was pleased to discover that the turntable supports Bluetooth aptX, a high-quality sound transfer technology found in many high-end audio devices. There's also a USB output for delivering music to a computer and classic "phono" or "line" level outputs if you don't want to use Bluetooth.
Despite the low price, PS-LX310BT is built of quality materials – it has a solid, aluminum die-cast platter that effectively reduces vibrations and stays assuredly stable when playing records. Next, its straight aluminum tonearm with pre-installed Audio-Technica AT3600 cartridge improves traceability for smooth, clear sound and strong bass.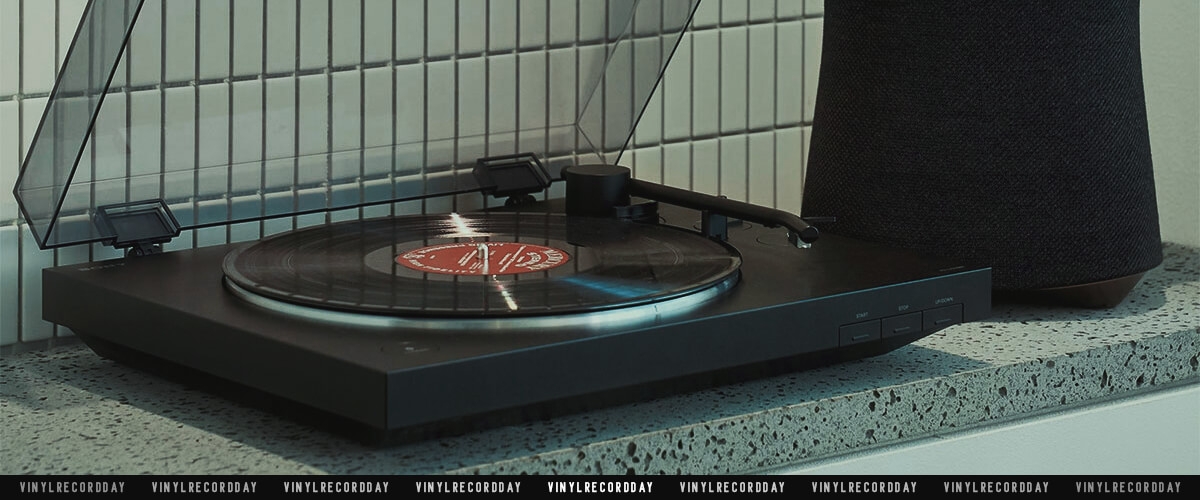 As you may notice, Sony PS-LX310BT and Crosley C100BT are in the same price segment, so it's only natural to compare them. They both have a lot to offer, but if you want an exceptionally user-friendly and portable turntable with Bluetooth connectivity, Sony PS-LX310BT will be the right pick for you.
This product doesn't have the bells and whistles you'll find on higher-priced record players, but it gets the job done at a fraction of the cost.
Key specs
Drive type: belt.
Operation type: manual.
Speeds, RPM: 33 1/3, 45.
Phono Pre-Amp: yes.
Bluetooth: yes.
USB: no.
AUX: no.
Pros
Minimalistic design – fits into any room.
Produces balanced, natural sound.
Straightforward to set up and use.
Compact and lightweight.
Cons
Plastic plinth
No adjustment for tracking and anti-skating.
Audio cables and power cord are pretty short.
Bluetooth turntable buying guide
How to choose the right record player with Bluetooth?
Most modern vinyl players feature Bluetooth connectivity that allows you to broadcast music to wireless headphones or speakers. But before purchasing any player, including Bluetooth-enabled, you should understand what characteristics to look for:
Choose a wholly automatic or semi-automatic system if you're a newbie. These options are more technologically advanced, making them easier to operate. On the other hand, all activities in a manually operated system must be performed by hand, which is inconvenient. If sound quality is important to you, though, a manual player is the way to go.
It's preferable if a vinyl player has three speeds: 33, 45, and 78 RPM. You'll be able to play any vinyl format with it.
You may digitize your vinyl records via the USB port.
Is the sound quality of a Bluetooth audio system worse than a wired one?
In all honesty, a record player that connects to a Bluetooth speaker typically produces worse sound than if you play through a cabled setup.
When an analog signal is converted to a digital signal and then returned to an analog signal before reaching the speakers, the audio becomes compressed, resulting in a loss of details. It can lead to decreased sound quality and possibly greater distortion.
Are vinyl players worth the money?
Setting up your record player for wireless play is probably not for you if you have a high-end system or simply want the greatest sound your player has to offer.
But on the other hand, if you have a mid-range system, don't care about a potential drop in quality, and want more freedom to put speakers anywhere around your home, try one of the wireless turntables listed here – they don't disappoint even those with a critical ear!
How to connect a Bluetooth record player with speakers or headphones?
To connect a Bluetooth record player to speakers, you'll need to make sure that both the record player and the speakers are turned on. Then, you'll need to find the Bluetooth symbol on both devices. The symbol will look like a Bluetooth headset with two arrows pointing outwards. After you've located the symbol, press and hold the pairing button on the record player until it starts blinking rapidly, then do the same thing with the speakers. Once both devices are paired, they will automatically connect when they're turned on.
If you want to connect your Bluetooth record player to headphones, you'll need to do the following:
Make sure that your headphones are Bluetooth-compatible.
Turn on your Bluetooth record player and ensure it is in pairing mode.
Search for your headphones in the list of devices that appear on your record player's screen, and you're good to go!
FAQ
Will Bluetooth ever be lossless?
Bluetooth has been around for over 15 years now, and it never faced the lossless battle that its predecessors, A2DP and AVRCP, already had to. You might ask why because Bluetooth can transmit lossless audio (AAC/aptX). However, other protocols use additional compression to create audio codecs like SBC and aptX.
Does Bluetooth 5.0 have better audio quality?
Yes, Bluetooth 5 is part of the reason why lossless is now possible. The most important new feature for Bluetooth 5 is the enhanced retransmission modes, which can improve data transfer by up to 5x on packet loss. This is also a big step forward in reliability, especially for real-time use cases.
Can you connect a turntable to Bluetooth?
Yes, you can use a Bluetooth transmitter connected to your turntable and then just connect the same Bluetooth transmitter to your Bluetooth Speaker.
How to connect a Bluetooth turntable to a soundbar?
Most modern soundbars have a wireless
Bluetooth connection
that you can use to stream music from any Bluetooth-enabled device.
Can you connect Airpods to a record player?
Yes, connecting Airpods to a record player with an audio cable or via Bluetooth is possible.
Do Bluetooth transmitters really work?
Yes, they do! It's one of the best solutions to transmit audio wirelessly.