There are an unbelievable variety of different record players on the market, and their prices range from a few hundred dollars to a couple of thousand. Obviously, the more you spend, the better sound you'll get, but that doesn't mean you need to break the bank to buy a decent-quality turntable. So, what are the best record players for beginners? If you want to know the answer, you've come to the right place! I'm here to help you choose a good, affordable deck that will sound confident & composed. We'll also discuss what to look for when purchasing one. Without further ado, let's get down to the details!
Our pick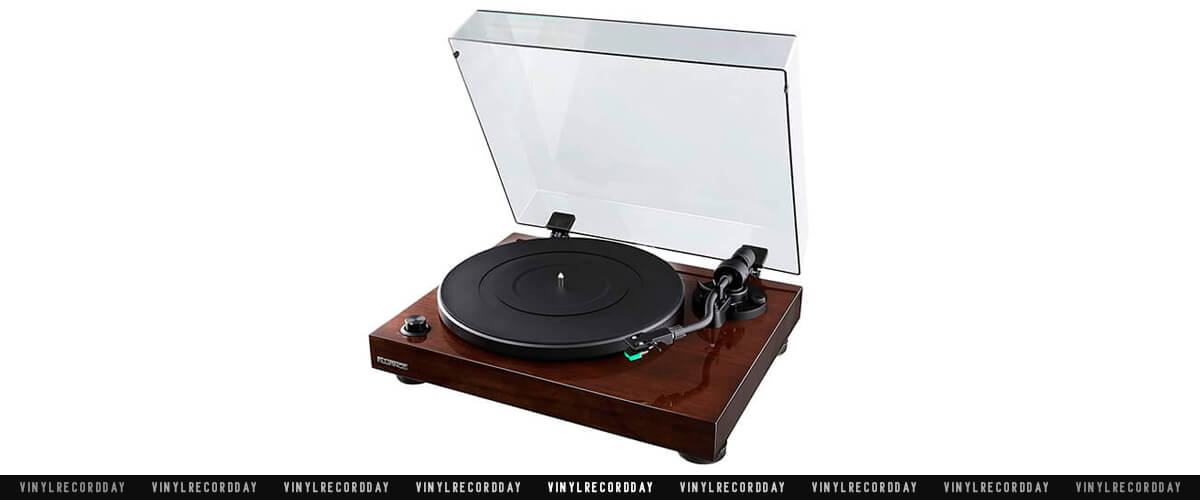 Fluance RT81
Best record player for beginners
Premium components allow this high fidelity belt driven turntable to recreate the performance the way the artist intended.
Read the full review
.
Record players for beginners comparison table
Name
Operation type
Speeds
Phono Pre-Amp
Speakers
Bluetooth
Review
Fluance RT81

best overall

manual
33 1/3, 45 RPM
yes
no
no
Review
1byone H009

with built-in speakers

manual
33 1/3, 45 RPM
yes
yes
yes
Review
Audio-Technica AT-LP60XBT

budget turntable

fully automatic
33 1/3, 45 RPM
yes
no
yes
Review
Pro-Ject T1 Phono SB

for beginners

manual
33 1/3, 45 RPM
yes
no
no
Review
How I picked turntables for beginners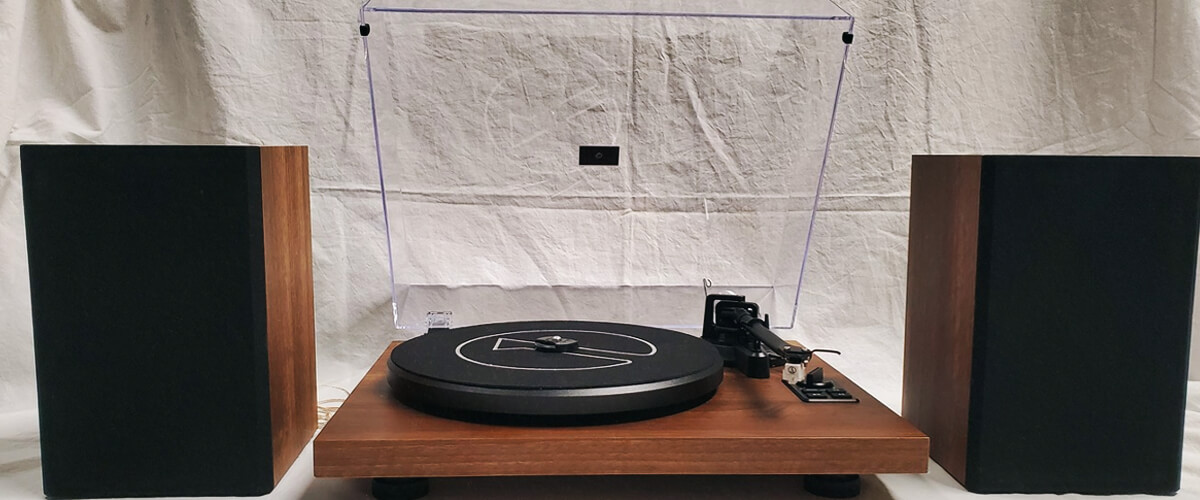 When selecting a beginner vinyl player, there were a few factors that I took into consideration. Of course, the price/quality ratio was key – everyone wants to buy a good model without spending an arm and a leg. Other considerations included ease of use, durability, and sound quality.
Ease of use is essential for beginners, as you don't want to be struggling to set up your turntable or fiddling with complicated controls. All players on this list are very user-friendly (1byone H009 even comes with built-in speakers), so you can just plug in your deck, sit back and enjoy the music.
Durability is also essential – it ensures your turntable won't break down after just a few uses. And last but not least, I do believe that a satisfactory sound quality is a must-have for every player, no matter what level you're at!
How I tested starter record players
This is my beginner vinyl setup:
When testing the sound quality of beginner turntables, I listened to the following recordings:
Best record player for beginners review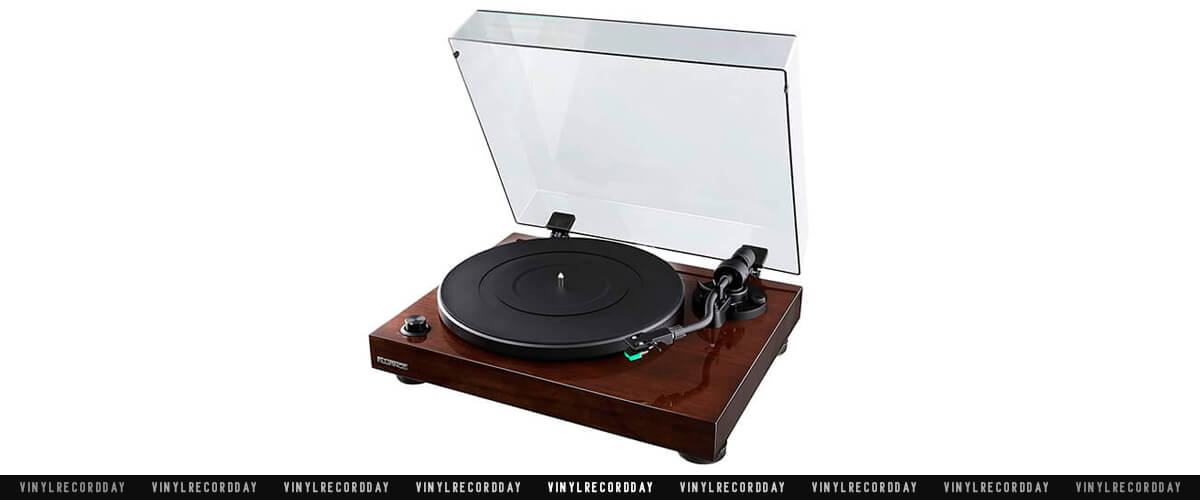 You're missing out if you've never heard of the Fluance brand! This Canadian enterprise has been operating since 1999 when it started manufacturing speakers. Over time, their excitement grew to encompass record players in the larger universe of sound. The RT81 is their top entry-level turntable; it has a lot to offer and is a great bargain at a fair price.
This turntable's built-in preamp makes it incredibly simple for anyone to plug it in and immediately begin playing vinyl records. Next, the RT81 is fitted with AT double-magnet phono cartridge and an elliptical diamond needle to ensure the sound's accuracy and purity.
This model is a belt-driven type, making it less susceptible to vibrations. In addition, a robust aluminum platter, sturdy MDF plinth, isolation feet, and rubber mat perform an outstanding job of insulating the cartridge from unwanted resonance. Plus, a heavy-duty motor features more torque and higher RPM accuracy. All of these audiophile-grade accessories have been meticulously constructed for optimal sound reproduction. I love how the RT81 sounds – crisp and accurate with a warm analog tone and no speed issues. For instance, I was really taken by the guitar licks on Dazed & Confused – I listened to both sides of this record as if it was the first time I'd heard it.
Lastly, this deck boasts a lovely vintage-style appearance with a high-gloss walnut surface. Such a piece of furniture will look excellent in any home!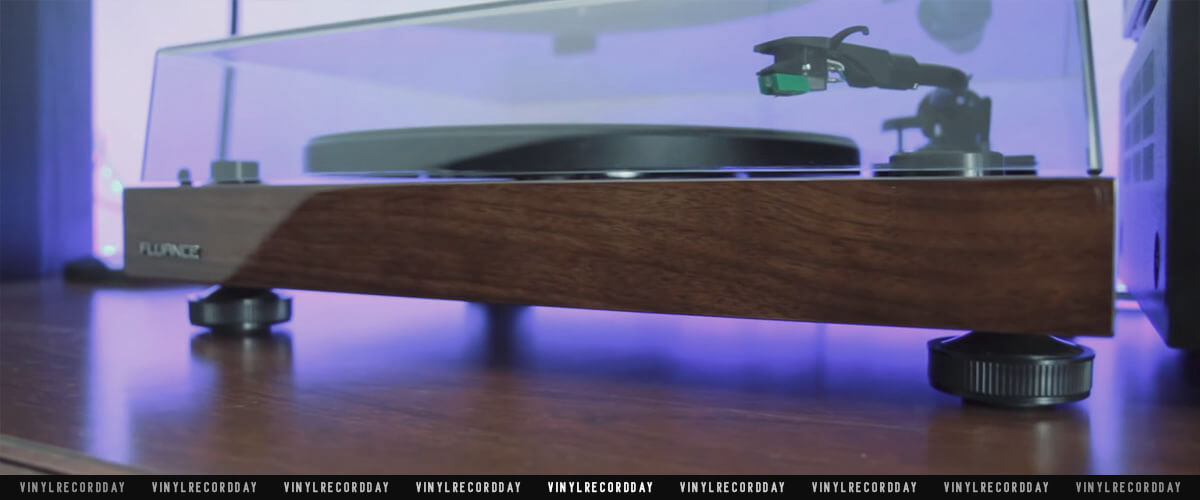 The RT81 competes head to head with another great model from my list – Audio-Technica AT-LP60XBT. But the former is slightly forward with its more durable construction, which results in less vibration and resonance, hence better sound.
Fluance RT81 is the overall best record player for beginners available on today's market. While offering only basic features, this product uses top-quality materials and components, making it sound like heaven!
Key specs
Drive type: belt.
Operation type: manual.
Speeds, RPM: 33 1/3, 45.
Phono Pre-Amp: yes.
Speakers: no.
Bluetooth: no.
USB: no.
AUX: no.
Pros
Superb sound quality.
Solid MDF wood construction.
High-performance components.
Straightforward operation.
Elegant design.
Cons
RPM adjustments are located at the bottom and are a little difficult to access.
1byone H009 – with built-in speakers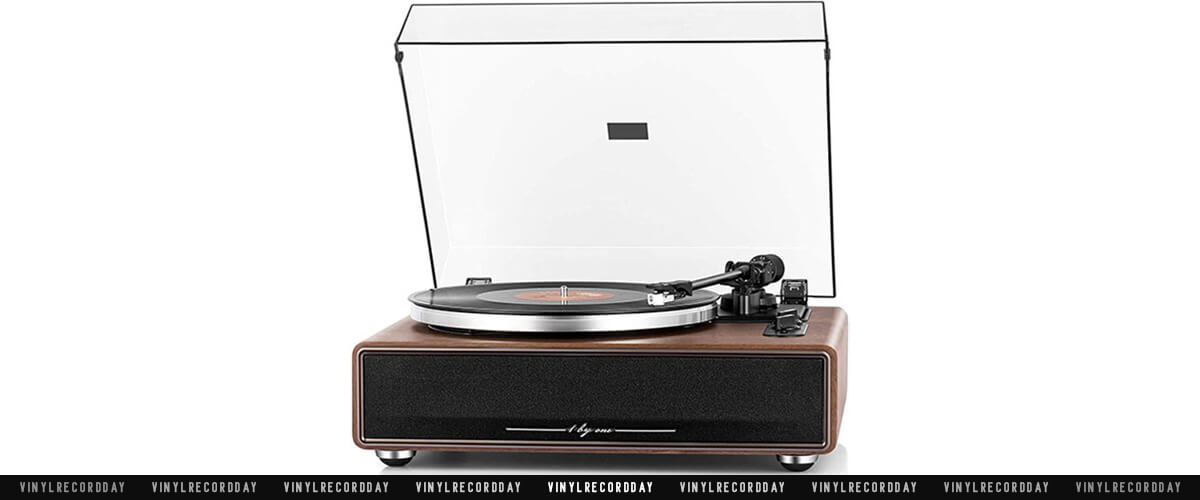 If you're a beginner in the world of vinyl and want the simplest way to get started, look no further than the 1byone H009 setup. It's one of the market's most convenient all-in-one options!
To begin with, the H009 has a smooth, space-saving design that will match any home style – in fact, it's a gem for people who enjoy minimalistic yet efficient models.
Next, this belt-driven turntable features high-quality electronics and built-in speakers for completely self-contained music. Moreover, it includes an integrated phono stage, allowing you to connect it straight to an audio system or amplifier without needing extra hardware or costly adjustments.
Vinyl enthusiasts will appreciate the diamond-tipped AT cartridge with an adjustable counterweight. The system spins records at 33 1/3 and 45 RPM, delivering a lovely, crisp, and clear sound – even at maximum volume, the speakers do not over-vibrate!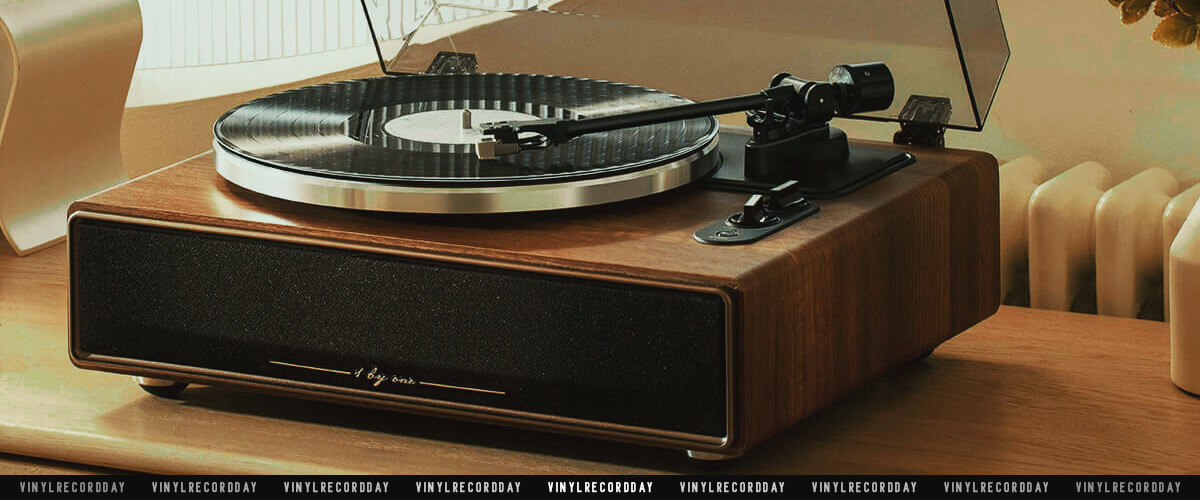 What I really enjoy about this model is that it has everything you could possibly need in one bundle! Simply plug it in, adjust the speed with the handy power dial, or let it do the job for you by selecting an auto mode for optimal performance without breaking a sweat! To top it off, the turntable's speaker can wirelessly stream music from other devices through Bluetooth or via the Aux-in connector.
If you are looking for the best beginner record player with built-in speakers that successfully mixes a vintage vibe with a plethora of modern functionality, do consider 1byone H009! It perfectly fits the bill for those needs!
Key specs
Drive type: belt.
Operation type: manual.
Speeds, RPM: 33 1/3, 45.
Phono Pre-Amp: yes.
Speakers: yes.
Speakers power, W: 36.
Bluetooth: yes.
USB: yes.
AUX: yes.
Pros
Well-built anti-vibration chassis.
Classic, compact design.
Plug-n-play model.
Full volume does not cause the speaker to vibrate excessively.
Produces beautifully transparent sound.
Cons
A lot of plastic parts, however, it doesn't degrade the overall quality.
No auto-stop feature.
Audio-Technica AT-LP60XBT – budget turntable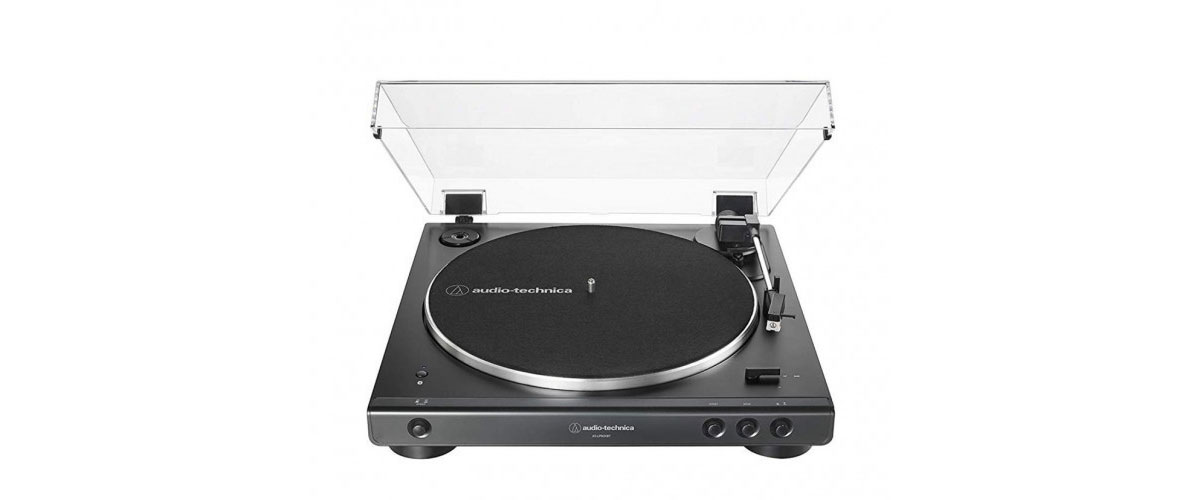 I've included 2 products from Audio-Technica into my list, and for a good reason! This company specializes in producing high-performance phono cartridges that go into every record player they make. Thanks to intelligent engineering, AT products can take your listening experience to the next level. And their affordable AT-LP60XBT is no exception!
First off, the AT-LP60XBT is quite powerful, featuring a DC servo-controlled motor and delivering 300 watts – it can really rock your tunes. Plus, a high-mass die-cast aluminum platter provides excellent resistance against resonance and vibrations. Newbies will definitely appreciate complete ease of use due to the fully automatic operation. This babe is even more user-friendly than our winner Fluance RT81.
The AT-LP60XBT offers decent sound quality with the added convenience of Bluetooth wireless technology – you can easily connect the table to Bluetooth-enabled speakers and other devices. Or you can hook it up to wired audio systems, and powered speakers via the included dual RCA output cable. Moreover, this TT is compatible with the aptX codec for enhanced sound quality.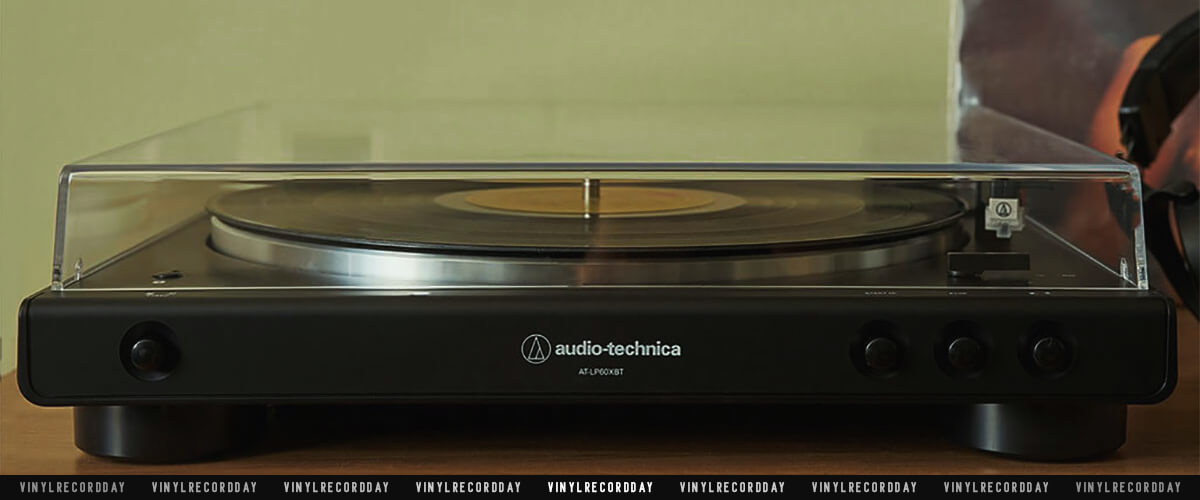 Of course, you shouldn't expect audiophile-level quality from the entry-level model, however, it still delivers natural sound with warm tones and gentle treble that will appeal to many people.
Audio-Technica AT-LP60XBT is among the most popular players for new vinyl enthusiasts thanks to its affordable price, reliable brand, good sound, and added bonuses. So, if you are looking for the finest budget starter record player, this TT is definitely a bargain!
Key specs
Drive type: belt.
Operation type: fully automatic.
Speeds, RPM: 33 1/3, 45.
Phono Pre-Amp: yes.
Speakers: no.
Bluetooth: yes.
USB: no.
AUX: no.
Pros
Simple yet efficient design.
Straightforward to operate.
Works great out of the box.
Pairs easily with Bluetooth-enabled devices.
Quality tonearm and replaceable stylus.
Cons
Non-upgradable cartridge.
The buttons feel a little cheap, however, they go in and out fine, and it'll be hard to press to break them.
Pro-Ject T1 Phono SB – advanced choice for beginners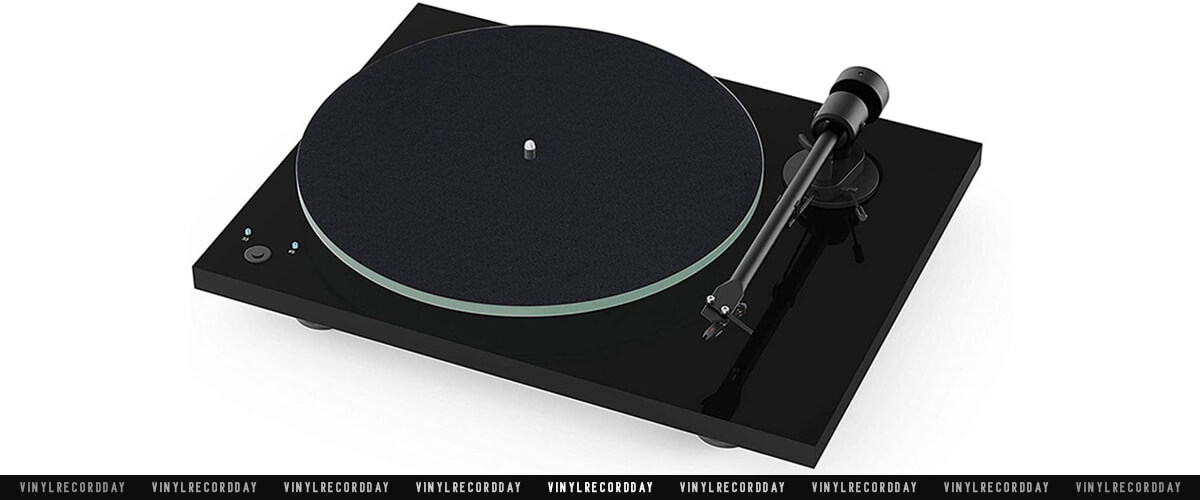 If you're willing to pay a bit more to buy a workhorse with high-quality electronics and top-of-the-line chassis, T1 Phono SB by Pro-Ject is what you need.
My favorite part about this model is that it boasts an electronically regulated precision-speed AC motor that effectively prevents speed fluctuations. Plus, a specifically designed built-in phono MM stage and an electronic speed dial between 33 and 45 RPM make this table easy to use and contribute to the smooth, accurate playback of your LPs.
It's worth noting that the T1 Phono SB is nearly identical to Audio-Technica AT-LP120XBT-USB in terms of components quality. But if you compare their bodies, you'll clearly understand the difference between these two models and why the former is more expensive. There are no plastic elements or empty hollows in the T1 Phono SB's elegant CNC-machined plinth, eliminating undesired vibrations within the chassis. High-mass, zero-resonance glass platter is also carefully manufactured to adhere to this guiding tenet. In addition, the purpose-designed feet effectively isolate the player from vibrations around your audio system.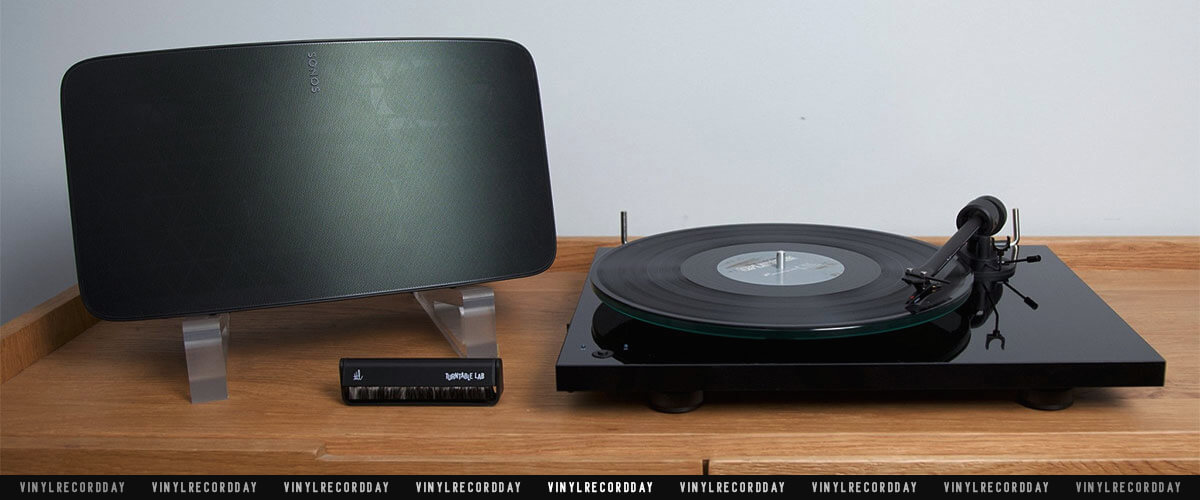 Keen listeners will appreciate a meticulously crafted 8.6-inch one-piece aluminum tonearm with low-friction bearings for precise operation. Finally, the T1 comes with an Ortofon OM 5E MM cartridge that has been pre-adjusted and is ready to use straight out of the box. It took me about 5 minutes to set the TT up, and after spinning an old Simon & Garfunkel, I was swept back 20+ years to my childhood – my heart grew two sizes when I heard those lovely tunes. The sound reproduction is just fantastic – balanced and warm!
Pro-Ject T1 Phono SB is an advanced choice for beginners. This simple record player boasts premium materials, a sleek design, and a rich, lively sound. It could be years before you want to upgrade this beauty.
Key specs
Drive type: belt.
Operation type: manual.
Speeds, RPM: 33 1/3, 45.
Phono Pre-Amp: yes.
Speakers: no.
Bluetooth: no.
USB: no.
AUX: no.
Pros
Solid sound.
Unique, durable construction.
Minimalistic yet beautiful design – goes well with any home decor.
High-quality cables.
Audio-Technica AT-LP120XBT-USB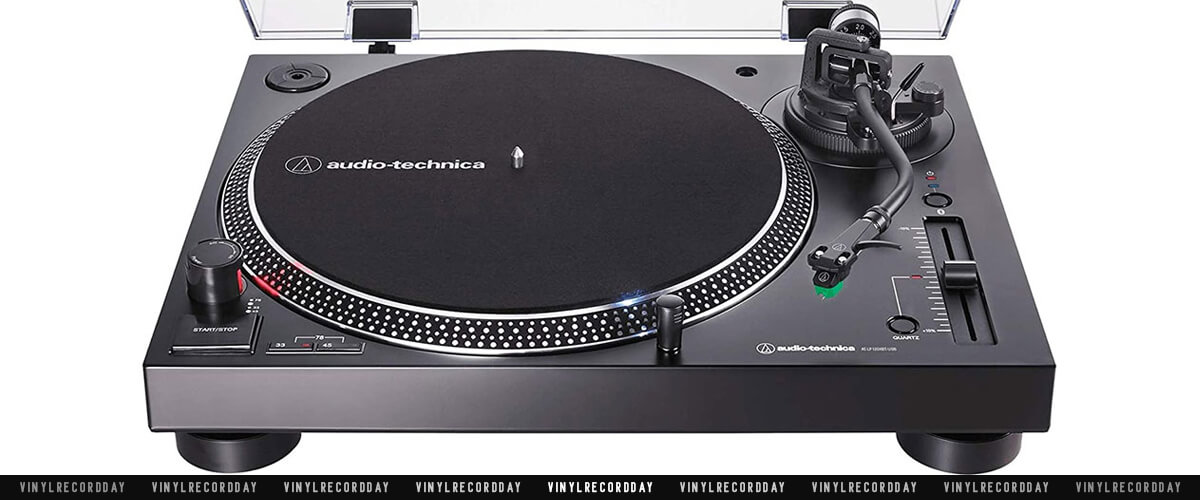 Lots of users prefer direct-drive turntables since they provide more accurate playback. And the Audio-Technica AT-LP120XBT-USB is one of the top mid-range Bluetooth players in its price range among direct-drive versions. Moreover, its specifications are remarkable for any vinyl fan (especially a novice DJ) who values decent performance and overall quality!
The TT includes an integrated phono stage, but if you wish to boost the audio quality, you can disable it and connect an amplifier through a button on the back of the machine. You may instantly switch between 33, 45, and 78 RPM speeds and enjoy any vinyl format.
A stroboscopic platter with a speed indicator, a perfectly-balanced S-shaped tonearm, a changeable AT-HS6 headshell, and an AT-VM95E DMM cartridge with a 0.3×0.7 elliptical stylus help this model surpass its competitors in the same price range. Moreover, the electronics of the AT-LP120XBT-USB are not inferior to those found in our top-tier product, the Pro-Ject T1 Phono SB.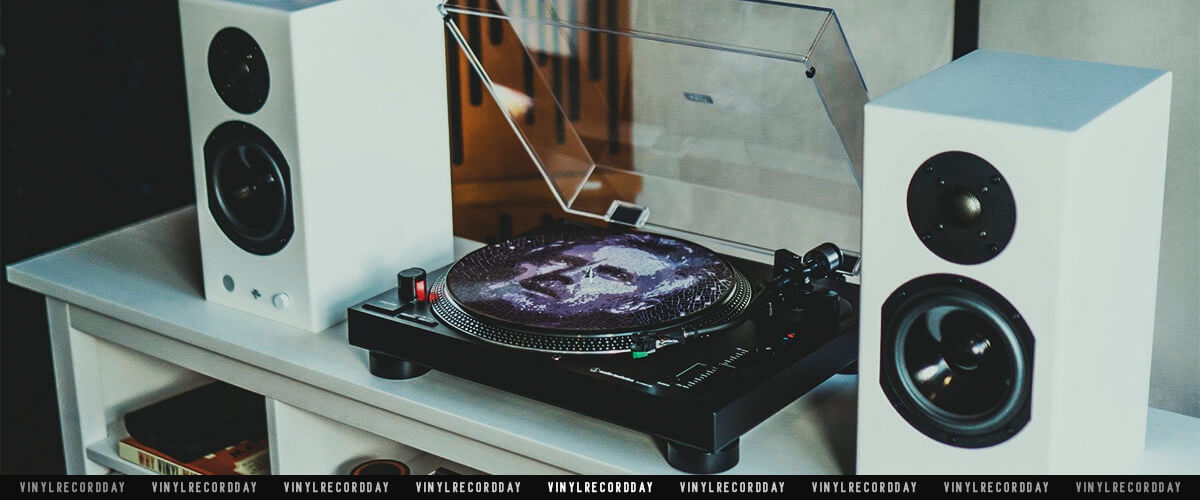 Last but not least, the turntable offers a wide range of functionality thanks to its 5.0 Bluetooth connectivity, USB connector, and detachable dual RCA output. Due to the generous added features, you may stream your music, digitize it, or simply enjoy the warm analog sound.
If you're into DJing and looking for a great first record player, do consider AT-LP120XBT-USB! It provides everything you may need – high performance, functionality, versatility, and built quality. Make your parties furious with this little beast!
Key specs
Drive type: belt.
Operation type: manual.
Speeds, RPM: 33 1/3, 45, 78.
Phono Pre-Amp: yes.
Speakers: no.
Bluetooth: yes.
USB: yes.
AUX: no.
Pros
Quality construction.
Superb sound.
Noiseless motor.
The stylus lowers softly.
Cons
Hardwired RCA wires might be difficult to replace.
Beginners may struggle with assembly.
Sony PS-LX310BT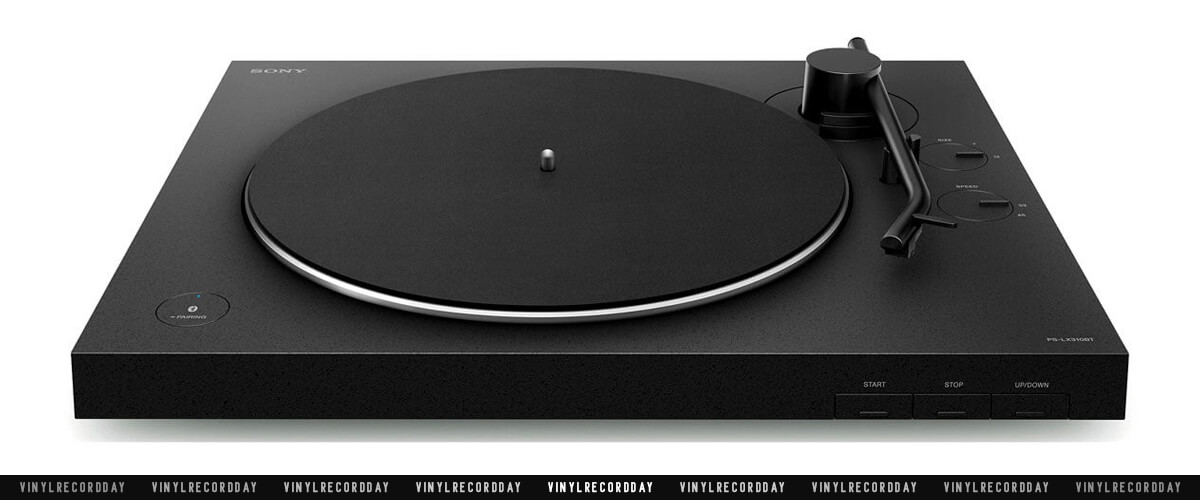 The Sony PS-LX310BT is a beginner-friendly turntable designed to make it easy for anyone to bring their vinyl collection to life. This sleek and stylish belt-driven turntable features a fully automatic operation, with one-step auto start, stop, and return functions, making it super easy to use. An aluminum die-cast platter reduces vibration for improved sound reproduction, while a built-in switchable preamp offers three gain settings that can be adjusted depending on your listening preference.
Further, this model comes with a great USB ripping feature, allowing you to easily rip or convert your vinyl records into digital MP3 files on any computer. It also has Bluetooth connectivity, so you can wirelessly connect it to speakers, headphones, or other Bluetooth-enabled devices. Plus, the TT's RCA cables allow you to plug directly into a stereo system for even more flexibility in use.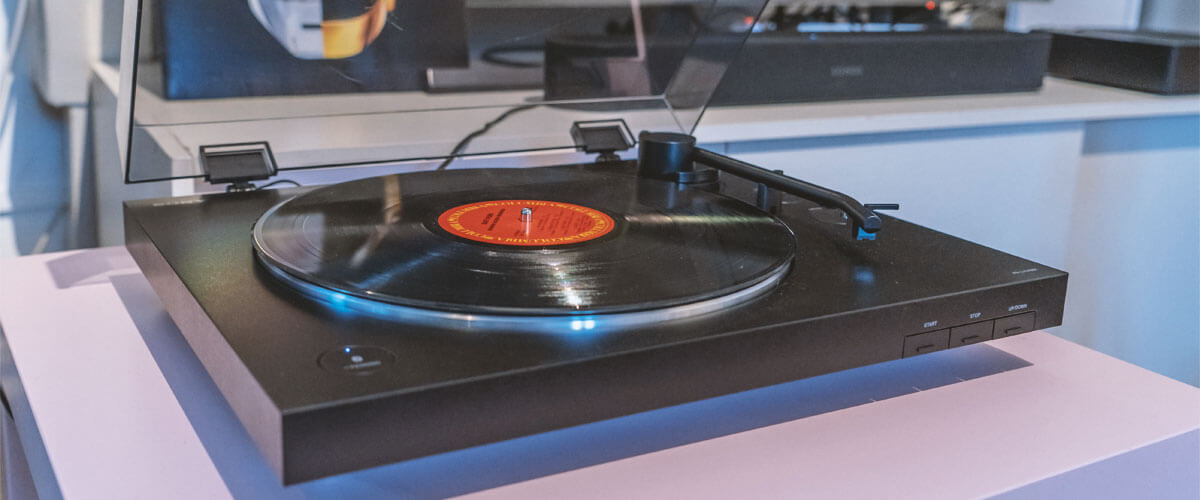 And last but not least, I definitely love how this babe sounds! I didn't expect decent clarity from such a modest body. However, when I paired it with my Sony speakers, it began to sound awesome – very good highs and tons of bass. Plus, you can upgrade the included needle to an elliptical one, it'll get you more upper range from your LPs.
With all these convenient features and its intuitive design, the Sony PS-LX310BT is a perfect choice for anyone looking to get started in the world of vinyl record collecting.
Key specs
Drive type: belt.
Operation type: manual.
Speeds, RPM: 33 1/3, 45, 78.
Phono Pre-Amp: yes.
Speakers: no.
Bluetooth: yes.
USB: yes.
AUX: no.
Pros
Extremely straightforward setup.
No issues with speed fluctuations.
Very smooth operation.
Bluetooth works flawlessly.
Upgradable stylus.
Cons
Can't upgrade the cartridge.
Feels very light and cheap, however, it's still of good quality and sounds excellent for the money.
How to choose the record player for beginners?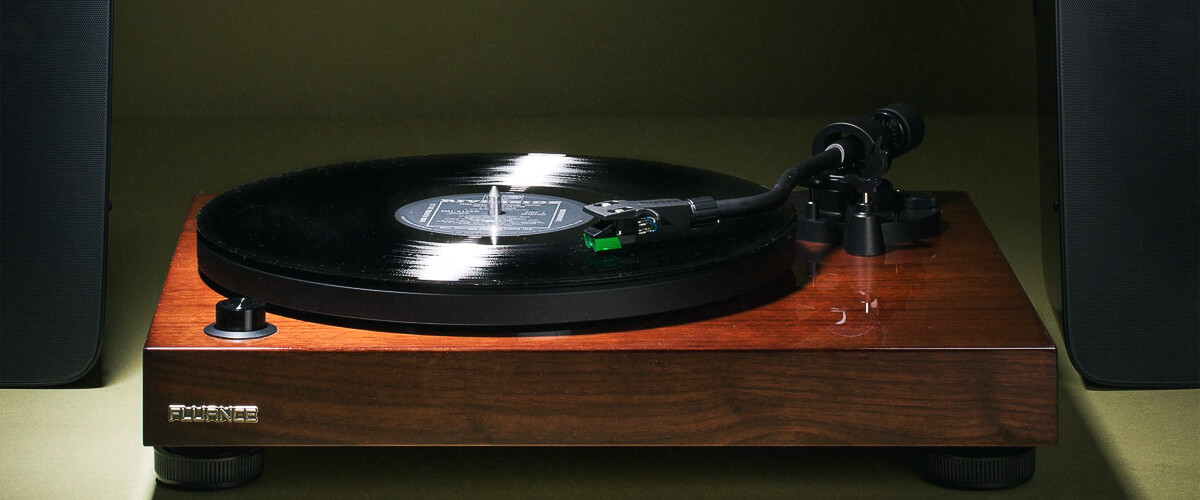 I remember how challenging it is to choose the first record player! So, to make the selection process easier, pay attention to the following:
It would be wise to pick a fully automatic or semi-automatic system if you are a beginner – such systems are straightforward to operate, plus they are often more technologically advanced.
Make sure you can connect your TT to the external speakers in case you want to improve the sound.
It'll be great if your first player has a built-in phono preamp and speakers (optionally) – this will make your listening experience more convenient.
If you're looking for a versatile player that can be used with various gadgets, ensure it has Bluetooth, USB, or AUX input capabilities.
How to connect the turntable to the speakers?
Typically, beginner record players are easy to set up, however, here's a short manual for you. Just in case!
If your turntable has a ground wire, be sure to connect it to the receiver or amplifier.
Next, take your RCA cables and plug them into the "phono" inputs on the back of the receiver or amplifier. If your turntable does not have RCA outputs, you will need to use a 1/8″ stereo mini-plug cable instead.
Once the cables are plugged in, turn on your receiver or amplifier and select the "phono" input.
Finally, adjust the volume to your desired level and start enjoying your vinyl collection!
FAQ
What is a phono preamp?
A
phono preamp
(or phonograph preamplifier) is a component used in turntables to amplify the signal from the cartridge to line level so that it can be properly fed into a standard audio mixer or amplifier. Most turntables require a phono preamp in order to produce an adequate signal, and many modern mixers and amplifiers do not have one built-in.
How do I know if my player has a preamp?
If your player has a
built-in preamp
, there will be a switch on the back to select either "phono" or "line." If your player does not have a built-in preamp, you will need to purchase an external one in order to properly amplify the signal from your turntable.
Do I need an amp for a turntable?
Yes, you will need an amplifier in order to properly power your turntable setup. The phono preamp will amplify the signal from your cartridge to line level, but you will still need an amp to boost the signal to a level that can be used by speakers or headphones.
Can you use a turntable without speakers?
No, you will need speakers (or headphones) in order to hear the music from your turntable. The turntable itself only produces a very low-level signal that is not loud enough to be heard on its own.
What is the difference between 33, 45, and 78 vinyl records?
33, 45, and 78 vinyl records all contain the
same type
of grooves that are read by the stylus (needle) in a turntable. The difference between them is the size of the record and the speed at which they are played. 33 records are 12-inch records that are played at 33 revolutions per minute (rpm), 45 records are 7-inch records that are played at 45 rpm, and 78 records are 10-inch records that are played at 78 rpm.
Can I upgrade the components of a beginner turntable as I become more experienced?
Absolutely, upgrading components of a beginner turntable is a wise move as you delve deeper into the vinyl world. Many enthusiasts start with entry-level turntables and then enhance parts like the cartridge, stylus, or platter for improved sound quality and performance. By upgrading, you can achieve a more detailed and dynamic listening experience without buying a whole new unit. Remember, though: always ensure compatibility between your turntable and the new components. Investing in upgrades not only elevates your listening game but also prolongs the life of your beloved records.
How important is the needle or stylus quality for sound output?
The needle, or stylus, is paramount to sound quality in vinyl playback. It's the point of contact with the record, tracing the grooves to translate them into sound. A high-quality stylus captures more detail, nuances, and dynamics from these grooves, providing clearer and richer audio output. On the other hand, a poor-quality or worn-out stylus can not only produce subpar sound but also potentially damage your records over time. Investing in a good stylus ensures that you extract the finest possible sound from your vinyl and treat your collection with the respect it deserves.