Many casual listeners as well as avid vinyl enthusiasts will find the best turntable with a built-in preamp a super convenient option. That's because such a model saves you money and space. It hooks up directly to your receiver, speakers, and other stereo equipment without the need for a separate preamplifier, meaning you'll have fewer cables and boxes to hide.
But how to choose the right model that will meet all your needs? You'll find the answers in this review! I aim to help you make a well-informed decision that you won't regret.
Our pick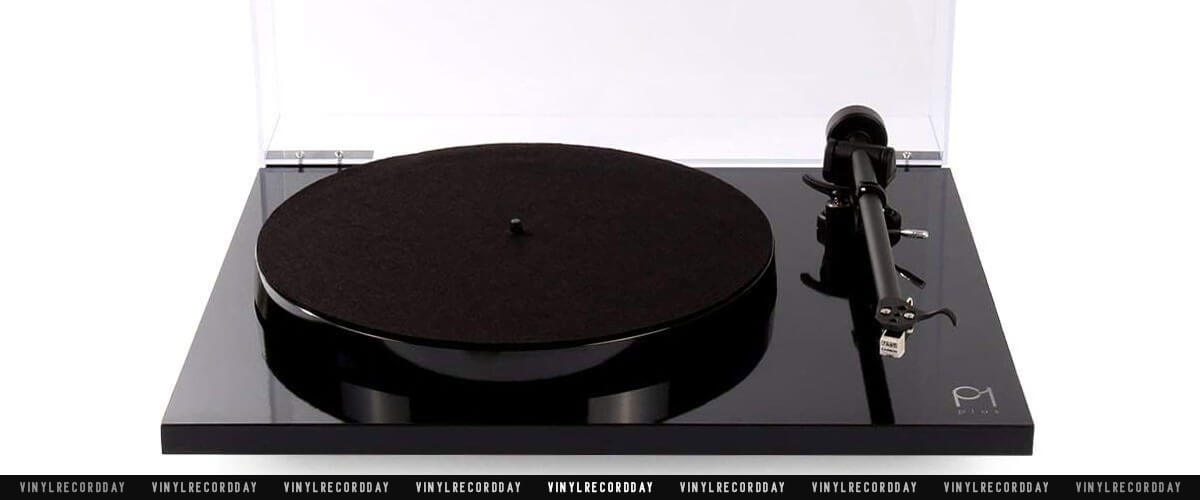 Rega Planar 1 Plus
Best Turntable with built-in preamp
All the features Planar 1 turntable with the addition of a built-in high quality MM phono stage, making this the ultimate 'Plug and Play' turntable.
Read the full review
.
Name
Drive type
Speeds, RPM
Bluetooth
USB
AUX
Review
Rega Planar 1 Plus

best overall

belt
33 1/3, 45
no
no
no
Review
Audio-Technica AT-LP1240-USBXP

professional DJ turntable

direct
33 1/3, 45, 78
no
yes
no
Review
Audio-Technica AT-LPW50PB

under $500

belt
33 1/3, 45
no
no
no
Review
Pro-Ject T1 Phono SB

also great

belt
33 1/3, 45
no
no
no
Review
Denon DP-300F

fully automatic

belt
33 1/3, 45
no
no
no
Review
How I tested turntables with preamp
I tested all the models listed in this review to compare turntables with built-in preamps and have the final say on which one I think is the best. For this, I needed the following equipment:
During testing, I listened to recordings from different genres of music. Here is my list:
Best Turntable With Built-In PreAmp Reviews
Turntables under $1000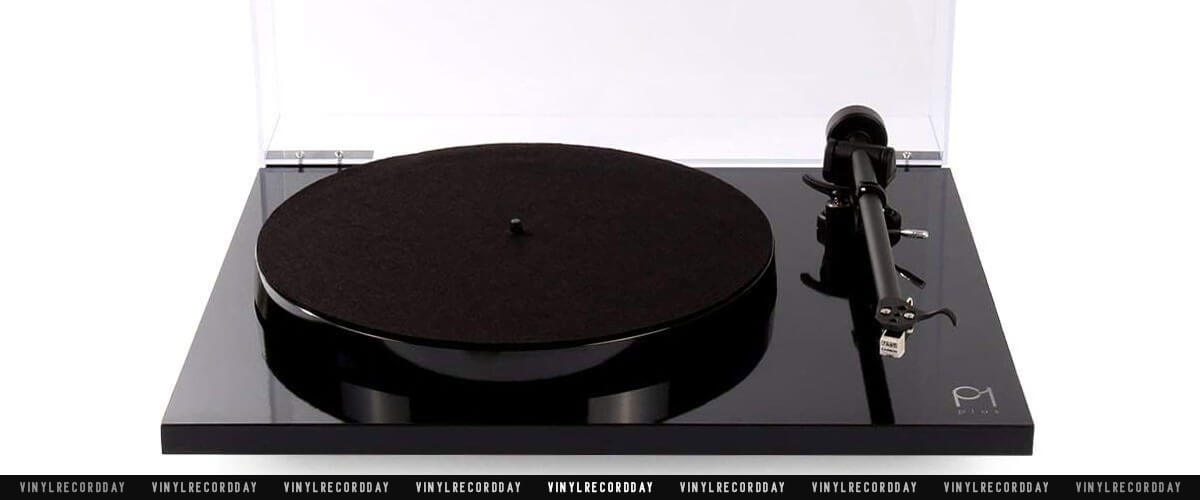 It's difficult to overestimate Rega Planar 1 Plus! To begin with, a Rega Planar 1 vinyl player and a Rega Fono Mini A2D preamplifier are both award-winning products, and Rega combined them together. The result is fantastic!
The turntable delivers brilliant, crispy clear sound. It's highly adept at handling high frequencies and features plenty of distinction between vocals and instruments. Actually, the sound is remarkably close to that of a Planar 1 with an external Fono Mini A2D. This is what distinguishes this model from the competitors, even such a serious one as Audio-Technica AT-LP7 with its premium-quality cartridge!
The 1 Plus comes ready to work right from the box with a high-mass playing surface for vinyl records – the 23mm phenolic platter ensures more reliable speed stability. The integrated MM cartridge has already been appropriately mounted on the hand-made RB110 tonearm, which is an additional convenience for users. The tonearm features patented, super-low friction, unique zero-play bearings, and a stronger headshell, resulting in exceptional usability.
Finally, this record player has an improved 7mm thick acryl housing, which boosts accuracy in speed consistency and reduces noise and vibrations caused by interference that can affect the sound quality. I love how Planar 1 Plus looks with its minimalistic yet luxurious design.
Rega Planar 1 Plus is the overall best turntable with a built-in preamp the market has to offer – it provides unparalleled sound quality and will last you a lifetime.
Key specs
Drive type: belt.
Operation type: manual.
Speeds, RPM: 33 1/3, 45.
Bluetooth: no.
USB: no.
AUX: no.
Pros
Premium built-in phono stage.
Terrific sound quality.
Easy to set up.
Sleek, minimal design, comes with a dust cover.
Available in two colors – matt white and matt black.
Cons
The motor produces a slight noise, but you can only hear it when the music isn't playing.
Audio-Technica AT-LP7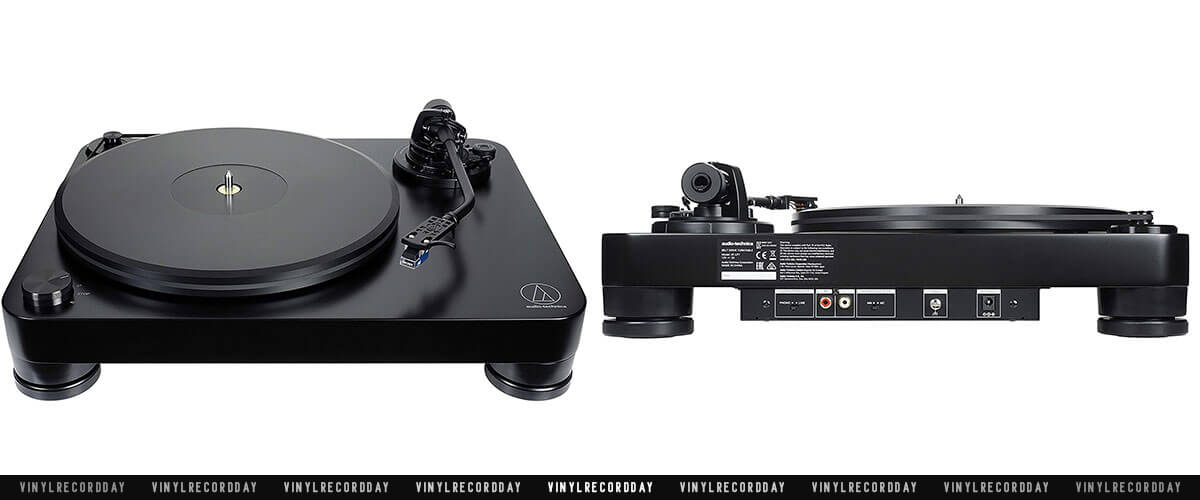 Audio-Technica was established in 1962; now, it's a world-recognized manufacturer of phono cartridges. They invented the Dual Moving Magnet stereo cartridge, known for perfect channel separation, a comprehensive frequency response, and excellent tracking.
The AT-LP7 continues the brand's traditions. It outperforms even the strongest competitors, including Rega Planar 1 Plus, due to the premium-quality Dual Moving Magnet Cartridge with a removable headshell and a 0.3×0.7 elliptical bonded needle. In addition, that needle may be swapped out for another VM needle, allowing users to upgrade it without purchasing a new cartridge.
The deck includes a J-shaped tonearm with a metallic gimbal suspension mechanism and precise bearings – such a construction effectively reduces tracking errors. The tonearm also features an anti-skate control and adjustable counterweight; plus, its height can be changed to fit various cartridges.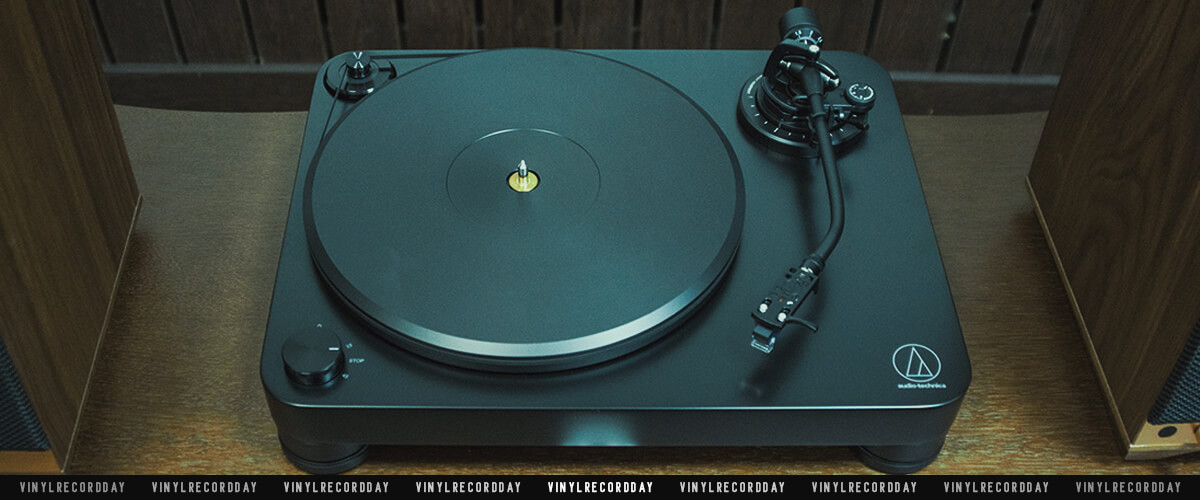 This turntable features a fully manual belt-drive operation with two speeds: 33,1/3 and 45 RPM; moreover, the motor includes a speed sensor to maintain accurate platter rotation. Further, there is an integrated switchable phono/line preamp for connecting to devices with or without a special phono input. Besides, you can easily switch between moving magnet and moving coil cartridges with a selector knob.
The AT-LP7 comes pre-installed with anti-vibration feet, allowing you to securely set the device on surfaces like wood or tiled floors without adding extra vibrations into the room. The сhassis is made of 40mm-thick MDF – it's an excellent material for sound insulation.
Audio-Technica AT-LP7 is a sturdy, well-constructed turntable with a high-end cartridge. What's more importantly, it produces superb sound – audio-holics will be satisfied!
Key specs
Drive type: belt.
Operation type: manual.
Speeds, RPM: 33 1/3, 45.
Bluetooth: yes.
USB: yes.
AUX: yes.
Pros
Heavily-built player.
Operates smoothly.
The rotation sounds spot-on accurate.
Has a dust cover.
Cons
The cover comes without hinges.
Seems like the preamp doesn't have a subsonic filter – my older jazz albums and more beat-up records caused woofer pumping.
Audio-Technica AT-LP1240-USBXP – professional DJ turntable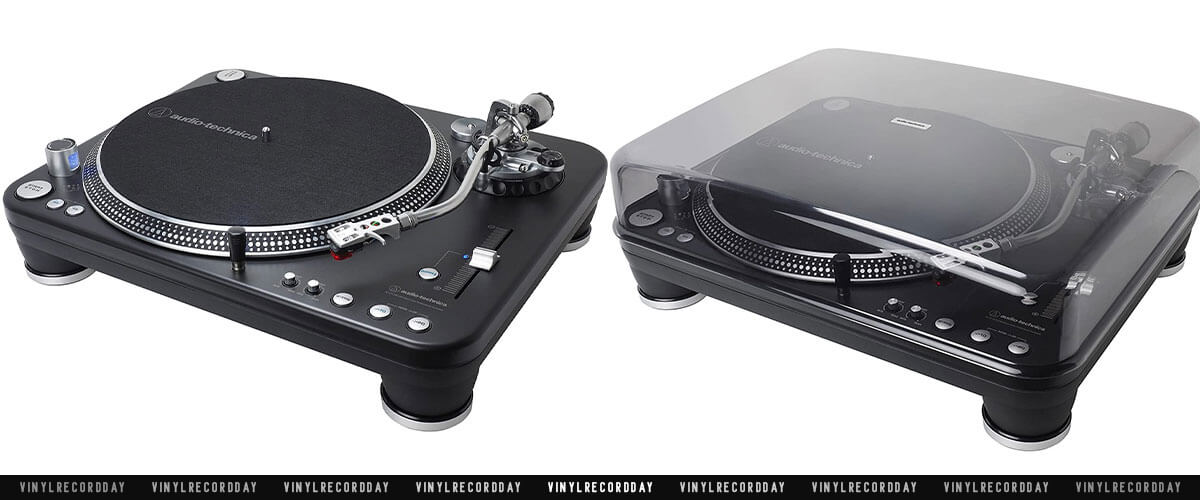 Audio-Technica AT-LP1240-USBXP is a 12″ vinyl record player with a direct-drive, high-torque multipole motor. The anti-resonant, damped die-cast aluminum platter ensures that the motor can be both powerful and sensitive enough to suit all requirements of professional DJs. In addition, the turntable has excellent tracking ability and can accommodate most types of records.
Not every player can boast 3 RPM speeds. On the contrary, AT-LP1240-USBXP gives you certain flexibility – you have a choice of 33/45/78 RPM speeds, meaning you can listen to any vinyl format. Moreover, this model allows for fully manual operation, taking your music playing experience to the next level. Just enjoy the superb sound! Besides, it has convenient pitch control, quick start-up time, a steady speed, easy back-cueing, forward and reverse play, and is completely silent. The AT-XP5 DJ phono cartridge also assures optimal compatibility with DJ mixers.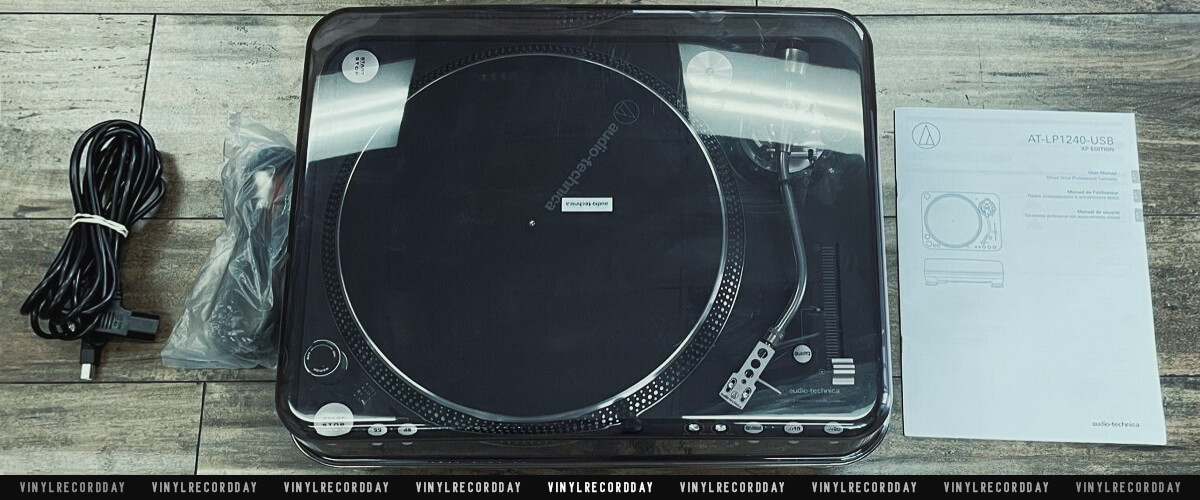 Music files are easily imported into the device through a USB cord connection. You'll also have access to album artwork that you can display on the computer screen or TV monitor while playing music.
Finally, the turntable comes with a switchable phono pre-amplifier and RCA output cables. Plus, it has an integrated audio interface for converting analog music to digital files through widely used computer applications like Audacity.
If you're looking for a professional DJ record player with a built-in preamp, take a closer look at Audio-Technica AT-LP1240-USBXP. Its sturdy design and useful features make it ideal for demanding use in public environments such as bars, restaurants, or clubs. The turntable's attractive appearance will complement any decor. However, it'll not only look great but also work flawlessly for years to come.
Key specs
Drive type: direct.
Operation type: manual.
Speeds, RPM: 33 1/3, 45, 78.
Bluetooth: no.
USB: yes.
AUX: no.
Pros
Built like a tank – professional-grade unit.
The sound is phenomenal.
Versatile with a phono/line switch.
Bright tracking lights.
Cons
The tonearm lift control lever feels a bit cheap.
Counterweight could be heavier.
Turntables under $500
Audio-Technica AT-LPW50PB – best under $500
We have several turntables made by the Audio-Technica brand, and there is a good reason for it – they all are built with true vinyl lovers in mind!
Our current AT-LPW50PB model doesn't have an extraordinary J-shaped tonearm like AT-LP7. And it can't boast added bonuses like AT-LP1240-USBXP, but it has its own decent set of features. So let's take a closer look at them!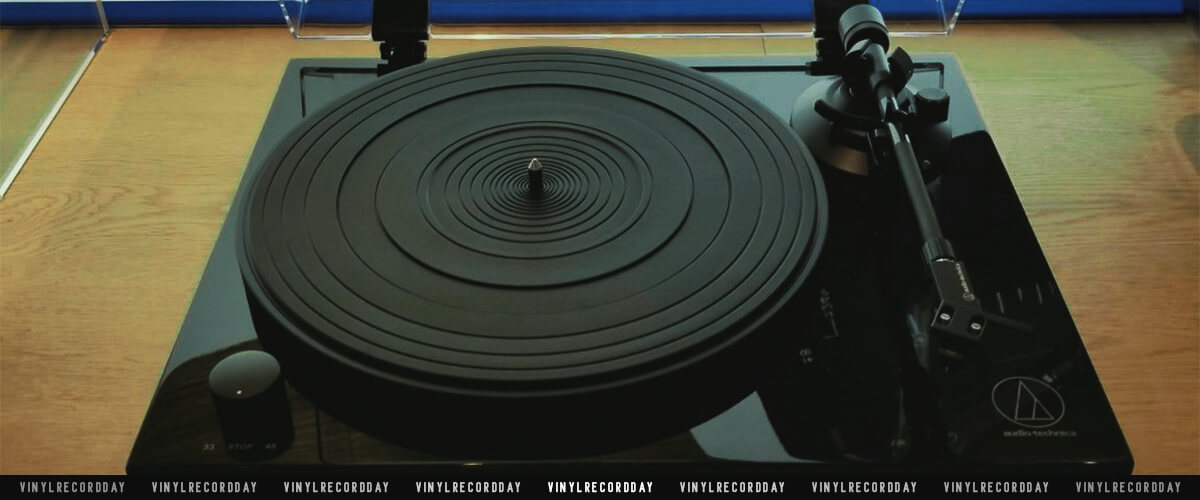 Audio-Technica AT-LPW50PB is a professional belt-drive turntable with multitasking usage capacities. It includes an adaptable dynamic anti-skate control that keeps the right platter rotation speed for precise playback, a motor with a speed sensor system, and a fully manual belt-drive operation allowed by two speeds: 33 ⅓ and 45 RPM. 45 RPM is the most common vinyl format used mainly in Europe or Japan.
This turntable features an anti-resonance die-cast aluminum platter with a rubber mat to avoid unwanted vibrations. The AT HS4 removable mount headshell and AT VM95E Dual Moving Magnet cartridge with 0.3 x 0.7 mil elliptical stylus ensure convenient cartridge upgrades in the future. Finally, a 45 RPM adapter and RCA audio cable allow for connection versatility.
Audio-Technica AT-LPW50PB is the finest turntable with a phono preamp under $500. So, if you're looking for serious performance and durability that won't cost you an arm and a leg, you can end your search here.
Key specs
Drive type: belt.
Operation type: manual.
Speeds, RPM: 33 1/3, 45.
Bluetooth: no.
USB: no.
AUX: no.
Pros
Smooth and quiet motor.
Decent cartridge and stylus.
Beautiful design – piano black finish.
Includes dust cover.
Pro-Ject T1 Phono SB – also great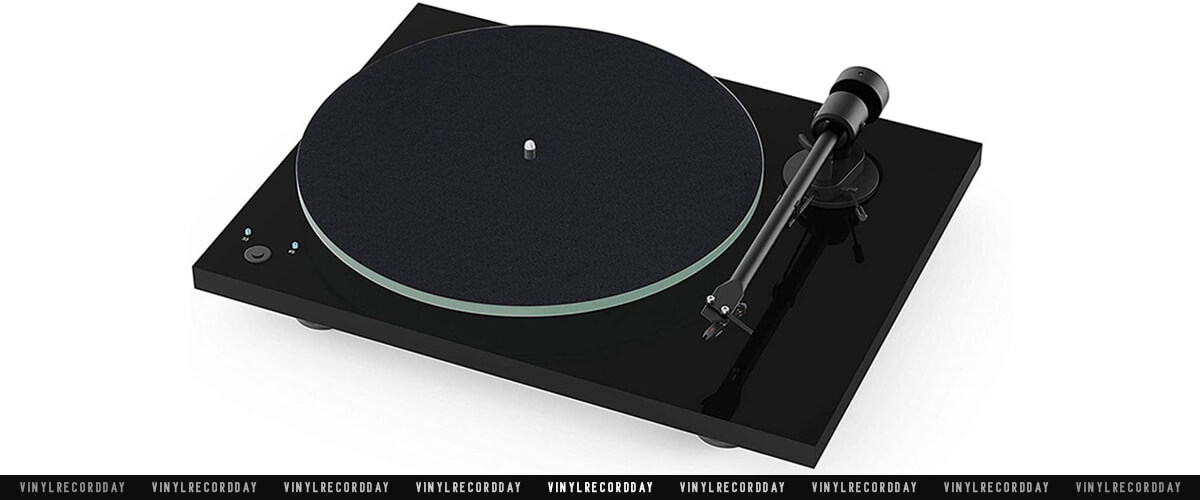 Pro-Ject T1 Phono SB is an entry-level audiophile turntable with an incorporated bypassable preamp for simple coupling to any audio setup.
But the thing I really like about this model is its distinctive design: the CNC-machined plinth has no plastic components, so there are no empty spaces inside. This type of construction successfully lowers vibrations and keeps sound from deteriorating. Furthermore, an 8mm solid bead-blasted glass platter spins easily on any LP surface while maintaining perfect speed constancy. The Phono SB stands out from the crowd thanks to its expert manufacturing. You won't discover anything else of this exquisite craftsmanship for such little money!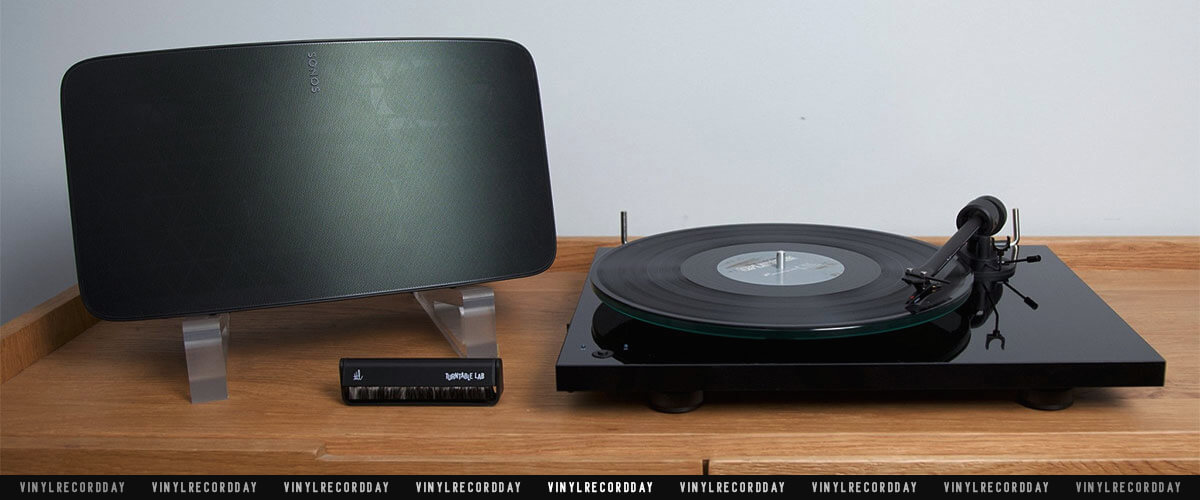 A one-piece aluminum tonearm, in conjunction with the Ortofon OM 5E cartridge, guarantees total precision and outstanding audio performance. In addition, the provided Allen key enables you to customize the tracking force on the stylus for maximum accuracy.
And last but not least, the table comes ready to use straight out of the package with the included 7-inch single adapter and a power source.
Pro-Ject T1 Phono SB is a perfect choice for beginners who want to start their vinyl journey with a high-quality, beautifully-designed player. Thanks to its cutting-edge design and premium components, this device offers outstanding convenience, simplicity of operation, and a delightfully clear audio experience.
Key specs
Drive type: belt.
Operation type: manual.
Speeds, RPM: 33 1/3, 45.
Bluetooth: no.
USB: no.
AUX: no.
Pros
Well-trusted manufacturer.
Solid construction and amazing finish.
Minimalistic yet elegant look.
Upgradable cartridge.
Quality cables.
Cons
Adjusting the tracking force for a new cartridge requires weighing it, as there is no marker ring on the counterweight.
Only basic features.
Denon DP-300F – fully automatic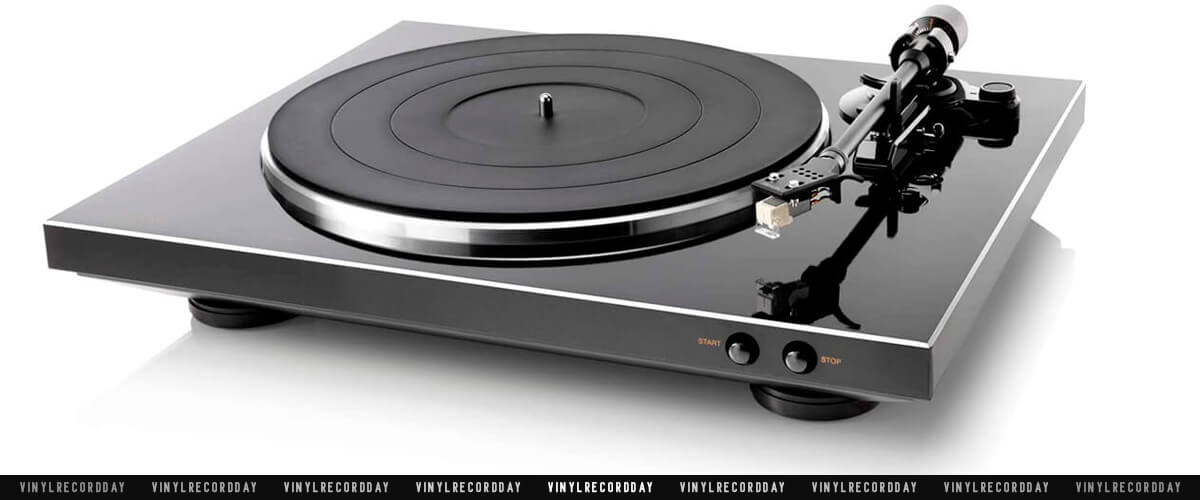 Denon's DP-300F is a beautiful and high-quality turntable for anyone looking to get back into vinyl records. The slim design will work well in both casual and formal environments. In addition, the built-in preamp makes it easy to hook up any type of amplifier that lacks a phono input/terminal while still giving you superior sound quality. I really enjoyed the crisp highs, thunderous rumbling lows, and a warm mid-range this deck produces.
The turntable comes fully equipped with a removable headshell, moving magnet cartridge, DC servo motor, and runs at 33 1/3 or 45 RPM speeds.Furthermore, the Denon brand pays close attention to details by designing this slim and sleek player with a subtly higher base that helps decrease vibrations, giving you noiseless tonal clarity.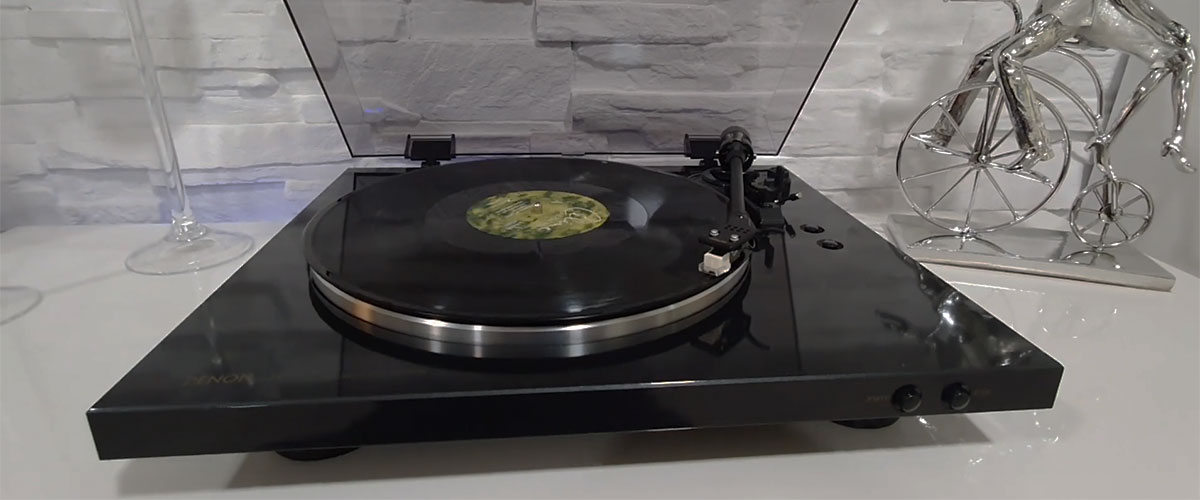 Another feature that I love about the 300F is that it has an automatic startup, allowing the tonearm to reach the play position smoothly. With a single push of a button, the tonearm raises and comes to rest gently every time you use the table – no uncoordinated movements, no scratches to your valuable records.
This is an ideal model for those who want an affordable yet reliable and quality fully automatic turntable with a preamp. Of course, you can find cheaper models that offer great characteristics too, e.g., Fluance RT81, but Denon DP-300F has lots of unique features to offer and delivers serious performance that will last you a lifetime.
Key specs
Drive type: belt.
Operation type: fully automatic.
Speeds, RPM: 33 1/3, 45.
Bluetooth: no.
USB: no.
AUX: no.
Pros
Switchable preamp.
Vibration-resistant due to the heavier base.
Straightforward to operate.
Cons
Plastic body – however, it doesn't produce any discernible noise during playback.
Turntables under $300
Fluance RT81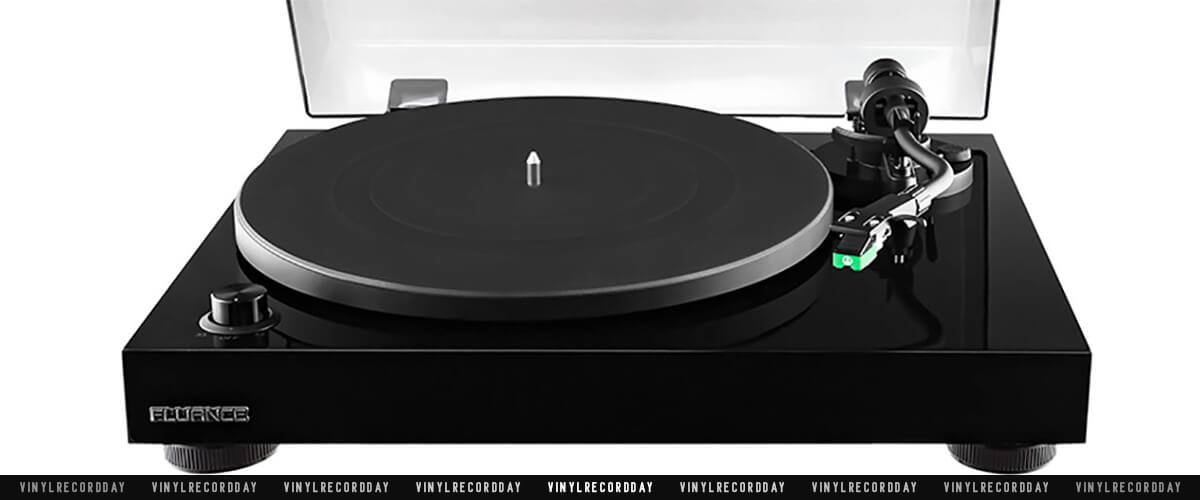 And last, but not least in my review is Fluance RT81. If you've never heard about the Fluance brand, you're missing out! This Canadian company has been in business since 1999 when it began producing speakers. Their enthusiasm developed over time to include record players in the broader realm of sound. The RT81 is their top entry-level model – it has a lot to offer, making it an excellent buy for a more than reasonable price.
A built-in preamp makes this turntable insanely easy for anyone to plug it in and start playing vinyl without any headaches. Next, the RT81 is equipped with Audio-Technica's double-magnet Phono Cartridge and a diamond elliptical stylus, ensuring fidelity and clarity of the sound.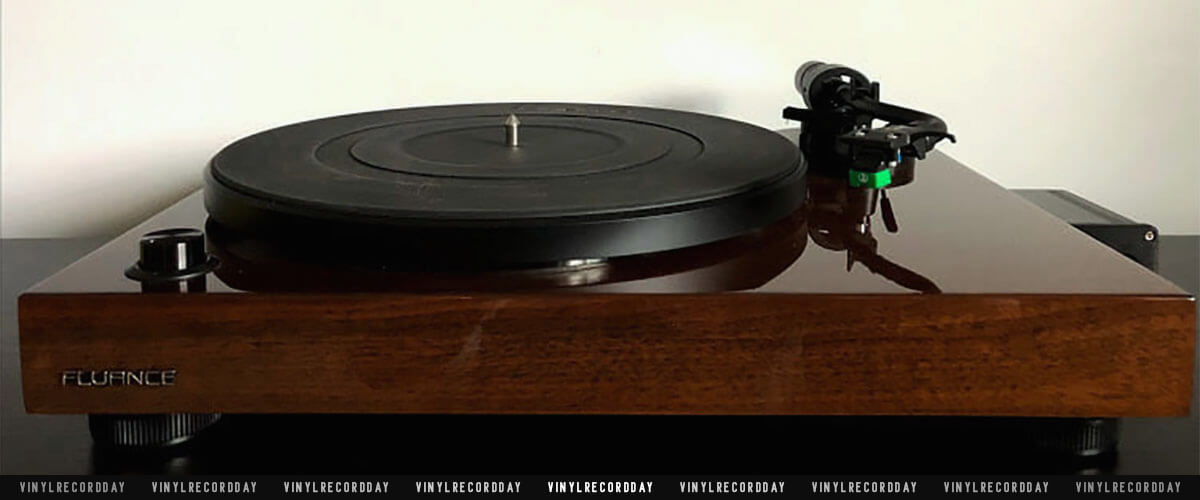 This is a belt-drive model, hence, it's less prone to vibrations. Besides, a solid aluminum platter, audio-grade MDF plinth, isolation feet, and rubber mat do an excellent job of isolating the cartridge from vibrations. All these audiophile-quality accessories have been specifically crafted to ensure excellent sound reproduction.
Finally, RT81 has a beautiful vintage-style design – it's covered with a high-gloss walnut finish. Such a piece of equipment will complement any home decor!
Fluance RT81 is one of the most budget-friendly turntables with a preamp. It offers an easy way to get high-quality sound from vinyl records. So, if you are looking for an affordable player that doesn't require any extra equipment or tweaking and sounds great, this is the perfect option for you.
Key specs
Drive type: belt.
Operation type: manual.
Speeds, RPM: 33 1/3, 45.
Bluetooth: no.
USB: no.
AUX: no.
Pros
Gorgeous analog sound.
Quick start-up time.
Easy to operate.
Beautiful design.
Cons
Poor, plastic adaptor.
Although the auto-stop feature stops spinning,it does not lift the needle off of the record.
Buying guide
How to choose the right turntable?
It's critical to know what features to look for before purchasing a turntable:
Pick an automatic or semi-automatic turntable if you're a newbie. Such devices are more technologically advanced, making them easier to operate. Contrary, all activities in a manually operated player must be performed by hand, which may be inconvenient. If sound quality is essential to you, though, a manual device is the way to go.
It's preferable if the player has three speeds: 33, 45, and 78 RPM. You'll be able to play any record format with it.
Bluetooth and USB are great added bonuses – you'll be able to broadcast audio to speakers, headphones, or a soundbar via Bluetooth, while the USB allows you to convert your vinyl records to digital formats.
Do turntables with external preamps sound better than turntables with built-in preamps?
There is a lot of debate in the audiophile community over whether turntables with external preamps sound better than those with built-in preamps. Some people swear by the extra clarity and definition that an external preamp provides, while others find that the built-in preamps on some turntables are more than adequate.
Ultimately, the answer to this question depends on your own personal preferences and listening habits. If you are looking for the absolute possible sound quality, you may want to invest in a turntable with an external preamp. However, if you are a newbie or don't have strict sonic requirements, then it may be more cost-effective to purchase a player with an integrated preamplifier. Besides, the best turntables with preamp can be upgraded with an external phono equalizer.
FAQ
What does a preamp do in a turntable?
A preamp or a phono stage is an essential part of turntables. It helps amplify the signal coming from your turntable to be sent to other devices like amplifiers and speakers. Unfortunately, a turntable operates with weak signals, usually between one and five millivolts (mV), which are insufficient to produce the sound through an amplifier and speaker. Modern turntables can use special cartridges with integrated preamps, but you can also use a standalone device.
Are turntables with preamps good?
Turntables with preamps are good for some reasons. First, the signal coming from the cartridge doesn't have to go through cables and transformers, adding noise or distortion. Second, a turntable with a built-in preamp is usually much cheaper than one that needs an external device, although buying a separate preamp may deliver better results.
Unfortunately, some manufacturers of turntables with integrated preamps use cheap components to reduce costs, meaning you won't get optimal sound quality. So, do pay attention to materials and machinery when choosing a table. In this review, I provided only well-constructed models, so you can rely on them.
Do most turntables have a preamp?
Turntables with preamps are becoming more and more popular. However, the vast majority of modern turntables don't have a built-in preamp, so you'll need an external device or cartridge with a built-in preamp.
How do I know if my turntable needs a preamp?
Some turntables come with a switch on the back that allows you to choose between "line" and "phono". This means that it has a built-in preamplifier.
What is the difference between a preamp and an amplifier?
A preamp takes a signal from "line level" and boosts it to your turntable's "phono level". This means that the signal is strong enough for your turntable. An amplifier (also called a receiver) takes input like phono or line-level and boosts it up to loudspeaker level.
Does preamp improve the sound?
No,
preamps
take an input signal and make it stronger. They won't improve the sound in any way.