A phono preamp, also known as a phono stage, adds standardized equalization and improves music signals produced by a record player, making those signals audible. If you use a record player without a phono preamp, you just won't be able to get the proper vinyl playback – the music will be incredibly quiet and bassless.
I rounded up the best preamps for turntables currently available out there, catering for all budgets. But that's not all! Alongside these top picks, I've also crafted a handy buying guide to steer you in the right direction. This guide will break down what to look for, how to gauge your budget, and the little details that make a massive difference in sound quality.
So, whether you're watching the pennies or splashing the cash, the phono stages reviewed here, paired with my buying insights, will ensure you're making the most of your Hi-Fi's potential. Interested? Then let's get started!
Our pick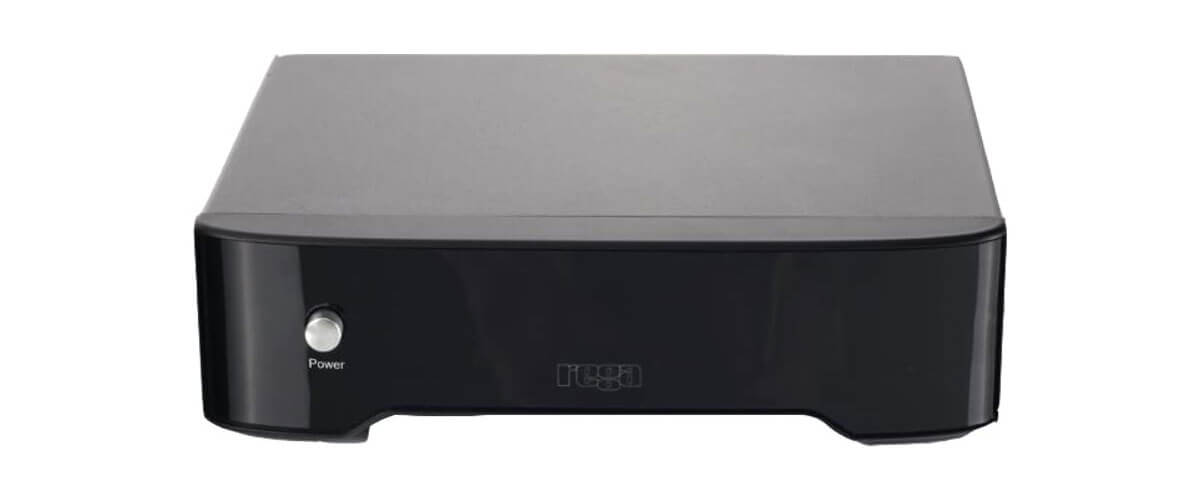 Rega Fono MM MK III
Best phono preamp
The Rega Fono MM MK III uses a fully discrete, cascaded, complementary amplifier input stage and optimizes the performance of your moving magnet cartridge.
Read the full review
.
Preamps for turntables comparison table
Name
Maximum output level (RMS)
Input impedance
Output impedance
Review
Rega Fono MM MK III

best overall

11V
70-400 Ohms
100 Ohms
Review
iFi Zen Phono

under 200

13.5V/20V
47000 Ohms (MM, MC High), 1000 Ohms (MC Low), 110 Ohms (MC V Low)
100/200 Ohms
Review
ART DJPRE II

under 100

1.4V
47000 Ohms
100 Ohms
Review
Vincent PHO 701

under 1000

1.4V
47000 Ohms (MM), 99-1000 Ohms (MC)
250 Ohms
Review
Pro-Ject Tube Box S2

tube preamp

18V
10 Ohms, 100 Ohms, 1000 Ohms, 2000 Ohms
N/A
Review
Do I need a phono preamplifier?
Back in my early days of spinning vinyl, I often asked myself this very question. As we discussed earlier, if you want the true essence of your vinyl player, bypassing a phono preamp isn't an option. Sure, a lot of systems these days come with pre-integrated preamps, leading many to wonder: "Is a standalone device really necessary, or can I just ride with the built-in phono stage?"
Theoretically, if your rig already rocks an integrated preamp, getting a separate one isn't mandatory. I remember when I was just dipping my toes into the vinyl world, the built-in option felt sufficient. And trust me, most newcomers feel the same. But, if you're like me, always chasing that authentic, crisp sound and have developed a discerning ear over time, then a separate phono stage is more than just a 'nice-to-have'. It's a game-changer. Not only does it significantly improve sound reproduction, but it also uncovers the layers and intricacies in tracks that the integrated stages might miss, truly maximizing your setup's potential.
Best phono preamp reviews
Phono preamps under $500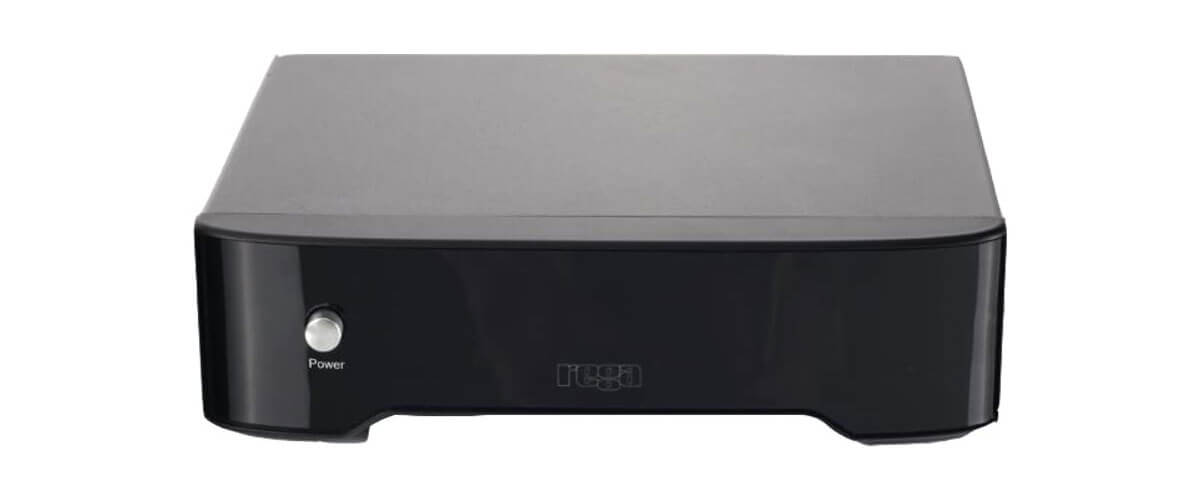 Rega has been in business since 1973; it produces world-recognized audio gear, including turntables, amplifiers, phono stages, cartridges, etc. Thousands of audiophiles trust this name!
Rega Fono MM MK III is a successor of the award-winner preamp for record player MM MK II with its excellent sound reproduction. However, as there is always room for improvement, MM MK III has surpassed its big brother – now, it boasts even greater dynamic range and clarity.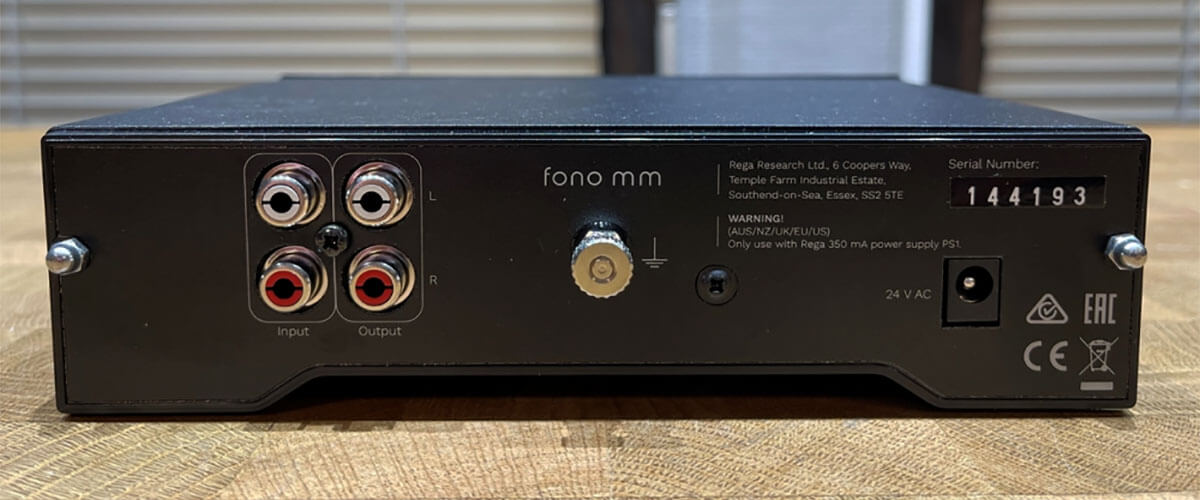 MM MK III features moving magnet phono circuitry technology, making it stand out against rivals in the same price region. This technology delivers a highly life-like reproduction of music. The 5 lines of the moving magnet circuitry may be regulated in several ways, including treble and bass extension, which means you can hear identical sounds in either low or high octaves. Think of your favorite live concert experience – the atmosphere, the raw energy, the instruments' distinct sounds. This technology gets you that experience right in your living room. Plus, the instruments' separation is perfect – they sound rich and precise, while the bass and treble are tight, without being overemphasized or missing in any way. Honestly, I didn't expect such great sound quality from this modest package!
While devices like Parks Audio Puffin might offer more in terms of adjustability, the MM MK III isn't about overwhelming you with settings. It's about delivering impeccable sound straight out of the box. I recall setting it up in my home studio, dropping the needle, and just being blown away. It's truly music to the ears, pun intended!
Rega Fono MM MK III is the overall best phono preamp for you if you are eager about a beautiful, confident, and composed sound but don't want to waste your time on adjustments. Take your vinyl listening experience up a notch with its little powerhouse!
Key specs
Maximum output level (RMS): 11V.
Input impedance: 70-400 Ohms.
Output impedance: 100 Ohms.
Dimensions, inch/cm: 8.58×3.07×12.4/21.8×7.8×31.5.
Pros
Sleek, minimalistic design.
Plug-n-play model.
Sounds great out of the box.
High, quality detailed performance.
Cons
Supports only RIAA equalization – not good for those who collect records from 1954 or earlier.
Cambridge Audio Alva Duo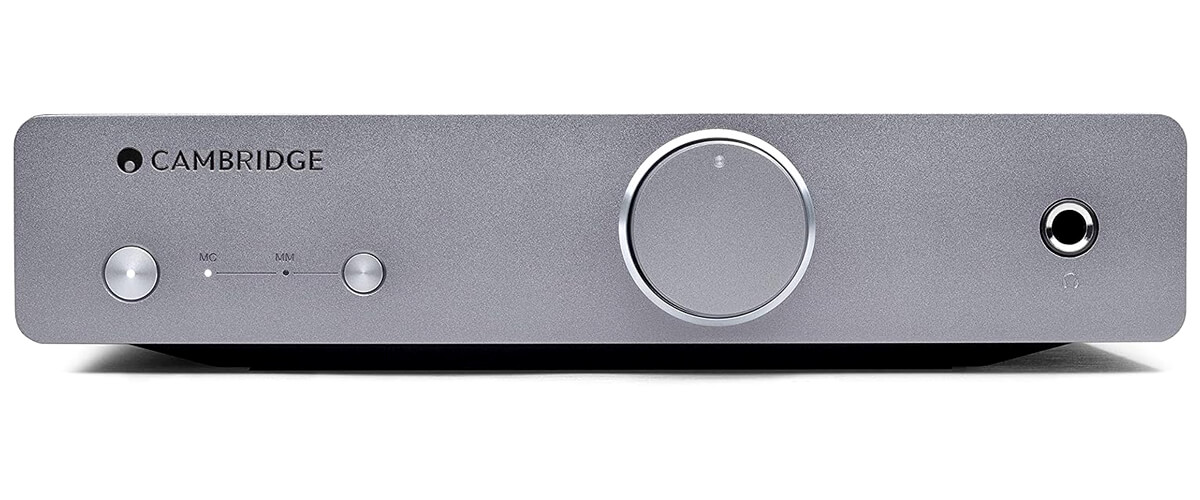 Being a musician and a vinyl enthusiast, I've had my hands on a wide range of phono preamps, from the most basic to the crème de la crème. Cambridge Audio Alva Duo finds its place somewhere in the middle of the best phono preamps under $500.
The first thing I noticed when I gave my classic Beatles vinyl a spin on it was the clarity. The Alva Duo's dedicated design for vinyl playback does a commendable job of bringing out the depth in tracks. Its subsonic filter was a decent savior when I played some of my older, slightly warped records; the familiar low-frequency rumbles were diminished, though not entirely eliminated.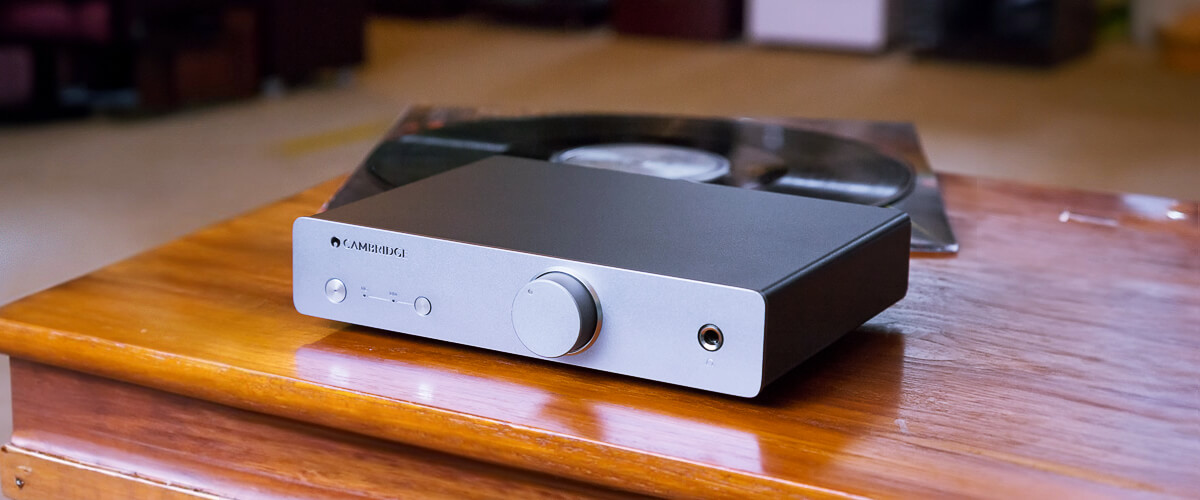 Late-night introspective sessions with Pink Floyd were made more personal with the built-in headphone amplifier. It's a convenience, especially when I don't want to wake up the entire household. However, I've worked with phono preamps with a lower power consumption than its 10W, which might be a concern for the energy-conscious. Linking it to a smart power strip is a practical workaround.
In a nutshell, Cambridge Alva Duo has reshaped my vinyl journey, offering clarity, convenience, and a fresh lens to view old favorites. Your record collection definitely deserves this treat.
Key specs
Maximum output level (RMS): 10V.
Input impedance: 100-47000 Ohms.
Output impedance: N/A.
Dimensions, inch/cm: 1.9×8.5×6.2/4.8×21.5×15.9.
Pros
Enhances the sound quality, making records sound noticeably better.
Deep, tight bass and sharp, "snappy" highs.
Accurate RIAA equalization.
Comes with high-quality IEC power cables.
Compatible with higher-end moving magnet cartridges.
Cons
Sensitive to RFI and can pick up interference from nearby electrical components.
Volume control only for the headphone feed.
Parks Audio Puffin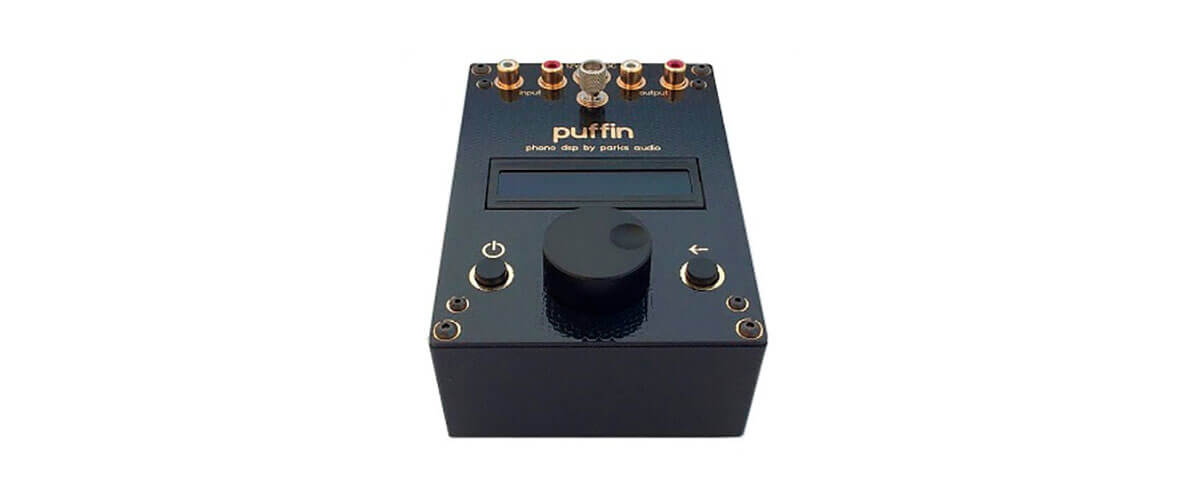 Parks Audio is a family-owned brand known for making high-quality audio equipment, and their Puffin phono preamp is an excellent example.
First off, this model works with MM and MC cartridges so that you can change your TT's cartridge without changing the preamp. Next, it provides precise, consistent sound reproduction, ensuring every note is brought to life even if you leave settings at zero. But what I love the most about the Puffin is that it gives you plenty of flexibility – the amount of valuable features is almost unlimited.
The range of gain settings from -4dB (CDs) to 72dB (MCs) allows you to tailor your listening experience to exactly what you need it to be. So, no matter what kind of music you're into, the Puffin has got you covered! Next, the innovative Magic lessens feature lets you silence those pesky ticks and pops without disturbing the sound one iota. Depending on your mood, play with warm tone controls to make your music sound warmer or cooler. You can also fix bass, treble, soundstage, air, and 4th order HPF & LPFs.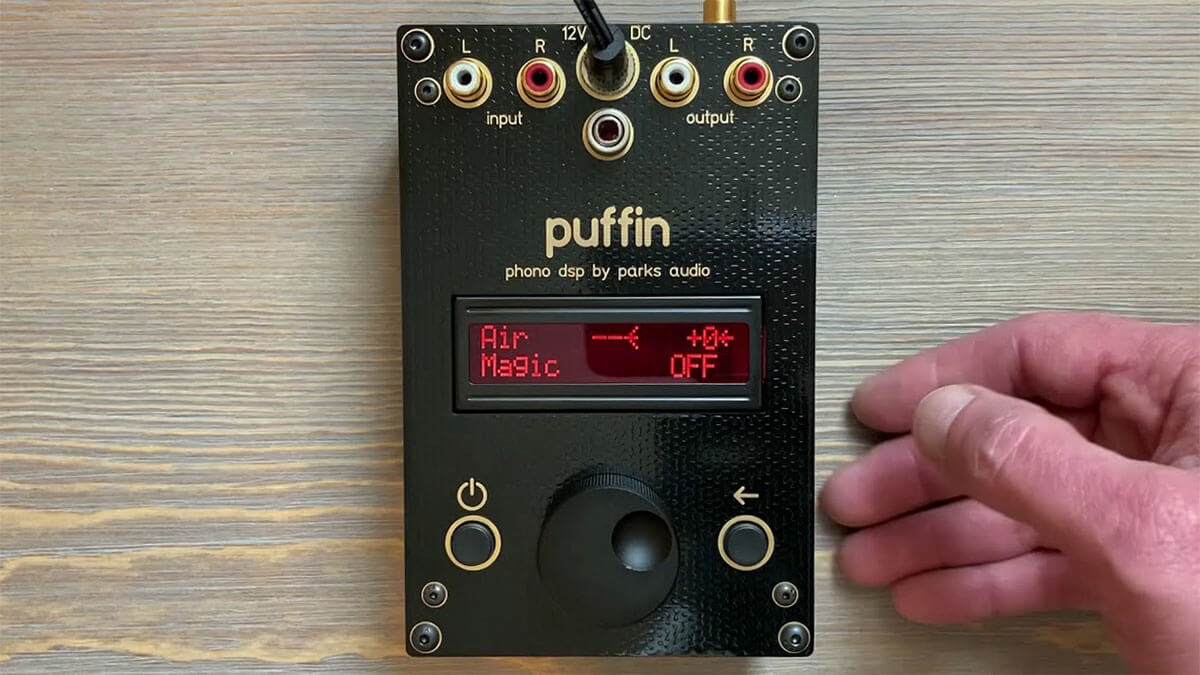 Keen listeners will appreciate Puffin's Azimuth setup that helps fine-tune the left and right channels independently, giving you even more control over how your music sounds.
Finally, Puffin's Sweep and RPM test is a great way to experiment with your audio sound quality. Thanks to this feature, you can sweep through the entire frequency range of your music and see how it sounds at different levels.
Whether you're a beginner or a seasoned vinyl collector, Parks Audio Puffin has a lot to offer – it's powerful & versatile, boasts a myriad of intelligent features, and comes at a fair price. You won't need to upgrade it for many years to come!
Key specs
Maximum output level (RMS): 2V.
Input impedance: 200-47000 Ohms.
Output impedance: 1000 Ohms.
Dimensions, inch/cm: 5.75×3.5×2/14.6×8.8×5.
Pros
Fully configurable and versatile.
Helps deliver crystal clear sound.
Compact size – integrates easily into any setup.
Designed to be used with the U.S.plugs – no adaptors are needed.
Cons
Screws are prone to rust.
Phono preamps under $200
iFi Zen Phono – best under $200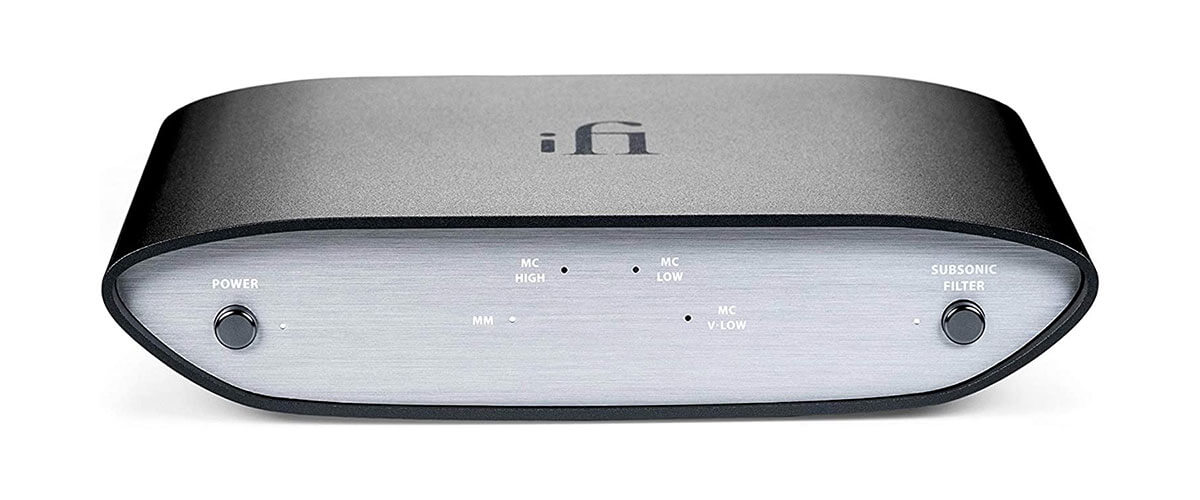 Being a product of a reputable brand, this phono preamp delivers super generous features and robust performance. You hardly find such sonic perks in other entry-level models.
To provide a superior sound from this inexpensive package, the audio wizards at iFi have created a balanced, symmetrical dual-mono circuit architecture, imitating what is typically seen on higher-end equipment. Besides, it makes use of some clever hardware for precise RIAA equalization. As a result, the preamp has a low level of noise and distortion.
In addition to the standard audio RCA ins and outs, there is also a 4.4mm Pentaconn balanced output that may be used to hook up active speakers or amplifiers with balanced inputs. Such an addition is quite unusual for a product of this price region.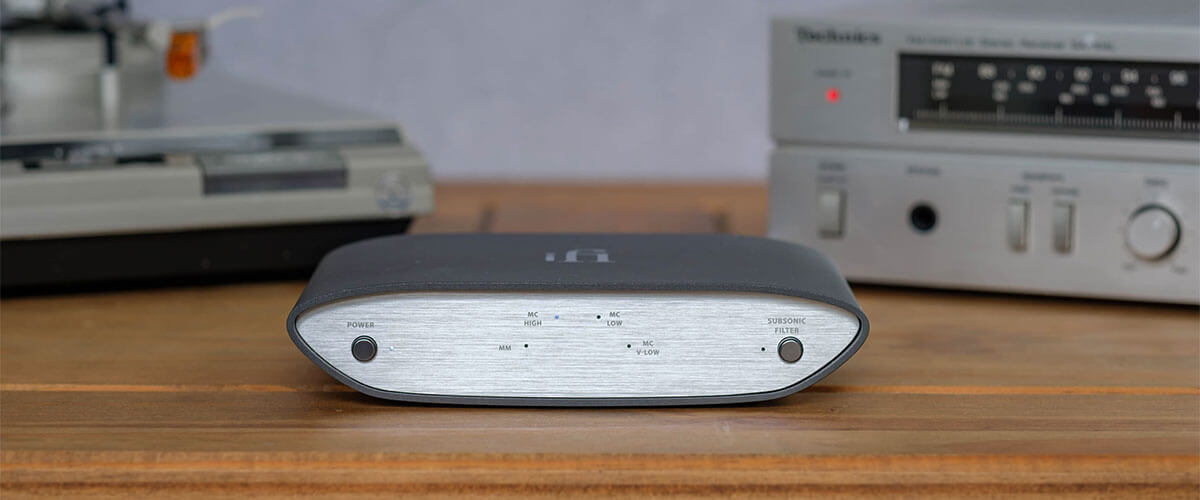 And last but not least, this is one of the few sub-$200 preamps that can accommodate both MC and MM cartridges. Moreover, gain settings are provided to help you get the most out of any MC cartridge you choose.
I love that Zen Phono doesn't color the sound at all – your cartridge, record player, & other equipment have much more to do with that, but the preamp does provide a competent conduit for your audio to the output stage. It will polish each note to perfection.
None of the entry-level preamps can offer such an impressive spec sheet, good construction, and transparent sound as iFi Zen Phono, making it the finest phono preamp under 200. Worth every penny and even more!
Key specs
Maximum output level (RMS): 13.5V/20V.
Input impedance: 47000 Ohms (MM, MC High), 1000 Ohms (MC Low), 110 Ohms (MC V Low).
Output impedance: 100/200 Ohms.
Dimensions, inch/cm: 6.3×4.4×1.4/16×11.3×3.5.
Pros
Smart design.
Fits various cartridges.
Clean performance.
Excellent price/quality ratio.
Cons
The included RCA cables are short and poor-quality.
Short plug.
Rega Fono Mini A2D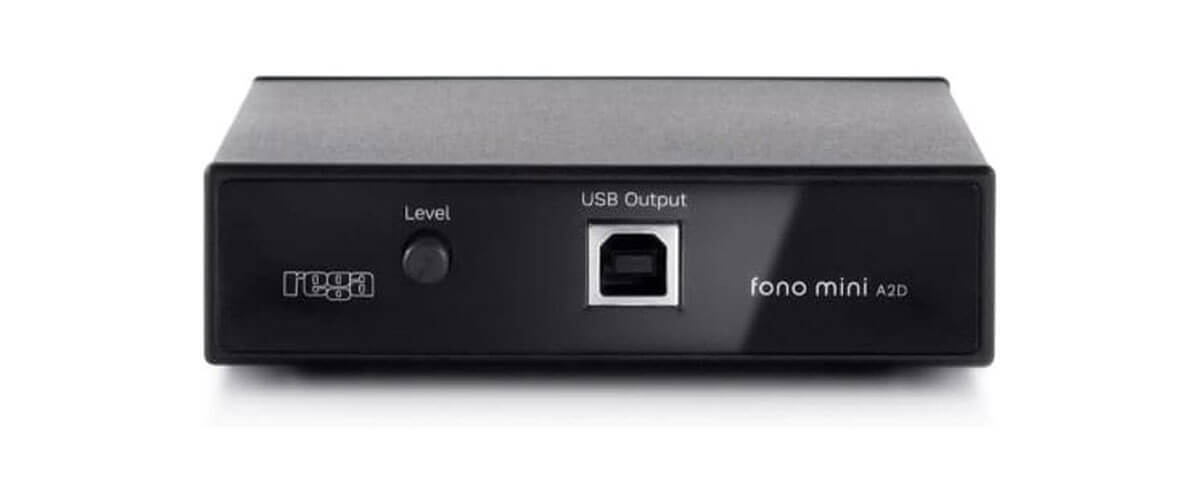 After more than half a decade since its introduction, Rega Fono Mini A2D continues to be one of the finest preamps that can be purchased for less than $200.
According to Rega, this moving-magnet preamp is a less expensive variation of the award-winner Fono MM. Housed in a half-width case, it has not only standard but also generous extra features.
Starting off, Mini A2D boasts a USB output that connects directly to your computer so that you can convert your vinyl collection into high-quality digital files. Next, the phono stage is compatible with any digital audio editor, making ripping your vinyl easy and fun.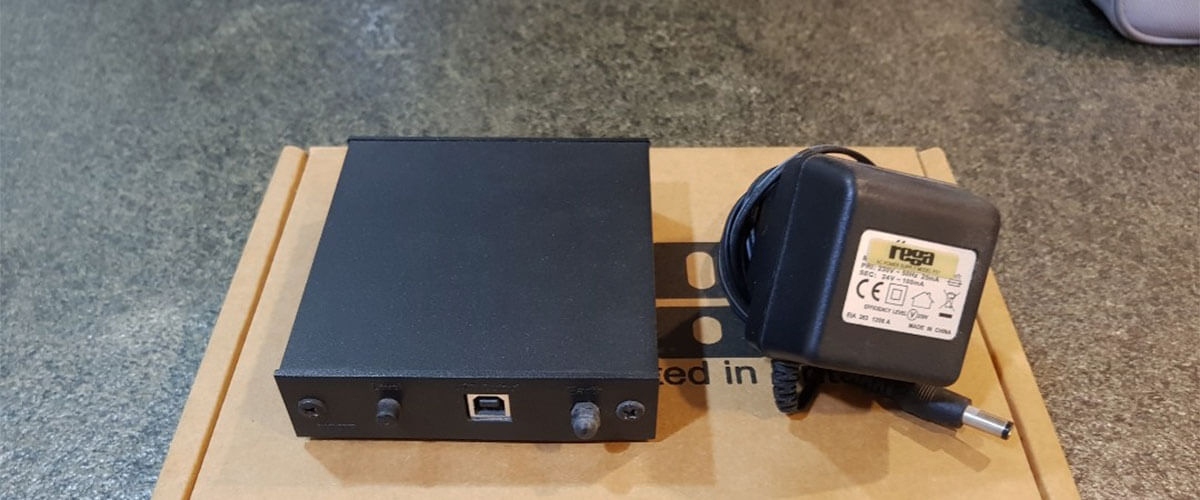 The preamp is super user-friendly – it has a minimalistic design, so you'll be up and running in no time at all; plus, the compact size makes it easy to integrate into any system.
But while the A2D's look is basic, its audio talent is not. This preamp sounds musical, detailed, and natural, with a wide soundstage and excellent imaging. The tonal balance is slightly warm but not artificial, and there's plenty of resolution on offer too.
Whether looking for an affordable way to transform your system for the better or simply want to digitize your LPs, Rega Fono Mini A2D will definitely help you get the most out of your vinyl collection!
Key specs
Maximum output level (RMS): 5V.
Input impedance: 47000 Ohms.
Output impedance: 100 Ohms.
Dimensions, inch/cm: 4×1.18×4.92/10.2x30x12.5.
Pros
USB output for easy vinyl-to-digital conversion.
Allows to rip vinyl.
Excellent sound quality for the price.
Compact size.
Cons
Midrange could be more articulate.
Includes a power cable, but all connectors must be purchased separately.
Phono preamp under $100
ART DJPRE II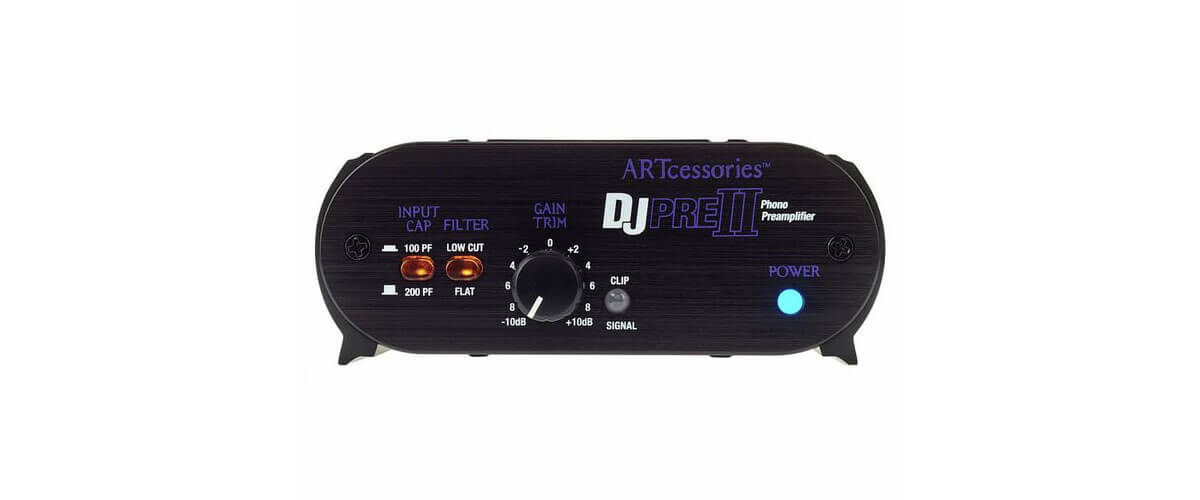 When I only decided to write this article, I was skeptical about introducing any phono preamp under $100 here. However, my friend demonstrated to me his recent purchase – Art DJPRE II. Well, I must admit I was totally blown away by its overall quality and performance! Don't get me wrong – I don't state this is a high-end model, but it is definitely worth your attention if you are looking for your first yet decent-quality phono stage.
First off, Art DJPRE II stood the test of time – it appeared over 8 years ago and is still appreciated by many users. This model features high accuracy and low noise level, making the music sound just like the artist meant it to be heard without interference. Next, it offers variable gain to ensure optimal sound quality with any cartridge. The preamp also allows you to select from a range of cartridge loadings to get the most satisfactory performance from your vinyl collection.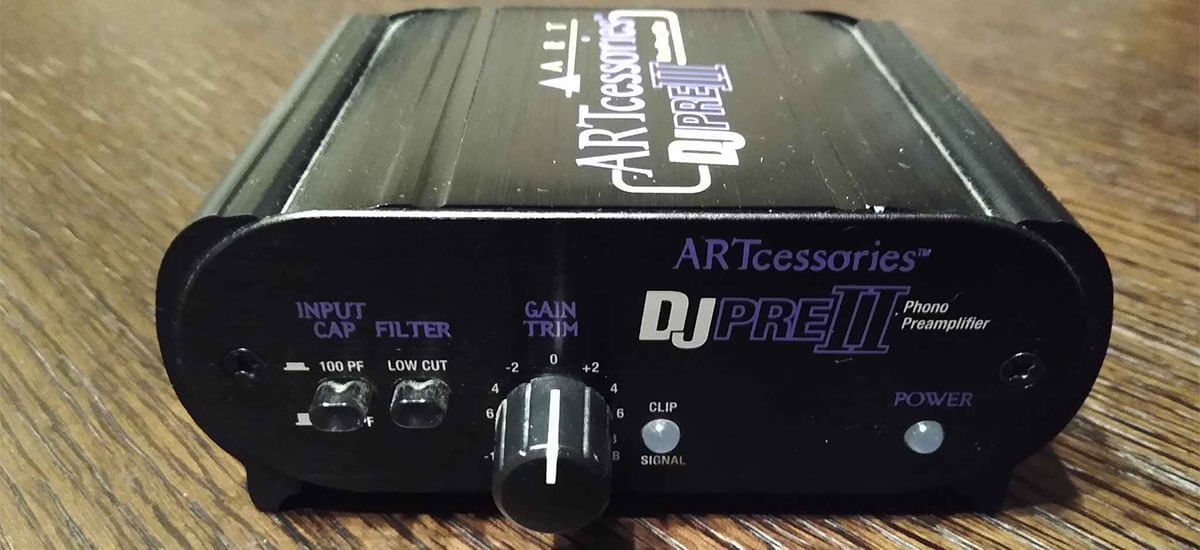 Art DJPRE II features a heavy-duty extruded chassis for added durability, as well as switchable low-cut rumble filters to reduce noise and vibration. Finally, this device has RCA outputs for easy connection to any audio system.
For those on the hunt for the best budget phono preamp, it's easy to overlook certain models in favor of big-name brands. However, the Art DJPRE II stands out as a hidden gem. Boasting an impressive pedigree without burning a hole in your pocket, it's a top contender for anyone seeking quality sound without breaking the bank. So, if you're yearning for a cost-effective and dependable phono stage, this model deserves your attention.
Key specs
Maximum output level (RMS): 1.4V.
Input impedance: 47000 Ohms.
Output impedance: 100 Ohms.
Dimensions, inch/cm: 1.85×4.6×4.5/4.7×11.7×11.4.
Pros
Stylish design.
Durable construction.
Adds clarity and stereo separation to your audio.
Convenient gain control.
Designed in the U.S.
Cons
Some issues in the stereo image when listening to classical or instrumental music.
Too bright LED lights.
Premium phono preamp
Vincent PHO 701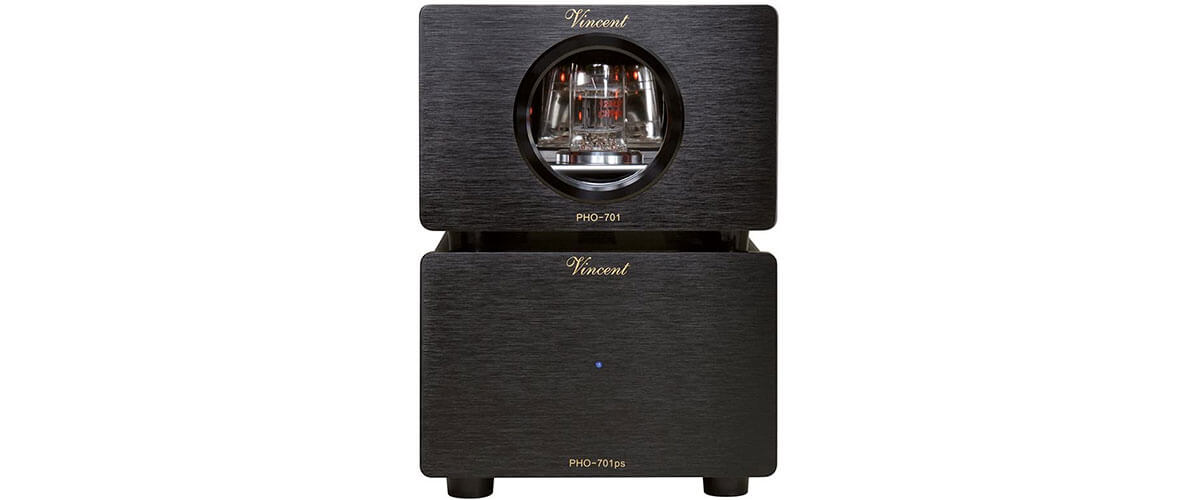 If you are looking for a way to jump into the higher-end audio pool, the Vincent PHO 701 may be your perfect option. This great phono preamp under $1000 offers a wide range of features and will provide you with years of enjoyment.
The PHO 701 has a unique construction – it's made up of two parts: the power supply box and the tube amplifier box. As a result, it allows you to experiment with the sound; plus, you can open up a whole new world of possible tube upgrades.
Another fantastic feature of this preamp is its ability to customize the amp for various phono cartridges. You can adjust the input capacitance and impedance via the DIP switches on the back of the unit.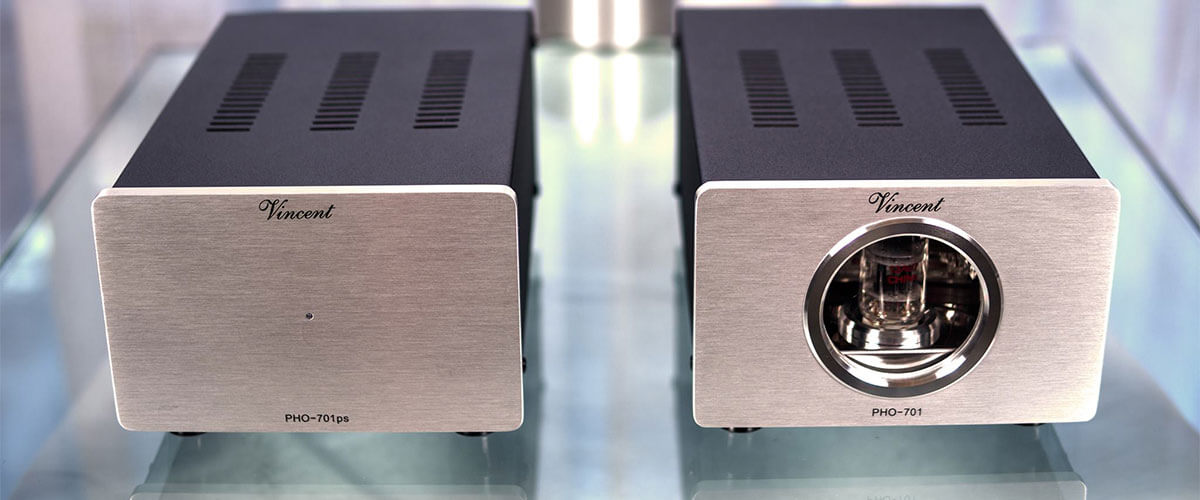 The PHO 701 has a super convenient added bonus – a USB port. So, if you ever want to digitize or archive your LP collection, it will give you a good opportunity to do just that.
But the #1 thing I love about this preamp is its audio quality. It delivers a warm sound, superb mid-range, and a little kick in the lower-end bass. Music becomes more alive, and I can hear details I haven't heard before! Furthermore, the sound is not overpowering or tiring – the PHO 701 does an excellent job of delivering more audio to the listener by broadening the range of sound in the room.
There is always a trade-off in audio; several things are usually done well, while others are compromised. Well, not this time because the Vincent PHO 701 does everything well. It provides a fulfilling listening experience, gives you a space for upgrading, and comes at a totally reasonable price, given its overall quality. You'll never regret this purchase!
Key specs
Maximum output level (RMS): 1.4V.
Input impedance: 47000 Ohms (MM), 99-1000 Ohms (MC).
Output impedance: 250 Ohms.
Dimensions, inch/cm: 5.11×3.74×8.85/13×9.5×22.5.
Pros
Nice build quality.
Sound quality is excellent right out of the box and will only grow better with use.
Upgradable tube.
A great deal of control over needle cartridge output.
Cons
May be too massive for some users.
Tube preamp
Pro-Ject Tube Box S2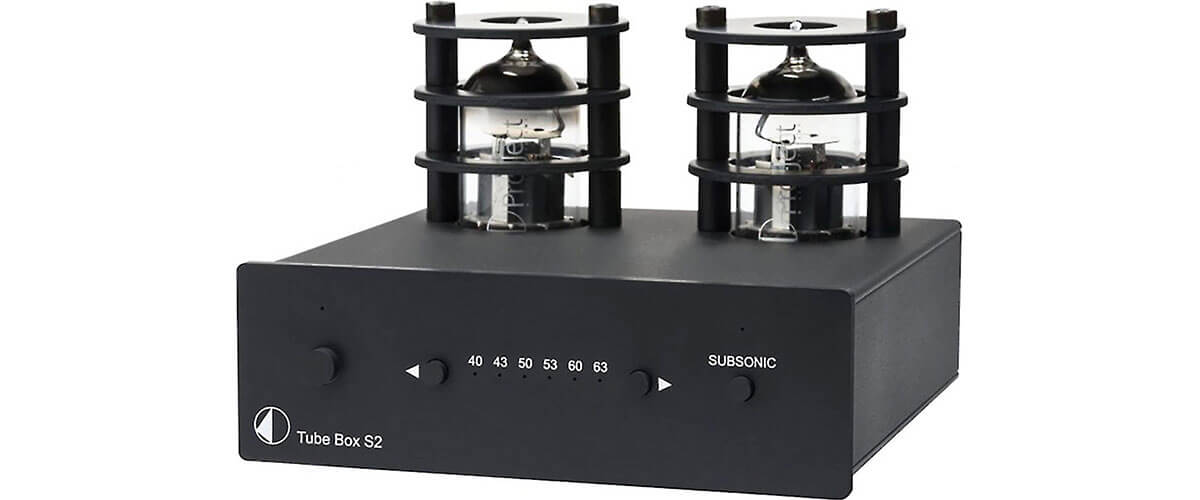 The Pro-Ject is a world-recognized manufacturer of high-quality audio components, including phono preamps. The Tube Box S2 is one of their most popular products, and for a good reason. It's pretty hard to find a tube preamp for about $500, and in all honesty, I was overjoyed when Pro-Ject produced this model.
The real magic of the Tube Box S2 lies in its circuitry, which uses replaceable vacuum tubes for sound-shaping. It gives you many options to choose from and customizes the sound signature to your liking. As a result, the audio quality of this preamp is simply stunning. The vacuum tubes give music a warm, natural quality and make your records shine no matter how old they are. Vocals are clear and intimate, while instruments have a beautiful richness and depth.
The Tube Box S2 supports both MC and MM cartridges, and after using several different cartridges with this preamp, I can honestly say I doubt there's a cartridge that it can't handle.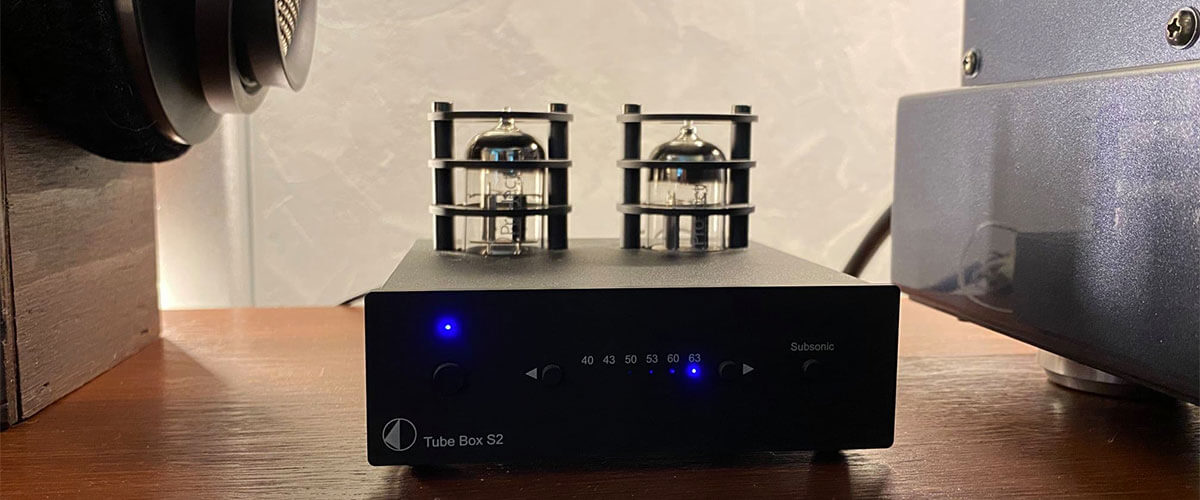 I love that this preamp is equipped with many gain settings – you can fix the sound to the point of enjoyment. As for me, I leave the settings at 0 when I listen to newer, high-end records (MoFi, AP/QRP, etc.), but I always make adjustments when playing older LPs, especially over-compressed rock albums.
As you may notice, our winner Parks Audio Puffin and the current model sit in the same price region, have many settings, and sound excellent. So, which of them is better to choose? The Puffin uses an op-amp instead of tubes like the Tube Box S2, making their sound signature different. Plus, the former is easier to use since you won't have to take care of tubes.
Pro-Ject Tube Box S2 is the best tube phono preamp for those who want to start a more serious audio game. It offers versatility, adjustability, and classic tube sound. And, of course, its price/quality ratio is hard to beat!
Key specs
Maximum output level (RMS): 18V.
Input impedance: 10 Ohms, 100 Ohms, 1000 Ohms, 2000 Ohms.
Output impedance: N/A.
Dimensions, inch/cm: 4×2.8×5.1/10.3×7.3×13.1.
Pros
Durable metal housing.
Makes bad and mediocre recordings sound alive and inviting.
The tubes are enclosed in a metal cage to protect them from bumps and vibrations.
Comes in appealing black and silver colors.
Cons
It's not easy to swap out the tubes if you want to adjust the sound.
Phono preamp buying guide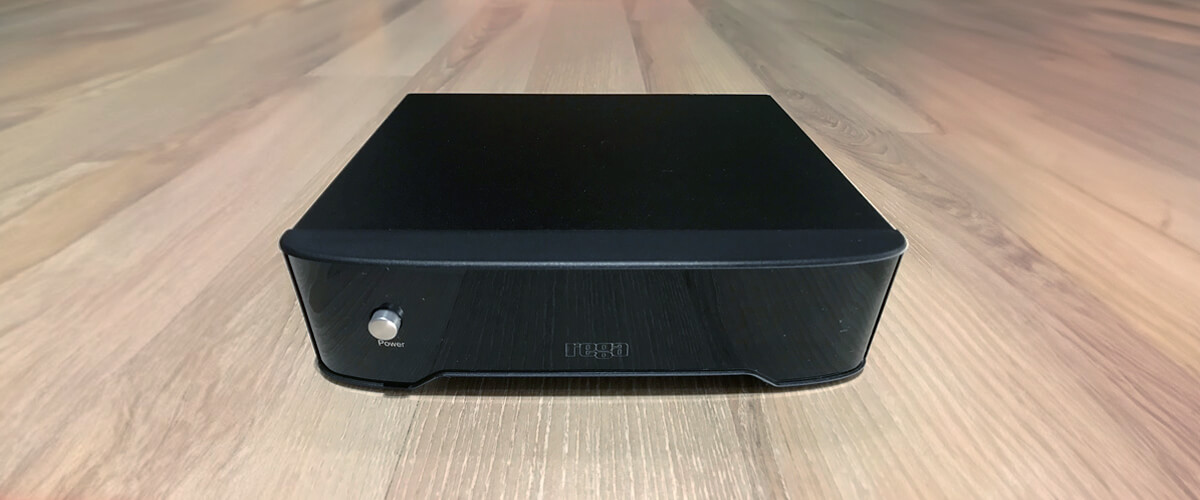 Pay attention to the type of cartridge
You must select a phono preamp in accordance with the phono cartridge used on your vinyl player. For example, if you have a moving magnet cartridge (MM), an MM phono preamp will be the right pick for your system. Conversely, if your setup includes a moving coil cartridge (MC), you should look for a phono preamp compliant with low-output cartridges. By the way, an MC cartridge + MC phono preamp is a fantastic combo for those who appreciate the highest-quality sound. Note that a high-end phono preamp will be MC only!
Some manufacturers offer flexible solutions for most users – MM/MC phono preamps. This versatile type facilitates cartridge changes. If you want to upgrade your MM cartridge to an MC, you won't need to change your phono preamp. An advantage not to forget!
Choose a preamp type: solid state (regular) or tube
The audio market offers two main types of preamps based on their construction – solid state (regular) and tube. The difference lies in amplifying the sound from your player's cartridge.
Solid state preamps are made out of semiconductor material and are usually cheaper than tube models. They provide a clean and clear sound reproduction, but some audiophiles say they lack the "warmth" that tube preamps offer.
Tube preamps use vacuum tubes in their amplification circuit. They are more expensive and are known to provide a more prosperous and fuller sound.
So, which type of phono stage is right for you? It really depends on your personal preference! A solid-state preamp is a good choice if you want less expensive gear that delivers a crispy clear sound. On the other hand, if you are willing to spend more money on a device with a warmer tone, then a tube model is the way to go.
How much should I spend on a preamp?
Phono preamp price tags start from $10 and go beyond $10.000. Therefore, you should determine your budget and goals before starting your search.
If you are a newbie with no previous experience in vinyl playback, I recommend starting with a less expensive model (but not cheaper than $50!). You can always upgrade later once you understand your needs better.
On the other hand, if you have a high-end system and expect the finest possible sound quality, a budget over $800 will allow you to get what you want.
FAQ
Is a phono stage the same as a preamp?
No, a phono stage is not the same as a preamp. A phono stage is a specialized type of amplifier designed to amplify the signal from a turntable. On the other hand, a preamp is an all-purpose amplifier that can use for many different audio signals.
Which is better, MM or MC cartridge?
Most vinyl turntables (especially budget and mid-range models) are equipped with MM cartridges. Only expensive models have MC cartridges. This means that the latter are of higher quality (with lower output voltage) in the context of sound and are oriented to sophisticated music lovers, while the former (MM) are suitable for most users. By the way, I should mention that there are devices (amplifiers and receivers) where you can find a phono input that can switch from MM to MC (for any turntable).
So, an MC cartridge is your optimal bet if you want the best sound quality. However, an MM cartridge might be a better choice if you're looking for an easy-to-set, inexpensive and use cartridge.
How do I know if my record player has a preamp?
If you're not sure whether or not your record player has a preamp, there are a
few things
you can look for. First, check to see if there is an input for a phono cartridge on the back of the unit. If so, then it likely has a preamp built-in. Alternatively, you can consult the owner's manual or contact the manufacturer to be sure.
Is it better to have a separate phono preamp?
If you're serious about vinyl playback, the answer is a resounding "yes!" A phono preamp (sometimes called a phono stage) boosts the signal from your turntable so that it can be amplified appropriately and played through your speakers.
Is phono or line better
The line is generally better for record players as it provides a cleaner signal. Phono, on the other hand, can introduce noise and distortion. So if you're looking for the finest
sound quality
, a line is the way. However, a phono may be a better option if you're more concerned with convenience.
Is a tube phono preamp worth it?
If you're a vinyl enthusiast, you've probably considered a tube phono preamp. Here's why you should take the plunge:
Tube phono preamps can add warmth and character to your sound.
They can add depth and dimensionality to your music.
Tube phono preamps can make your system sound more powerful.
They can improve the clarity and detail of your music.
They can help you recapture the magic of vinyl.