Searching for the best turntable cartridges with half-inch mount catering? You've come to the right place! Here, we're discussing the top-rated models today's market has to offer. Plus, I'll explain what characteristics and specs to consider when shopping around so that you can choose the right gear for your needs.
Ok, but what is a record player cartridge? In short, it's a central element in the signal chain that significantly influences the quality of the sound your player delivers. It means that if you want to improve your listening experience, you don't need to buy a new TT – all you have to do is to upgrade a cartridge. This tiny component can do wonders to your player's sonic characteristics! A high-quality cartridge tracks the record grooves with great precision and produces more open, clear, engaging, and dynamic audio. This way, you'll enjoy more real vocals, tighter bass, and better instrument separation.
So, without further ado, let me introduce my champions!
Best cartridge for turntable reviews
Phono cartridges under $50
Audio-Technica AT-VM95C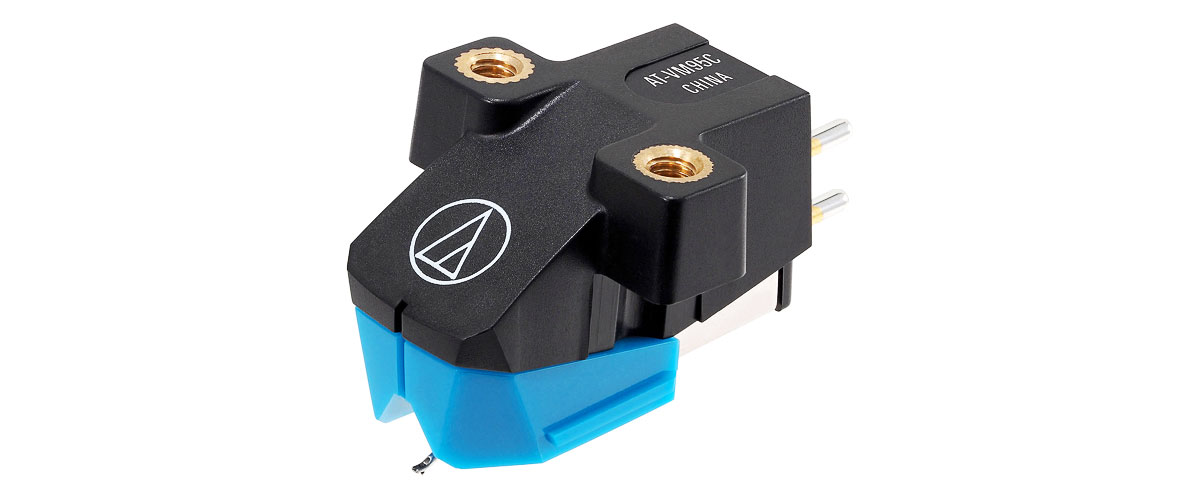 I've included several products made by Audio-Technica into my list, and for a good reason – this brand specializes in manufacturing high-performing cartridges.
Their AT-VM95C is the best budget cartridge for turntable available on today's market – it boasts decent sound quality and durability at a fraction of the cost of more expensive models.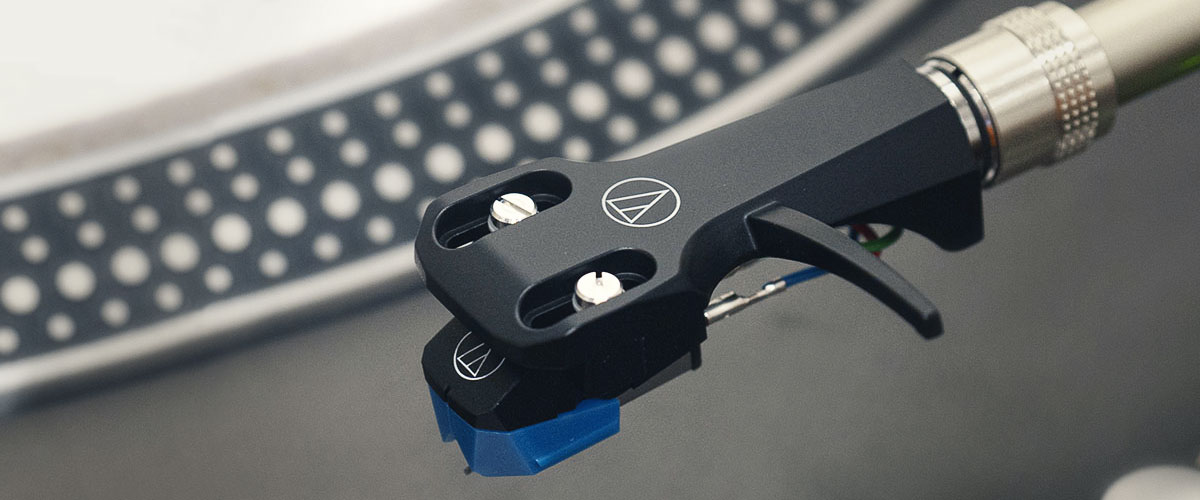 The AT-VM95C features a conical tip, and while this stylus type is not capable of picking up every intricate tick and pop, it still provides low distortion and great channel separation, resulting in superb tone quality. The sound is surprisingly rich for such a cheap cartridge!
The next thing I love about this product is its specifically configured coils to improve output voltage, making it perfect for use with high-output vinyl players. Finally, the cartridge has robust low-resonance polymer construction that ensures its long life.
Key specs
Type: MM.
Stylus shape: conical.
Frequency response: 20 – 20.000 Hz.
Channel separation: 18 dB (1 kHz).
Load impedance: 47.000 Ω.
Tracking force: 1.8 to 2.2g.
Pros
Good sound for the money.
Powerful output level.
Easy to install.
You can replace the needle with any of the AT-VMN95 styli.
Cons
Is on the bright side.
Higher notes sound a little weak.
Phono cartridges under $100
Ortofon 2M Red – best under $100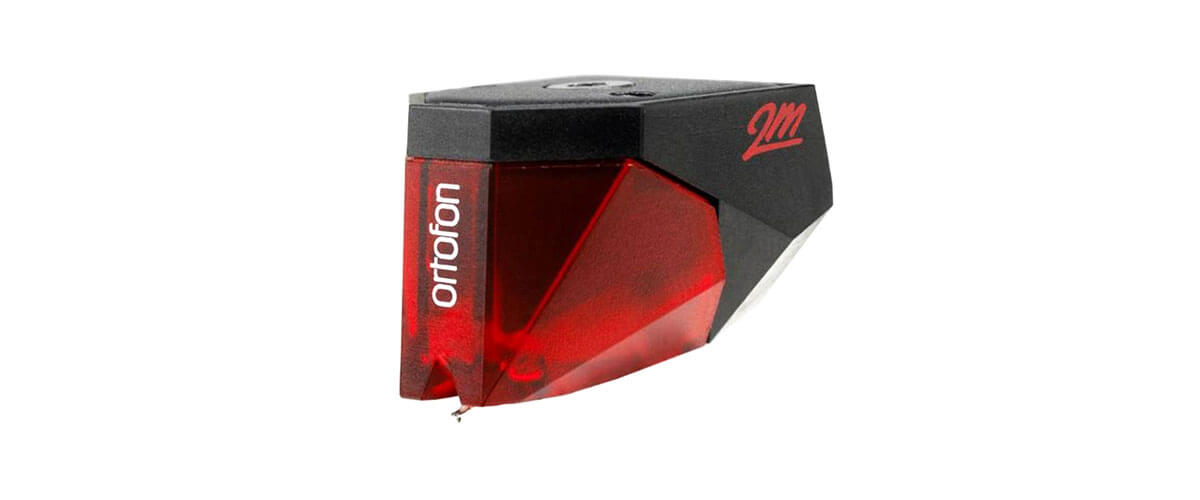 Ortofon 2M Red is the best turntable cartridge under $100, and here's why. First off, this all-purpose device fits most record players and provides excellent sound quality for a wide range of genres. Its elliptical diamond stylus tracks your records with precision, and the split pole pins minimize interference from external vibrations. Plus, the copper wire used in the construction helps deliver clear and accurate audio reproduction. Compared to the more affordable Audio-Technica AT-VM95C, the 2M Red produces more volume in mid to high frequencies and tighter bass.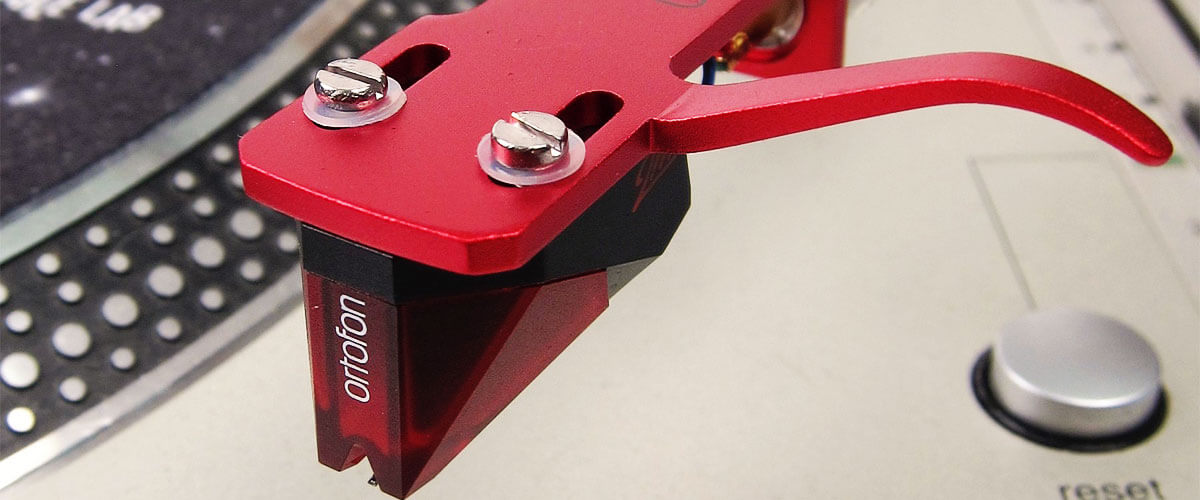 The cartridge's body is made of Hopelex material, which ensures its durability and longevity. Finally, this model can be upgraded with an Ortofon Stylus 2M Blue for an even better listening experience.
Key specs
Type: MM.
Stylus shape: elliptical.
Frequency response: 20 – 20.000 Hz.
Channel separation: 22 dB (1 kHz).
Load impedance: 47.000 Ω.
Tracking force: 1.6 to 2g.
Pros
Treat this babe well, and it'll last you a lifetime.
Tracks well.
Great sound – super crisp, clean highs and tight bass.
Easy to install.
Cons
Needs much time to break in.
Screws need a plastic washer for better fixation.
Audio-Technica AT-VM95E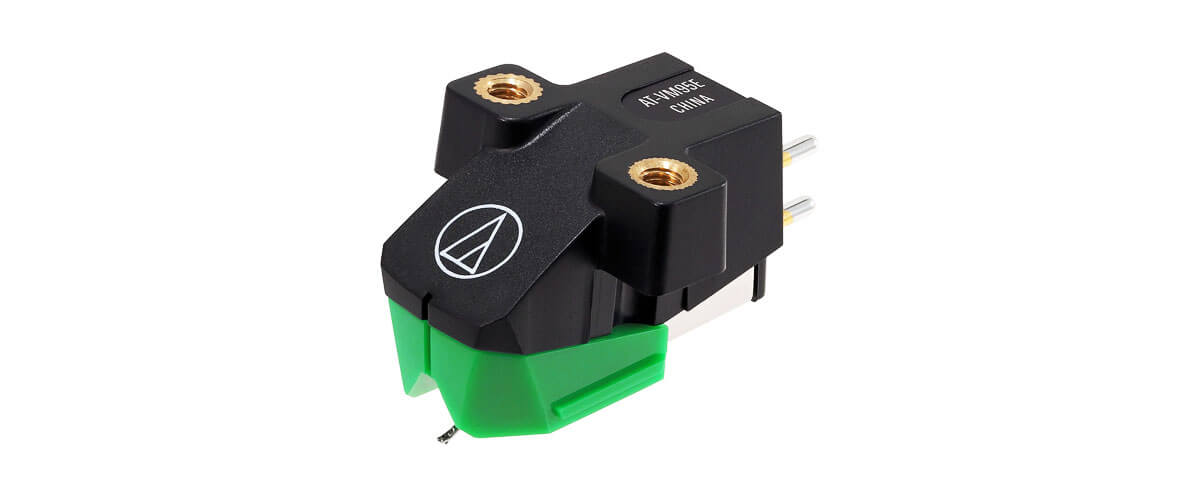 Audio-Technica AT-VM95E is an entry-level phono cartridge that features all perks of the VM95 Series – durable low-resonance polymer construction with threaded inserts for easy installation, aluminum cantilever, and powerful output. This results in excellent channel separation and lower distortion for exceptional tone quality.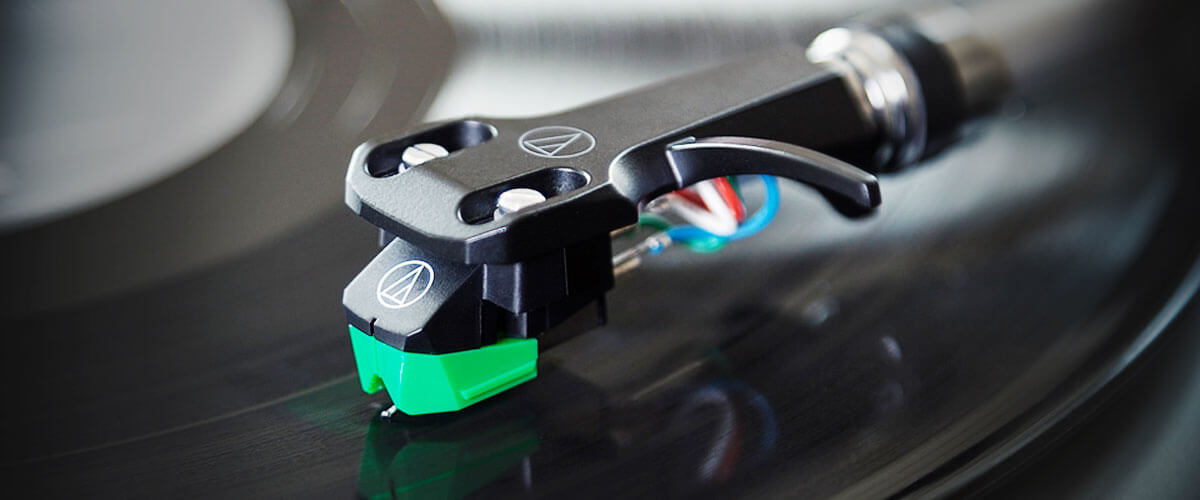 But what makes AT-VM95E stand out against its siblings is the 0.3×0.7 mm elliptical bonded tip which ensures both excellent tracing of high-frequency detail and remarkable stereo imaging, resulting in more transparent, accurate sound.
Key specs
Type: MM.
Stylus shape: elliptical.
Frequency response: 20 – 22.000 Hz.
Channel separation: 20 dB (1 kHz).
Load impedance: 47.000 Ω.
Tracking force: 1.8 to 2.2g.
Pros
Built to last.
Lighter tracking stylus.
Delivers full-bodied sound with plenty of stereo separation.
Upgradable needle (within the VM95 series).
Cons
May sound excessively bright for some ears.
A bit tricky to put the white protective plastic cover on the cart.
Phono cartridges under $200
Nagaoka MP-110 – best under $200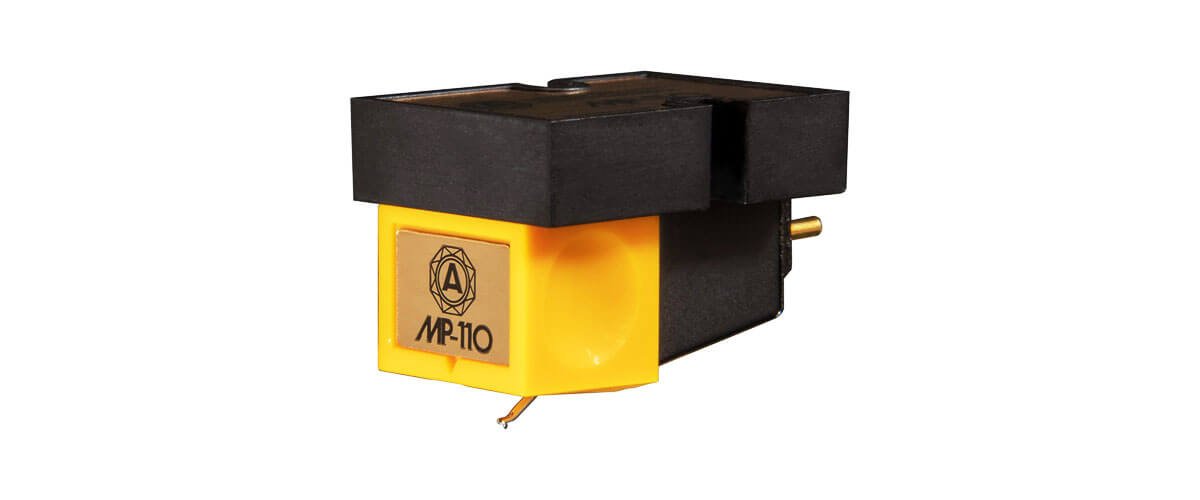 The Nagaoka MP-110 is a cool moving magnet cartridge featuring a well-machined elliptical needle. The combination of the strong samarium cobalt magnet and the light aluminum alloy cantilever gives it excellent tracking capabilities. Furthermore, the strengthened carbon composite pole shoe reduces vibration, resulting in better sound quality. In addition, the Nagaoka MP-110 incorporates an anti-ferromagnetic permalloy protective housing, which decreases noise interference.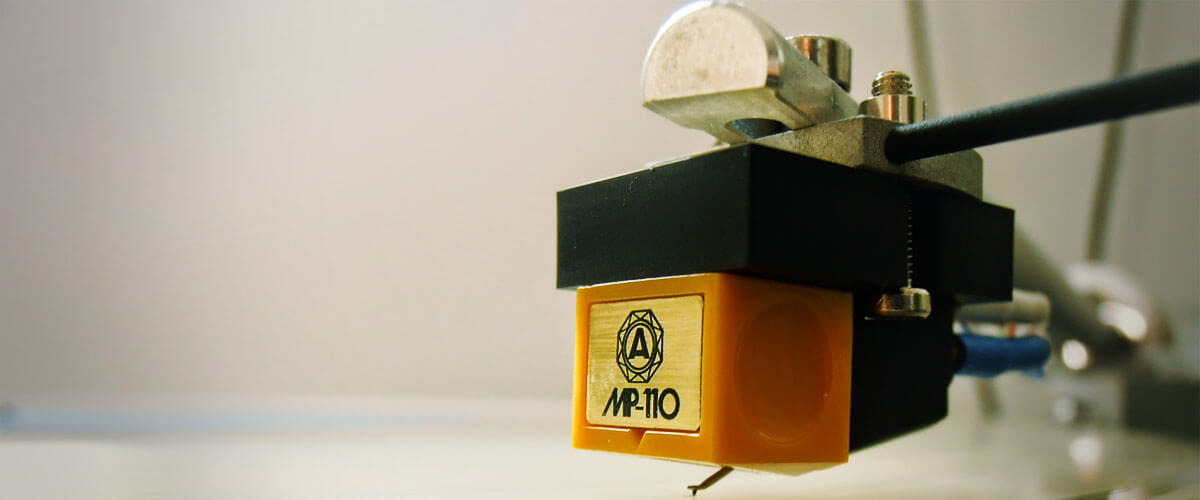 I love the MP-110's decent bass, smooth midrange, and beautiful highs; plus, this cartridge has an incredible clarity that makes it pleasant to listen to with no fatigue.
Nagaoka MP-110 is the finest turntable cartridge under $200 – you hardly find such built and performance in a similar price range!
Key specs
Type: MM.
Stylus shape: elliptical.
Frequency response: 20 – 22.000 Hz.
Channel separation: 23 dB (1 kHz).
Load impedance: 47.000 Ω.
Tracking force: 1.5 to 2g.
Pros
Solid performer at a reasonable price.
Sounds great with both modern pressings and older records.
Good audio quality right out of the box.
Cons
Installation requires much time and care.
Audio-Technica VM530EN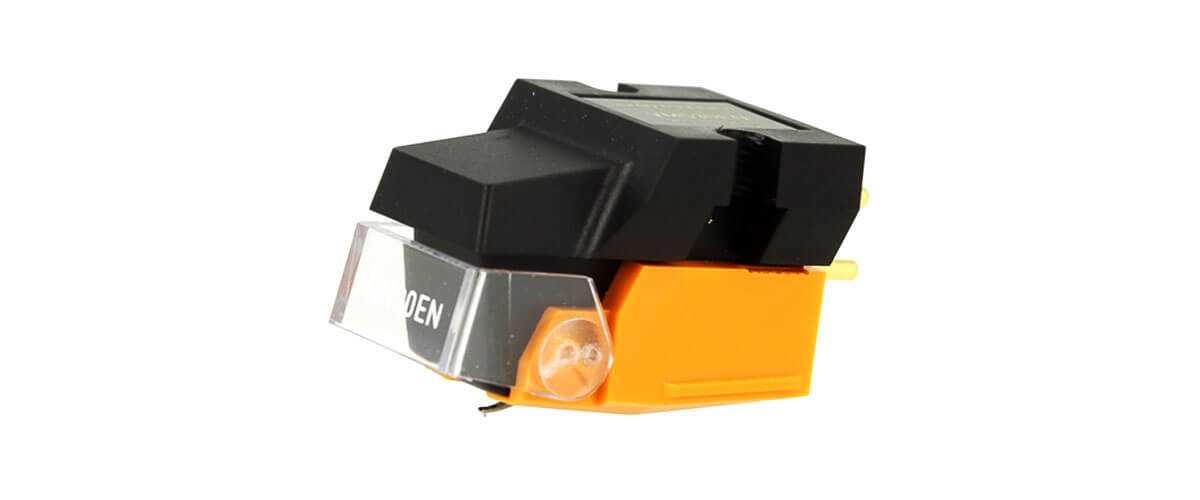 Love Audio-Technica's overall quality? Want a cartridge that will significantly improve your audio game, but you are not ready to ruin your family budget? Then, Audio-Technica VM530EN will be the right pick for you!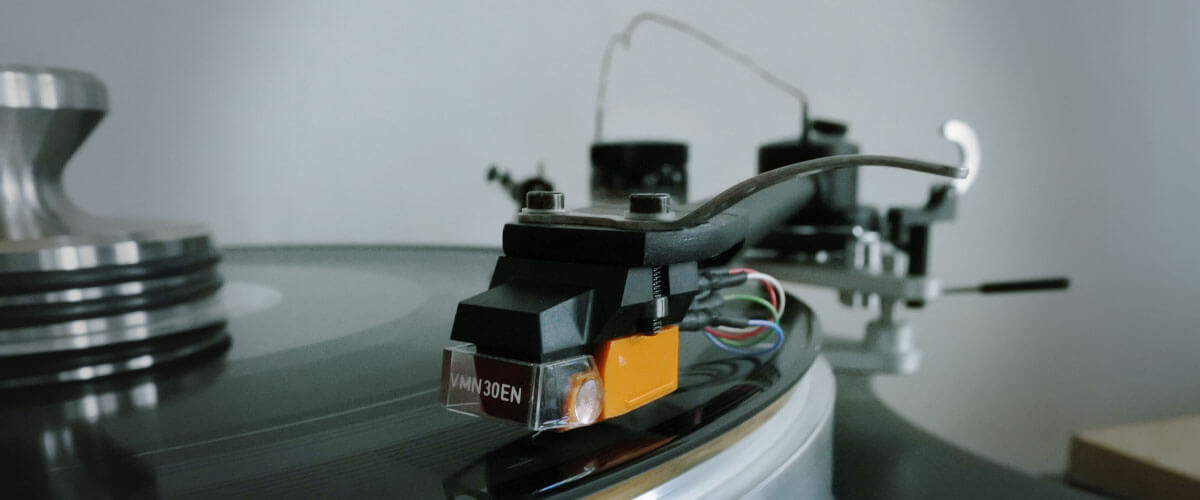 This high-performance vinyl cartridge features dual magnets and an elliptical nude stylus, providing exceptional sound quality. Additionally, the paratoroidal coils and center shield plate between the left and right channels create a more stable sound field, while the low-resonance polymer cartridge housing reduces unwanted vibration. Plus, the aluminum cantilever ensures superior tracking ability. Thanks to such smart construction, the VM530EN delivers a transparent, well-balanced sound. The highs are crisp, the mids are warm, and the lows are punching – just what you would expect from a quality product.
Key specs
Type: MM.
Stylus shape: elliptical.
Frequency response: 20 – 25.000 Hz.
Channel separation: 27 dB (1 kHz).
Load impedance: 47.000 Ω.
Tracking force: 1.8 to 2.2g.
Pros
Comes with mounting hardware.
Improved construction.
Detailed and clear sound.
Easy to mount and use.
Cons
Not really versatile – fits only certain TT models/ doesn't fit any turntable.
Phono cartridges under $300
Denon DL-110 – best under $300
Denon DL-110 is the best high output moving coil cartridge under $300 the market has to offer. Actually, this model goes above and beyond its peers and close competitors in terms of design and performance.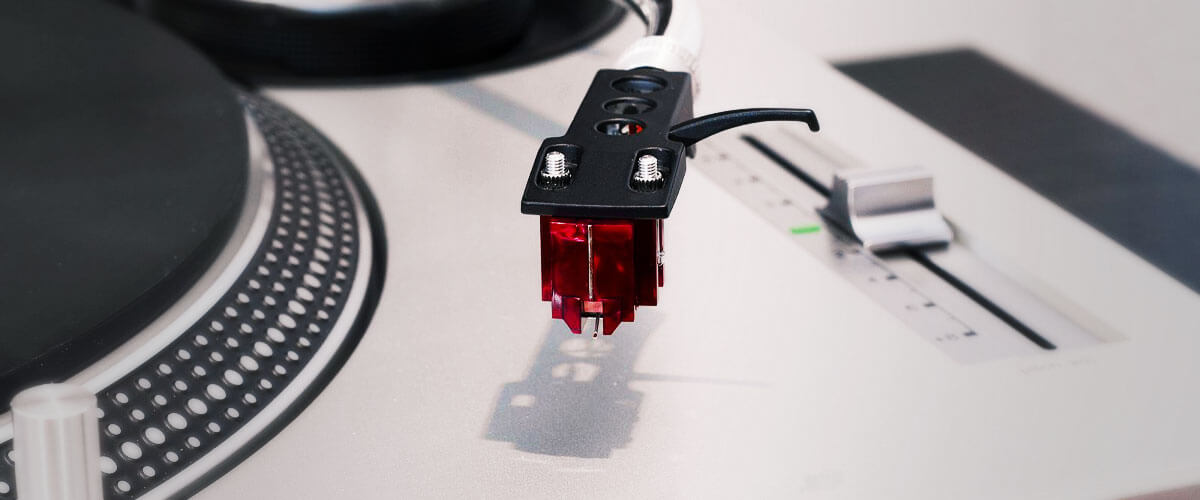 The DL-110 features a well-integrated, special elliptical diamond stylus that provides outstanding sound quality. In addition, the aluminum cantilever and flat frequency response create a smooth, natural sound that will take your music listening experience to the next level. Plus, the sleek and stylish design is sure to complement any turntable.
Key specs
Type: MC.
Stylus shape: elliptical.
Frequency response: 20 – 45.000 Hz.
Channel separation: 25 dB (1 kHz).
Load impedance: 47.000 Ω.
Tracking force: 1.5 to 2.1g.
Pros
An open, well-balanced, easy-listening sound.
Works well with both MC and MM phono stages.
Comes in the nice sturdy package.
Ortofon 2M Blue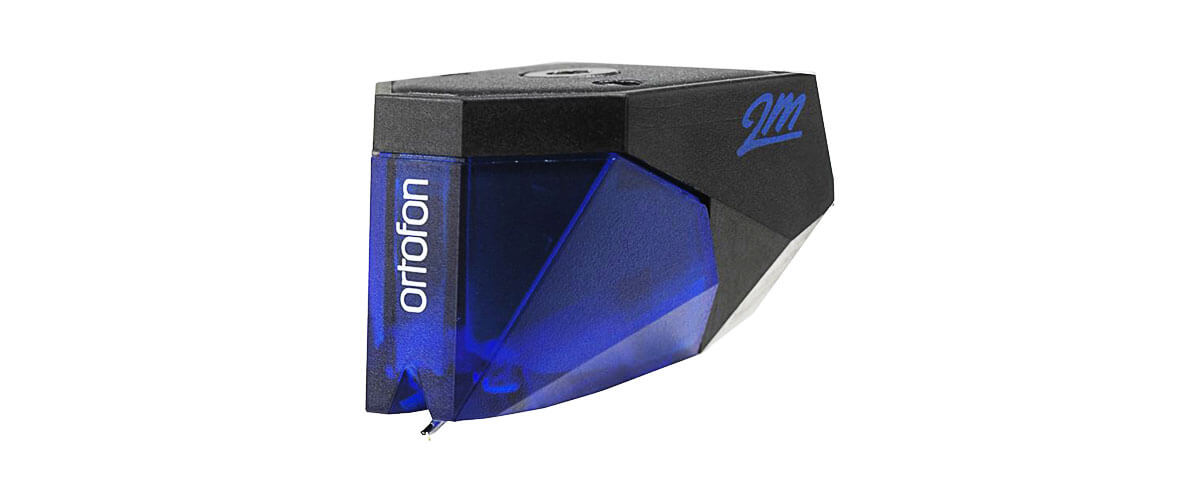 Audio perfection doesn't come cheap. But with the Ortofon 2M Blue, you get gorgeous sound quality without breaking the bank. This cartridge is designed to deliver exceptional dynamics and resolution, with a rich, open sound that reproduces all the details of your music. Furthermore, the nude elliptical diamond stylus tracks even the slightest groove variations for accurate playback, while the replaceable stylus means you can keep this baby sounding great for years to come. So, give your music the Ortofon treatment and enjoy audio nirvana!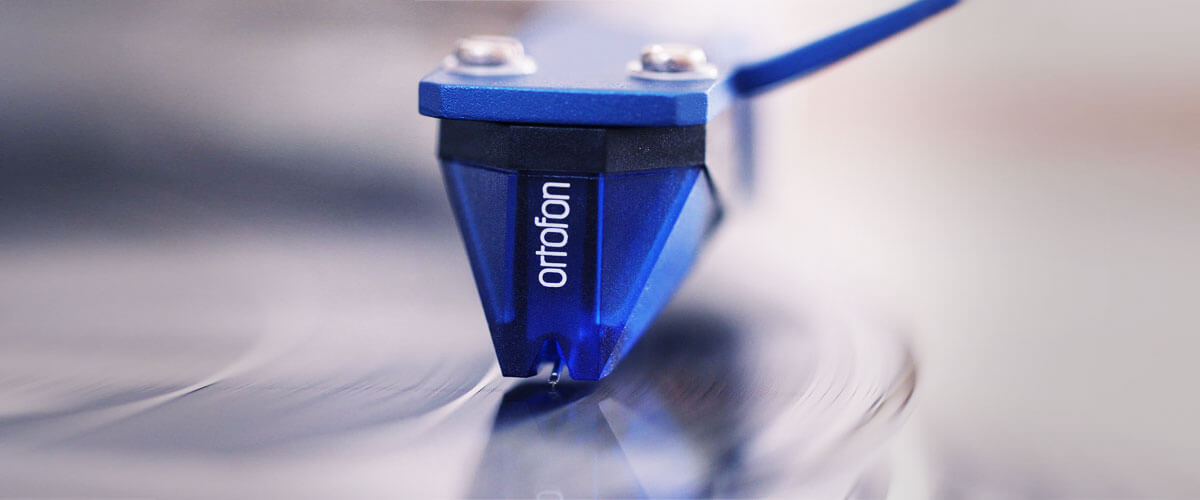 Key specs
Type: MM.
Stylus shape: elliptical.
Frequency response: 20 – 20.000 Hz.
Channel separation: 25 dB (1 kHz).
Load impedance: 47.000 Ω.
Tracking force: 1.6 to 2g.
Pros
Amazing sound – accurate, detailed, with plenty of expression.
Easy to mount.
Includes maintenance kit.
Cons
Requires a dedicated MC phono input.
Phono cartridges under $500
Denon DL-103R – best under $500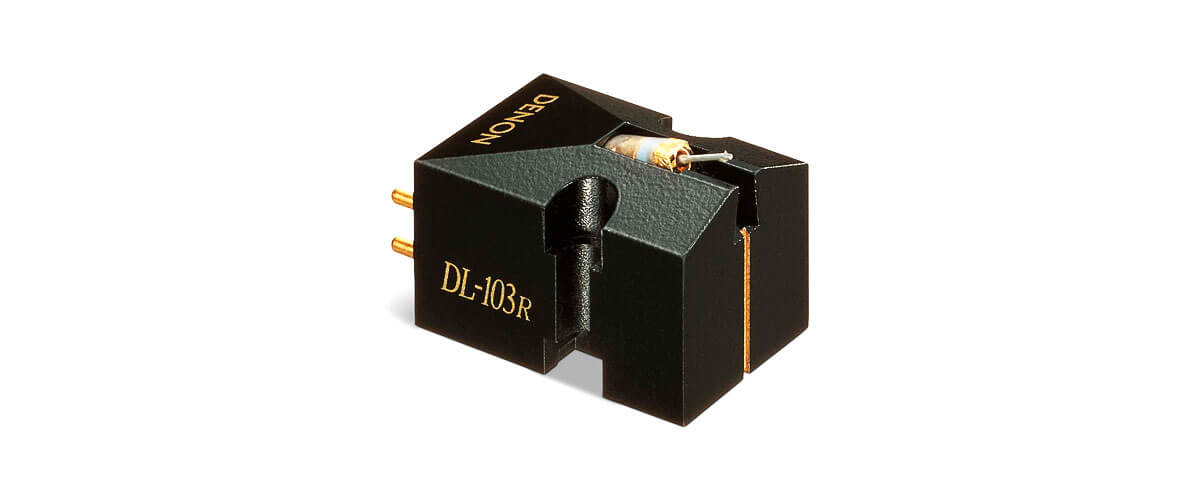 The DL-103R moving coil cartridge is an upgraded version of the award-winning DL-103. Many audiophiles love this great model for its outstanding sound quality.
This cartridge will take your listening experience to the next level thanks to its unique construction, with 6N copper coils accurately included on the cantilever pole. While testing, I was enjoying hefty low-end, forward and sweet mid-range, and crisp yet not harsh nor fatiguing highs.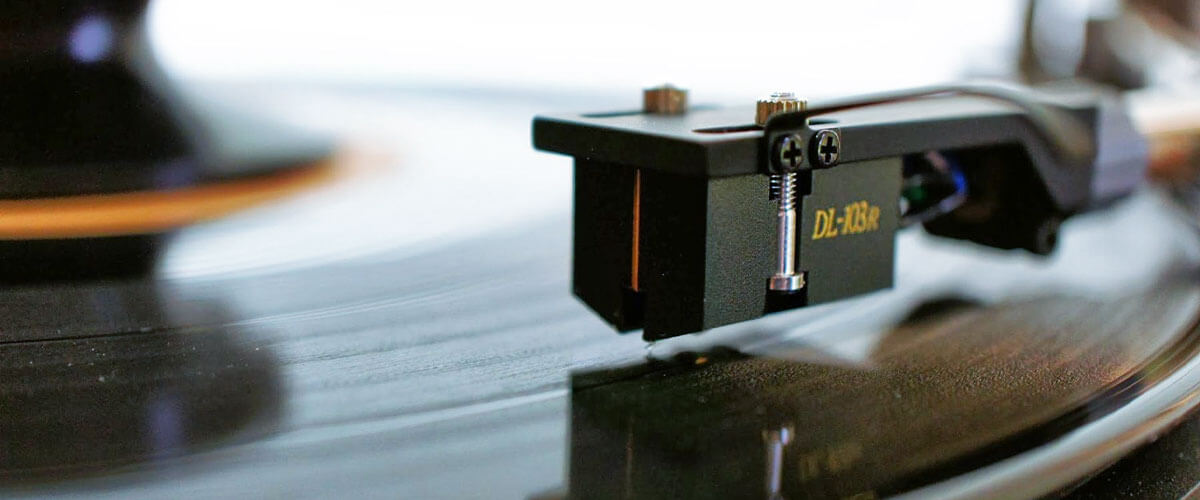 Many knowledgeable vinyl enthusiasts consider Denon DL-103R the greatest cartridge under $500, and I do share their opinion! This device will definitely transform your player into a state-of-the-art machine!
Key specs
Type: MC.
Stylus shape: elliptical.
Frequency response: 20 – 45.000 Hz.
Channel separation: 25 dB (1 kHz).
Load impedance: 47.000 Ω.
Tracking force: 2.5 to 3g.
Pros
Skillful engineering.
Beautiful design.
Sounds very confident and composed.
Cons
Do not sound well with a low-mass tonearm.
Audio-Technica VM750SH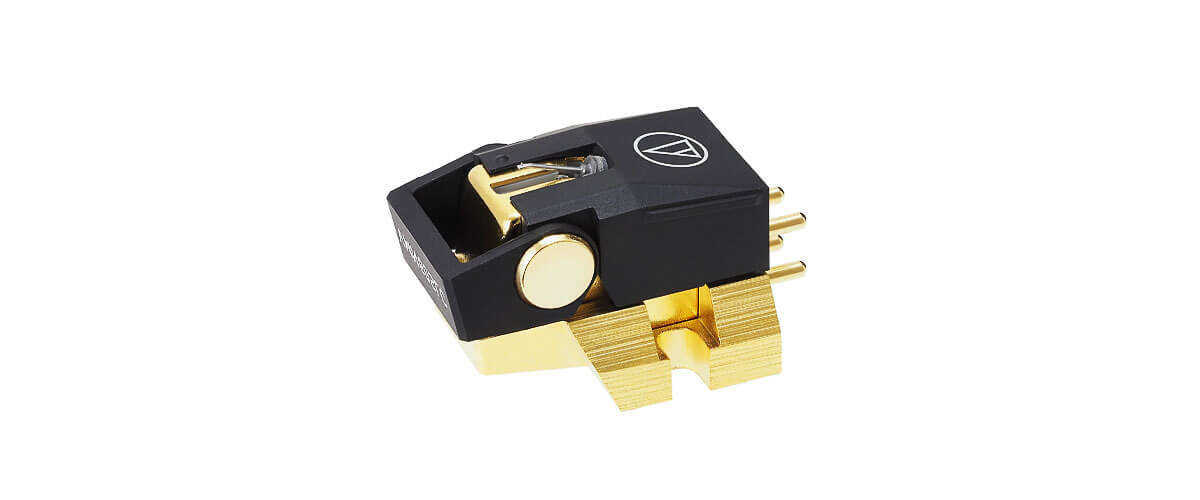 The VM750SH is perfect for audiophiles looking to get the most out of their vinyl collection. This cartridge features dual magnets, ensuring more pronounced channel separation and fantastic sound reproduction. The high-end Shibata stylus and paratoroidal coils provide superior tracking and handling, while the center shield plate between the left and right channels reduces interference. This little device adds plenty of crispness and spaciousness to the music! And last but not least, die-cast aluminum alloy housing and aluminum cantilever add durability and style. So crank up your tunes and enjoy the good vibes with the Audio-Technica VM750SH!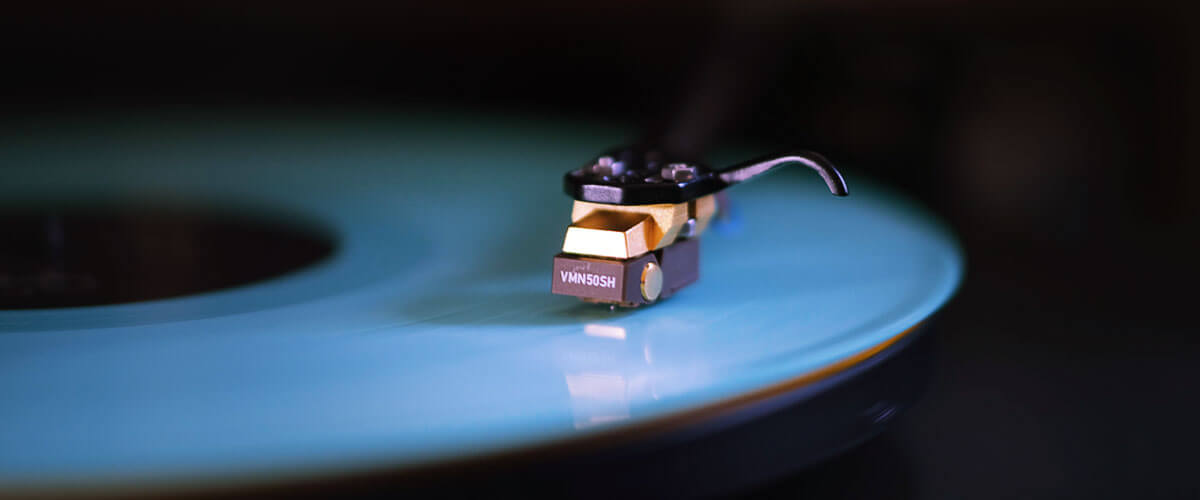 Key specs
Type: MM.
Stylus shape: shibata.
Frequency response: 20 – 27.000 Hz.
Channel separation: 30 dB (1 kHz).
Load impedance: 47.000 Ω.
Tracking force: 1.8 to 2.2g.
Pros
Audiophile-level Shibata stylus that picks up ultra-high frequencies.
Effectively reduces vibrations and resonance.
Sturdy yet elegant design.
Cons
While doing a wonderful job of extracting all the fine detail from your LPs, it also brings out records' faults.
Needs time to break in.
Nagaoka MP-150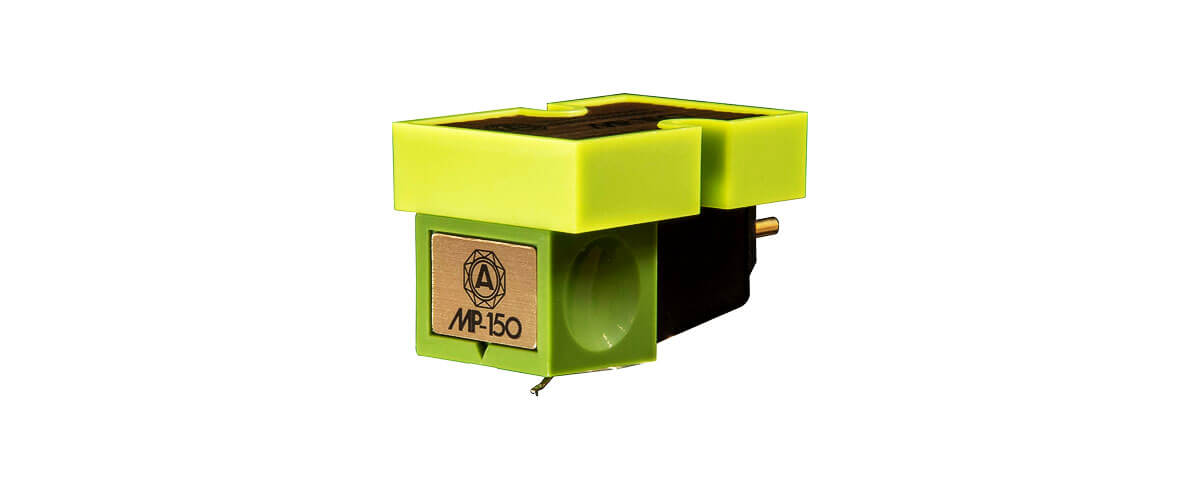 The Nagaoka MP-150 is a high-end MM cartridge that delivers excellent sound quality.
The cartridge features premium components such as a superfine polished elliptical diamond needle, solidified yet lightweight aluminum alloy cantilever, and a strengthened carbon shaft shoe. This ensures accurate tracking and retrieval of the vinyl record's grooves for an immersive listening experience. When using this cart, the audio dimension expands to the point where you feel the musicians are in the room. Additionally, the anti-ferromagnetic permalloy shielding case protects the delicate internal components from external interference.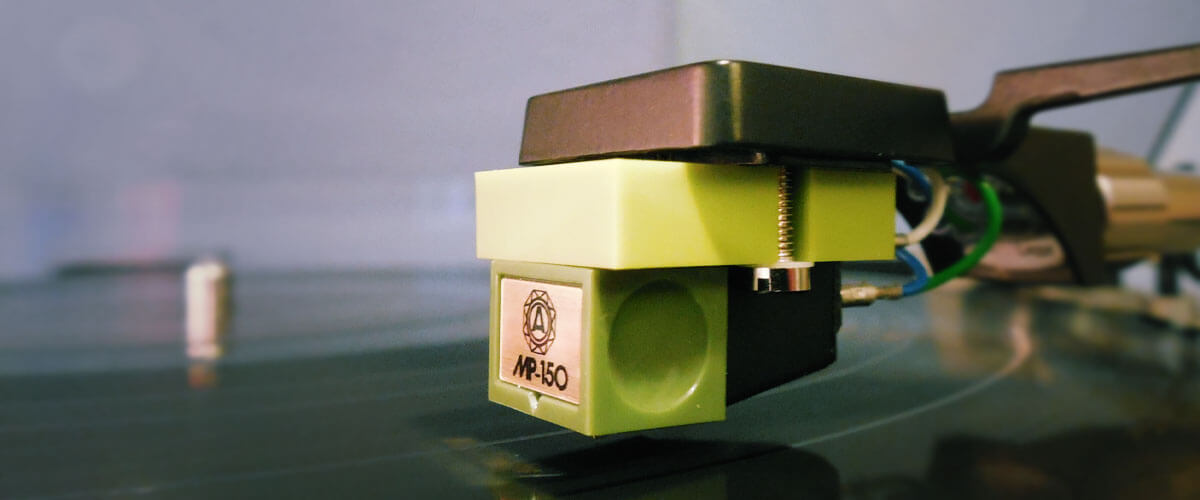 If you're looking for superior sound quality and performance, then the Nagaoka MP-150 is definitely worth consideration.
Key specs
Type: MM.
Stylus shape: shibata.
Frequency response: 20 – 20.000 Hz.
Channel separation: 24 dB (1 kHz).
Load impedance: 47.000 Ω.
Tracking force: 1.5 to 2g.
Pros
Sounds fantastic – super balanced with lovely low-end extension and punch.
Premium-quality tiny crystal clear needle.
A real workhorse for many years to come.
Cons
May pick up a bit of surface noise.
Phono cartridges under $1000
Audio-Technica AT-OC9XSL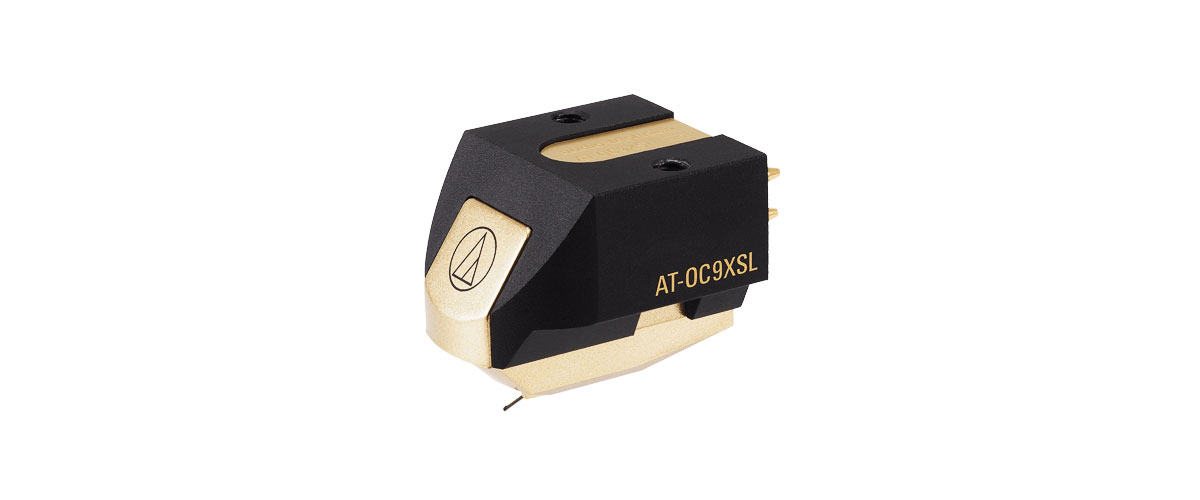 The Audio-Technica AT-OC9XSL is an audiophile cartridge that boasts a dual-moving coil design and a PCOCC copper body. It has been designed to offer the finest possible sound quality, with clear, accurate audio reproduction. The reverse V-shaped alignment of the coils helps to reduce distortion and ensure faithful reproduction of the original recording. The cartridge also features a pro-level nude special line contact stylus and boron cantilever for accuracy and clarity, as well as an aluminum body for reduced resonance.
If you're looking for a premium-quality phono cartridge that will help your player reach its maximum potential, the Audio-Technica AT-OC9XSL is a great option.
Key specs
Type: MC.
Stylus shape: line.
Frequency response: 20 – 50.000 Hz.
Channel separation: 28 dB (1 kHz).
Load impedance: > 100 Ω.
Tracking force: 1.8 to 2.2g.
Pros
Smart design.
Superb sound quality.
Is very quiet in the groove.
Comps with carts costing 2 or 3 times the price.
Cons
Requires a high-quality moving coil phono preamp.
Turntable cartridge buying guide
Types of turntable cartridges: MM and MC
There are 2 main types of cartridges: Moving Magnet (MM) and Moving Coil (MC). Audioholics have a never-ending debate about which one sounds better! But let's take a closer look at both types so you can make your own choice.
An MM cartridge contains a metal cantilever with a small magnetic component on its end, which interacts with your phono stages' magnets to generate an electrical signal.
This cartridge type has two main advantages:
Its constant and powerful output makes it compatible with almost all preamps.
Broken or worn needles in the MM cartridge can be easily changed. This is an essential factor to consider because needles usually require frequent replacement.
However, there is also a significant drawback: the heavier weight of the MM cartridge limits how quickly its stylus can traverse the record, meaning it's less precise at higher frequencies and cannot reproduce the same amount of detail. So do avoid buying a poor-quality MM cartridge – you may end up with a muddy sound!
An MC cartridge features a stationary magnet, but its coil vibrates around the stylus as it follows record grooves. Due to the lower coil thickness and overall lighter mass, the stylus can recognize more low-level frequencies and features a wider melodic impulse bandwidth from the grooves. That's how the MC cartridge significantly improves sound clarity and precision.
But there are spots upon the sun! MC cartridges are themselves pretty expensive; plus, they require a standalone amp and additional connectors, both of which are pricey and need professional handling.
Stylus shapes
Nowadays, you can find several different stylus shapes on the market: Shibata, Microlinear, Elliptical, Conical, and Spherical. Of course, the choice of a stylus shape is highly personal, but still, there are some general tendencies you can consider.
Shibata and Microlinear styluses have a fine, long tip that can read minor details in the record grooves. These are among the finest-sounding options, but they also require extra care while handling records – the slightest damage to the grooves may cause a terrible sound.
An Elliptical stylus has an oval shape that lies somewhere between Shibata and Conical shapes. This type provides an excellent balance of detail retrieval and tracking ability.
Conical styluses, as their name suggests, have a cone-like shape with a small contact area with the record surface. Due to the wide angle of the contact patch, Conical styluses have great tracking ability but usually sound less articulate than elliptical or Shibata-tipped options.
Spherical styluses have a round tip that offers the widest angle of contact with the record surface. These are the cheapest and most robust options, but they don't produce the highest quality sound.
Important specifications
Here we'll take a look at the cartridge's most important characteristics that significantly impact its overall functioning. However, you shouldn't only rely on numbers! Before making a purchase, do read reviews and customer reports to understand what level of sound a particular cartridge is capable of delivering.
Frequency response
The frequency response is the range of frequencies a cartridge can reproduce. It's usually stated in Hertz (Hz) and measured in decibels (dB).
As a rule of thumb, a wider frequency range means better sound quality. But remember that different music genres require different amounts of detail – for instance, classical music sounds excellent with wide frequency response, while rock may sound just fine with a narrower one. So, choose a cartridge with a frequency response that suits your musical preferences better.
Channel separation
The channel separation is the degree to which a cartridge can reproduce left and right stereo signals. It's usually stated in decibels (dB) and measured at a particular frequency (usually 1kHz).
In general, a higher channel separation means better sound quality. But again, it all comes down to personal preferences – some people may prefer a wider soundstage, while others may find it more artificial-sounding.
Load impedance
This parameter indicates how much current the cartridge pulls from your phono stage. The lower the impedance, the more current is required, which may negatively impact the sound quality. As a rule of thumb, an MM cartridge should have an impedance between 47k and 100k ohms, while MC cartridges usually require a load impedance of 10-47k ohms.
Tracking force
The tracking force is the amount of pressure the cartridge's stylus puts on the record surface. It's measured in grams and usually ranges from 1.5 to 3 g. A higher tracking force means that the stylus will be more securely attached to the record grooves and less likely to jump out of them. But at the same time, a too high tracking force increases wear and tear on both records and styluses. That's why it's crucial to find a happy medium – not too high, not too low.
FAQ
Do turntable cartridges make a difference?
Yes, turntable cartridges can make a difference in the overall sound quality of a vinyl record. However, some cartridges are better at reproducing high frequencies, while others are better at reproducing low frequencies, so it's important to choose one that is better suited for the type of music you plan to listen to. Additionally, cartridges can wear out over time, so you have to replace them occasionally if you want to continue enjoying optimal sound quality from your records.
How long does a phono cartridge last?
What is the difference between a stylus and a cartridge?
A cartridge
is the housing for the stylus and other components of a turntable system. The stylus is the needle that sits in the cartridge and comes into contact with the record surface.
Do all cartridges fit all turntables?
There is no definitive
answer to this question
as different turntables have different capabilities and therefore require different cartridges. In addition, some cartridges are designed for specific turntables, while others are more versatile and can be used with various models.