Let's be honest, RCA cables are one of the last items people think about when building their hi-fi system. But, unfortunately, it's a wrong approach that may produce wrong results. Every piece of electronics in the audio chain will impact the sound quality. So, connect your system wisely – use only the best RCA cables for a turntable.
But I know cords selection can be a bit nerve-racking. That's why I've prepared a list of the carefully selected, top-notch cables that fit different budgets. I'll also explain how to choose the right option that will meet all your needs. So, without further ado, let's get down to the details.
Our pick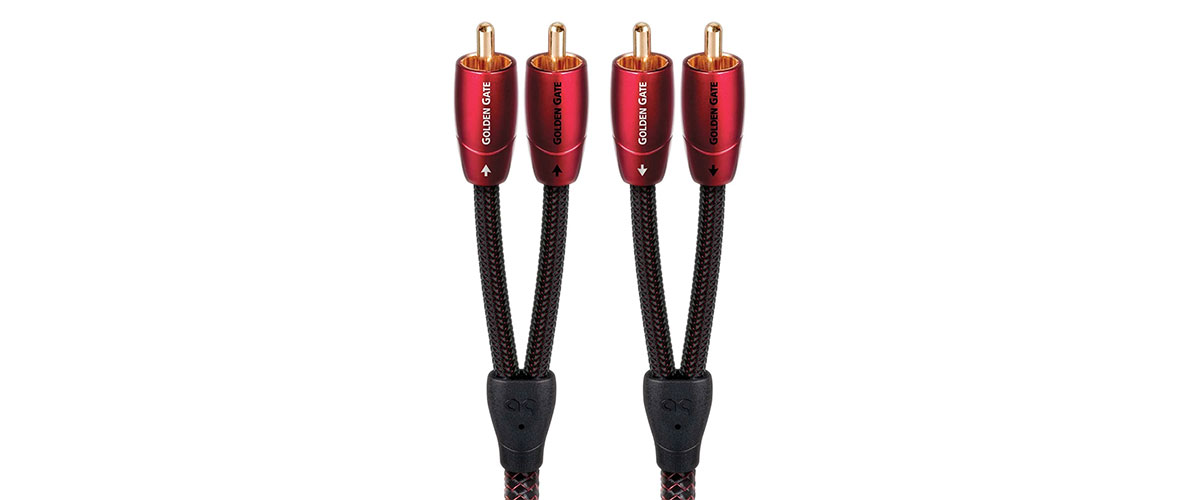 AudioQuest Golden Gate
Best RCA cable for turntable
This plug design allows for a connection devoid of solder, which is a common source of distortion.
Read the full review.
Does RCA cable quality matter?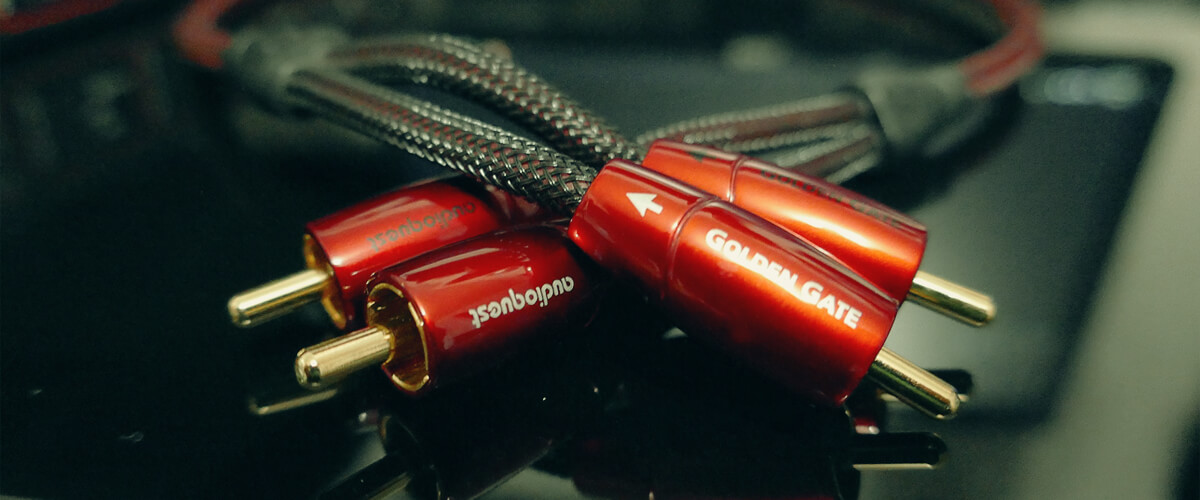 The short answer is yes, it really matters.
Most experts agree that you should use high-quality RCA cables if you want superb sound from your record player. Conversely, low-quality cables can cause sound distortion and interference, affecting the overall quality of your music listening experience.
RCA interconnects that truly merit our attention are characterized by several essential features. They are long enough to accommodate varying setups, meticulously constructed to ensure reliability and feature robust shielding to guard against interference from other electronic devices and radio frequencies.
Best RCA cables for turntable reviews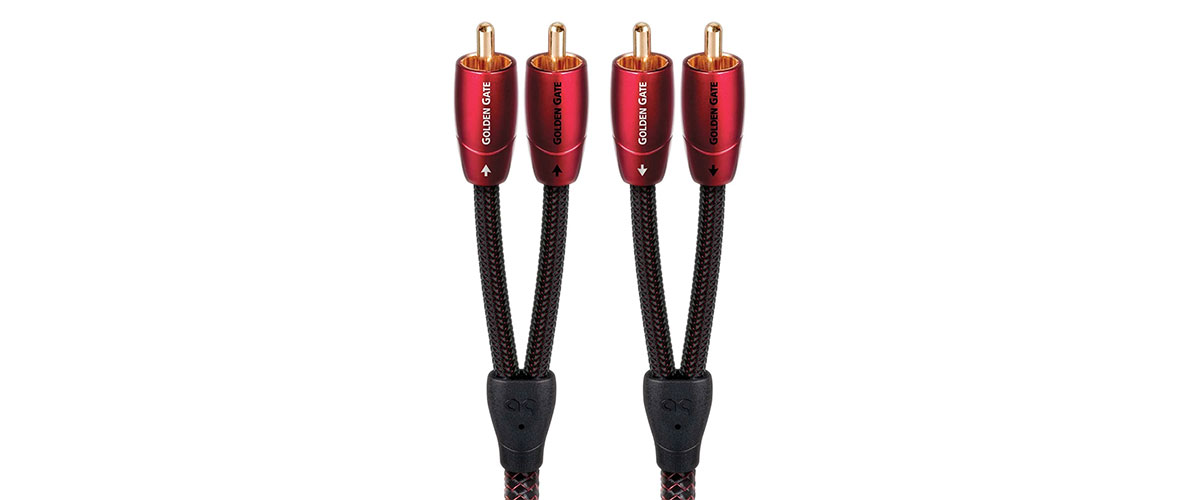 AudioQuest's Golden Gate RCA cables result from over 30 years of innovative engineering and research conducted by AudioQuest's team dedicated solely to audio technology.
What makes this product stand out against competitors (e.g., Pro-Ject Audio Connect it C with its solid & flexible body) is its unique durable construction. Solid copper wire is woven into an asymmetrical double-balanced geometry to defeat radio frequency and electromagnetic radiation from outside sources (i.e., wireless networks, power lines). Emphasis was also placed on noise elimination using foil, absorbers, and ground plane construction techniques, so there isn't the interference you get with conventional cable systems.
Incorporating these cables into my audio setup was transformative. The nuanced details and textures within the music were instantly brought to the forefront, revealing an intricacy that was previously masked. The noise elimination technology excelled, crafting a clear, interference-free auditory landscape, and the blend of solid construction and aesthetic refinement of the cables added an extra layer of satisfaction.
Moreover, the superior insulation provided by the fabric sleeves adds an extra layer of protection against tearing, while the gold-plated plugs secure better contact integrity & accuracy, promoting tighter bass reproduction and smoother high frequencies.
To sum up, AudioQuest's Golden Gate RCA interconnects are the best phono cables for a turntable on the market – they boast a killing combination of overall quality and fair price. These cables will definitely help you craft your perfect set-up!
Pros
Unique, solid build.
Clear improvement in sound.
Snug on the turntable jacks.
Outside noise reduction.
Cons
Some customers find the cables quite thin; however, it doesn't make them less durable.
QED Reference Audio 40 – premium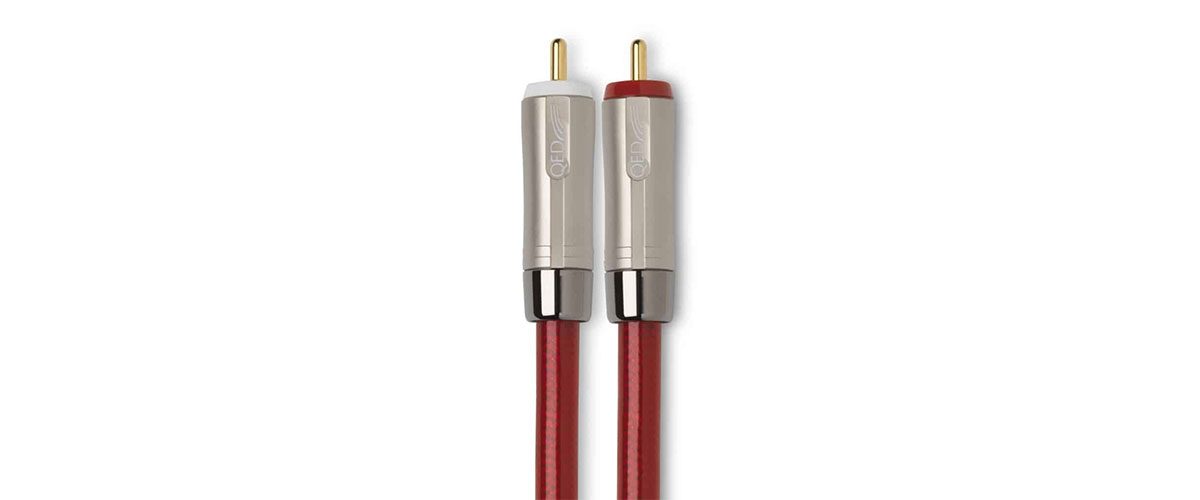 QED Reference Audio 40 Interconnect is a high-end RCA cable that will keep your music sounding as good as the artist intended. It's an updated version of the award-winning Audio 40 interconnect and is capable of delivering much more detailed and cleaner sound.
The cables feature smartly engineered low-bulk, high-purity copper connectors, and low-mass metal barrels, which prevent resonant distortions. There are other upgrades audiophiles will definitely appreciate, e.g., hollow gold-plated high-purity copper signal pins and a slip ring that locks the ground terminal in place – they enhance both timing and detail.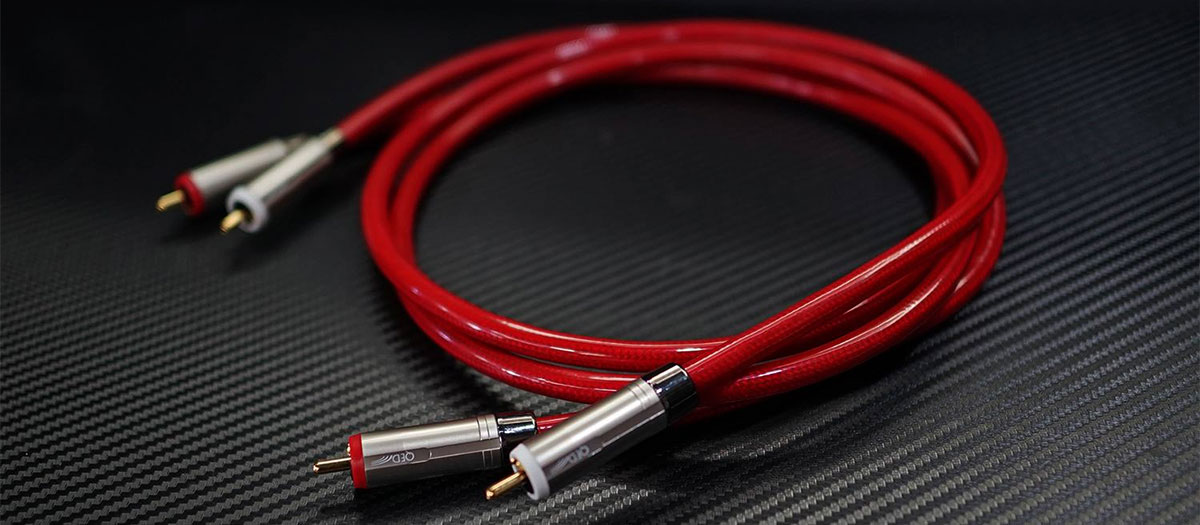 This product competes head to head with Better Cables Silver Serpent AIR in terms of build and overall quality. Still, the Reference Audio 40 Interconnect is slightly forward with great high-frequency extension and a decent soundstage.
QED Reference Audio 40 Interconnect is a premium RCA audio cable. Is it pricey? Sure. But the signal from your record player will be about as good as it could be! By buying this cable, you buy the quality!
Pros
Incredibly clear and detailed sound with excellent stereo imaging.
Top drawer build quality and finish.
Gives a perfect connection.
Great for long plays.
Made in the U.S.
Cons
The connectors may seem tight – it feels like it's easy to damage a socket.
Some users may not like such a bright color.
BJC LC-1 – budget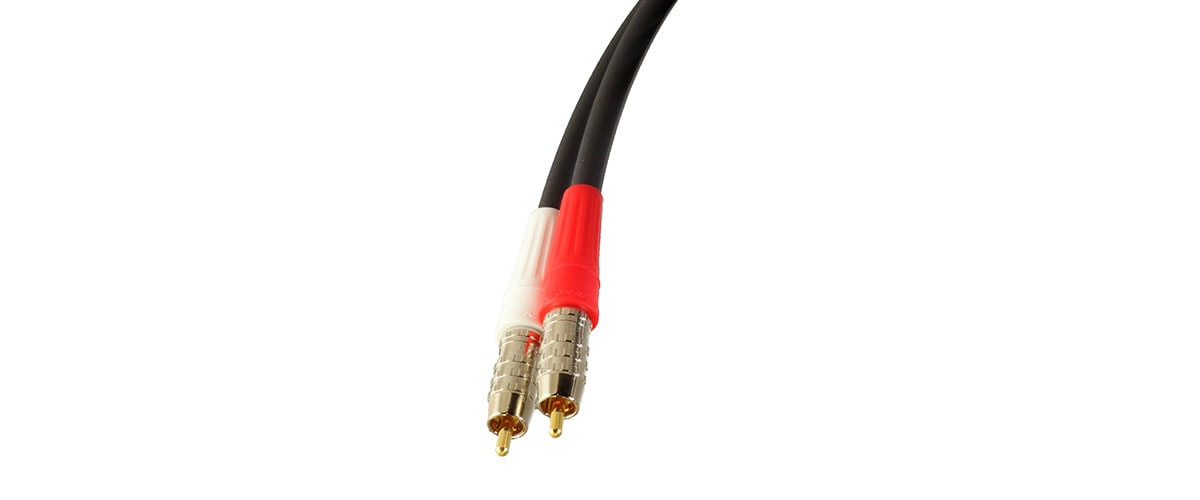 Blue Jeans Cable is a U.S. company that has been producing high-quality interconnects for the broadcast business and home audio systems for about 20 years. Their heavy-duty RCA cables – LC-1 outperform its rivals in the same price region (e.g., SKW) due to the improved components.
It uses a heavy double-braid shield with one bare copper braid laid directly over another for high conductivity that's impervious to strong interference. By shrinking the center conductor to 25 AWG and using a softer dielectric material, the capacitance was reduced to a very low 12.2 pF/ft.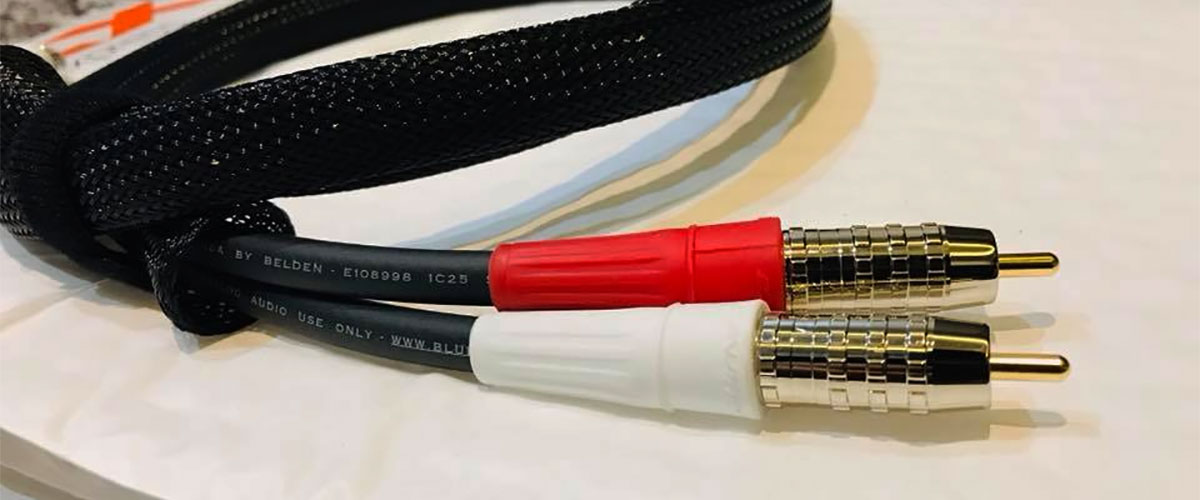 It also makes the cable more adaptable and straightforward to install in residential or commercial settings.
If you're on a budget but want a noticeable boost to the clarity and separation of the sound your TT produces, take a closer look at BJC LC-1. It's the finest budget RCA cable that only uses top-notch materials and components.
Key specs
Lenght, ft/m: 3, 6, 10, 15/0.9, 1.8, 3, 4.5.
Pros
Reliable brand.
Effectively protects audio signals from interference.
Excellent price/quality ratio.
UL-certified.
Cons
The cable thickness can make it a bit difficult to position it in the turntable.
Center pins are too long, making the plug not fit securely.
Pro-Ject Audio Connect it C – also great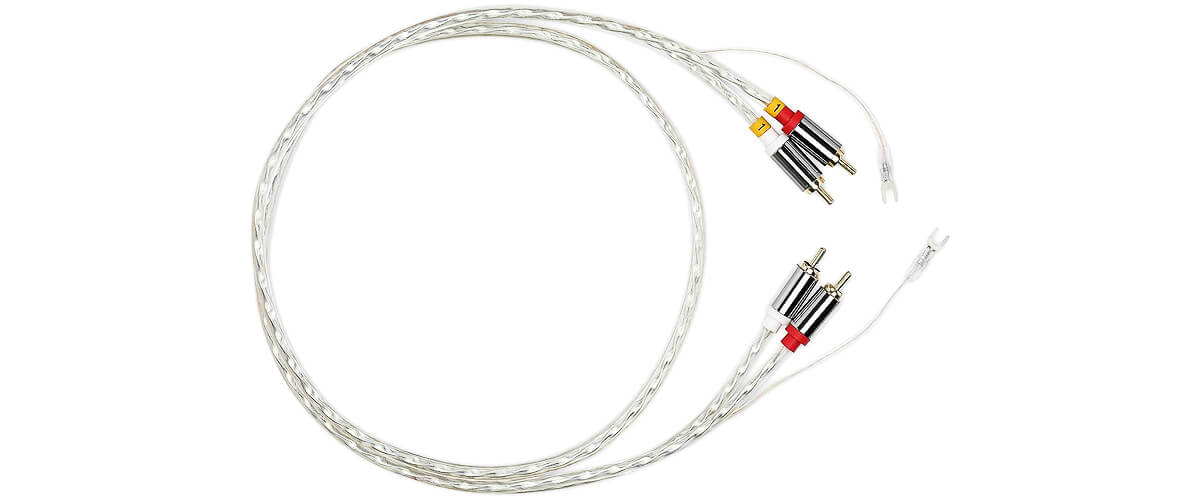 The Connect It С phono cables from Pro-Ject were created primarily for use with Pro-Ject turntables; however, they will significantly improve the sound of any hi-fi system.
All components for leads, dielectric, and plugs are of fine quality, translating into more precise sound. The conductors use high purity copper coated with silver, guaranteeing optimal signal transfer by means of reduced capacitance. Furthermore, the cable is fitted with a highly flexible PVC sleeve, making it easy to handle, even in difficult environments.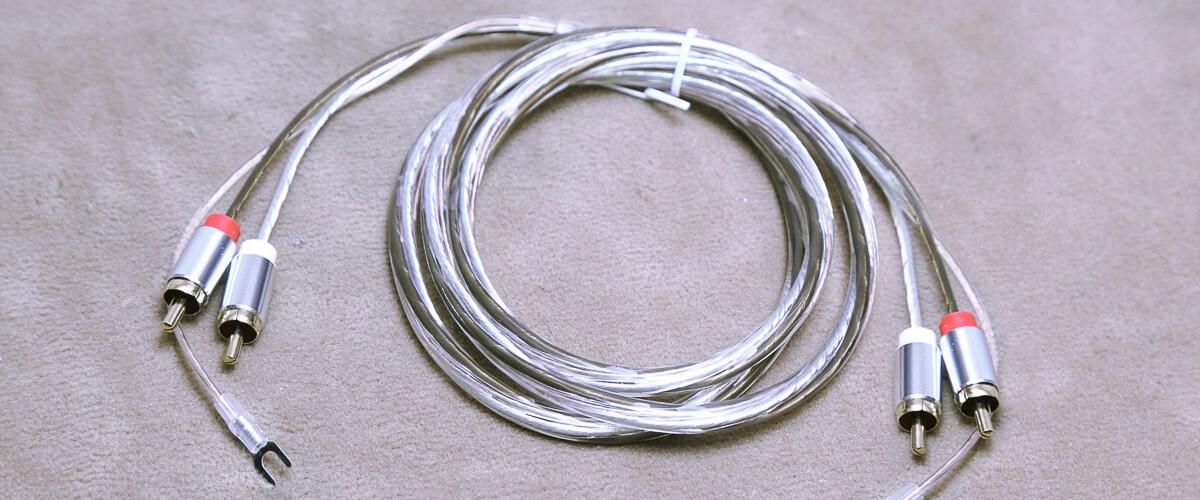 This product needs a burn-in period, but then you'll hear instruments playing better defined and all the musicians clearly in the mix.
RCA interconnect cables from Pro-Ject are carefully crafted; they feature an ideal shield, low capacitance, and coloration. So, if those are qualities you are looking for, do consider this product!
Pros
Durable yet flexible.
Eliminate humming noise at all volume levels.
Clear up mid to high range.
Adds a deeper soundstage.
Cons
Needs about 40 hours to break in.
Better Cables Silver Serpent AIR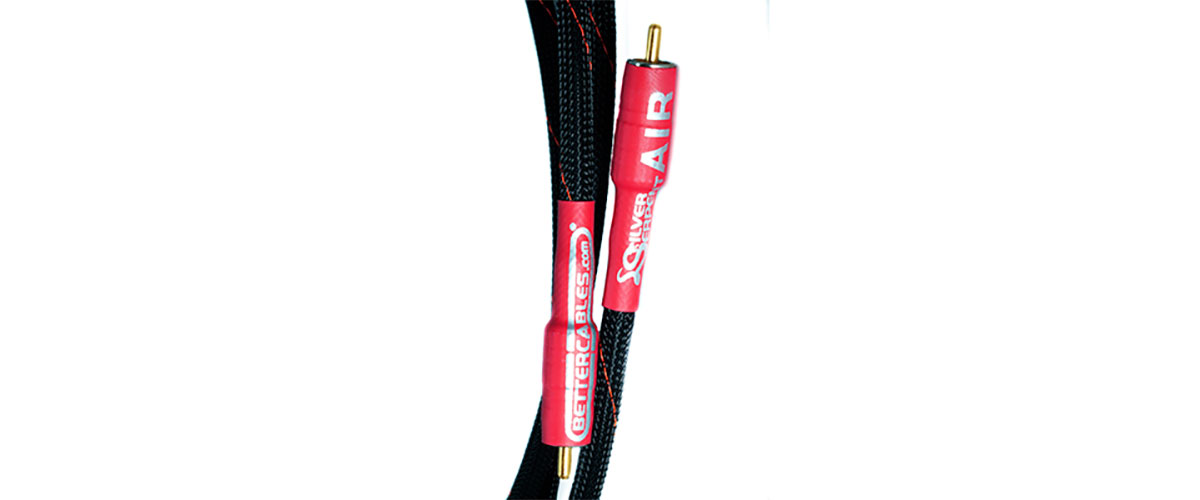 Better Cables Silver Serpent AIR are audiophile-grade audio cables that offer even better sound quality than their award-winning predecessor – Silver Serpent.
These cables feature solid-core silver-coated conductors with an amazingly low capacitance of just 14.4 pF/ft. (even lower than our premium product QED Reference Audio 40 offers!). It means that Silver Serpent AIR will deliver a more accurate sound.
The Silver cables also have air tube insulation and 95% braided shielding for superior protection against interference. It allows for a pure listening experience of all music, whether classical, jazz, rock, electronic, etc., without any flaw in sound quality.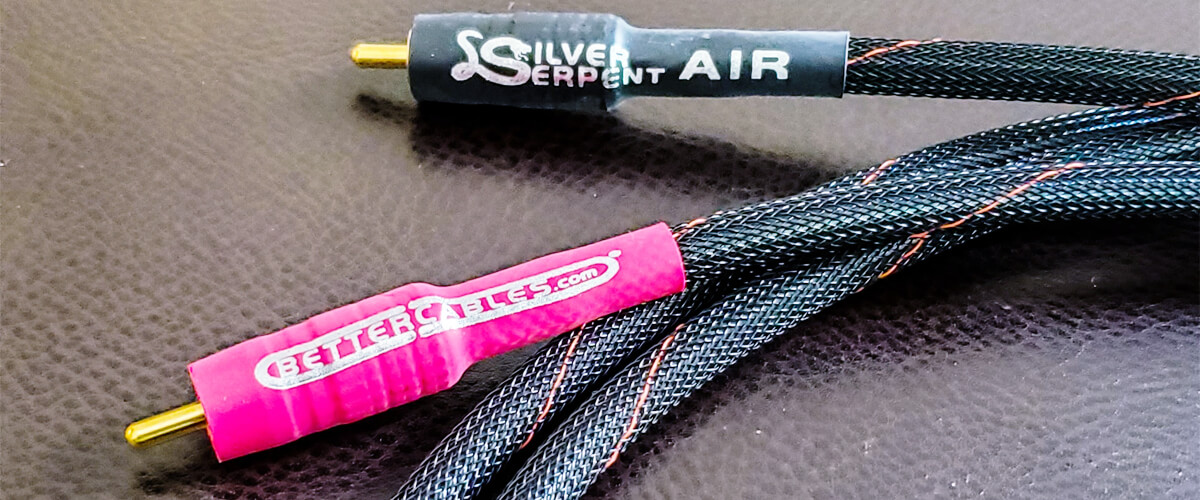 Finally, the cables are super flexible, so they'll easily accommodate even the most cramped spaces.
Better Cables Silver Serpent AIR is one of the best audiophile RCA cables for vinyl the market has to offer! You'll definitely discover new details in familiar music when using this product!
Key specs
Lenght, ft/m: 1.5, 3, 6/0.5, 0.9, 1.8.
Pros
Improve the sound – greater instrument separation and detail in large orchestras.
High-quality materials.
Perfect assembly.
Made in the U.S. by a well-trusted manufacturer.
Cons
Pricey, but well worth the cost over time.
AudioQuest Big Sur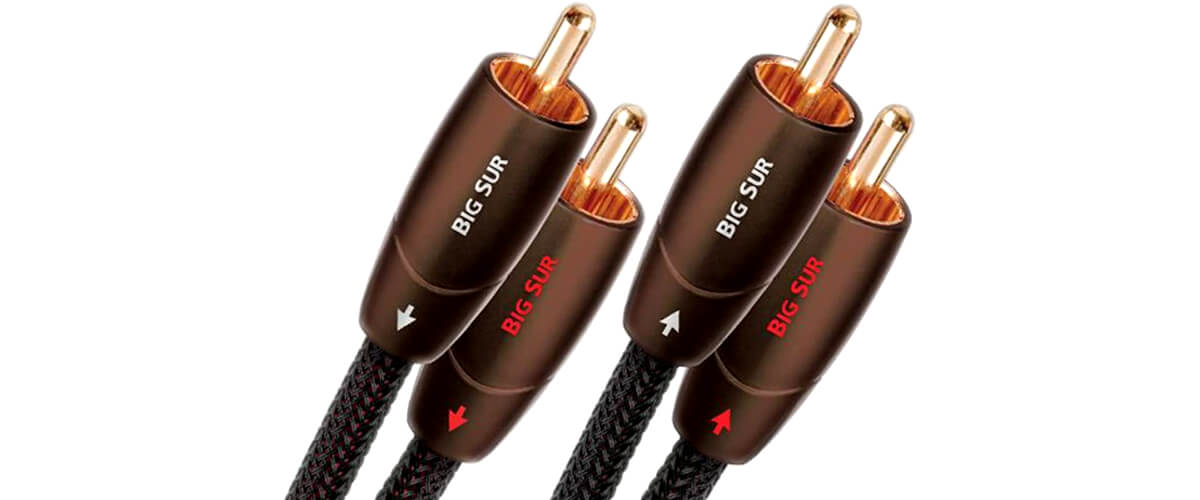 The AudioQuest Big Sur is a superior product created to meet the highest of expectations. Ensuring optimum performance, the cable is made with the finest grade of copper, producing smooth and pure surfaces for clearer transmission. All AudioQuest cables are well constructed, so you can count on proper connectivity when using the Big Sur.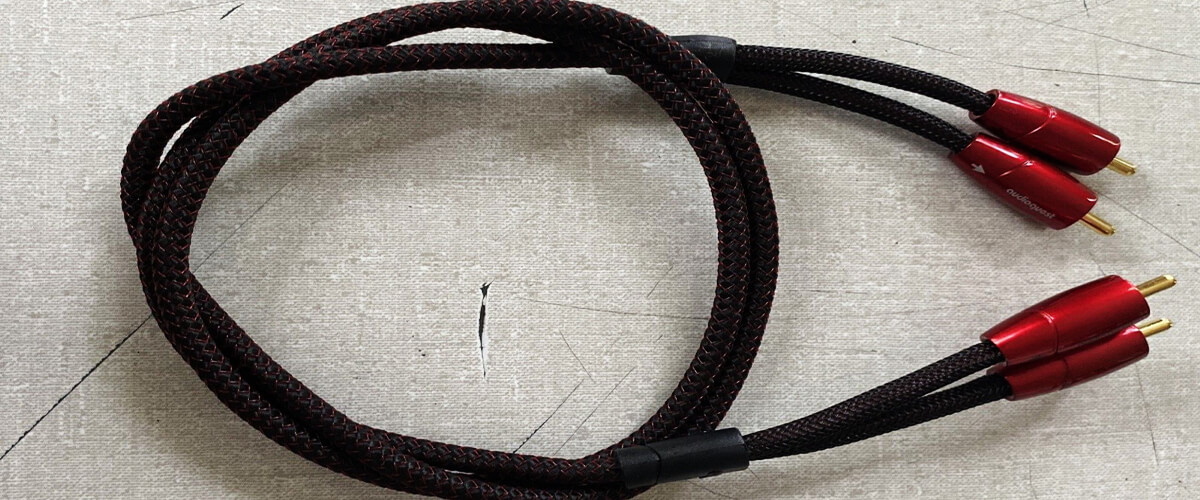 This cable is specifically designed for single-ended applications, and its innovative plug design allows for a completely solder-free connection.
While testing, I definitely heard audio improvements – better bass control, richer lows, reverb tails that last longer, more pristine mids and precise tonal balance. You will be pleasantly surprised by the sharp sounds the Big Sur delivers – all at an incredible value in its price range.
If you're looking for high-performance, audiophile-level RCA cables without compromising on aesthetic values or cost, choose the AudioQuest Big Sur – it's sure to exceed your expectations.
Key specs
Lenght, ft/m: 2-98/0.6-30.
Pros
Flawless performance.
Plays well with every music source.
Excellent smooth sound.
Secure connection.
Cons
It was reported that the right channel began to fade in and out after less than a year of use, however, the manufacturer provides a 5-year warranty on this cable.
Pangea Audio Premier SE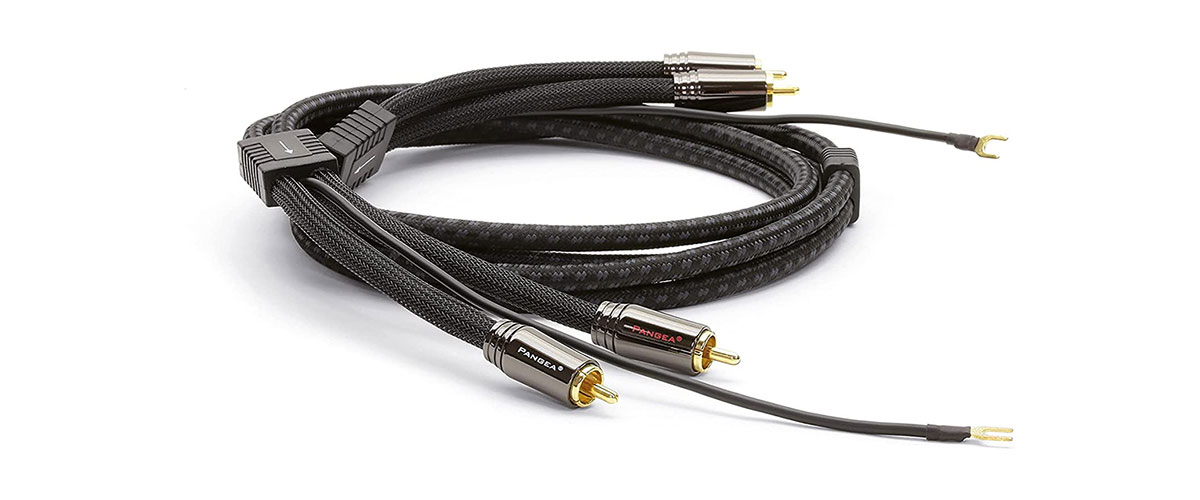 Most audio cables come without grounding wire, which may be a big problem for audiophiles. Luckily, the Pangea Audio brand offers a good solution – Pangea Audio Premier SE. This dedicated turntable RCA-to-RCA cord with superior grounding will deliver exceptionally low noise performance with any high-end vinyl player.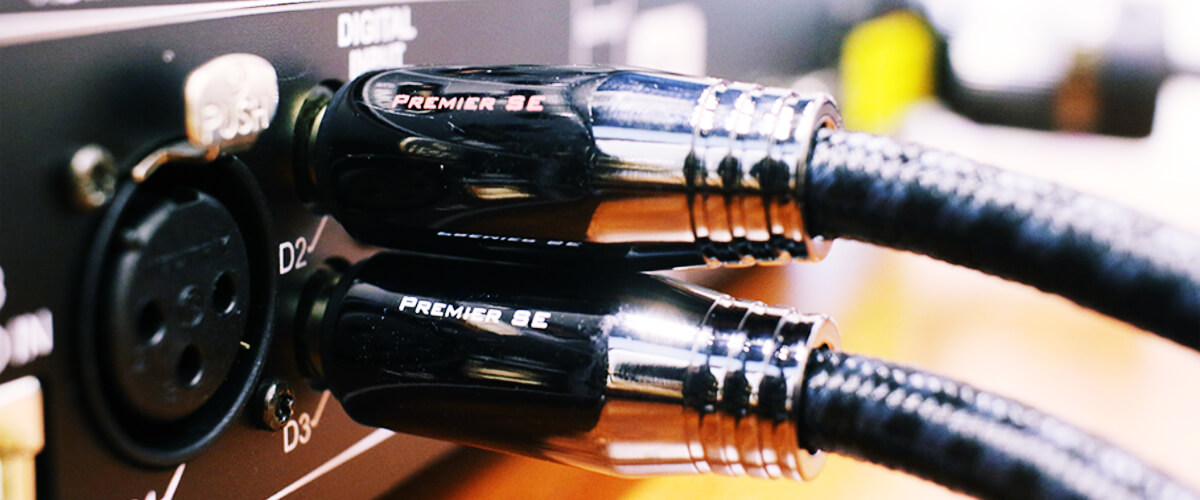 The unique twin-lead design ensures accurate signal transmission, while the use of Cardas Grade One Copper conductors results in unmatched clarity and detail. Plus, the black/gray nylon-covered TPR jacket protects the cable against cuts and abrasions.
Look no further than Pangea Audio Premier SE if you need high-quality shielded RCA cables with grounding! These cables will get the most out of your setup and provide you with years of listening enjoyment.
Pros
Built to last.
Lowest noise floor.
Provide big upgrade in depth and scale.
Tight connection.
Cons
Some users find integrated ground wire inconvenient to use.
Terminal caps don't fasten securely enough.
SKW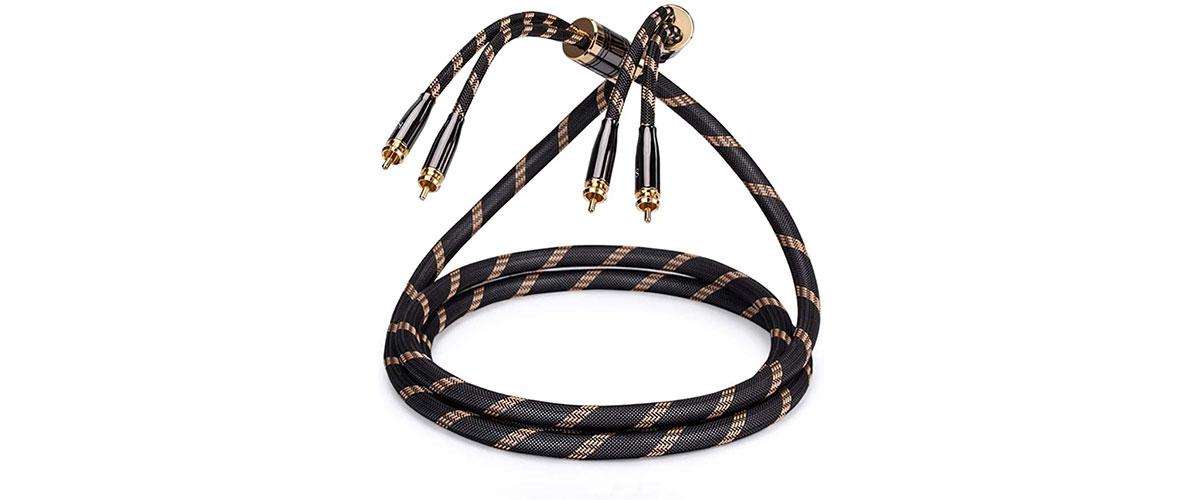 SKW is well-known in the market for making high-quality, cutting-edge interconnects. And these cables are no exception!
They come equipped with corrosion-resistant single crystal copper 24k gold plated connectors for superior sound quality. Furthermore, the polished metal and nylon braided jacket protect the cable from damage, making it super durable. Plus, it helps to ensure that the audio signals are not interrupted by unwanted interference or noise.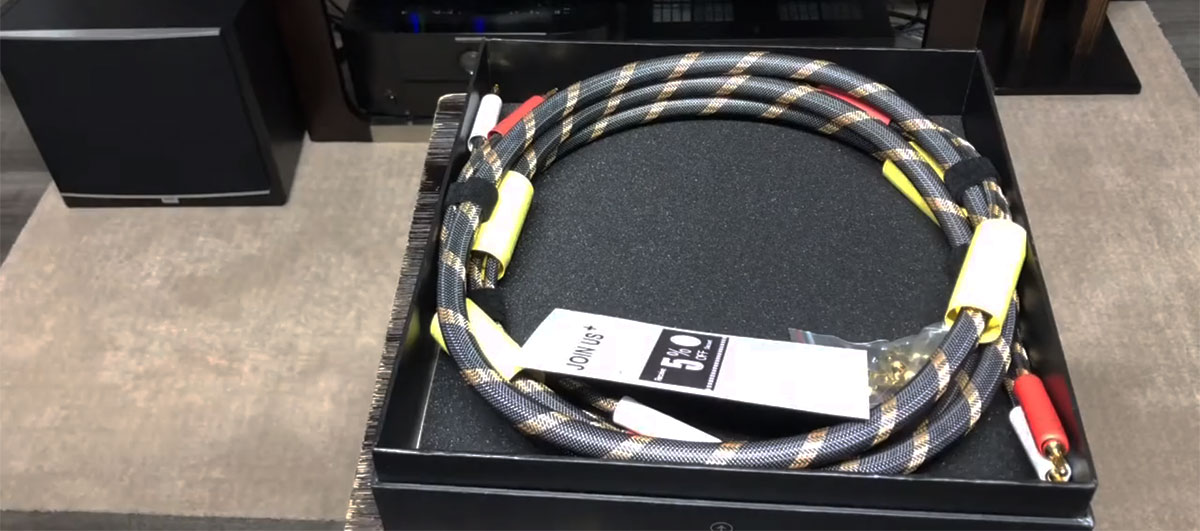 Finally, these cables are compatible with any audio device that has 2 RCA ports, so they can be used with a wide range of electronics.
SKW is overall good RCA cables. They are an excellent choice for anyone looking for a quality, durable, and cost-effective way to hook up audio devices.
Key specs
Lenght, ft/m: 3.2, 5, 6.5, 9.8, 16.4/1, 1.5, 2, 3, 5.
Pros
Fine sound quality.
Noise-free playback.
Decent replacement for a stock cable.
Cons
Will not work with amps or TT that have RCA connections on opposing sides.
A bit stiff.
Need about 40 hours to break in.
RCA cables for turntable buying guide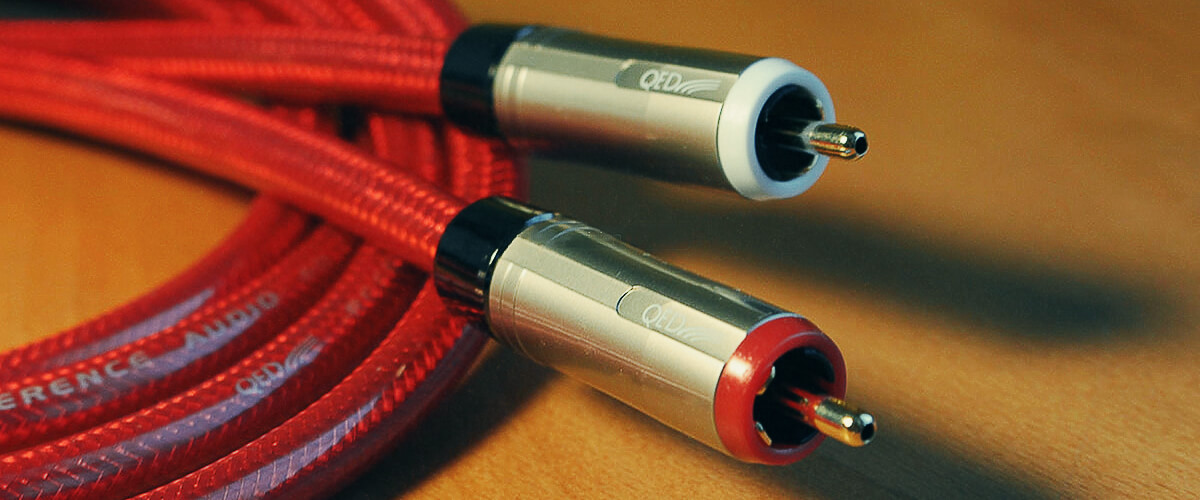 Lengths of RCA cable for vinyl
When it comes to the right length of audio RCA cable for vinyl, there is no definitive answer. It all depends on your specific setup and preferences.
However, as a general rule, shorter cables are usually better, as they are less likely to get tangled or caught on things. Besides, the longer the cable, the lower the signal quality. Therefore, if you can, choose a shorter cable.
Cable shielding
Cable shielding is a feature that helps to protect your audio signal from interference and noise. It does this by surrounding the cable with a metal shield, which blocks outside noise and keeps the signal pure. If you're looking for superb sound quality, you should choose a cable that has good, heavy shielding.
RCA cable connectors
The connectors at the end of an RCA are one of the most significant factors to consider when purchasing a cable. The materials they use determine the cable's quality and lifespan. Furthermore, conducting capacities differ from one material to another, which might have a significant impact on the signal. Gold, silver, copper, zinc, and nickel are typical materials used for cable connectors.
Silver features a maximum conductivity rate, whereas gold has the lowest. The latter, on the other hand, is frequently used for plating connectors, it makes them less prone to corrosion and rusting.
Other plating materials include nickel and zinc, both of which surpass silver but are less resistant to oxidation than gold. These are far less expensive than gold-plated ones and are consequently highly popular.
How much should I spend on RCA cables for the turntable?
The cost of cables varies greatly! You can find a product for less than $10 or for more than $250. Obviously, expensive cables offer far better characteristics, e.g., unique design, heavy shielding, premium materials, and as a result, they provide excellent sound in its purest form. However, there is no point in buying such a cable for entry-level setup – you won't hear a significant improvement in sound quality.
Do I need to ground my turntable?
If you have a critical ear for quality, then, yes, it's highly advisable to use a ground wire when connecting a turntable.
A ground wire connects the amp and record player to the same ground potential. If the player isn't grounded, a tiny change in ground potential will generate a ground loop, which will result in an apparent 60-cycle noise with the output selected. Simply put, a ground wire can help you avoid buzzing and improve the overall performance of your system.
FAQ
How to test RCA cables?
A multimeter is one of the most practical tools that can help you determine whether your RCA cable is working correctly. Like an analog voltmeter, a simple circuit tester will do just fine if you're not looking to spend any money. However, it would be best to use an oscilloscope instead because it's the most accurate way to measure the audio signal.
Why do I hear humming from my turntable?
If you're using RCA cables that are too long or of poor quality, you might hear a
humming
noise that's being generated by your amplifier.
Are thicker RCA cables better?
A thicker wire has better conductivity because it's made of a single solid core. When you use RCA cables that are too thin, the resistance increases – which creates signal degradation over time.
How do you fix a ground loop?
One of the most common problems that you might be experiencing is a ground loop. You need to isolate both your signal and your shielding from the ground connection to
fix this problem
.
How long can you expect your RCA cables to last?
RCA cables usually last for years, and if you handle them well, they can even last a lifetime. However, the quality of the materials used to make them also impacts how long it takes before they break down.
Do RCA cables make a difference for a turntable?
RCA cables have a great impact on the audio signal. In fact, you can notice a significant difference if you use quality cables that minimize noise and distortion.
Are high-end audio cables worth it?
Yes, high-end cables are worth it if you want to achieve the best sound quality. However, you need to keep in mind that they also cost more than regular RCA cables, so it's up to you to decide whether or not they're worth buying.
Can you use any RCA cable for a turntable?
Yes, you can use any RCA cable for a turntable as long as the cables meet the necessary requirements. However, it would be best if you opt for cables that deliver superior performance and rich sound quality.
Are shorter RCA cables better?
Shorter RCA cables minimize the possibility of noise, distortion, and interference, so they are the best option if you want to improve sound quality.
But, as long as the cables are of good quality, you don't have to worry that longer cables might negatively affect the audio signal.
Are all RCA cables shielded?
No, not all RCA cables are shielded, and the lack of a shield might cause interference.