Vinyl is becoming more and more popular nowadays, and for a good reason – it delivers much more beautiful, authentic sound than compressed digital audio. A good vinyl player gives an honest feel to the musical nuances; however, you'll hardly enjoy the satisfactory sound if you use poor-quality speakers.
But how to choose the best speakers for vinyl? I'm sharing some insight here! We'll also review top-rated models available on the market. I handpicked them carefully based on their overall quality and customer feedback. So, make yourself comfortable and just keep reading to select speakers that will meet all your needs!
Speakers for vinyl comparison table
Name
Power type
Peak power output
Frequency response
Sensitivity
Bluetooth
Review
Klipsch The Fives

active bookshelf

active
320W
50Hz-25kHz
109dBA
yes
Review
Edifier R1280T

budget bookshelf

active
42W
75Hz–18kHz
85dBA
no
Review
KEF LS50 Meta

passive bookshelf

passive
100W
79Hz–28kHz
85dBA
no
Review
Klipsch RP-8000F

floorstanding

passive
600W
32Hz–25kHz
98dBA
no
Review
Sony SS-CS3

budget floorstanding

passive
145 W
45Hz–50kHz
88dBA
no
Review
What do I need to choose: powered or passive speakers for a turntable?
There are tens of factors to consider when looking for record player speakers. First off, you should understand the difference between active vs. passive models and their pros & cons. So, let's discuss both types to determine which one is right for you.
Powered speakers for turntable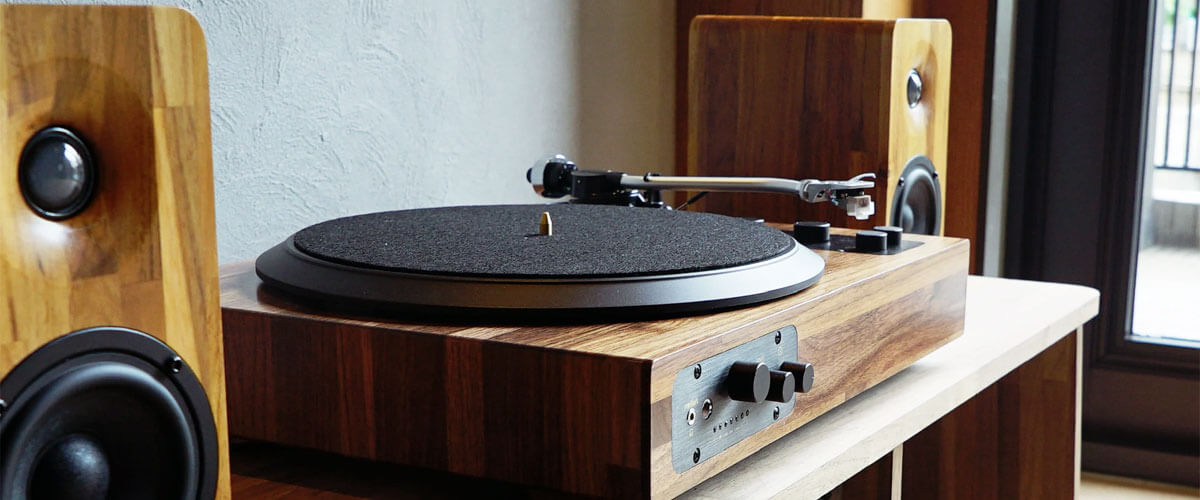 Powered or active speakers have an integrated amplifier, so you can hook it up directly to the music sources like a computer, CD player, and record player.
Powered speakers pros:
You don't need to buy a standalone amplifier – it saves your money.
Such speakers are quite compact – it saves your space.
They are easy to use – all you need is to connect your speakers to the music source.
In general, powered speakers are more budget-friendly than passive ones.
The needle drops very gently.
Powered speakers cons:
You won't be able to upgrade individual components since speakers and amp are bundled together.
If you have a big room, active speakers may provide insufficient volume.
Although there are a lot of decent models, you shouldn't expect audiophile-quality sound from active speakers, especially if you have a critical ear.
Passive speakers for vinyl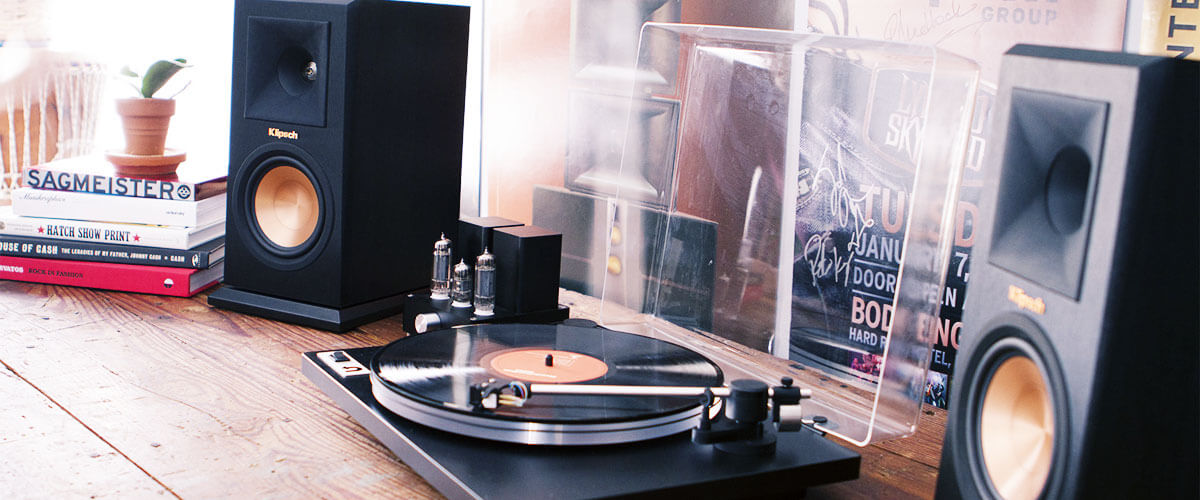 Passive speakers require a separate amplifier or receiver to produce audible sound. If you connect them directly to your turntable, you won't hear anything because the signal is too weak to drive passive speakers.
Passive speakers pros:
The market offers lots of options to choose from.
Passive speakers deliver superb sound quality.
Many of them are highly sensitive, hence, they can play loud.
Passive speakers cons:
You'll need to invest in a separate amplifier or receiver.
Passive speakers are not as user-friendly as active ones.
Most models are pretty expensive.
They require more space and connections.
Bookshelf or floorstanding speakers for vinyl?
When you are in the market for turntable speakers, you definitely have to think about their size. So, which are more suitable for you: bookshelf or floorstanding models?
Bookshelf speakers are usually compact and should be placed on any platform but the floor. They are designed to play in small or mid-sized rooms and perform as separate equipment or part of a home stereo system.
Pros
Bookshelf speakers are compact and portable.
They tend to suffer less from cabinet resonance.
They are quite affordable.
Cons
Bookshelf speakers require specialized stands to improve their efficiency.
Their size speakers limit the number of drivers they can have, resulting in reduced volume and fullness of sound.
Floor standing or tower speakers produce a big surround sound. So, if you're an audiophile who wants to build a full-fledged home stereo system, such speakers may be the right option for you.
Pros
Loud, full sound with great, tight bass.
Don't require extra stands.
Cons
Quite large.
Mostly more expensive than bookshelf.
How I tested speakers for a record player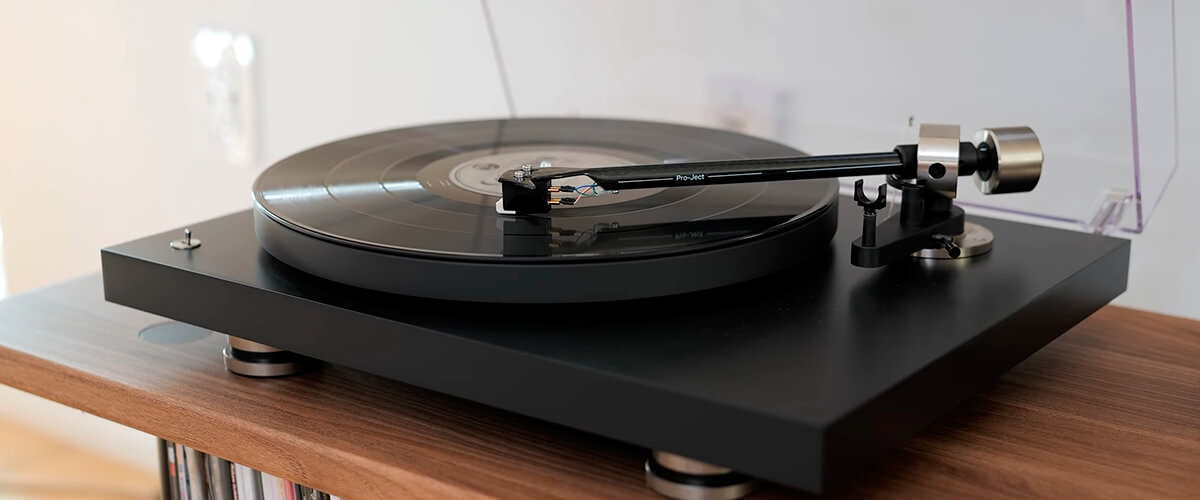 To test speakers for turntable, I used the following equipment:
To evaluate the sound quality of the speakers, I listened to the following recordings in different genres of music:
John Williams – Jurassic Park [1993]
Stravinsky – The Rite of Spring [2017]
Leonard Cohen – Popular Problems [2014]
Radiohead – In Rainbows [2007]
Four Tet – Sixteen Oceans [2020]
Best bookshelf speakers for vinyl reviews
Active bookshelf speakers
Klipsch The Fives – best active bookshelf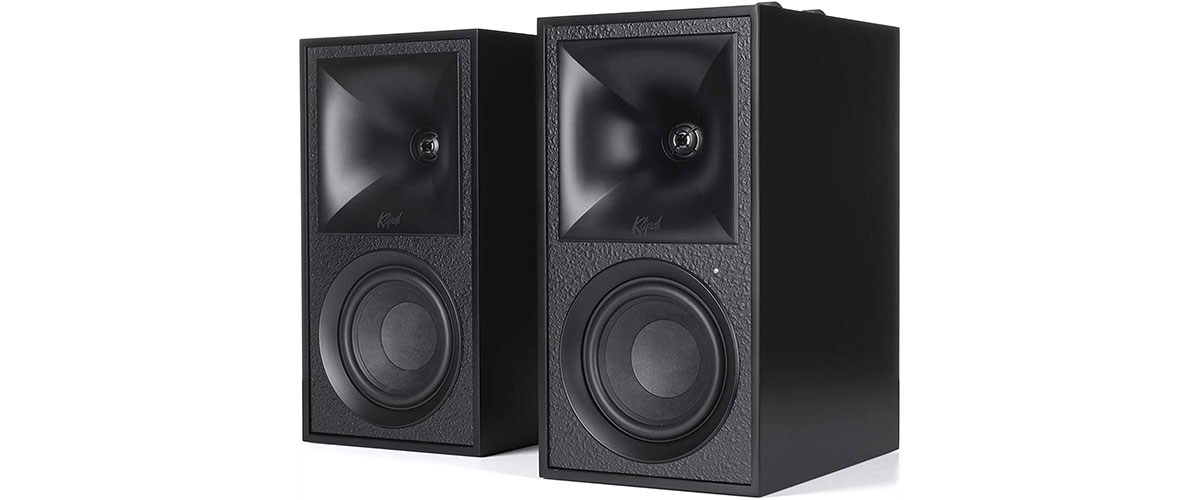 Klipsch The Five is a high-quality, versatile product – its technical characteristics and solid construction make it outperform even such a strong competitor as Audioengine A5+ with its unparalleled power and superb sound!
The Five can be utilized either as desktop speakers or as a complete stereo alternative to a soundbar due to the cleverly included HDMI ARC connection, analog RCA, 3.5mm aux, digital optical, USB, and Bluetooth 5.0.
The speakers can play hi-res audio, plus Klipsch's Dynamic Bass EQ boosts low frequencies at reduced levels. However, you can turn this feature off for a more traditional bass response or cut the bass if it's becoming too boomy near a rear wall.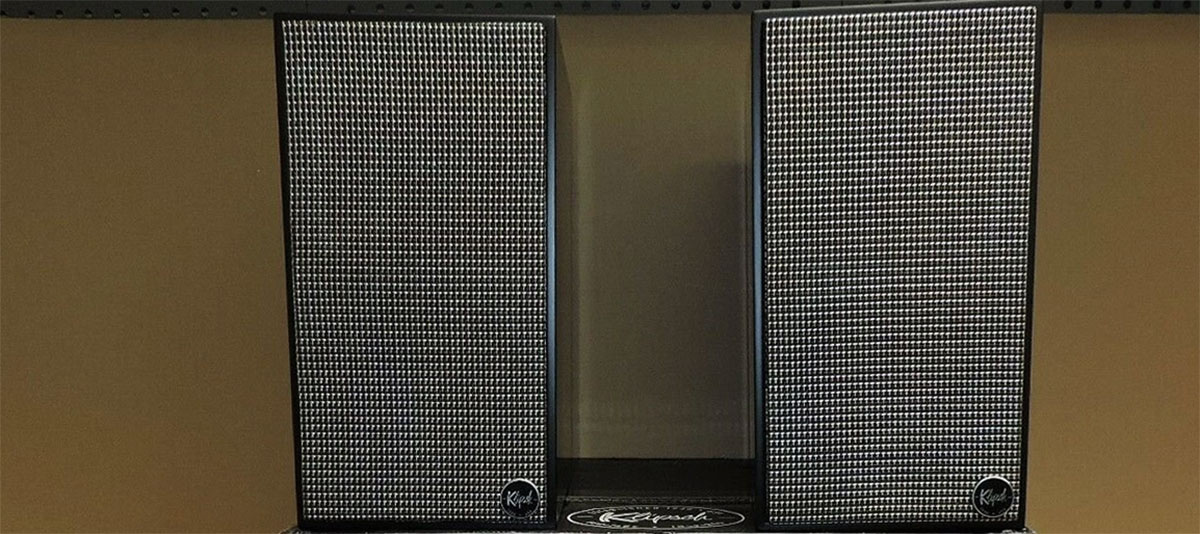 This setup uses a high-quality acoustic package to deliver beautifully transparent sound: a 25mm titanium dome tweeter surrounded by Klipsch's Tractrix horn shape and an 11.5cm long-throw woofer, which sits just below the horn, allowing to fill a medium-sized space without overstretching.
Whether it's a chamber choir or solo voices, the speakers offer a high level of detail, which will bring out texture and timbre. The treble is excellent – it doesn't sound rolled off, plus, there's a decent amount of bass, given the speaker's size.
Klipsch The Five is the overall best bookshelf speakers for vinyl! It's a do-all pair that boasts high-quality components and produces superb sound, blowing the competition completely out of the water.
Key specs
Style: bookshelf.
Power type: active.
Peak power output: 320W.
Frequency response: 50Hz-25kHz.
Sensitivity: 109dBA.
Bluetooth: yes.
Dimensions, inch/cm: 12×6.5×9.2/30.4×16.5×23.5.
Weight, lb/kg: 10.7/4.8.
Pros
Sleek design.
Versatile – has multiple connections.
Exellent acoustic package.
Sounds perfect – can handle any musical genre.
Easy to set up.
Cons
Can be a bit bass-heavy at time.
Edifier R1280T – best budget bookshelf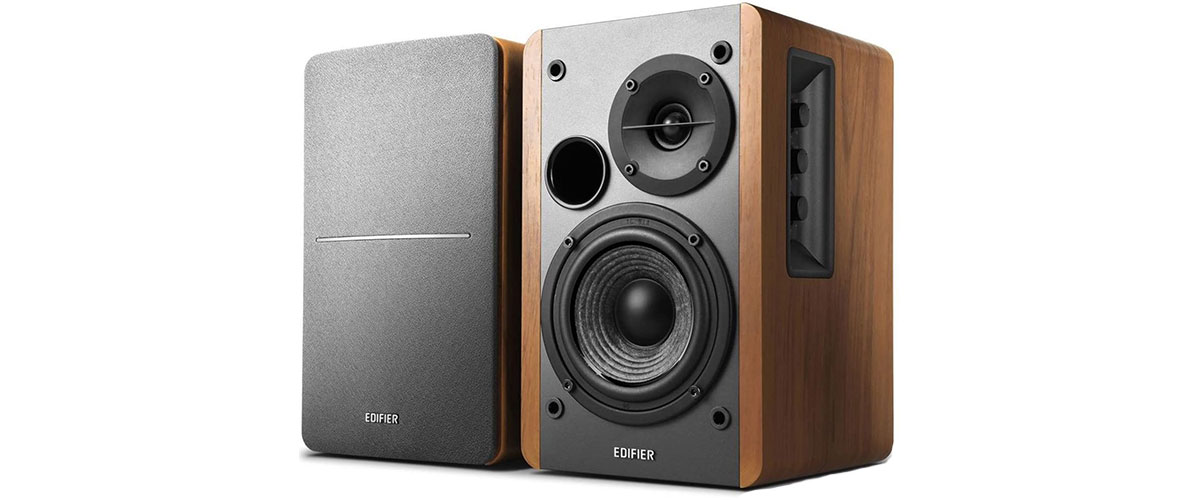 Edifier R1280T offers excellent value for money! The overall power output is 21W, and there are two ports on the back of the active speaker for RCA to AUX and RCA to RCA connections. The manufacturer thought of everything and included many connections so you could connect the speakers to a variety of devices, including a turntable.
I used to have Edifier R1700BT – amazing Bluetooth-enabled speakers with greater power. And to be honest, I didn't expect much from its sibling – R1280T. However, the full-impact sound it delivers has pleasantly surprised me – you hardly find such clarity in a similar price range!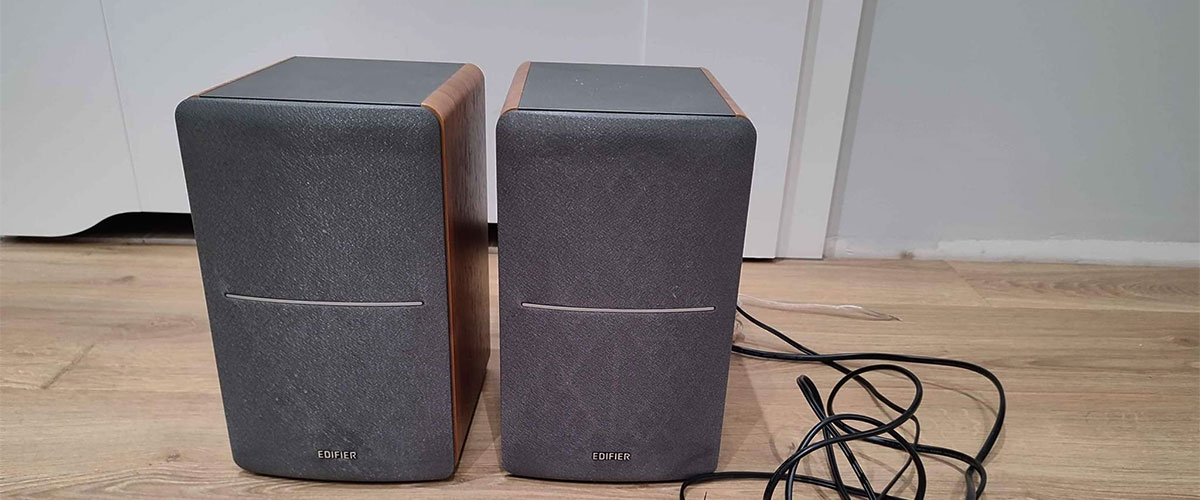 The signal-to-noise ratio is 85dBA, which is not too high but still effective. In my opinion, this model has an outstanding bass response and a warmer, more natural tweeter than the R1700BT. Besides, the highs are very pleasant – they sound crispy clear, and mellow.
If you're looking for the best budget speakers for a turntable, you can end your search here! What I like the most about Edifier R1280T is that it competes for head to head with our top-list product – Klipsch The Five in terms of sound quality while having a very affordable price tag!
Key specs
Style: bookshelf.
Power type: active.
Peak power output: 42W.
Frequency response: 75Hz-18kHz.
Sensitivity: 85dBA.
Bluetooth: no.
Dimensions, inch/cm: 6.9×9.5×5.8/17.5×22.8×12.7.
Weight, lb/kg: 10.8/4.5.
Pros
Great build and finish.
Easy to use.
Can get pretty loud.
For the price, the speakers are hard to beat.
Cons
Might not be powerful enough for critical ear.
The remote control misses an essential power button.
Audioengine A5+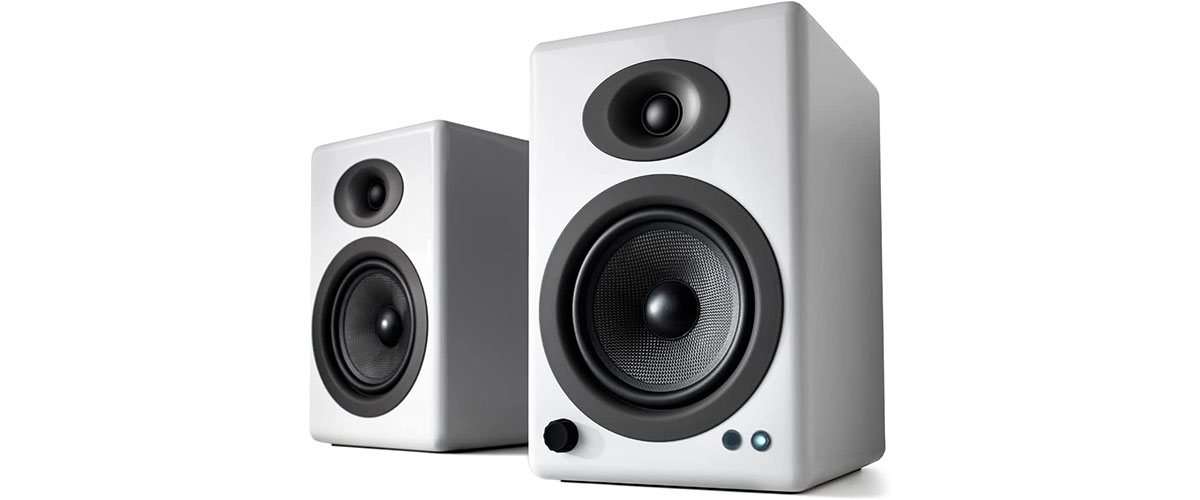 Audioengine brand sees its mission in creating speakers that sound great and are easy to set up & use. Their A5+ model will make you want to listen to music every day, even if you are not an audioholic!
These speakers produce a gorgeous, rich sound given their size – it's a kind of sonic maturity you never get from a budget soundbar or wireless speakers. The acoustics make you feel as if you're right in front of them!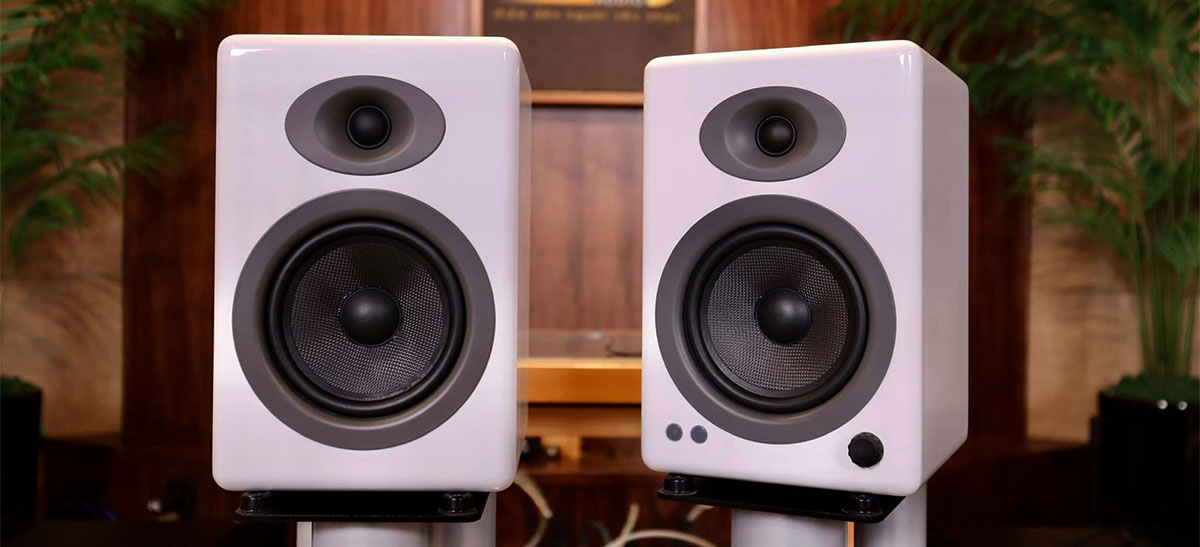 A5+ has a combined peak output of 150 watts, making it extremely powerful – this model outperforms even our winner Klipsch The Five in this category. Further, there are premium-class 5″ aramid fiber woofers, ¾ inch silk tweeters, and built-in power amplifiers.
Bluetooth helps connect to any device swiftly and flawlessly to improve your listening experience instantly. And if that wasn't enough, this gem is housed in finely tuned cabinetry! Impressive specs for a bookshelf model in this price region, huh?
If you prioritize power, sound quality, and overall convenience, you'll definitely find Audioengine A5+ to be the best powered speakers for your turntable!
Key specs
Style: bookshelf.
Power type: active.
Peak power output: 150W.
Frequency response: 50Hz-22kHz.
Sensitivity: 95dBA.
Bluetooth: yes.
Dimensions, inch/cm: 10.7x7x9/27x18x23.
Weight, lb/kg: 31/14.
Pros
Beautiful contemporary design.
Excellent sound quality – crispy highs, smooth mid-bass, and powerful bass.
Versatile with Bluetooth connectivity.
Extremely easy to use.
Cons
May seem a bit big for a desktop model.
The notch on the dials is difficult to see.
Old-fashioned speaker wire – challenging to hide.
Passive bookshelf speakers
KEF LS50 Meta – best passive bookshelf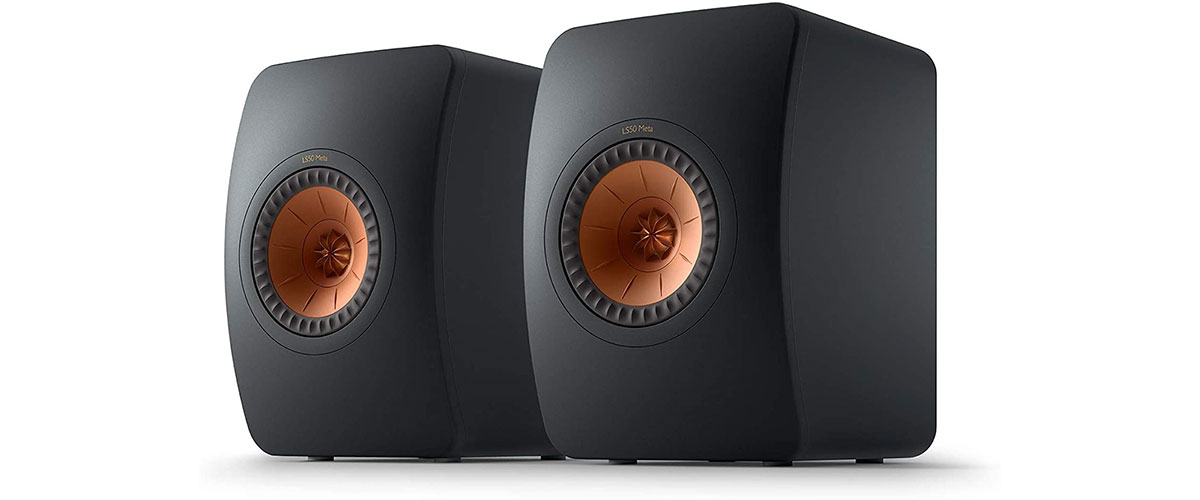 KEF LS 50 Meta is an upgraded version of the LS50, which has won many hearts due to its killing combination of overall quality and design. LS50 Meta boasts innovative Metamaterial Absorption Technology. This revolutionary tool absorbs unwanted noise from the driver, providing a more transparent, natural sound. I really love the level of delicacy and precision these small speakers deliver!
This model features the company's 12th Generation Uni-Q Driver, which provides a 40% increase in smoothness over the previous version. In addition, it has an extremely low THD of 0.07% and a frequency range of (-6dB) from 47 Hz to 45 kHz. As a result, it makes it an ideal choice for audiophiles looking for premium sound quality.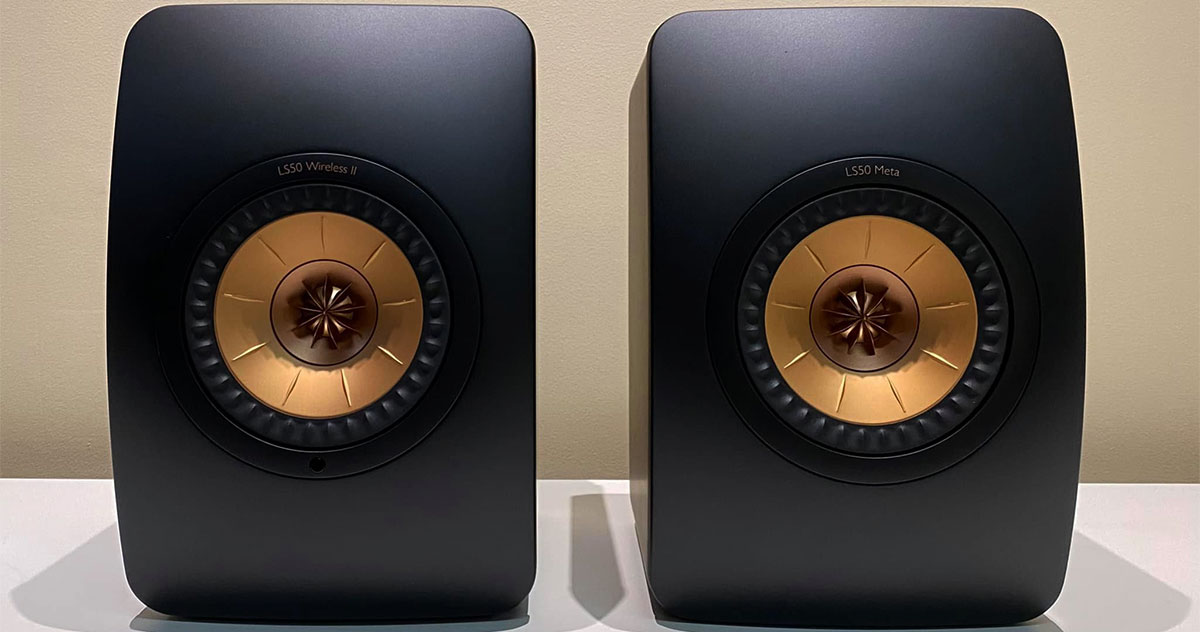 The speakers' housing is a solid, well-controlled foundation for its Uni-Q drive array. The curved front baffle and radiused rear panel help to reduce diffraction and distortion, while the recessed port exit and speaker terminals create a sleek, minimalist look.
KEF LS 50 Meta is the best passive speakers for vinyl the market has to offer! The Metamaterial really works, making this model outperform its rivals (e.g., Klipsch RP-600M). So, if you need compact speakers that produce sophisticated, full-bodied sound, do take a closer look at KEF LS50 Meta!
Key specs
Style: bookshelf.
Power type: passive.
Peak power output: 100W.
Frequency response: 79Hz – 28kHz.
Sensitivity: 85dBA.
Bluetooth: no.
Dimensions, inch/cm: 11.9×7.9×11.0/30.2x20x27.9.
Weight, lb/kg: 17.2/7.8.
Pros
Beautiful, compact design.
Top-notch build quality – feel like they're forged from steel.
Impressive imaging, transparency, and sound stage.
It can get very loud.
Comes in different colors.
Cons
The bass may be a bit too precise for some listeners, causing fatigue.
Klipsch RP-600M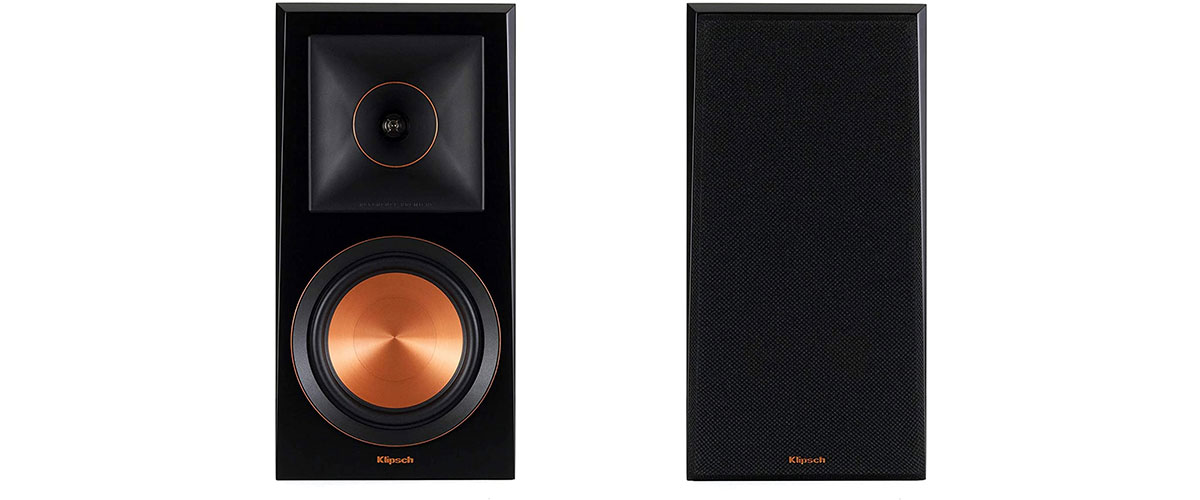 Audiophiles hold the RP-600M speakers in high regard, and rightly so. Their superior sound quality and sturdy build set them apart from similarly priced or even more expensive options.
Just take a look at its impressive technical specifications! Firstly, you can easily customize this model to improve the performance thanks to the dual input ports for bi-wire/bi-amp. Secondly, the acoustic package is built to produce an incredible sound!
The titanium tweeters, back Tractrix port, matched to the woofers, and housing effectively reduces distortion and deliver beautiful realistic sound. The speakers maintain clarity through the entire range of sounds in all of the musical genres that I pushed through them in the 20′ deep x 30′ wide room.
The highs are very clear yet non-fatiguing to the ears; male & female vocals sound liquid and forward but not unbalanced. In all honesty, I didn't expect such sound quality in this price region!
Klipsch RP-600M is balanced, efficient, dynamic, and works well with digital and vinyl. If you want to buy budget-friendly passive speakers for a record player, this may be the right choice for you!
Key specs
Style: bookshelf
Power type: passive
Peak power output: 200W.
Frequency response: 45Hz-25kHz.
Sensitivity: 96dBA.
Bluetooth: no.
Dimensions, inch/cm: 7.9×15.6×11.8/17.7×38.1×28.
Weight, lb/kg: 16/7.3.
Pros
Excellent price/quality ratio.
Durable construction.
Can be very loud.
Has small rubber feet.
Cons
It might not operate well with a low-power tube amplifier.
ELAC Debut 2.0 B6.2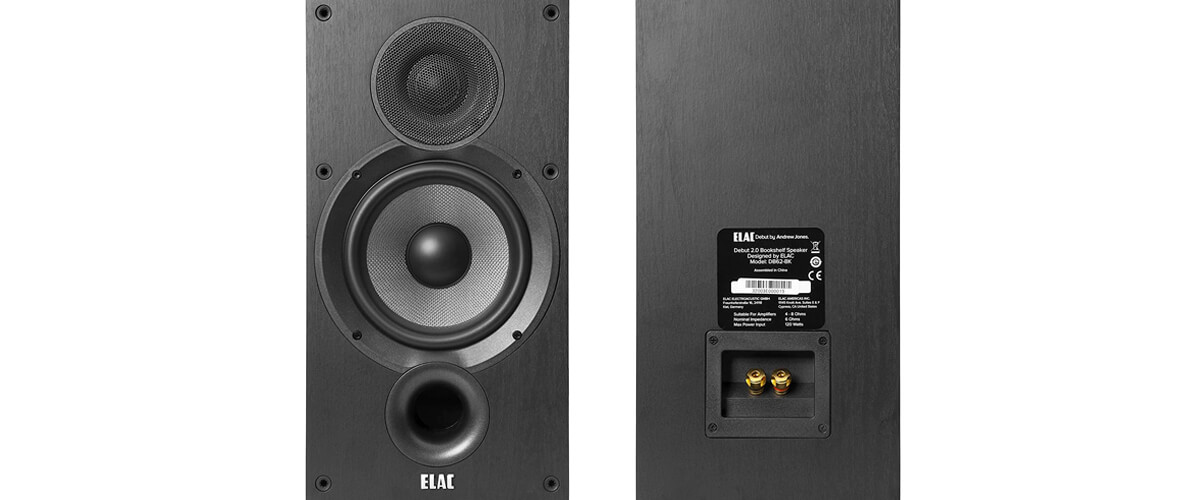 The ELAC Debut 2.0 B6.2 passive bookshelf speakers are an improved version of the award-winning B6 model. Not only do these speakers feature an improved wide-dispersion waveguide and soft-dome tweeter for response up to 35000 Hz, but their optimized sensitivity and impedance also minimize the power requirement from any AV receiver. Furthermore, thick MDF cabinets effectively reduce cabinet vibrations, while the luxurious black ash vinyl finish adds a touch of style.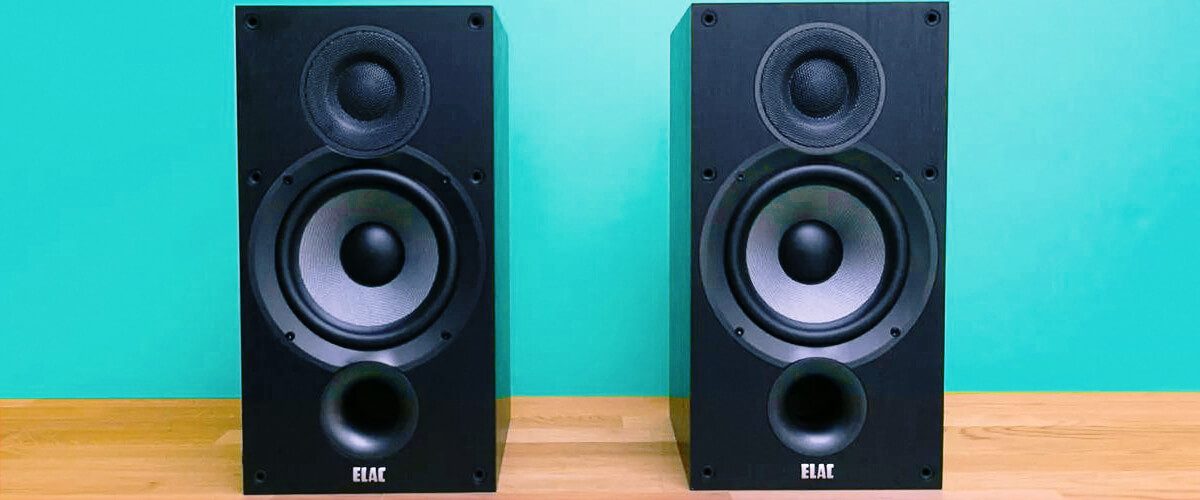 In terms of sound quality, the B6.2 delivers impressively detailed audio with a smooth frequency response in both the high and low ranges. The use of a wide-roll surround on the tweeter helps to create an expansive soundstage that can fill any room. With a sensitivity of 87db at 2.83v/1m, these speakers are capable of producing plenty of power for both music playback and home theater applications alike. The crossover frequency is set at 2200Hz so you get consistent performance throughout all frequencies without needing to adjust settings manually.
Overall, ELAC Debut 2.0 B6.2 is more than just good speakers for record player – they offer great sound quality and performance while maintaining an affordable price tag. This makes them an excellent value proposition for those looking to upgrade their home audio system without ruining the family budget.
Key specs
Style: bookshelf
Power type: passive
Peak power output: 120W.
Frequency response: 44Hz-35kHz.
Sensitivity: 87dBA.
Bluetooth: no.
Dimensions, inch/cm: 7.9×14.7×10.5/19.5×37.5×26.8.
Weight, lb/kg: 16/7.3.
Pros
Outstanding audio quality.
Complements any style of music.
Nice size – not too big.
Cons
Require time to break in.
Location is extremely important – do place the speakers on a solid surface and away from the wall.
Floor speakers for vinyl reviews
Here, I've consolidated the highest quality floorstanding vinyl speakers to prevent you from looking through dozens of models. All speakers I listed here are passive, so make sure you have an amplifier or receiver.
Klipsch RP-8000F – best floor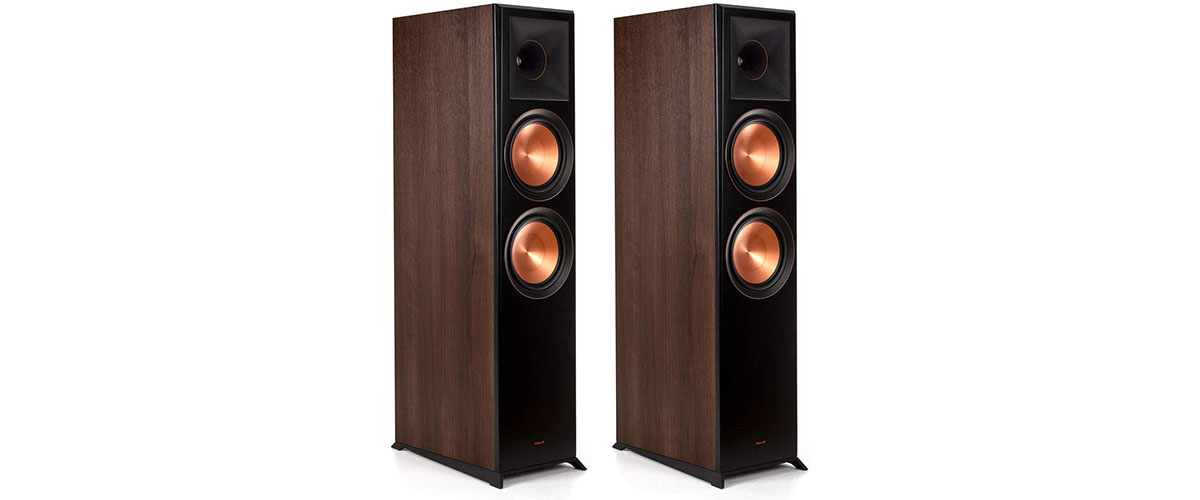 Every single model from the Klipsch brand meets the highest standards of quality. And the RP-8000F is no exception! It's a top-of-the-line, award-winning speaker system that won't disappoint when it comes to sound or aesthetics.
Bi-wiring capacity lets you set up passive crossovers; hence, your amp sections have easy access to voice coils at either end of these 12-foot beauties without compromising sound fidelity or power handling. In addition, the motor structure suspends both woofers and tweeters in a precisely shaped, magnetically shielded cabinet that minimizes resonance and eliminates the "sweet spot" dead zone that most speakers create.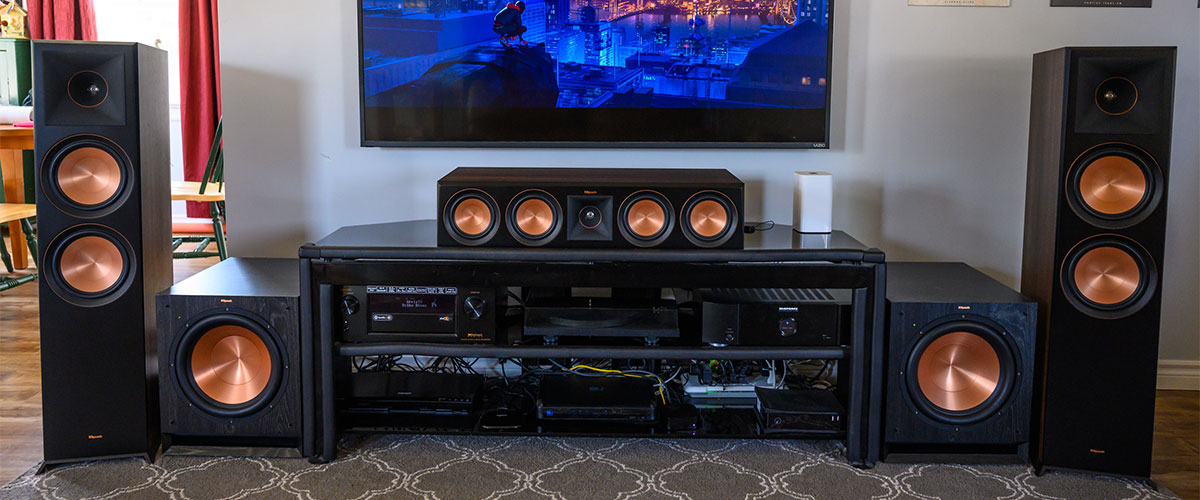 The RP-8000F also comes with groundbreaking Tractrix Horn technology and Linear Travel Suspension (LTS) tweeters for powerful highs and lifelike midrange. To drive its cone woofers, this model uses a powerful 16–inch Cerametallic woofer.
It's housed in an equally monumental vented enclosure with specifically baffling tuned ports to minimize turbulence and ensure an incredibly smooth response. Such characteristics make these speakers stand against their competitors, e.g., Sony SS-CS3.
There's an awful lot to like here, not the least of which is Klipsch RP-8000F's immaculate cabinetry and refined performance. So, if you've been looking for the best floorstanding speakers for vinyl that absolutely demolish the competition, you may end your search here!
Key specs
Style: floor.
Power type: passive.
Peak power output: 600W.
Frequency response: 32Hz-25kHz.
Sensitivity: 98dBA.
Bluetooth: no.
Dimensions, inch/cm: 43.1×10.9×17.6/109.5×27.7×44.6.
Weight, lb/kg: 60/27.2.
Pros
Solid and well-constructed.
Produces excellent, full-impact sound.
Worth every penny and even more.
Cons
Need a mat to put them on to prevent floor vibrations.
It's not exactly a downside, but these speakers need some time to break in.
Sony SS-CS3 – best budget floor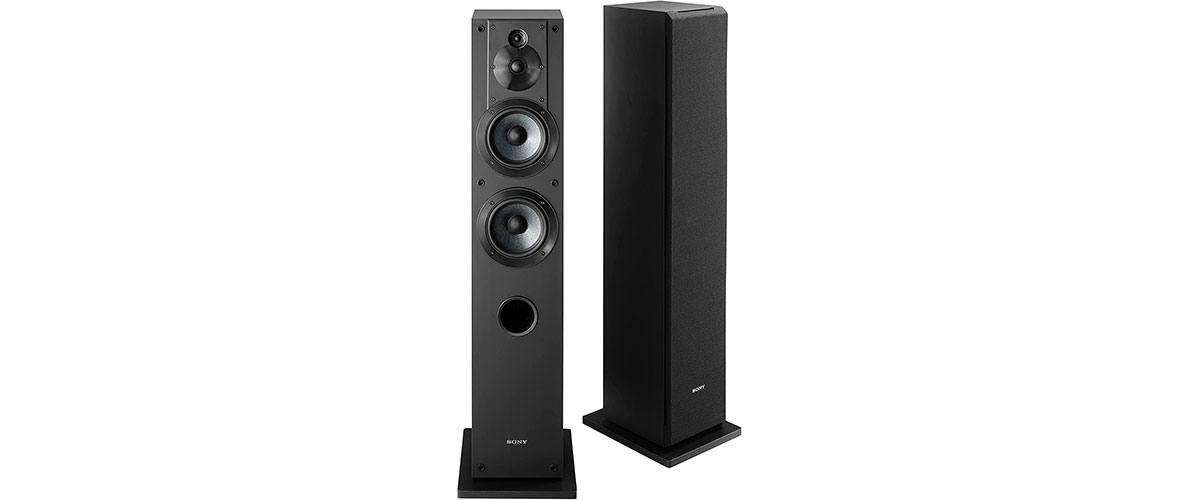 Sony SS-CS3 is a floorstanding speaker with Hi-Res Audio technology that delivers high-end, realistic sound due to its intelligent engineering.
For deep, powerful, reliable bass and the finer detail essential for clear vocals in the mid-range, it uses a newly built 5.12" woofer. A 3-way, 4-speaker system delivers crisp mids and highs, while a Bass Reflex cabinet produces rich bass tones.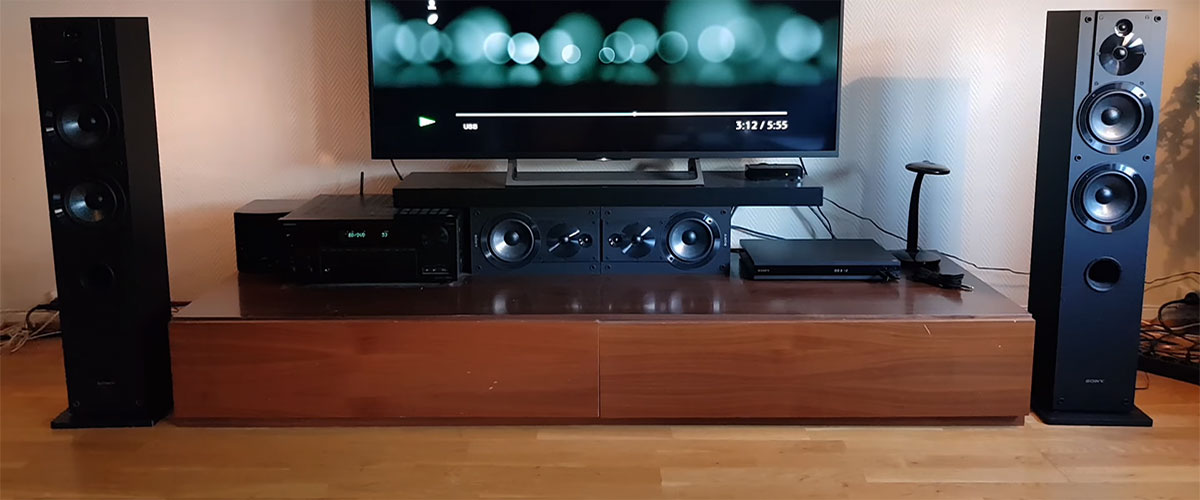 The speaker's frequency response of 45Hz to 50kHz, ¾ in. super tweeter and 1" tweeter cover a wide range of notes – сlassical, jazz, blues, rock, and live acoustic recordings sound wonderful through this setup! I really love the well-balanced sound this model produces, especially considering its price.
Although the SS-CS3 is not as elegant and well-constructed as Klipsch RP-8000F, it still features great technical characteristics and quality sound. And if you want to partner your record player with good floorstanding speakers without breaking the bank, this model is for you!
Key specs
Style: floor.
Power type: passive.
Peak power output: 145W.
Frequency response: 45Hz-50kHz.
Sensitivity: 88dBA.
Bluetooth: no.
Dimensions, inch/cm: 36.3x9x10.2/92.2×22.86×25.9.
Weight, lb/kg: 25.35/11.5.
Pros
Produce loud, high-quality, detailed sound.
Versatile – use them for your home parties, movies, or gaming.
Compact for floor standers.
Each speaker comes with rubber feet that hold them in place.
Cons
Lacks banana plug support.
The speakers aren't going to wow true audiophiles.
Q Acoustics 3050i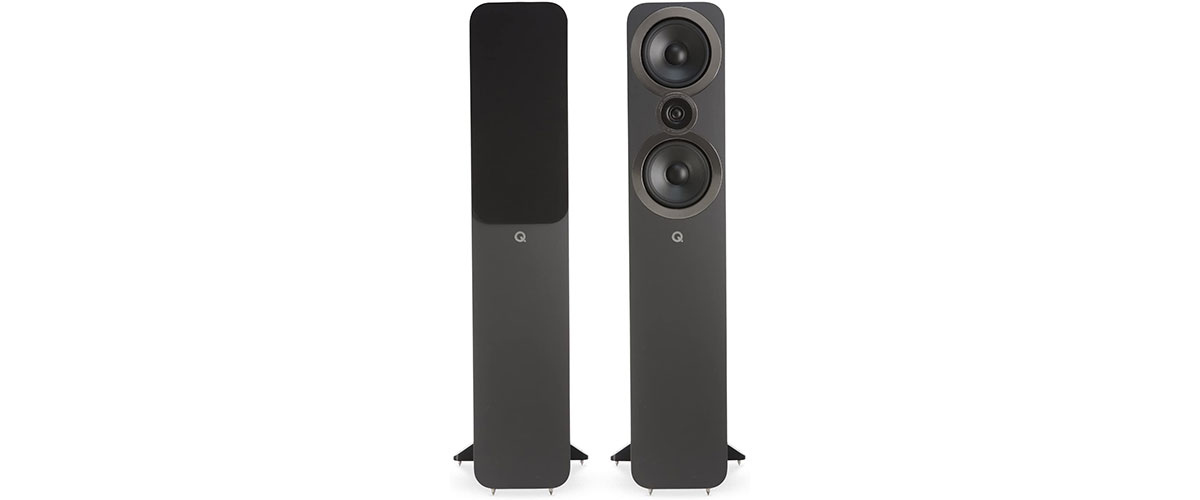 Q Acoustics is a British audio equipment company established in 1994. Their 3050i model is a relatively affordable yet high-performance speaker system that won't disappoint keen listeners!
This model boasts a number of valuable upgrades. First off, the manufacturers paired P2P with Helmholtz Pressure Equalizer (HPE) technology to eliminate sympathetic resonance within the enclosure and make the soundstage more accurate. This technology is ideal for floor standers that resonate at a single frequency. Next, the drivers push out a fantastic quality sound! At low to mid volumes, violin and classical are outstanding, almost intoxicating, highs sparkle, and the bass response is deep and accurate.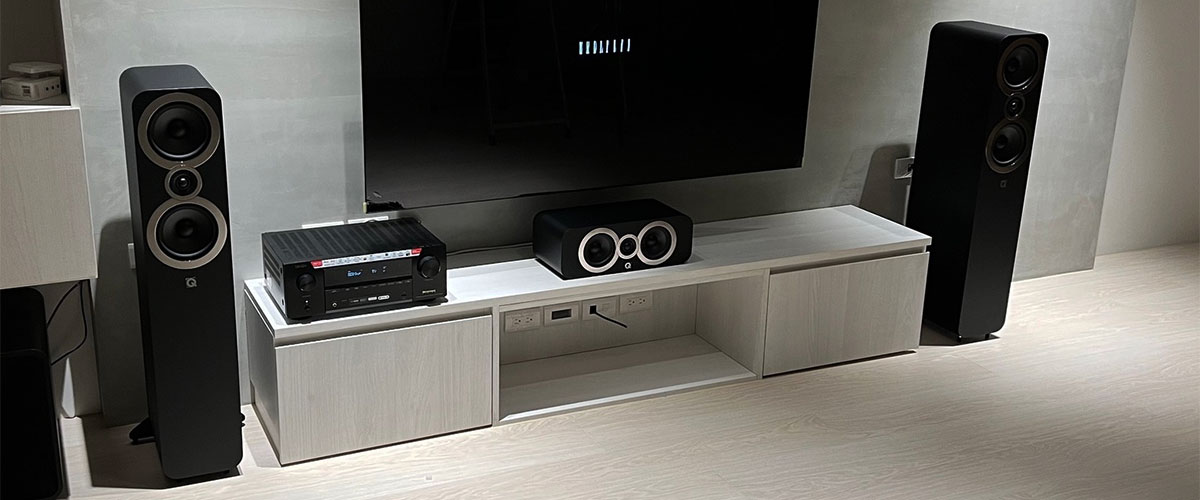 As for the cabinets, they are built to protect the speakers against vibration and sound distortion. They look smooth, even-handed, and wonderfully refined for the money.
There's nothing you can dislike about Q Acoustics 3050i! The system is solid, well-packaged, and it sounds like it costs a lot more.
Key specs
Style: floor.
Power type: passive.
Peak power output: 165W.
Frequency response: 44Hz-30kHz.
Sensitivity: 91dBA.
Bluetooth: no.
Dimensions, inch/cm: 39.4×7.9×11.7/100x20x29.7.
Weight, lb/kg: 39.2/17.8.
Pros
Brilliant clear music separation.
Sleek design.
Punchy, clean, and dynamic.
Easy to set up.
Low-profile binding posts can easily accept banana plugs.
Cons
The oddly shaped subwoofer, however, it doesn't worsen the overall performance.
Unstable on the carpet – tipping hazard.
Must be positioned far from the wall.
Speakers for turntable buying guide
When you're shopping around for the best speakers for a record player, there are a few things you need to keep in mind. Here they are:
Watts and impedance
You might have noticed that different models feature different wattage and impendence. So, what should you consider?
The higher the number of watts, the greater output. Remember this when it comes to pairing your speakers with a suitable amplifier.
Impedance is a measurement of current resistance that determines how much power the amplifier can provide to the speaker. Although the actual amount of current is usually in flux, speakers are normally given a single nominal rating to make comparisons easier. 4, 8, and 16 ohms are common impedance values. It's critical to match the impedance of your speaker to that of your amplifier; mismatches might cause sound difficulties or equipment damage.
Frequency response of speakers
When it comes to the frequency response of your speakers, you'll want to make sure that they can handle the range of frequencies that your turntable produces. Most turntables produce sounds in the range of 20-20,000 Hz, so you'll want to make sure your speakers can accommodate that.
Vinyl speakers sensitivity
When looking for the best speakers for a turntable, it's essential to consider their sensitivity. This will determine how loud they can get when playing music. For instance, speakers with a sensitivity of 96dB/W will play loud with about any type of amplifier, while 87dB/W sensitivity will require a pretty solid amplifier to play loud.
Are expensive turntable speakers better?
We recommend choosing speakers that sit in a similar price range as the rest of your audio system components (focus more on the price of the amplifier/receiver). There is no point in pairing expensive speakers and an entry-level turntable – it won't improve the sound at all.
How to connect a record player to speakers?
Here's the easiest way to connect a player to active speakers with a built-in phono stage:
Hook up the turntable's RCA and ground connections to the speakers.
Make sure the speaker's rare switch is set to "Phono.".
Plug the speakers and player into power outlets.
Enjoy your records!
If you have passive speakers, follow this step-by-step guide:
Ensure you have a receiver and phono-preamp.
Connect the turntable to the preamp using the RCA cords; grounding is required for some players.
Use the RCA cables to hook up a phono stage to the amplifier.
Hook up the speakers to the amplifier.
You are good to go!
FAQ
Are active speakers good for vinyl?
Well, it depends on what you're doing. If you just play records and want to get good sound from them, buy a set of active speakers. If you have a quality turntable, the result will be much better if you use passive speakers with a separate amplifier.
Do you need two speakers for the turntable?
Yes, it is important to have two speakers. One of the most common mistakes in system assembly is connecting only one speaker.
Do active speakers sound better than passive?
Not necessarily. There is a huge world of passive speakers, and it can be said that both simple and advanced models will sound good. It's really about your personal taste and what you like to hear.
How to connect a turntable to a Bluetooth speaker?
Actually, there is nothing special about the pairing of a turntable with a Bluetooth speaker, so you can
quickly connect
them by following 2 steps:
First, turn on your turntable and then press the Bluetooth button(usually it is a round one and located near the power button).
Second, find "BT AUDIO" or "BT" on your Bluetooth speaker, or headphones for vinyl, and click it to pair them together. If you can't find such buttons on your Bluetooth speaker, then simply activate Bluetooth on your mobile phone.
Do turntables need an amplifier?
You will need an amplifier while using speakers that don't have their own power source.
Can you plug a turntable directly into speakers?
You can connect your active speakers directly to the player and enjoy the sound, but you will need to connect them through an amplifier if you have passive speakers.
How do I know if my record player has a preamp?
You can
check
for a phono preamp switch on the player's back.