Vinyl turntables have been in vogue for over 100 years and continue to delight music lovers with beautiful sound. However, in today's market, vinyl lovers are looking for different options – expensive and budget ones (depending on their financial capabilities). If your budget is not big, how to choose the best turntable under $200 from the many options? I will help you – I have prepared a list of models from this price range that stand out from the crowd.
Our pick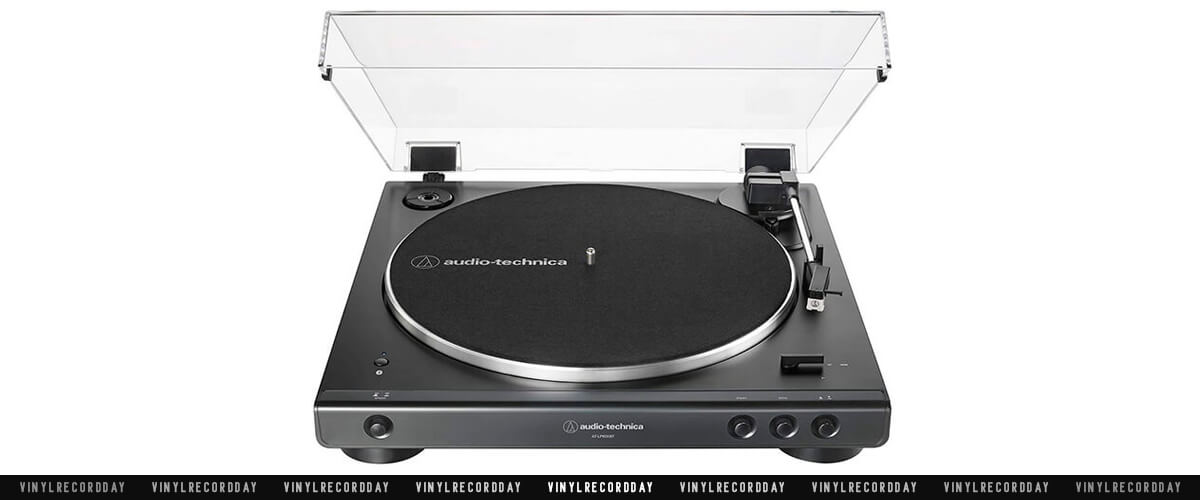 Audio-Technica AT-LP60X
Best Turntable Under $200
With its built-in switchable phono preamp, the AT-LP60X may be connected directly to your computer, home stereo, powered speakers and other components that have no dedicated turntable input.
Read the full review
.
The mass production of various radio details makes these gadgets cheap with a proper fidelity and decent sound. That is why we have today a great range of these electronic recorders. This category usually has no built-in speakers, so you can choose between various acoustic sets freely. And when you decide to buy a high-quality LP player, you may have had a proper acoustic set already. This is impossible when you are buying a basic portable record player.
Record Player Under $200 Comparison Table
What to expect from a record player under $200
I will first point out that budget does not mean bad. There are quite a few decent ones on the market, which will suit many people as entry-level record player. The second thing is the quality of assembly and parts. Of course, the quality here will be lower than in the premium products, but that does not mean your player will break in a week. You need to choose more responsibly in this price range, and then you can find your best vinyl player under $200.
I should also mention that technical progress does not stand still, and those features for which earlier you had to pay big money are now available even in budget models. For example, who would have guessed 10 years ago that you could buy a Bluetooth turntable under 200? And now it is pretty common in such models.
Nowadays, every brand new entry-level record player has a robust stylus with a replaceable cartridge. Also, anti-skate technology does stuff. In the earliest vinyl recorders, the anti-skate mechanism was a premium option. Today we have it everywhere. So, your plates will be fine until you will build an audio set of your dreams.
Best Turntable Under $200 Reviews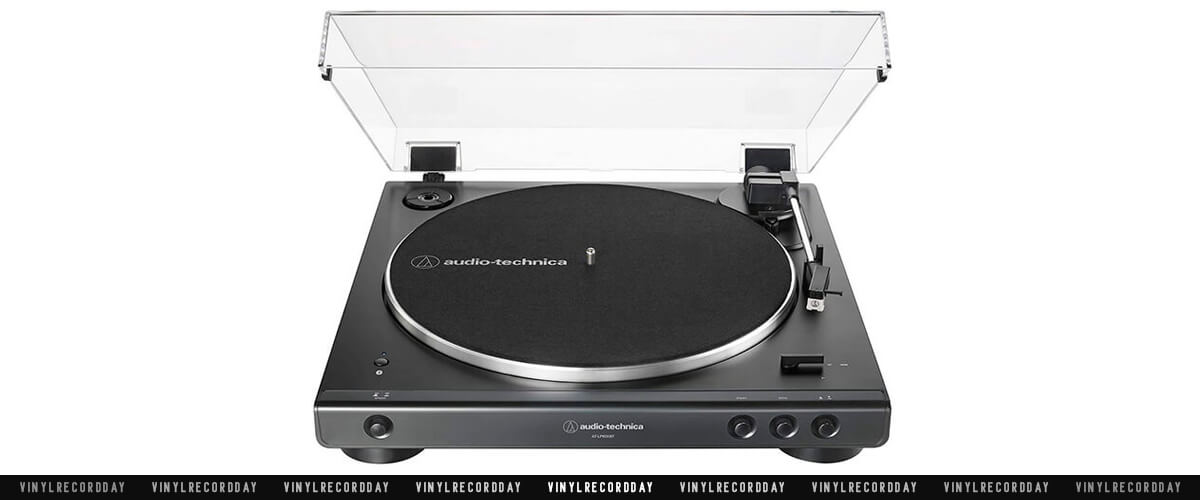 The famous Japanese audio company does miracles even in the low-budget segment. In my opinion, it is the best record player for under 200. I can advise it to qualified audio lovers and rookies in the world of sound. The design is classic glossy silver metal with a transparent lid.
The sound of this model is gorgeous, but the main features here are about the material. A case made of cast aluminum prevents all types of vibrations. The player supports all the speeds and is fully automatic. It is running by the belt, a classic scheme. The Bluetooth connection with wireless dynamics is available, which is vivid for the model.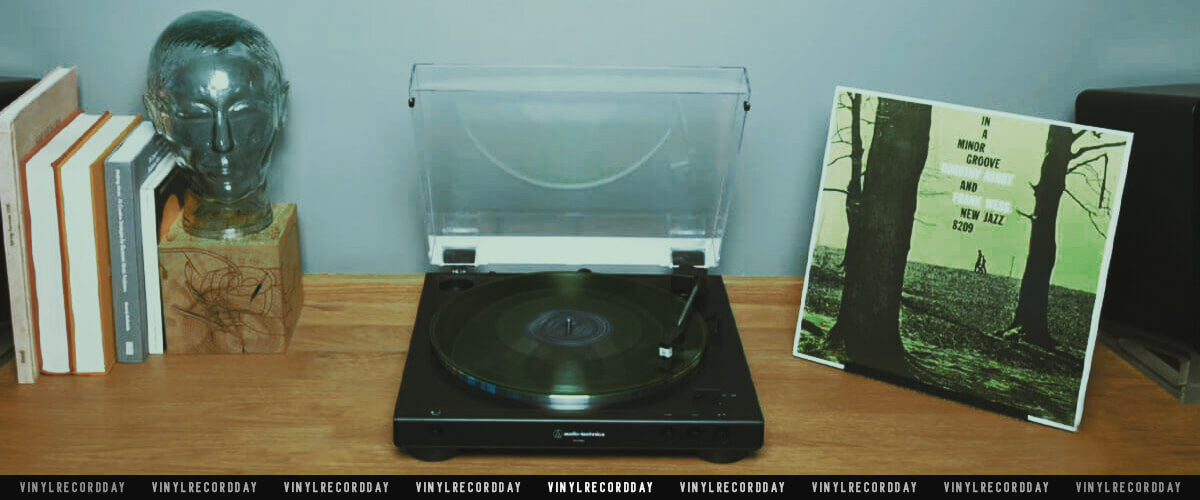 I tested the turntable on both original records from the 80s and modern records. Classic black, colored, and even picture discs. The results exceeded my expectations. Also, I tested the AT-LP60X on a real 7-inch small record with a wide slot in the center. For playing such records, the kit comes with a special clamp-stabilizer "clamp." The automatic playback mode brought the tonearm to the very beginning, and everything went off without a hitch. I was satisfied with the sound. Audio-Technica once again demonstrated that they pay extra attention to sound.
In my opinion, the Audio-Technica AT-LP60X is the optimal choice when choosing a turntable in this price range. The higher-level models are at least twice as expensive, and you will not feel a significant difference if you overpay the money. It is up to you to decide, but I more than recommend buying this turntable.
Key specs
Speeds, RPM: 33 1/3, 45.
Phono Pre-Amp: yes.
Drive type: belt.
Operation type: fully automatic.
Bluetooth: no.
USB: no.
AUX: no.
RCA: yes.
Pros
Compact size/minimalistic and stylish design.
Easy and comfortable to use.
Great turntable connectivity.
Really great sound.
1byone H009 – also a great choice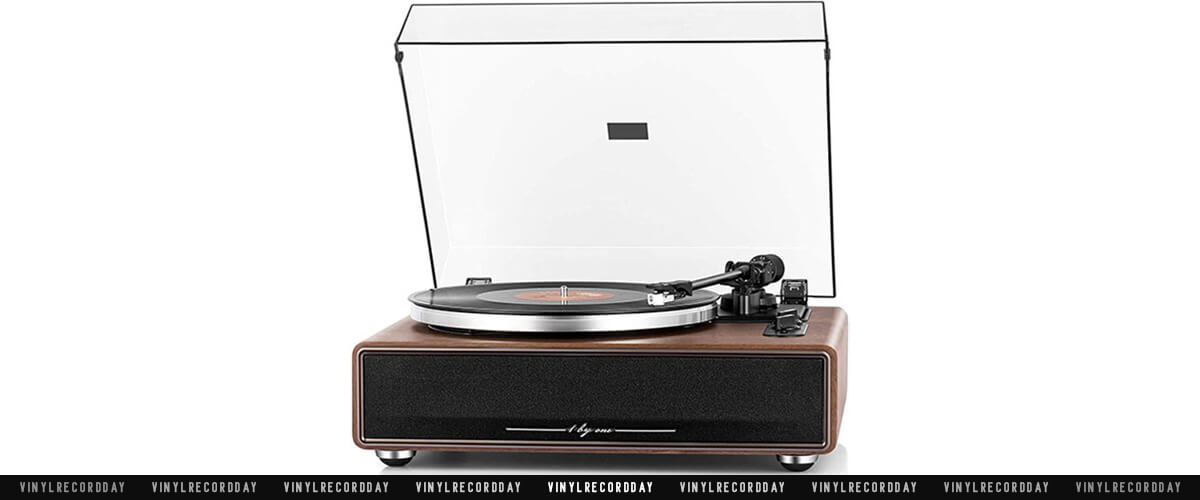 Are you a vinyl newbie seeking the simplest and most cost-effective way to get started? Then take a deeper look at the 1byone H009 record player, which is a practical all-in-one solution.
First off, the H009 boasts a sleek, compact design that will complement any room style – actually, it's a real find for those who appreciate minimalistic and ergonomic design.
Secondly, this model is equipped with a belt drive, enough quality electronics, and built-in speakers for fully autonomous sound. I would also note the AT cartridge with a diamond tip and adjustable counterweight. The 1byone H009 runs at 33 1/3 and 45 rpm and produces crisp and clear sound – the speakers don't vibrate even at maximum volume.
In addition, this model comes with a built-in phono stage, allowing it to be connected directly to your audio system or amplifier without the need for additional equipment or expensive modifications.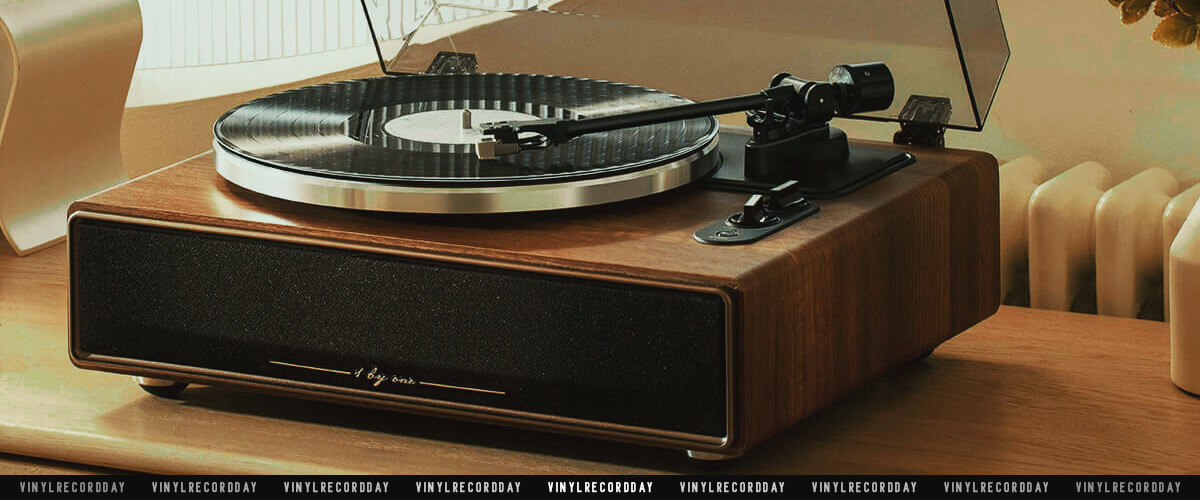 Of course, the biggest advantage of this deck is that it contains everything you could possibly need in one package. Therefore, I think that for vinyl beginners, it's the most optimal option. Simply plug it in, set the speed with the convenient power switch, or allow it to do the work for you by choosing an auto mode for top functioning without breaking a sweat!
And a little more about the sound. It is clear, quite loud, has a good base, and has no echo. So, honestly, it was a big pleasant surprise for me.
Overall, 1byone H009 is a great turntable under $200! It offers a killing combination of versatility, decent sound quality, and affordable price. In addition, this model is extremely easy to use, making it a suitable choice for beginners.
Key specs
Speeds, RPM: 33 1/3, 45.
Phono Pre-Amp: yes.
Drive type: belt.
Operation type: manual.
Bluetooth: yes.
USB: yes.
AUX: yes.
RCA: yes.
Pros
The belt-driven vibration damping system.
Easy to set up and use.
Bluetooth.
Good, clear sound.
Cons
Counterweight too light.
Not a very long power cord.
Bluetooth only works from external sources to internal speaker.
Sony PS-LX310BT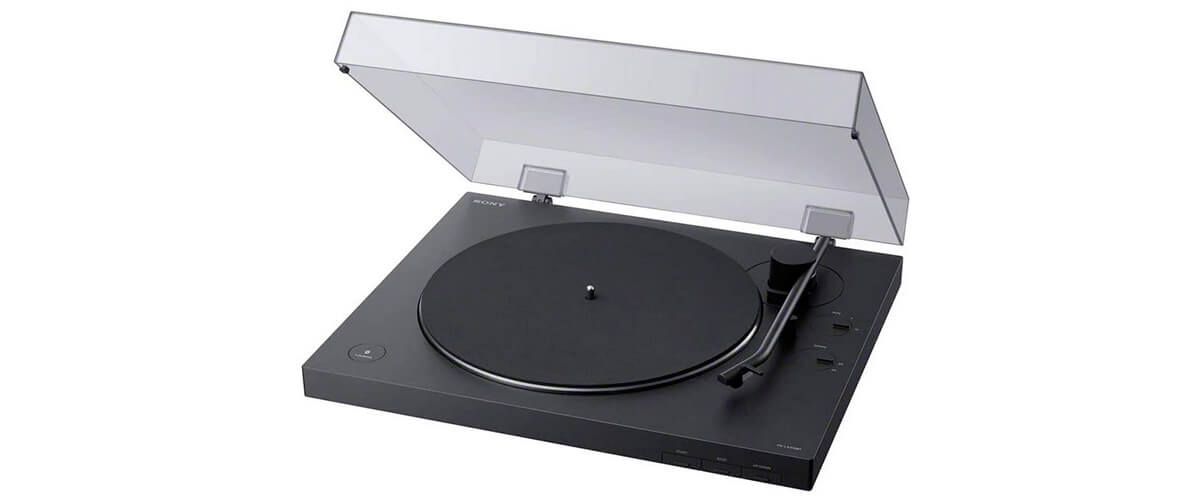 It is a slim model with a decent sound. Here we have a classy design with a rich bulk of features. The Sony Corporation makes a worthy record player with low power consumption. The manufacturer tells us about an excellent Bluetooth connection – and, in general terms, so it is. Especially when you are trying to plug Sony headsets and dynamics in.
The device is running by a classic belt mechanism with three-speed options. A new and sturdy aluminum tonearm plays the tracks like a real fiddle. The merits here also are a pack of the needed outputs, except for AUX and analog. Buth the soft sound of the dedicated plates surely can be an argument.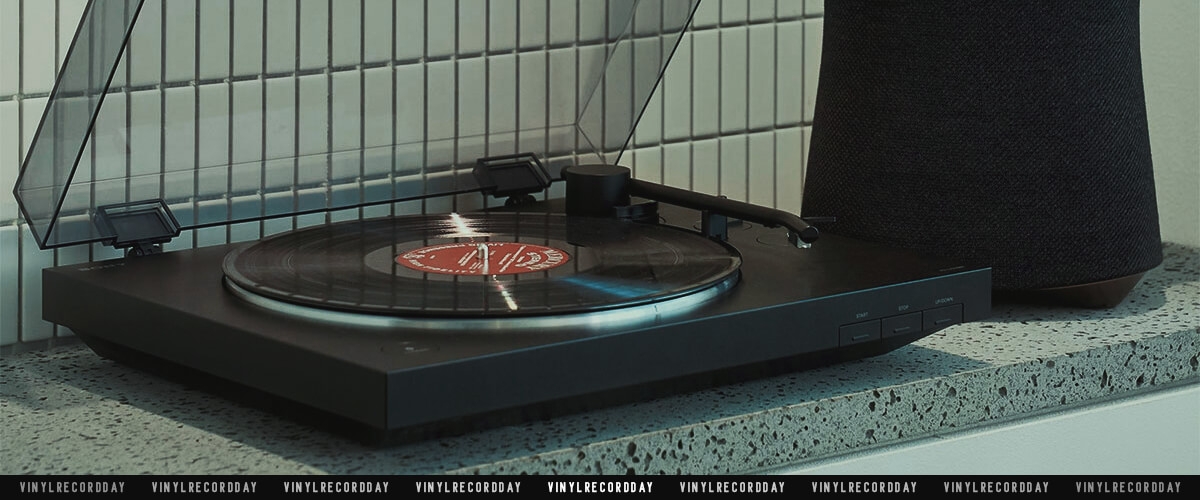 It would be real trouble. If you want to have a set of better speakers – you should buy them separately. Moreover, some of the old dynamics would be incompatible with this player. So, if you want to buy this Sony – be prepared for new sound systems.
Key specs
Speeds, RPM: 33 1/3, 45.
Phono Pre-Amp: yes.
Drive type: belt.
Operation type: fully automatic.
Bluetooth: yes.
USB: yes.
AUX: no.
RCA: yes.
House of Marley Stir It Up – eco-friendly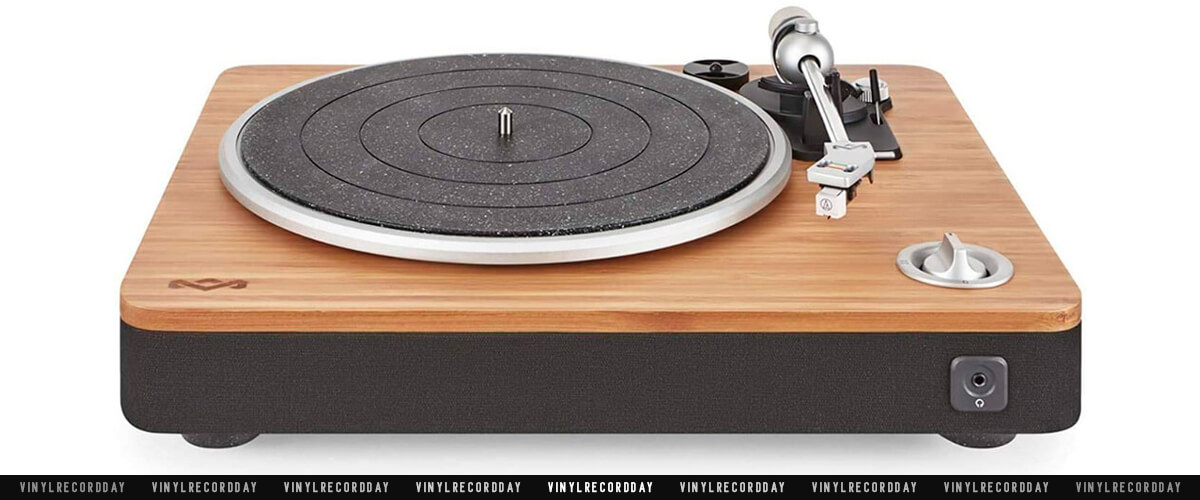 An eco-friendly turntable? Is it true? Well, partly. Vinyl is still made of petroleum. But this record player is unique. The design is bamboo painted, but it is only a mockery. No wood is here as basic material, because the manufacturer wanted to produce a slim and solid model. The eco means that this turntable has a lot of materials after deep recycling. For example, the unique feature is a silicon anti-slipping mat, which works against heavy vibrations.
The biggest merit of the model is fully fresh outputs with the good old trusty belt driver. You can plug the USB gadgets in the wireless connection area. When you want to have a set of modern speakers – this core player would be decent even for some hi-fi speakers.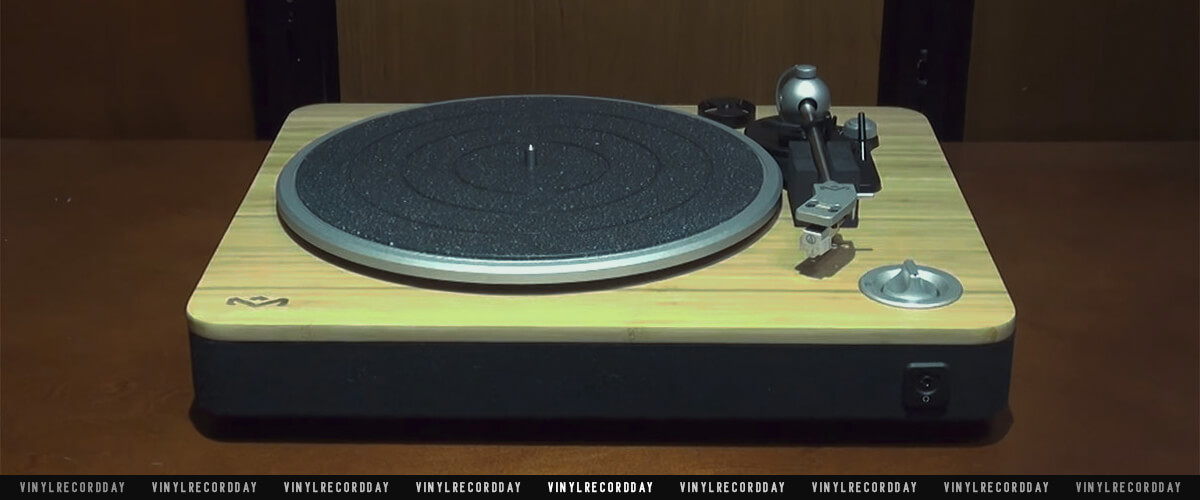 The minor flaw of this device – we have not an analog output here. Yes, wooden (fake) upside without vintage speakers. Some lack harmony in style. But the sound of this player is decent, velvet, and pretty deep.
Key specs
Speeds, RPM: 33 1/3, 45.
Phono Pre-Amp: yes.
Drive type: belt.
Operation type: manual.
Bluetooth: yes.
USB: yes.
AUX: yes.
RCA: yes.
Victrola 8-in-1 – vintage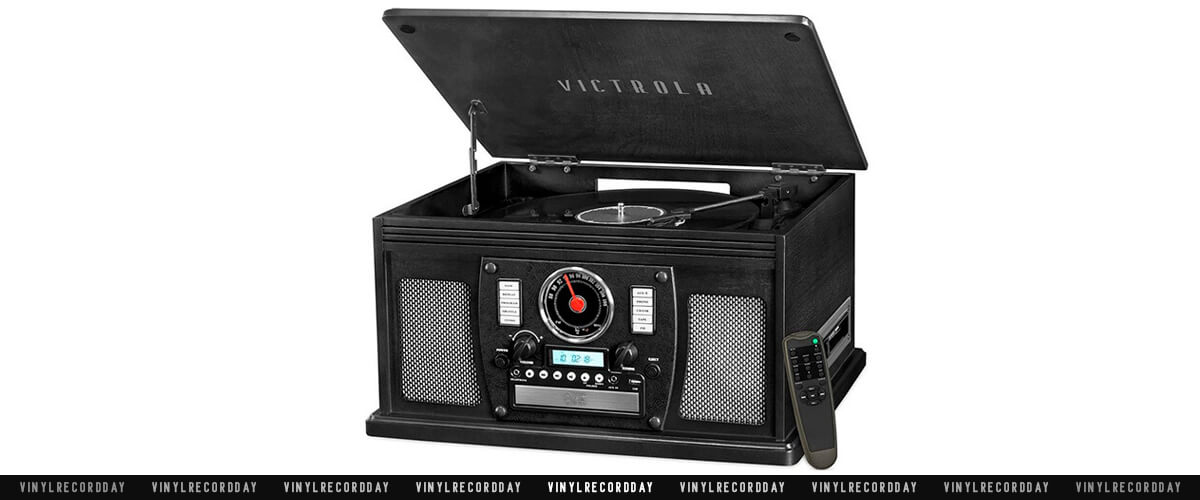 Vinyl plates always are about an old-school style. And here we have the best vintage turntable under 200 bucks. This Victrola is made of natural chunks of wood. What does this mean? The sound is warm, coming right from the core. So you can obtain a pretty fine sound experience. At the same time, you will need a solid foundation for this record player.
The advantages here are the new details. Also, the good-looking FM speaker included. The player has an AUX, USB ports for standard peripheric needs, Bluetooth connection. This device can be the proper core for a good sound system with hi-fi speakers. Of course, this turntable is manual.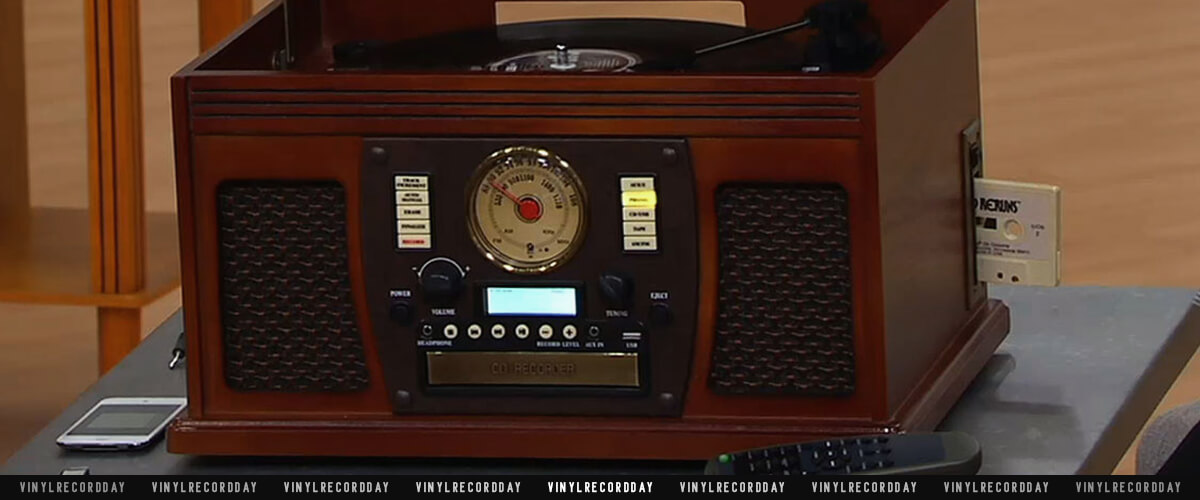 The flaws here are, of course, parameters. 18.2″ x 13.2″ x 10″ – these measurements mean a lot. All the good old record players are heavy and clumsy. And you have to make a proper place for the gadget and the speakers.
Key specs
Speeds, RPM: 33 1/3, 45, 78.
Phono Pre-Amp: yes.
Built-in speakers: yes.
Drive type: belt.
Operation type: manual.
Bluetooth: yes.
USB: yes.
AUX: yes.
RCA: yes.
Numark PT01 – for DJ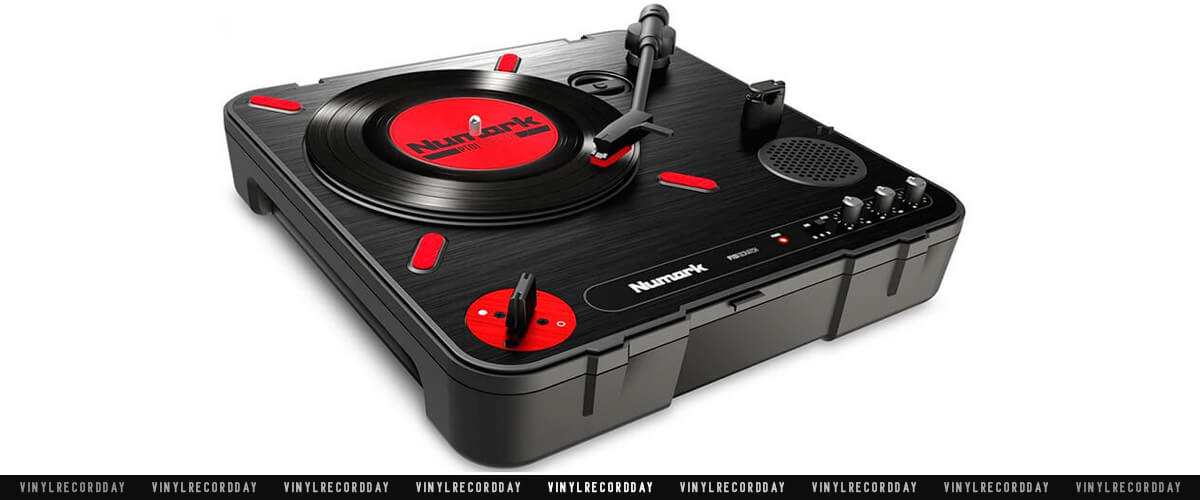 The main feature of the turntable in our dreams is the DJ functions. Numark knows about a dire need that is why this model comes into footlights. For the rookies who wanna be disc-jockeys – this is a solid option with a three-speed motor. The design is strict and plait: the disc jockey seldom shows his turntable to the audience. So, this is not an issue.
It is the belt-driven gadget for DJs, without features. It means that you need to turn the plates without new outputs. The only way to connect speakers is the analog out. It is a lack.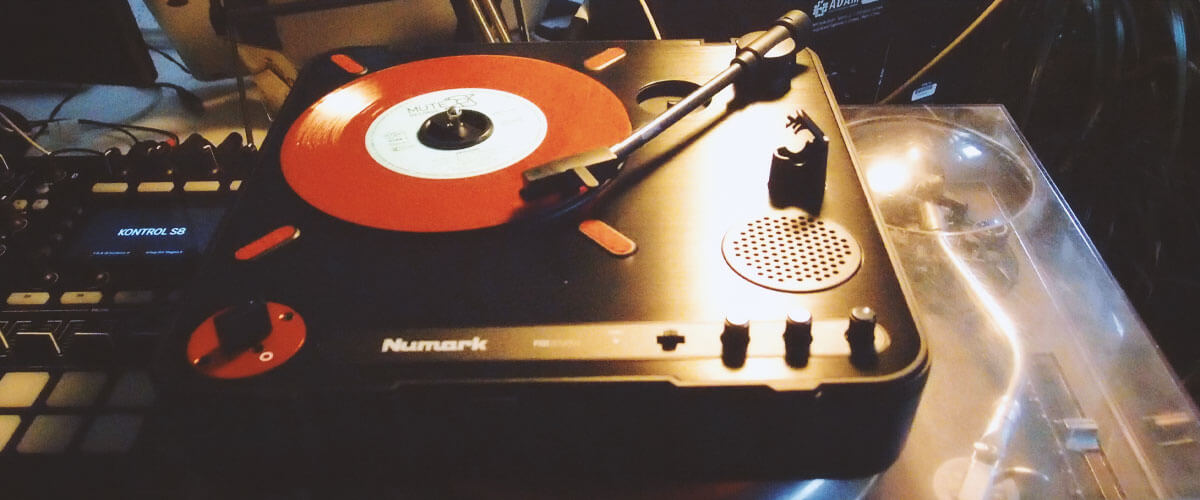 Just mind your business with this player. The DJs run parties. And you will never go to a party with a weak sound system. So, for massive and old-fashioned speakers, this Numark is doing its job fine. But for hi-fi music listening, we will recommend another model.
Key specs
Speeds, RPM: 33 1/3, 45, 78.
Built-in speakers: yes.
Drive type: belt.
Operation type: manual.
Bluetooth: no.
USB: no.
AUX: yes.
RCA: yes.
Audio-Technica AT-LP60XBT-BK – under $150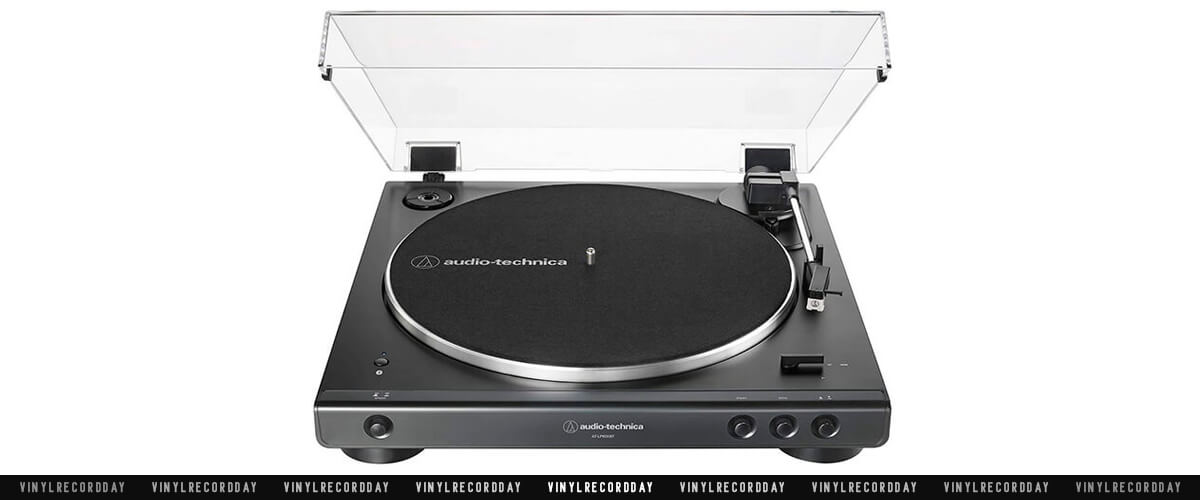 This is just another version of the first model in our chart. So, the features are the same. We can advise it to qualified audio lovers and rookies in the world of sound. The design is classic, dim metal with a transparent lid. This color scheme is a little bit practical but still needs regular dust removal.
The sound of this model is gorgeous, but the main features here are about the material. A case made of cast aluminum prevents all types of vibrations. The player supports all the speeds and is fully automatic. It is driven by the belt, a classic scheme. The Bluetooth connection with wireless dynamics is available, which is important for the model.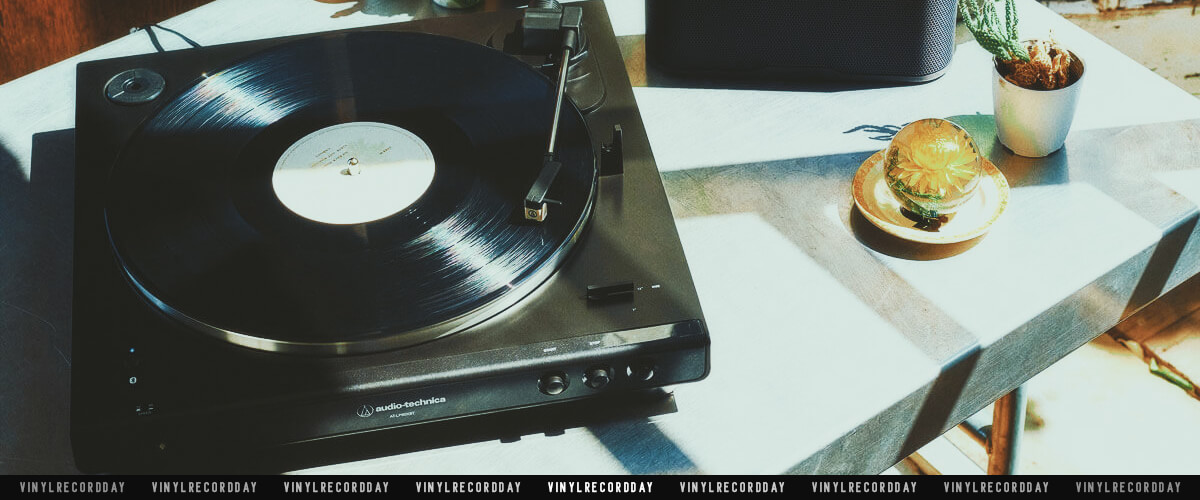 The minor flaws are not significant, but you should know of them. The price is a little bit overhyped – and the gadget has no speakers, you should buy them separately. On the other side, you can have your custom audio system. Also, this Audio-Technica has only one analog out, which is not an option when you have to plug a lot of peripheric stuff.
Key specs
Speeds, RPM: 33 1/3, 45.
Phono Pre-Amp: yes.
Drive type: belt.
Operation type: fully automatic.
Bluetooth: yes.
USB: no.
AUX: no.
RCA: yes.
Crosley C100BT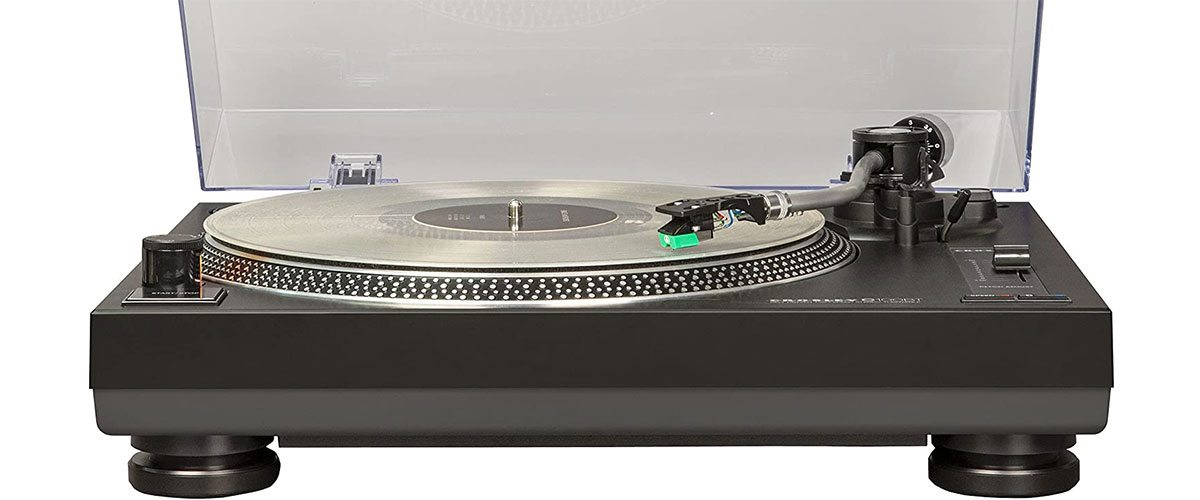 Crosley is a globally recognized century-old brand specializing in manufacturing affordable yet high-performance turntables.
The C100BT model is an ideal combination of price and quality – it includes all of the essential features and is made of high-quality materials, making it a fantastic choice for newbies.
With an upgradable S-shaped aluminum tonearm and an AT95E cartridge, this belt-driven, 2-speed turntable delivers outstanding clarity and gets you in the groove fast. Next, the tonearm has a counterweight that may be easily adjusted. On top of that, the motor is strong enough to pick up speed almost immediately. More advanced users may also appreciate the changeable pitch control, which allows for both pitch and tempo regulation.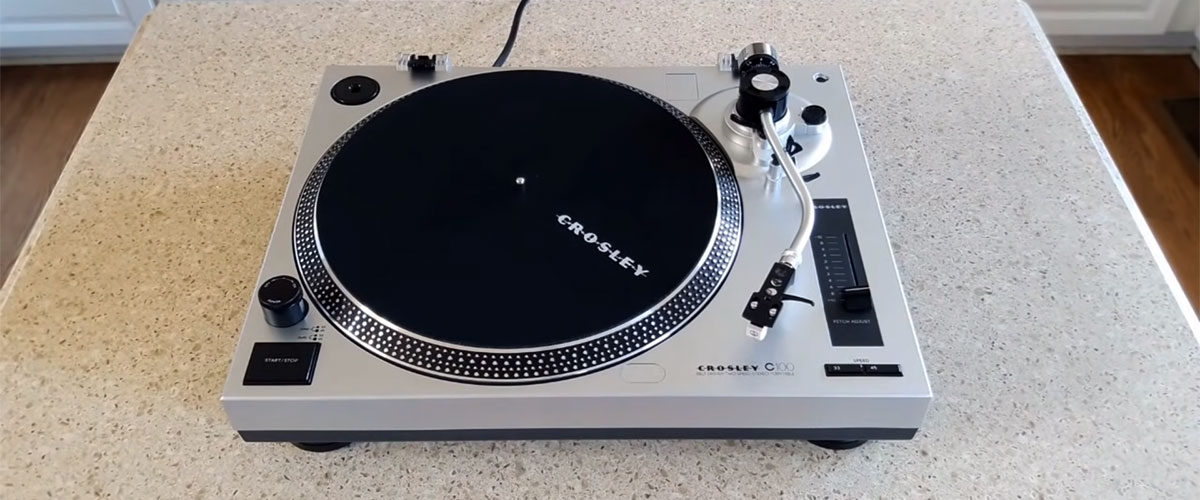 Bluetooth connectivity, an RCA connector, and a 45 RPM converter are all included in the C100BT to make your listening experience even more convenient and pleasant.
Although Crosley C100BT is not suitable for sophisticated listeners and may feel a bit flimsy for some users, it's still a pretty serious competitor on the market. This model comes equipped with some characteristics you may expect from higher-end record players, but the price tag is much more affordable. So, if you need a fine-quality yet low-price turntable, the C100BT is a great way to dust off the old records!
Key specs
Speeds, RPM: 33 1/3, 45.
Phono Pre-Amp: yes.
Drive type: belt.
Operation type: manual.
Bluetooth: yes.
USB: no.
AUX: no.
RCA: yes.
Buyers guide
What should you look for in turntables under $200?
Even if you are buying just a good beginner record player for a couple of bucks – you deserve a rich, deep, velvet sound. It is the soul of traditional vinyl and the direct reason to buy this kind of gadget.
Features and sound quality
When we are talking about the features, we should have noticed the quality of the gadget. Even cheap models can have a good sound. You need to choose plants from famous brands. Chinese replicas of a good, known model are pretty unstable in quality. You can obtain marvelous audio sets for years… or a bunch of broken details. Do not risk your money for unknown brands. You can't fix this type of LP player – because you just can't find spare parts in the USA or Europe.
Heavy, solid platter
Do not buy a player with a light alloy base, especially if you plan to buy a portable device. The plate should lay on the flat and solid ground without the risk of skating for the compensation of the centripetal force. Yes, the anti-skate feature is useful, but sometimes the stylus goes wild, and the plate is completely spoiled.
Well-designed tonearm
Not a visual design, of course. The style of your record player is about esthetics, not the functions. The tonearm should move smoothly and can be installed precisely on the plate. The head of the tonearm should be balanced and be a little bit heavier. Only in these conditions, the cartridge can lead the track properly, without scratches.
Phono cartridge
Try to choose a model with a removable cartridge, which changes with ease. It means you do have to buy the gadget for a moderate price. The cheaper turntables often have no option to replace a cartridge at all. Or you can not find adequate spare parts. Don't try to save your money on the stylus – the purchase of the cheap cartridge purchase will only spoil your plates.
Phono preamp
Preamplification, in general, is needed only for the powerful model. In the budget sphere, you can find some players with preamps. This detail, though, makes the price higher. If you are in dire need of a preamp – you can buy it later. Just be sure that your record player has a standard analog phono connector. It is a strange thing, but modern models are often unable to connect with some popular and cheap acoustic devices.
What is the difference between an automatic and a manual record player?
It is a tonearm, that is it. Manual record players should be managed like ancient phonographs. The listener sets the stylus right on the plate, then turns the power on. When the vinyl track is ending, the listener has to lift a tonearm and move it away from the plate. That is why every vinyl plate has an outer ring without a track. It was some variant of heritage from the earliest players when the listener had to serve the machine manually. All the tonearms have a strictly ranged way of moving, but the stylus sometimes can wave and spoil the vinyl surface.
An automatic record player manages the tonearm by itself. The benefits of this way are pretty valuable. You do not need to wait when the plate finishes playing. The mechanical management is smoother and does not damage your records. The problem is… it does when it comes to faults. Also, this kind of stuff is expensive, no doubt. The details for these models are over complicated and require good machinery.
Which parts in a turntable under $200 can I upgrade for a better quality of sound?
First of all, buy a collection of types of vinyl. Okay, you have one. Then you need to find the best turntables under $200 if you are a rookie. Check. Now you have to find room for improvement. Do not hurry because every single audio apparatus needs a sound check with plenty of various records.
Make a level adjustment. never should lay on the curve or at the unstable ground;
Have a warm washing for your plates. In time, the vinyl tracks were covered by a thick layer of dust. Warm water and soft soup clear these surfaces great;
Try to replace a tonearm. In the cheap models of the LP recorders, the very tonearm is unbalanced and made of inferior alloys, which may have a lot of consequences. The spare parts, in this case, are very similar, and you can take the most balanced one.
Check the cartridge and the stylus. The needle should be sharp. You will replace it in time when the point will be worn on the surface of vinyl plates;
Amplification is needed when you want to add more powerful acoustic units. When you are buying a turntable under $200, you should check modest amps – just because the top models are expensive, and this category of record players have never had a real high fidelity.
An alignment protractor for the cartridge. The track should be the same for the preservation of the scratches. If you have a massive and expensive turntable with an automatic driver, this upgrade is not that necessarily;
The furniture. Before buying a vinyl turntable – buy a proper and flat desk. You need to have a lot of space for the future. You surely do not know about future upgrades and measurements of the speakers. Also, you should plan the placement of your new sound desk.
Where should I set up my record player? Does it matter?
All the vibrations matter, of course. But you should know some basics about a place where your audio set should be. If the first tuning is wrong, there is a possibility of problems with your precious plates. The tweaking and tuning are complicated, and every audio lover makes them individually.
First advice: use only plane surfaces. The centripetal force on the plate should be equal and smooth through all the time of audio listening. The table also should be heavier than a recorder. It is physics: the mechanical gadget would be unmoved on the heavy base. And even if vinyl will slip, the other parts of the device will be untouchable.
When we are talking about positioning, it is about your speaker system. For the cheap players, the standard option is two built-in frontal speakers. They obviously should be oriented toward the listeners. If you want to connect additional dynamics via cables, you should place it to cover the room.
FAQ
What is an anti-skate mechanism in turntables?
Turntables with an anti-skate control allow for greater ease in cartridge setup and adjustment, but they can also help prevent stylus skips. Unfortunately, many turntables lack anti-skate, but it is available on some turntables with an adjustable counterweight or through the use of a preamp or phono stage's adjustable gain.
Does entry-level record player damage the records?
Of course, the quality of these devices and their components is inferior to the top models. But that does not mean that they will ruin your records. Yes, theoretically, it can happen, but if you take good care of your records and turntables and replace faulty parts in time, you will never encounter such a problem.
Do I need an expensive turntable, or a turntable under $200 will be enough to try vinyl?
Yes, an inexpensive turntable under $200 is good enough to get you started. This approach will allow you to get acquainted with such devices in more detail, but at the same time to get quite a decent sound. Later you can improve your turntable model (replace some components with higher quality) or buy a new, more expensive device.
Is a vinyl player the same as a record player?
Many people often confuse these
two concepts
. A turntable is actually part of a record player. It has no built-in preamplifier, amplifier, or speaker, so a record player is an all-in-one listening device, while a turntable requires additional equipment before use. By the way, that's why it is preferred by advanced audiophiles who like to pick up all the necessary equipment themselves.
Do all turntables play all records?
Most turntables play
33 1/3, 45, and 78 RPM records
. However, it all depends on the specific model. Therefore, be sure to pay attention to this technical characteristic of the device before you buy it.
What do you need with a record player?
You will need a stylus (needle),
cartridge
, pre-amplifier, and
speakers
to play a record. This is the bare minimum you need.
Can I connect my turntable directly to speakers?
You can, but not always. It depends on the model of the device and the speakers. You can connect the turntable directly to the speakers if they are powered. They have a built-in amplifier and do not need a separate amplifier. In addition, the turntable or speakers must have a phono stage built in. The connection process is realized using a standard RCA signal cable or wirelessly if all devices support a wireless Bluetooth connection.