How to find a good sound with modest requirements? You can not buy a true quality of sound without money. The best turntable for under 500 maintains a good balance between these two parameters. When there is a need to check the authentic vinyl sound – it's sufficient to start from the middle-range turntables.
The lower prices always cut some possibilities and the assembling quality. But the good news that stores also widely represent spare parts for this category of devices. So let's see what you can get from a turntable under $500.
Our pick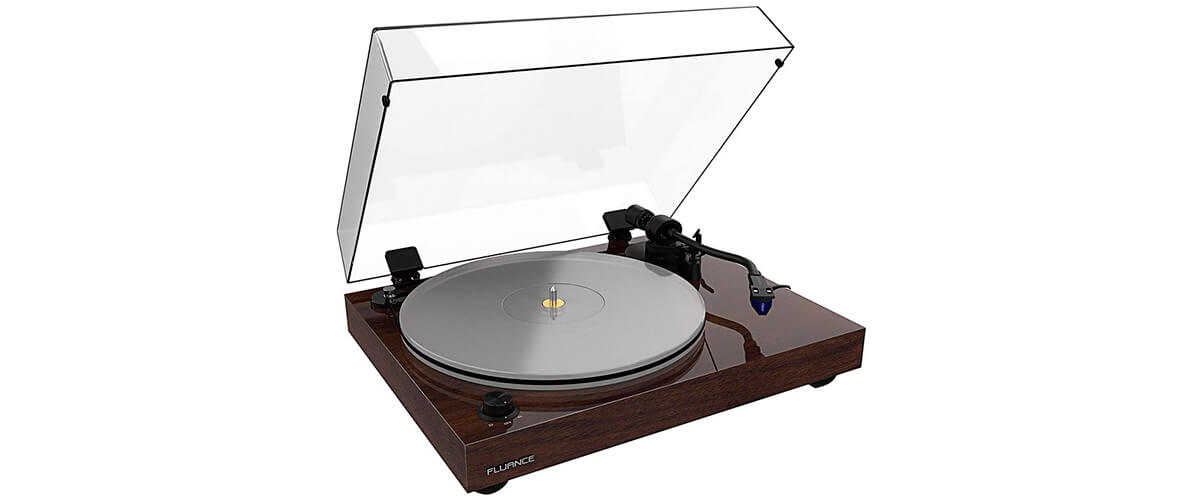 Fluance RT85
Best Turntable Under $500
This turntable will make your plates sound deep and rich with its Ortofon Blue cartridge – the best in this price range.
What to expect from a record player under $500?
I'd say that the soul of vinyl is living here… at an affordable price. Spending 500 bucks for a proper gadget is practical for enthusiastic rookies. Or just for people who are tired of an entry-level vinyl sound. The lowest limit for a decent LP player is about 200 bucks. You can easily double the price and get a significant boost of sound quality. However if you don't know what to look for in record players, read our buyers guide for the answers.
Note that the sound depends not only on the audio gear you have but also on your vinyl plates.
You are paying for qualified assembly and the high fidelity of all mechanical parts. The design of these players usually is typical and classic. You can place this LP turntable in the middle of the traditional interior. Almost all of the models are covered by wood, matte and glossy metal. They are looking strict but gorgeous and pompous.
Best Turntable Under $500 Reviews
Speeds
Phono Pre-Amp
RCA
Fluance RT85

best overall

33 1/3, 45
no
yes
Review
Audio-Technica AT-LP140XP

for DJ

33 1/3, 45, 78
no
yes
Review
Music Hall MMF-1.5

under $400

33 1/3, 45, 78
yes
yes
Review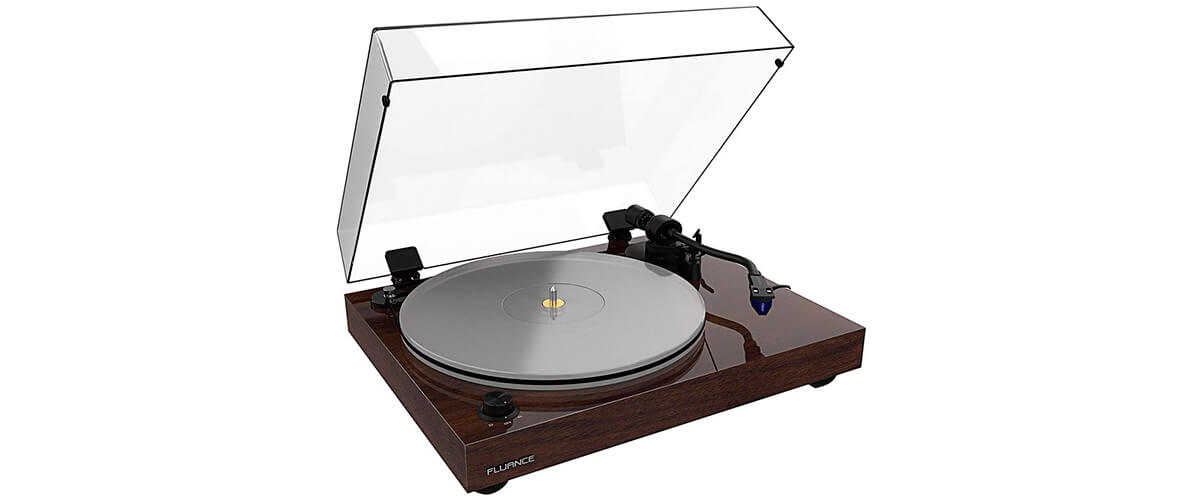 There are many similar devices in the under $500 category, but we have an undisputed champion – Fluance RT85. This best turntable under 500 is made of the finest materials.
Its base is simply perfect. The plinth is made of a wooden chunk. It is a natural walnut – one of the most robust and decorative wood species for carpenter works. The platter is made of acrylic with an anti-grip cover. It has a classic aluminum tonearm and manual drive. The belt motor drives the construction without bells and whistles, just a trusty scheme.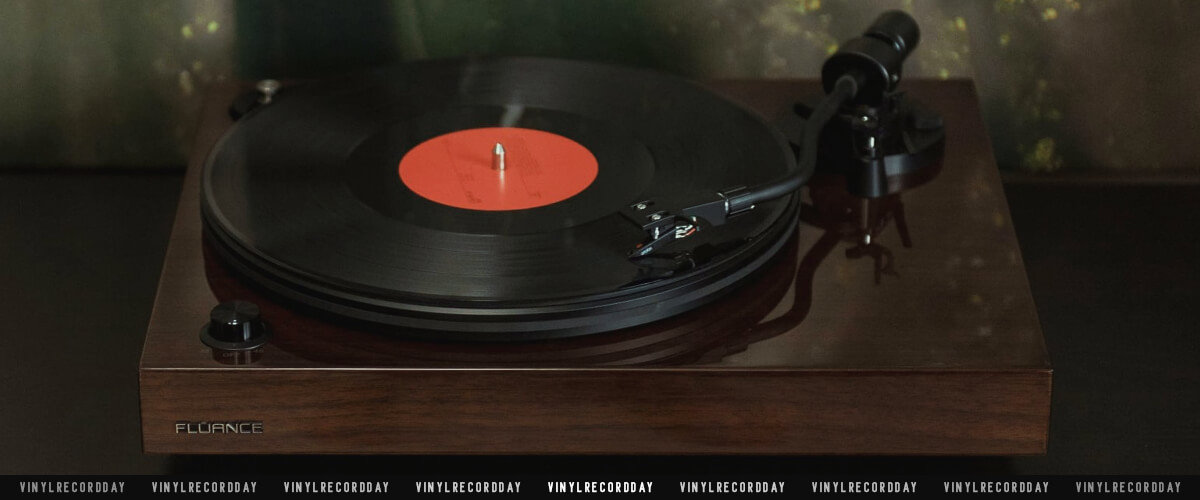 The only visible flaw is a lack of preamp, but you can buy it separately. I've discovered only one slightly cheaper model (described below), but the sound offered by this alternative is also a bit worse.
To sum up, this turntable will make your plates sound deep and rich with its Ortofon Blue cartridge – the best in this price range. The device is strongly recommended for every vinyl enthusiast. Just find a room for it and buy a good collection of plates.
Key specs
Speeds, RPM: 33 1/3, 45
Phono Pre-Amp: no
Drive type: belt
Operation type: manual
AUX: no
RCA: yes
Pro-Ject Debut Carbon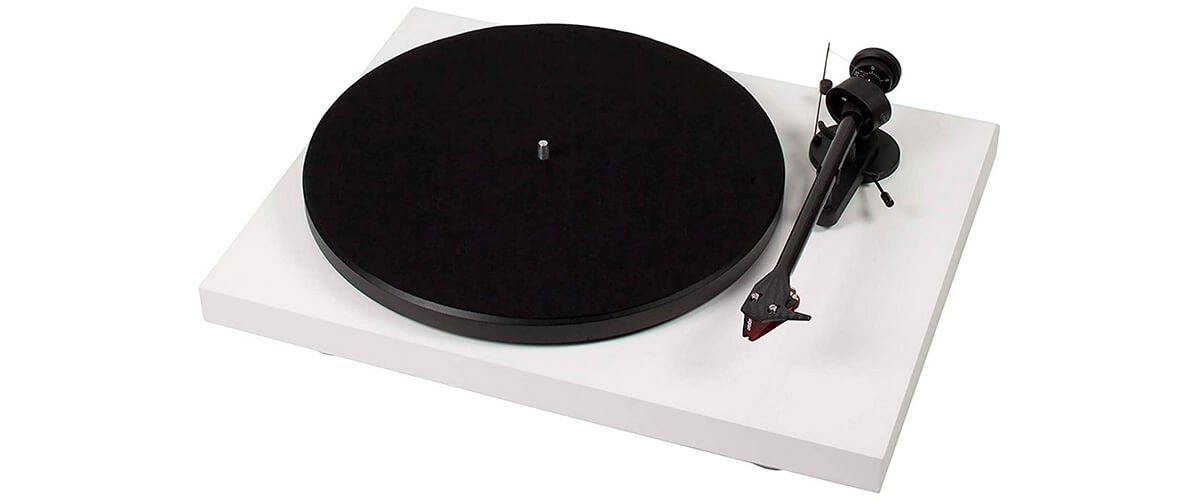 The name speaks for itself. This record player uses a new hi-fi material for a tonearm which is a reliable decision for every turntable. Carbon is very light and stands against vibrations very well.
The design and weight are also intricating. The visual style here is unusual: the white plinth is looking slim and straight. The foundation is not very heavy: only about 12 pounds. True wooden turntables are more massive but this one has no wooden chunks. But the foundation is solid and stable. The Ortofon 2M Red cartridge is pretty robust and never spoils plates even after years of service.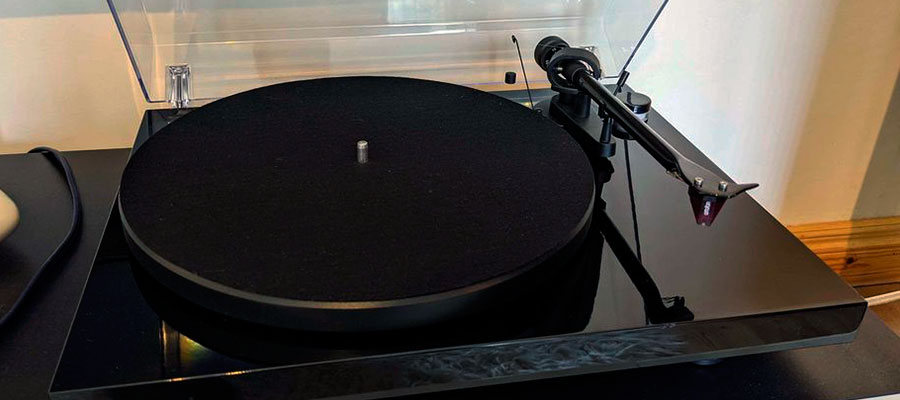 The other features are often presented in this category. The turntable is driven by a belt motor. Classic and trusty construction. You can buy belts in every shop with spare parts for vinyl LP players. There are some flaws in the depth of a sound stage, but for this price, it is affordable.
This model will make your records' collection sound alive and vibrant at a moderate price. Rather a device for an average vinyl lover than a professional, but still it provides clear sound with no junk.
Key specs
Speeds, RPM: 33 1/3, 45
Phono Pre-Amp: no
Drive type: belt
Operation type: manual
AUX: no
RCA: yes
Rega Planar 1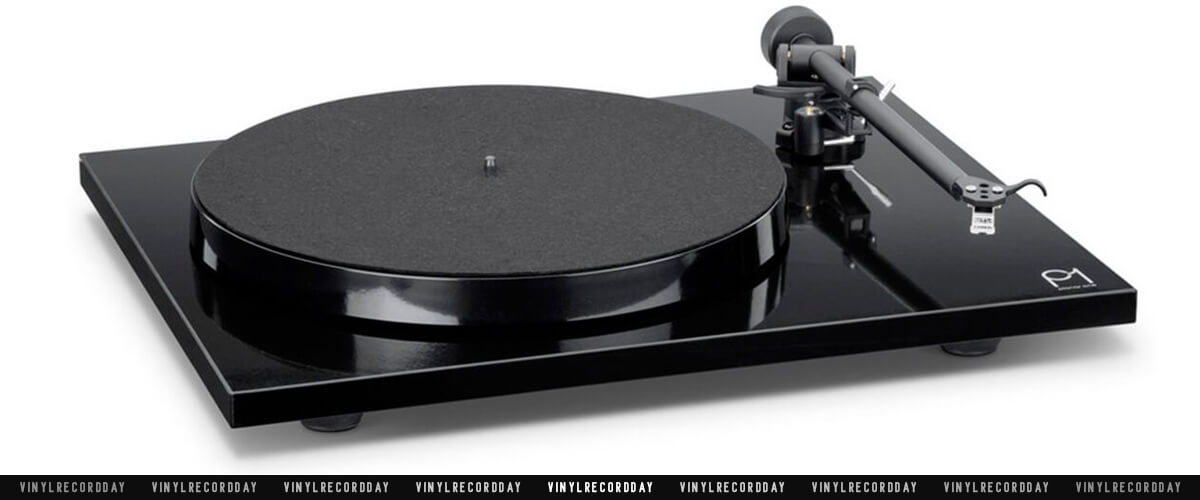 You can find something different from the above models among the best turntables for under 500 dollars. This one creates sound for tiny spaces. The design is all black, slim, glossy, and light. The weight of the device is only 9 pounds. It is twice more lightweight than a regular player.
The specific feature here is a new RB110 tonearm with special bearings for smooth moves. Also, this model has an ultra-low noise 24-volt belt motor. Your plates will serve longer.
But mind the materials. The brass bearings have a high price, but the copper foundation is more robust for this purpose. Never buy cheap alloys for the moving parts.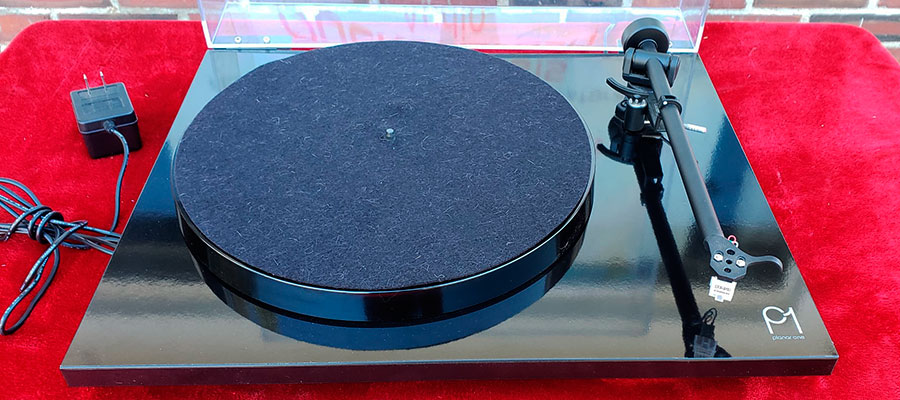 The flaw is a platter material. It is a fully phenolic platter with a better flywheel effect for improved speed stability. But the production of phenol is not eco-friendly. Despite it, phenolic platters are pretty renowned at the mid-budget versions of record players.
No preamp. You can buy it separately. Also, a full-glossy design collects scratches and fingerprints everywhere. It was not the best idea.
This lightweight record player offers medium sound quality suitable for bass.
Key specs
Speeds, RPM: 33 1/3, 45
Phono Pre-Amp: no
Drive type: belt
Operation type: manual
AUX: no
RCA: yes
Denon DP-400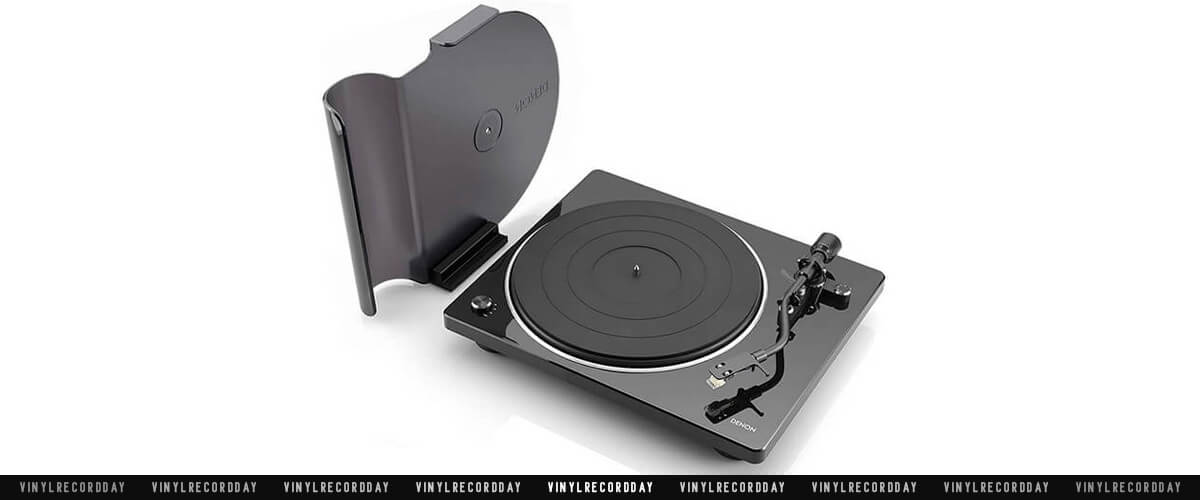 The first item in our chart complected with a preamp. Yay, we have a decent phono equalizer. Well, this is not absolute merit. The preamp here is mediocre but has an important role. You can train your audio skills, how to tune the vinyl audio set properly.
For the set of features the player offers, the price is more than affordable. The design also looks fresh. It is all black, glossy, and stylish plastic, right from the eighties. If you were looking for an old analog sound for rare plates – here you have the player for them.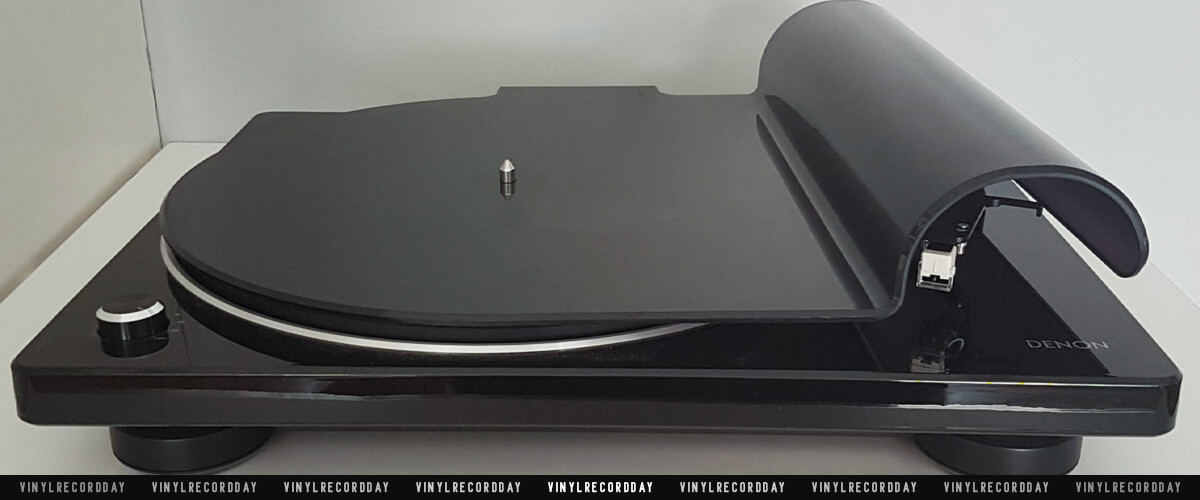 The platter here is pretty good balanced. It supports 33 1/3 rpm, 45 rpm, or 78 rpm. In other words, you can play every modern and almost every type of antic vinyl. The tonearm is also unique. It is curved to keep track better. And we have some problem here – the replacement of the tonearm is not very simple. You should order a new tonearm separately.
If you are not ready to buy a preamp separately, choosing this device is a great idea.
Key specs
Speeds, RPM: 33 1/3, 45, 78
Phono Pre-Amp: yes
Drive type: belt
Operation type: semi-automatic
AUX: no
RCA: yes
Audio-Technica AT-LP140XP – for DJ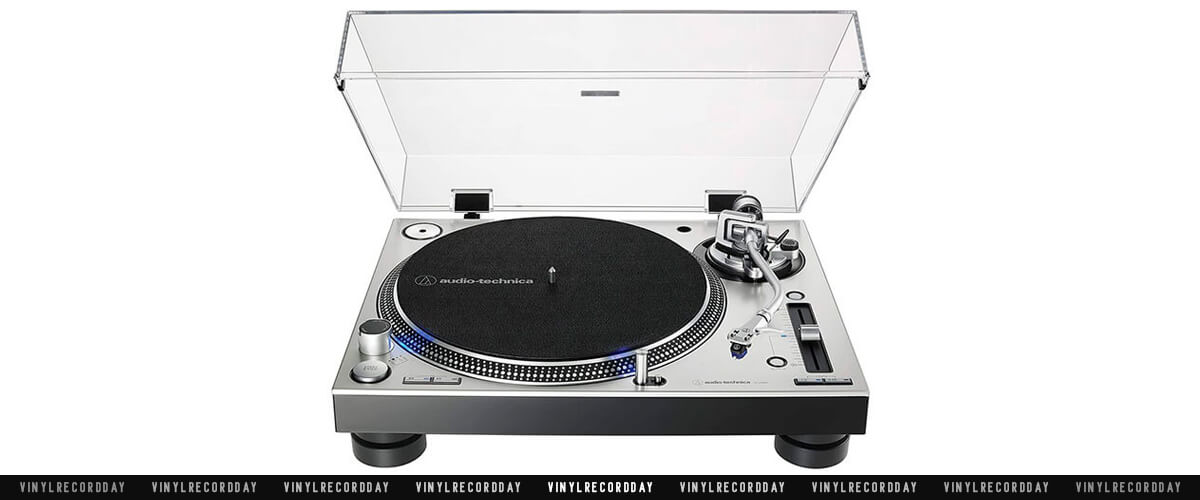 If you are just a music lover – all of the models above are good for easy listening. But disc jockeys need specific turntables. The models usually have the belt driver only, robust and sturdy. Every trick with a plate should not spoil the vinyl. The top turntables cost thousands of dollars. If you want to be a professional DJ – you should have a good record player for parties. And the fabulous Japanese manufacturer gives it to you.
The real thing is fusion. This LP player has high-fidelity audio quality. It is rare for this kind of music but still gives you a passionate performance. The traditional belt motor runs tracks via a plastic platter. The speed stabilizer corrects all the processes.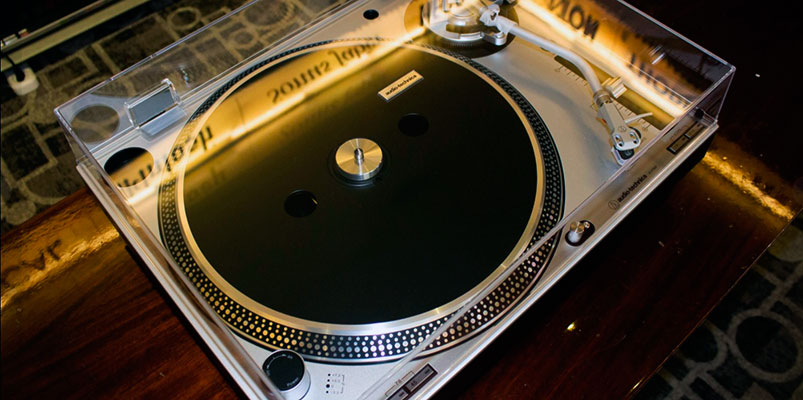 The detachable RCA output cable is here for the peripheric sound gadgets. Amongst stuff, there is a thick felt covering mat and a removable hinged dust cover.
The issue with this set is sound for some acoustic genres like classic jazz, blues, and soul music is of lower quality.
If you are a fan of that kind of sound – better try something else. But for loud parties and dance hits – AT-LP140XP from Audio-Technica is the champion.
Key specs
Speeds, RPM: 33 1/3, 45, 78
Phono Pre-Amp: no
Drive type: direct
Operation type: manual
AUX: no
RCA: yes
Music Hall MMF-1.5 – best under $400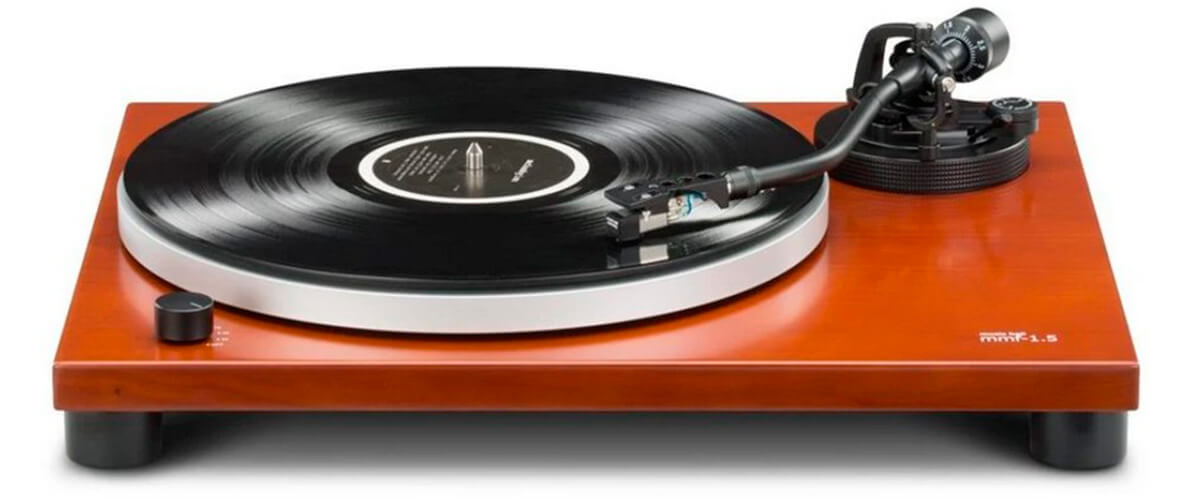 Finally, let's have a look at a slightly cheaper model of the record player. It is the best turntable for under 400 dollars. One hundred bucks are not a big difference. And still, you can spend it on something useful, like hi-fi speakers. Is this model worthy? Definitely, yes!
The gadget is cheap but has a built-in preamp of decent quality, powered by a belt-drive turntable.
Also, we have patented Music Hall Melody cartridge. Robust and easy to replace. A platter mat is thick and removes every unwanted vibration. A light aluminum tonearm also does its work without flaws. As for this price, the record player looks good. Created in a classic wooden style, it has a charm. The lower foundation design is very slim, contrasted to the wooden pattern of the upper part.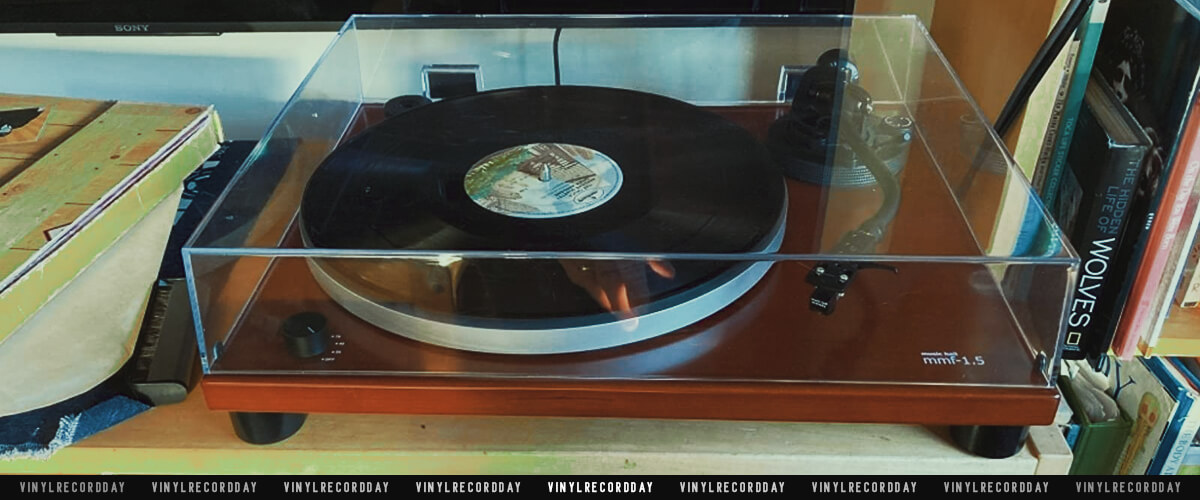 The flaws are inevitable. Some users of the gadget complain about a preamp, but you can abandon it. Even without a phono stage, the price is hugely profitable.
If you are into loud, clear sound, pick this one. You may want to upgrade a cartridge, but that is also super easy.
Key specs
Speeds, RPM: 33 1/3, 45, 78
Phono Pre-Amp: yes
Drive type: belt
Operation type: manual
AUX: no
RCA: yes
What should you look for in turntables under $500?
The audio system is complex. It means that every part of the audio set matters. Your vinyl plates should have a clean surface – without scratches, dust, signs of cracks. Of course, your speakers should also have proper reliability. There is no sense to buy an expensive audiophile turntable without powerful and crystal dynamics. The room acoustic parameters should also be decent.
But the first role in the sound scene is for your LP player. That's why price always matters.
The foundation of every LP should be heavy and solid. In the cheap audio gadgets, the bottom part is plastic, which is unacceptable for some valuable plates. With a heavy wooden or metal foundation, the sounds go deeper and have more velvet notes, and the risk of skating is reduced. The tonearm should be perfectly balanced – and in our models, it is an aluminum cast, not some cheap acrylic matter.
How to pick the right phono preamp to record player?
The main thing about a phono preamp in the best turntable under $500 is the sound consistency of the whole audio set. Every audio gadget should enrich the sound, not make it worse. It is obvious, but you can't avoid some simple advice about phono preamps.
Vinyl is better for the width and quality of the phono stage. It is why customers returned after decades of oblivion. A phono preamp is an electronic device that makes this analog magic. A phono stage means an extra amplification. The power of output of a needle in the cartridge is less than the power of a typical CD player. But we love vinyl for the soul of music.
A preamp is obviously amplifying basses. The biggest issue with vinyl is low sounds. And properly built phono stage rebalances this inequality, the vinyl fuss in a nutshell. The basic preamps are fine with moving-magnet (MM) and moving-coil (MC) cartridges. Equally. The MM cartridges are more powerful, and the MC cartridges have rich possibilities for local customization. Which one the true audio lover has to choose? You decide. But let's see the technical aspect.
What's the difference between MC and MM cartridges?
Every single self-moving detail of the LP player is powered by electricity. MC and MM are the marks of the cartridge technology that indeed are important for sound. Do you ever see a volume wheel on the professional headphones? No. Because this part could influence the output sound. A similar thing is with cartridges.
The MM is standing for magnet moving technology. These cartridges are less complicated when they are assembled. The electrical scheme with a single circuit is very profitable – less copper and alloys. Also, the main electric parameters for MM are always the same. Manufacturers can produce many relatively cheap models.
The MC is standing for moving coils. And every type of coil is unique. It has its resistance, inductance, capacitance. When it comes to low-output parts – the MC cartridges are similar. But for high-output models, the type of the coil is vivid. For the non-physic persons: lesser resistance always means duller sound. But you still need to listen to every plate record player with your ears.
FAQ
Do I need an amplifier for my turntable?
Turntables need an amplifier to produce a sound. While it is possible to hook them up directly to speakers if you want, you're much better off using a dedicated amplifier. Your amp should have at the very least one phono preamp input, which will allow you to connect your turntable without having to purchase any additional equipment.
Can you use computer speakers for the record players?
Yes, you can use computer speakers for your record players.
Do I need a receiver for the turntable?
It's entirely up to you. You could connect it simply by using the line out on your turntable and plugging this into either your stereo or TV or anything else that will play your records.
How do I know if my record player has a preamp?
Most turntables have a preamp built-in, but you could always add one if needed. On the back of your turntable should be a set of red and white cables which connect to your speakers. If it has these connections, then you already have a preamp built-in. If not, there will most likely be a spot to plug them in.
How do I hook up my record player to speakers?
Hooking up your record player to speakers is also an easy process that involves plugging in the line out on your turntable into the speaker input on whatever unit you want. You can then either connect it with RCA cables or with speaker wire.
When should I replace my record needle?
You should replace the needle on your turntable whenever it begins to sound distorted or pops and clicks excessively. How often this happens will depend on how much you use your system, but you'll typically notice it before it gets bad enough that you can't listen through it.