The best record players can bring out subtleties and rich tones in your favorite songs that you might not have noticed before. But with so many models on the market, how do you choose the right one for your needs?
In this article, we'll look at top-rated record players in various price ranges, from budget-friendly options to high-end turntables. I'll also give you some tips on what to look for when shopping for a TT, so you can ensure you get the perfect model for your home audio setup.
So whether you're just getting started with vinyl or looking to upgrade your existing turntable, read on for my picks of high-quality spinners.
Best Record Players Comparison Table
How to choose the right record player?
Whether entry-level or high-end, a quality record player is a significant investment you'll use for your precious gems – your LPs. And you don't want to harm either of them! Therefore, only careful purchase planning and proper setup will guarantee superior results.
So, keep in mind the following to select a great vinyl player that will satisfy all your needs:
Learn the basics of turntables
Before you start shopping for a record player, you should at least superficially study the basic principles of turntable operation and what components it includes. It'll allow you to understand better what to expect from different models and how you can upgrade your deck in the future.
The very first thing you must consider is the turntable's type of operation:
Automatic – no manual operations are required, TT starts playing when you place the needle on the record. This is the most convenient system to use, making it great for beginners.
Semi-automatic – the tonearm is raised, and the platter is stopped automatically, but the tonearm must be placed back on its support at the end of each playback.
Manual – requires you to lift the needle and place it on the record yourself. Some audiophiles prefer manual turntables because they believe it results in less wear and tear on both the record and the stylus.
The second thing you should decide on is the system type:
Belt-drive – such a system is quieter and tends to produce less vibration, resulting in better sound quality.
Direct drive – this system is more durable and can withstand the rigors of heavy use. That's why it's typically found on DJ turntables.
Determine the features you need
Now that you know the basics, it's time to start thinking about what features you need in your new record player. This will help you focus on the right models and avoid wasting time looking at decks that don't have the features you need.
You may want the following features:
Further, you'll need to choose between traditional and all-in-one models. Traditional turntables are usually quite heavy with metal or glass platter and a separate tonearm & cartridge. Contrariwise, all-in-one TTs are compact, portable, self-contained units with built-in speakers, making them a good choice if you want to take your music on the go.
Determine your budget
Of course, your budget is a crucial consideration when searching for a new record player. There are excellent alternatives available at all price points, from entry-level machines costing about $100 to top-notch audiophile turntables costing several thousand dollars.
So, how much money should you spend on a good record player? That depends on a number of things, including your listening habits, the genre of music you prefer, and how important sound quality is to you.
If you're new to vinyl, you should start with a low-cost choice, but make sure it's upgradeable so you can improve your listening experience in the future.
On the other hand, if you're a seasoned vinyl listener or want a turntable for professional DJing, you should definitely go with a higher-end machine. These turntables often have premium-quality components and more features, making them worthwhile for committed music fans to pay the extra money.
Best record players reviews
Best record players under $1000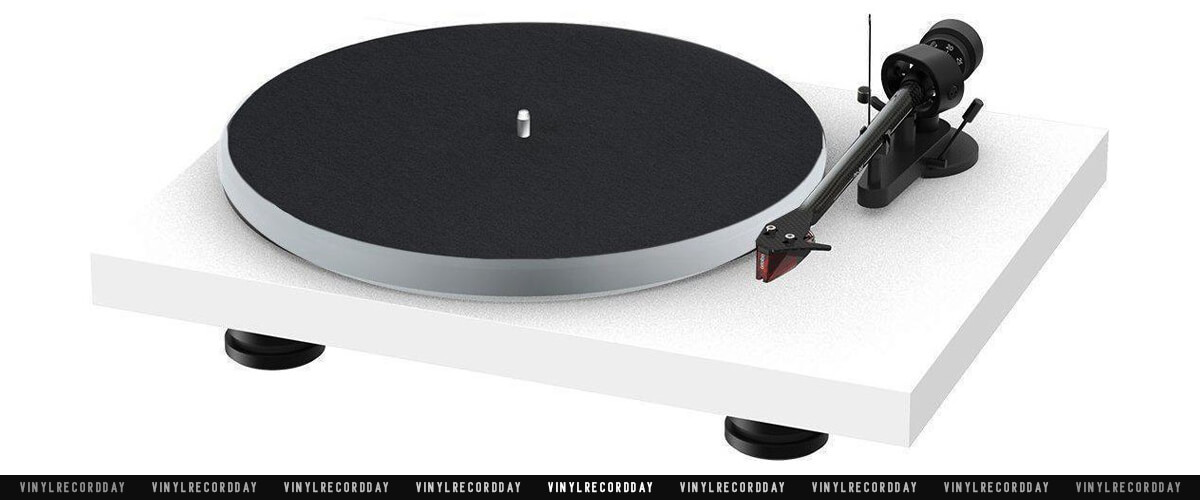 Millions of vinyl enthusiasts love Pro-Ject turntables, whether they are entry-level or high-end versions, making them a significant participant in the industry. Actually, this brand never fails to manufacture top-quality audio gear, but with the Debut Carbon EVO, it has even outperformed itself!
I consider this model a top record player under $1000 for many reasons. First off, it's an improved successor to the much-loved Debut Carbon. Next, the TT's machinery is of the highest quality, making it an audiophile-grade product that is sure to take your music listening habits up a notch.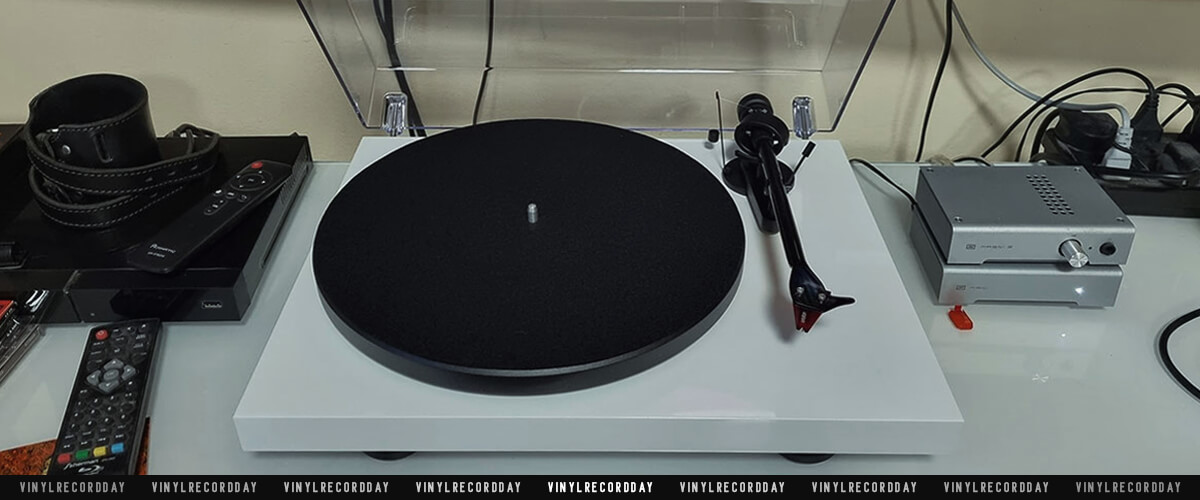 The EVO features an upgraded motor suspension that reduces vibrations for a clear, distortion-free sound. The durable solid body is outfitted with adjustable metal feet for easy leveling, while the one-piece carbon fiber tonearm ensures precise tracking of your records. The included Sumiko Rainier phono cartridge is factory pre-installed and accurately aligned, making it a great all-rounder that will play all types of music well. And if you ever want to upgrade the stylus, you'll easily do this thanks to the simple design. However, I'm sure you'll love the sound the existing combo of cartridge and needle produces – warm, transparent, with great nuance, tone, and depth.
The heavy steel & TPE platter ensures noiseless function, while the three-speed (33/45/78 RPM) settings allow you to enjoy all your favorite genres of music.
Audio-Technica AT-LP7 – best under $1000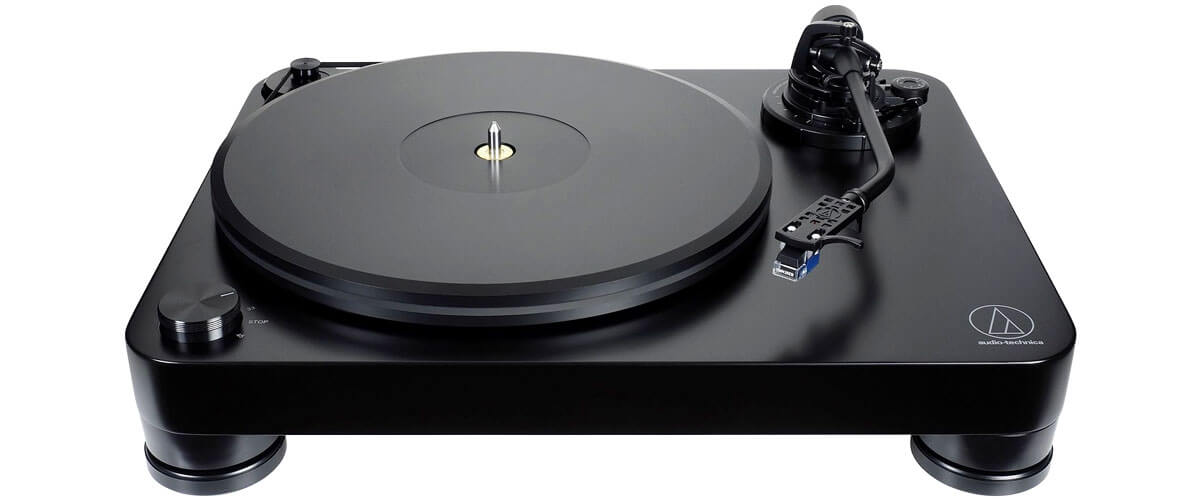 Looking for a turntable that will provide you with quality sound and years of faithful service? Then check out the Audio-Technica AT-LP7 – a model that tops audiophiles' lists. The Audio-Technica brand is renowned for its quality, so you can rest assured that you're getting a great product.
The AT-LP7 is a manual belt-drive table with premium-quality components. That means no more skipping or scratching, and you can easily change speeds between 33-1/3 and 45 RPM.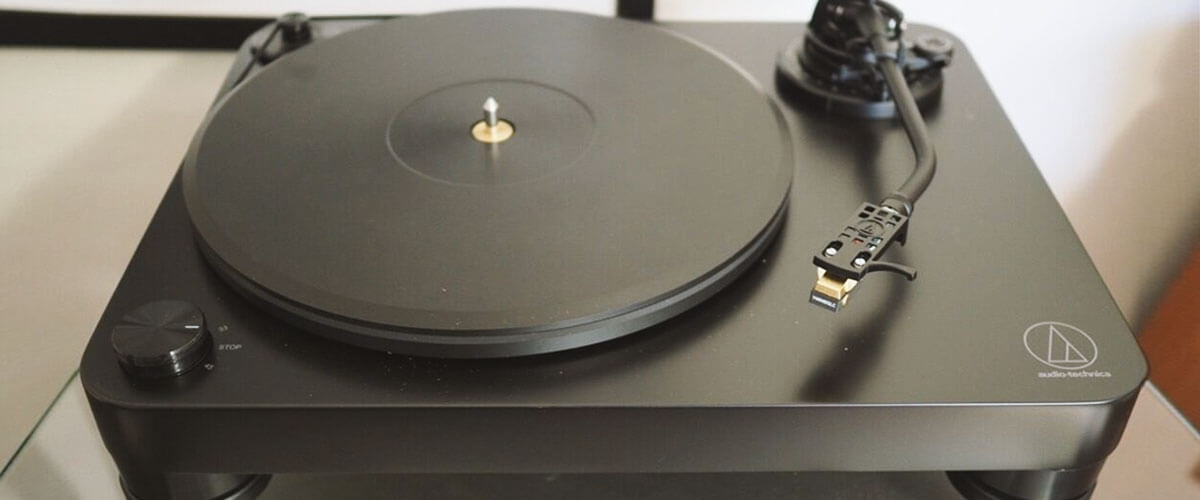 To guarantee proper platter rotation, the motor is equipped with a speed-sensing system, while the DMM cartridge provides superior channel separation and a wider frequency range. If you want to experiment with the sound, you'll be able to upgrade the included stylus to another from the VM series. The next thing I love about the AT-LP7 is its professionally-made J-shaped tonearm that ensures excellent tracking. All these components and the thick, substantial, & firm anti-resonance platter contribute to the superb sound – you'll hear lots of air in the highs, clean mids, and fast deep bass. Finally, the built-in switchable phono preamp means you can just plug the TT into any stereo system and start listening to your favorite records.
Best record players under $500
Fluance RT85 – best under $500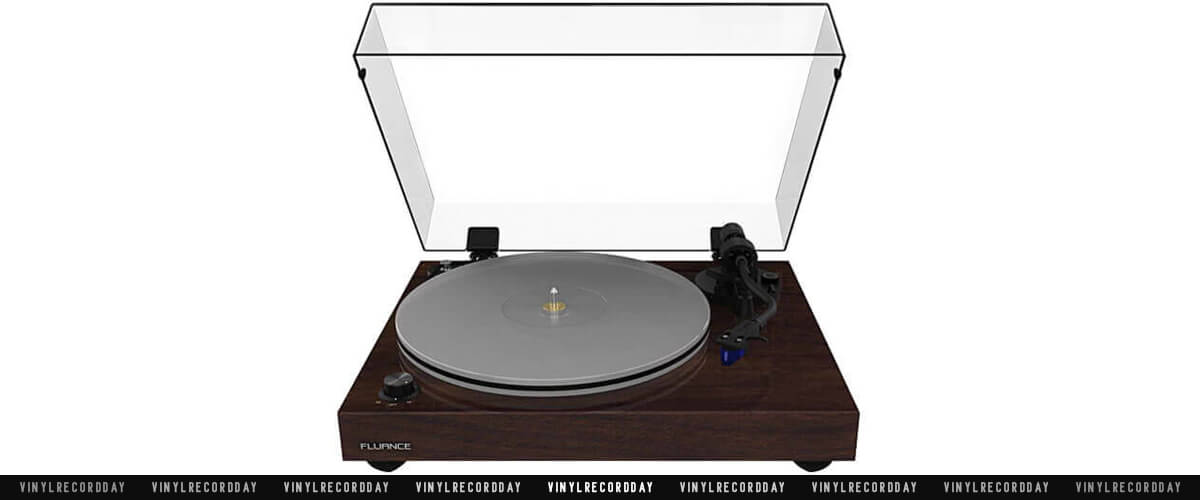 Fluance is a Canadian brand that has been in operation since 1999, when it began making speakers. As time went on, their interest expanded to encompass turntables and other audio gear. The RT85 is their premier mid-range offering, recognized as the best turntable under $500 by professional reviewers, and it's worth noting that I completely agree with them.
The RT85 is a perfect example of how precision and quality craftsmanship can come together to create an amazing product. Its smart construction – high-mass plinth, acrylic platter, adjustable resonance-absorbing feet – reduces any unwanted vibrations even without a mat. Thanks to it, you get an incredibly clear and dynamic sound.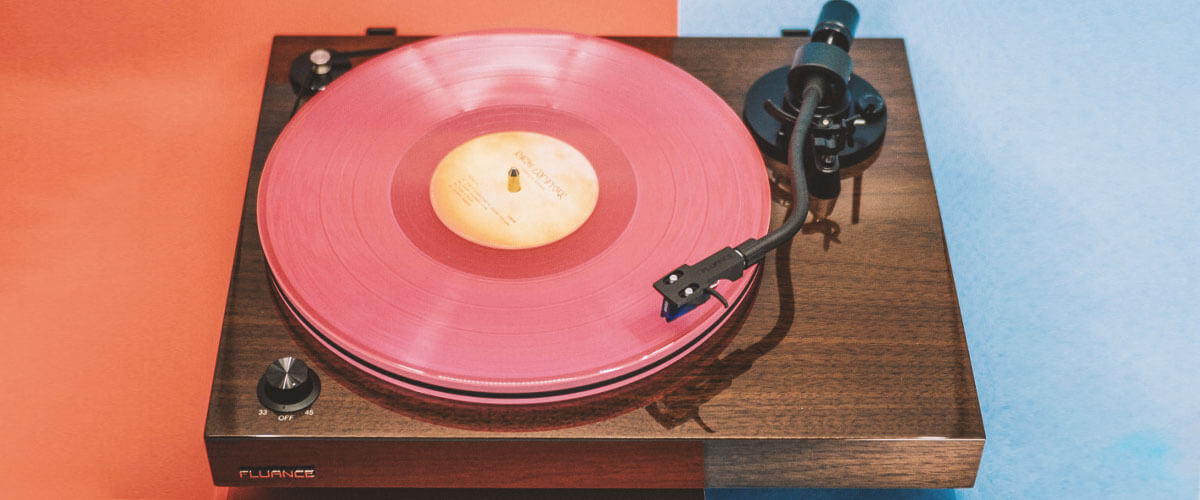 The thing #1 I love about the RT85 is its expensive Ortofon 2M Blue cartridge, making this table seriously comp with machines costing 2 or 3 times the price. The cartridge effectively reduces distortion, improves consistency and channel separation, resulting in a 3D sound with deep but not overwhelming bass, a richer middle, and overall better clarity. Even my older LPs have plenty of life when played on this babe!
Pro-Ject T1 Phono SB – with phono preamp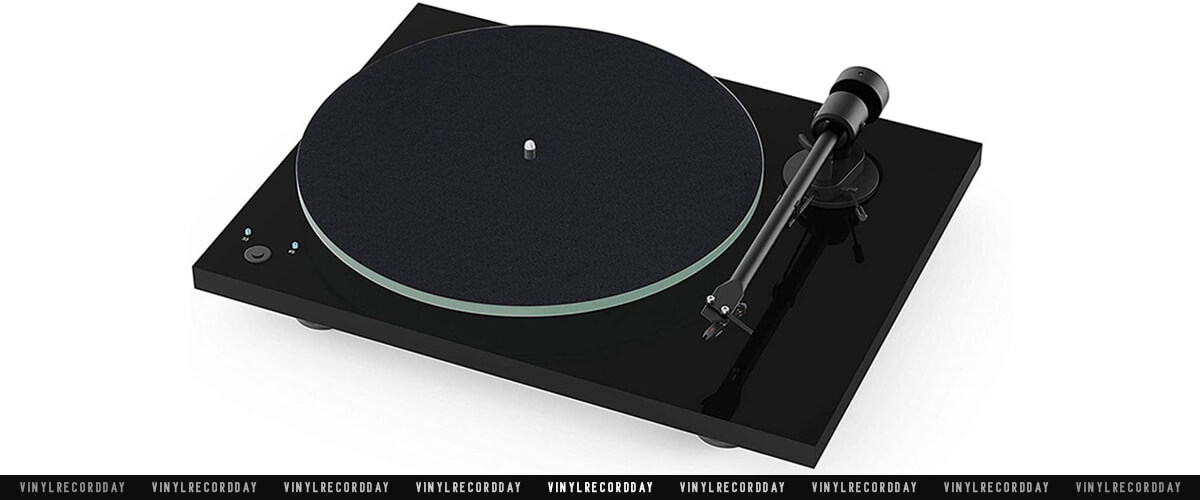 Pro-Ject T1 Phono SB is a T-Line turntable with a built-in bypassable phono stage for easy connection to any audio system. This product is nominated as the best vinyl record player with a phono preamp in this review, and I totally agree with its author. Just take a look at its skillful engineering!
The T1 Phono SB's CNC-machined base doesn't contain any plastic elements, implying that there are no hollow spaces inside. This type of architecture successfully lowers resonance and vibrations, preventing sound from deteriorating. Furthermore, an 8mm thick bead-blasted glass platter runs nicely on any record surface while maintaining perfect speed consistency.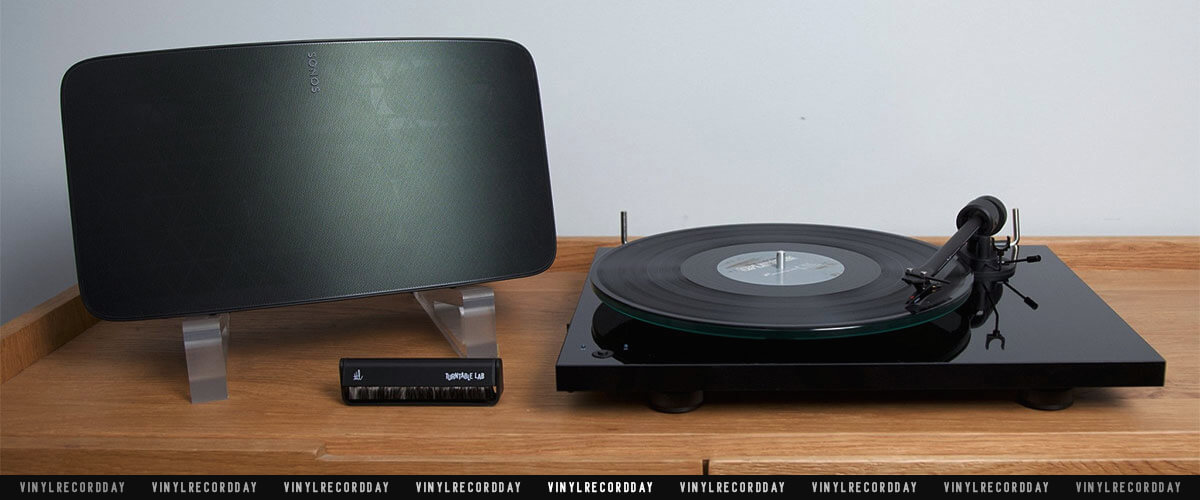 In conjunction with the Ortofon OM 5E cartridge, the integral solid tonearm provides excellent audio quality. Furthermore, the included Allen key enables adjusting the tracking force on the stylus for even better performance. Finally, the spinner comes equipped with a 7″ mono converter and a power supply, so you can start listening straight away.
Best record players under $300
Fluance RT82 – best under $300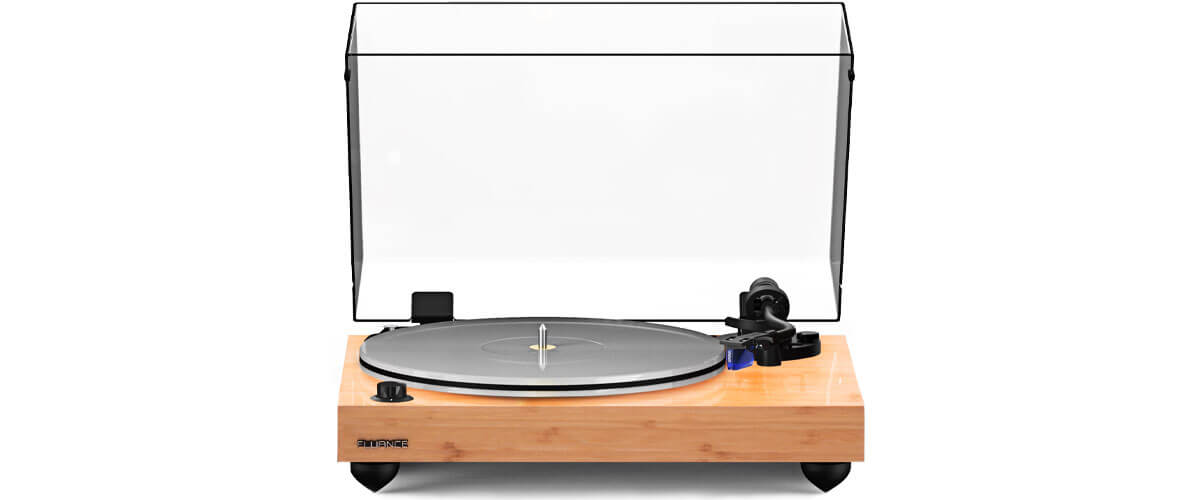 Fluance has again gladdened its fans by releasing an inexpensive but high-quality model, RT82. The manual turntable features an isolated motor, just like far more expensive models out there. Such a system eliminates any undesirable vibrations and resonance, ensuring you'll always have a clear and accurate sound. Additionally, the efficient speed control system keeps the platter velocity constant, so there's no speed fluctuation.
With the S-shaped tonearm and Ortofon OM10 elliptical cartridge, you can be sure that everything will sound great right off the bat. I love that the RT82 delivers warm, bright, and detailed sound with a full body presence.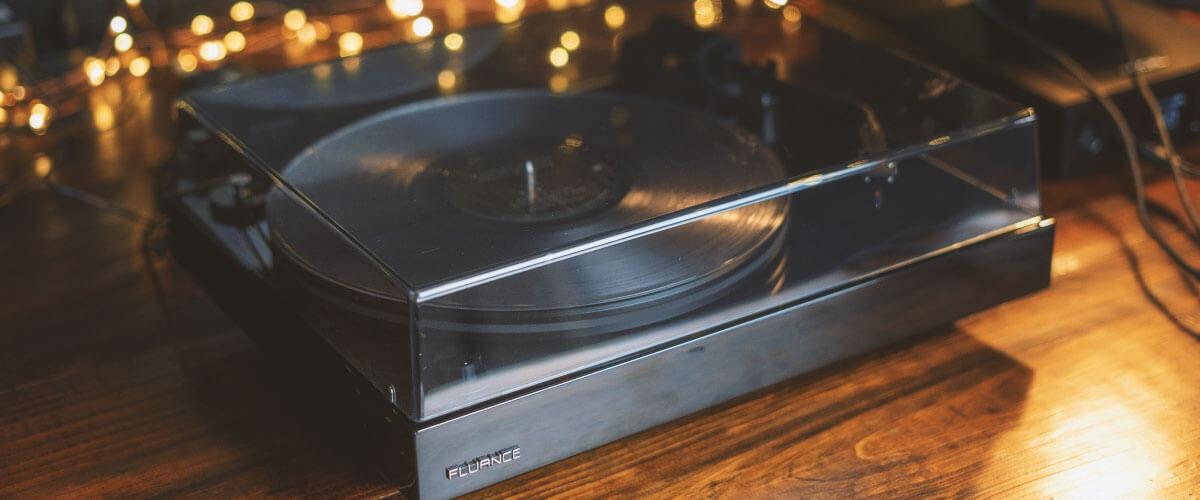 To top it off, this model boasts a solid wood plinth with a metal platter and adjustable damping feet (the same as its big brother, the RT85), so it not only looks gorgeous but also eliminates vibrations.
Electrohome Kingston 7-in-1 – all-in-one turntable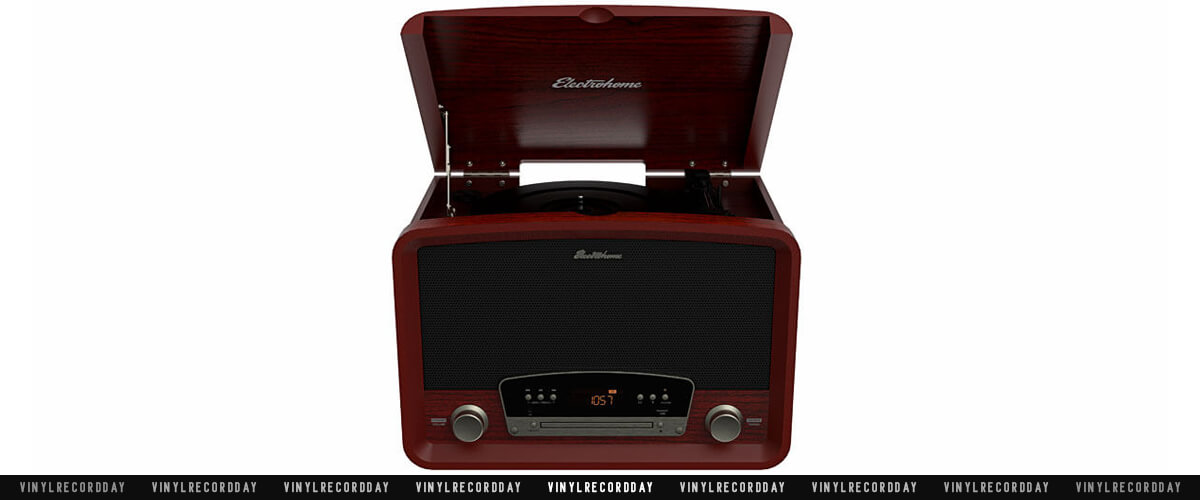 Electrohome is a market veteran that has been in business since 1907. This company creates one-of-a-kind sound systems with a vintage look and modern functionality. The Kingston 7-in-1 is no exception; it is an all-in-one record player that is suitable for both novice and experienced vinyl enthusiasts.
The spinner features 3 speeds – 33, 45, or 78 RPM – distinguishing it from rivals who usually have only two speeds in this price range. Another reason to love this model is its high-quality built-in speakers, which generate not too loud but enjoyable sound. In addition, Kingston 7-in-1 boasts nice add-ons – Bluetooth, an AM/FM radio, a CD player, and a USB port.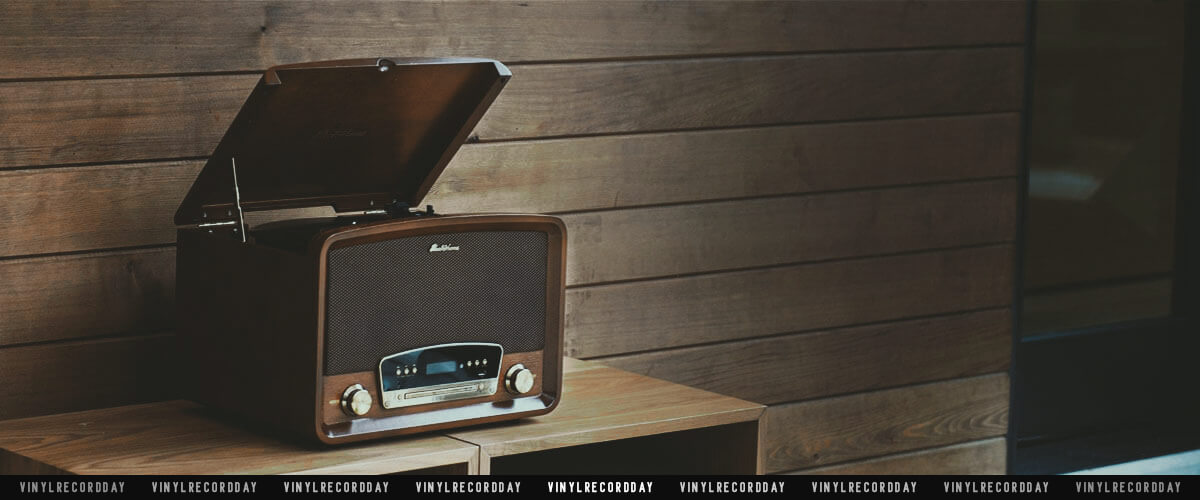 Lastly, the handmade wooden body is really lovely, with a sleek retro style that complements mid-century decor. The housing is also acoustically designed to minimize vibrations and audio deterioration. As a result, this babe sounds every bit as good as it looks!
Best record players under $200
Audio-Technica AT-LP60X – best under $200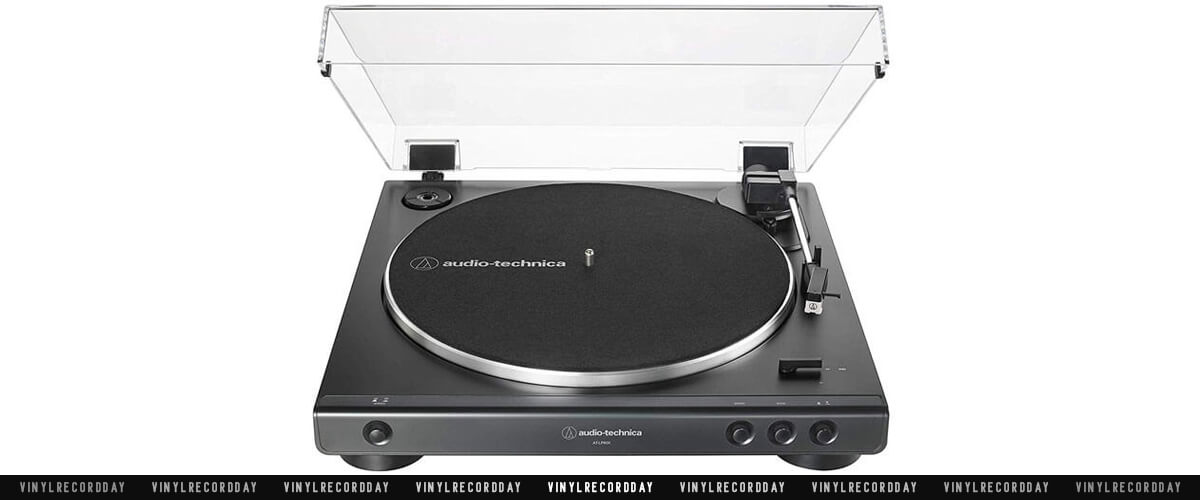 I purposely included several Audio-Technica products on my list – all turntables from this manufacturer employ high-performance phono cartridges, which are the brand's specialty.
The AT-LP60X is Audio-Technica's best entry-level record player with classic features and top-quality components. Beginners will undoubtedly value the absolute simplicity of use provided by the fully automated system.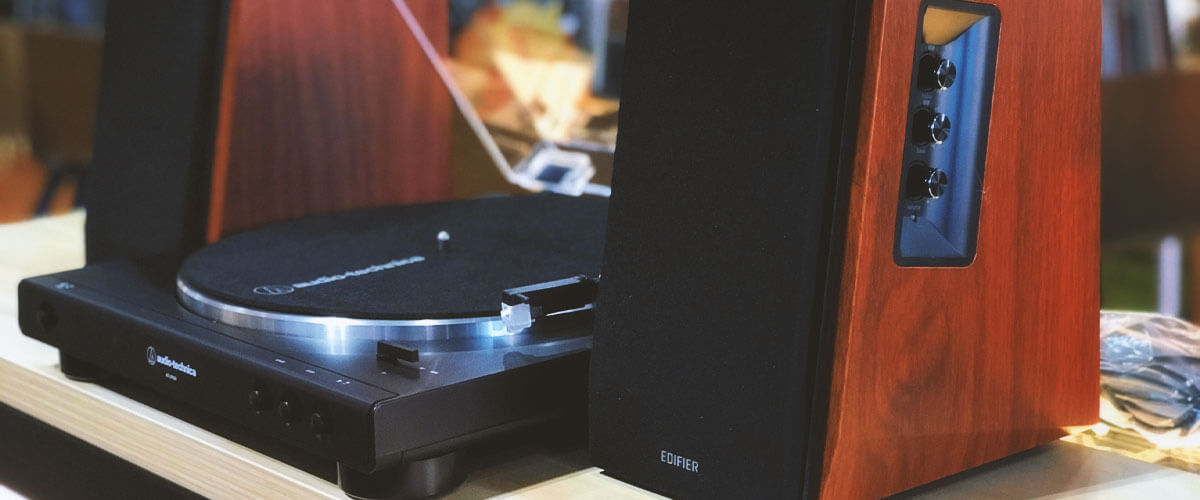 The table spins records at 33 and 45 RPM and has a strong 300W DC servo-controlled motor that can really amp up the volume of your tunes. Next, the sturdy die-cast aluminum platter is resistant to vibration and noise, while the tonearm base and headshell have been beefed up to guarantee accurate tracking. Furthermore, the system contains a high-quality dual magnet cartridge with a changeable needle, ensuring that your turntable will continue to sound fantastic for years to come. These components contribute to delivering great sound – clear and natural, with warm tones and delicate treble.
The included AC adaptor does all of the AC/DC conversion outside the enclosure, reducing noise in the signal chain. This turntable also has an integrated switchable preamp, allowing you to connect it to your current audio setup.
Crosley C100BT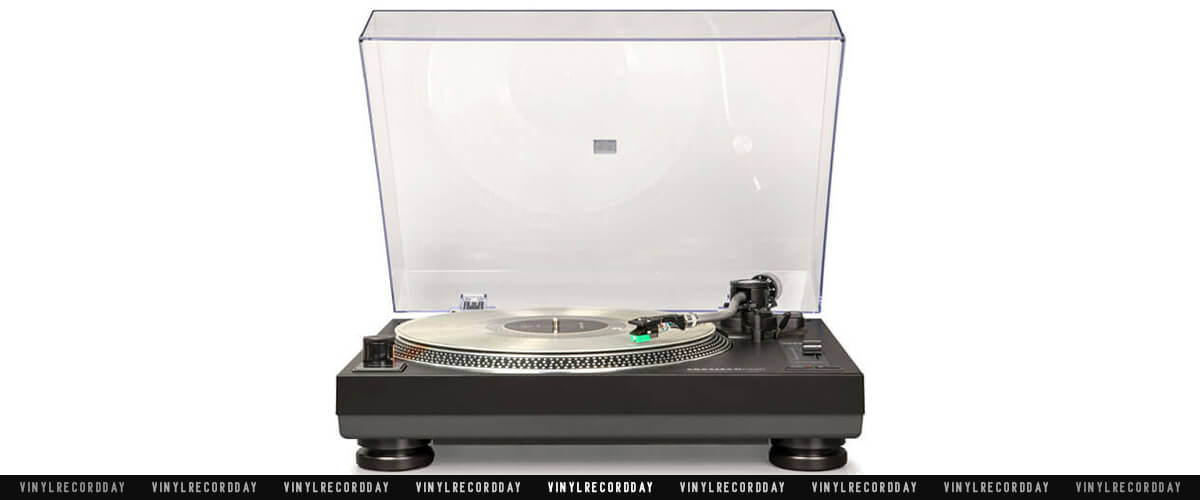 With over a century of experience, Crosley has been making inexpensive yet high-quality record players.
Their C100BT model seems to be the perfect compromise between price and quality because it has all the essential features and is made with high-quality materials. So, it's just a great option for beginners.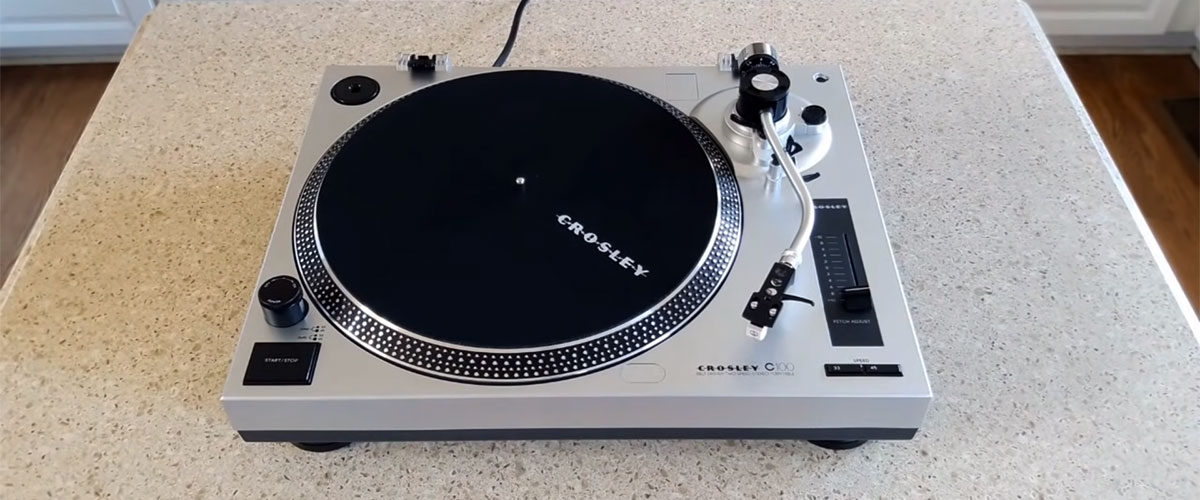 You'll easily get into the groove with the help of this belt-driven, two-speed turntable's S-shaped aluminum tonearm and AT95E cartridge. The tonearm also features an adjustable counterweight for fine-tuning the playing weight. Additionally, a pitch control that allows for both pitch and tempo manipulation may be appreciated by more advanced users.
And last but not least, the C100BT provides everything you need for an improved listening session: Bluetooth, an RCA connector, and a 45 RPM converter.
Best record players under $100
ION Audio Premier LP – best under $100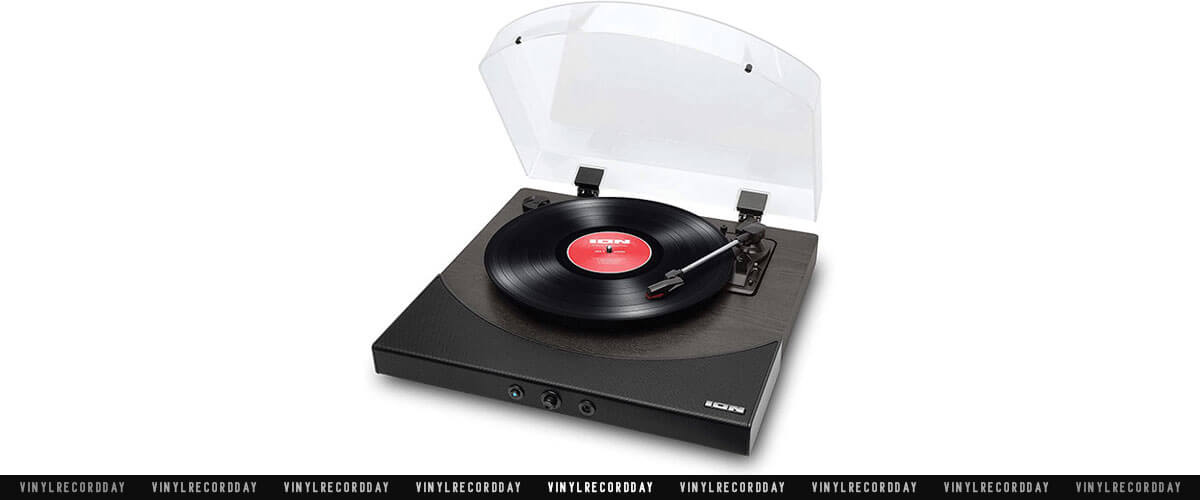 With so many useful contemporary features, ION Audio Premier LP is a the smart way to start your vinyl journey!
To begin with, the player turns off automatically after the playback is finished, which is very convenient for new vinyl listeners and those who enjoy nodding off to music.
Next, it boasts an 11-inch platter, allowing for consistent playing even on wider tracks, and 78 RPM playback in addition to 33 1/3 and 45 RPM.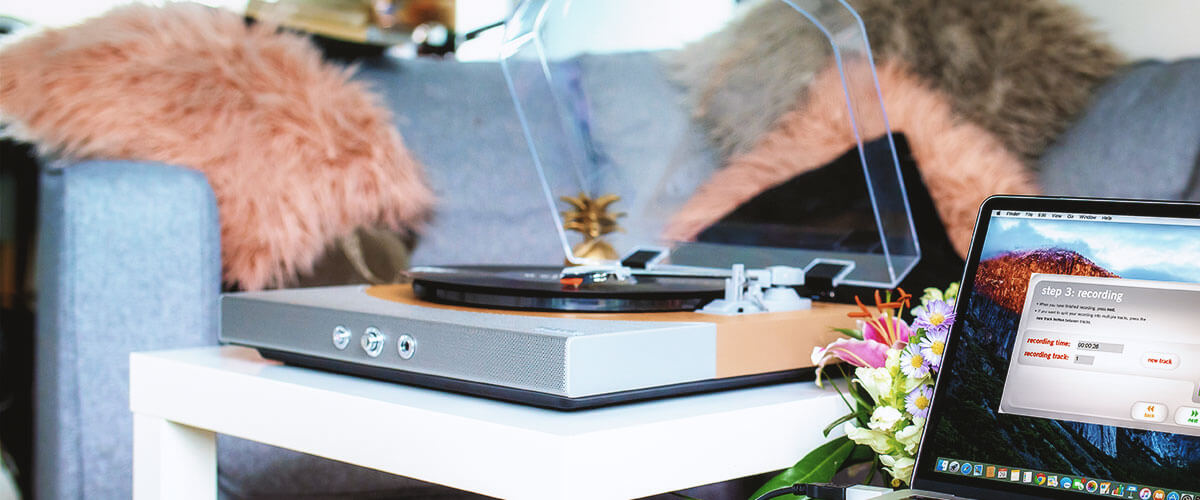 Thanks to the built-in Bluetooth, wireless streaming is available up to 40 feet away from any compatible speakers. In addition, the deck incorporates a USB connector for easy conversion of recordings to digital format. There is also an auxiliary input jack for use with other media players like CD, cassette, or MP3 players. You can effortlessly connect external monitors and other audio gear due to the RCA outputs.
Even better, the Premier LP's integrated speakers deliver room-filling sound with tight bass, soft mids, and accurate highs, making it an ideal focal point of your listening experience. This TT's comprehensive functionality sets it apart from its competitors and places it at the top of articles analyzing budget-friendly spinners.
Crosley Cruiser Deluxe – portable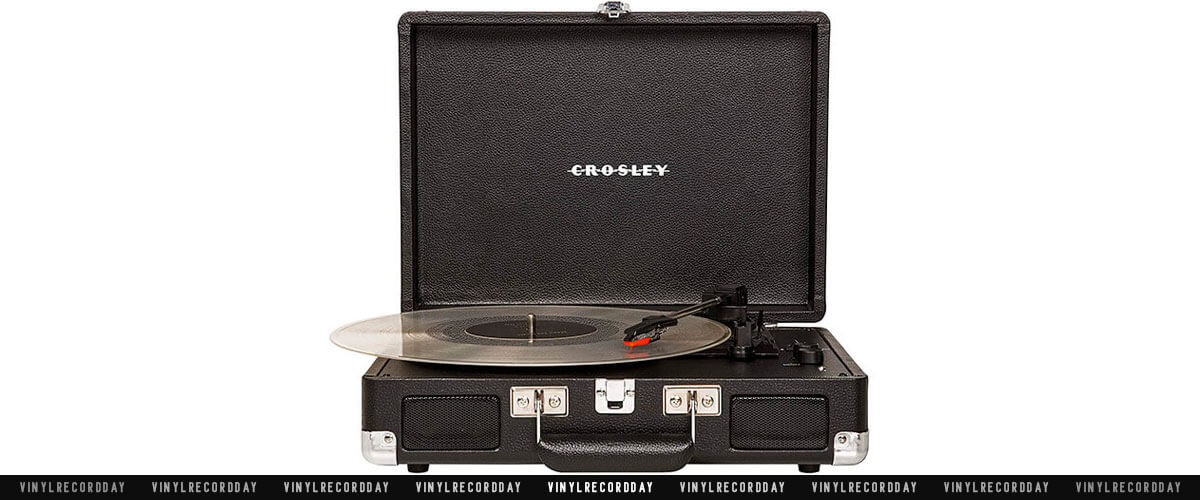 Looking for a vintage vinyl experience? Look no further than the Crosley Cruiser Deluxe listed here as a great portable turntable.
This suitcase-style turntable is one of the world's most popular, and it's easy to see why. It's adorable and lightweight, making it perfect for taking your music on the go. And its chic design is sure to turn heads.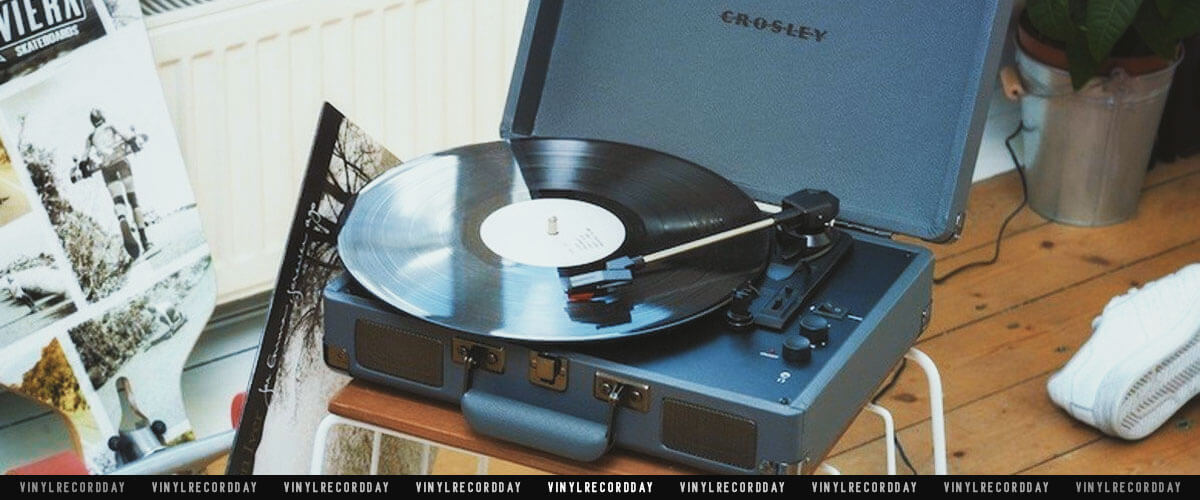 But the Crosley Cruiser Deluxe is more than just a pretty face, it also packs a powerful punch. Its built-in Bluetooth receiver allows you to stream your favorite tunes wirelessly from up to 10 meters away, and its full-range stereo speakers provide good sound quality – clear and detailed. Of course, it can't deliver audiophile-level quality, but still, you'll feel the magic of analog performance. In addition, its adjustable pitch control and cueing lever make it easy to get the perfect sound every time.
Best premium record players
Marantz TT-15S1 – best under $2000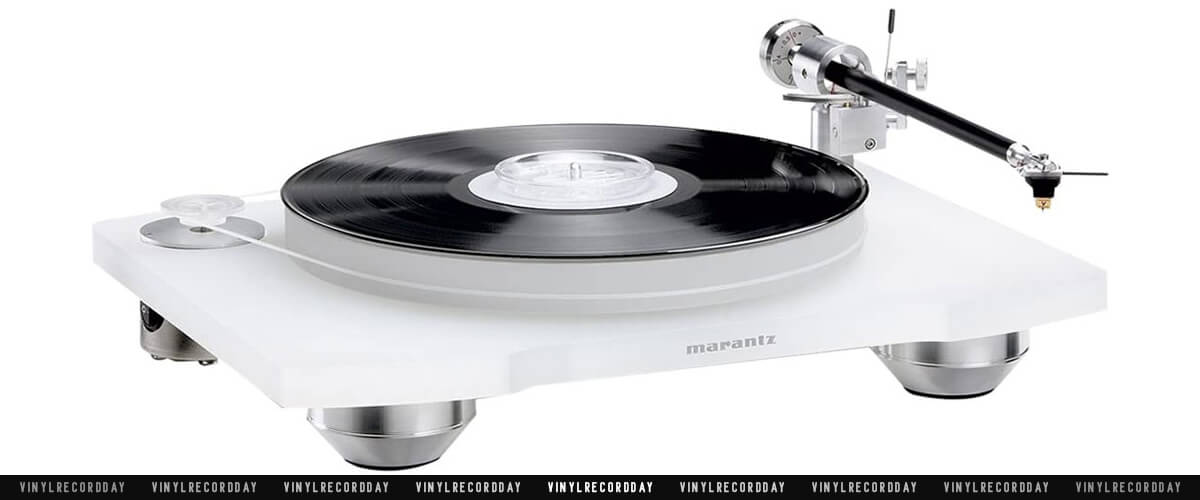 Ready to break into higher-tier audio equipment? Marantz has a lot to offer! This brand has been at the forefront of audio and video system innovation for 60 years. Their premium line of products offers the highest quality sound and stereo listening you could hope for.
The TT-15S1 is a real workhorse, built to last with some of the premium materials money can buy. The reference class anodized aluminum manual tonearm is a thing of beauty, and the Virtuoso MM Cartridge ensures that you'll be getting the finest sound quality possible out of your vinyl collection. But this model isn't just all looks – it's got the performance to back it up. The 3 height-adjustable solid aluminum feet provide a stable foundation for even the most irregular surfaces, and the precision AC asynchronous motor means that your music will always sound crisp and clear.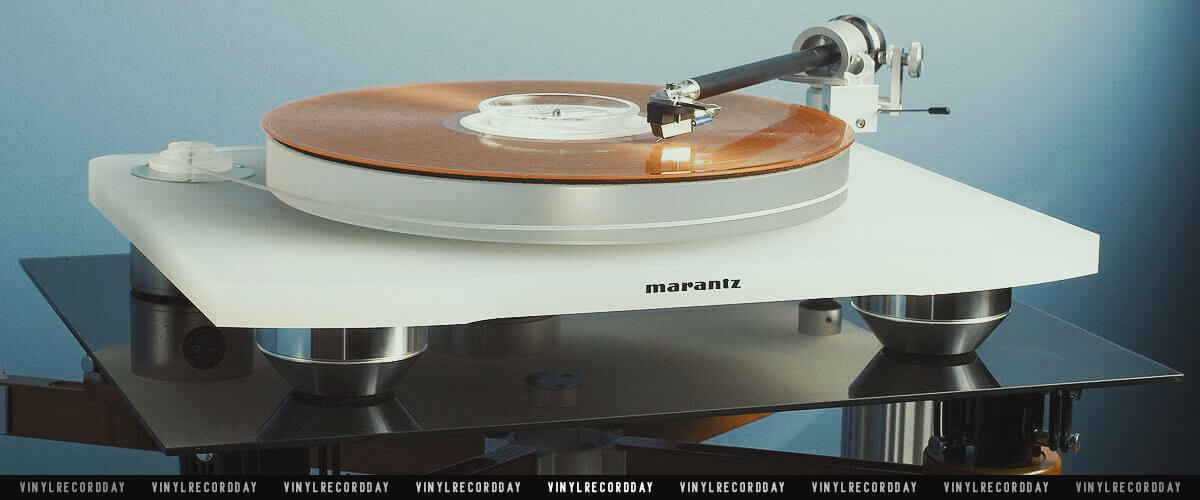 In all honesty, I was blown away by the sound quality – everything sounded expertly realistic and alive, and every audible characteristic had its own room to be heard on a wide but controlled and inviting soundstage. Just love it!
Technics SL-1200MK7 – for DJs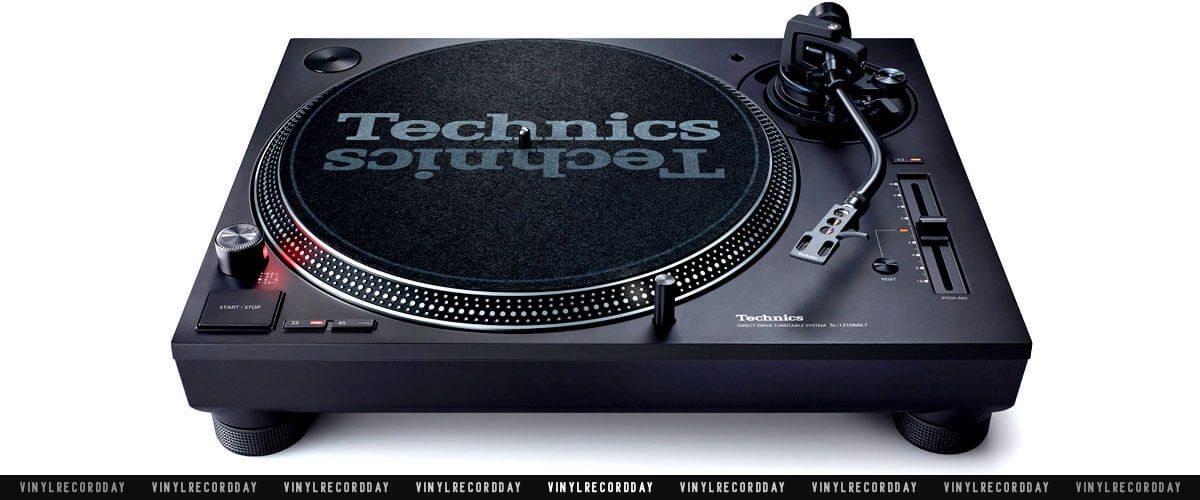 Technics SL-1200MK7 is a DJ-focused deck that can keep up with your fast-paced, high-energy sets.
This powerful TT features a coreless direct drive motor that provides stable rotation, so you can keep the beat going all night long. Plus, with its diverse new functions, the SL-1200MK7 is adaptable to any style of DJing. So whether you're into scratch mixing or beatmatching, this deck has you covered. And if you need to make adjustments on the fly, this model allows easy torque/brake speed adjustment and pitch control function. You can even use the reverse play function for some added flair.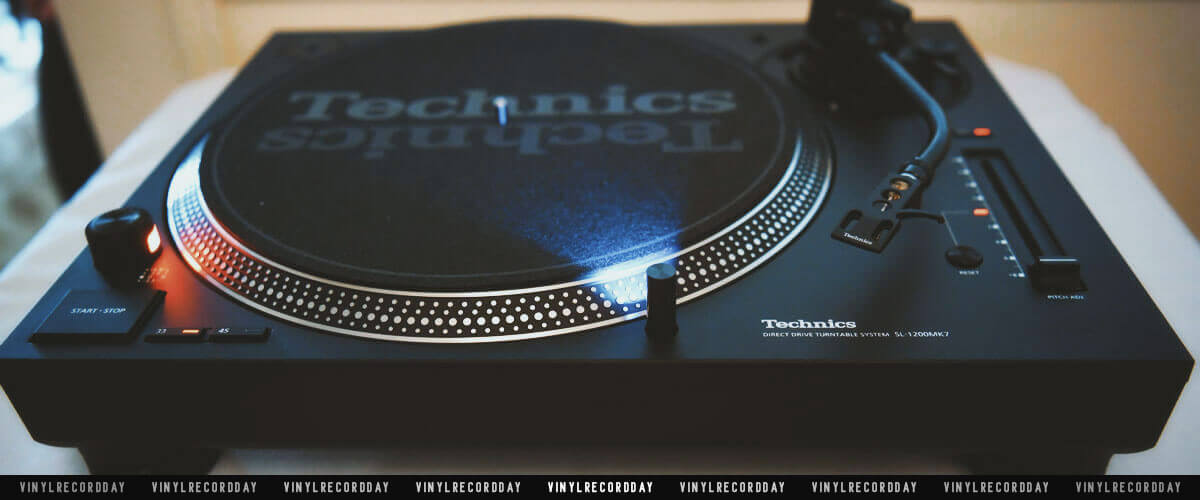 Furthermore, with its support for 78 RPM rotation speed, the SL-1200MK7 can handle any type of vinyl record. And when it comes to tracking, you'll appreciate the deck's highly sensitive s-shape tonearm and stylus illuminator with a high-brightness white LED.
For superior sound quality, this TT features gold-plated power/phono cable terminals. Plus, its high-rigidity cabinet and high-damping insulator help reduce vibration and feedback.
What do I need to set up the vinyl player?
After you've selected and purchased a cool record player, it's time to set it up correctly to get the finest sound quality.
Here are a few tips to help you get started:
Place your turntable on a stable surface.
Make sure the surface is level.
Use isolation pads to reduce vibration.
Connect your turntable to a stereo receiver or amplifier using RCA cables.
If your turntable has a built-in preamp, you can connect it directly to speakers using a speaker wire.
Position your speakers at least 3 feet away from the TT to avoid feedback.
Adjust the tracking force and anti-skate settings.
Calibrate the stylus pressure.
Clean your records before playing them.
As I mentioned above, there are all-in-one solutions that don't require any installation. So if you've bought such a model, all you need is to plug it in and enjoy your tunes.
FAQ
When it comes to finding the finest record player, there are a lot of factors to consider. Price, sound quality, and features are all important things to take into account when making your decision. However, the name also matters since it guarantees that the machine meets high industry standards. Some of the most popular brands on the market today include Audio-Technica, Fluance, Pro-ject, Rega, Electrohome, Crosler, Marantz, and Technics. Each of these brands has something unique to offer, from classic vintage styling to sleek modern designs.