Have an incredible vinyl collection? Want to keep it in great condition? Then you need one of the best record cleaners.
As its name implies, a record cleaner is a specially designed solution used to clean LPs. These solutions come in various forms and shapes (brushes, fluids, machines, all-in-one kits, etc.), but all work to keep your precious records in proper condition by removing any dust, dirt, or debris that may have built up on the surface. In addition, it helps to reduce noise and improve overall sound quality.
In this article, I've only rounded up top-rated vinyl cleaners that have proven themselves effective at doing their job. These cleaners are highly recommended by other vinyl enthusiasts and backed by satisfied customer reviews. Intrigued? Then let's get down to the details!
What can I use to clean a vinyl record?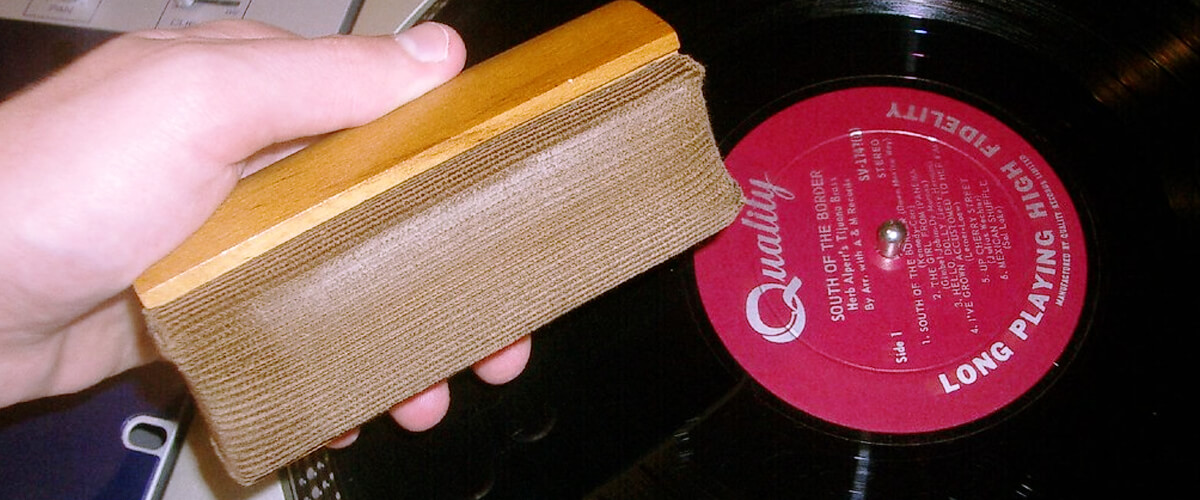 In short, to clean your records, you'll need a cleaning brush, a specific fluid solution, a record cleaning machine, or a cleaning kit for manual purge.
However, let's discuss in detail when & why you may need those instruments.
There are two ways to eliminate dust and dirt in the grooves – dry and wet cleanings. Those who love their records perform both methods, and rightly so! Such a combination results in fewer pops & clicks and helps keep your albums in shop-fresh condition.
Dry cleaning requires a vinyl brush – this tool can reach deep into the grooves and remove grime without harming the record's surface. Audiophiles recommend utilizing the brush both before and after each listening session.
For wet cleaning, you'll need to use a specific liquid solution for either manual or machined purge. This way, you'll remove all the contaminants collected deeply in your LPs. Of course, a specially engineered record-cleaning machine provides far better results than manual cleaning. But, on the other hand, good devices are pretty expensive, while cheap, poorly-made ones can damage records.
Besides, some audiophiles enjoy fiddling with their LPs and don't mind washing them up themselves – as for me, I find this process meditative. If you share this attitude, you'll need a quality kit for manual cleaning.
Whatever cleaning method you prefer, below, you'll find top-notch LP cleaners that will effectively handle grubby grooves.
Best record cleaning kit reviews
Spin Clean Record Washer MKII Complete Kit – best vinyl cleaning kit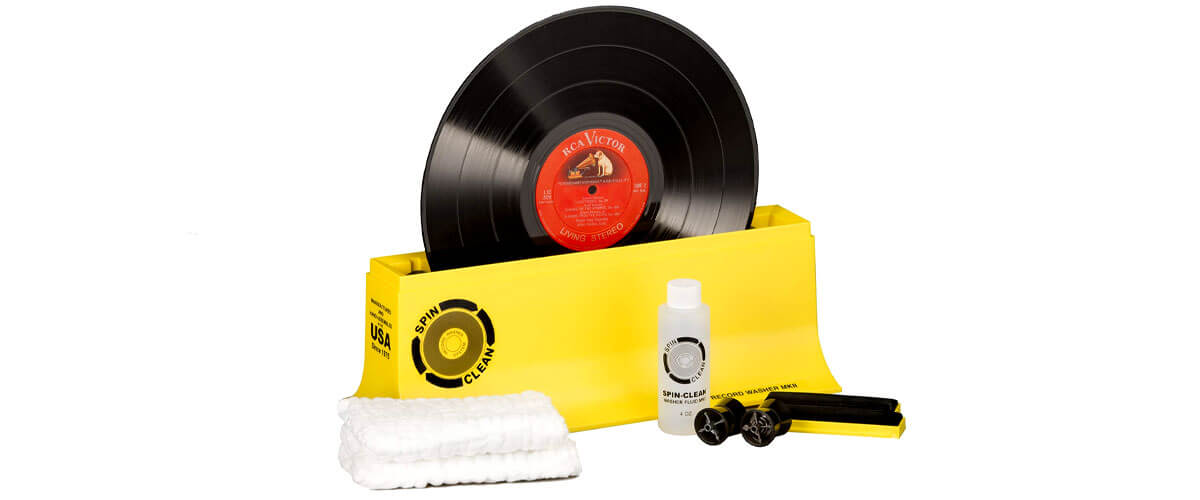 If your collection is not too big and you love tinkering with it, you'll definitely appreciate this vinyl cleaning kit.
Spin Clean Kit is a washer produced in the United States. It includes a container with a cover, high-quality brushes, robust rollers to hold several sizes of LPs (33, 45, & 78 RPMs), and two exceptionally soft, lint-free wipes. Furthermore, the alcohol-free MK3 vinyl record cleaning solution is gentle on your records while being harsh on filth and grime.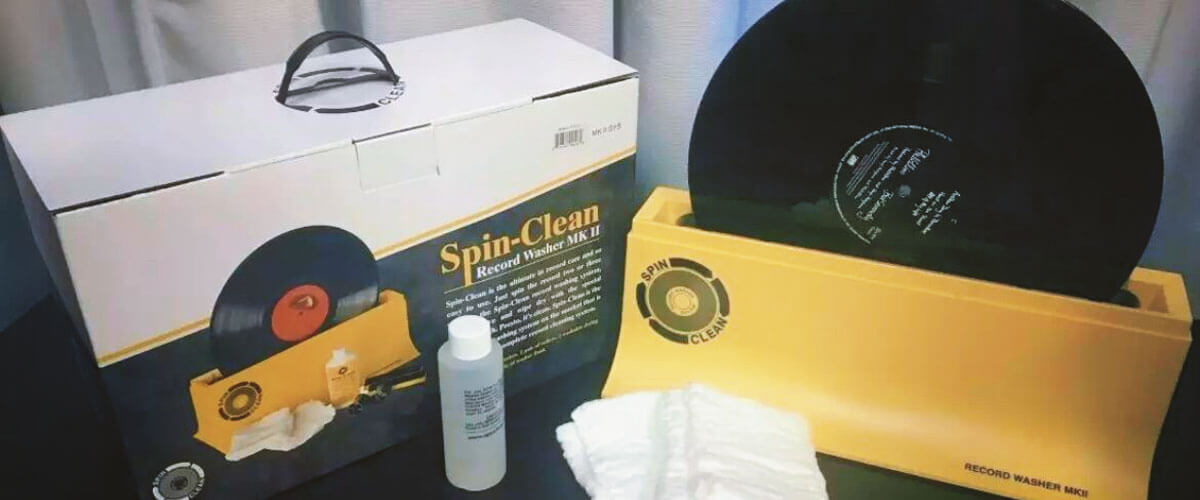 The kit is extremely simple to use; no assembly is required. Just align the brushes, regulate the rollers according to the size of your record, fill the container with water, add the solution, and you're good to go.
While testing, I washed my thrift-store albums with fingerprints, grime, and even scratches on them. And this lovely record bath did wonders! Of course, it didn't remove scratches, but still, my LPs got a deep purge and started to sound much better – the pops and hisses are virtually gone. Now, many of my old records sound brand new.
Spin Clean Record Washer MKII Complete Kit is the best record cleaner available in today's market – it does its job perfectly. The kit effectively removes dust, dirt, and static, making your records sound as good as they can. Plus, this babe is straightforward to use and store due to its smart construction. So, make cleaning enjoyable while giving your vinyl collection the care it deserves!
Key specs
Type: kit.
Vinyl types: 33, 45, and 78.
Dimensions (LxWxH), inch/cm: 15x9x6/38x23x15.
Include: vinyl record washer reservoir, alcohol-free, vinyl record cleaning fluid (4oz), pair of record-cleaning brushes, pair of durable rollers, soft, lint-free drying cloths (2).
Pros
Tried-and-true model – has been around for many years.
Feels sturdy.
Effortless to set up, use, and store.
High-quality, fairly tight brushes.
The bright yellow color allows seeing when the water needs changing.
Perfect price-quality ratio.
Cons
Towels need pre-washing, so you will not be able to use the kit right away.
If you wish to clean more than 10 LPs at once, you'll need to purchase more towels.
Vinyl Styl Deep Groove Record Washer System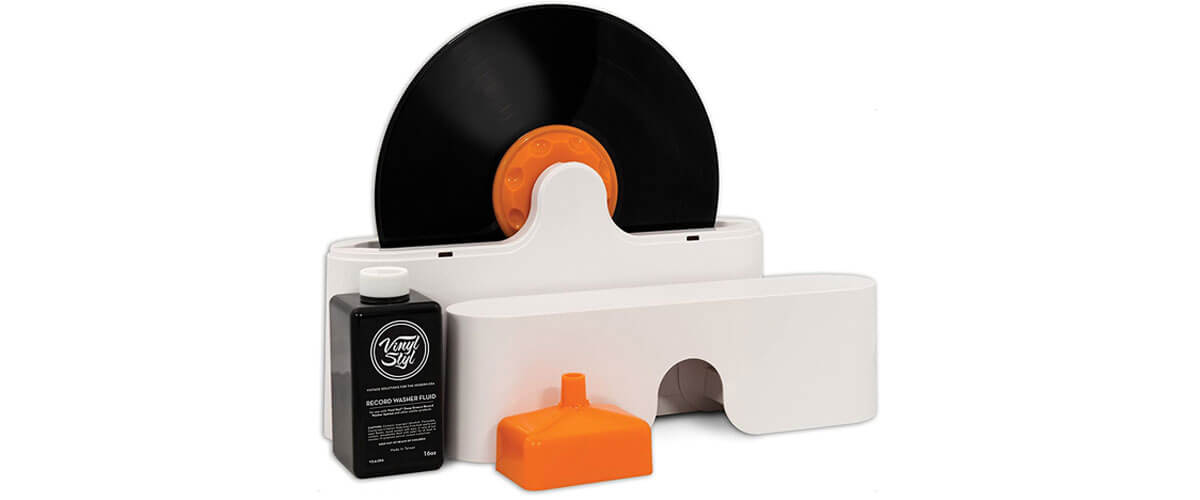 The chic and cutting-edge Vinyl Styl full washer system is designed to clean records of all sizes – 7″, 10″, and 12″ – and maintain their original level of freshness as if you had just purchased them.
All of the kit's components are well-thought-out and very user-friendly. For example, the reservoir with a cover keeps your washer solution from spilling, and the unique label clamp mechanism keeps your valuable vinyl labels from being wet. Furthermore, brushes made of soft, genuine goat's hair will pull the dirt out of grooves better than conventional pads. The Vinyl Styl's specifically developed washing solution is the second thing I truly appreciate – it effectively handled the LPs I believed had little chance of seeing noticeable changes.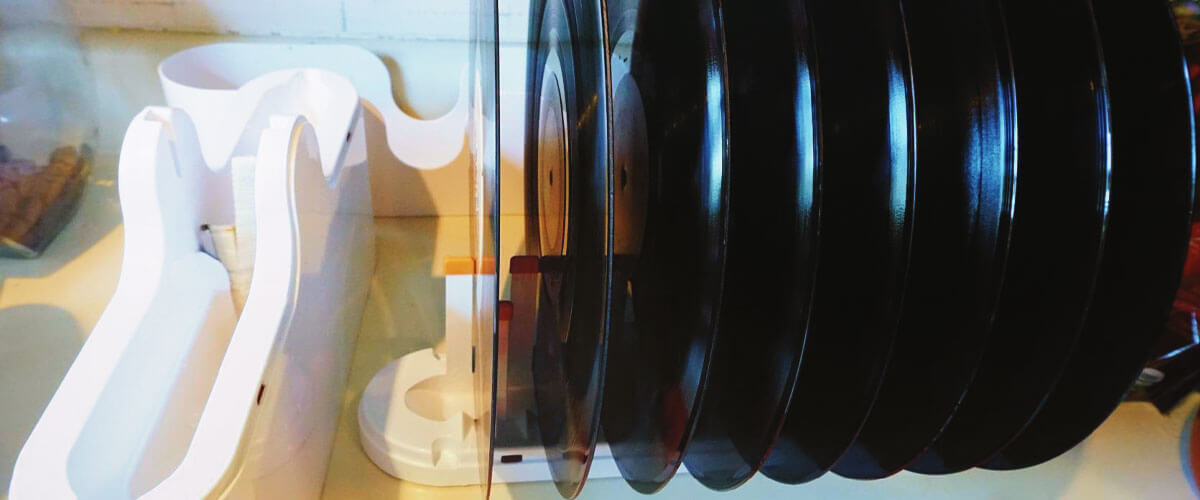 Once your records are sparkling clean, simply pop them on the drying rack to air dry. In no time, you'll be cranking up the tunes and enjoying them like never before.
Vinyl Styl Deep Groove Record Washer System is the best record cleaning kit in terms of design, functionality, and added bonuses. Look no further than this washer if you need an all-in-one package and want it to be beautiful!
Key specs
Type: kit.
Vinyl types: 33, 45, and 78.
Dimensions (LxWxH), inch/cm: 17x12x5/43x30x13.
Include: vinyl record washer reservoir, drying rack, vinyl record washer fluid (16oz), label protection clamp wheel, washer fluid reusable funnel, washer fluid strainer, washer fluid filters (3).
Pros
Included drying rack saves you money and effort – no need to buy or create another gear to hold wet recordings.
The system can be used right out of the box.
Terrific vinyl asset for a reasonable price.
Cons
VS liquid solution may leave some residue on washed records, but if you rinse your records with distilled water, then wipe them with a soft cloth before putting them in the drying rack, you'll see amazing results.
Fluid filters appeared useless.
It may be challenging to replace the brushes – the manual doesn't explain when and how you should do this.
Best record cleaning machine reviews
Record Doctor VI – best cleaning machine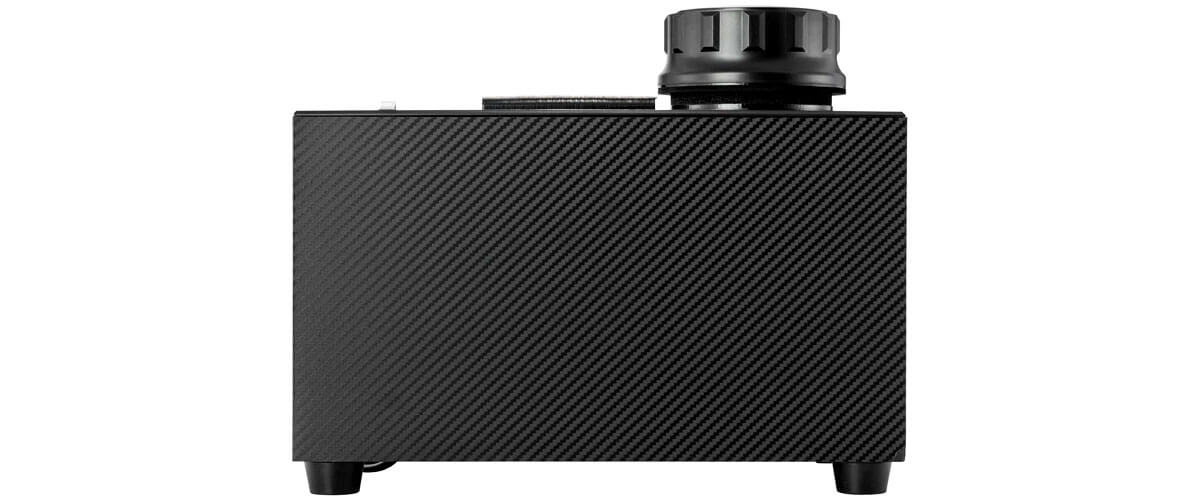 Do you love your vinyl collection but hate the thought of cleaning them manually in a water bath? Don't want to ruin your family budget by purchasing a high-end machine for these purposes? Well, there is an excellent solution for you – Record Doctor VI. This affordable yet efficient record washer will help you keep your collection in proper condition and enjoy the quality of your music recordings for a long time.
Record Doctor VI is an updated version of the classic Record Doctor V. And the VI is much better than its big brother – it features an improved stainless steel top plate, a more powerful motor, better suction, a quieter operation, and a bigger, more comfortable turner. Plus, this model comes with felt cleaning strips to help protect your records and extend their life.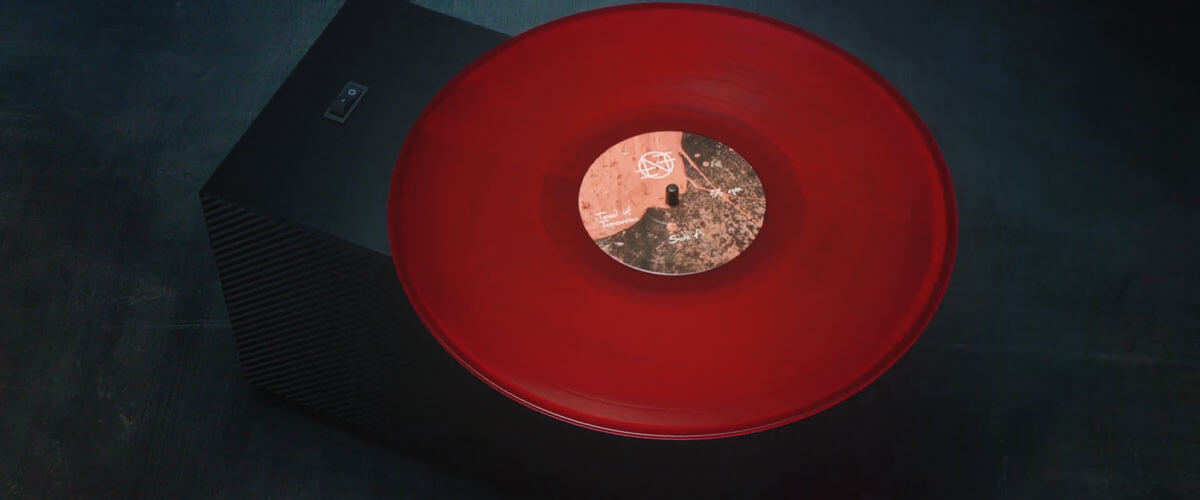 It is simple to operate the cleaner – all you need is to spray the fluid, distribute it with the brush, and then let the unit do its work. Your records will be sparkling clean and sounding great in a minute or two. Frankly speaking, the results are just fantastic – mold-covered albums become clean, 30-year-old thrift store LPs – like new!
Considering the price, ease of use, and functionality, Record Doctor VI is the best record cleaner machine today's market has to offer. This little beast will become a huge part of your record collection!
Key specs
Type: machine.
Dimensions (LxWxH), inch/cm: 22x16x12/56x41x30.
Weight: 11.5lb/5.2kg
Voltage: 120V.
Include: vinyl-protecting felt cleaning strips, fluid applicator bottle, applicator brush, illustrated instructions.
Pros
Durable body.
Hassle-free cleaning in almost no time.
Even very old records become more mellow and listenable.
LPs dry a whole lot faster.
Budget-friendly option.
Cons
It does not turn records – you must do it manually, but on the other hand, you get more control, and there is less to go wrong mechanically.
iSonic P4875II+MVR10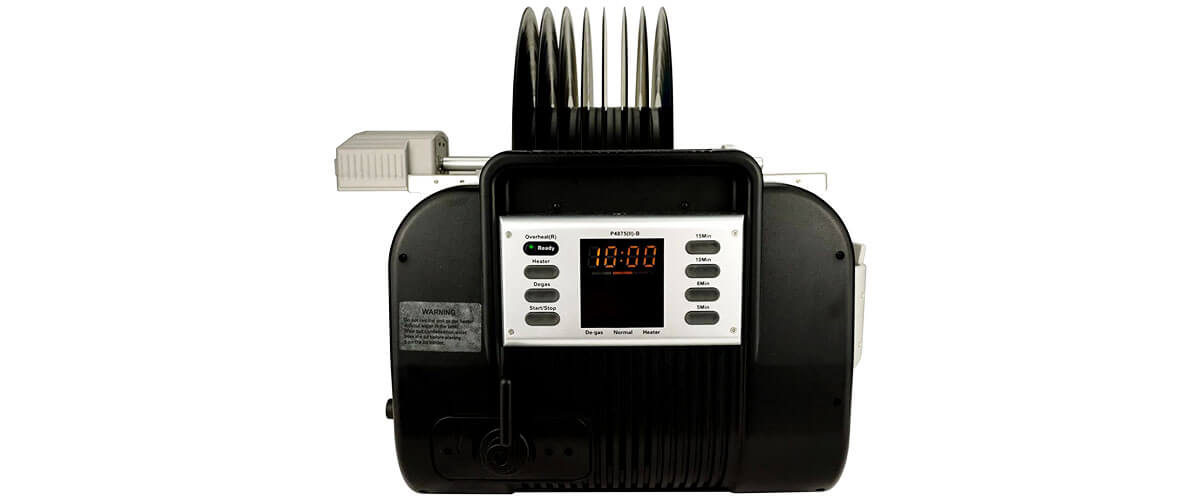 You can end your search here if you're an audiophile looking for a serious machine with excellent price/performance value since iSonic P4875II+MVR10 is exactly what you're looking for!
This strong industrial-grade ultrasonic washer will clean your albums quickly and thoroughly. Many knowledgeable vinyl enthusiasts state that ultrasonic systems successfully handle LPs that seem just hopeless. And I do agree with them! Personally, I heard large improvements in my old vinyl that I thought could not be helped.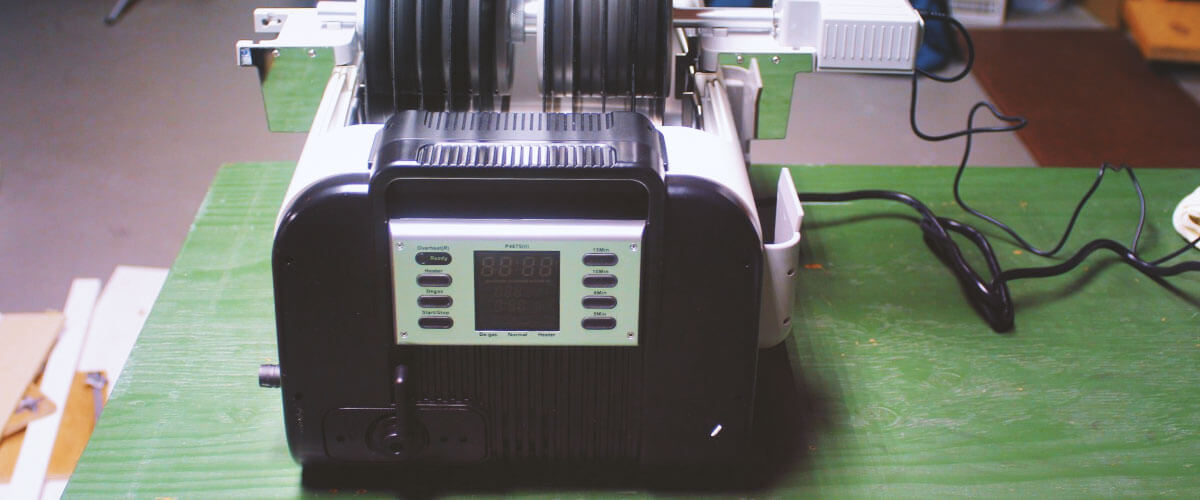 Thanks to the insulated tank, the machine operates quietly, making it stand out against many noisy competitors. Another thing I love is the built-in label protectors – you can rest assured that your labels won't get wet.
Next, the motorized mechanism spins the records at 5 revolutions per minute (RPM) while cleaning up to ten LPs at once. In addition, the digital controls and a timer that counts down from 30 minutes make it simple for you to schedule and monitor the duration of the cleaning process. When you are done, the water can be easily removed thanks to the integrated drain system. You will now have everything you need to make your recordings shine since the package comes complete with a cleaning solution concentration and an ultra-soft no-lint towel.
iSonic P4875II+MVR10 is the best vinyl record cleaner for those ready to stretch their budget to this territory. It's a significant investment, but you buy the quality and comfort for many years to come.
Key specs
Type: machine.
Dimensions (LxWxH), inch/cm: 13x9x4/20x14x10.
Weight: 24.0lb/11kg.
Voltage: 110V.
Include: 10-LP kit, cleaning solution, microfiber cleaning cloth, 4 o-tapes, 4 spacers.
Pros
Skillful engineering.
Packed with modern features.
Provides fast and efficient cleaning.
Can revive even super dusty and dirty estate sale records.
Is compatible with virtually any record cleaning chemicals.
Records don't require rinsing after cleaning.
Best vinyl cleaning brush reviews
AudioQuest Anti-Static Record Brush – best lp cleaning brush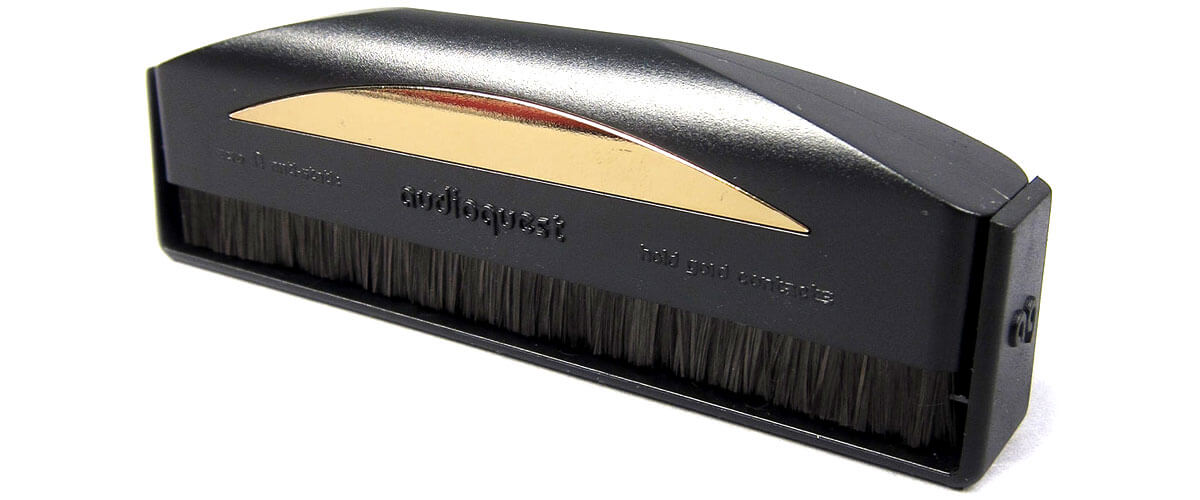 The AudioQuest Brush is just what you need if you seek a top-of-the-class record tool that will preserve your records, sounding as if they were just purchased.
This brush has conductive carbon fiber bristles in 2 lines and gold contacts – these two elements work together to remove minuscule dust and debris from the vinyl surface before they become embedded. The eventual result is a more thorough cleaning that contributes to maintaining the quality of your records. In addition, the conductive bristles eliminate the static build-up, preventing your LPs from making irritating pops and crackles. And last but not least, you can use the brush to clean your computer keyboard and other gadgets.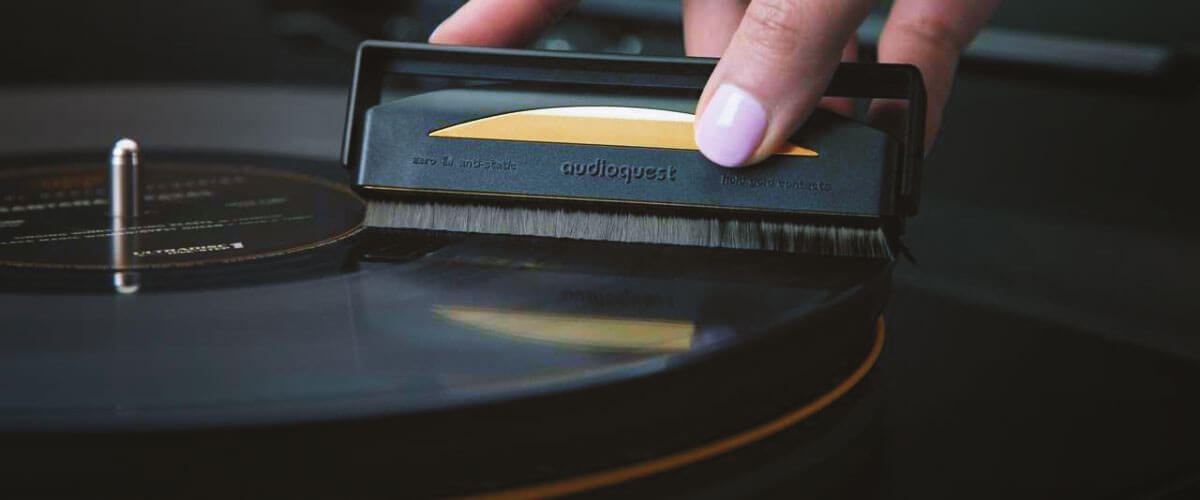 AudioQuest Anti-Static Record Brush uses premium quality materials and comes reasonably priced, making it the best record cleaning brush. So, whether you're an audiophile or a casual listener, you'll definitely appreciate this beautiful little tool!
Key specs
Type: brush.
Dimensions (LxWxH), inch/cm: 4x2x0.3/10x5x0.7.
Material: carbon fiber.
Weight: 2.68oz/76g.
Pros
Noticeable reduction of surface noise.
Versatility.
High-quality bristles.
Convenient to use.
Cons
Some users find bristles too stiff; however, it's a matter of personal preference.
Audio-Technica AT6011a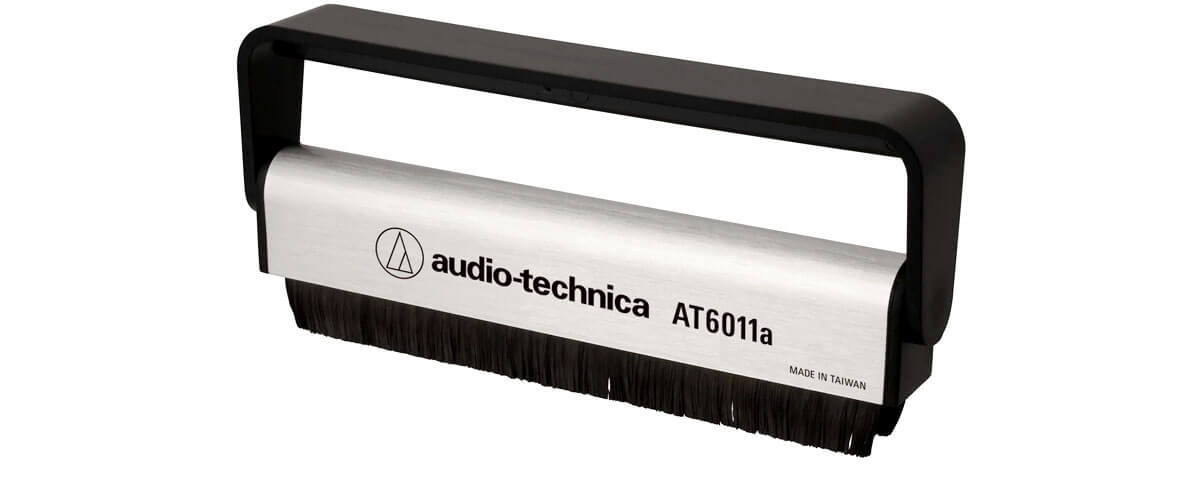 If you're a music lover, you know that taking care of your vinyl records is essential to enjoying the finest sound quality possible. But it's not just about keeping them clean – you also need to remove harmful dust and contaminants that can damage your records over time.
That's where the Audio-Technica AT6011a record brush comes in handy. This nifty little instrument is made of conductive synthetic materials that help to disperse static, and it's fantastic for cleaning all types of dirt and filth from your albums. Not to mention that it will extend the life of the needle and enhance your listening experience by decreasing surface noise.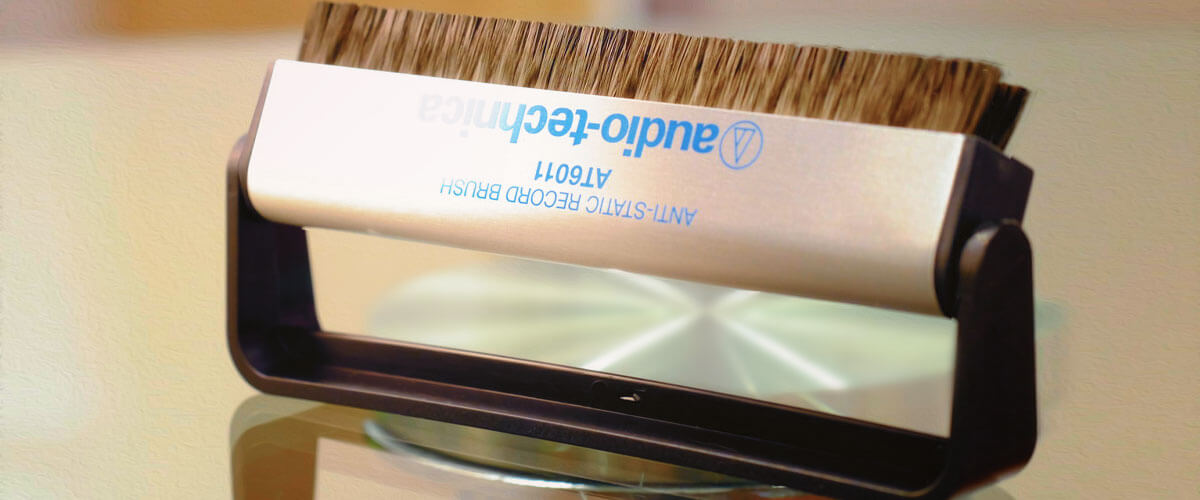 To top it off, you can use this brush not just for dry cleaning but also for wet cleaning – it can boast tiny holes in the top so you can pour the liquid solution in from the top.
I highly recommend this brush for budget-conscious collectors who want to take good care of their records but not for all the money in the world.
Key specs
Type: brush.
Dimensions (LxWxH), inch/cm: 8x2x4/20x5x10.
Material: synthetic fiber.
Weight: 1.76oz/50g.
Pros
Reliable brand.
Versatile.
Really digs out the dirt.
Convenient handle.
Includes a little useful blue plastic strip on the holder for scraping off the dust out of the brush.
Cons
Needs much time to become damp enough for wet cleaning.
Confusing instructions, but still, the brush is super easy to use.
Best record cleaning fluid reviews
Lasermedia VNC-8 – best vinyl cleaning fluid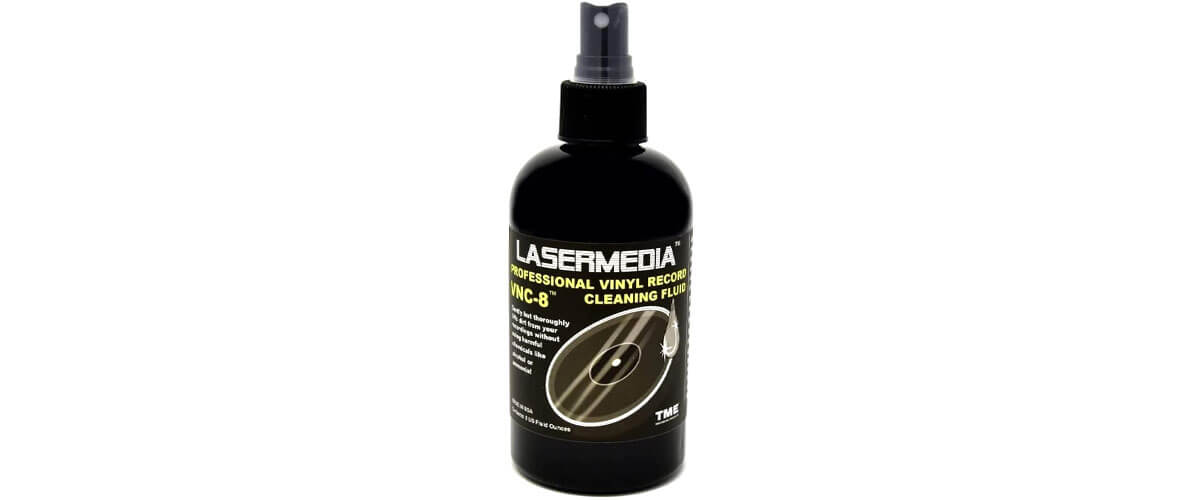 If you really care about your records, you should treat them using the best record cleaning fluid available, which is Lasermedia VNC-8.
All of the patented non-ionic surfactants in this high-quality American-made mix are safe for use on vinyl and work to remove static and provide a thorough cleaning. Additionally, it is packaged in a convenient spray container. The VNC-8 doesn't use any harsh chemicals like alcohol, isopropyl, or ammonia, and it leaves no behind afterward. You can rest assured knowing your LPs are getting a comprehensive and safe cleaning.
Lasermedia VNC-8 is like putting a spell into motion. Keep your recordings sounding fantastic with this simple yet efficient solution. What not to love?
Key specs
Type: fluid.
Size: 8oz/237ml.
Pros
Works quickly and effectively.
Will last long.
Biodegradable formula.
Convenient bottle.
Is highly appreciated by archives and demanding collectors.
Can be used to clean the stylus.
Cons
May quickly evaporate.
A bit pricey.
Boundless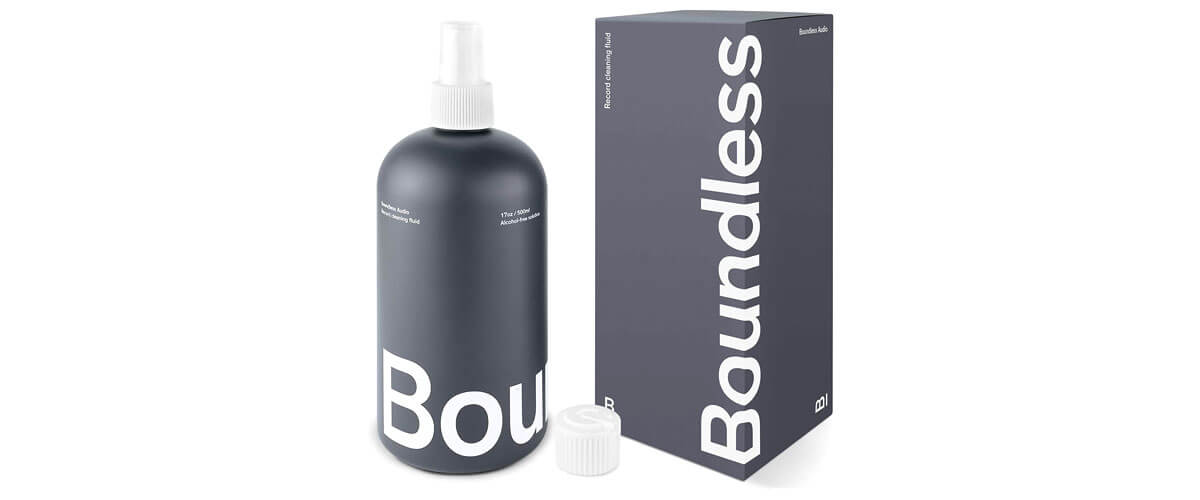 If you're serious about your music, you need to get serious about keeping your records clean. With Boundless record cleaning fluid, you'll get excellent sound quality out of your music collection, plus, you'll preserve your records for years to come.
This extra-large 17oz bottle is perfect for serious collectors, and it comes with a refill nozzle so you can easily replenish your record cleaning kit.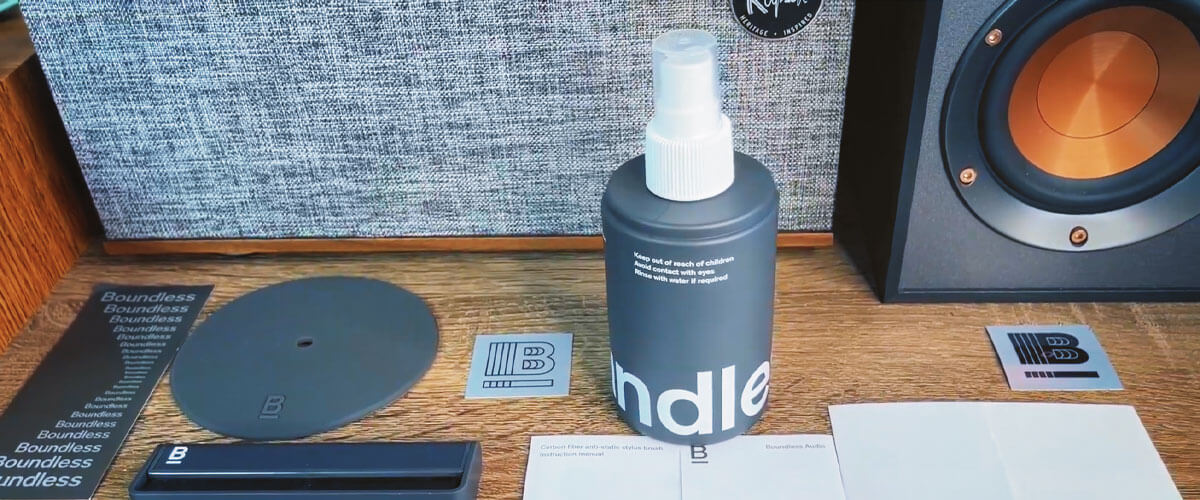 The Boundless formula contains modern anti-static agents that safely clean all types of vinyl and leave no residue, so there's no need to rinse afterward. Simply apply the fluid to your record and watch as the dirt and grime disappear – it's that easy! To top it off, the reduced friction during playback will decrease wear and tear on your stylus, making Boundless an excellent investment in the long-term health of your record player.
Don't settle for less when it comes to caring for your records – get Boundless – a reliable and effective vinyl record cleaning solution.
Key specs
Type: fluid.
Size: 17oz/500ml.
Pros
Does a great job even with extremely old records.
Perfect size for huge collections.
Saves money over tiny bottles.
Awesome price.
Cons
The included pump may be a bit difficult to use.
Such a big bottle is not very convenient to use.
Not a big downside, but still, this solution doesn't provide instant results – you have to spray it on, wait 10 seconds, wipe it off thoroughly, wait 1 minute, then play the LP.
How to clean vinyl records?
To maintain the longevity and sound quality of your vinyl records, follow these essential steps for proper cleaning and handling.
Step 1: Begin with a dry clean
Before introducing any liquids or solutions, it is important to remove surface dust and debris from the vinyl records. Using an anti-static brush designed specifically for LPs, gently sweep away dust particles from the surface. Start at the outer edge, moving towards the center in a uniform direction.
Step 2: Proceed to liquid cleaning
Depending on your preference and available tools, you may choose either manual cleaning or a record-cleaning machine.
Manual cleaning:
Make sure to use a proper cleaning solution. Avoid using household cleaning products, as they may contain chemicals that cause damage to the vinyl.
Mix a solution of isopropyl alcohol and distilled water in a 50/50 ratio.
Dampen a microfiber cloth or lint-free cloth with the cleaning solution.
Gently clean the vinyl surface by wiping the cloth in a circular motion, following the direction of the grooves.
Avoid touching the record label, as moisture can damage it.
Repeat the process using a clean side of the cloth.
Dry the record by wiping it gently with a dry, lint-free cloth, ensuring that no moisture remains in the grooves.
Record-cleaning machine:
Vinyl record cleaning machines are a more consistent way to clean your records. These machines provide a deeper clean that is also more time-efficient, especially for individuals with large vinyl collections. Always refer to the user manual for specific instructions on your chosen machine.
Step 3: Proper storage and maintenance
Once your vinyl records are cleaned, ensuring they remain in good condition is crucial. Follow these tips to optimize record storage:
Use high-quality inner sleeves made of polyethylene or polypropylene instead of the traditional paper sleeves, which can cause static and scratches.
Replace worn or damaged outer sleeves with archival-quality plastic outer sleeves to protect album covers from dust and moisture.
Store records vertically and away from sources of heat, direct sunlight, and humidity.
Avoid packing records too tightly together or leaning them against one another, as this can cause warping or uneven pressure that may damage your collection over time.
By diligently following these cleaning and maintenance practices, you can preserve your LPs, ensuring they remain in excellent condition for years to come.
FAQ
Is Windex good for cleaning vinyl records?
There is no definitive answer to this question, as different vinyl record collectors have different opinions on the most appropriate way to clean their records. For example, some people recommend using a mild detergent like dish soap or Windex, while others say that using any type of cleaning product can actually damage the records. But I recommend using special products that are designed specifically for this purpose.
Is it ok to clean vinyl records with alcohol?
As I mentioned above, I recommend only using specialized products to clean vinyl records. However, there are quite a lot of people who use alcohol cleaners and are happy with the results.
Can I clean vinyl records with soap and water?
No, you
can't
. While soap will not damage vinyl records, it will leave behind a film that can negatively impact playback quality. It's better to use a vinyl record cleaner specifically designed for the task.
Can you clean a vinyl record with a paper towel?
It is not recommended to clean a vinyl record with a paper towel, as it may damage the record. Instead, use a soft cloth or brush to clean the record.
Can you clean vinyl records with vinegar?
Yes, vinegar can be used to clean vinyl records. However, it is important to be careful when using vinegar to clean vinyl records, as it can damage the record's surface if not used correctly.