Vinyl is almost eternal for sound recording history. It has pleasant aberrations and has a much longer life cycle than a tape solution. It is no secret that the best portable record player should have good sound and compact size. Not only expensive but also relatively cheap devices have such characteristics. Therefore, to make the right choice, you need to compare the capabilities of different devices. Not every user is an audio expert and understands the technical parameters of a turntable. Therefore, I've analyzed various portable record players and selected the most interesting models.
Our pick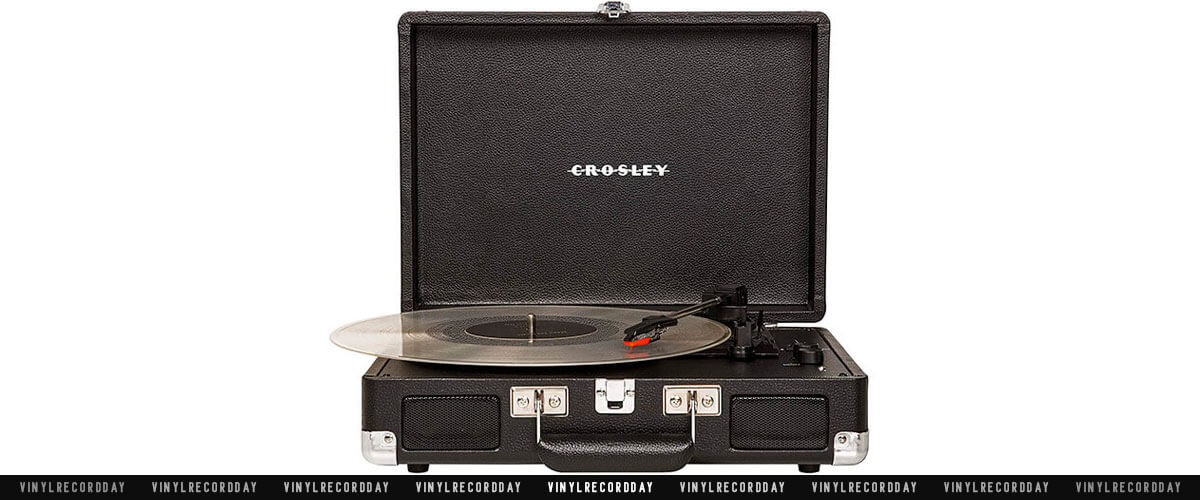 Crosley Cruiser Deluxe
Best Portable Turntable
With pitch control, built-in speakers and a Bluetooth receiver, the Cruiser is ready to jam vinyl or your digital music.
My list includes portable vinyl players of different brands and price categories, which makes it versatile and will help you with the right choice. I've tried to avoid only technical details and will talk about each model in clear and accessible language.
Portable Turntables Comparison Table
Name
Speeds, RPM
Speakers
Bluetooth
USB
AUX
RCA
Review
Crosley Cruiser Deluxe

best overall

33 1/3, 45, 78
yes
yes
yes
yes
yes
Review
Victrola VSC-550BT

also a great choice

33 1/3, 45, 78
yes
yes
no
yes
yes
Review
Byron Statics

best budget

33 1/3, 45, 78
yes
no
no
yes
yes
Review
Best Portable Record Player Reviews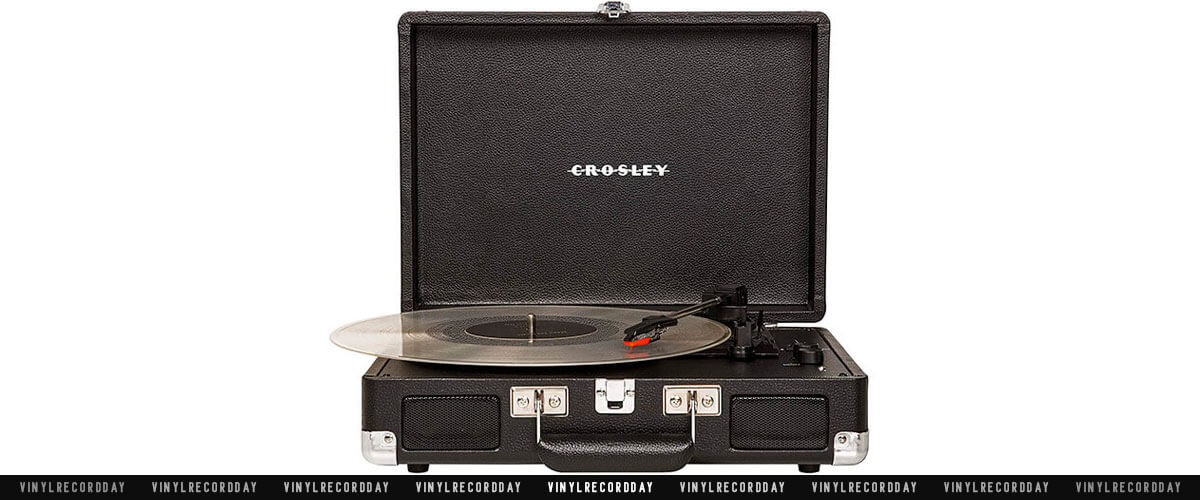 I'll start with my favorite, the Cruiser Deluxe from Crosley. This American company is one of the world's most popular manufacturers of affordable vinyl turntables. Their models have always been known for their original and stylish design, as well as their fairly high quality. So let's move on to the appearance of the Cruiser Deluxe.
The form factor here is typical for the fifties but really rare today: it is a white suitcase with a specific texture: here is the imitation of a noble skin. The design is completed with nickel-plated speakers, which are compact but powerful. The inner part is classical matte plastic that can be polished through time. It looks really stylish and ergonomic.
The features of this portable record player with built-in speakers are standard but you will have all the needed parameters onboard. The speed numbers are 33 1/3, 45, 78, which are typical for vinyl plates. Two separate nickel speakers with a fine sound. We have plenty of the outputs here: AUX, RCA, and standard audio jack. For a pen-drive and other peripherical devices, you have a common USB port. The feature of this model is the ability to play music by connecting to a sound source via Bluetooth. Version 4 of the module is used, so the working distance is not less than 10 meters. In addition, the Cruiser Deluxe can be connected to any source via cable, and the turntable's sound can be output to an external speaker system.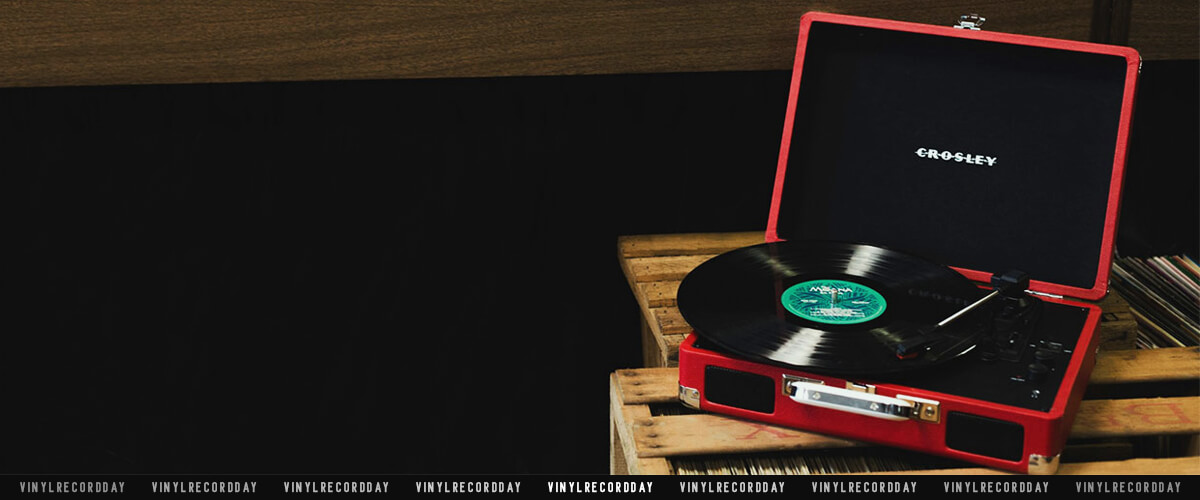 There is a Crosley NP6 interchangeable cartridge on the tonearm – it can be replaced via the company's website if it breaks. The needle is ceramic, and the tip is sapphire.
Now let's talk about the main thing – the sound. During playback, the sound is emitted by two electrodynamics. Both are three inches in diameter, and each has a built-in amplifier with 2 watts of power. As a result, the sound from the players is quite clear, detailed, and deep. No doubt, there are sound roughness and vibrancy that are missing from the premium models, but the magic of analog sound is fully felt here. I was more than satisfied and I find it to be the best sounding portable record player on my list.
The Cruiser Deluxe is a great example of getting a quality product for reasonable money. It is as good as (or even better than) the more expensive Victrola VSC-550BT, but it costs less. The Cruiser Deluxe is flawlessly made, interesting to look at, and it's undoubtedly the best sounding portable record player on my list.
Key specs
Speeds, RPM: 33 1/3, 45, 78.
Speakers: yes.
Bluetooth: yes.
USB: yes.
AUX in.: yes.
RCA out.: yes.
Headphone jack: yes.
Pros
Interchangeable proprietary cartridge.
Bluetooth capability.
High-quality, tight and dynamic sound.
3 speed modes.
Cons
No extra needle.
No downforce adjustment.
Victrola VSC-550BT – also a great choice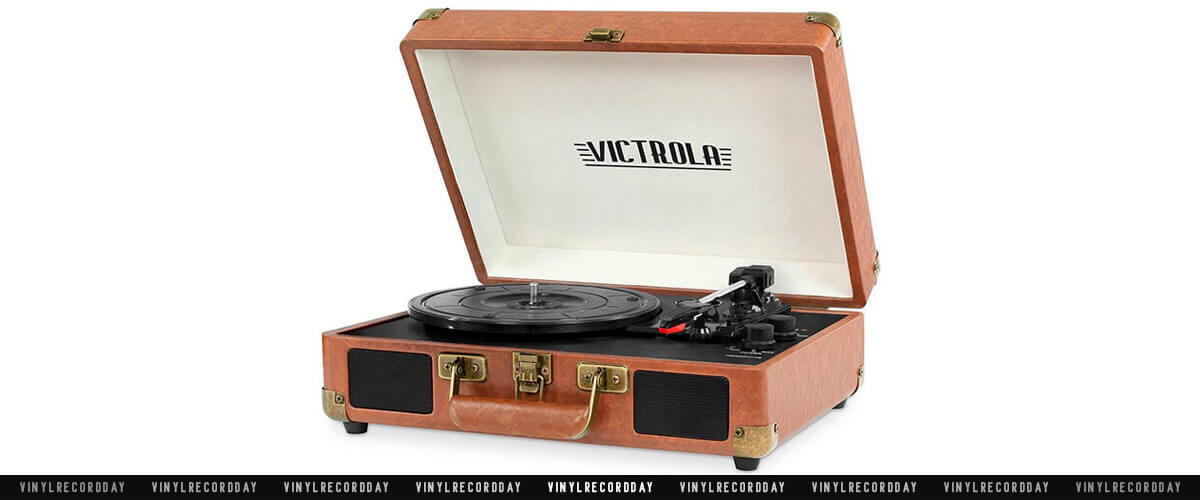 Why should I buy this LP gadget? The design of this compact record player is not bright. Here we have a classical latte color with dim brass metal corners. This is a very reliable solution for every apartment in a light tone. Also, it can complete every car with a leather saloon. As for the sound – it is pretty velvet and shows you a decent level. Your vinyl at this platform should be listened to easy and with joy, regardless of the genre.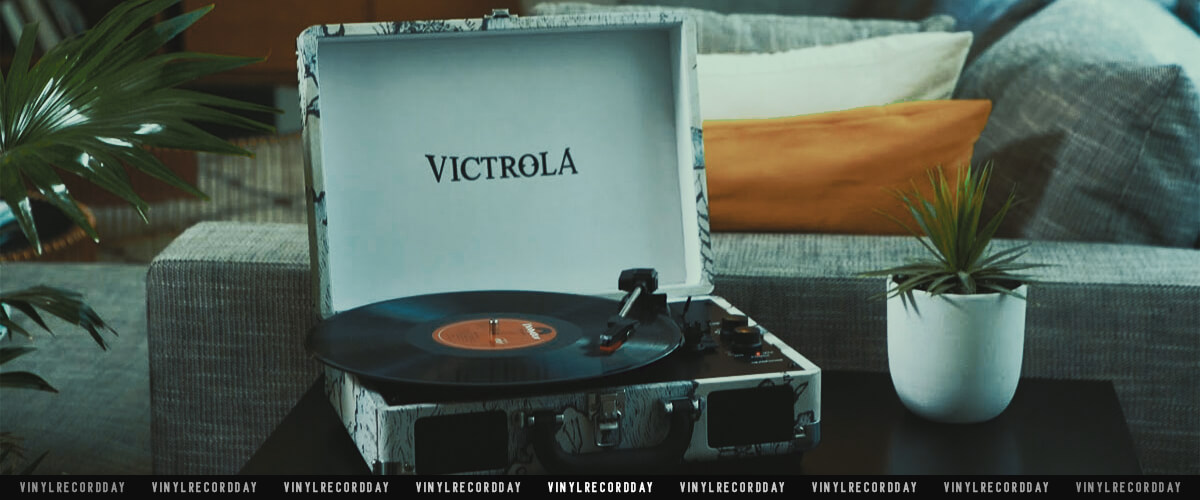 The motor has typical 3 speeds – 33 1/3, 45, 78. The compact side speakers are simply painted black. All the needed ports are here: AUX, standard audio jack, phono connector (or just RCA). You can also use a Bluetooth wireless protocol.
Some minor flaws also are here. The device is pretty heavy, 5.5 pounds – the metal parts here are significant. This low-budget model has no option for USB devices, which is pretty rare to this day.
Key specs
Speeds, RPM: 33 1/3, 45, 78.
Speakers: yes.
Bluetooth: yes.
USB: no.
AUX in.: yes.
RCA out.: yes.
Headphone jack: yes.
Byron Statics – best budget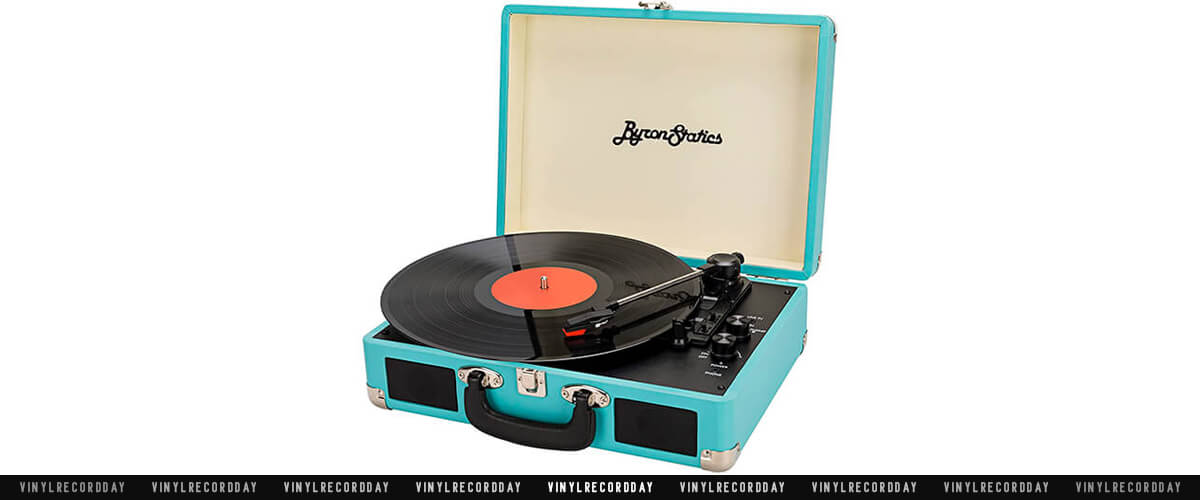 The Byron Statics is a stylish, portable vinyl player with three speeds (33, 45, and 78 RPM) – you can use it at home or on the go to listen to your favorite albums from anywhere you want. The turntable is lightweight, so it's perfect for travelers; plus, it comes in a beautiful faux leather case that makes it easy to transport between parties! It also has a power indicator light, so there's never an embarrassing moment of running out of energy mid-party.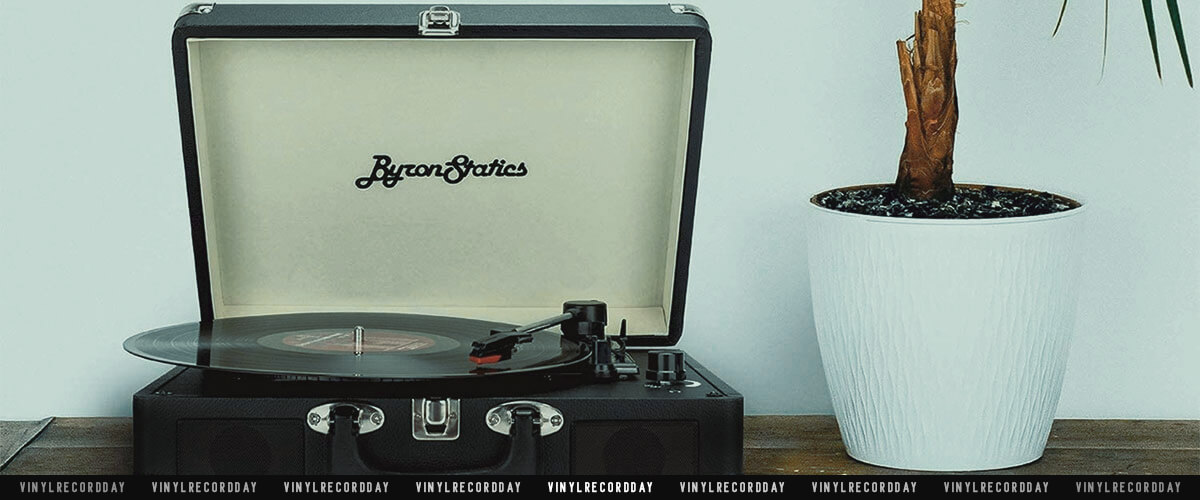 You'll love the unit's sound quality – I listened to Pink Floyd and La Traviata at full volume, and this little beauty handled them well without any distortion! Actually, the Statics comes with built-in speakers, but you can also hook it up to external speakers if you need a bigger sound. Finally, this model has an extra needle and a 9V 800mA DC adapter – just in case you want to keep the music going all night long!
If you are looking for the best budget portable record player, Byron Statics has got you covered! Its lightweight construction and gorgeous design will impress any vinyl enthusiast who wants to enjoy records on the go!
Key specs
Speeds, RPM: 33 1/3, 45, 78.
Speakers: yes.
Bluetooth: no.
USB: no.
AUX in.: yes.
RCA out.: yes.
Headphone jack: yes.
Victrola V50-200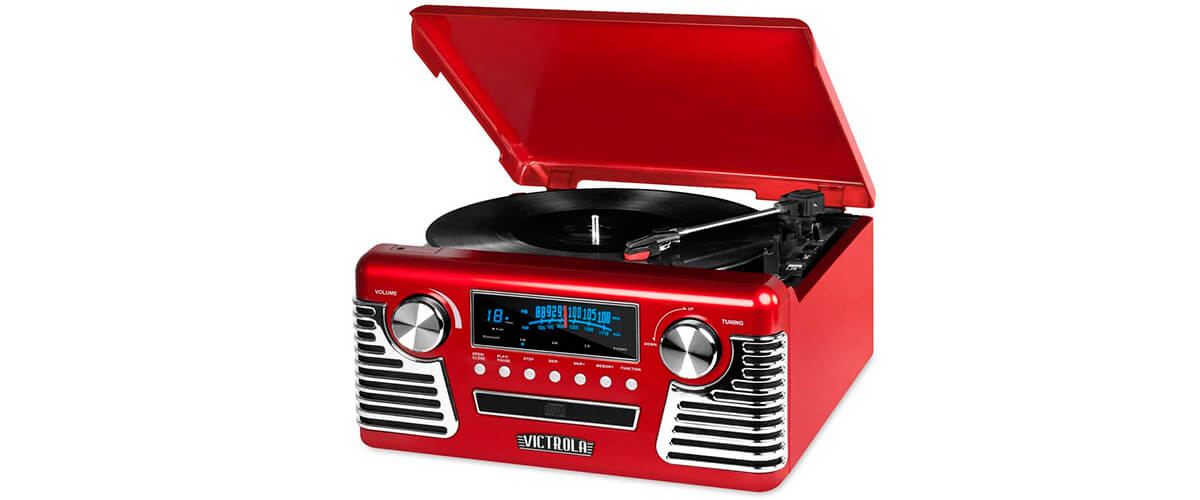 The merits of this model are obvious. The sound is decent, but the model lacks some key features. The very design is posh, shiny, and chrome, with red color dominance. You may trust your precious collection records to this device. Your retro-style room would be completed with this recorder easily. It means this turntable is pretty good projected for this price.
The minor issues here are about the functions and parameters. It is not so compact as the portable turntables – it has almost nine pounds of weight, which is a pretty big number. This model comes without a USB port, but it has a Bluetooth wireless protocol.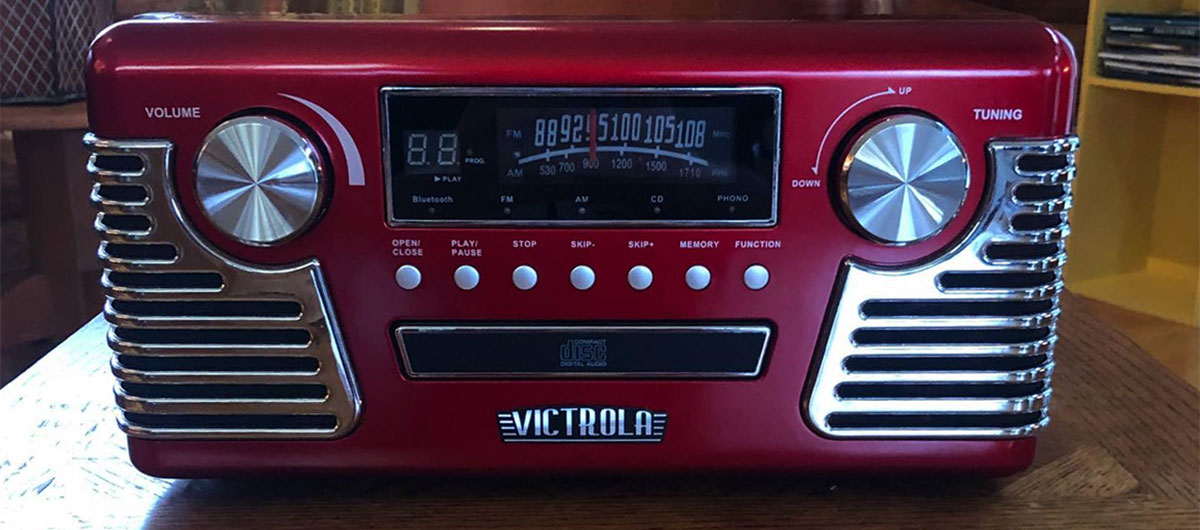 As a typical compact recorder, this model has the standard speed numbers of 33 1/3, 45, 78. The separate speakers are built under massive retro radiators. The front deck has a midrange and shortwave radio receiver and CD-drive with an inner MP3 apparate decoder. Outputs for the peripheric devices are AUX, 3,5" audio jack, and RCA.
Key specs
Speeds, RPM: 33 1/3, 45, 78.
Speakers: yes.
Bluetooth: yes.
USB: no.
AUX in.: yes.
RCA out.: no.
Headphone jack: yes.
WOCKODER KD-3011BL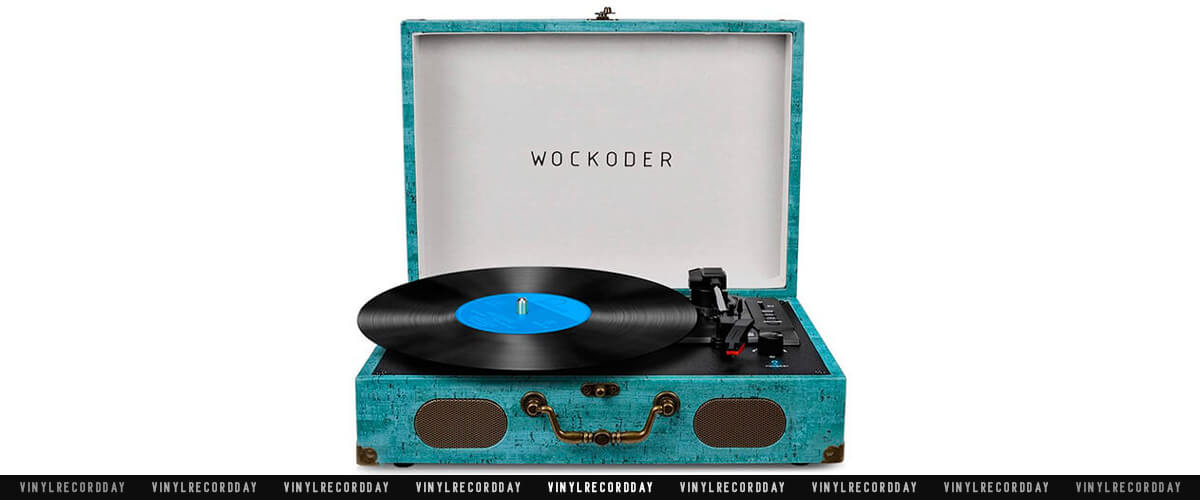 The brand Wockoder is an eponym for some specific audio devices. But this portable lp player, of course, has modest functions for home using.
The pros of this middle-class Wockoder are simply. This model is renowned for a wide range of possibilities that are enough for every practical use. The design of this audio recorder copies formulae of many successful suitcase record players – the artificially aged case of blue color, which represented a very worn and cracked leather. Combining classic blues and soul records, it must be pretty interesting.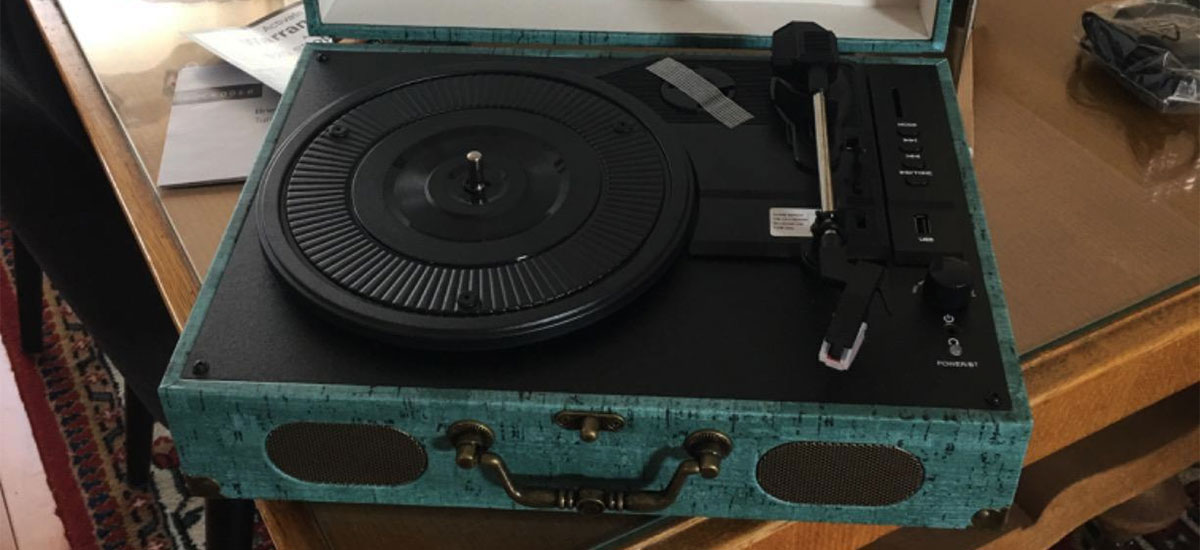 This model has only one significant flaw: the body of the gadget is pretty heavy: 6.85 pounds.
The AC motor here has standard 3-speeds: 33 1/3, 45, 78. The separate stereo speakers are tinted with a dim metal and have a decent sound. You can play music from a compact SD-card or plug USB devices. Or you can just use the standard AUX output, audio jack, or a typical phono connector. Bluetooth protocol allows you to use various peripheral devices.
Key specs
Speeds, RPM: 33 1/3, 45, 78.
Speakers: yes.
Bluetooth: yes.
USB: yes.
AUX in.: yes.
RCA out.: yes.
Headphone jack: yes.
Udreamer UD001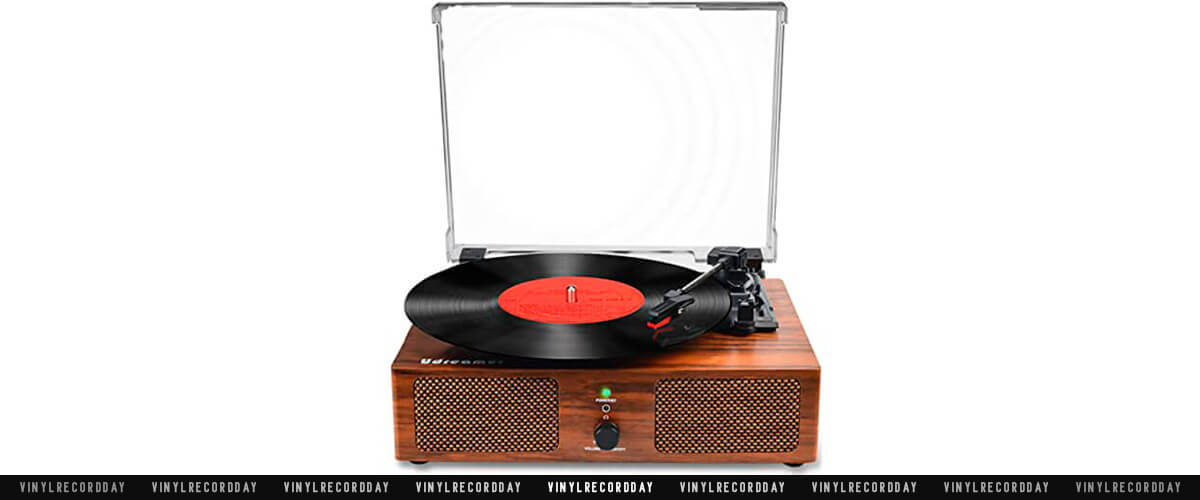 Udreamer UD001 is another great portable record player for those who want to enjoy their vinyl records on the go. This model can boast useful, up-to-date features – Bluetooth input and USB connectivity, allowing you to connect it to your phone or computer. It also has built-in stereo speakers for better sound, or you can connect bigger speakers via the RCA cable if you need louder sound.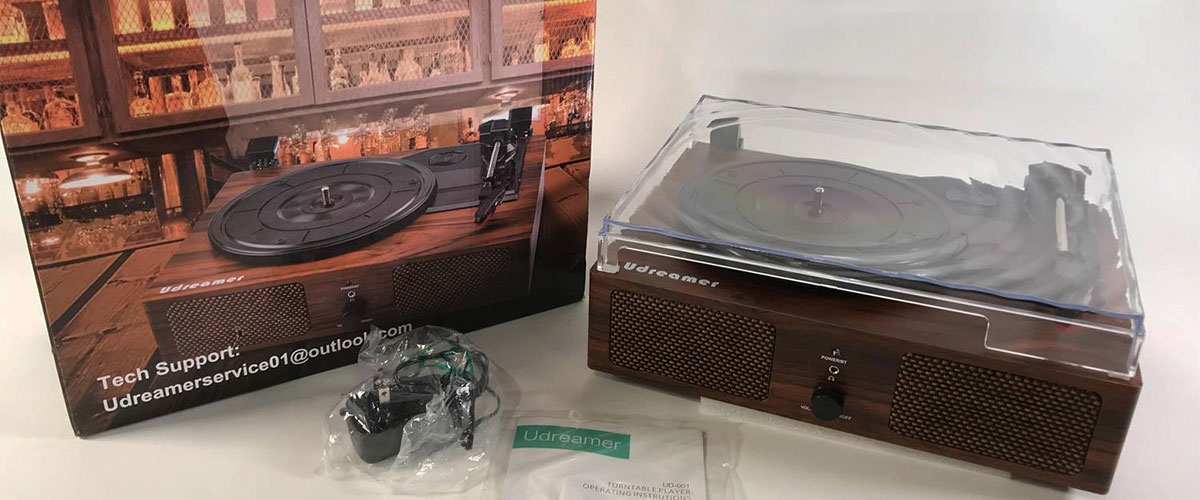 This player supports 3 listening speeds (33-1/3, 45, and 78 RPM) and 3 sizes of records (7, 10, and 12 inches). In addition, its base is equipped with a spring and belt-driven design to absorb vibrations, significantly improving sound quality.
The player looks terrific – it's made of vintage wooden material, so you can easily place it anywhere in your home or office without feeling like it's an eyesore. What I like the most about this model is that it combines a classic, nostalgic design with 100% modern features. And last but not least, the UD001 also includes a removable dust cover to help protect its parts and increase its life span.
Udreamer UD001 is a good portable record player that brings the classic sound of vinyl to life. It looks fantastic, sounds crisp, and doesn't muffle anything. Great buy for the price!
Key specs
Speeds, RPM: 33 1/3, 45, 78.
Speakers: yes.
Bluetooth: yes.
USB: yes.
AUX in.: yes.
RCA out.: yes.
Headphone jack: yes.
Buyers guide
The next features can help you choose a portable record player
All the features always are debatable. If you are buying the trusted and worthy portable record player for an insane price – then you probably are waiting for the maximum payback. But if your purchase costs you just a couple of dozens of dollars – then the device should have fewer functions if it has a decent sound. Again – everyone has a personal sense of music. Try and listen!
Built-in speakers
We need this feature. All the best portable turntables were created for public entertainment. From the very beginning of the vinyl recording industry, mechanical phonographs played in various pubs and saloons. The jukebox industry started here. But today, we have technologies and can make small devices with the same level of sound.
RCA outputs
A classical phono connector is a standard of the industry. It should be at every decent portable lp recorder– so you can add big peripheric components for the sound quality.
Other inputs and outputs
The power capacity of even the expensive portable turntables is limited. So the answer here would be: until the sound is loud and clear – pick a player with a maximum number of ports.
Bluetooth capability
Not so important, but if you have a really good autonomous BT speaker – it would be extremely helpful. Also, the market nowadays is full of cheap and good BT microphones.
Tonearm, cartridge, and stylus
Here we have a classical "cheap or removing" dilemma. The portable turntables have an unmounted cartridge and a little choice of styluses. The cheapest versions of the lp players always have a built-in cartridge. Also, always check a tonearm after buying a turntable. It should have smooth moves.
Speed
The standard speed numbers of vinyl plates are 33 1/3, 45, 78. Every good lp player supports it.
Disadvantages of a portable turntable and can it damage your vinyl
First of all, we must talk about the price. Rare audio devices never were cheap. Today we have a resurrection of the vinyl industry, but every good portable gadget for records still is an expensive thing for the most daring collectors. Portable turntables are more affordable but can have a lot of other problems. Let's talk about them.
Some mechanical issues
When seeing a rare phonograph from an ancient age of recording – you may have noticed how massive the turntables were. It is not a coincidence the modern vintage portable record player has not a counterweight. It is simple physics. The vinyl plate has its centripetal force and vibration. It should be compensated, or we will be in trouble. The counterweight allows a tonearm to move smoothly, without any real damage to the plate, unless something will hit the case.
The next thing is built-in speakers. You can't buy a compact dynamic at a reasonable price today. But the very record player can be good itself. So you will need an additional RCA output and bigger speakers with a wider range and more expensive materials of the body. But… who said it would be portable?
The platter itself can flex and be undersized. It is a common problem, regardless of the price. The word "portable" again ruins everything. The sound engineers have a standard case. It has only a few dozens of inches in width and length. And in an open position, the turntable should be able to work with LPs. And the stylus is working at the edge of the abyss permanently. Every swing in the mechanism – and the valuable LP can have a scratch.
Also, sometimes you can't just buy a proper stylus. As we've told above, many cheap turntables are not built for fixing and changing details. The advice would be to look at the most popular models – then you may have minor troubles with the parts of the tonearm and styluses.
And the last (but not least) problem with the compact record gadgets – an anti-skate compensatory mechanics. The biggest scratches on the vinyl appear when the tonearm is slipping to the center. The portable recording gadgets have mechanical stoppers that help the tonearm always keep track firmly.
But can we fix all of these issues? Unfortunately, no. The portable turntables have no space or technologies to fix all of these flaws. But you can choose the model that did not catch them all.
FAQ
Do portable record players ruin records?
Maybe, maybe not. A record player must spin at a constant speed to produce the sound correctly. If the turntable doesn't spin at a constant speed, then records will be damaged, and vibrations produced by the turntable could cause feedback in speakers or headphones.
Do Crosley turntables ruin records?
Crosley turntables are not known to damage records but they often produce less than ideal sound quality. To reduce wear on your vinyl you can buy a slipmat (a circular piece of material that fits under the record) or create your own by drawing circles onto a mouse pad.
Do portable record players need to be plugged in?
Portable record players either need batteries or a power cord to produce sound. Even then, most battery-operated portables will not work without batteries installed. To save the battery's life, make sure to turn off your record player when it is not in use.
What records work best with a portable player?
Most vinyl albums and 45s will play without any problems on a record player, but some can become damaged over time, especially old or low-quality pressings.
What kind of needle can I use on my portable record player?
The most common types of needles for portable record players are made from diamond or stainless steel. The needle's material does not affect playback quality, but some materials may be more durable than others and last longer without becoming dull.
Do turntables use a lot of electricity?
No. If you're using a portable turntable with batteries, then the electrical consumption will depend solely on how often you turn it on and off. The use of a power cord might seem more wasteful, but the length of the cord only has a negligible effect on energy consumption.
How do you skip a song on vinyl?
To skip a song on vinyl, you must manually pick up the needle from the record and put it back down in a different location.
How loud can I play my portable record player?
It depends on your record player. Most battery-powered players produce no more than 60 decibels at full volume, which is roughly the same amount of noise produced by a running refrigerator.