Vinyl has withstood the test of time in the world of sound recording, boasting pleasant idiosyncrasies and a significantly longer lifespan than tape solutions.
Undoubtedly, the best portable record player should combine great sound with a compact design, and some of the decent yet budget-friendly options can offer such features.
However, to make an informed choice, it's important to compare the capabilities of various devices. As not every user is an audiophile or well-versed in turntable technicalities, I've examined numerous portable record players and handpicked the most compelling models. My review encompasses a diverse range of brands and price points, helping you make the right decision. So, without further ado, let's get started!
Our pick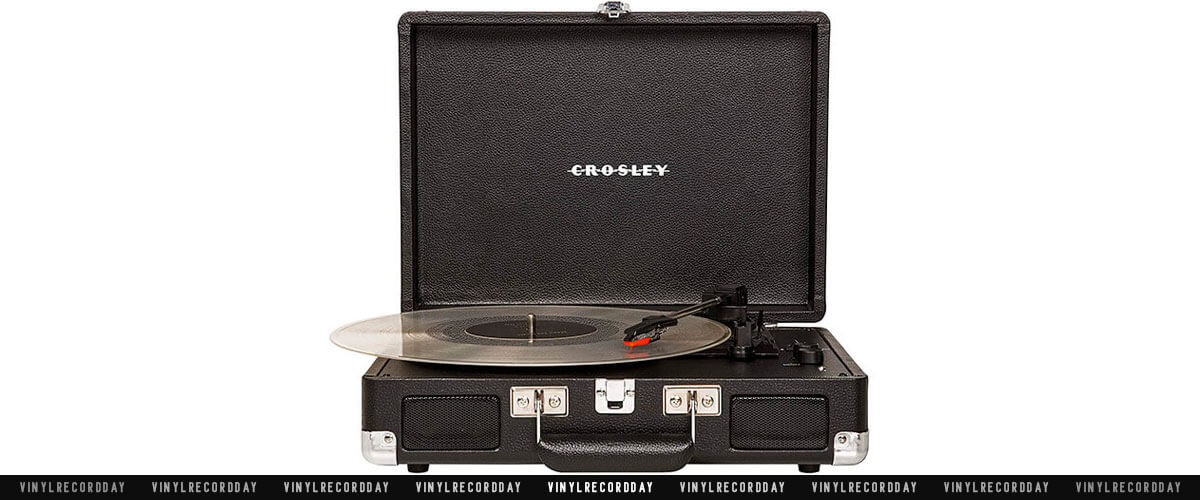 Crosley Cruiser Deluxe
Best portable turntable
With pitch control, built-in speakers and a Bluetooth receiver, the Cruiser is ready to jam vinyl or your digital music.
Read the full review
.
Portable turntables comparison table
Name
Speeds, RPM
Speakers
Bluetooth
USB
AUX
RCA
Review
Crosley Cruiser Deluxe

best overall

33 1/3, 45, 78
yes
yes
yes
yes
yes
Review
Victrola VSC-550BT

also a great choice

33 1/3, 45, 78
yes
yes
no
yes
yes
Review
Byron Statics

budget

33 1/3, 45, 78
yes
no
no
yes
yes
Review
Best portable record player reviews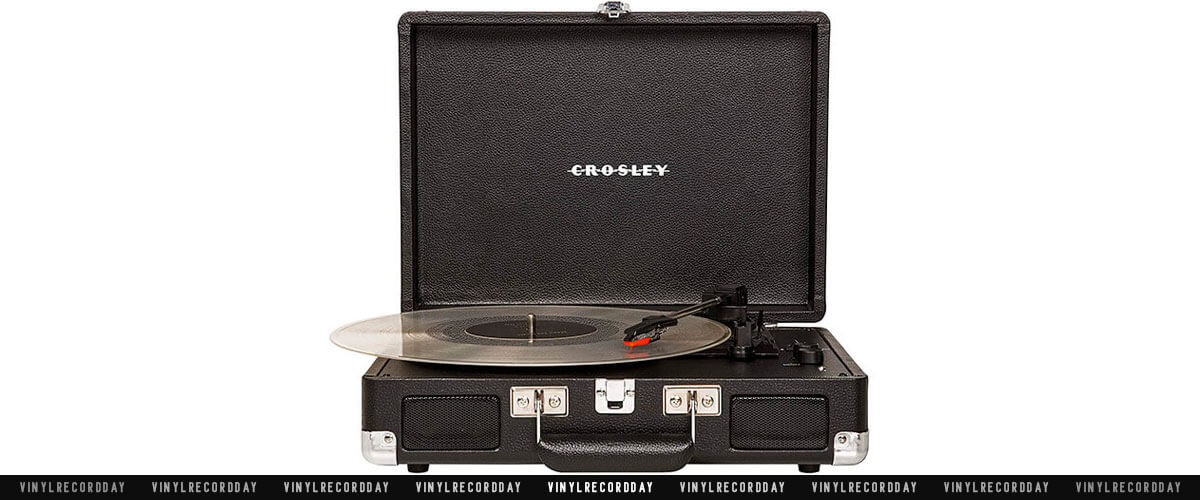 I'll start with my favorite, the Cruiser Deluxe from Crosley. This American company is one of the world's most popular manufacturers of affordable vinyl turntables. Their models have always been known for their original and stylish design, as well as their fairly high quality. So let's move on to the appearance of the Cruiser Deluxe.
The form factor here is typical for the fifties but really rare today: it is a white suitcase with a specific texture – here is the imitation of a noble skin. The design is completed with nickel-plated speakers, which are compact but powerful. The inner part is classical matte plastic that can be polished through time. It looks really stylish and ergonomic.
This portable record player with built-in speakers offers essential functions for an enjoyable listening experience. It supports 33 1/3, 45, and 78 RPM playback speeds to accommodate a variety of vinyl records. Furthermore, a universal USB port accommodates USB drives and other peripherals. A notable feature of this model is its wireless music playback via Bluetooth, utilizing version 4 of the module for a working distance of at least 10 meters. The Cruiser Deluxe also connects to sound sources with a cable and channels audio to external speaker systems.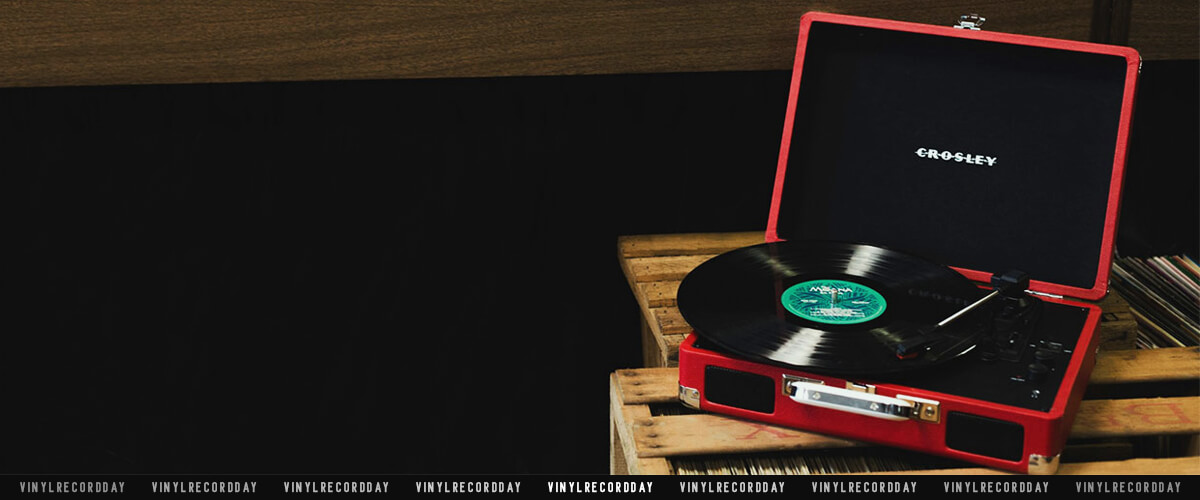 Equipped with a Crosley NP6 replaceable cartridge, the tonearm allows for easy swapping via the company's website if needed. The needle features ceramic construction and a sapphire tip.
Now let's talk about the main thing – the sound. During playback, the sound is emitted by two electrodynamics, both are three inches in diameter, and each has a built-in amplifier with 2 watts of power. As a result, the sound from the players is quite clear, detailed, and deep. While this model may lack the smoothness and vibrancy found in premium options, it still captures the enchanting essence of analog sound.
The Cruiser Deluxe is a great example of getting a quality product for reasonable money. It is as good as (or even better than) the more expensive Victrola VSC-550BT, but it costs less. The Cruiser Deluxe is flawlessly made, interesting to look at, and it's undoubtedly the best sounding portable record player on my list.
Key specs
Speeds, RPM: 33 1/3, 45, 78.
Speakers: yes.
Bluetooth: yes.
USB: yes.
AUX in.: yes.
RCA out.: yes.
Headphone jack: yes.
Pros
Interchangeable proprietary cartridge.
Bluetooth capability.
High-quality, tight and dynamic sound.
3 speed modes.
Cons
No extra needle.
No downforce adjustment.
Victrola VSC-550BT – also a great choice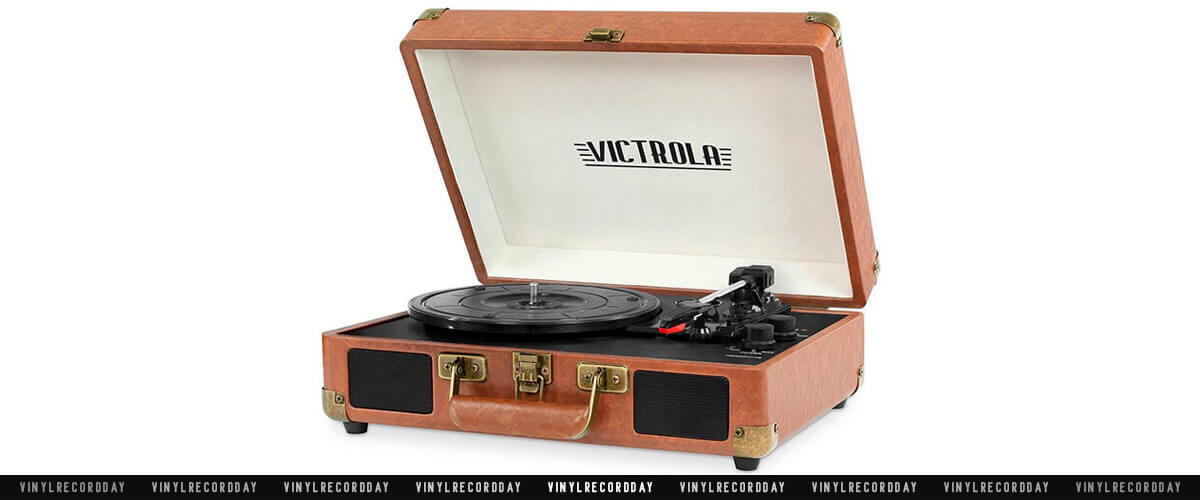 Victrola VSC-550BT is a compact record player that brings a modern touch to the vintage suitcase-style design. I was instantly drawn to its unique aesthetic, plus, it offers an ideal blend of retro charm and contemporary functionality.
This model provides three-speed options (33 1/3, 45, and 78 rpm), catering to various vinyl records in my collection. I am pleased with its sound quality, which is further enhanced by sound-isolating feet that minimize vibration, ensuring a rich and clear listening experience. It seamlessly fits into any space, be it a living room, bedroom, or office.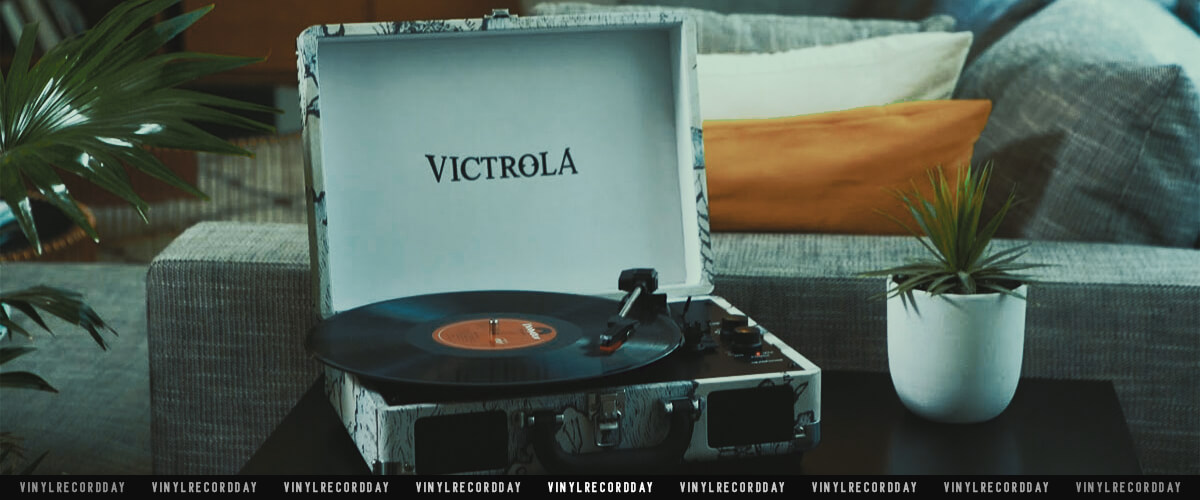 One of the standout features of the VSC-550BT is its portability. The vintage suitcase design, coupled with an easy carry handle will allow you to enjoy your favorite tunes wherever you want. As a vinyl lover, I truly appreciate the flexibility this Victrola model provides.
In terms of connectivity, the table excels with its expanded options. You can effortlessly stream music from your smartphone through the built-in Bluetooth speakers or connect external speakers via the stereo RCA outputs for an even more immersive experience. The Line input comes in handy for non-Bluetooth devices like a CD player, and the headphone jack is perfect for personal listening sessions.
With its decent sound quality and exquisite craftsmanship, this record player has been an absolute delight, and I'm confident it will help create lasting musical memories for anyone who gives it a spin.
Key specs
Speeds, RPM: 33 1/3, 45, 78.
Speakers: yes.
Bluetooth: yes.
USB: no.
AUX in.: yes.
RCA out.: yes.
Headphone jack: yes.
Pros
Nice combination of retro appearance with the convenience of modern technology.
Can play pretty loud.
Easy to set up.
Comes in various vibrant colors.
Cons
Can't connect to external speakers.
Manual needle – be gentle when using it.
Byron Statics – budget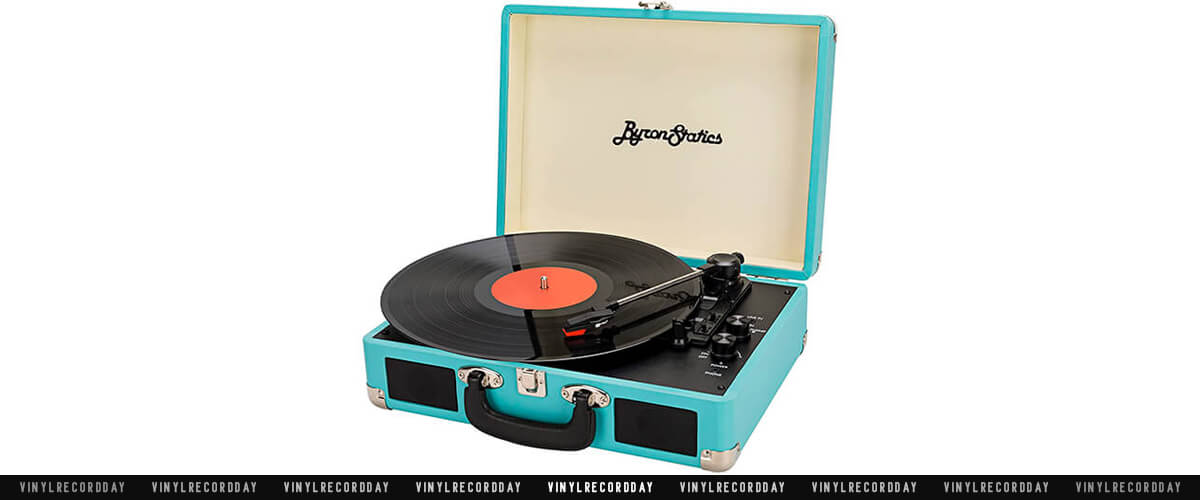 The Byron Statics is a stylish, portable vinyl player with three speeds (33, 45, and 78 RPM) – you can use it at home or on the go to listen to your favorite albums from anywhere you want. The turntable is lightweight, so it's perfect for travelers; plus, it comes in a beautiful faux leather case that makes it easy to transport between parties. It also has a power indicator light, so there's never an embarrassing moment of running out of energy mid-party.
You'll love the unit's sound quality – I listened to Pink Floyd and La Traviata at full volume, and this little beauty handled them well without any distortion! Actually, the Statics comes with built-in speakers, but you can also hook it up to external speakers if you need a bigger sound. Finally, this model has an extra needle and a 9V 800mA DC adapter – just in case you want to keep the music going all night long.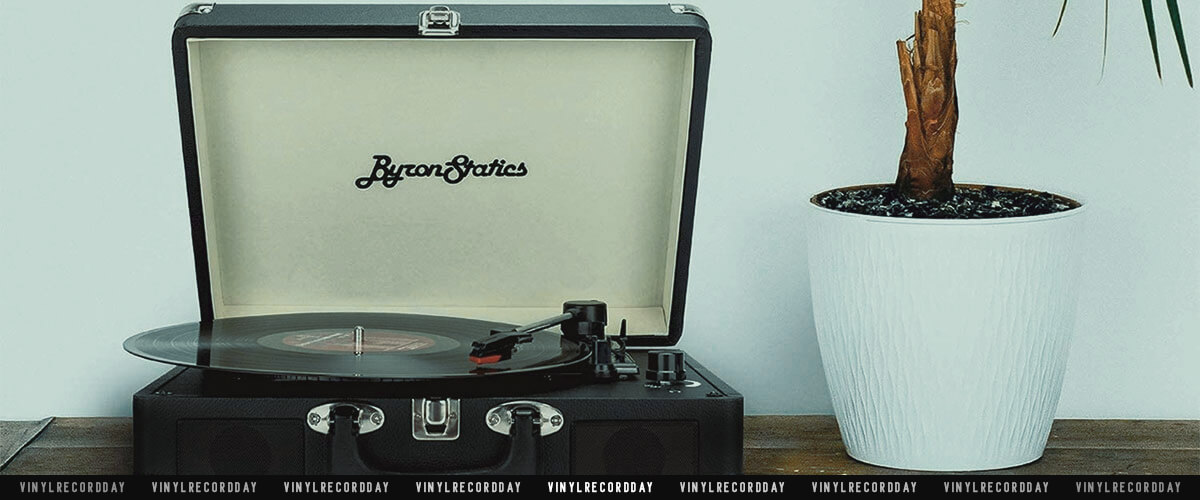 Byron Statics is a delightful fusion of style, portability, and impressive sound quality. With its lightweight design and stunning faux leather case, this suitcase record player is an ideal companion for music enthusiasts who love to bring their favorite tunes along, whether at home or while traveling.
Key specs
Speeds, RPM: 33 1/3, 45, 78.
Speakers: yes.
Bluetooth: no.
USB: no.
AUX in.: yes.
RCA out.: yes.
Headphone jack: yes.
WOCKODER KD-3011BL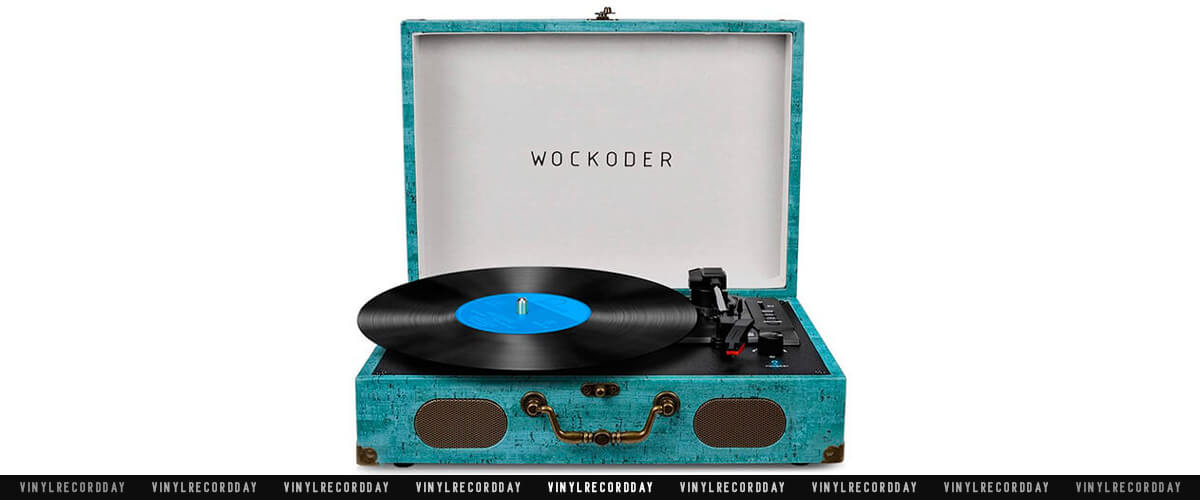 WOCKODER KD-3011BL is another portable LP player that blends modern features with a classic retro design. It adds a touch of nostalgia to any space while offering the convenience of today's technology.
The KD-3011BL offers three speeds (33, 45, and 78 RPM), allowing you to play 7″, 10″, and 12″ vinyl records. This versatile turntable ensures that your entire vinyl collection, from vintage classics to modern releases, can be enjoyed without any hassle.
I definitely love its extensive range of connectivity options. The built-in Bluetooth enables wireless streaming from the phone, while the SD and USB play functions add even more versatility.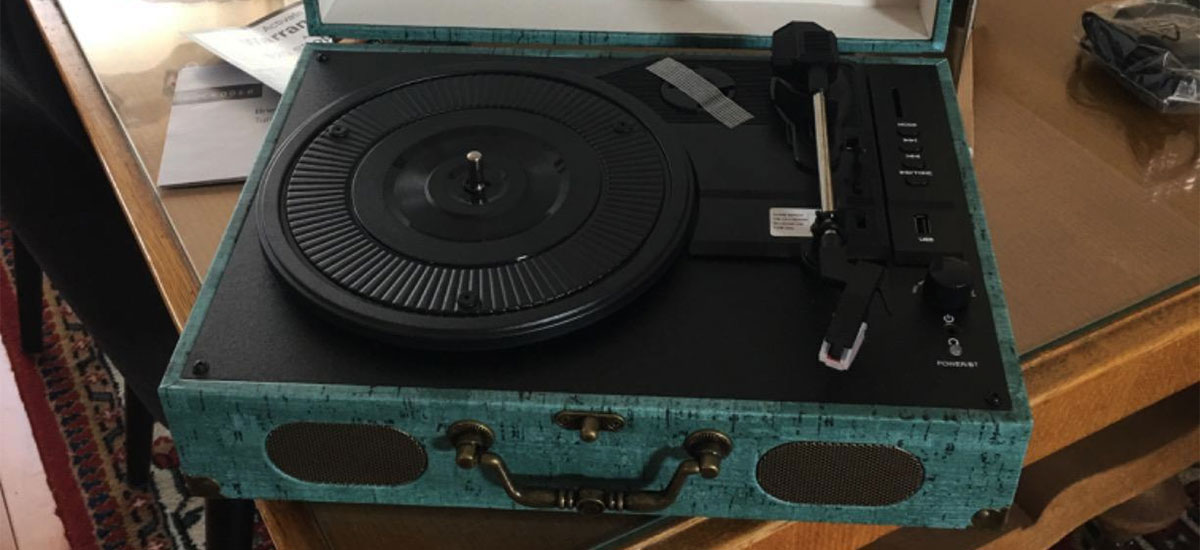 For those seeking additional audio choices, the KD-3011BL is equipped with a headphone jack output, a 3.5mm AUX-in, and RCA line out, meaning you can connect external speakers for a more immersive experience.
The sound quality has exceeded my expectations – the built-in speakers deliver clear sound even at high volumes. Overall, this TT's impressive audio performance makes it a fantastic addition to any music lover's collection.
WOCKODER KD-3011BL is the finest budget portable record player available in today's market. It features a remarkable blend of style, functionality, convenience, and an affordable price tag. If those are features you are looking for, you may end your search here.
Key specs
Speeds, RPM: 33 1/3, 45, 78.
Speakers: yes.
Bluetooth: yes.
USB: yes.
AUX in.: yes.
RCA out.: yes.
Headphone jack: yes.
Pros
Well-built and sturdy.
Looks nice.
Comes with an extra needle.
A crisp and refreshing sound.
Cons
Bluetooth sound is good but not loud enough.
A power cord is a bit short.
Is a bit heavy.
Udreamer UD001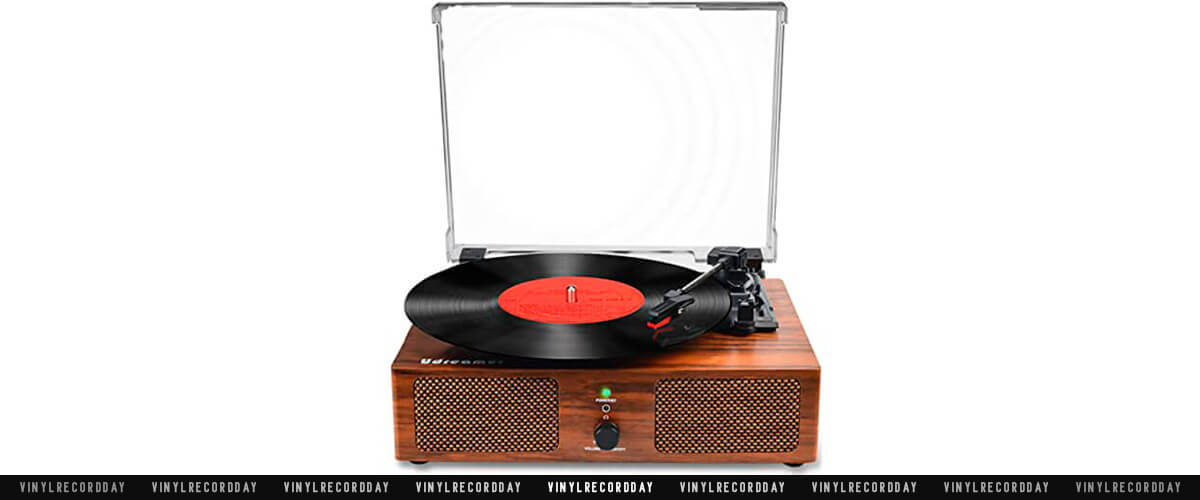 Udreamer UD001 is another great portable record player for those who want to enjoy their vinyl records on the go. This model can boast useful, up-to-date features – Bluetooth input and USB connectivity, allowing you to connect it to your phone or computer. It also has built-in stereo speakers for better sound, or you can connect bigger speakers via the RCA cable if you need louder sound.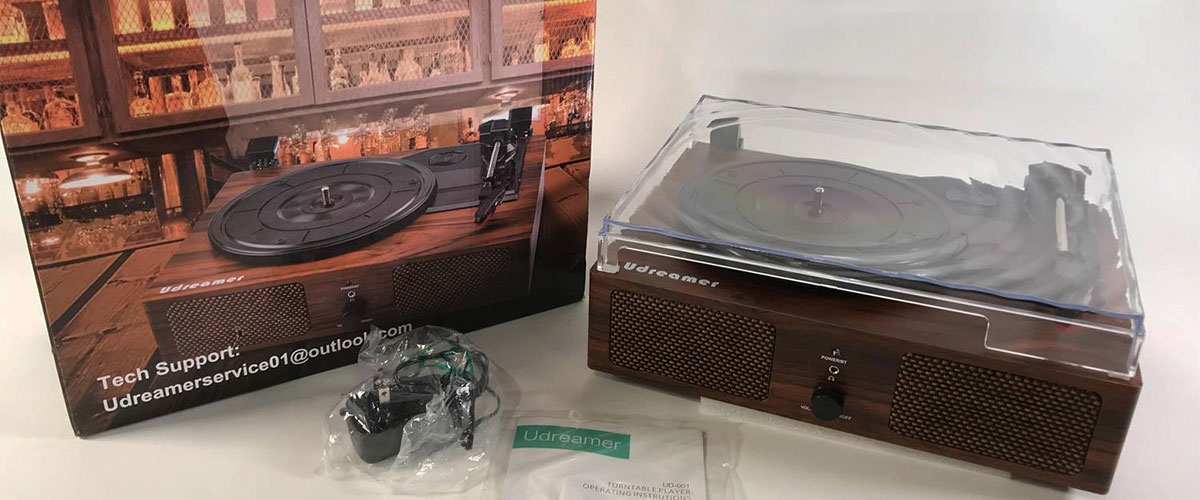 This player supports 3 listening speeds (33-1/3, 45, and 78 RPM) and 3 sizes of records (7, 10, and 12 inches). In addition, its base is equipped with a spring and belt-driven design to absorb vibrations, significantly improving sound quality.
The player looks terrific – it's made of vintage wooden material, so you can easily place it anywhere in your home or office without feeling like it's an eyesore. What I like the most about this model is that it combines a classic, nostalgic design with 100% modern features. And last but not least, the UD001 also includes a removable dust cover to help protect its parts and increase its life span.
Udreamer UD001 is a good portable record player that brings the classic sound of vinyl to life. It looks fantastic, sounds crisp, and doesn't muffle anything. Great buy for the price!
Key specs
Speeds, RPM: 33 1/3, 45, 78.
Speakers: yes.
Bluetooth: yes.
USB: yes.
AUX in.: yes.
RCA out.: yes.
Headphone jack: yes.
Pros
Beautiful retro design.
Decent audio – even secondhand LPs sound great.
Gets pretty loud.
Totally user-friendly – suitable for teens and elderly.
Cons
The audio quality may suffer when playing via Bluetooth.
Requires additional weight on the needle.
Victrola V50-200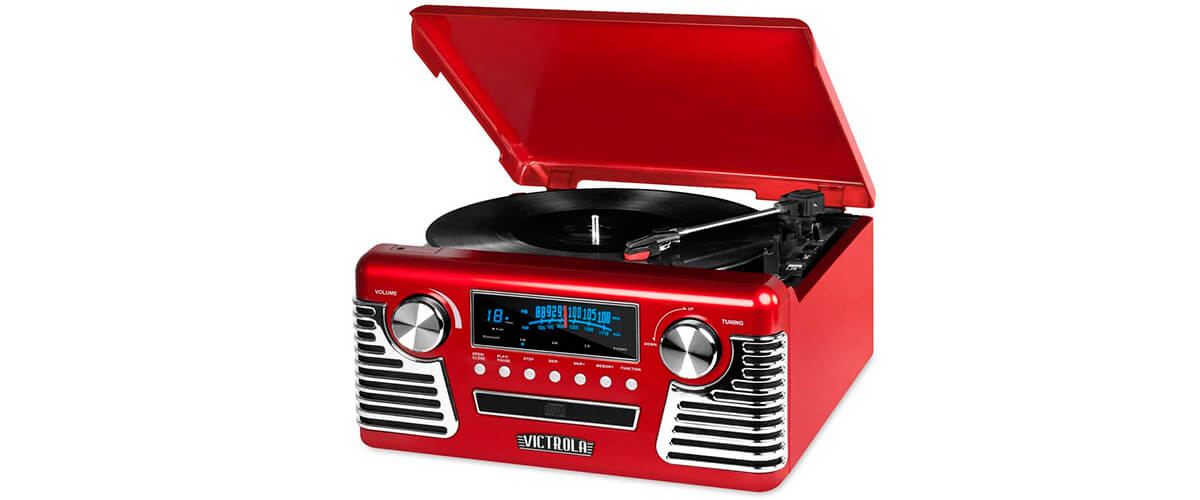 You may ask me why I like Victrola V50-200 even though it's almost twice pricier as other models on my list. That's because it offers a chic, eye-catching retro design and is packed with an array of features that will delight music enthusiasts.
This belt-driven, 3-speed system is designed to play LPs at 33 1/3, 45, and 78 RPM, accommodating various vinyl formats. In addition to its vinyl capabilities, the versatile V50-200 includes a built-in CD player, stereo speakers, and an AM/FM radio with an illuminated tuner. The 3.5mm aux-in and headphone output enable connectivity with non-Bluetooth devices, while the USB recording feature and user-friendly software allow vinyl-to-MP3 conversion.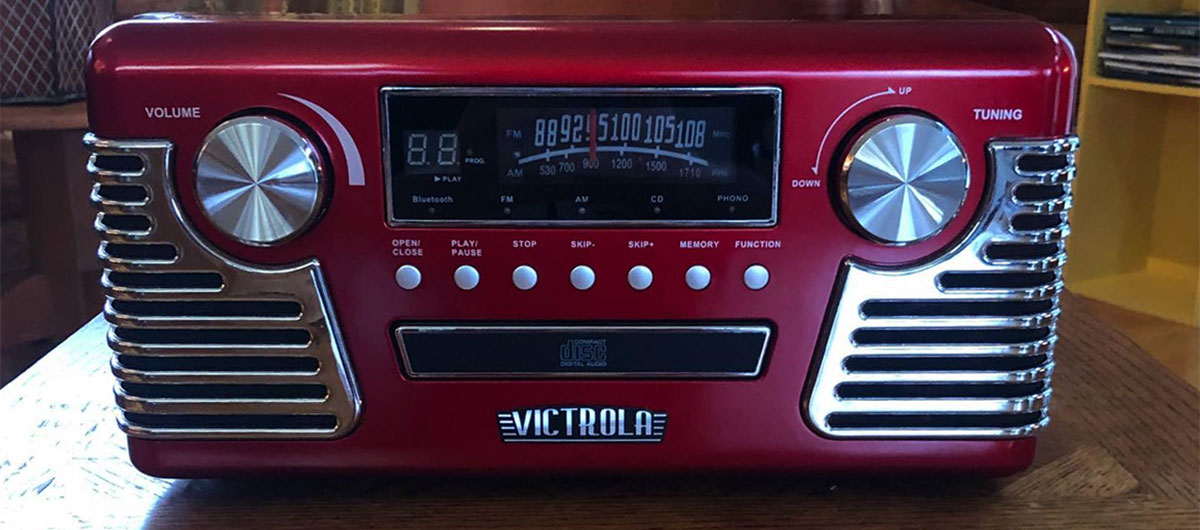 One drawback of the V50-200 is the inclusion of a flimsy plastic adapter and the lack of a mat, which can affect sound quality and record rotation. However, after adding a mat and a sturdier adapter, the turntable's performance improved significantly.
Overall, Victrola V50-200, with its stylish appearance, versatility, and ease of setup & use, is an excellent choice for beginners seeking a blend of modern functionality and distinctive style.
Key specs
Speeds, RPM: 33 1/3, 45, 78.
Speakers: yes.
Bluetooth: yes.
USB: no.
AUX in.: yes.
RCA out.: no.
Headphone jack: yes.
Pros
The CD player is particularly impressive, providing excellent playback even on scratched discs.
Easy-to-use interface with satisfyingly toned buttons.
Luminous LED display.
Available in multiple, eye-catching hues.
Cons
To have better sound, you might need to buy a mat and a thicker adaptor.
Modest build quality – feels fragile.
Buyers guide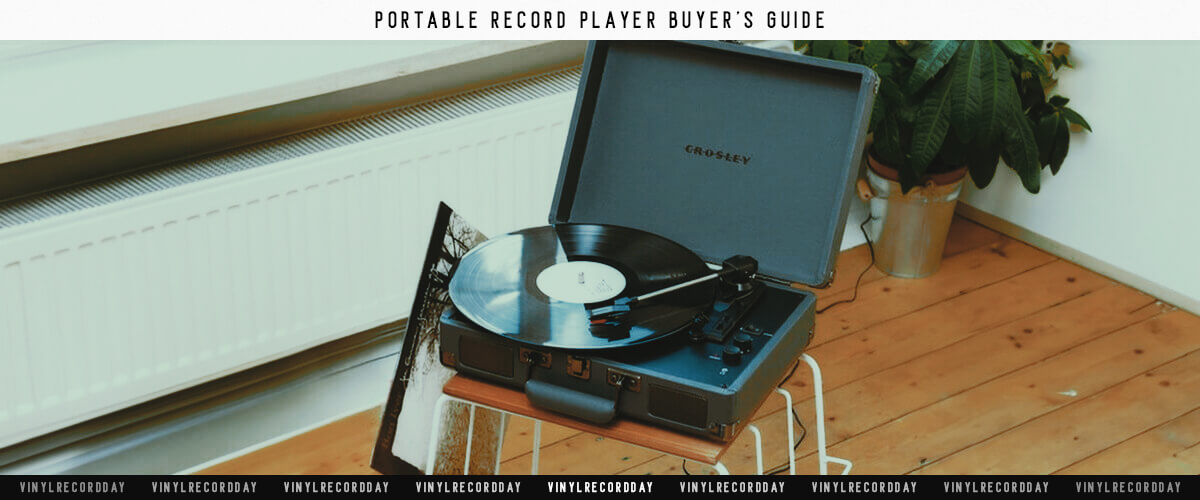 To select a portable record player that will meet your needs, look for the following features:
Built-in speakers
Built-in speakers are an important feature for the best portable turntables, as they offer instant, hassle-free listening experiences. They eliminate the need for additional equipment, making these turntables more compact and convenient to use. With built-in speakers, music enthusiasts can effortlessly enjoy their favorite vinyl records anytime, anywhere.
RCA outputs
RCA outputs, recognizable as the classic phono connectors, are an industry standard for a reason. Any respectable portable record player should sport these connectors. Why? They enable enthusiasts to integrate larger audio peripherals, amplifying not just the volume but the overall sound fidelity.
Other inputs and outputs
Venturing beyond the staple RCA outputs, a well-rounded portable turntable should feature a variety of inputs and outputs to enhance its versatility:
3.5mm headphone jack: for those private listening sessions.
USB port: allows for easy digitization of your vinyl collection or playback from digital sources.
Auxiliary input (AUX): lets you connect external devices, like your phone, for playback through the speakers.
Built-in preamp: not strictly an output, but important for connecting directly to speakers without needing an external amplifier.
A diverse I/O setup ensures you're ready for any audio adventure.
Bluetooth capability
While traditionalists might not see Bluetooth as a primary feature for turntables, its modern relevance is undeniable. If you own a high-quality autonomous Bluetooth speaker, this capability can enhance your vinyl sessions by offering flexibility in speaker placement and reducing cable clutter. Furthermore, the current market brims with affordably priced yet impressive Bluetooth headphones and microphones. This means you can not only enjoy wireless listening but also potentially engage in interactive sessions or recording endeavors using your turntable. It's a nod to the future while cherishing the past.
Tonearm, cartridge, and stylus
When it comes to portable turntables, the tonearm, cartridge, and stylus trio present a classic conundrum: to invest or to settle. Most portable variants come with a fixed cartridge, limiting stylus replacement options. Cheaper LP players often sport a built-in cartridge, which may compromise audio quality. After your purchase, it's essential to test the tonearm; ensure its movements are smooth and unhindered for the finest playback experience. Remember, you often get what you pay for in the world of vinyl.
Speed
A high-quality portable record player should offer three-speed options: 33 1/3, 45, and 78 RPM. These speeds cater to various vinyl record formats, ensuring compatibility with your entire collection. Such versatility enables music lovers to enjoy classic, modern, and rare vinyl records alike.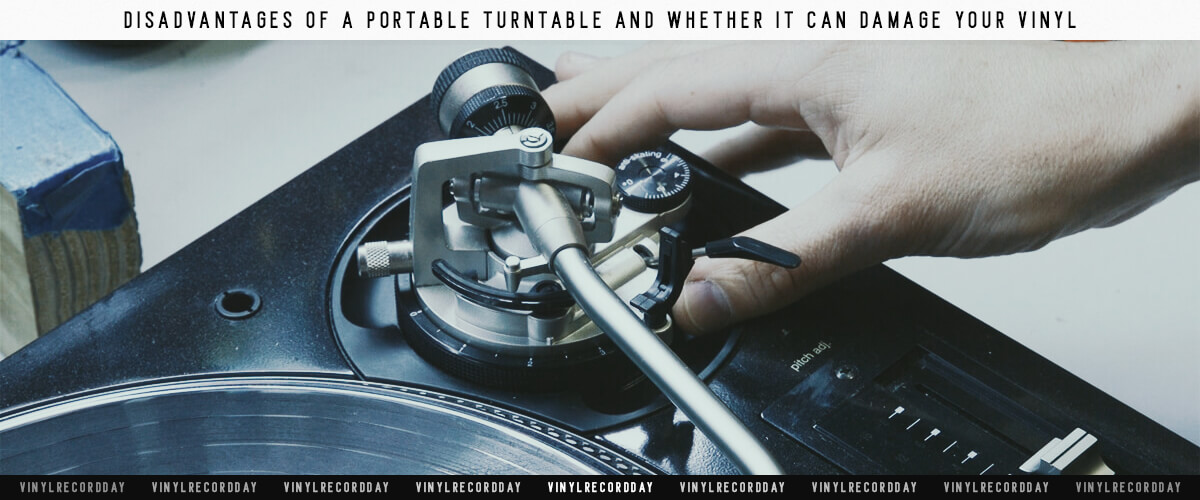 Disadvantages of a portable turntable and whether it can damage your vinyl
Now, let's explore the potential drawbacks of portable turntables and learn whether these machines could affect your cherished record collection.
Some mechanical issues
While portable turntables provide a convenient way to enjoy your favorite vinyl records, they may come with some mechanical issues. Here are a few common concerns:
Lower-quality components: due to the compact nature of these players, some manufacturers may use inferior materials or components, which could lead to reduced performance or durability.
Stability: portable TTs often sacrifice stability for portability. The lightweight design may make them prone to vibrations, affecting the sound quality and, in some cases, potentially causing damage to your vinyl records.
Built-in speakers: while built-in speakers are convenient, they may not deliver the same audio quality as dedicated external ones. Additionally, the close proximity of speakers to the turntable can introduce unwanted vibrations, impacting the listening experience.
Tracking force: the stylus tracking force on some portable turntables may be heavier than on higher-end models, potentially leading to increased wear on your vinyl records over time.
Tonearm and cartridge quality: some models may feature less sophisticated tonearms and cartridges, which could affect the sound quality and, in extreme cases, cause damage to your vinyl records.
Before making a purchase, do weigh the convenience of a vintage portable record player against these potential issues.
FAQ
Do portable record players ruin records?
Portable record players do not necessarily ruin records, but lower-quality models with heavier tracking force, poor tonearm, or cartridge design might cause increased wear on your vinyl over time. To minimize potential damage, choose a high-quality portable turntable with proper components and maintain your records in good condition.
Do Crosley turntables ruin records?
Crosley turntables are not known to damage records but they often produce less than ideal sound quality. To reduce wear on your vinyl you can buy a slipmat (a circular piece of material that fits under the record) or create your own by drawing circles onto a mouse pad.
Do portable record players need to be plugged in?
Some portable record players require a power source and need to be plugged in, while others feature built-in rechargeable batteries, allowing for cordless use. To enjoy your portable turntable without being tethered to an outlet, look for models with battery-operated functionality or a long-lasting rechargeable battery.
What records work best with a portable player?
Portable players typically work well with most vinyl records, but they often excel with standard 33 1/3 and 45 RPM records, which are more common and less fragile. To ensure the finest performance, choose a model with multiple speed options and compatibility with 7″, 10″, and 12″ records.
What kind of needle can I use on my portable record player?
The type of needle you should use on your portable record player depends on the specific model and cartridge it has. It's essential to consult the manufacturer's guidelines or user manual for compatible stylus replacements. Using a compatible, high-quality needle will ensure optimal sound quality and prevent potential damage to your vinyl records.
Do turntables use a lot of electricity?
No. If you're using a portable turntable with batteries, then the electrical consumption will depend solely on how often you turn it on and off. The use of a power cord might seem more wasteful, but the length of the cord only has a negligible effect on energy consumption.
How do you skip a song on vinyl?
To skip a song on vinyl, you must manually pick up the needle from the record and put it back down in a different location.
How loud can I play my portable record player?
It depends on your record player. Most battery-powered players produce no more than 60 decibels at full volume, which is roughly the same amount of noise produced by a running refrigerator.