The time of rediscovering vinyl has come. We bet you've waited for this because you can finally indulge in the warm and lossless end-to-end analog sound. But here comes a problem – how do you pick the best turntables under 1000 if there are thousands of options out there?
Loosen up! You have set an awesome budget that would enable you to get a turntable capable of extracting as much from the grooves as possible. I am here to help you get the most out of your budget. Stick with me, and you will find a decent record player you will definitely love.
Our pick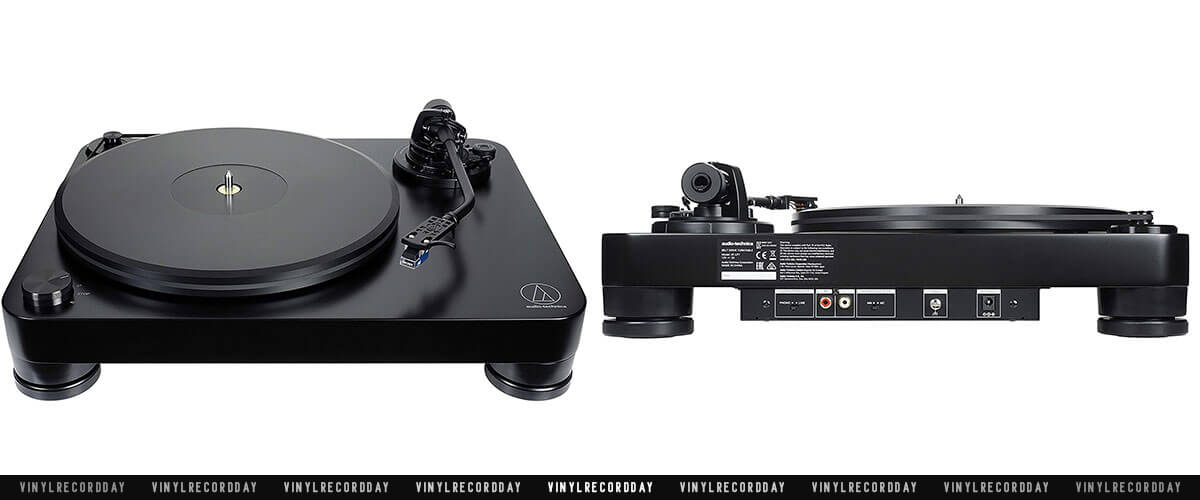 Audio-Technica AT-LP7
Best Turntable Under $1000
Dual Moving Magnet Cartridge provides outstanding channel separation and extended frequency response.
Read the full review
.
Record players under $1000 comparison table
Name
Speeds, RPM
Phono Pre-Amp
Bluetooth
USB
AUX
Review
Audio-Technica AT-LP7

best overall

33 1/3, 45
yes
yes
yes
yes
Review
Rega Planar 2

also a great choice

33 1/3, 45
yes
yes
yes
yes
Review
Pro-Ject Debut Carbon EVO

good choice under $600

33/45
no
no
no
no
Review
Pioneer PLX-1000

for DJ

33 1/3, 45
yes
no
no
no
Review
What to expect from a record player under $1000?
If you've already looked through some of the record players, you've noticed that there are nice offers within the range of $300-500. These models are a frequent choice for vinyl enthusiasts who only make the first steps in record listening.
But there is the next generation of record players with stunning upgrades that take listening experience to a brand new level. As you switch from a basic deck to a more advanced audiophile turntable under $1000, you'll immediately see the difference.
You don't have to prick up your ears to notice that the level of noise and resonance is minimized in these devices. Companies offering record players within this price range focus on isolating the components completely. As a result, vibrations almost have no impact on the playback, and you can enjoy hi-fi sound with minimal or no resonance.
Other upgrades include an enhanced tonearm and its core components – cartridge and stylus. You'll see that top turntables under $1000 have an S-shaped or J-shaped tonearm that allows more accurate tracking. Besides, the cartridge features the highest quality needle (usually made of diamond) to make the most of every groove. Due to the optimal thickness and shape, the stylus carefully follows the tracks and grabs information as accurately as possible.
Even though that's not the defining factor, you might be attracted by the sleeker look of a $1000-worth turntable as well. These units might be upgraded with transparent platters, RGB lighting, and other additional features that add to the aesthetic look.
How I tested turntables under $1000
When deciding on the best turntable under $1000, I use the following additional pieces of equipment to evaluate the playback quality:
The selection of tracks helped me define the depth of the soundstage and the details present in vocals and instrumental passages:
Best Turntables Under $1000 Reviews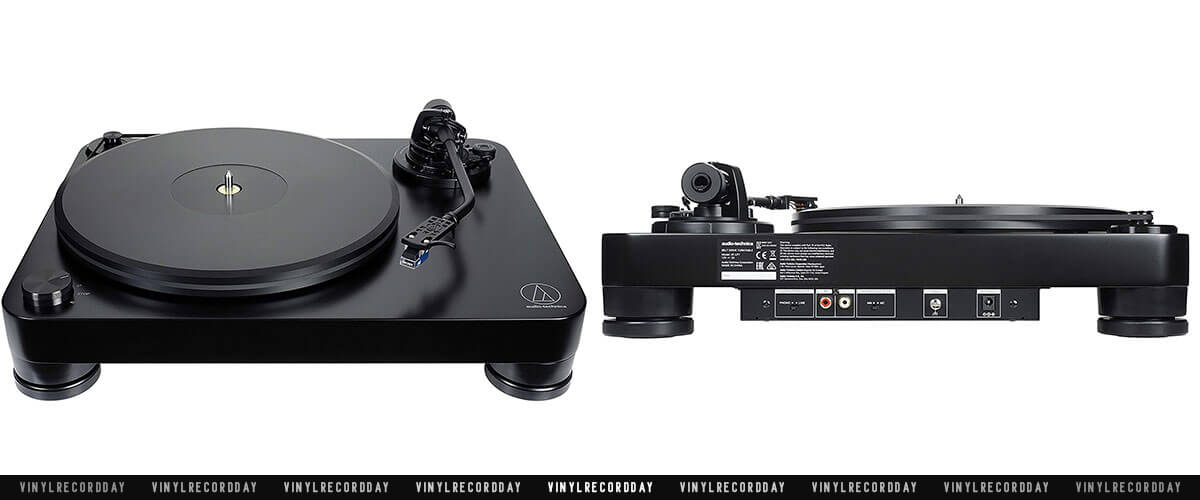 If you are trying to upgrade your vinyl experience, this Audio-Technica AT-LP7 is a great match for you. Thanks to the quality components that deliver excellent performance, you will rediscover your old records with a new passion.
It contains all the basic features you need to enjoy Hi-Fi sound with a detailed soundstage. The sound is precise and clean and is noted by the power that the track requires. It keeps the rhythm, even though there are only two speeds available: 33-1/3 and 45 RPM. Thanks to the isolated motor and speed-sensor system, the turntable maintains accurate and vibration-free platter rotation. The VM520EB dual MM cartridge delivers excellent channel separation and enhanced frequency response.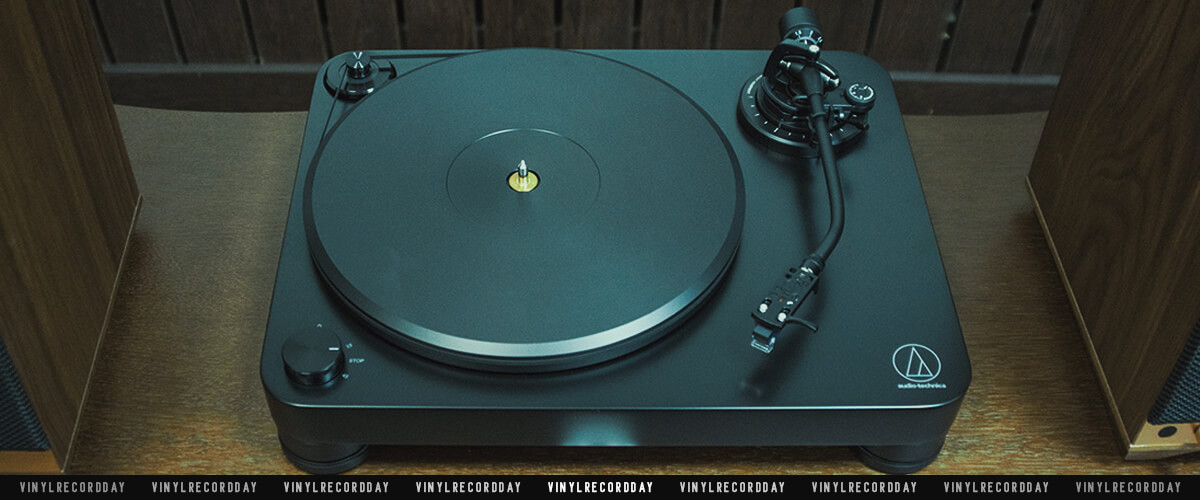 Unlike Pro-Ject Debut Carbon EVO with a straight tonearm, this Audio-Technica model comes with a J-shaped tonearm with precision bearings for enhanced tracking.
I loved nearly silent operation and consistent speed. The only drawback of this device is that you've got to manually lift the stylus when the album side finishes. I was away for a while and didn't notice that the tracklist was fully played. As I came back, I saw the cartridge dragging around the vinyl. That's bad for the stylus, especially considering the price of the replacement element.
As the best $1000 turntable, Audio-Technica AT-LP7 is a great device for purists and audiophiles focused on audio performance. This machine delivers a killing combination of overall quality, superb sound, and reasonable price.
Key specs
Drive type: belt.
Operation type: manual.
Speeds, RPM: 33 1/3, 45.
Phono Pre-Amp: yes.
Bluetooth: yes.
USB: yes.
AUX: yes.
Pros
Detailed soundstage with rich lows and highs.
Premium-quality components from a reliable brand.
Feels solid and operates smoothly.
Arrives ready to play with only a bit of setup.
Perfect price-quality ratio.
Cons
Requires control due to the manual system.
Rega Planar 2 – also a great choice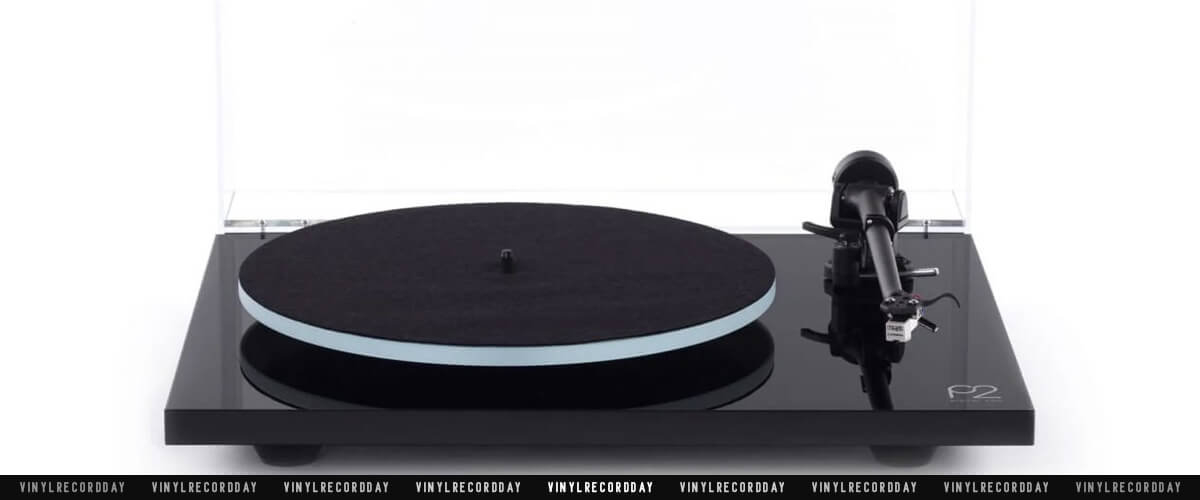 If the lustrous design is an imperative factor for you, you should cast a glance at this Rega Planar 2.
Compared to TEAC TN-3B, which sits in the same price range, the Planar2 boasts a far more refined look. It has an acrylic high-gloss laminated plinth and a float glass 'Optiwhite' 10 mm platter, enhancing the device's design.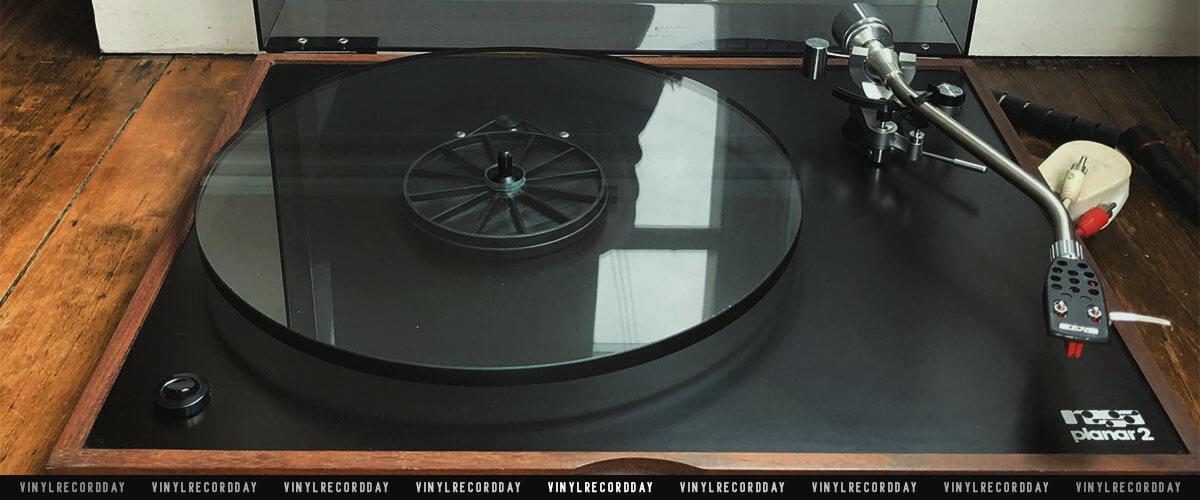 The components of this model are as great as its look. It is equipped with a 24V low-noise motor that doesn't disrupt the playback. The straight RB220 tonearm with self-securing brass bearings delivers an enhanced fit. Thanks to the redesigned feet, the device maintains a more stable position and effectively reduces vibrations. As a result, the reproduced sound is punchy, balanced, clean, and free of any additional noises.
However, the Planar 2 comes without a preamp, so if you do not have one in your arsenal, you'll only hear hissing and whispering. There is also no speed control button, so get ready for extra manipulations to adjust the desired speed.
This Rega Planar 2 is an excellent record player under 1000 in terms of design – it'll definitely add zest to your interior. And, of course, this babe will uplift you with smooth and full tones.
Key specs
Drive type: belt.
Operation type: manual.
Speeds, RPM: 33 1/3, 45.
Phono Pre-Amp: no.
Bluetooth: no.
USB: no.
AUX: no.
Pros
Robust and refined look.
Sounds excellent right out of the box.
Eliminates background noise.
Captures plenty of detail and subtle nuances.
Cons
Requires a phono preamp.
No speed control button.
Pro-Ject Debut Carbon EVO – good choice under $600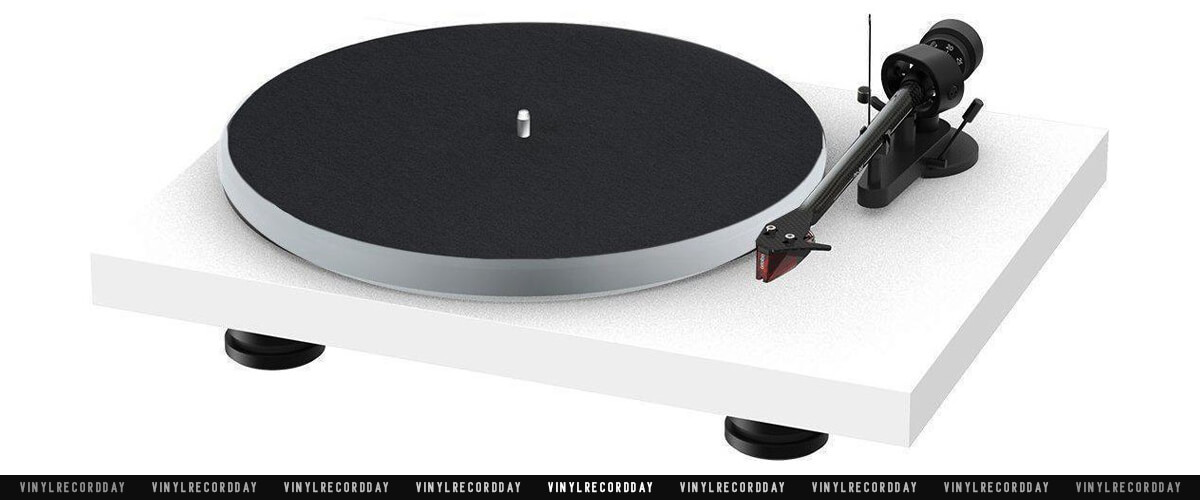 The Pro-Ject Debut Carbon EVO is handmade beauty with the critical aspects in mind to gladden you with excellent performance and many years of use.
This belt-drive turntable features an isolated motor with a new suspension solution that ensures whisper-quiet operation. Thanks to three height-adjustable metal feet, you can find the perfect location for the device without compromising the right level positioning. Next, you can easily change the replay speed with a push of a button. Also, the electronic system controls the speed accuracy to provide a consistent playback tempo.
Compared to Audio-Technica AT-LP7, which uses its native MM cartridge, the Debut Carbon EVO features an Ortofon 2M Red known for its outstanding quality. The cartridge and the diamond stylus deliver an incredibly detailed sound without any additional noises in the background. The agile sound that brims with detail and has an advanced level of sonic precision will be a true melody to your ears.
The setup is simple. However, I want to warn you that the tonearm might require additional adjustment. Be careful when setting the tracking force, otherwise, it will affect the playback quality and the longevity of the stylus.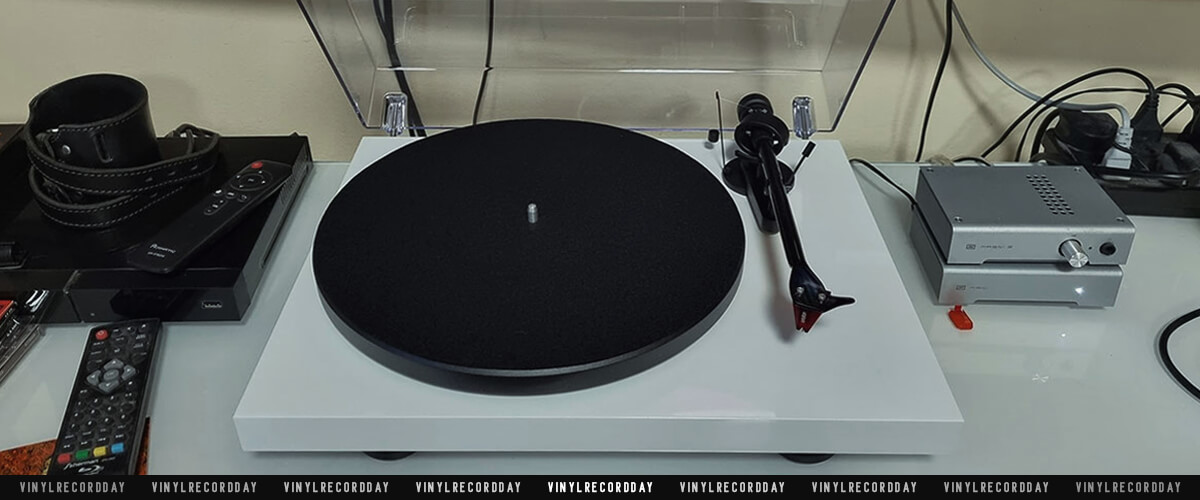 Pro-Ject Debut Carbon EVO is a great turntable under 1000 dollars – it will let you deep in the vinyl and grasp every element of the complex sound composition.
Key specs
Drive type: belt.
Operation type: manual.
Speeds, RPM: 33/45/78.
Phono Pre-Amp: no.
Bluetooth: no.
USB: no.
AUX: no.
Pros
Isolated motor with an advanced suspension system.
Three adjustable feet for better stability.
Simple speed regulation.
High-end Ortofon 2M Red cartridge with a diamond stylus.
Cons
The tonearm has to be adjusted.
Pioneer PLX-1000 – for DJ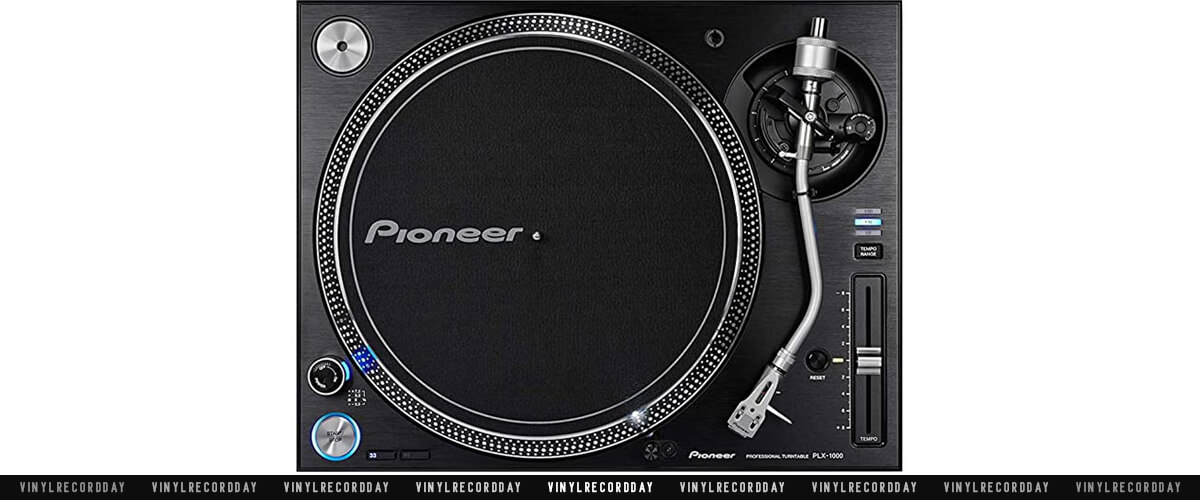 Pioneer, established in 1930, is known for producing high-quality record players, and the PLX-1000 is no exception. In fact, in terms of sound quality and general design, this product exceeds many of its rivals in the same price region.
The PLX-1000 was engineered with professional DJs and musicians in mind – they can easily mix various music genres from bass, house, hip-hop/reggae, D&B to drum 'n' bass due to the intelligent construction of the table.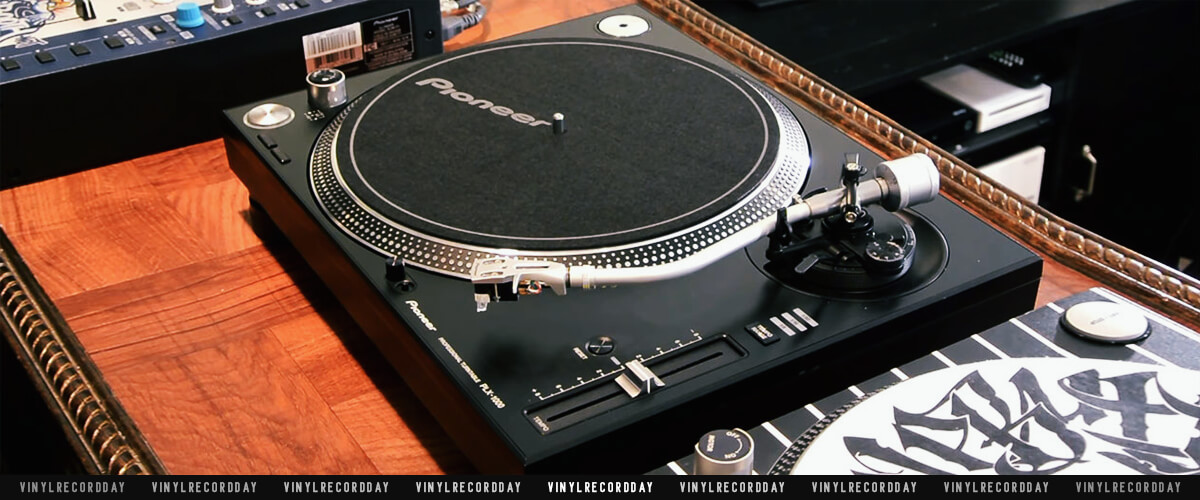 Starting off, it features a high-torque direct-drive engine with an aluminum & steel tonearm for stable rotation and long-lasting performance. The player also has a stylus protection system for worry-free DJ mixes, as well as an adjustable strobe disk for exact speed conversions between 33 1/3 and 45 RPM. Next, gold-plated RCA output connectors provide low impedance and outstanding sound quality, plus, interchangeable power and audio connectors make attaching and replacing them a breeze.
A customizable, multi-tempo pitch control extends from +/-6 percent to 0.1 percent, providing you with the flexibility and accuracy you need to fine-tune the beat pace. Finally, the modern matte black design will complement any home style or DJ booth.
If you are looking for a good turntable under $1000 for Dj, Pioneer PLX-1000 has got you covered! It has everything a pro-level product should deliver – a powerful motor, variable pitch control, heavy-mass chassis, and more. All this results in excellent noise cancellation and a superb soundstage.
Key specs
Drive type: direct.
Operation type: manual.
Speeds, RPM: 33/45.
Phono Pre-Amp: yes.
Bluetooth: no.
USB: no.
AUX: no.
Pros
Heavy die-cast body and slipmat effectively reduce resonance and vibrations.
Accurate performance.
Improved sound deadening in the base and tonearm.
Keeps rock stable speed.
Is dead quiet in use.
Easily replaceable headshell.
Cons
Tonearm bearings may be loose when delivered.
TEAC TN-3B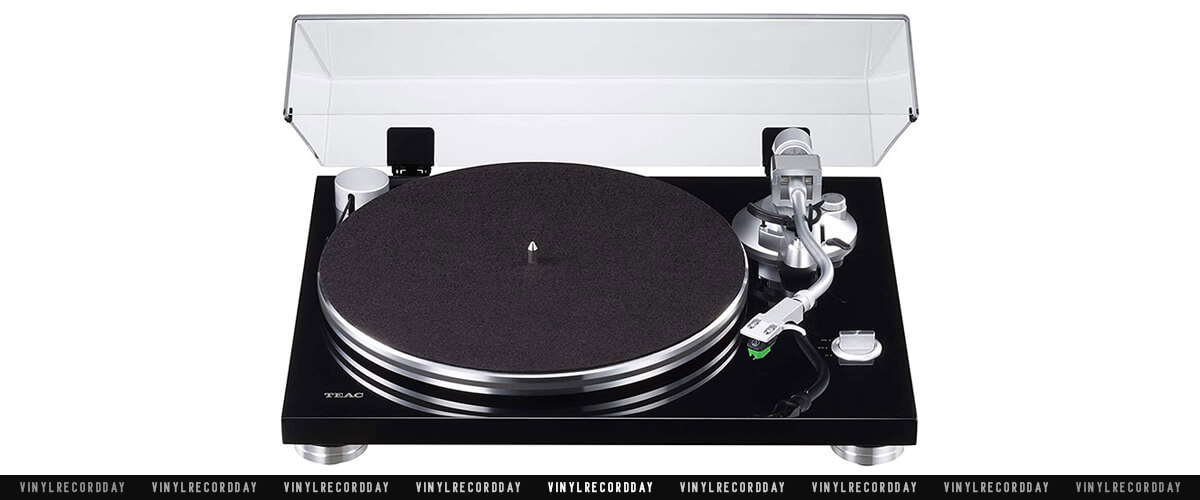 The TEAC TN-3B belt-drive turntable provides you with the features you'd expect from a high-quality record player.
Due to the isolated DC motor, this TT is noted for a low level of wow and flutter (less than 0,1%). Next, it supports 33-1/3 and 45 rpm for LP and EP records that will sound crisp and detailed. The expansive soundstage with resonance-free highs and solid basses ensures you enjoy every single sound that comes from the record player.
In contrast to Rega Planar 2 which doesn't have in-built phono preamp, the TEAC TN-3B includes a PHONO EQ amplifier. Moreover, this turntable also features a pre-installed high-quality AT-VM95E cartridge with an elliptically shaped stylus manufactured by Audio-Technica. There is also a USB output to convert vinyl tracks into digital ones.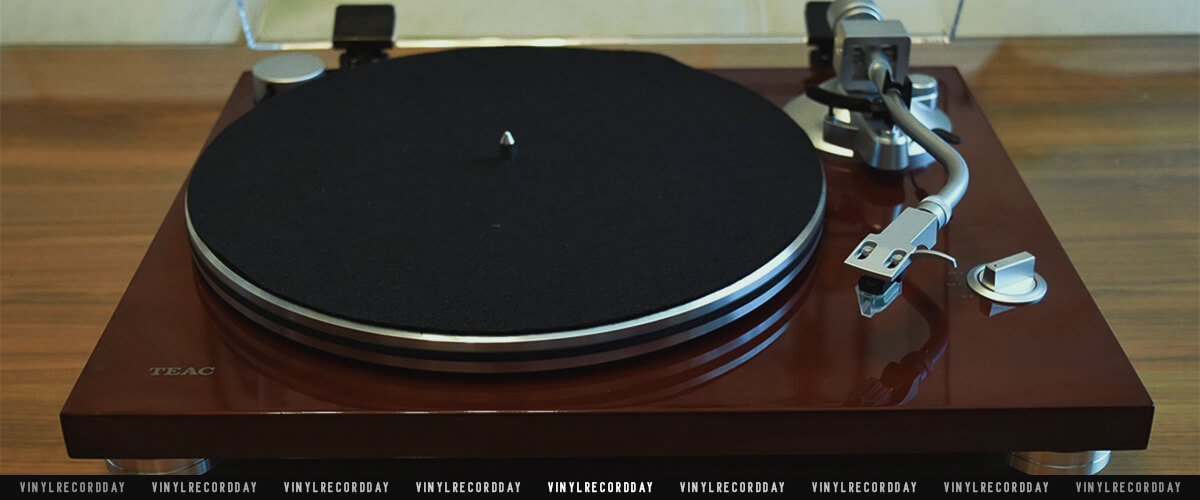 The design of this record player is simple, which means there are no extra details that might disrupt the playback. However, I don't like that the on/off button is located on the back of the deck. In my case, I had to grab the turntable and turn it a little bit to get to the button.
All in all, this is a decent-quality machine under 1000 dollars that has all the features to take your vinyl listening experience to a new level due to its quality components.
Key specs
Drive type: belt.
Operation type: manual.
Speeds, RPM: 33 1/3, 45.
Phono Pre-Amp: yes.
Bluetooth: no.
USB: yes.
AUX: no.
Pros
Nice combination of durable construction and elegant appearance.
In-built phono preamp compatible with MM cartridges.
Audio-Technica MM cartridge with elliptical stylus.
USB output for connection with a computer.
Solid performer at a reasonable price.
Cons
Inconvenient location of the on/off button.
NAD C 588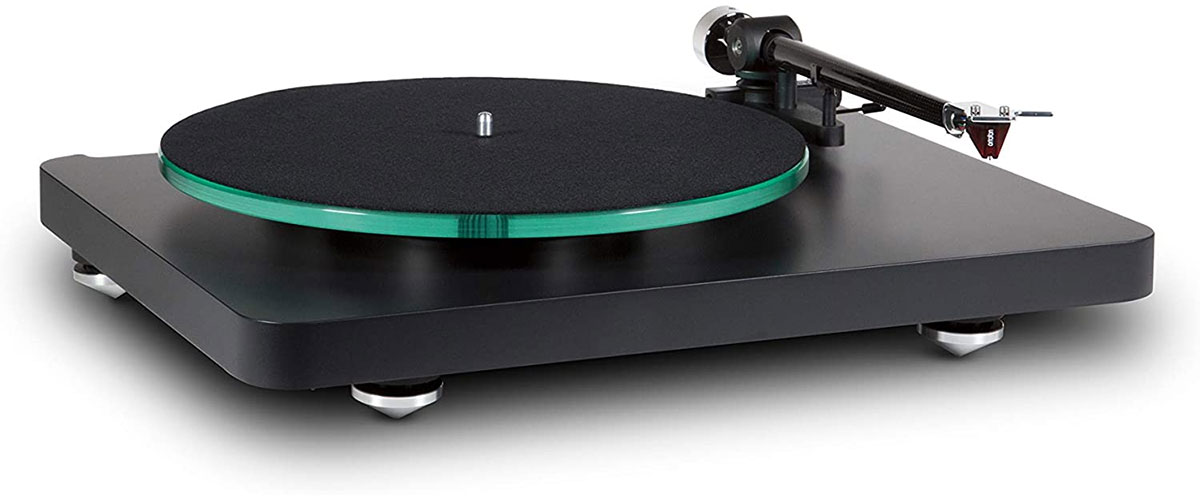 This belt-drive turntable will extract all the musical energy out of the grooves of your favorite vinyl.
The NAD C 588's high-precision AC motor is isolated from the platter, ensuring smooth and accurate performance. It includes a carefully designed belt that minimizes unwanted vibration.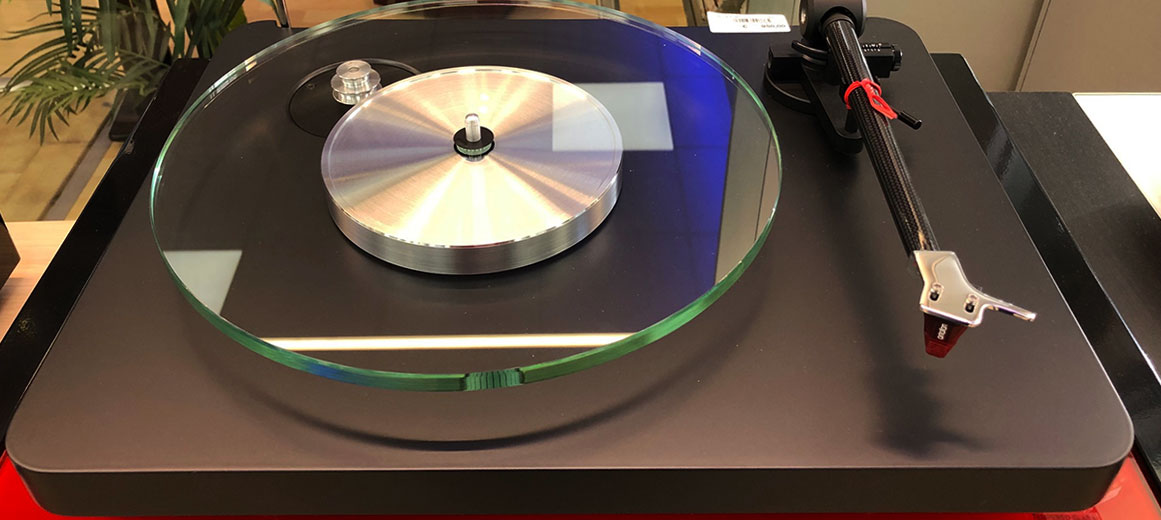 Just like Rega Planar 2, this record player has a glass platter that is heavy enough to absorb resonance and remaining vibrations. However, it features an Ortofon 2M Red cartridge that provides a full range of sound reproduction. If you're into tracks that pack a lot of punch and have a lot of detail, then you'll love the expressive sound this player produces.
What I liked about this turntable is that you get control over the tracking angle and azimuth. But on the other hand, this might be a confusing feature for those who are just starting their vinyl journey.
If you are ready to take control over the turntable's performance and already have some tuning experience, this NAD C 588 record player is a good match for you.
Key specs
Drive type: belt.
Operation type: manual.
Speeds, RPM: 33 1/3, 45.
Phono Pre-Amp: yes.
Bluetooth: no.
USB: no.
AUX: no.
Pros
AC motor with a vibration-absorbing belt.
Heavy glass platter to reduce resonances and vibrations.
Ortofon 2M Red cartridge for rich sound.
Cons
Requires manual adjustments.
Music Hall Classic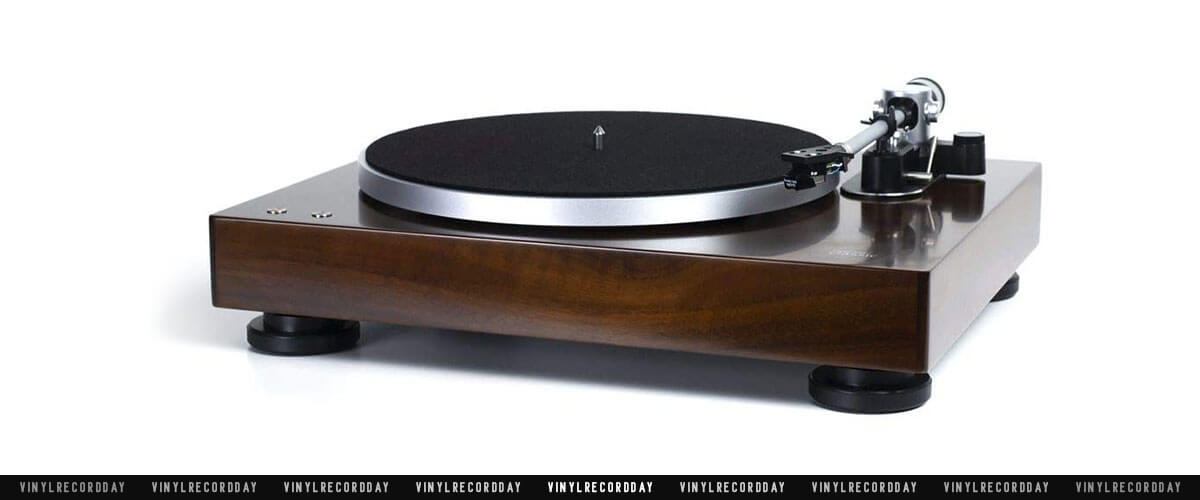 The Music Hall Classic is an excellent choice for anyone looking for a quality turntable to start their vinyl journey. This semi-automatic TT is super easy to use, making it perfect for beginners. On the other hand, this model is built of premium materials so that keen listeners will appreciate it as well.
Firstly, the factory-mounted Music Hall Spirit precision aligned upgradable cartridge ensures superb sound quality – it provides sufficient volume, great audio spread, and bright highs.
Secondly, the turntable comes with an aluminum platter and a felt mat, ensuring smooth playback, while the adjustable vibration-damping feet minimize any noise or resonance, keeping the sound beautifully transparent. Plus, the touch-sensitive electronic speed control of 33/45 RPM makes it easy to find the right speed for your music. And with its unique uni-pivot tonearm design, you can be sure that your records are being played accurately.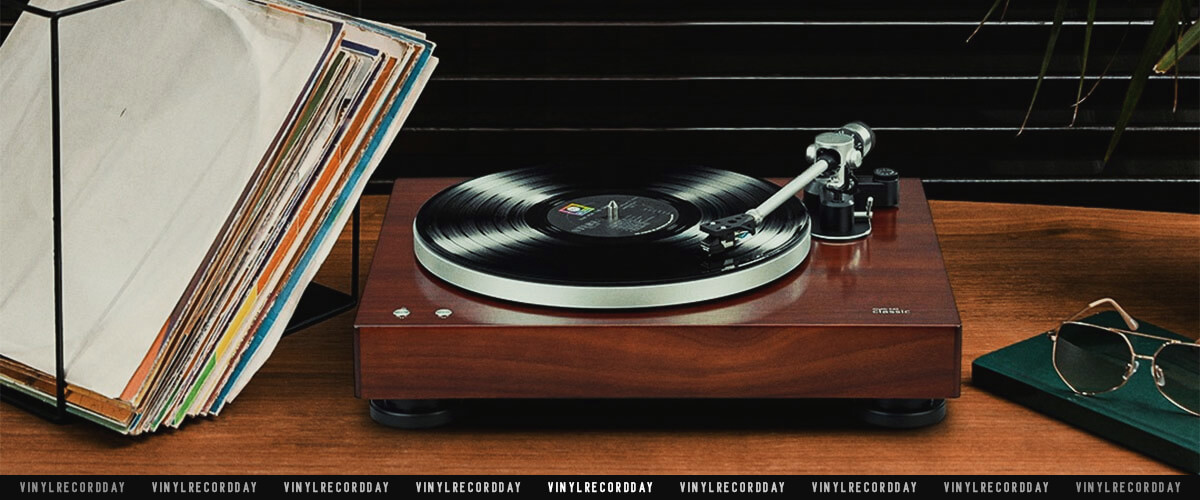 And last but not least, the Classic boasts a gorgeous, timeless dark walnut wood veneer finish, making it an excellent addition to any home entertainment system.
Music Hall Classic is the right choice for newbies ready to invest in a top-class turntable. Although this model only offers basic features, its components are of the highest quality! It could be years before you want to upgrade this equipment!
Key specs
Drive type: belt.
Operation type: semi-automatic.
Speeds, RPM: 33 1/3, 45.
Phono Pre-Amp: yes.
Bluetooth: no.
USB: no.
AUX: no.
Pros
Minimalistic yet elegant design – fits in any room.
Built to last.
A quality phono stage – connect the TT right to your current audio system.
High-quality tonearm – accurate tracking and flawless counterweight positioning.
Effective vibration-damping features.
Delivers natural, warm sound.
Cons
A fragile damped needle release mechanism.
What are the important features to pay attention to when choosing vinyl players?
Vinyl players are made of different components that define the performance of the device. For example, the drive system is responsible for motor operation, while the system type (manual or automatic) determines how much effort you've got to apply to make the vinyl sing. A tonearm, cartridge, and stylus play a crucial role in delivering accurate sound. A phono preamp allows you to connect the turntable to a more advanced sound system. USB and Bluetooth ensure you can connect to the computer or speakers either via a cable or wirelessly. Jump to this article to learn more about elements of top turntables under $1000.
FAQ
Can I buy a high-end turntable for $1000?
As you could understand from this review, there are high-end turntables for $1000 or even less. They provide excellent audio quality due to decent-quality components and machinery.
Can cheap turntables damage records?
Yes, cheap turntables damage records. Low-quality materials and parts used in their construction can shorten an LP's life. Inferior needles and platters, as well as poor engineering choices, cause excess vibration and wear on your records over time. Additionally, some models lack tonearm dampening or speed stabilization which is necessary for maintaining the integrity of the vinyl collection. Fortunately, there are plenty of quality turntables available at reasonable prices that will ensure your records are well cared for.
Are high-end turntables worth it?
High-end turntables are certainly worth it for avid record collectors and audiophiles, who value audio quality. These turntables offer features such as superior anti-skating systems, adjustable arm height and weight, improved accuracy, and less wow and flutter. They also come with higher quality components like heavier platters, better tonearms, more stable motors, and better insulation from vibration, all of which contribute to an overall superior sound.
What speakers to choose for a vinyl player under $1000?
When choosing speakers for a vinyl player under $1000, consider factors such as speaker type, driver size, frequency range, impedance, and power handling. Look for a model with a full-range speaker type like two-way or three-way to ensure broad sound coverage and also search for larger driver sizes so the bass response is optimal and clear. Additionally, make sure the frequency range is wide enough and is compatible with the vinyl player. Consider the impedance rating of the speakers as higher impedance results in better sound quality. Lastly, pay close attention to power handling – too little power will not drive your music properly while too much will damage your speakers.
How many times can a vinyl record be played?
Usually, a well-maintained record can be played around 100 times. You can also prolong its lifespan to several hundred on condition of proper care. However, poorly tuned and low-quality turntable components can significantly cut the playtime of the vinyl. Find out more in this guide.
Difference between MM and MC cartridge
There are two main types of cartridges: moving magnet (MM) and moving coil (MC). They both can provide excellent performance, but there are some differences that might affect the listening experience.
MM cartridges are compatible with a great number of phono stages and allow you to replace the stylus as it gets out of order. But they are heavier and might not track the grooves as quickly as needed for more accurate playback. There are also some issues with reproducing high frequencies.
At the same time, MC cartridges produce cleaner and more detailed sound with precise speed accuracy. But they are more expensive and require an extra amplification stage due to lower output.
Find more dissimilarities in this MM and MC cartridge comparison.