Planning to discover or rediscover the world of vinyl but don't want to spend an arm and leg to buy a sophisticated setup? Then it would be wise to invest in a record player with speakers. However, choosing a quality model is vital since poor speakers will totally ruin your listening experience.
To make your life easier, I've prepared a list of the best record players with speakers the market has to offer. We'll review both types of systems – turntables with external and built-in speakers so that you can pick the most suitable one for your home. Interested? Then let's dive in!
Name
Speakers power
Speeds
Bluetooth
USB
AUX
Review
Crosley K200A

best with speakers

30 W
33 1/3, 45 RPM
yes
no
no
Review
Electrohome Kingston 7-in-1

with built-in speakers

30 W
33 1/3, 45, 78 RPM
yes
yes
yes
Review
1byone H009

budget

36 W
33 1/3, 45 RPM
yes
yes
yes
Review
How I tested record players with speakers
I've chosen the following records from several genres of music to test the turntable's sound with speakers:
Fleetwood Mac – Rumours [1977]
Michael Jackson – Thriller [1982]
John Williams – Jurassic Park [1993]
Leonard Cohen – Popular Problems [2014]
Pink Floyd – Dark Side of the Moon [1973]
Four Tet – Sixteen Oceans [2020]
Best record players with speakers reviews
Best record players with separate speakers
Both systems with separate and built-in dynamics have their own pros and cons. However, if you have a good ear for quality, you definitely need a record player with external speakers.
Here are the pros and cons of such a model:
Pros
There are far fewer vibrations since there are no speakers incorporated into the turntable body.
A needle reads records with much higher precision, delivering much better sound quality compared to record players with built-in speakers.
The quality of other components is substantially higher because there are no integrated amplifiers or speakers that require a portion of the production money.
You can upgrade your stereo system any time you want by simply hooking up more powerful speakers, external phono preamp, or amplifier.
Cons
Higher price tag.
Requires more space.
Is not easily portable.
Good news: in this review, I've consolidated record players with powered external speakers so that you don't need to buy a separate amplifier.
Crosley K200A – best with speakers
The Crosley K200 stereo music system from the world-famous American brand is a good choice for true music fans and a great choice for beginning vinyl enthusiasts who appreciate quality, style, and exclusivity. This latest addition to Crosley's popular line of turntables has some useful features that really improve performance and create an optimal listening experience. Now let's take a closer look at it.
A classic turntable with modern advancements, Crosley K200A is perfect for any sound enthusiast. This latest addition to Crosley's popular line of turntables has many upgraded features that improve performance and create an optimal listening experience.
First off, it has a direct drive high-torque motor engineered to maintain consistent speed more reliably over time. It can accommodate 2 common speeds – 33 1/3 and 45 RPM, catering to every genre you enjoy. The speeds are easy to switch; just press the corresponding button. There is no need to move the belt between the spindles, and that's a good thing.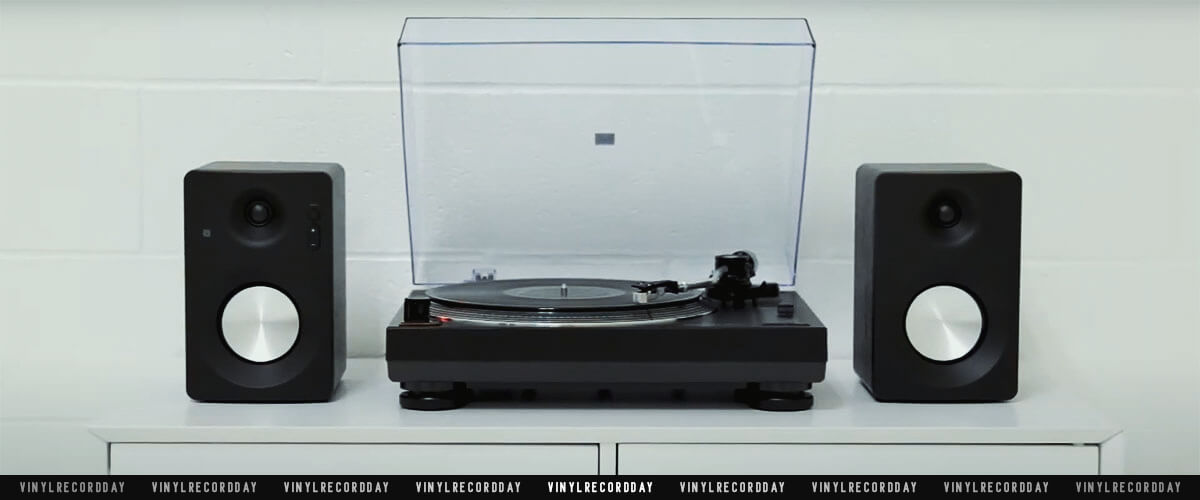 The durable aluminum platter adds to the impactful sound that this unit gives off, while the felt slip mat ensures your records won't be damaged. Finally, the Crosley K200A includes two 2-way powered Bluetooth speakers that blast your audio in high definition. Besides, Bluetooth connectivity allows you to connect your gadgets to the speakers to play audio when not using the turntable.
By the way, it took me about 20 minutes to put the whole system together, including setting up, adjusting the tonearm counterweight, and tracking. I think that's fast enough and without any problems.
A few more words about the sound. It was rich and warm, just like I wanted to hear it. And as it turns out, you don't have to spend much money on a turntable to get that sound. So maybe that's what will save you some of the allotted money to buy more vinyl!
Crosley K200A is the best record player with speakers today's market has to offer. A combination of great design, upgraded characteristics, and ease of use make this device totally unique. Compared to even the strongest rivals (e.g., Fluance RT81 with Ai41 bookshelf speakers), Crosley K200A is still the most powerful yet straightforward model in all the right ways.
Key specs
Drive type: direct.
Operation type: manual.
Speakers power, W: 30.
Speeds, RPM: 33 1/3, 45.
Bluetooth: yes.
USB: no.
AUX: no.
Pros
Simple yet high-quality setup.
User-friendly – you can use it right out of the box.
Compact – easily fits even in a dorm room.
Can be upgraded with your own speakers.
Includes a removable dust cover.
Cons
Most of the construction is plastic, but the sound quality is still close to more expensive turntables.
Fluance RT81 with Ai41 bookshelf speakers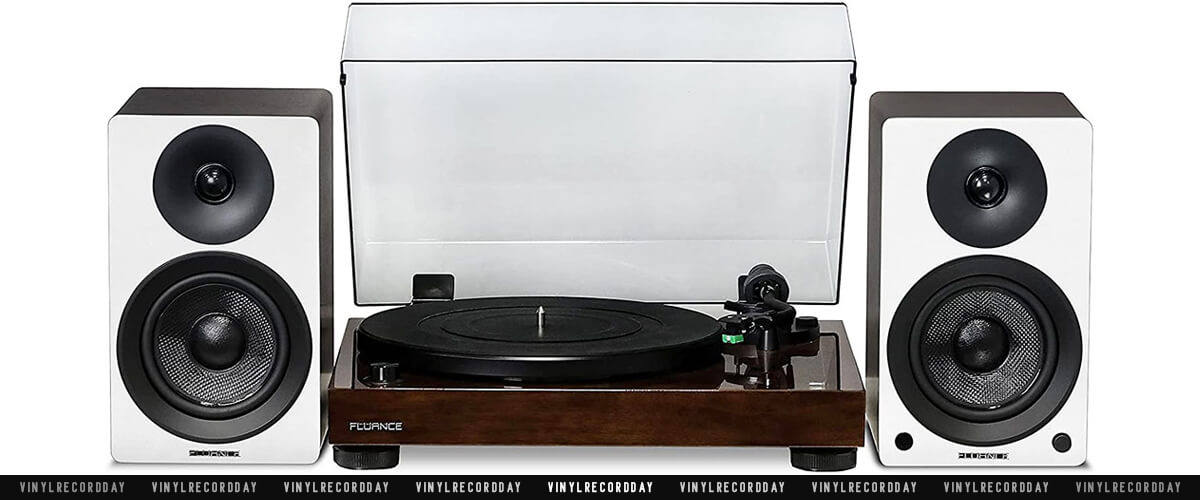 Fluance RT81 turntable and Ai41 bookshelf speakers make an outstanding combo that delivers a beautiful, room-filling sound. However, let's take a closer look at their features.
This model uses dense MDF as an assembly material, and the body is mounted on vibration-resistant legs. The support discs are made of aluminum. The Fluance designers say this combination allows maximum vibration control and a "clear stereo panorama." I don't know exactly how much of an impact this has on the sound, but it's really good!
Premium-quality components found in the RT81 stand in line with even our top-list model – Crosley K200A. The integrated Audio Technica ATN95E elliptical diamond-tipped stylus is known for its noiseless and distortion-free performance and clarity on melodic peaks and channel balance. In addition, gold-plated RCA line outputs produce fascinating signal transparency, while top-class Texas instruments' phono-preamp provides high-fidelity audio in its purest form.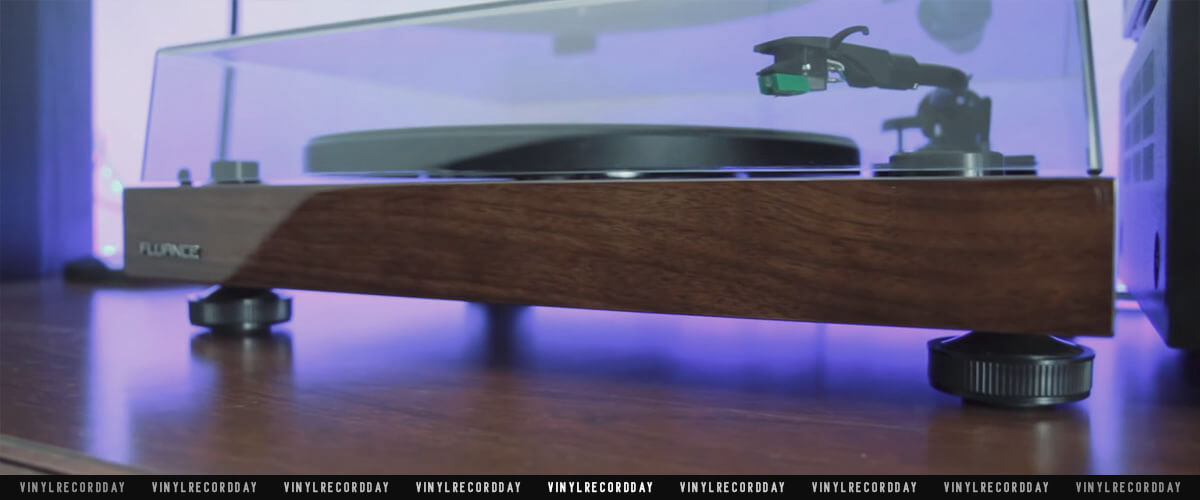 You're guaranteed to fully enjoy your music with the Ai41 powerful active speaker system – it delivers crisp vocals, detailed mids, and deep bass. The speakers are improved with DSP and a quality 90W amplifier to produce a well-balanced, robust sound. No musical nuances will be left unheard!
The setup can boast Bluetooth connectivity, designed to eliminate cabling problems. So, it's possible to take this fantastic sound everywhere you go!
If you are looking for a high-quality Bluetooth record player with speakers, Fluance RT81 with Ai41 bookshelf speakers is a hard recipe to screw up! In one compact package, you'll get everything you need to enjoy your music.
Key specs
Drive type: belt.
Operation type: manual.
Speakers power, W: 90.
Speeds, RPM: 33 1/3, 45.
Bluetooth: no.
USB: no.
AUX: no.
Pros
Beautiful design.
Packed with premium components and powerful speakers.
Decent sound.
Doesn't require a separate amp.
Has a dust cover.
Cons
The cabinet doesn't seem solid.
Some users complain that it may be challenging to balance the TT.
1byone H004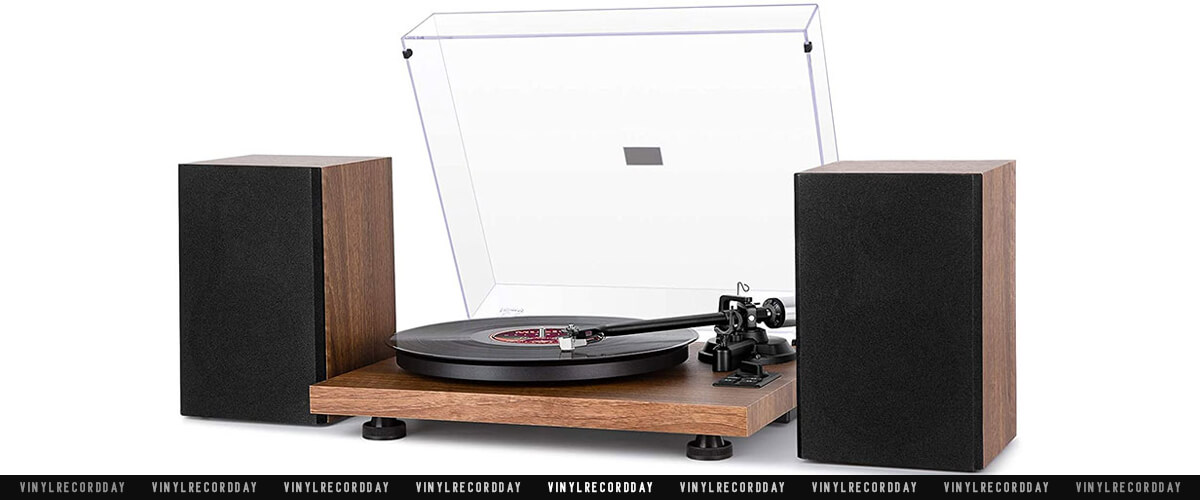 The 1byone H004 is a high-performance record player with Bluetooth speakers that offers plenty of amazing features! It has an onboard phono stage and analog line output for connecting external devices.
You can easily choose between 33 1/3 or 45 RPM speeds with a speed dial on the right side of the machine. Next, the belt-drive system damps vibrations, ensuring that they don't ruin your records or output sound quality. Plus, a precision-manufactured robust iron platter creates homogenous inertial mass for ideal stability and rotation, taking high-fidelity reproduction to the next level.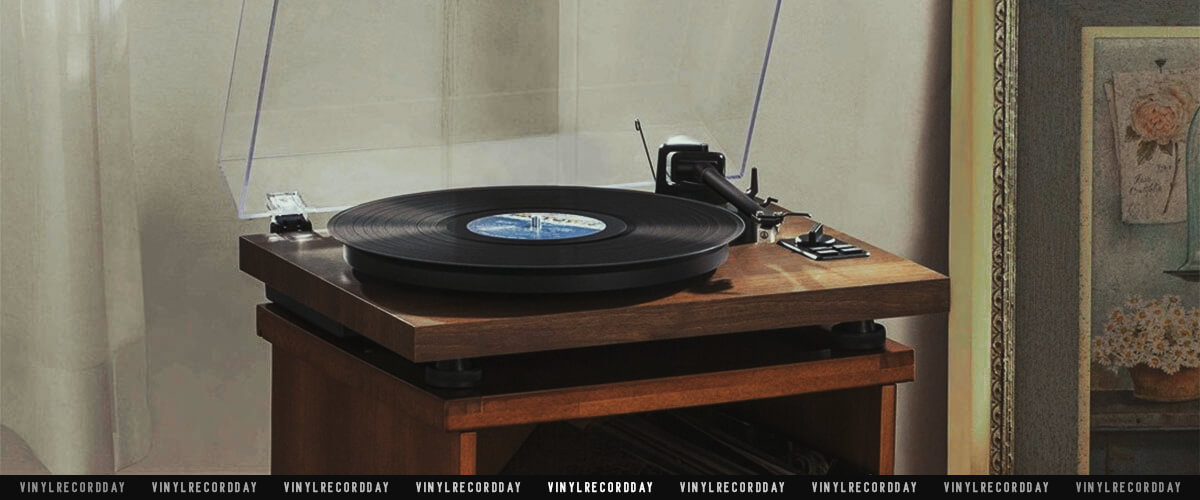 The static-balanced tonearm comes equipped with an adjustable counterweight and Audio-Technica AT3600L MM cartridge and needle that produce warm and rich analog sound. You can easily upgrade the cartridge in the future if you want to experiment with sound quality.
Lastly, the included 36W Bluetooth-powered speakers allow you to play music out loud without worrying about running out of power for audio sources like a smartphone or tablet!
Whether you're a first-time vinyl listener or a seasoned audiophile, the 1byone H004 is sure to impress! This good turntable with speakers is not short on accessories and extras and offers features associated with more expensive players.
Key specs
Drive type: belt.
Operation type: manual.
Speakers power, W: 36.
Speeds, RPM: 33 1/3, 45.
Bluetooth: yes.
USB: yes.
AUX: no.
Pros
Well-built, wooden record player.
Astonishing music quality – feel the bass in the air.
User-friendly Bluetooth feature.
The USB output for saving analog record collections digitally in CD quality.
Cons
May randomly turn off.
Takes time to set up.
Crosley T150B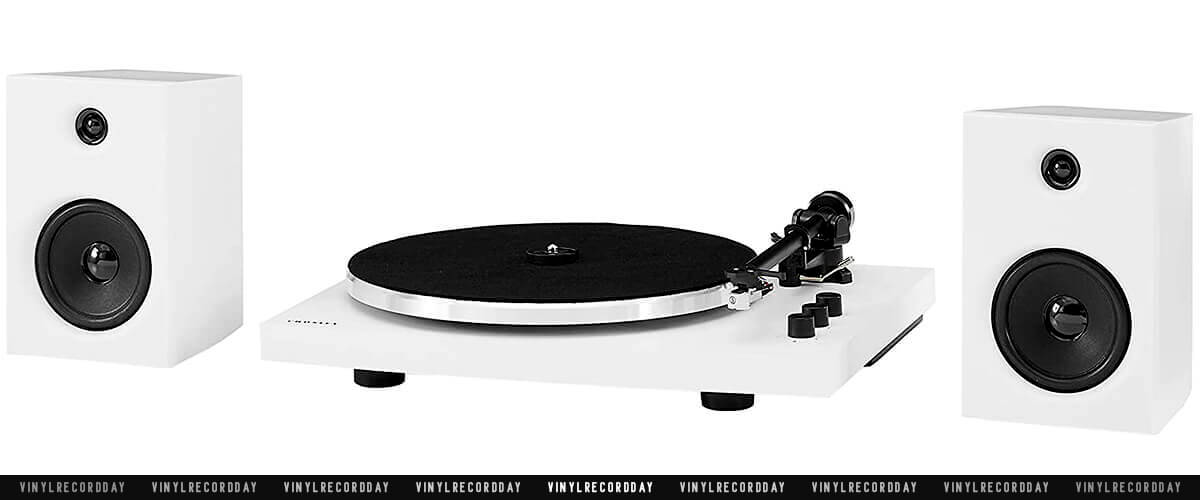 Crosley is a turntable manufacturer that has been around for almost a century. They produce affordable but high-value decks, so anyone from newbies to audiophiles can choose a model that suits their needs perfectly.
The Crosley T150B turntable is an excellent option for music lovers who want an upgrade from their basic model. This 2-speed player comes with an improved audio grade plinth that effectively reduces unwanted resonance and vibrations, greatly enhancing the sound. Furthermore, it includes stereo speakers for an immersive listening experience – I really love how this system brings the classic sound of vinyl to life. The speakers get loud enough to fill a spacious room and don't distort much at the highest volumes.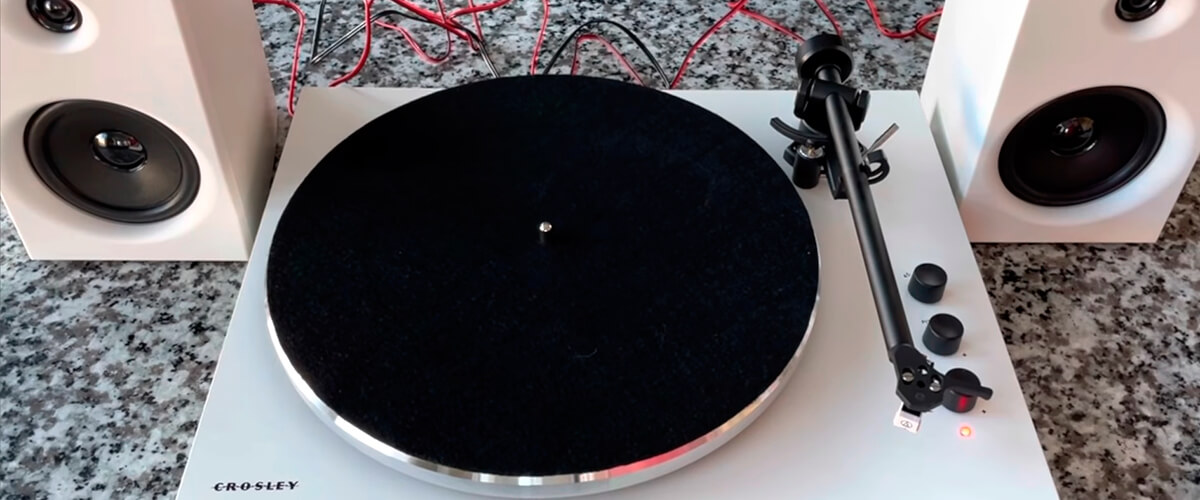 The built-in Bluetooth receiver provides you with convenient wireless streaming capabilities, allowing you to stream music to the 30-watt speaker. Next, the switchable preamp lets you optimize the sound depending on the situation; plus, there is a pitch control knob for adjusting tempo or tone.
The aluminum tonearm with adjustable counterweight and standard 1/2″ mount allows you to easily switch up cartridges to get the right sound. And last but not least, this gem has a beautiful sleek design – you can place it anywhere in your home or office without feeling like it's an eyesore.
Crosley T150B is a good turntable with speakers – it provides more than just essential features of the basic model. Plus, the name speaks for itself, promising you a high level of performance for many years to come! You won't regret this purchase!
Key specs
Drive type: belt.
Operation type: manual.
Speakers power, W: 30.
Speeds, RPM: 33 1/3, 45.
Bluetooth: yes.
USB: no.
AUX: no.
Pros
Minimalistic yet stylish design.
Well-built.
High-quality tonearm and AT needle.
Decent basic speakers.
Straightforward to set up and use.
Comes in 2 colors.
Cons
No auto stop function.
No dust cover.
Poor manual.
Best record players with built-in speakers
Although record players with separate speakers produce better sound, there may be a few reasons why you might want to buy the one with built-in dynamics. For instance, you are a beginner and don't want to ruin your family budget to buy a high-end turntable.
For this review, I handpicked only quality models from well-trusted brands, but anyway, look at their pros and cons to understand whether you should consider such a product.
Pros
Affordable.
Easy to use.
Less wiring.
Compact and portable.
Cons
Poorer sound quality compared to record players with separate speakers.
The ability to upgrade a turntable with incorporated dynamics is limited.
Electrohome Kingston 7-in-1 – best with built-in speakers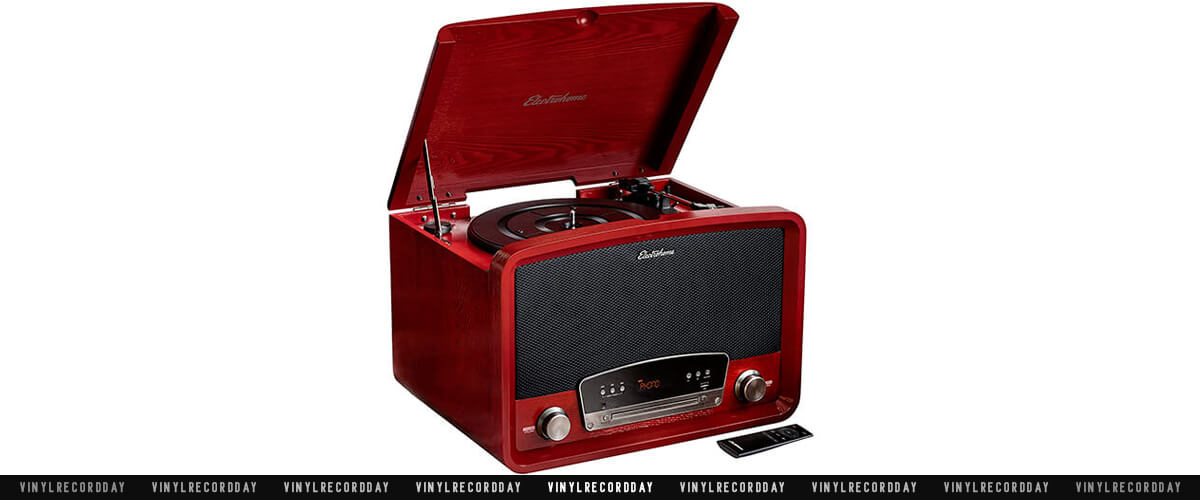 Electrohome has been in business since 1907. This company creates one-of-a-kind sound systems with a retro look and modern functionality. The Kingston 7-in-1 model is no exception – this all-in-one solution is a perfect home stereo setup for both newbies and longtime vinyl lovers.
This belt-drive phonograph with a sapphire stylus and 4 high-performance speakers produces clear, hum-free analog music. Further, you can play any of your records at 33, 45, or 78 RPM.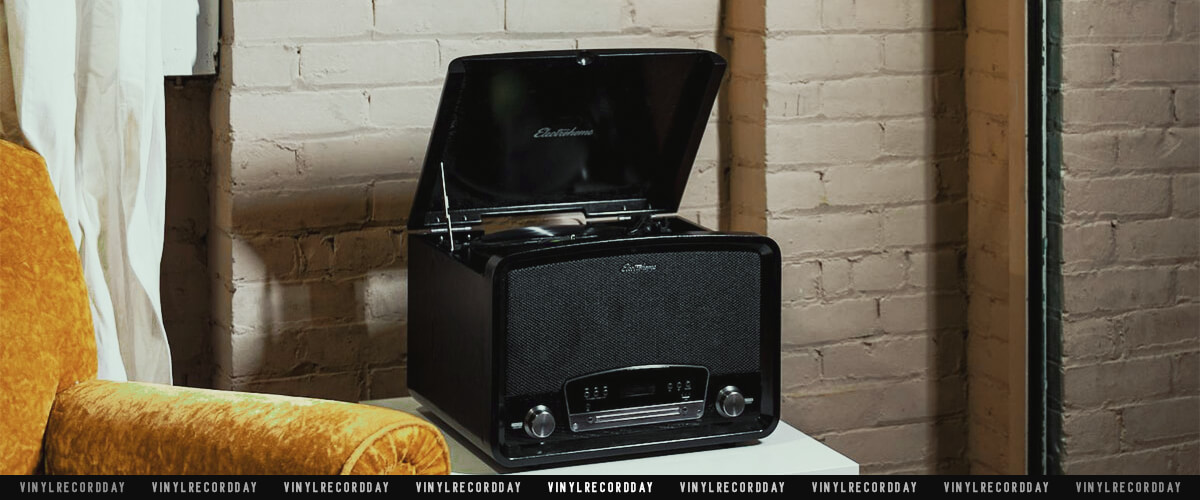 The system gives you plenty of flexibility, allowing you to listen to the radio or stream your vinyl music library to any Bluetooth-enabled equipment. Plus, you can easily convert your LPs and CDs into MP files for use on USB or SD card media gadgets. So, listen to your music in whatever way you desire!
Lastly, the hand-crafted wooden cabinet is aesthetically gorgeous – it looks very classy and fits nicely with mid-century furniture. More than that, the chassis is acoustically tuned to isolate any vibrations and prevent sound degradation. So, it sounds as perfect as it looks!
Electrohome Kingston 7-in-1 is the best record player with built-in speakers. Moreover, it outperforms its competitors in a similar price range (e.g., 1byone H009) due to its 100% modern features, 3-speed design, and beautiful retro style. If you're looking for such characteristics, you'll never regret the purchase!
Key specs
Drive type: belt.
Operation type: semi-automatic.
Speakers power, W: 30.
Speeds, RPM: 33 1/3, 45, 78.
Bluetooth: yes.
USB: yes.
AUX: yes.
Pros
Lovely classic look.
The benefit of having a wide range of playback alternatives.
4 high-performance speakers with warm acoustics.
A great equalizer that boosts bass and treble.
Easy to get up and running.
Cons
Those who enjoy loud music may require extra speakers.
1byone H009 – budget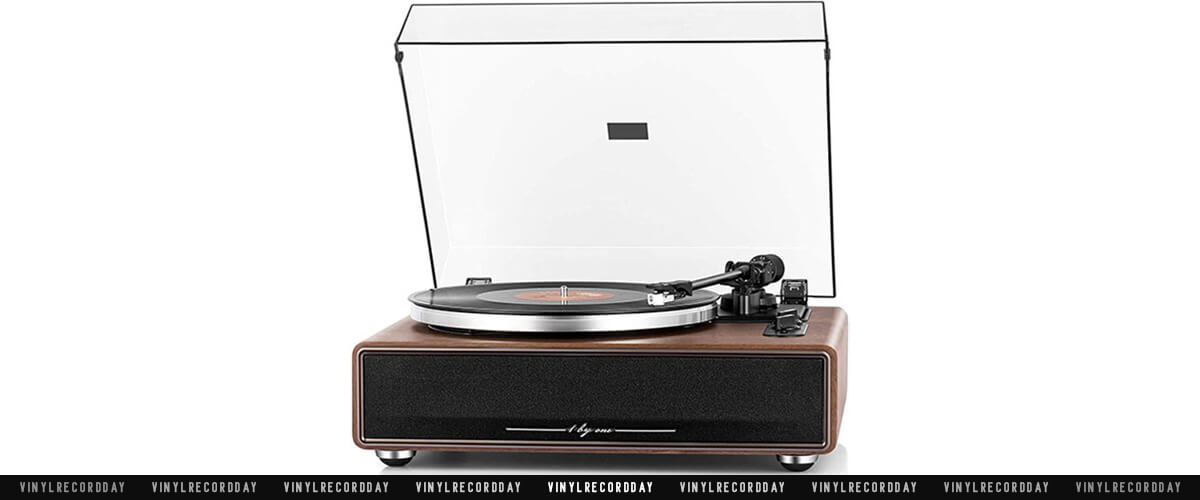 Are you a beginner looking for the easiest and most affordable way to get into vinyl? Then, take a closer look at the convenient all-in-one solution – the 1byone H009 turntable!
It's a compact, belt-drive vinyl record player with built-in speakers and high-quality components. Connoisseurs will appreciate its diamond-tipped Audio-Technica stylus cartridge with an adjustable counterweight that plays vinyl records at 33 1/3 and 45 RPM speeds and delivers rich, warm audio. Even Electrohome Kingstone 7-in-1 can't boast such a cartridge!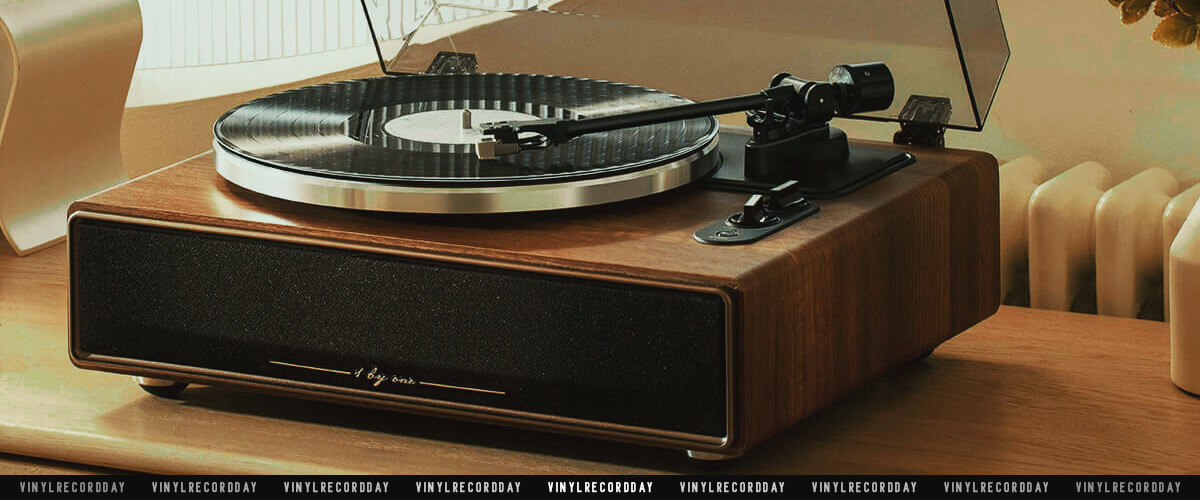 The H009 includes a built-in phono preamp that allows you to connect it straight through to an audio device or amplifier without purchasing any extra equipment or making costly modifications.
All in all, the system has everything you need in one package! Just plug it in, select the desired speed manually via the easy-to-use power button or let it do all the work by selecting an auto mode for optimum performance without breaking a sweat!
1byone H009 is an excellent yet affordable record player with built-in speakers. You can hardly find such top-class components in other turntables in a similar price range! More than that, the setup is straightforward to use, making it a perfect choice for newbies.
Key specs
Drive type: belt.
Operation type: manual.
Speakers power, W: 36.
Speeds, RPM: 33 1/3, 45.
Bluetooth: yes.
USB: yes.
AUX: yes.
Pros
Sleek, compact design – fits into any room.
Belt drive with built-in speakers for completely self-contained audio.
Excellent sound quality – the speaker does not over-vibrate at max volume.
Straightforward setup.
Cons
Lots of plastic elements.
Victrola 8 in 1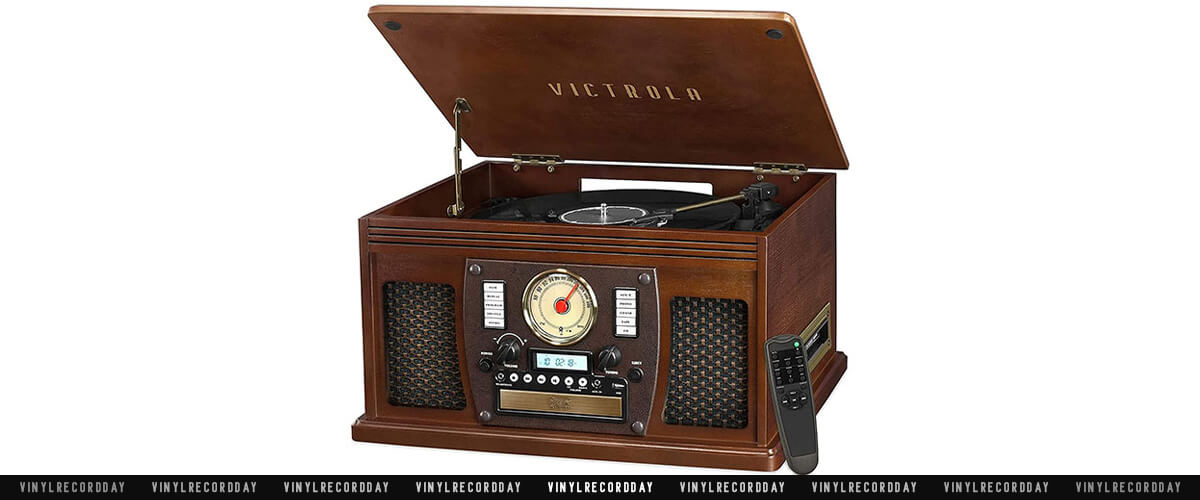 Victrola is another reliable brand with a long history; in fact, it's one of the leading manufacturers in the phonograph industry.
Its gorgeous product – Victrola 8 in 1 – has all the elegance of a vintage-style player while yet being packed with completely up-to-date features. This all-in-one solution has everything you might want in a mini stereo system – a built-in Bluetooth, CD and cassette playbacks, and FM radio. Furthermore, the deck includes stereo speakers that deliver clean meeds, lots of air in the highs, and not perfect but satisfactory bass.
You may connect this player to external speakers via the RCA jack, and the headphone port is ideal for late-night listening. You don't even have to get up off the couch to change the song due to the supplied full-function remote control.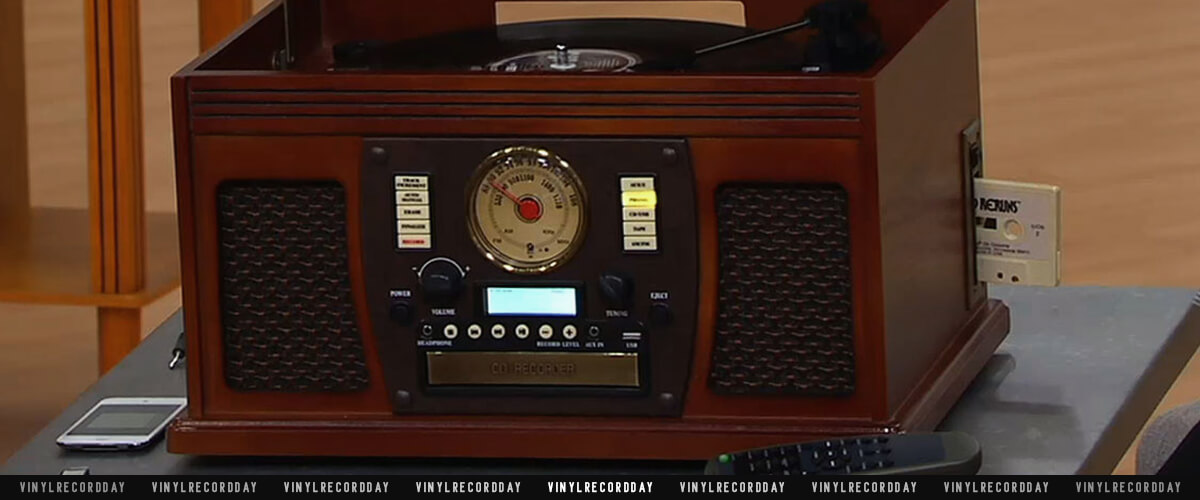 Unlike many other turntables on the market, this babe can spin your records at 3 speeds – 33 1/3, 45, and 78 RPM, allowing you to enjoy any vinyl format.
The strong hardwood body effectively suppresses vibrations, enhancing sound quality. Finally, this turntable has a lovely retro style and doesn't require any additional equipment to get started – it's a plug-n-play type.
Victrola 8 in 1 is a great turntable with built-in speakers for both beginners and seasoned vinyl enthusiasts – it features advanced technology and a classic aesthetic look, making it stand out against even the most serious rivals.
Key specs
Drive type: belt.
Operation type: manual.
Speakers power, W: 30.
Speeds, RPM: 33 1/3, 45, 78.
Bluetooth: yes.
USB: yes.
AUX: yes.
Pros
Gorgeous, rich design.
Durable wood body.
Smooth performance.
Includes 3 additional needles.
Cons
The sound is slightly tinny, with little bass.
The stylus may skip through records.
Record player with speakers buying guide
How to choose the right turntable?
There are several factors that you should keep in mind when trying to find a good vinyl record player with speakers:
Belt-driven vs. direct-driven system – the belt-driven turntable offers better sound quality because the belt absorbs vibration from the motor; however, such a system is usually quite expensive. A direct-drive player features greater torque and faster start times, but it can produce more noise and vibration than a belt-driven model.
System type – pick a completely automatic or semi-automatic system if you're an entry-level user. These systems are more technologically advanced, making them easier to operate. In hand-controlled systems, all activities must be performed by hand, which may be inconvenient. If sound quality is essential to you, though, a manual player is a way to go.
Turntable speed – it's optimal if the player has three speeds: 33, 45, and 78 RPM – you'll be able to play any vinyl format with it.
Additional features – Bluetooth and USB – with the help of Bluetooth, you can stream music to headphones, speakers, and a soundbar, whereas USB helps convert vinyl records to digital forms.
Is it worth having a record player with speakers?
Longtime vinyl lovers will claim you should purchase a high-end turntable and separate speakers bathed in advanced modern technology. Undoubtedly, such products deliver superb sound quality! But on the other hand, these hi-fi systems cost a fortune, and if you are a beginner in vinyl, it's not a good idea for you!
Good news for you: all record players from my list provide good sound quality enough for entry-level and casual vinyl listeners.
How do I stop my record player humming?
As anyone who has ever tried to play a record knows, the last thing you want is to start a table humming. Not only is it incredibly frustrating, but it can also damage your records.
So, how do you stop your TT from humming? First, check to see if the table's ground wire is working properly. Next, make sure that the amp and preamp are both connected to the same power board. This will ensure that they are getting a smooth power supply. After that, check to see whether all of the cables are tightly connected. Finally, if all else fails, it could be that the cartridge is faulty and needs to be replaced.
Why are my records skipping?
There are a few things that could be causing your records to skip.
Firstly, your record player's needle is dirty and needs to be cleaned. Secondly, there may be too much dust or dirt in the air and it is getting caught between the record and the needle, causing the records to skip. You can try to clean the needle and reduce the amount of dust in the air by using a vacuum cleaner or an air compressor. Thirdly, make sure the tonearm is properly balanced. If the weight is too low, the stylus may slip down the grooves on your record, bouncing the sound. On the other hand, if the weight is too high, the stylus presses too forcefully into the grooves, distorting the audio. Both situations might potentially damage your LP.
How do you connect a turntable to a Bluetooth speaker?
Connect your turntable to the same wireless network as the speaker. Then, open the settings of your Bluetooth speaker and go to "Sound Settings" or "Audio Settings." Next, find your turntable, select it and press the right arrow on the Bluetooth icon. The last step is turning on Bluetooth on your turntable. You will then be able to play music from any audio source through your speakers.
FAQ
Do any speakers work with record players?
A lot of speakers work with record players. Speakers that don't need power (passive speakers) will work with the record player. There are also "powered" speakers that do not need to be plugged in, and these should work fine as well.
Can you use a soundbar with a turntable?
You can use a
soundbar
with a turntable, but the sound quality may not be as good as you would like.
Can you hear a record without speakers?
No, you cannot hear a record without speakers. This is because records are designed to be played through speakers so that you can hear the full range of sound. Therefore, if you try to listen to a record without speakers, you will only be able to hear the low end of the sound and not appreciate the music entirely.
Are record players loud?
No, record players are not typically loud. Most people use powered speakers or headphones with a record player to get the best sound quality. However, if you need a louder listening experience, you may want to consider using a different type of audio equipment.
How do I make my record player louder?
You can do a few things to
make your record player louder
. One option is to move the player closer to the speaker. You can also try turning up the volume on the player itself or increasing the sound level on your stereo or other audio devices. Finally, if all else fails, you can try using an amplifier to boost the signal from your record player before it reaches the speakers.