Are you going to buy your first turntable? Don't want to spend an arm and leg to listen to vinyl? Good news! I've picked and thoroughly tested some of the best turntables under $100 available on today's market.
Our pick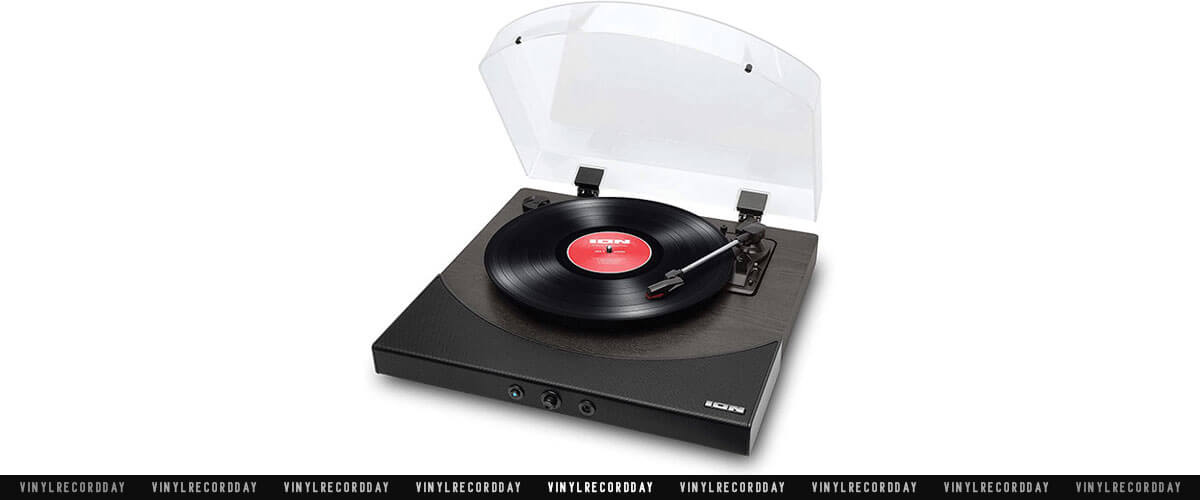 ION Audio Premier LP
Best turntable under $100
Premier LP is a complete sound system with built-in stereo speakers under the beautifully integrated grille and an internal amplifier.
Read the full review
.
Purchasing devices for a low price can't be easy – there are a lot of factors you should consider to buy a model that meets all your needs. Of course, nobody expects audiophile-level quality from cheap gear, but still, it must be well-constructed and deliver a warm, enjoyable sound. My task was to find such players for you!
In this review, I've consolidated only decent players under $100 – they definitely deserve your attention if you're a beginner in the world of vinyl! I'll give you my honest opinion on each model, and help you decide which one is right for you. Keep reading!
Turntables under $100 comparison table
Name
Drive type
Operation type
Speeds
Phono Pre-Amp
Bluetooth
Review
ION Audio Premier LP

best overall

belt
fully-automatic
33 1/3, 45, 78 RPM
yes
yes
Review
Audio-Technica AT-LP60X-BK

also great

belt
fully-automatic
33 1/3, 45, 78 RPM
yes
yes
Review
Crosley Cruiser Plus

portable

belt
fully-automatic
33 1/3, 45, 78 RPM
yes
yes
Review
Victrola The Metropolitan

vintage style

belt
fully-automatic
33 1/3, 45, 78 RPM
yes
yes
Review
How I tested record players under $100
The good news is that you don't need any more equipment to listen to all the vinyl turntables in my review (except the Audio-Technica AT-LP60X-BK). To test the Audio-Technica, I used the following equipment:
In order to draw full conclusions about the sound of turntables under $100, I listened to these records:
Best turntables under $100 reviews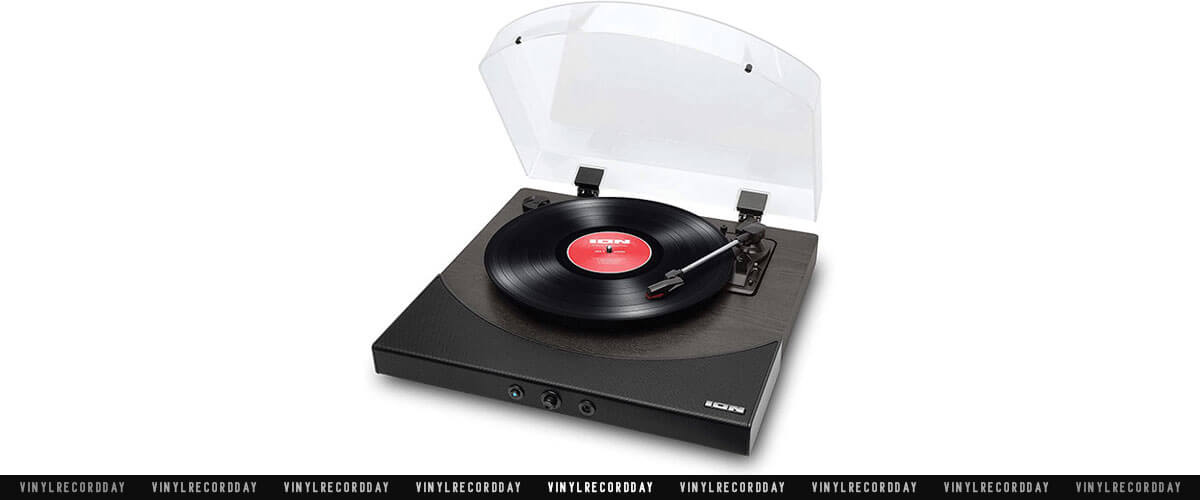 ION Audio Premier LP is the smartest way to start your vinyl journey since it is packed with plenty of useful modern features.
First off, the turntable automatically turns off after a record has finished playing, which is very convenient for entry-level vinyl enthusiasts and those who love falling asleep while listening to music. Next, it includes a full-size 11″ platter for stability across wide tracks and 78 RPM playback capability on top of 33 1/3 and 45 RPM speeds.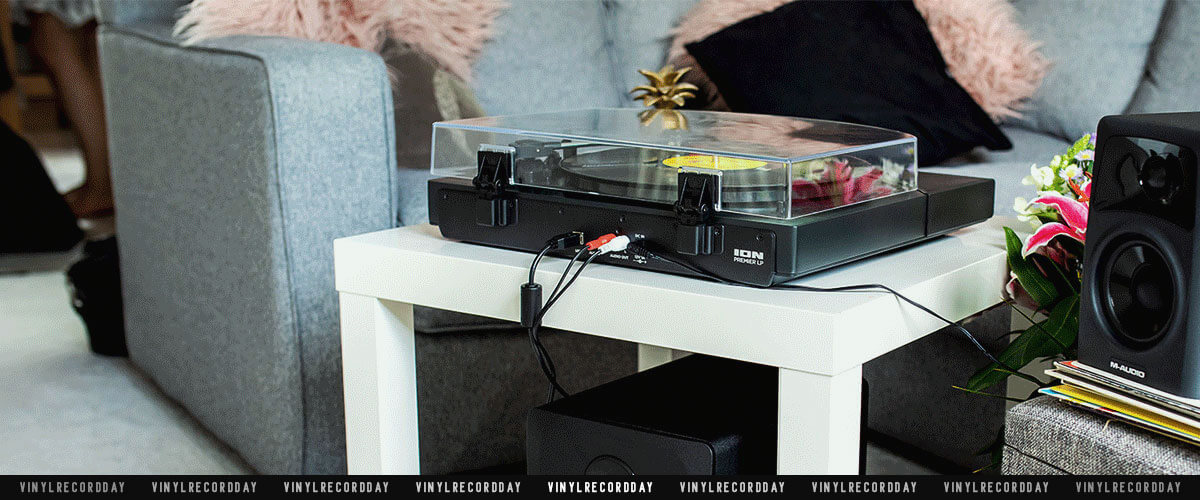 The built-in Bluetooth allows for wireless streaming up to 40 feet away from any compatible speakers. Moreover, the deck comes equipped with USB connectivity for easy conversion of recordings into digital files. There is also an auxiliary input jack, so it can use other media sources like CD players, cassette players, or MP3 players. You can easily hook up external monitors, and other audio separates due to RCA outputs.
And if that wasn't enough, the Premier LP's built-in speakers provide room-filling sound with punchy bass and crystal clear highs, making it the perfect centerpiece for your listening experience. Such rich functionality makes this TT stand out against quite strong competitors, e.g., Wrcibo with its amazing construction
ION Audio Premier LP is the overall best record player under $100 today's market has to offer! If you are looking for a highly versatile, decent-sounding audio system, look no further than this model! It provides excellent quality for such a low price!
Key specs
Drive type: belt.
Operation type: fully-automatic.
Speeds, RPM: 33 1/3, 45, 78.
Speakers: yes.
Phono Pre-Amp: yes.
Bluetooth: yes.
USB: yes.
AUX: yes.
Pros
A sleek black finish – looks more expensive than it is.
Great sound for the money.
Onboard speakers work great but only for low volume listening.
Extremely easy to set up and use.
Audio-Technica AT-LP60X-BK – also great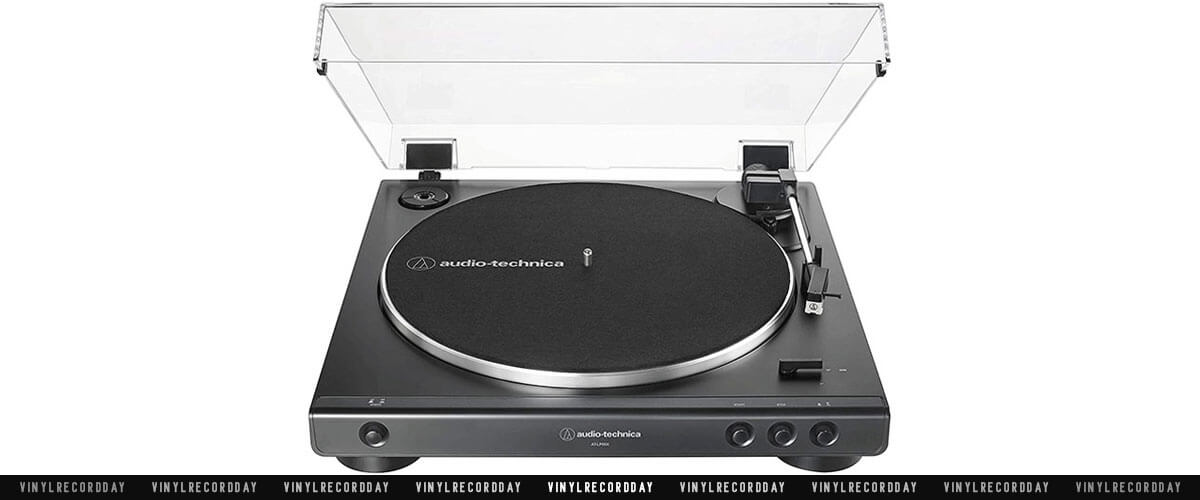 Yes, Audio-Technica AT-LP60X-BK is a bit more expensive than other turntables listed here; however, it delivers a fully-featured quality at this price range. Besides, the Audio-Technica brand speaks for itself – you hardly find low-quality models from this manufacturer! So, if you can spend a few extra dollars, do consider this deck.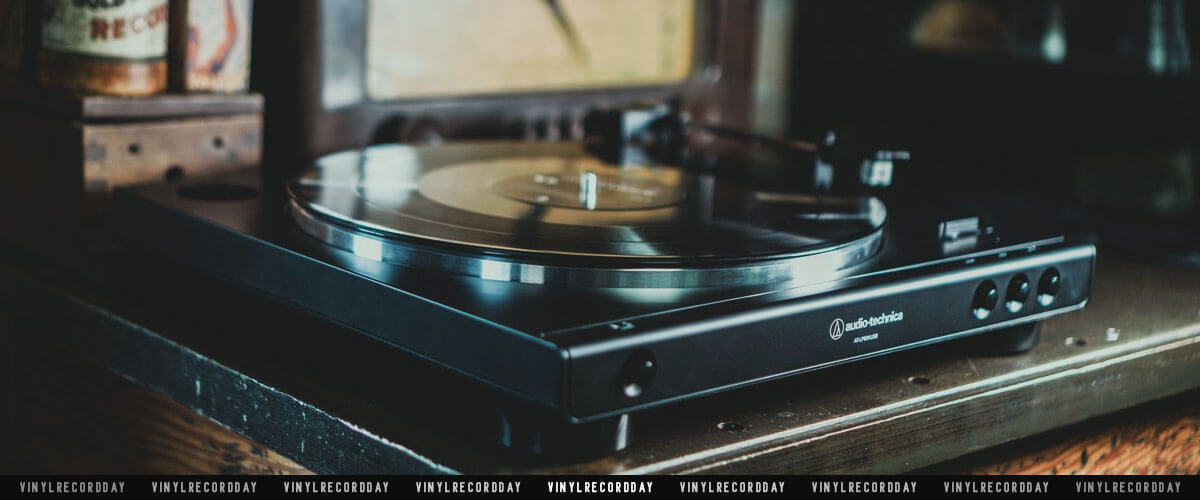 You'll experience high-fidelity audio due to the reliable components of this belt-driven TT. First, it has a nice and powerful enough motor that evenly turns records at 2 speeds – 33 1/3 and 45 RPM. Next, a redesigned cueing lever base and headshell are skillfully engineered to improve tracking and lower resonance. Plus, the AC adapter handles AC/DC conversion outside of the chassis, decreasing noise in the signal chain. All in all, the player's mechanical and structural quality is very nice, especially for its money, and the sound is crisp and clear with no pitch or volume variance.
Audio-Technica AT-LP60X-BK is a top vinyl player not exactly under 100 dollars but very close to this figure. Being still a budget-friendly model, it goes a step ahead of other turntables in this price segment. AT-LP60X-BK will let you develop your own vinyl setup the way you want it!
Key specs
Drive type: belt.
Operation type: fully-automatic.
Speeds, RPM: 33 1/3, 45.
Speakers: no.
Phono Pre-Amp: yes.
Bluetooth: no.
USB: no.
AUX: yes.
Pros
A basic yet very reliable model.
Minimalistic design – fits any room.
Sound perfect for an entry-level gear.
Straightforward to use.
Unmatched considering its price.
Cons
Made of plastic, but still, the construction is sturdy.
You can't change cartridges.
Crosley Cruiser Plus – portable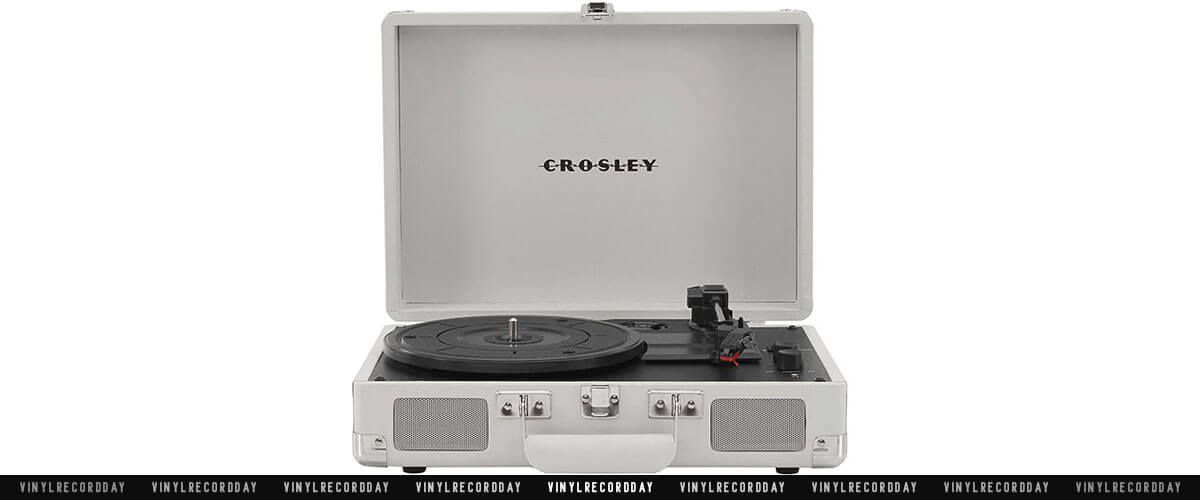 In all honesty, I'm utterly captivated by this gorgeous suitcase-style turntable! In terms of aesthetics, it can only compete with Victrola The Metropolitan, but Crosley Cruiser Plus outperforms many rivals in the same price range due to its user-friendly characteristics.
This belt-driven portable record player offers three speeds: 33 1/3, 45, and 78 RPM. It also has a decent sound system with dynamic full-range stereo speakers that you can connect through Bluetooth or Aux input to enjoy fantastic music from vinyl up close.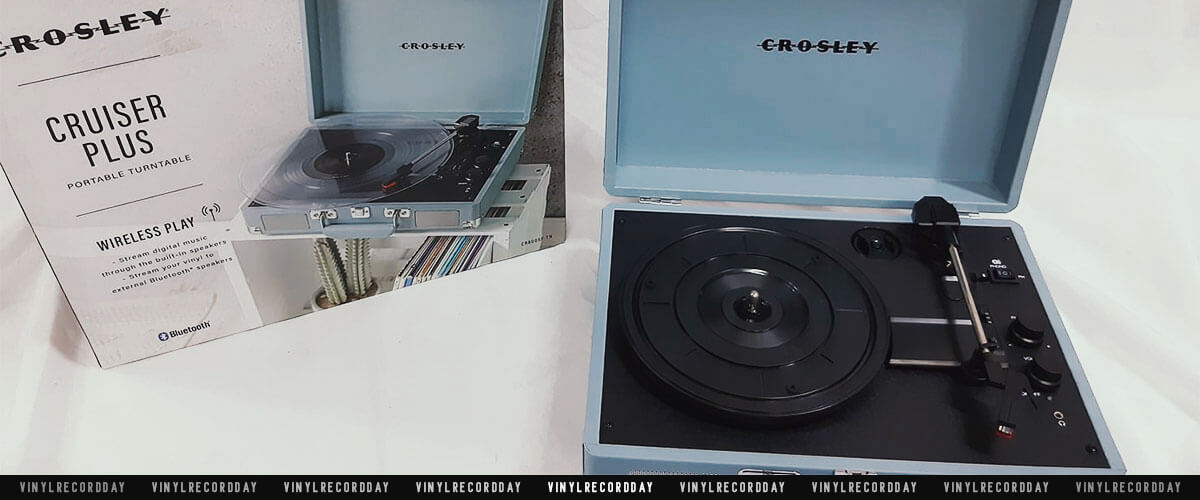 The built-in pitch control allows you to manipulate the speed at which records play in order to hear every musical detail! You can also plug your Cruiser into an RCA output to connect it directly to any amplifier system or home stereo. A headphone jack is included for private listening sessions without disturbing friends and family members.
Crosley Cruiser Plus is the best turntable under $100 in terms of portability, plus, it delivers decent sound. The player comes with all the bells and whistles a good model of this budget range may have, and even more. Really fits the bill!
Key specs
Drive type: belt.
Operation type: fully-automatic.
Speeds, RPM: 33 1/3, 45, 78.
Speakers: yes.
Phono Pre-Amp: yes.
Bluetooth: yes.
USB: no.
AUX: yes.
Pros
The sound is as good as you could expect from an inexpensive, small portable player.
Durable clasp and handle for better portability.
Good needle – it doesn't skate.
Bluetooth and autostop features work flawlessly.
Beautiful design – comes in various bright colors.
Cons
You'll need external speakers for better sound quality.
Feels a bit flimsy.
The deck lacks a place for the cable, without which it cannot function.
Victrola The Metropolitan – vintage style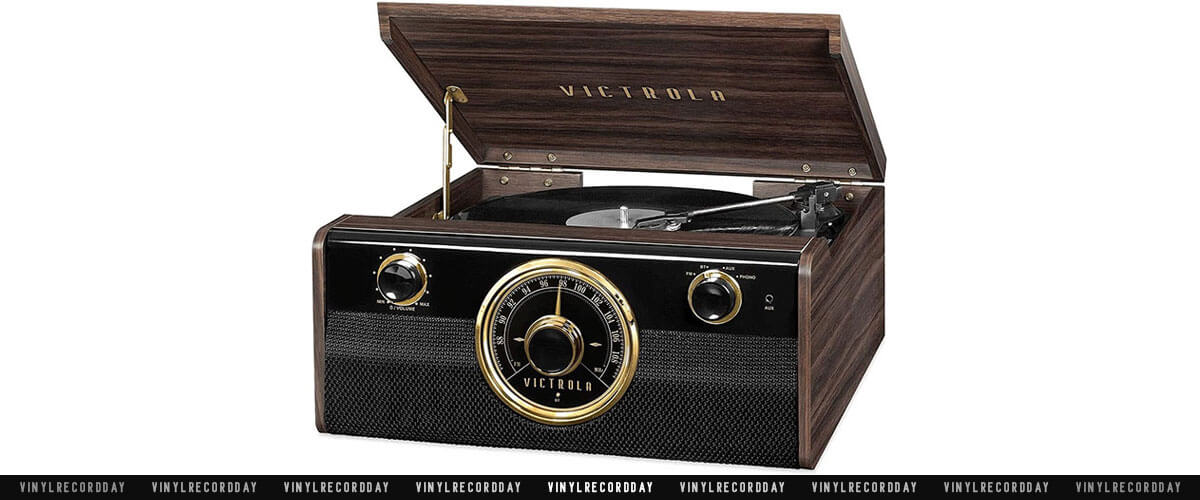 The Victrola brand has been around for almost a century, and it is one of the major participants in the phonograph industry. Its amazing model, The Metropolitan, boasts all the charm of a retro-style player and comes with 100% modern features.
The same as our previous turntable (Crosley Cruiser Plus), this model has Bluetooth connectivity and covers a wide array of rotating speeds – 33, 45, and 78 RPM, giving you more flexibility when you use it. But even more than that, it includes an FM radio with an analog tuner for comfortable listening to your favorite stations. Plus, there is LED lighting around the dial, which is a beautiful added bonus. Further, a 3.5mm aux-in and RCA output allow you to use any additional systems in your home or outdoors from this beautiful product!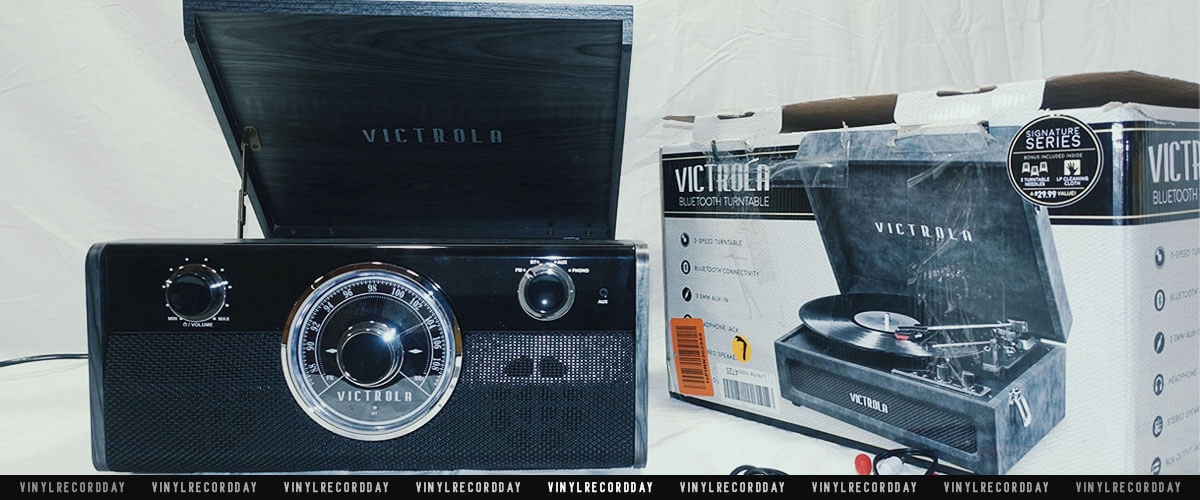 Finally, the turntable has an integrated front-facing stereo speaker that projects sound into the room rather than diffusing it through side speakers.
Victrola The Metropolitan is a great, vintage-style, affordable record player with speakers that won't disappoint those discovering the world of vinyl. You'll definitely love the look of this table – it provides a vintage feel without sacrificing modern convenience.
Key specs
Drive type: belt.
Operation type: fully-automatic.
Speeds, RPM: 33 1/3, 45, 78.
Speakers: yes.
Phono Pre-Amp: yes.
Bluetooth: yes.
USB: no.
AUX: yes.
Pros
Reliable brand.
Beautiful retro design.
Pleasing warm, full sound.
Can play quite loud.
Includes a lever to lift the arm that helps avoid scratching your recordings.
Cons
There may be trouble connecting devices via Bluetooth.
The cover is a bit tricky, but once you practice, it's ok.
Don't expect punching bass.
Kedok Vinyl Record Player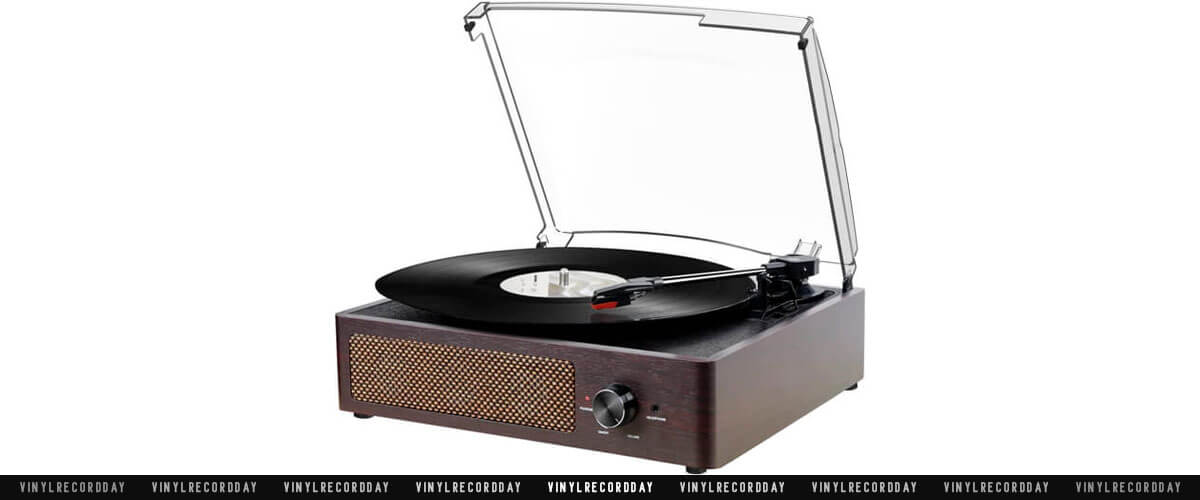 Kedok Vinyl Record Player is a perfect solution for music lovers looking to revive their old vinyl records. It provides a comprehensive, all-in-one package that includes a Bluetooth receiver, AUX Audio Input, RCA line-out, a headphone jack, and two stereo speakers. The player delivers surprisingly good audio quality, considering its price tag. Furthermore, with three different speed options (33, 45, and 78 RPM), you can enjoy your favorite records in their original form.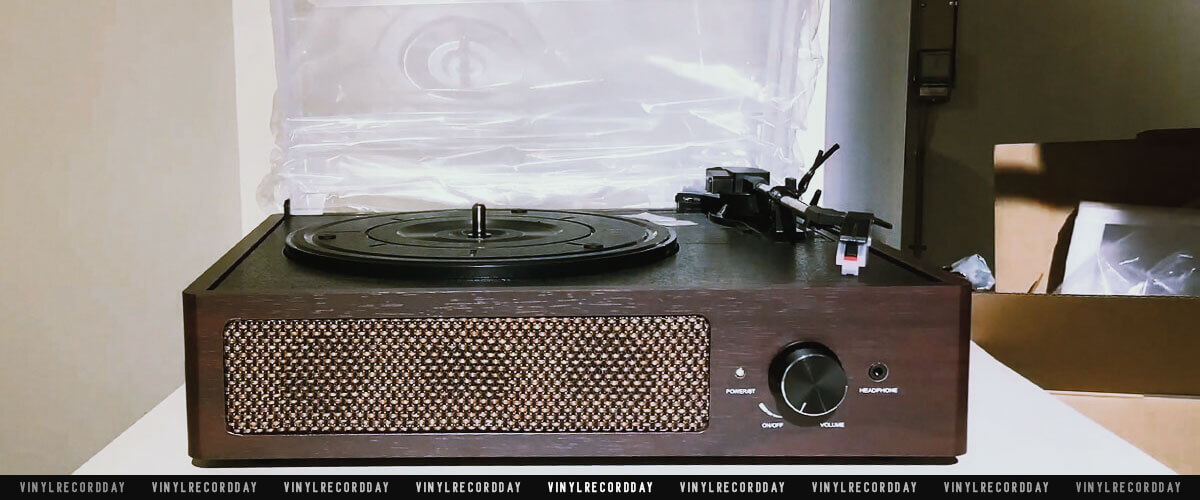 The design of this deck is sleek and stylish with a textured exterior and retro-style accents. It is also incredibly easy to set up and operate – simply connect the power adapter to the wall socket and you're good to go! The intuitive controls make it easy to adjust the volume and select tracks from your favorite albums.
Overall, Kedok Vinyl Record Player offers an affordable way to bring your vinyl collection back to life without compromising on sound quality or style. For vinyl lovers on a budget, this is definitely worth checking out.
Key specs
Drive type: DC Motor.
Operation type: semi-automatic.
Speeds, RPM: 33 1/3, 45, 78.
Speakers: yes.
Phono Pre-Amp: no.
Bluetooth: yes.
USB: no.
AUX: yes.
Pros
Compact design – great for limited rooms.
Nice sound quality for the price.
Excellent Bluetooth connection.
Simple yet versatile.
Looks stylish.
Cons
Doesn't play loud.
Stops at the record's end but doesn't lift the tonearm.
Vinyl Music On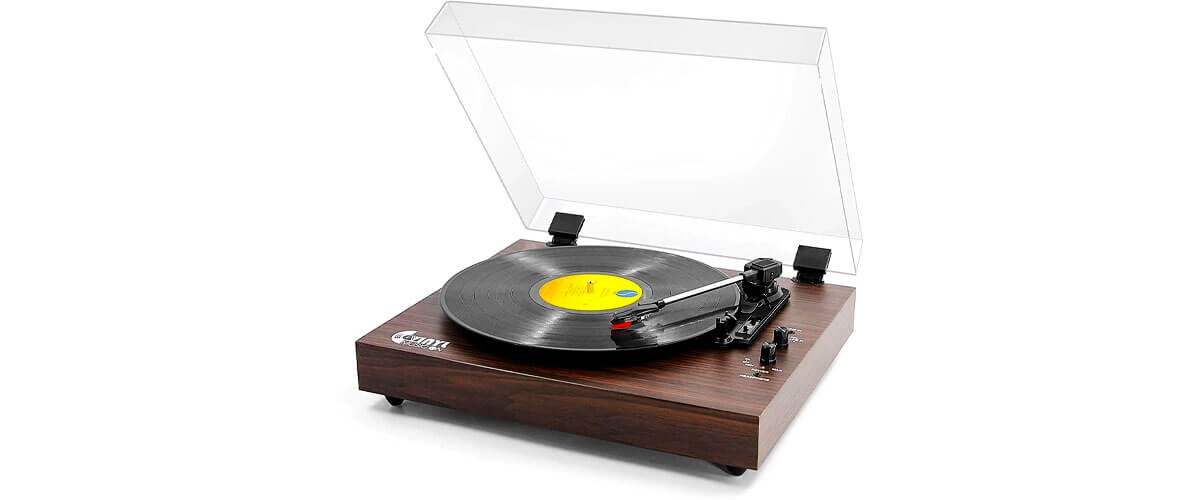 The Vinyl Music On record player is a beautiful classic and compact piece, perfect for those who appreciate a nice appearance and durable construction. In all honesty, I was pleasantly surprised by the strong body of such a little babe!
This belt-drive model can play all sizes of LPs, including 33⅓, 45, and 78 RPM records. The sound quality is amazing, and my oldest LP (1908/78) sounded like it was just pressed.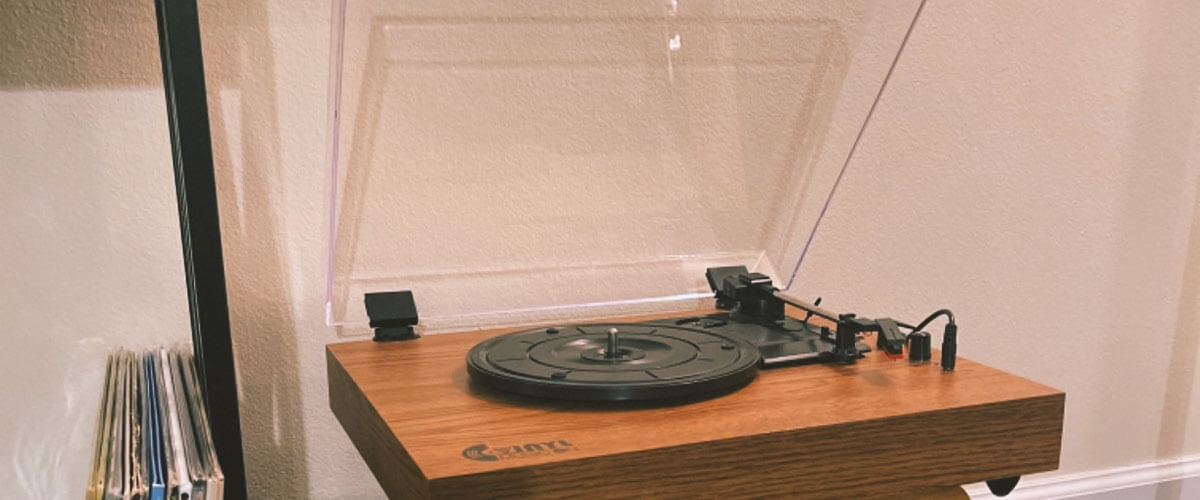 The built-in Bluetooth receiver is a great feature, and I love that I can connect auxiliary devices to the LINE IN port to listen to digital music with this turntable's stereo speakers. Furthermore, the RCA audio output helps you connect to the bigger external amplifier or other surround sound speakers. Finally, the headphone jack allows for private listening, which is perfect when I want to rock out without disturbing anyone.
Overall, I am incredibly impressed with the Vinyl Music On and would definitely recommend it to anyone looking for an affordable yet beautiful & reliable vinyl player.
Key specs
Drive type: belt.
Operation type: semi-automatic.
Speeds, RPM: 33 1/3, 45, 78.
Speakers: yes.
Phono Pre-Amp: yes.
Bluetooth: yes.
USB: no.
AUX: no.
Pros
Hand-tuned by the Vinyl Music On audio experts.
Easy to set up and use – works out of the box.
Smooth and crisp speed selector.
Sturdy legs that do a good job of absorbing vibrations while playing.
Cons
The tonearm is very light and struggles with bass-heavy music.
The built-in speakers' sound is enough for a small apartment, but if you like it loud, you'll need an external pair.
Wrcibo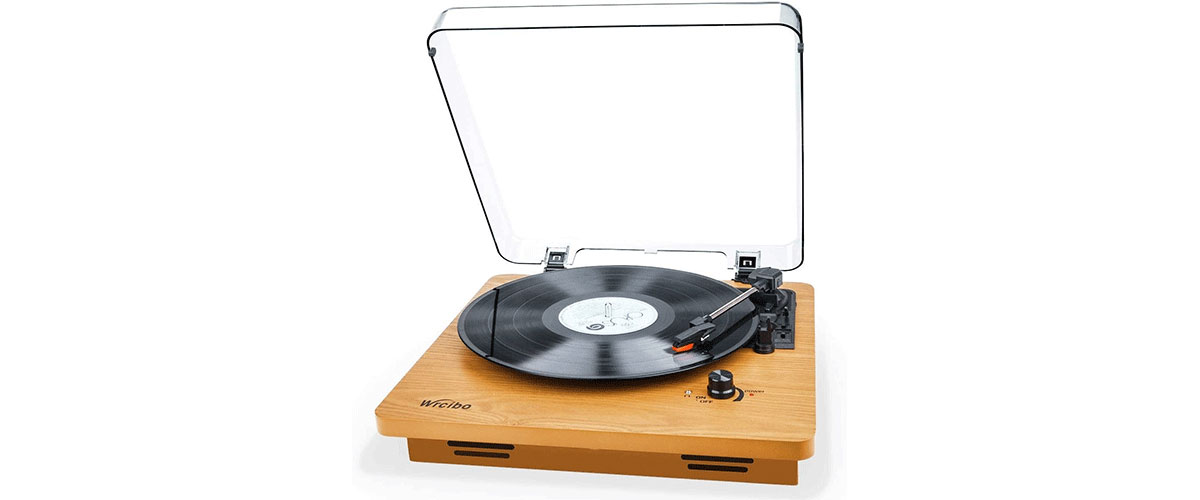 Wrcibo is a low-cost record player that has all of the features you'd expect from a turntable. It does not require any setup upon arrival and has convenient features such as built-in speakers, headphone jack, USB interface for PC, or smartphone compatibility – enabling it to play records saved on USB sticks as well as MP3s and CDs.
This unit supports 33/1/3, 45 & 78 RPM speeds and features a belt-driven system that ensures more accurate sound quality.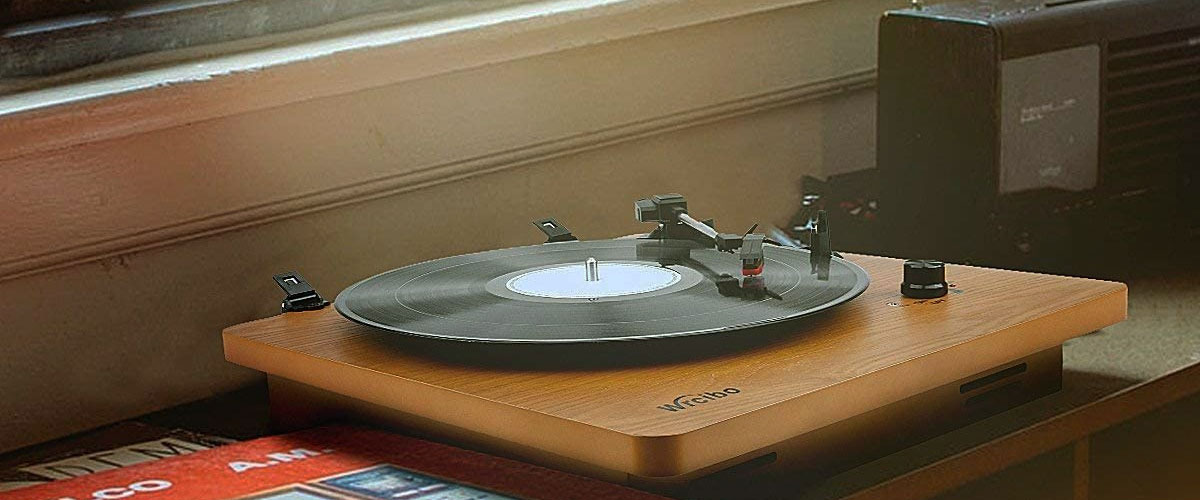 Although the deck has integrated speakers, they are suitable only for low-volume listening. However, you can always plug it into an RCA-powered speaker and party all day long with your friends! More than that, if you want to listen privately, just plug your headphones into the headphone jack, and you're set.
But what I like the most about Wrcibo is its neat, beautiful design with a real wood base that matches any home style and looks great on your shelf as decoration.
Wrcibo is a good cheap record player – it comes with good features, a good build, and a good price. Besides, it's a stylish solution for your home. Nice combination, huh?
Key specs
Drive type: belt.
Operation type: semi-automatic.
Speeds, RPM: 33 1/3, 45, 78.
Speakers: no.
Phono Pre-Amp: yes.
Bluetooth: no.
USB: no.
AUX: yes.
Pros
Embraces the vintage look.
Versatile mini sound system.
Plug-n-play model.
A great gift idea.
Cons
Not very solid.
Tiny slip mat.
Poor speakers; however, you can crank up the sound for better listening with standalone speakers.
Turntable under $100 buying guide
Here are essential factors to consider when shopping around for an inexpensive record player:
Drive system: you'll have to choose between 2 drive systems – belt drive and direct drive. Both of them have their own pros and cons; however, if you are a newbie, it's better to pick a direct drive system since it's much easier to operate, plus, it delivers accurate and delicate sound.
Speeds: all players offer 2 standard rotating speeds – 33 and 45, but if you want to play any vinyl format, choose a player with 3 RPM speeds – 33, 45, and 78.
Bluetooth connectivity and USB port: these added bonuses will give you plenty of flexibility. With a Bluetooth-enabled turntable, you can stream your audio to a soundbar, speakers, or headphones. A USB allows you to convert your vinyl recordings to digital format.
Built-in speakers and a phono stage make a turntable easy to play straight after unboxing, which is great for beginners. However, choose a player with a switchable preamp so that you can hook up separate equipment to improve sound quality.
Design: choose a lightweight and portable design if you want to move your player around the house or take it with you on a trip.
FAQ
Are cheap record players any good?
Yes, they are. But it also depends on what you define as 'good'. Questionable quality and materials? Sure, but you get what you pay for. However, the components (a needle, a cable, a transformer) MUST be good. If any of these elements fail during the warranty period, then your seller must replace them at no cost to you.
Will a Crosley ruin my records?
No, a Crosley will not ruin your records. Although the quality of Crosley's turntables may not be as good as more expensive models, they are designed to play records safely and accurately.
Is Victrola a good record player?
Victrola record players are excellent for enjoying music from the past. They feature a classic design, decent sound quality, and durability that has been trusted for over a century. The traditional style of Victrola players gives them an extra touch of nostalgia, while their modern features make them perfect for today's digital world.
How to make an inexpensive turntable louder?
If you're on a tight budget, buying an amplifier is the right way to
make your turntable louder
. You can get a decent one for less than $100 if you know where to look.
How do I know if my turntable speed is correct?
The most accurate way to measure turntable speed is to use a dedicated strobe disc that runs at the intended playback speed and has markings designed specifically for measuring
TT's speeds
.
What happens if I play a record at the wrong speed?
The pitch of the sound emitted will be
incorrect
, though you may not notice it immediately.