If you appreciate the warm sound of vinyl and are looking to invest in the best all-in-one turntable offered on the market, you've come to the right place.
In this review, I've gathered the top-tier models from different brands, all of which offer a slew of impressive features, making them a decent upgrade to your old player. I've also made sure to include products from different price ranges so that everyone regardless of their needs and budgets can find something suitable for them. Keep reading to discover more!
Our pick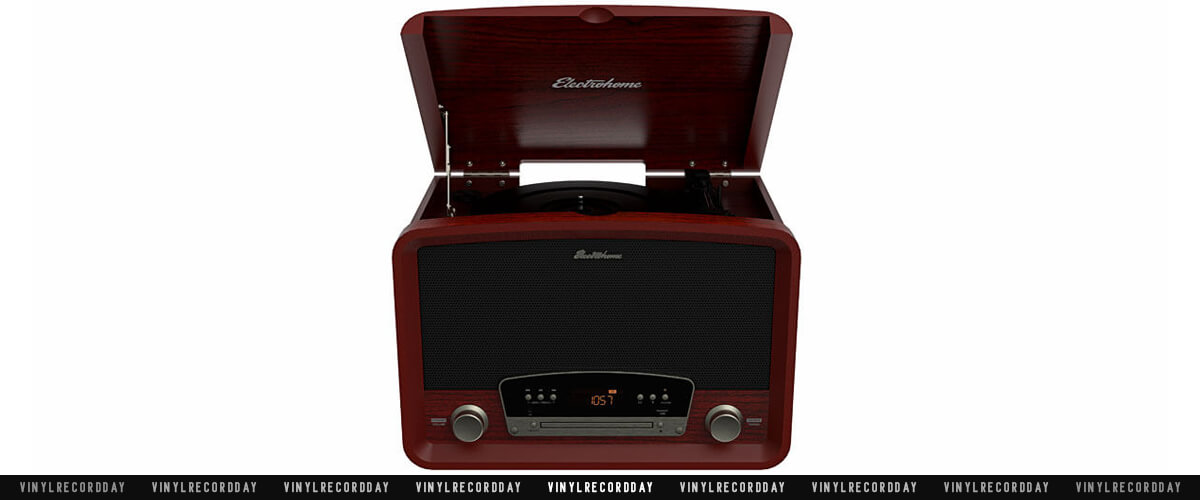 Electrohome Kingston 7-in-1
Best all-in-one turntable
Plays all of your favorite songs from vinyl records to digital music streaming through Turntable, Bluetooth, Aux in, AM/FM Radio, CD Player and USB.
Read the full review
.
All in one turntable comparison table
Name
Speeds, RPM
Phono Pre-Amp
Speakers
Bluetooth
USB
AUX
Review
Electrohome Kingston 7-in-1

best overall

33 1/3, 45, 78
yes
yes
yes
yes
yes
Review
1 BY ONE

all-in-one stereo system with turntable

33 1/3, 45
yes
yes
yes
yes
no
Review
Victrola 8 in 1

budget

33 1/3, 45
yes
yes
yes
yes
no
Review
Crosley CR6233D

also a great choice

33 1/3, 45
yes
yes
yes
no
yes
Review
What to expect from all-in-one turntables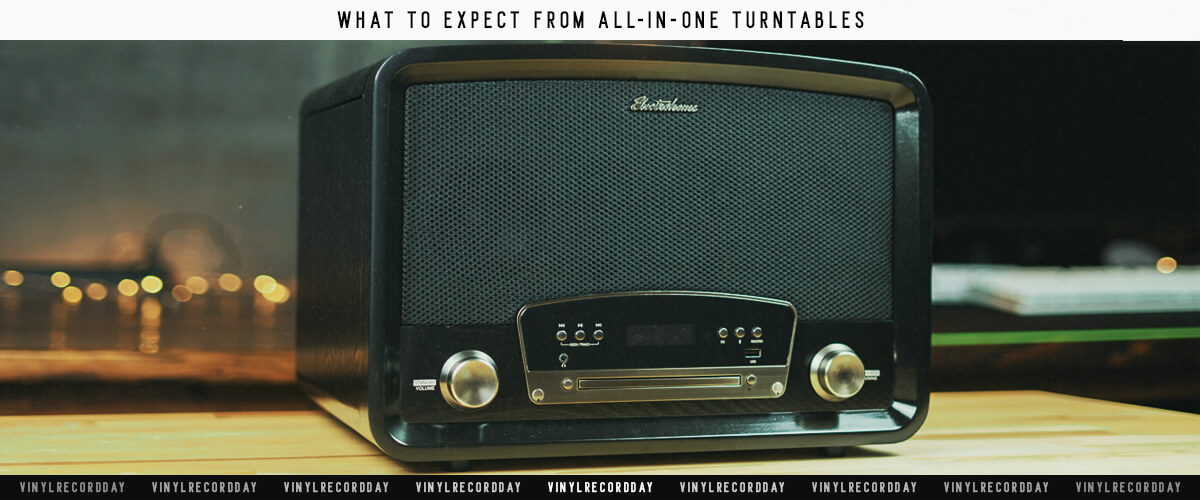 To start off, let's first clear up what an all-in-one turntable is and what features you can expect to find in it.
As you can decipher from the name , an all-in-one turntable comes bundled with all the necessary components for playing LPs, including a record player itself, a built-in amplifier, and speakers, so you don't need to buy any separate components additionally. Some models also feature CD and cassette players. Besides, they often boast USB and Bluetooth connectivity, allowing you to not only listen to vinyl albums but also record them to the computer and stream other music through your gadgets. One of the main advantages of the best all-in-one record players is that they're very easy to use. You can simply plug the system in and start listening to your favorite tunes.
Sure, they do have some trade-offs, too, such as extra noise and vibrations that may come from having too many components in tight spaces , making it impossible to upgrade the system down the road. However, If the components are well-made, you can probably get away with these flaws.
How I Tested All-in-One Record Players
To test record players and check their audio quality in different genres of music, I've selected a few songs:
Frank Sinatra – "In the Wee Small Hours" (1955)
Bon Iver – "Bon Iver" (2011)
Neil Young – "Tonight's The Night" (1975)
Stravinsky – "The Rite of Spring" (2017)
Pink Floyd – "Dark Side of the Moon (1973)
Michael Jackson – "Thriller" (1982)
Radiohead – "In Rainbows" (2007)
Now, I'm ready to share the test results with you. Let's jump in it!
Best All-in-one turntable reviews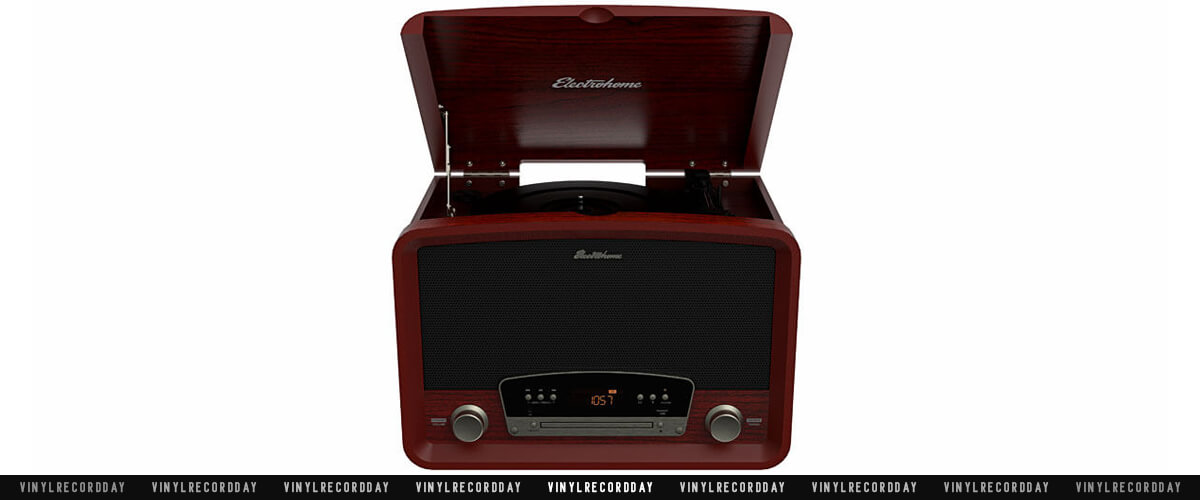 Originating from a rich legacy that spans over a century, the Electrohome brand has continually innovated audio technology, marrying timeless designs with unparalleled sound quality. And their brilliant model Kingston 7-in-1 has a lot going for it.
First things first, you're sure to love its retro-modern design, featuring a lovely hand-crafted real wood cabinet that can adorn any room, be it your home, hotel, or restaurant.
Secondly, it's the quality build. Admittedly, weighing in at 23.8 pounds, the model is rather heavy compared to the Crosley CR 6233D or DIGITNOW , but the extra weight is well worth it since it gives you peace of mind that the unit won't crack or fall down if you move it within places in your house.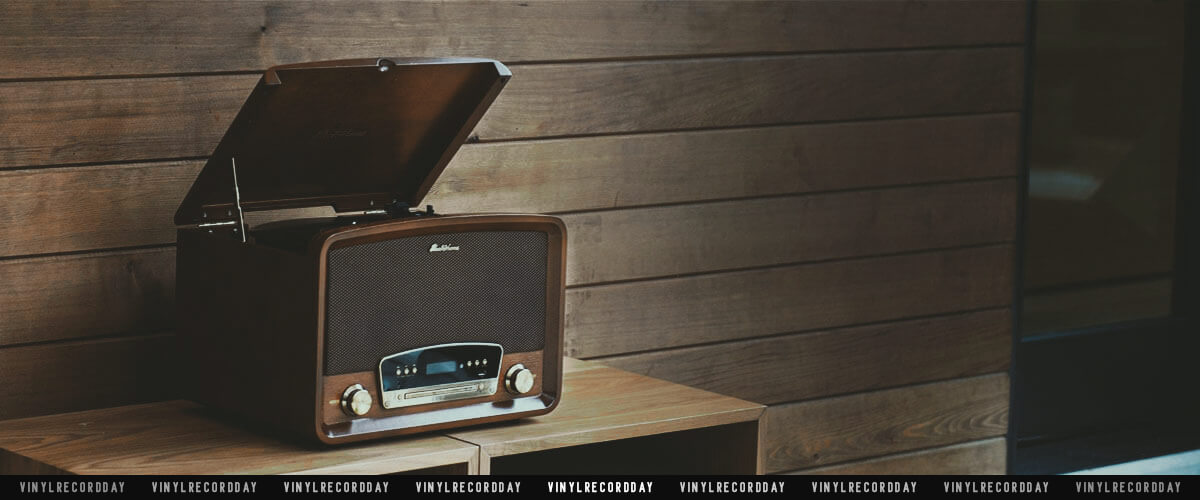 Finally, it's the quality of sound. Using decent audio components that include a 3-speed belt drive motor (33 1/3, 45, and 78 RPM), a sapphire needle, and four speakers, it produces pure sound in all genres of music, allowing you to savor vinyl collections from your childhood just the way you remember them.
Now, what sells this player the most is that it features the functions of a proper stereo system, allowing you to play back not only vinyl records but also MP3 files, CD disks (7". 10" or 12"), play radio, adjust the sound volume, and stream your favorite tunes wirelessly using your tablet or smartphone. More to that, it has RCA outs, meaning you can always connect the player to external speakers and significantly improve your listening experience.
Taking everything said above into account, it'd not be wrong to say that the Electrohome Kingston 7-in-1 is the best all-in-one stereo system with a turntable. It looks cool, plays great, and supports a huge range of formats including both analog and digital.
Key specs
Speeds, RPM: 33 1/3, 45, 78.
Phono Pre-Amp: yes.
Built-in speakers: yes.
Drive type: belt.
Operation type: semi-automatic.
Bluetooth: yes.
USB: yes.
AUX: yes.
Pros
Elegant retro design – gorgeous piece of furniture.
Excellent sound.
Doubles as Bluetooth speaker.
Fast and flawless Bluetooth.
Includes remote control.
Cons
Not exactly a downside, but the unit is rather heavy.
1 BY ONE – all-in-one stereo system with turntable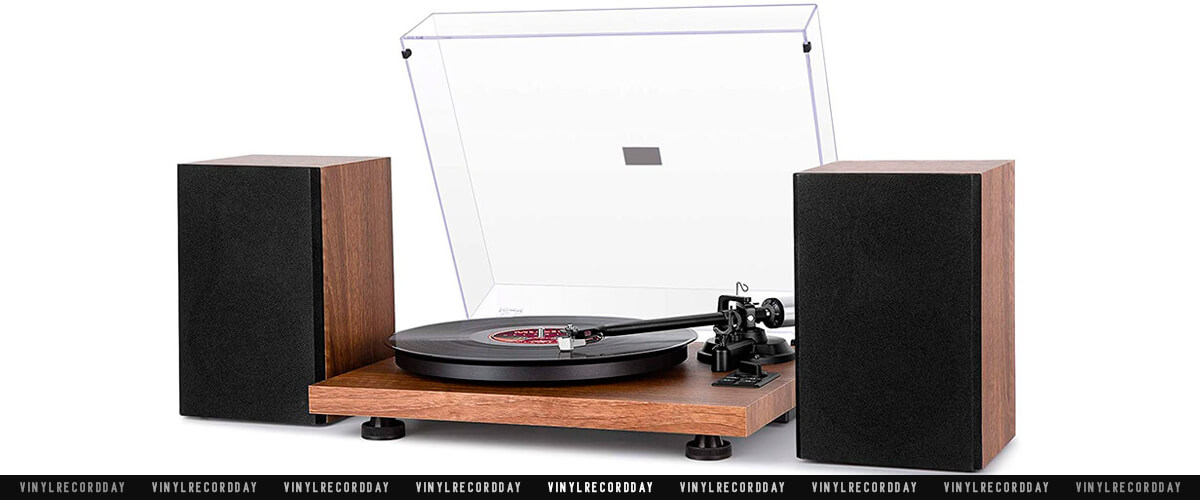 Another all-in-one stereo system worth consideration is the 1 By One. This model has many useful features, making it suitable for both amateur and professional needs.
Starting off, you'll definitely like the unit's minimalistic yet modern design. It features a set of two 18W bookshelf speakers and a sleek-looking deck damped for producing excellent audio. Also, it feels rock solid – with a weight of 20.9 pounds, the player will stand stable where you put it even if your pets get interested in it! Furthermore, 1 By One features anti-skating and an adjustable counterweight – two essential tools for preventing scratches and producing a beautiful, crisp, and well-balanced sound without extra noise and distortion.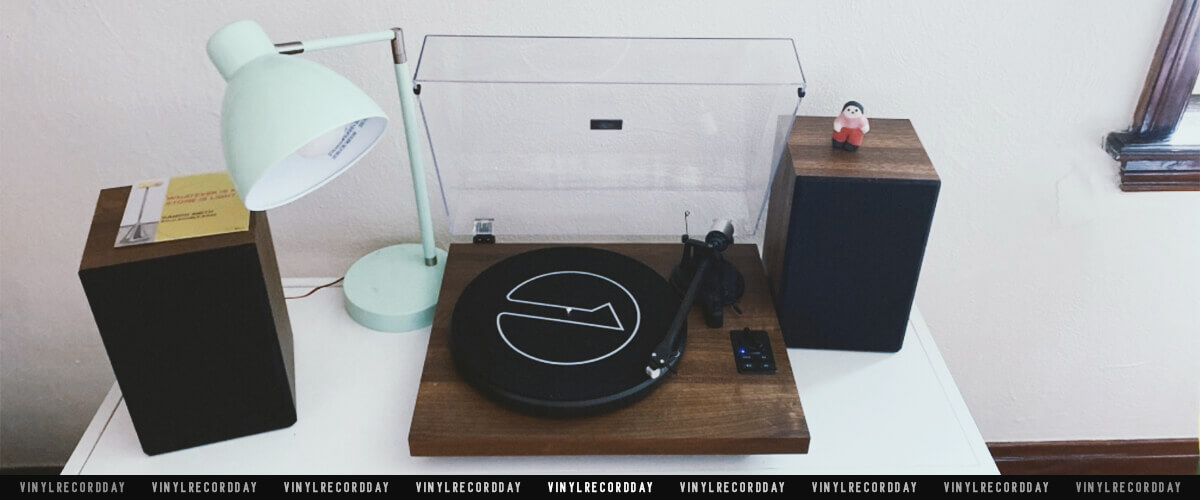 This model comes equipped with super convenient extra features. It boasts Bluetooth and USB connectivity so that you can enjoy your tunes from any Bluetooth-enabled device and digitize your favorite albums. You also get both Phono and Line outputs that will allow you to play with or without a phono equalizer.
What's more, the 1 By One includes high-quality speakers. In all honesty, the sound quality exceeded my expectations! Actually, the speakers are so good that you can easily bring them to a small party! So, chances are, you won't even need to use any other powered speakers instead of these ones.
If you're in the market for the best all-in-one stereo system with turntable, the 1 By One can fit the mold. It makes a compelling case for professionals thanks to its wireless input and perfectly suits the needs of amateur users because of its simplicity of use.
Key specs
Speeds, RPM: 33 1/3, 45.
Phono Pre-Amp: yes.
Built-in speakers: yes.
Drive type: belt.
Operation type: manual.
Bluetooth: yes.
USB: yes.
AUX: no.
Pros
Minimalistic yet attractive design.
Solid construction.
Silent operation.
Speakers are packed with excellent, loud sound.
Great price/performance value.
Cons
No separate bass and treble controls.
At times, the bass may get overly aggressive.
Victrola 8 in 1 – budget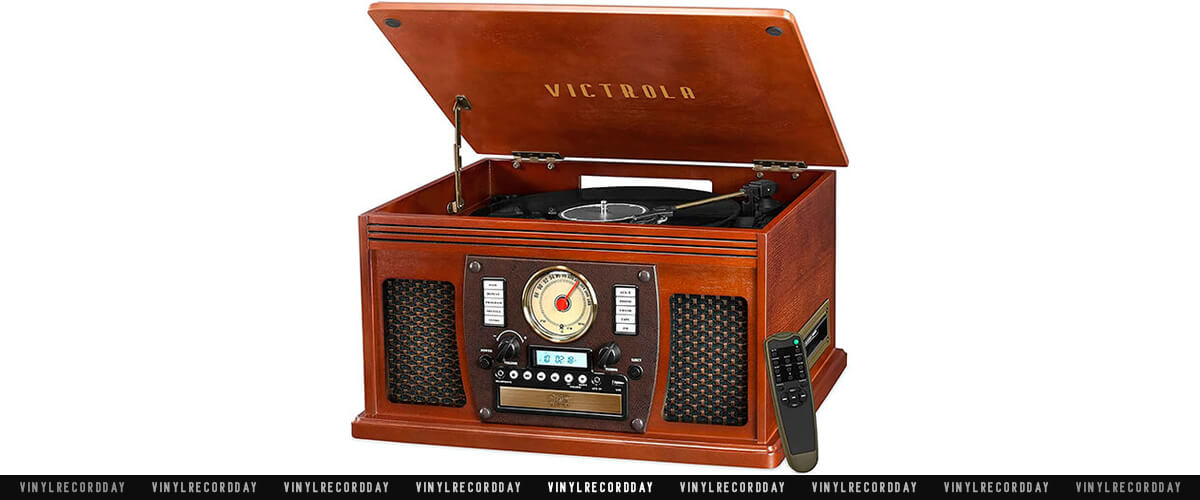 Victrola 8-in1 can play so much more than just vinyl records, in fact, it allows you to listen to audio in any format you can think of – radio, LPs, CDs, and cassettes. Just imagine, you can savor not only your dad's collections but also those cassette tapes you enjoyed in your childhood! Moreover, the player features Bluetooth and USB, making it a complete entertainment center for the whole family no matter age and music preferences.
Next, Victrola 8-in-1 has a set of built-in speakers. Surely, you can't expect them to sound as fantastic as a proper surround system, but for what they are, the sound is beautiful, full, and quite loud. Besides, you get the option to hook up the turntable to the powered external speakers using RCA jacks in the back of the unit, which will allow you to extract even more volume from it.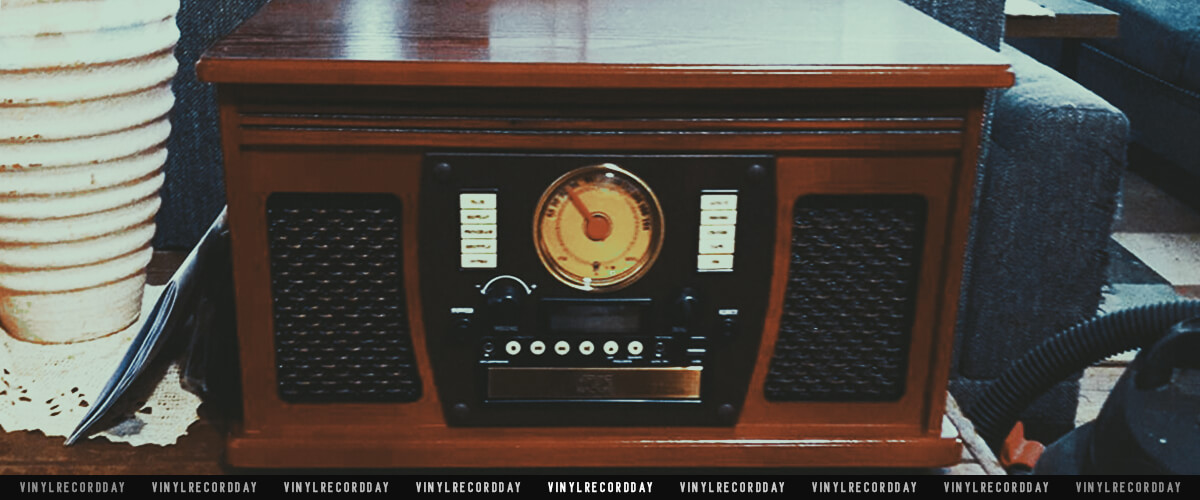 Before wrapping up, this model runs at 3 speeds – 33 ⅓. 45, and 78, meaning you can listen to various LP formats.
Victrola 8-in-1 is the finest combination of the turntable, CD, cassette player, and radio in the budget price range. While it doesn't cost as much as its peers, the unit is actually loaded with features, making it a great value for the money. On top of that, this model's saved its retro feel, so it can serve two purposes: play tunes and adorn your place with its beautiful real wood construction.
Key specs
Speeds, RPM: 33 1/3, 45, 78.
Phono Pre-Amp: yes.
Built-in speakers: yes.
Drive type: belt.
Operation type: manual.
Bluetooth: yes.
USB: yes.
AUX: yes.
Pros
Extremely versatile.
Easy to set up and use.
Quick Bluetooth.
3 speeds – a rare feature for turntables.
Has a lovely retro-vintage flair that can enhance the interior of any home.
Cons
No option to connect them to Bluetooth speakers.
The arm on the turntable is very light, therefore it might occasionally skip tracks.
Crosley CR6233D – also a great choice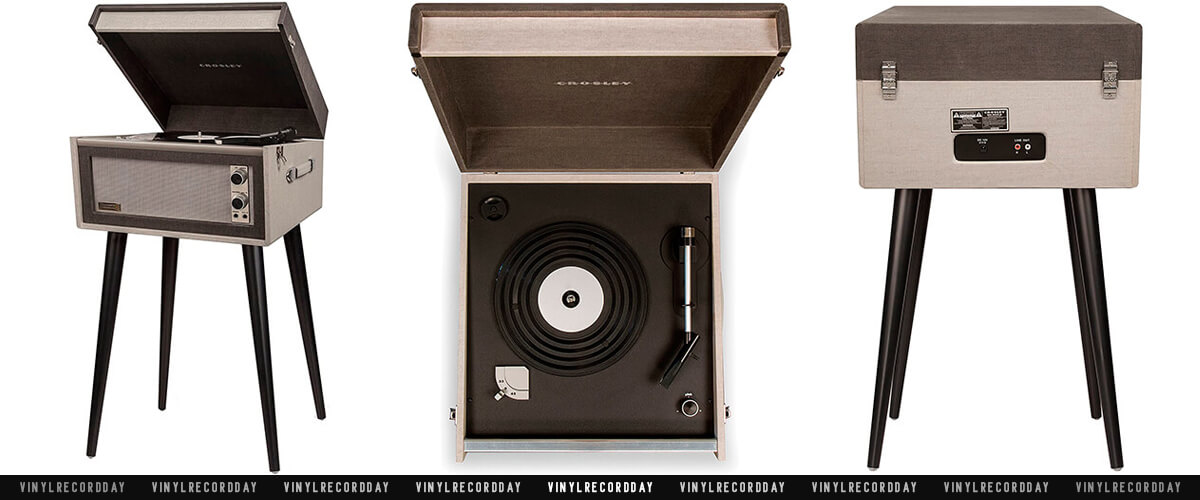 There are a lot of things to love about Crosley CR 6233D. To kick things off, this belt-driven turntable has a very cool retro design. Basically, you get an old-time portable model on a set of legs that easily come off for space-saving storage. The weight of the unit is only 12 pounds, much smaller than most other rivals, so even if you decide to take it with you to a party, you won't face any portability issues.
Moving on to the performance, the Crosley CR 6233D has a pre-mounted tonearm with an AT-3600 moving magnet cartridge that allows it to produce the peculiar warm sound of vinyl that these players are loved for. There's also an adjustable pitch control, with the help of which you can adjust the pitch up to 10% from 45 or 33 ⅓ RPM to enjoy the recording the way you know it to the fullest.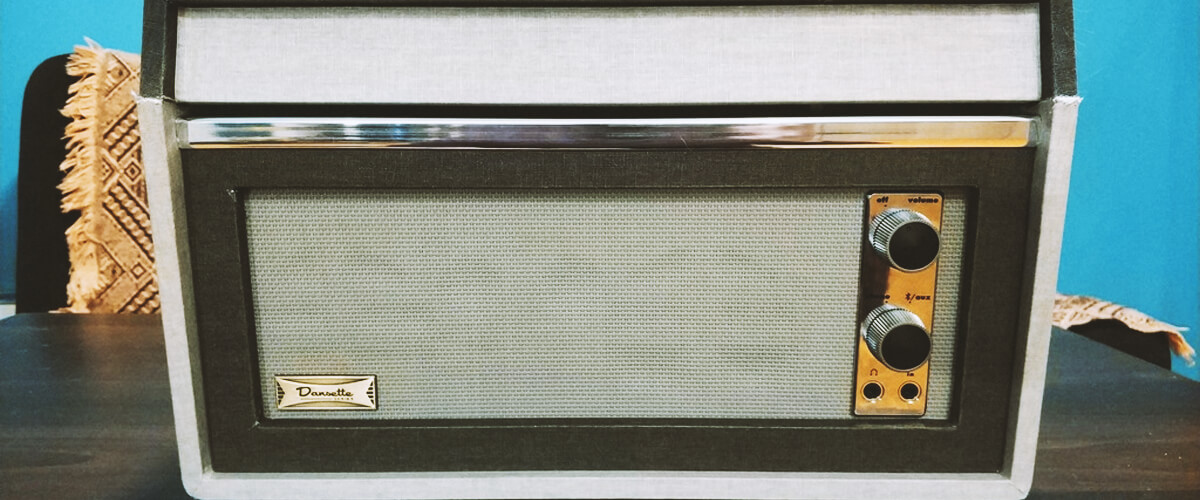 The CR 6233D comes with an integrated preamp and full-range speakers. But if you find the speaker's sound mediocre, you can crank up the music through your stereo thanks to the RCA jacks located in the back of the turntable.
And last but not least, this beauty has a built-in Bluetooth receiver, which broadens the choice of playlists you can play through it.
Crosley CR 6233D is a nice, lightweight, and portable turntable that successfully combines the feel of yesteryear with practical features like dynamic full-range speakers, pitch control, and Bluetooth receiver. Well worth the money!
Key specs
Speeds, RPM: 33 1/3, 45.
Phono Pre-Amp: yes.
Built-in speakers: yes.
Drive type: belt.
Operation type: manual.
Bluetooth: yes.
USB: no.
AUX: yes.
Pros
Wonderful retro vibe.
Makes old music sound awesome.
Quality tonearm – no skipping at all.
No-brainer assembly – the mechanics are already set up.
Cons
Not really durable.
Even at maximum volume, the speaker is not very loud and has almost no bass.
LoopTone 9 in 1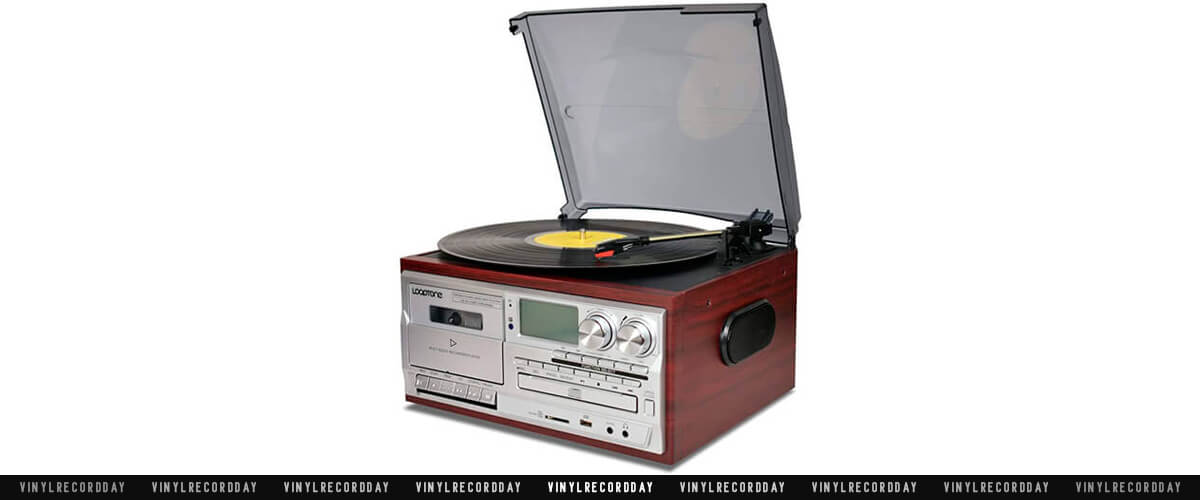 Just like its name suggests, the LoopTone 9-in-1 integrates multiple functions. To specify, this is a record, CD, cassette player, and AM/FM radio combo with USB and Bluetooth connectivity. It gives you the freedom to play literally anything you want! You can also take advantage of the conversion function, allowing you to convert your favorite tunes into digital music and enjoy it anywhere .
Another sphere where Loop Tone 9-in-1 shines is its design. The silver panel on the front combined with an MDF wood cabinet gives it a modern look while also lending it a retro flair, which makes it a nice addition to both modern and mid-century retro interiors. Additionally, it has very compact dimensions, measuring just 12.6 x 14.96 x 6.69 inches, so it will easily find a place in any home, even if it's short on space. As a nice touch, a remote control comes with a purchase.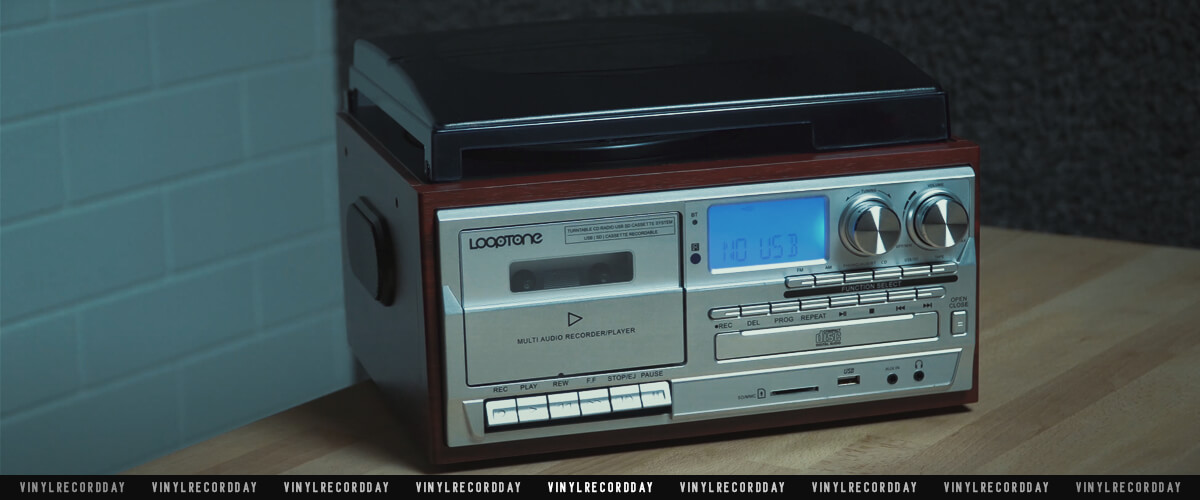 One niggle some users have about is that it has a rather light arm record. Because of that, it may skip tracks if the recording isn't completely smooth. Personally, I've had no such issues and can't confirm this.
All told, if you're in search of a multifunctional record player with all the bells and whistles, the LoopTone 9-in-1 can be the right bet.
Key specs
Speeds, RPM: 33 1/3, 45, 78.
Phono Pre-Amp: yes.
Built-in speakers: yes.
Drive type: belt.
Operation type: manual.
Bluetooth: yes.
USB: yes.
AUX: yes.
Pros
Boasts a powerful conversion function.
It's compact and lightweight, so it can be easily moved within places.
It can search radio channels automatically.
Cons
Some users report issues with the sound quality and poor radio signal.
DIGITNOW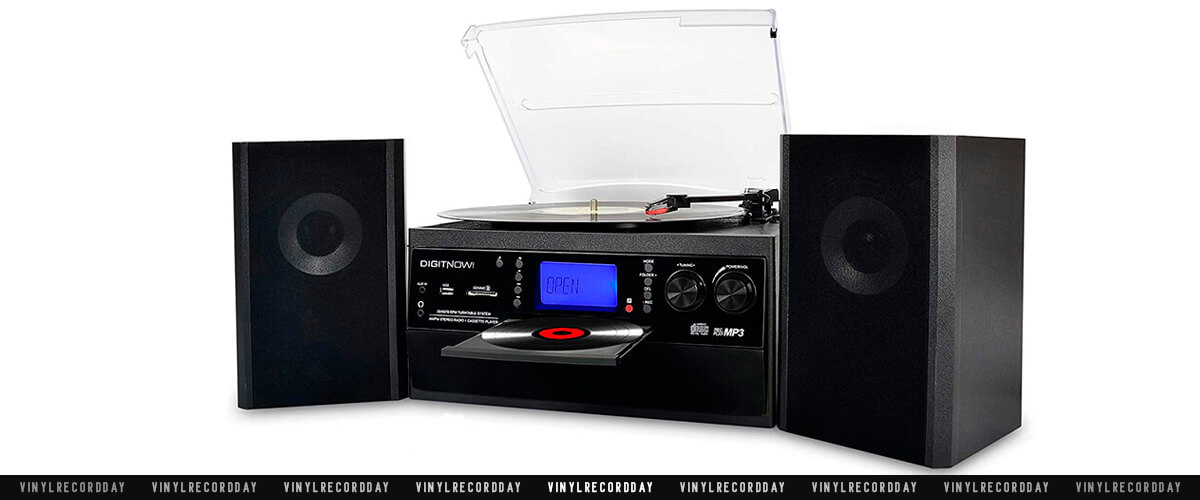 An incredible bargain, DIGITNOW offers tons of functionalities, making it outshine its competitors in this price range.
This record player with AM/FM radio, CD, and cassette player has a USB port and an SD card slot. This means, not only will you be able to play all of your vinyl records, radio, and cassette tapes , but also you will have the recording function, enabling you to digitize your files. Further on, the unit has Bluetooth connectivity. Thanks to that, you'll have the option to listen to your playlists from your smartphone, player or tablet.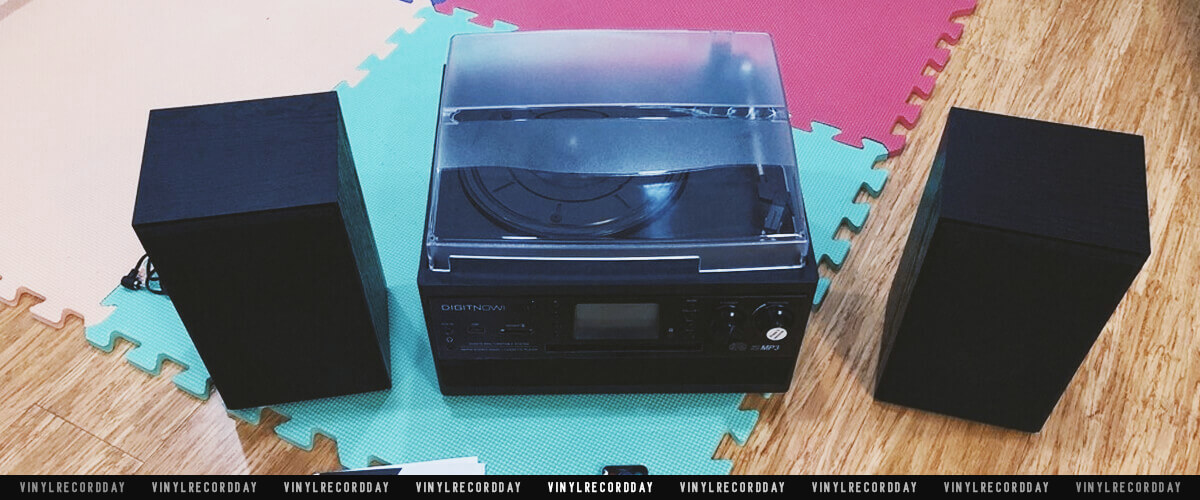 RCA jacks are also included, so you can pair this record player with your amplifier or stereo system to create a bigger sound. In short, I didn't expect to see so many functionalities at this price tag, which pleasantly surprised me.
Other nifties that sell the DIGITNOW include an LCD screen with backlighting, an earphone jack, and a remote control that will allow you to kick back on your sofa and relax. As an added bonus, you also get a dust cover that will help protect the mechanism of the turntable from dust ingress.
If you're looking for an affordable vinyl player to not only play LPs, CDs and cassettes but also record them, there aren't many models in this price range that can offer you the same functionality as the DIGITNOW Bluetooth Record Player.
Key specs
Speeds, RPM: 33 1/3, 45, 78.
Phono Pre-Amp: yes.
Built-in speakers: yes.
Drive type: belt.
Operation type: manual.
Bluetooth: yes.
USB: yes.
AUX: yes.
Pros
It's one of the rare vinyl players that can not only run all formats of music but also record them.
It comes with a remote control so you can adjust its settings from a distance.
The radio has a memory function to remember favorite stations.
Such huge functionality is packed in a rather compact body.
Cons
Sound quality is mediocre, but it's quite expected at its price range.
It might skip tracks at times.
Boytone BT-28MB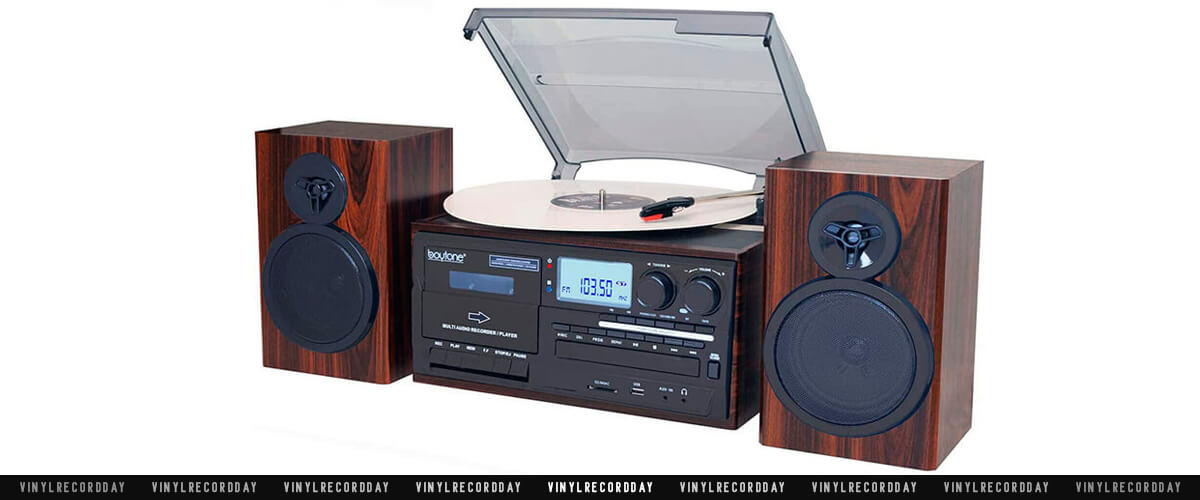 The Boytone BT-28MB is a versatile all-in-one turntable that allows you to listen to your favorite music in multiple formats. It features the flexibility of 33/45/78 RPM speeds, catering to every genre you enjoy. This compact beauty also has an AM/FM and stereo FM radio, as well as a CD player and stereo cassette tape player, so it can literally play everything you may want!
The separate stereo speakers provide rich sound quality (the output is loud and clear), and you can even connect wirelessly to play music from your phone, tablet, or other devices. Furthermore, the MP3 & WMA playback support lets you encode and convert your vinyl records, radio, and cassette tapes into digital files for easy listening. You can also use the USB/SD record and play function to store your digital files on a memory card or flash drive. Finally, the 3.5mm headphone jack allows for private listening sessions. Not to mention, it comes with remote control for your convenience.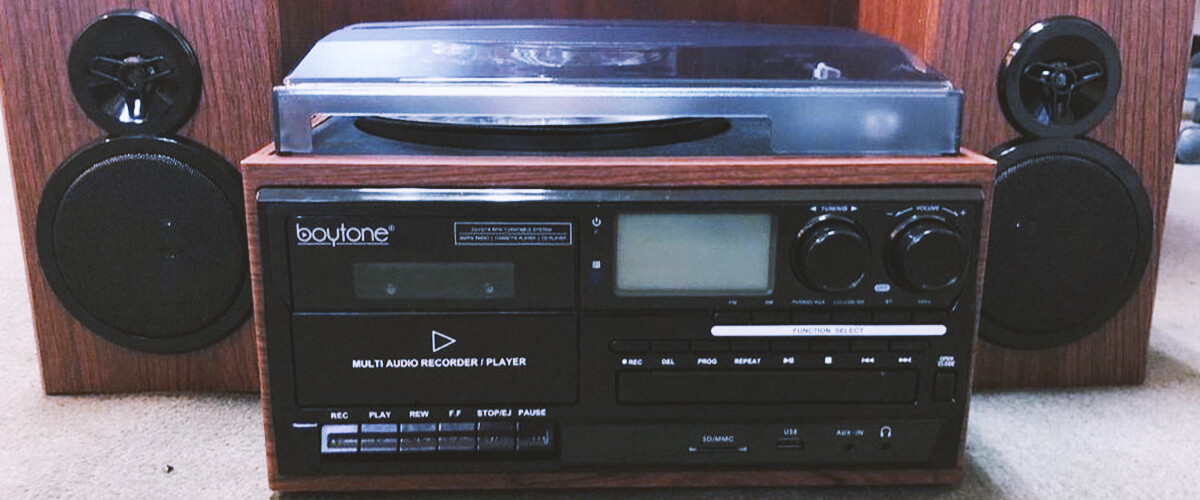 You may ask: DIGITNOW and Boytone BT-28MB have almost the same functionality, so what's the difference between these twins? I love them both but the former has better CD and cassette players, while the latter is far more affordable. You decide what matters to you!
The Boytone BT-28MB is a good all-in-one turntable that has something for everyone. It offers unparalleled versatility, classic, beautiful design, 100% modern features, and comes at an affordable price. So, if those are characteristics you're looking for, you may end your search here!
Key specs
Speeds, RPM: 33 1/3, 45, 78.
Phono Pre-Amp: yes.
Built-in speakers: yes.
Drive type: belt.
Operation type: manual.
Bluetooth: yes.
USB: yes.
AUX: yes.
Pros
Well-balanced belt-driven system.
Durable, wooden body with a gorgeous mahogany finish.
Large, bright display.
Programmable memory.
Plug-n-play setup.
Easy connection via Bluetooth.
Cons
Cassette and CD players are mediocre.
Remote needs improvement.
Crosley CR42D-PA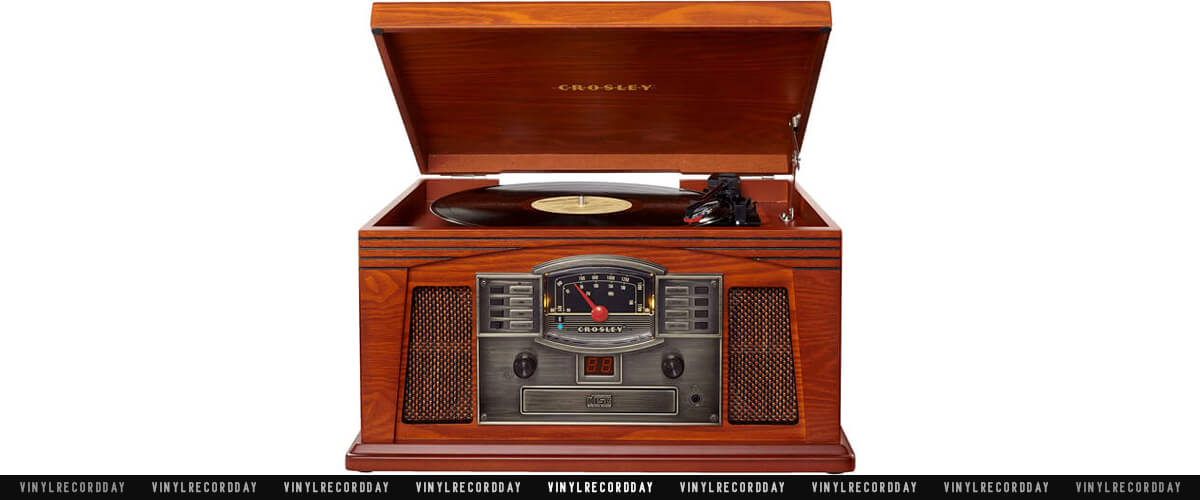 The Crosley CR42D-PA is a compact nostalgic turntable that can boast not only a gorgeous antique-style cabinet but also hugely versatile characteristics.
Starting off, you can easily stream music from your mobile devices or computers without any wires or cords due to the built-in Bluetooth technology. Next, featuring dynamic full-range speakers and adjustable pitch control, this turntable lets you create the perfect sound quality for any audio source. Actually, I consider myself to have a pretty good ear for quality, and I love the way this gem manages to sound confident and composed; however, it can't play loud!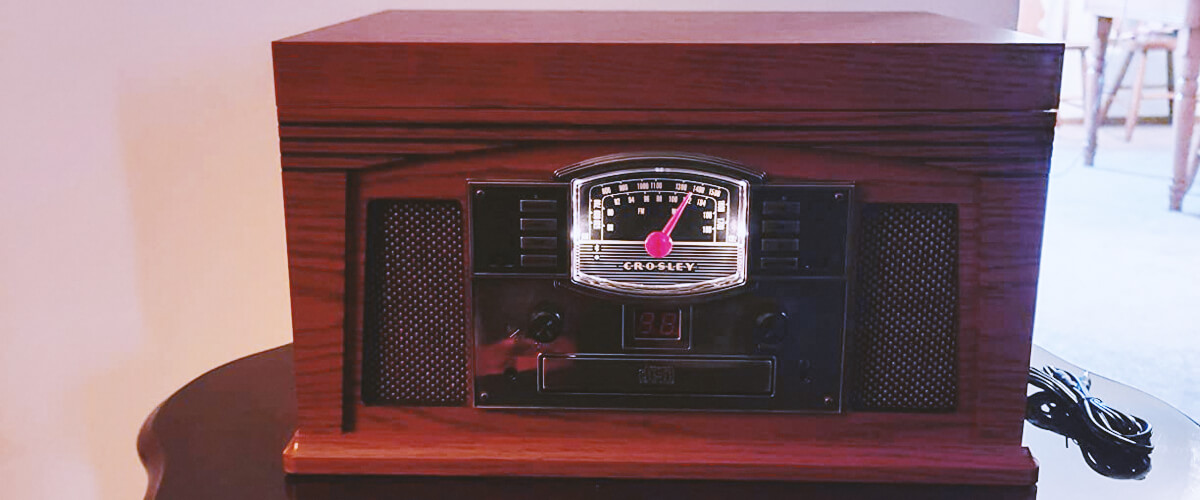 In addition, it comes with a CD player, cassette player, AM/FM radio, and auxiliary input so you can listen to all your favorite albums, mixtapes, and oldies in one convenient device. Finally, the table can spin LPs at 3 speeds – 33 1/3, 45, and 78 RPM, allowing you to listen to records in any format!
Crosley CR42D-PA is a mini stereo system that has everything you need to enjoy your vinyl records in one convenient package; plus, it looks just fantastic! Great buy for the price!
Key specs
Speeds, RPM: 33 1/3, 45, 78.
Phono Pre-Amp: yes.
Built-in speakers: yes.
Drive type: belt.
Operation type: manual.
Bluetooth: yes.
USB: no.
AUX: yes.
Pros
Trusted brand.
Great build and finish – amazing craftsmanship.
Compact – fits in any corner.
Versatile – can play all the oldie but moldy.
Satisfactory sound.
Cons
May be difficult to read dials for some users.
Not loud.
No way to hook up external speakers.
Select the required audio playback sources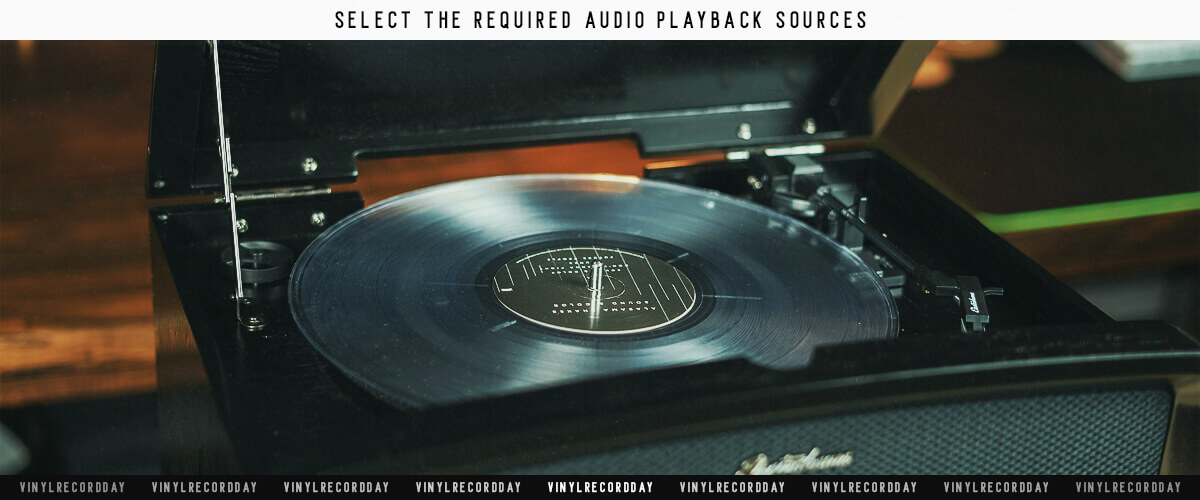 It goes without saying that in order to choose an all-in-one stereo system with a turntable that will be right for you, it's important to determine your needs.
If you're a true vinyl fan who has been collecting vinyl records since your childhood, the quality of vinyl sound will be your priority. Ideally, you want to invest in a well-made turntable with high-quality components and a heavy platter that will produce no extra noise and play all types of records without skipping, regardless of whether they are new or old.
Are you keen on cassette tapes? In that case, make sure to check if the system has such functions as shuffle play, repeat, queuing songs, etc. Though many all-in-one systems come with a CD player, not all of them have the same playback options.
Finally, you want to check Bluetooth. If you're planning to stream music wirelessly, a player should provide a strong wireless connection over a wide area so you can move freely around your place.
Bottom line, you want an all-in-one turntable that will be optimized for your needs, whatever they are. I hope you'll find it here!
FAQ
Do all-in-one turntables sound good?
Of course, it's a rhetorical question. You know that all-in-one turntables are designed with specific compromises in mind. Getting great sound is not at the top of their priority list. That's okay because they're also reasonably priced and make listening to your vinyl collection more accessible than ever before.
So don't expect your all-in-one machine to compete with your reference rig, but be realistic about what it can do. Thanks to the technological advances of the last few years, the good news is that you can now get a very decent-sounding all-in-one turntable for less than $500.
How do I stop my turntable humming?
Turntables can emit a little or a lot of hum, and it's often caused by the turntable resonating at the same frequency as nearby electrical equipment. Most turntables have an AC power switch that turns off the motor and reduces the background noise when you are not listening to vinyl.
You can also try disconnecting your turntable from the rest of your equipment, which generally improves sound quality. If you have an all-in-one turntable with a built-in preamp, you may need to turn the volume down when running it in this way.
Is my turntable supposed to make a scratching sound?
If you hear scratching sounds when playing vinyl records, it almost certainly means that your stylus is worn out. How quickly the sound occurs will give you an idea of how much life is left in it. If it's occurring after just a few minutes of listening, then the stylus is on its last legs. However, scratching sounds can also mean that you have one of those cheap all-in-one turntables that have a plastic platter.
Is it safe to play vinyl records on an all-in-one turntable?
Absolutely, playing vinyl records on an all-in-one TT is generally safe. However, be aware that these systems often have limitations on cartridge, tonearm, and needle upgrades. It's advisable to use records in good condition to prevent potential damage and to ensure the longevity of your turntable's components.
Do old records sound better?
Not necessarily. Old records can sound simply terrible regardless of how great your equipment is. The most likely culprits are a worn stylus or a record pressed from a severely worn master tape. Just because it's old doesn't automatically make it a good-sounding recording!
How can I make my all-in-one turntable sound better?
To enhance your all-in-one turntable's sound quality, consider these steps:
Position the player on a stable, vibration-free surface.
Regularly clean LPs to remove dust and grime.
Consider upgrading the stylus for improved tracking and sound fidelity.
Experiment with speaker placements for optimal sound dispersion.
Invest in higher quality external speakers if your setup allows.
Utilize anti-static accessories to minimize static noise.
Ensure the turntable is properly grounded to reduce hum.
Does the sound quality of all-in-one turntables compare to dedicated setups?
While all-in-one turntables offer convenience and are generally more affordable, their sound quality often doesn't match up to dedicated setups, which benefit from specialized components that enhance audio fidelity. However, many modern all-in-ones have significantly improved in quality, offering a satisfying listening experience that approaches that of more dedicated systems.
Can I connect external speakers to an all-in-one turntable?
Yes, many all-in-one turntables feature outputs that allow connection to external speakers, enhancing sound quality. Before purchasing, verify the unit has the necessary ports (like RCA or Bluetooth connectivity) to facilitate this. Utilizing external speakers can provide a more robust and nuanced listening experience compared to built-in speakers.