If you are hunting for a retro turntable that will help you relive the past, there is no better place than this review! I have compiled some of the best vintage record players on the market and reviewed them in detail so that you can make an informed decision on your purchase.
So, whether you're looking for something with modern features or just want to blast back to the past, I've got it all covered here. I suggest we stop wasting time and get to the fun part!
Our pick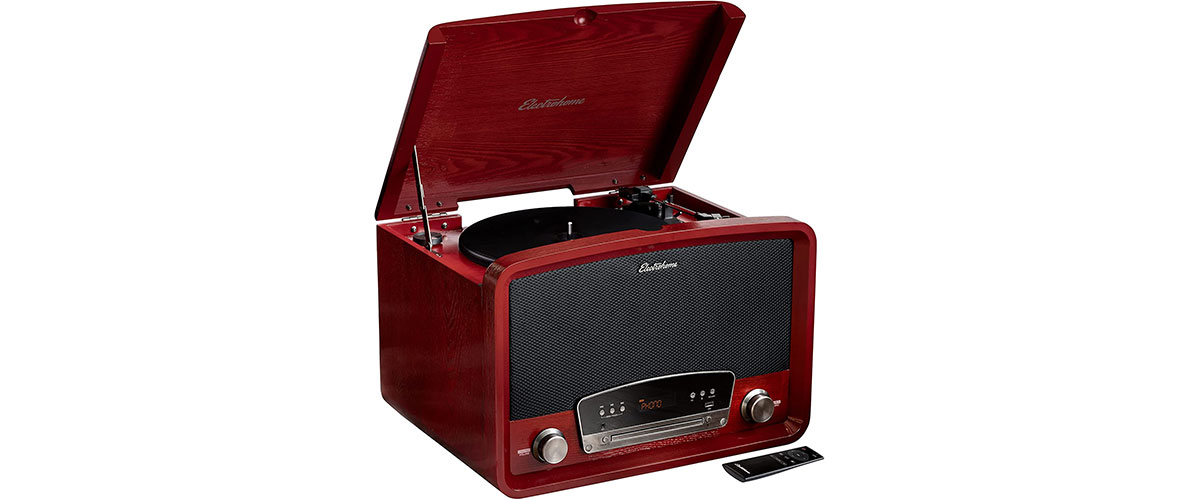 Electrohome Kingston 7-in-1
Best vintage record player
Adorn any room with the stunning vintage design and real wood finish that brings a retro flair to any space.
Read the full review
.
Vintage record players comparison table
Name
Speeds, RPM
Bluetooth
USB
AUX
Review
Electrohome Kingston 7-in-1

best overall

33 1/3, 45, 78
yes
yes
yes
Review
LuguLake

vintage phonograph

33 1/3, 45
yes
yes
yes
Review
Victrola Navigator 8-in-1

budget

33 1/3, 45
yes
yes
yes
Review
What to expect from vintage-looking record players?
If you're hesitating between a traditional vintage turntable and a vintage-looking model, I'd recommend you pick the latter one.
Undoubtedly, actual retro record players bring the timeless look from the past, pleasing even the most exacting taste and complementing any home decor. But on the other hand, antique turntables cost a fortune; plus, they require much more upkeep.
On the contrary, modern vintage-style turntables are user-friendly and come packed with up-to-date technologies. Many include Bluetooth, USB, CD player, AM/FM radio, and a 3-speed option. More importantly, such models produce superb sound quality.
So, if you're dreaming about an old-school turntable with rich functionality and beautiful sound, consider one of the models below!
Best vintage record players review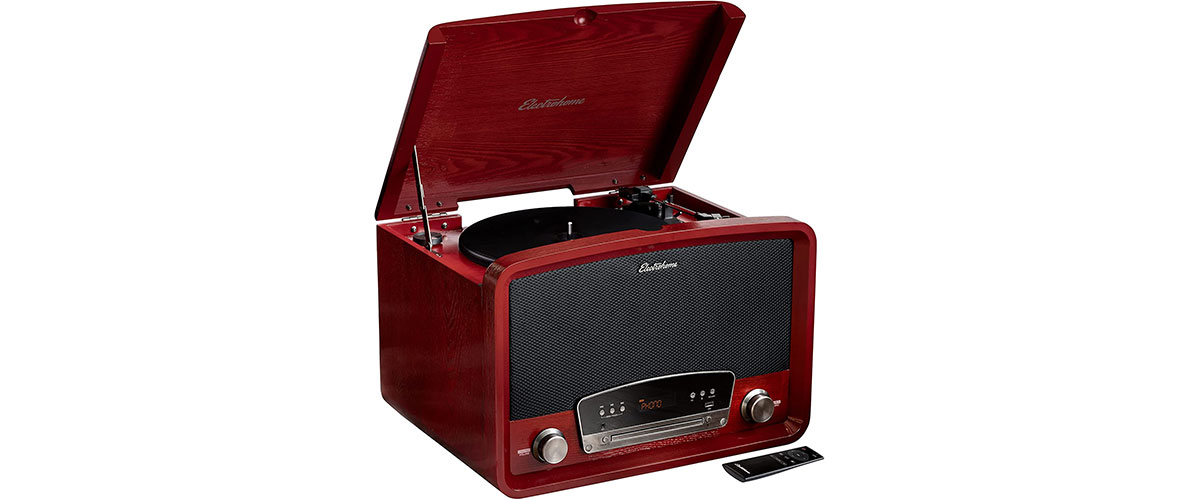 Electrohome was established in 1907, and since that time, it's been at the forefront of technology. This brand produces unique audio equipment that combines retro design and modern, practical features.
Electrohome Kingston 7-in-1 is no exception. As the name implies, it is not just a turntable – it's a home stereo system, a gateway to your whole audio collection.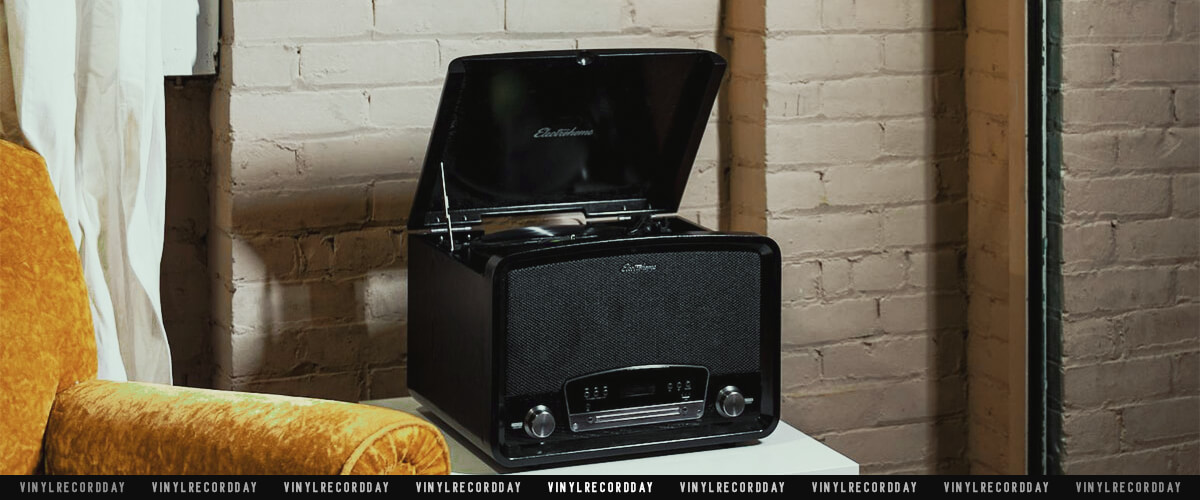 Want to listen to your classic records? No problem! A 3-speed belt-drive turntable with a sapphire needle will deliver a crispy clear analog sound with no hum. Moreover, you can stream your vinyl music collection to any Bluetooth-enabled device or listen to the AM/FM radio. The Electrohome Kingston also allows you to digitize your LPs and CDs into MP files for playback on USB or SD card media devices. All these features give you the flexibility to enjoy your music any way you want.
This stately beauty can double as a stylish furniture piece housed in an elegant retro design cabinet made from handcrafted acoustic wood panels. Aesthetically, the Kingston 7-in-1 is very stylish indeed. It's probably one of the most beautiful pseudo-vintage turntables I've ever seen.
The icing on top? It includes built-in speakers boasting Electrohome's signature warm acoustics – no need to tangle with messy wires or invest in home theater speakers.
As for sound, of course, Kingston 7-in-1 will not satisfy the most demanding audiophiles. However, for most users, it is an excellent device in terms of affordability, build quality, sound, and appearance.
In some reviews of this model, users have noted that they wish the player had more volume. Personally, I didn't find this as a problem. Yes, the Kingston 7-in-1 could play louder (and it is certainly achievable with the added speakers), but for me, this player plays loud enough to be satisfied.
Electrohome Kingston 7-in-1 is the overall best vintage record player available on today's market. Its improved technology and classic retro design make it stand out against even serious competitors like 1byone H009. Kingston 7-in-1 is perfect for anyone who wants an all-in-one solution for playing vinyl records, CDs, and digital music files.
Key specs
Drive type: belt.
Operation type: semi-automatic.
Speakers: yes.
Speeds, RPM: 33 1/3, 45, 78.
Bluetooth: yes.
USB: yes.
AUX: yes.
Pros
Beautiful vintage look.
The convenience of having a variety of playback options.
Warm acoustics of four speakers.
A nice-touch equalizer that pumps bass and treble.
Easy to set up.
Cons
If you like it loud, you may need additional speakers.
LuguLake – vintage phonograph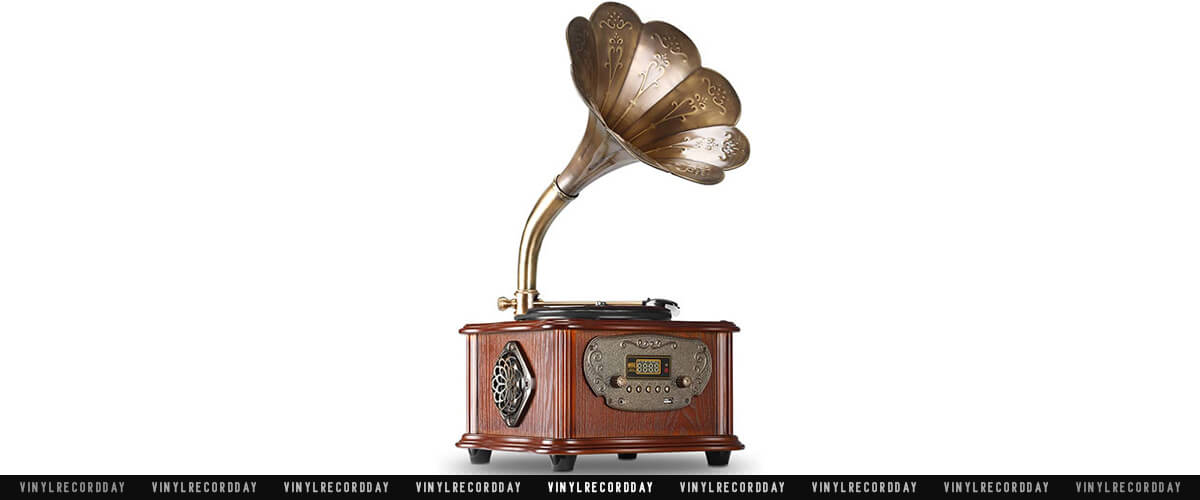 Hunting for an antique-looking piece of art that does much more than just playing your old vinyl collection? You may end your search here! LuguLake is a handcrafted phonograph that combines an elegant vintage design and high-end technology.
This belt-drive gramophone includes a replaceable ruby stylus and copper brass horn with a 10W tweeter – it creates a powerful, immersive sound. Plus, it has 2x20W full-range stereo speakers in the base that are capable of producing 360 degrees surround audio with a multi-layer feeling.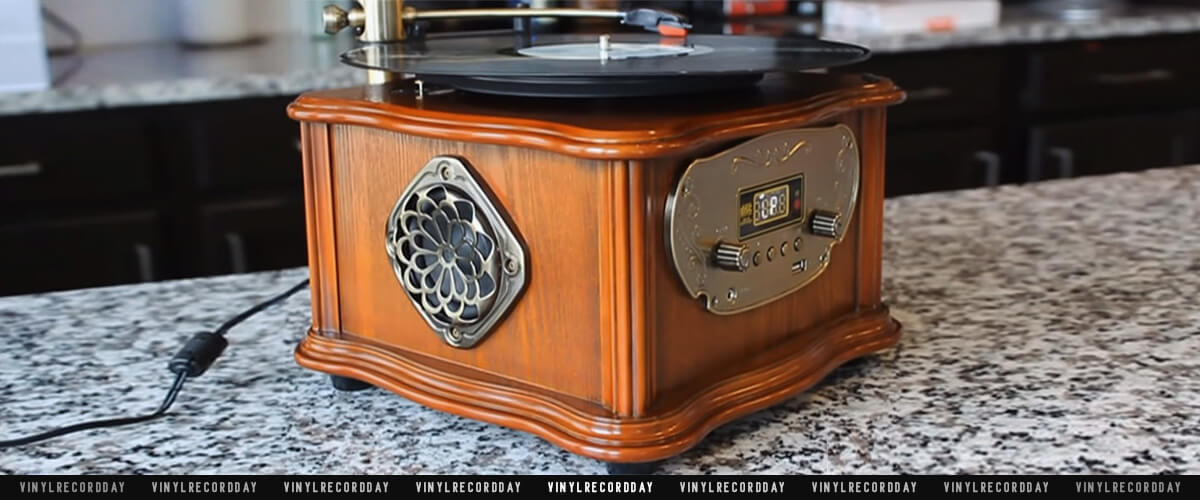 The turntable supports vinyl records of 7″, 10″, and 12″, plus, it has 33 and 45 playing speeds, making it quite versatile. Moreover, this model comes with Bluetooth connectivity, a USB port, and Aux input so that you can stream music from your gadgets.
Finally, the wood, vibration-resistant base provides stylish stability for this piece; the bronze covers over the speakers and knobs to match look gorgeous.
LuguLake is a beautiful, high-quality vintage phonograph that will complement any home style. This is a perfect blend of up-to-date functionality and Victorian charm!
Key specs
Drive type: belt.
Operation type: manual.
Speakers: yes.
Speeds, RPM: 33 1/3, 45.
Bluetooth: yes.
USB: yes.
AUX: yes.
Pros
Great sound quality.
Contains no plastic.
Includes 45 RPM adapter and remote control.
Handcrafted, unique design with a flower-shaped copper horn.
Easy to use.
Cons
May be difficult to replace the needle – tiny screw.
Quiet bass.
Victrola Navigator 8-in-1 – budget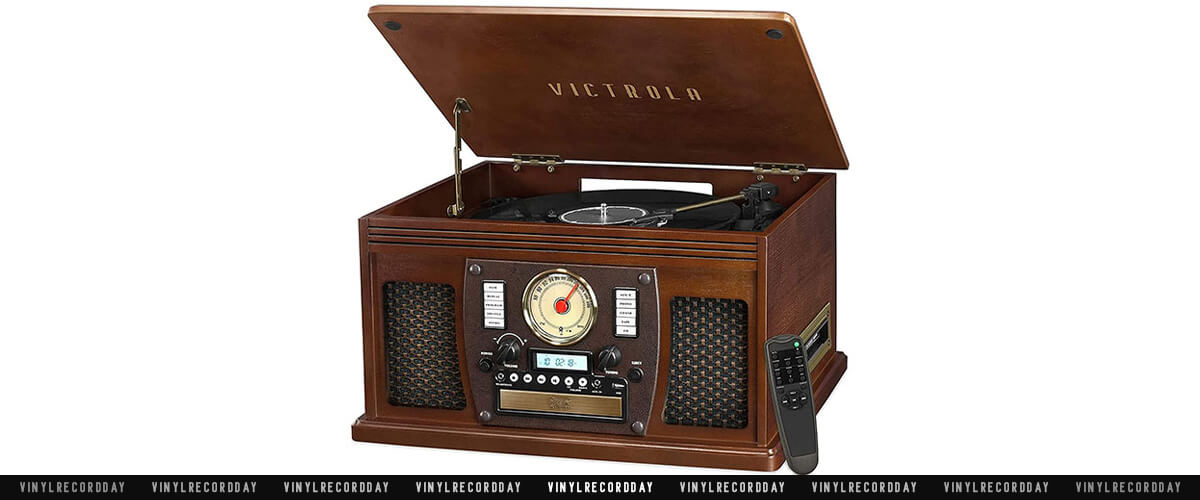 Victrola brand started more than a century ago and has become a significant player in the phonograph game right from the get-go.
The Victrola Navigator 8-in-1 is a vintage-style record player with the modern convenience of Bluetooth, CD playback, cassette playback, and FM Radio. It's got built-in stereo speakers that deliver rich bass and clear treble tones for you to enjoy your favorite audio. The RCA output lets you hook it up to external speakers, and the headphone jack is perfect for late-night listening. The included full-function remote control means you don't even have to get up off the couch to change the song.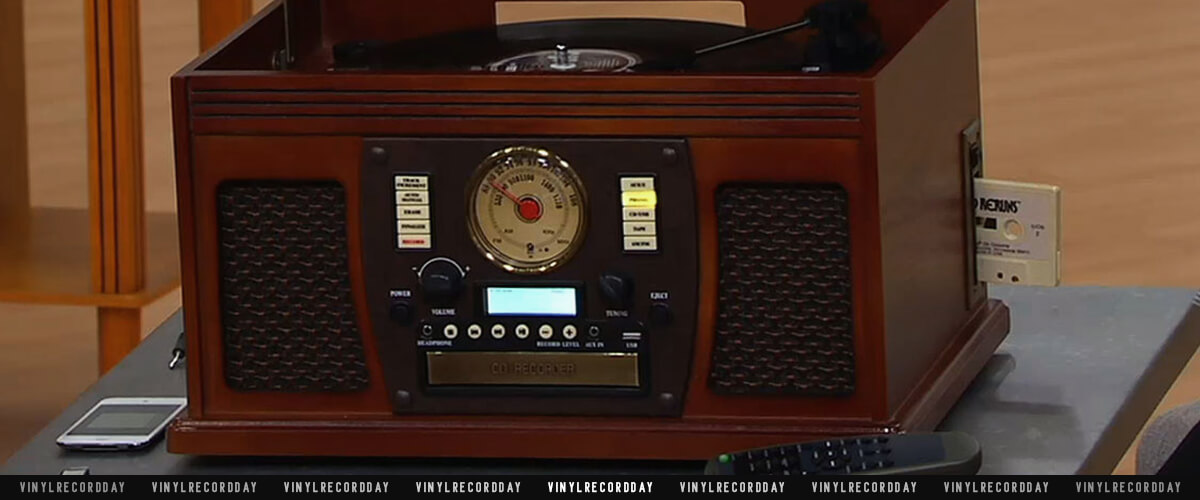 Unlike many other models out there, this belt-driven turntable features three speeds – 33 1/3, 45, and 78 RPM so that you can listen to any vinyl record. In addition, the wooden, solid body effectively reduces vibrations, improving the sound quality.
Lastly, this turntable can boast a beautiful, vintage design and requires no additional equipment – it can be up and running in minutes.
Victrola Navigator 8-in-1 is the finest budget vintage vinyl record player the market has to offer. Retro style combined with the convenience of modern technologies makes it an excellent choice for both newbies and experienced vintage enthusiasts.
Key specs
Drive type: belt.
Operation type: manual.
Speakers: yes.
Speeds, RPM: 33 1/3, 45, 78.
Bluetooth: yes.
USB: yes.
AUX: yes.
Pros
Beautiful, nostalgic design.
All functions work excellently.
Equipped with a tonearm lift.
Comes with 3 extra needles.
Cons
Slightly tinny sound with not much bass.
1byone H009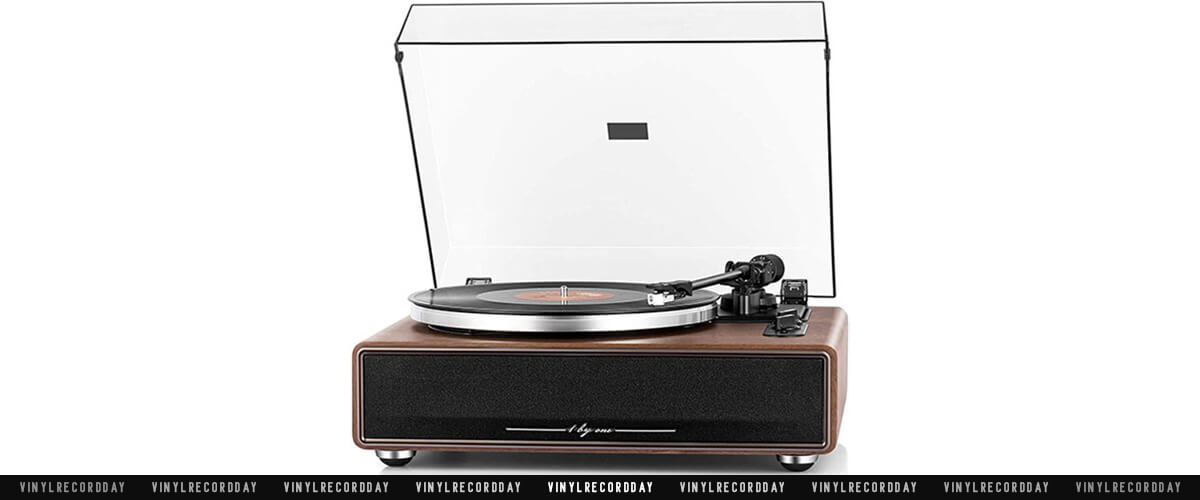 1byone H009 is a belt-drive turntable stereo setup that has everything for you to discover or rediscover vinyl!
This unit spins at both 33 and 45 RPM speeds, allowing you to play various types of vinyl records. Plus, an integrated switchable phono preamp means you can connect to speakers, headphones, stereos, or other audio equipment without placing an extra order for cables!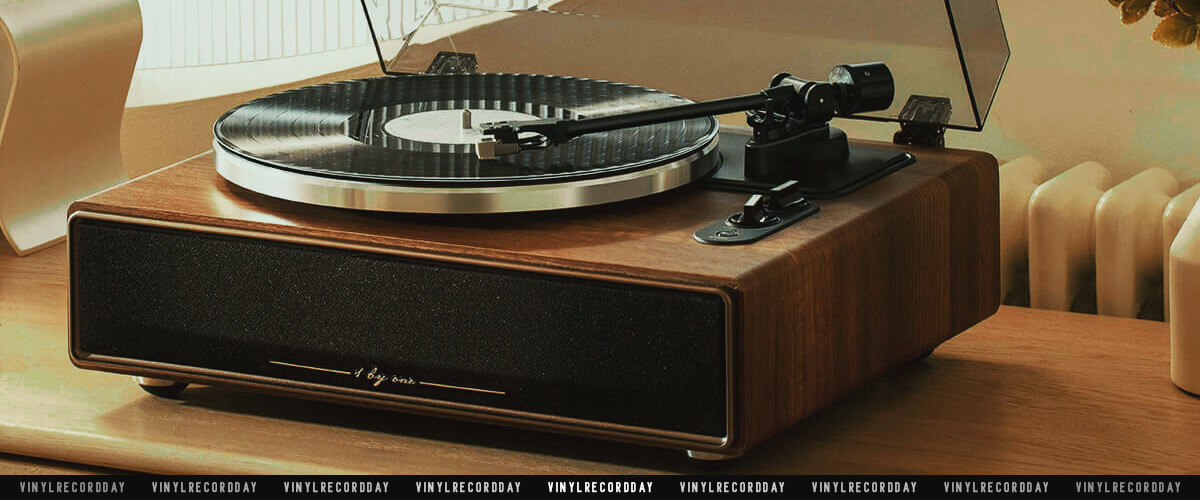 But what makes H009 outperform even our top-list player Electrohome Kingston 7-in-1 is its premium-quality Audio-Technica cartridge with a diamond-tipped stylus. This cartridge is designed to deliver rich sound and outstanding clarity when tracking your record's grooves. Further, the system has an adjustable counterweight, essential for any serious classic vinyl player. It balances each channel and produces quality audio without noise or distortion.
With wireless streaming, you can pair and play music from all of your favorite devices like a smartphone, tablet, PC, and USB-MPG player through the turntable's speakers using Bluetooth.
Built from wood, metal, and plastic materials with a unique sense of layering, this turntable has a streamlined corner design that looks great in any home or office space while fitting in seamlessly to contemporary décor.
If you're looking for a vintage record player with speakers, do take a look at 1byone H009! It successfully combines the feel of yesteryear with plenty of practical features.
Key specs
Drive type: belt.
Operation type: manual.
Speakers: yes.
Speeds, RPM: 33 1/3, 45.
Bluetooth: yes.
USB: yes.
AUX: yes.
Pros
Durable, vibration-resistant housing.
Sound doesn't saturate, and the speaker doesn't over-vibrate at full volume.
Easy setup – great for beginners.
Compact, minimalistic design.
Includes a dust cover.
Cons
Many plastic parts.
Push-n-hold type start button – not convenient.
Sensitive, prone to skipping.
Crosley CR6231D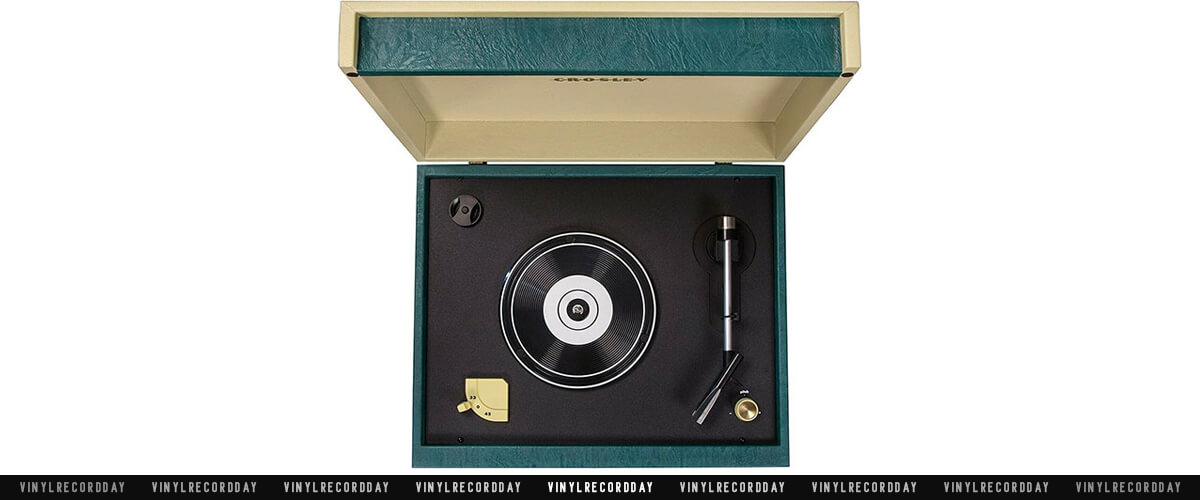 Crosley CR6231D is a retro turntable that really captures the essence of a home in the 1950s.
Like many other turntables, this belt-driven unit can play at two speeds – 33 1/3 and 45 RPM. It also plays 7″, 10″ & 12″ records, giving you more flexibility. Further, the CR6231D features a Bluetooth receiver so you can stream music wirelessly to the integrated full-range stereo speakers. The Bluetooth works really well, and as for me, the sound it puts out is even better than the LPs. However, you can hook the player up to your stereo system using the RCA line-out located on the back of the unit.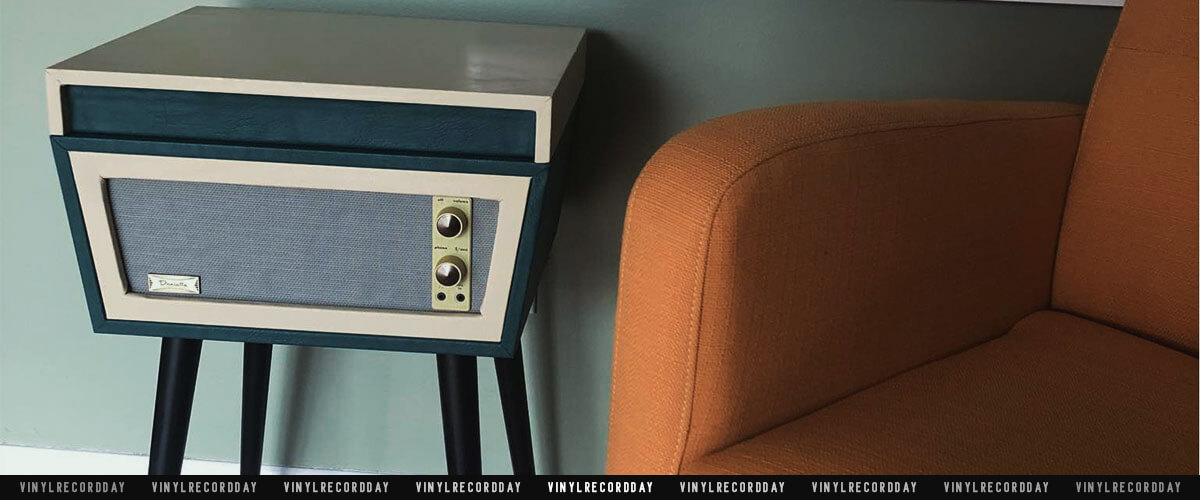 But the things I love the most in this turntable are its high-quality AT-3600 moving-magnet cartridge that delivers a warm analog sound and an adjustable pitch control so that you can set an ideal speed for your records. These features make the CR6231D outperform its rivals in the same price niche (e.g., Victrola Navigator 8-in-1).
If you're looking for a quality vintage Bluetooth record player, Crosley CR6231D is a great option. It has many features that will make your listening experience more enjoyable. Besides, this model has an outstanding design – it looks and feels just like an everyday household player from the 50s.
Key specs
Drive type: belt.
Operation type: manual.
Speakers: yes.
Speeds, RPM: 33 1/3, 45.
Bluetooth: yes.
USB: no.
AUX: yes.
Pros
Compact and portable.
Excellent sound for such a petite turntable.
High-quality magnet and needle.
Perfect price/quality ratio.
Cons
Doesn't include a Bluetooth output to hook up wirelessly to external speakers.
The exterior covering feels cheap.
Victrola V50-200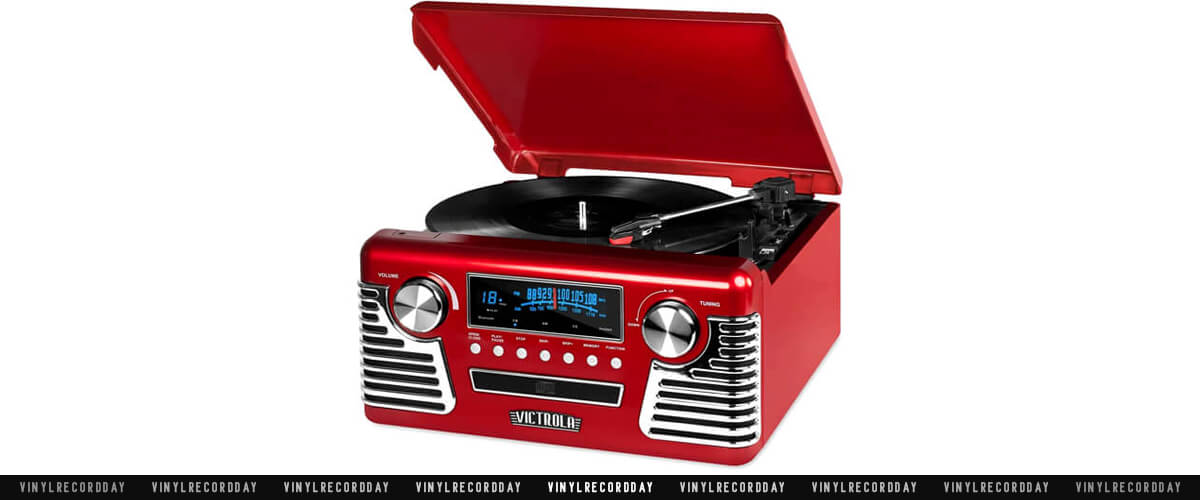 The Victrola V50-200 is a sleek and stylish addition to any home, and it's packed with generous features that any music lover will appreciate.
Just like its more expensive sibling – Victrola Navigator 8-in-1, the V50-200 is a belt-driven, 3-speed system that plays LPs at 33 1/3, 45, & 78 RPM, allowing you to enjoy any vinyl format. Furthermore, this multifunctional model boasts an integrated CD player, stereo speakers, and AM/FM radio with an illuminated tuner. Plus, the 3.5mm aux-in and headphone output let you play music from any non-Bluetooth gadget. You can also record from vinyl to MP3 via USB with the included easy-to-use recording software.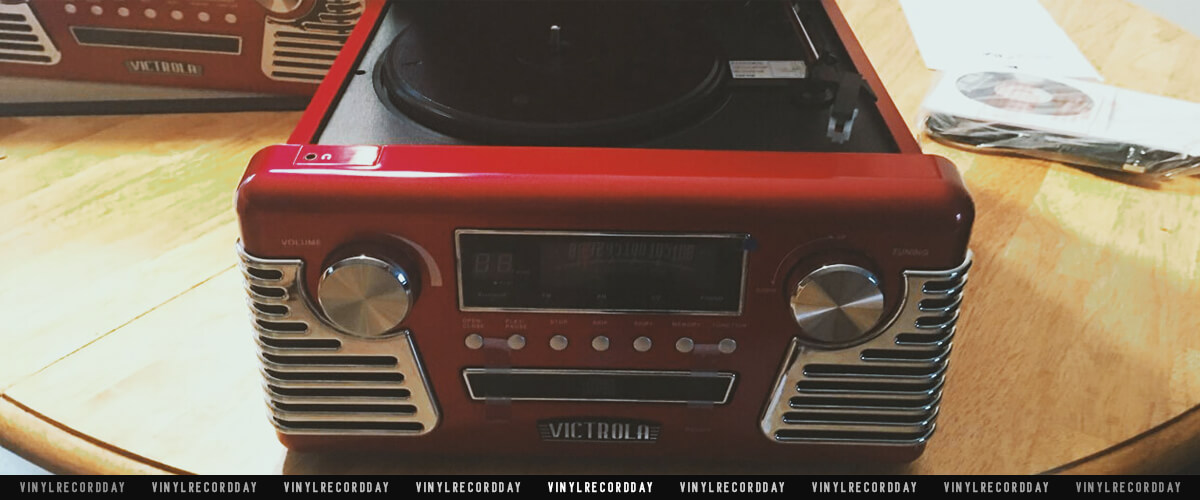 My only concern is that the V50-200 comes with a poor plastic adapter and doesn't have a mat, resulting in degraded sound. It seems like the record doesn't rotate that well and the sound is a bit "warbled". However, I've solved this issue by adding a mat and heavier adapter – the turntable began to sound close to perfect.
Victrola V50-200 is a wallet-friendly, attractive, versatile, easy-to-set-up and use audio system. All this makes it a perfect pick for beginners who appreciate retro style, love modern features, and don't want to spend an arm & leg to enjoy their tunes.
Key specs
Drive type: AC motor.
Operation type: manual.
Speakers: yes.
Speeds, RPM: 33 1/3, 45, 78.
Bluetooth: yes.
USB: yes.
AUX: yes.
Pros
The speakers are pretty loud – you can even use them to listen to TV in a medium-sized room.
Everything works well, especially the CD player – performs great even on scratchy CDs.
Convenient controls – buttons have a nice feel to them.
Bright LED screen.
Comes in different vibrant colors.
Cons
You may need to invest in a mat and heavier adapter to improve the sound.
Light construction – feels like a toy.
Vintage-style record player buying guide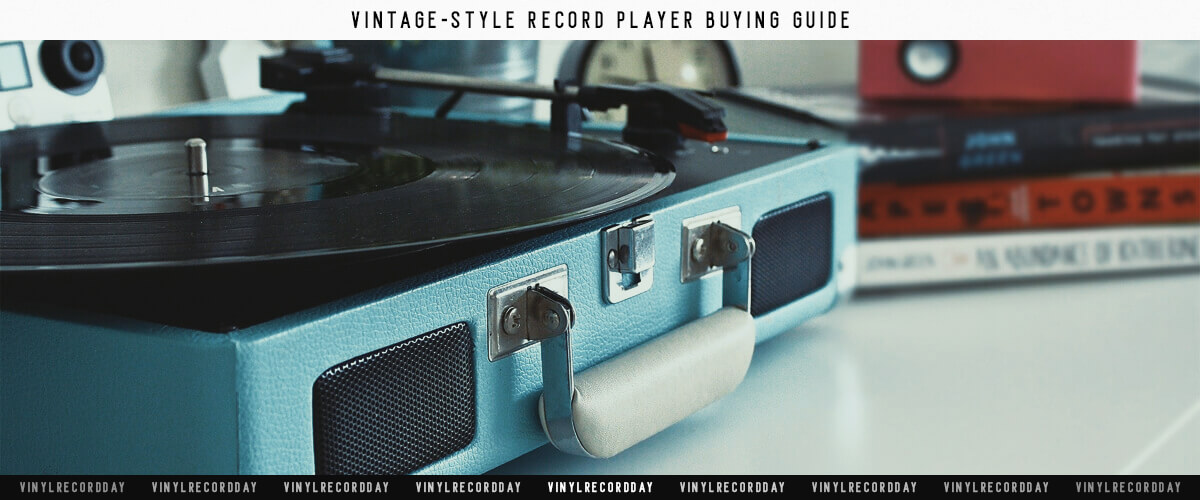 Record speeds and capabilities
When shopping around for a turntable, it's essential to be aware of the different speeds and capabilities that they offer. Many models have three speeds: 33 1/3, 45, and 78 RPMs. However, some vintage-style record players can also play 7″, 10″ or even 12″ records. Additionally, they connect to external speakers to provide better sound quality.
Built-in speakers and phono preamp
Most vintage-looking turntables have built-in speakers, which is very convenient if you don't have any other speakers available. An integrated phono preamp amplifies the sound from your player so that it can be played through your computer, stereo system, or headphones.
All models in my review have high-quality built-in speakers and preamps – these components are completely enough to play music at room-filling levels.
Additional features of vintage record players
Many vintage-style record players also have Bluetooth, USB, or AUX input capabilities. It means that you can connect them to other gadgets, such as smartphones, tablets, or laptops, and play your records through them.
So, if you're looking for a versatile turntable that can be used with a variety of different devices, be sure to look for one with these additional, convenient features.
FAQ
Do vintage record players sound better?
No, vintage turntables are not inherently better-sounding than modern ones. New models use more advanced technology and quality components.
.
Do old records work on new record players?
Yes, old records will play on new record players. The sound might not be as good as when played on a vintage turntable, but they will still work.
Why are vintage turntables so expensive?
Vintage turntables were handmade by artisans. Most manufacturers also had their unique design, which has become coveted by collectors. Because of this uniqueness and build quality, they are so expensive.
In addition, many vintage turntables are rare because not many were made. For example, Garrard produced about 60,000 turntables in the mid-1950s. Sure, that seems like an impressive number, but it's really only a fraction of the number of turntables produced every year today.
Do old turntables have preamps?
Some vintage turntables do have preamps, but not all of them do.
Are old vinyl records expensive?
Yes,
old vinyl records
can be expensive. This is because they are rare and no longer being produced.
How to ground a turntable?
Ground your turntable
by plugging it into the ground wire of an electrical outlet. If that's not possible, you can purchase a ground wire at any store that sells audio equipment.