Besides the turntable, any vinyl enthusiast has a record collection in their possession. And whether it consists of many copies or just a few precious pieces, the question of proper storage arises for everyone. After all, if you're a true audiophile like me, you're bound to have formed a strong emotional connection to all those gorgeous black mugs that bring joy into our lives.
So, in this review, I want to offer you some best vinyl storage solutions that will help you enjoy vinyl's aesthetics and save records for years to come. When considering a variety of record storage ideas, consider your needs and capabilities: frequency of use, budget, as well as the size of your collection, and how much space you can dedicate to it. And I have tried to pick options for all occasions.
Our pick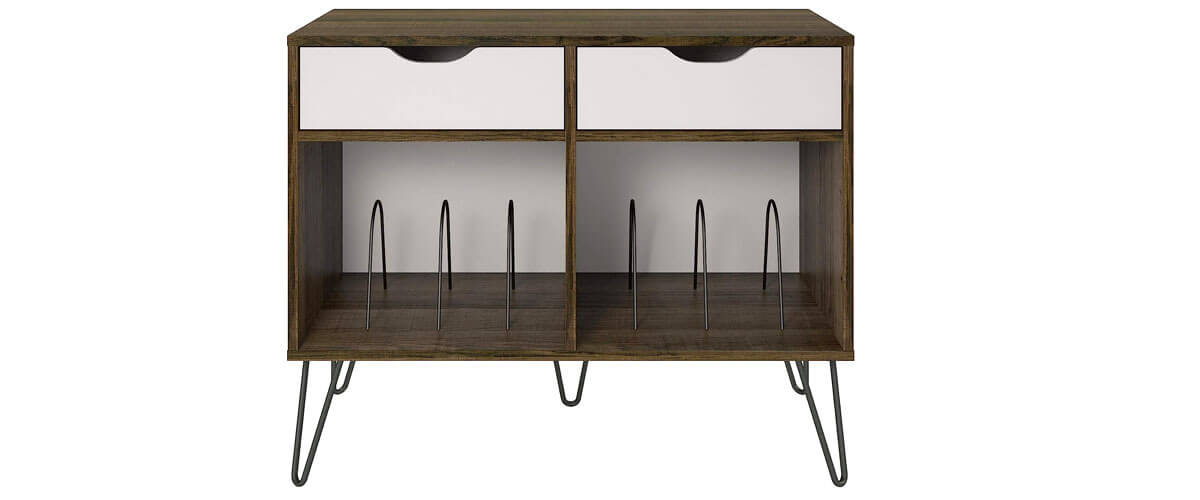 Novogratz Concord Turntable Stand
Best vinyl storage solutions
The Novogratz Concord Turntable Stand double-wide offers plenty of space and features two large open cubbies with metal dividers to keep your albums upright and organized.
Read the full review
.
Best vinyl storage solutions reviews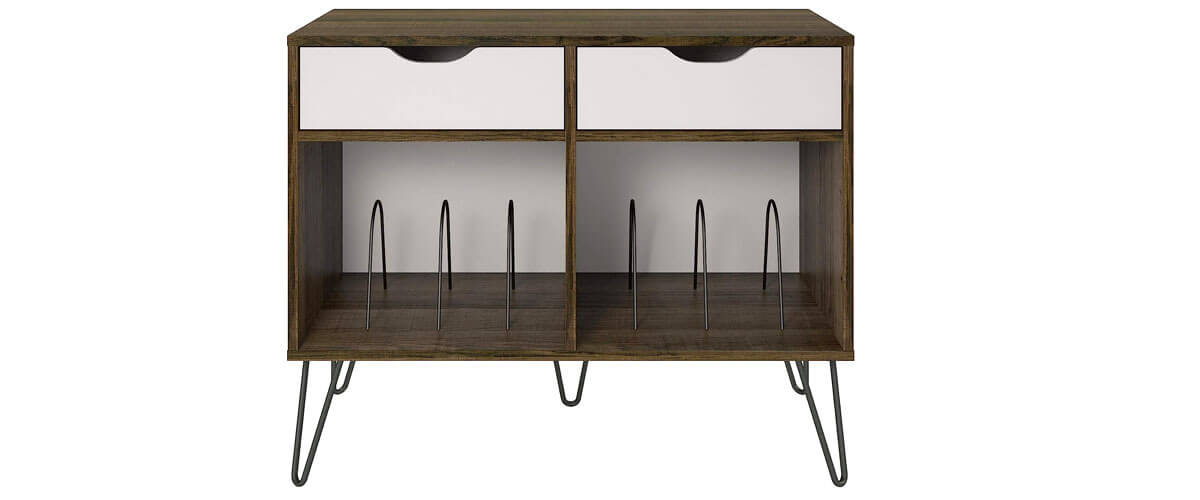 I'll start my rating with the large record storage (31.8 "H x 39.7 "W x 18 "D), which can hold quite many records (about 100 pieces). The luxurious retro-style MDF and particleboard cabinet with metal stud feet is a double construction of open drawers with dividers and built-in drawers where you can store extra accessories (remotes, instructions, extra wires). Metal dividers at the bottom are unreliable in the holes and bend, so I would reinforce (glue) or replace it with others.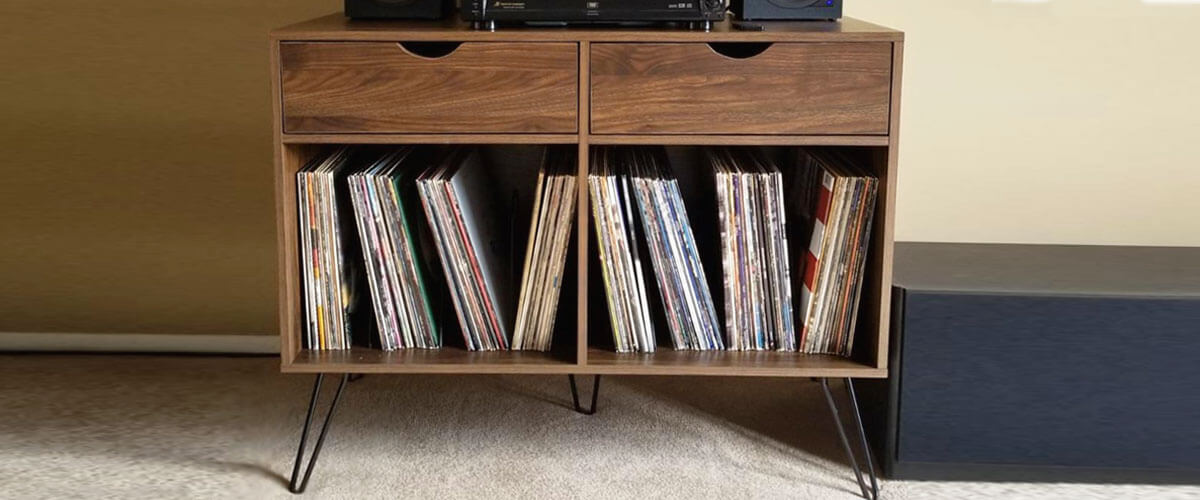 The Novogratz Concord Turntable Stand is the best record storage for those with a big collection or who plan to have one. Spending a little more money and time to assemble, you get a beautiful multifunctional interior element where all the attributes will have their place.
Key specs
Dimensions, inches/cm: 17.9×39.6×31.8/45.5×100.8×80.9.
Weight, pounds/gk: 67/30.3.
Pros
Beautiful retro design, sturdy construction.
The highest capacity of the entire list.
Drawers allow you to place additional accessories.
Cons
The dividers are not sturdy; records are at a slant. I would replace them.
Bikoney – also great
The next lot is for smaller collection owners who want "everything at their fingertips." A stylish 3-tiered stand with shelves of sturdy wood plank, thicker iron, soft Oxford cloth, and adjustable legs may complement the interior but will make you often wipe the dust off it. Nevertheless, you can fit the small (33.07″ x 29.13″ x 11.81″) Bikoney turntable, speakers, records, magazines, and even some of your favorite figurines. Installing the records in different places allows you to separate them by subject or use other options to access them quickly.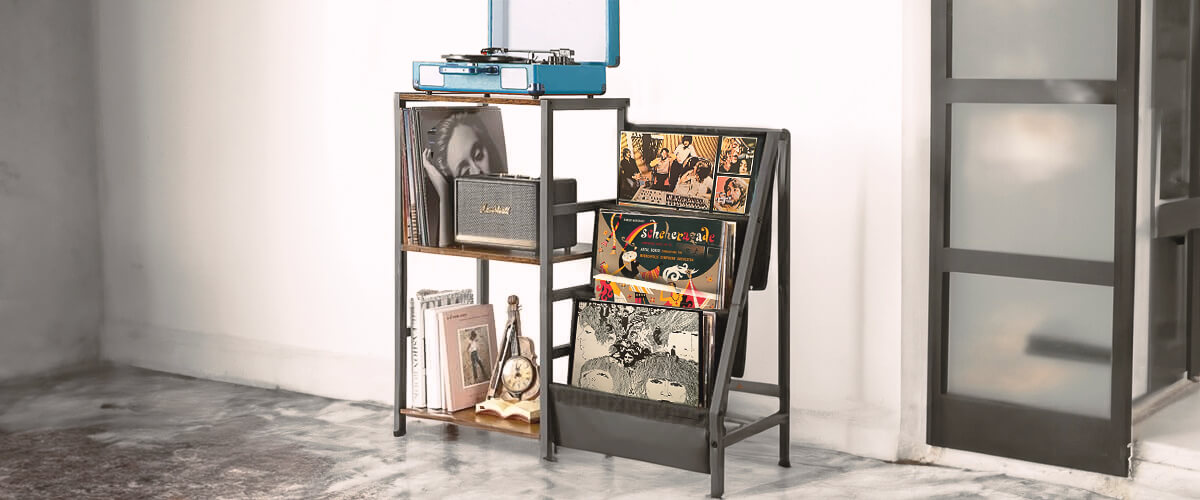 Bikoney is a great storage option for albums for modern people who prefer versatility and portability. For audiophile access, everything related to vinyl and more.
Key specs
Dimensions, inches/cm: 11.8x33x29.5/29.9×83.9×75.
Weight, pounds/gk: 14.5/6.5.
Pros
Multiple shelves and sections for thematic separation.
Quick, easy assembly.
Versatility; the shelf can even be used as a side table.
Cons
Open storage implies contamination problems.
KAIU Vinyl Record Holder – for small collection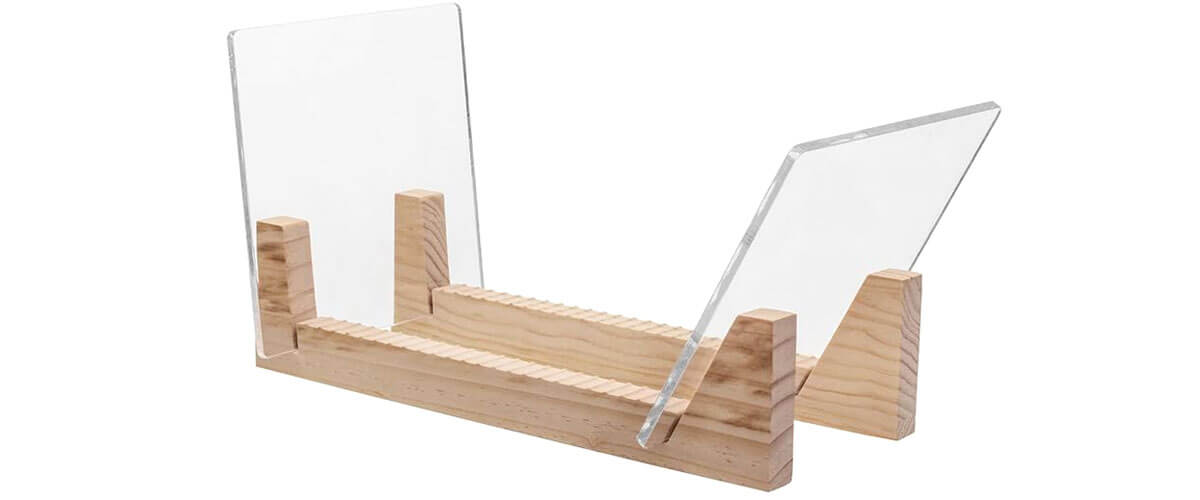 The KAIU Vinyl Record Holder would make the perfect gift for any beginning collector. The simple but very attractive records organizer, consisting of wooden stands, acrylic side-holders, and a compact size of 13.5″ x 7.5″ x 2″, assembles in less than a minute. One of the sides is tilt-mounted so the owner can easily flip through his records (up to 50 LPs fit) to find the right one. You'll have to hold on to the records, as the dividers on the organizer are rather conventional. KAIU is also not a big fan of double sleeves, but given its cost and simplicity, I think those are minor drawbacks.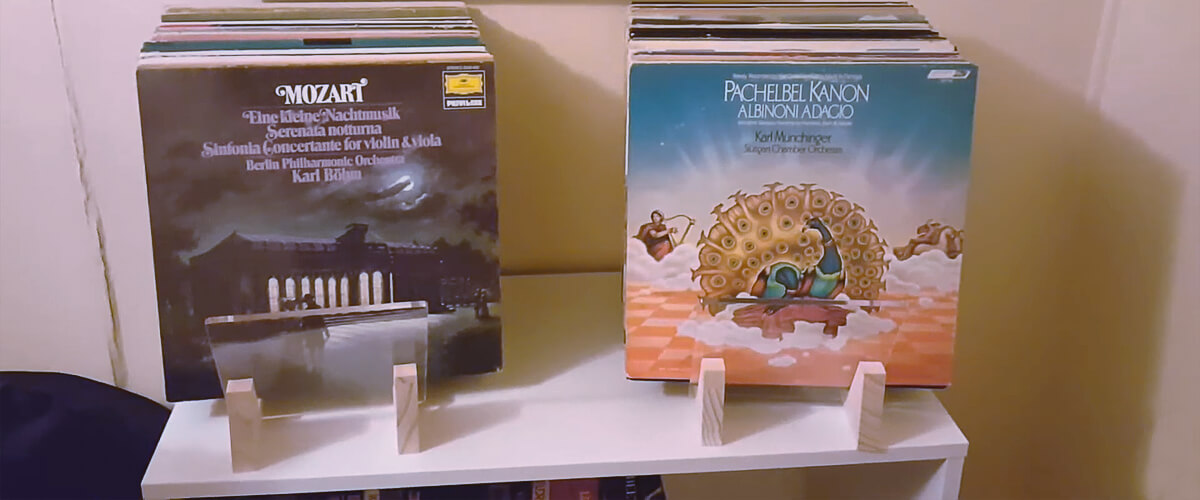 The KAIU is an inexpensive and attractive organizer that serves more as an interior piece and will allow you to show off your small collection to visitors at home. Nevertheless, it holds many records, has a sturdy construction, and performs as a holder to the fullest.
Key specs
Dimensions, inches/cm: 13.5x7x7.5/34.2×17.7×19.
Weight, pounds/gk: 1.5/0.6.
Pros
Two-step easy assembly in a minute.
Has compact dimensions but can accommodate up to 50 records.
Cons
The dividers are pretty conditional and don't hold the records reliably.
Not convenient for double sleeves.
LABEND HOME Record Shelves Set – wall mount option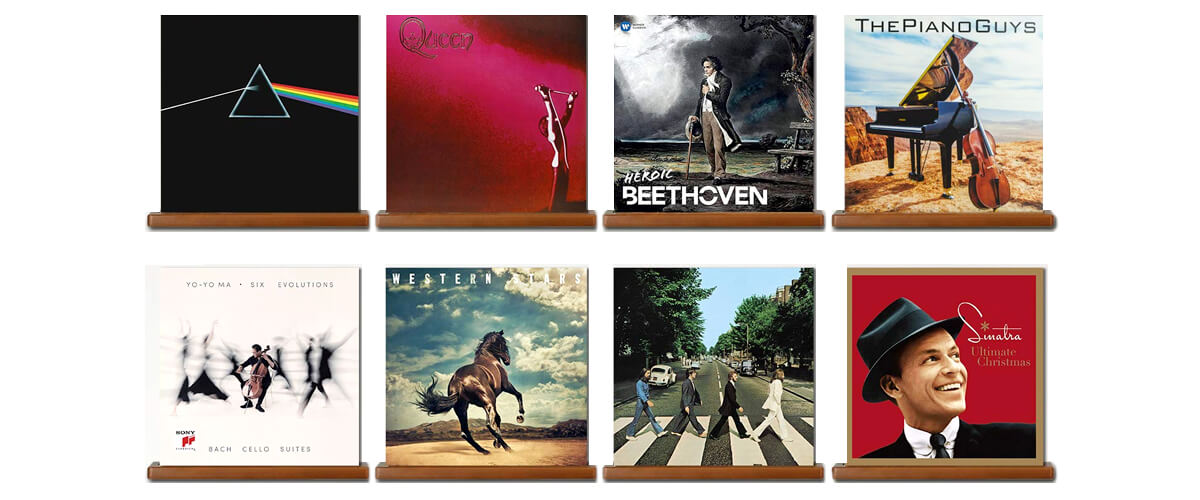 Do you own rare vinyl records? Have your own music room? Maybe you just want to decorate your living room with vinyl records? Or have you decided to give a gift to a vinyl fan? The LABEND HOME Record Shelves Set is exclusively for those who answered at least one of these questions positively.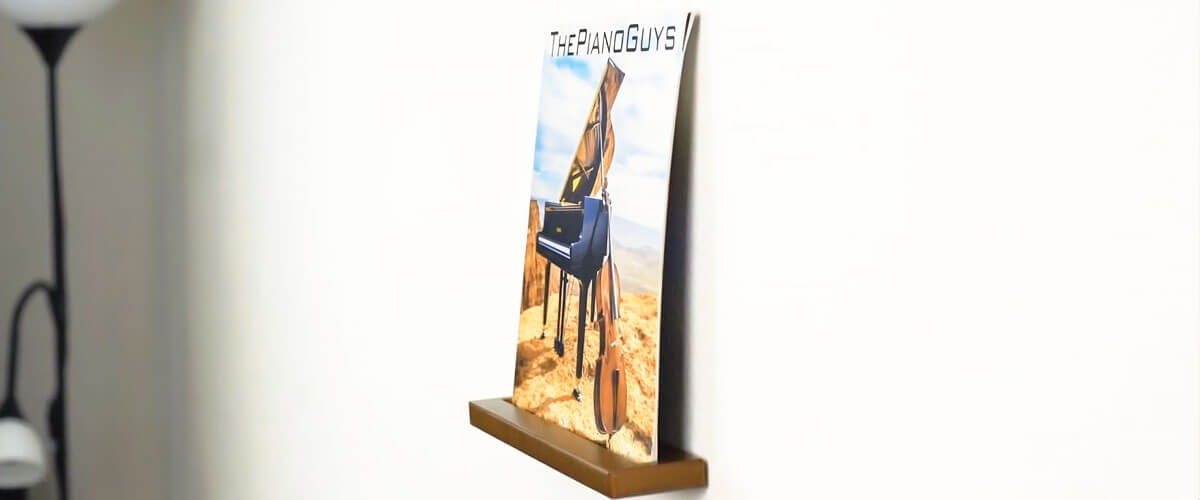 The 8 wall shelves (2.75″ x 13.75″ x 0.75″ each) in durable lacquered Pine wood look gorgeous when you set your favorite LPs on them. They come in a gift box and contain all the necessary fasteners.
If you're ready to drill into your walls, and have a little fiddling with the installation, feel free to make your purchase. LABEND HOME is the best record shelf for displaying your favorite records.
Key specs
Dimensions, inches/cm: 2.7×13.7×0.7/6.8×34.7×1.7.
Weight, pounds/gk: 3.8/1.7.
Pros
Incredibly stylish in the interior.
Sturdy and chic in every way. Look expensive.
Cons
You'll have to drill the walls, and the installation process is a bit tricky (requires attention and time).
For 8 LPs only.
Modern Vinyl Record Holder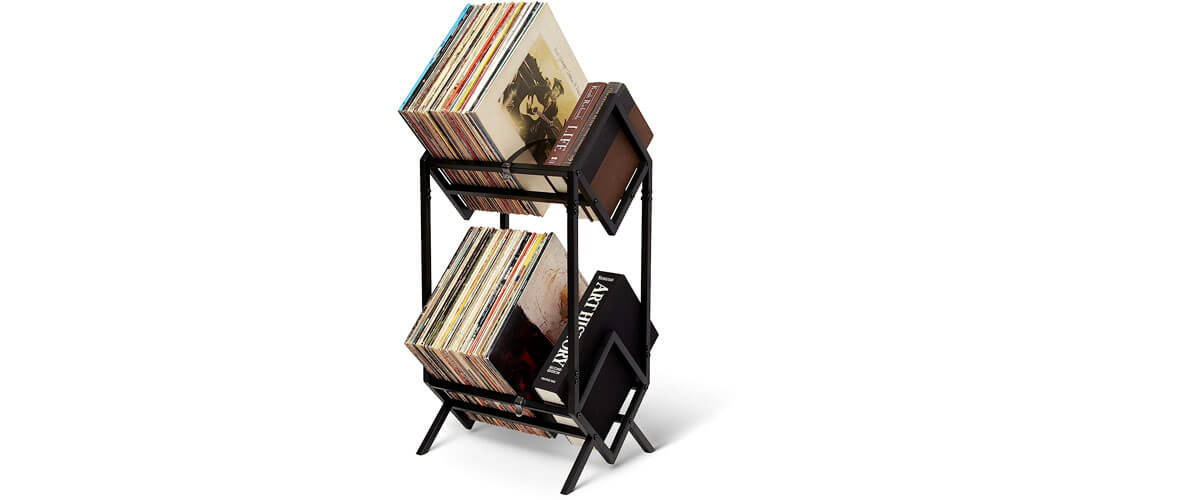 The slanted, all-metal, compact (12″ x 15.75″ x 11″), sturdy, and robust Modern Vinyl Record Holder will fit elegantly into your music nook. It holds up to 100 records, and that's pretty cool! It's worth mentioning if you don't have enough records, the LPs on edge won't stand upright because the holder has no dividers. The manufacturer added silicone pads on the feet for those afraid the metal would damage their floor. That is very thoughtful of them, I think.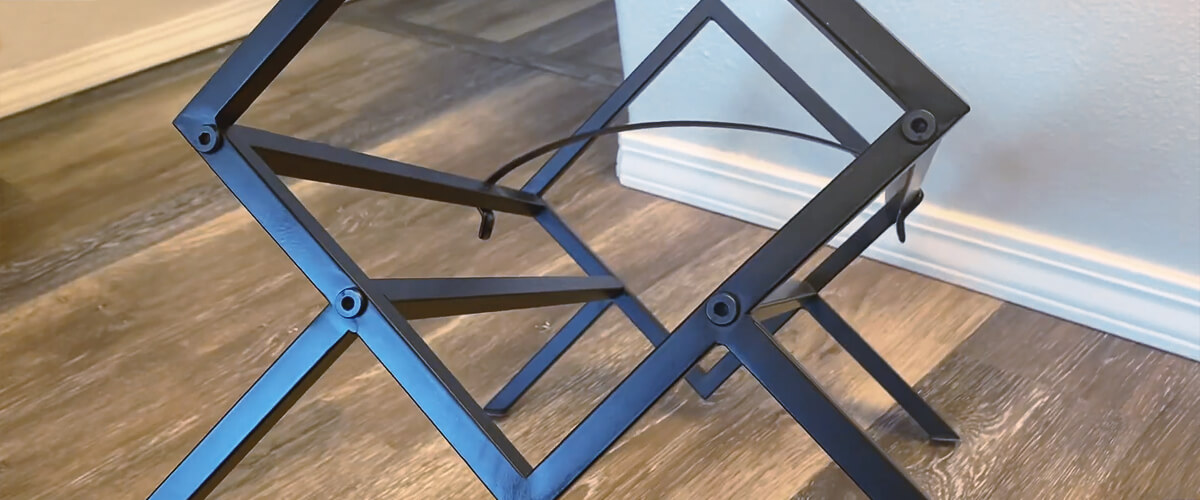 The Modern Vinyl Record Holder becomes one of the best vinyl storage because holding a rather large collection will save a lot of space. This simple yet stylish item has a sturdy construction and elegant appearance and will appeal to fans of minimalism.
Key specs
Dimensions, inches/cm: 11×15.7×30.5/27.9×39.8×77.4.
Weight, pounds/gk: 7.4/3.3.
Pros
Compact size and large capacity.
Super sturdy construction.
Silicone pads on the legs prevent scratching the floor.
Cons
LPs do not stand upright if the stand is not filled.
Way Basics Blox Cube 2 Shelf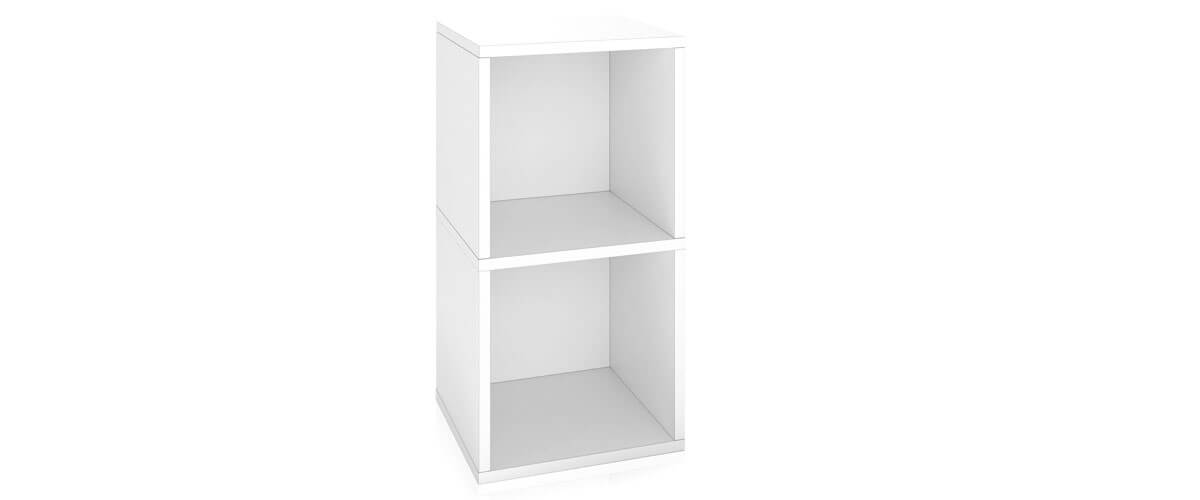 The absolute winner in the expansion capability category, the Way Basics Blox Cube 2 Shelf is two stacked boxes for records storage with an overall size of 13.4″ х 29.1″ х 15″. You can add and combine shelves almost indefinitely (just watch the load). Simple, you say, like a piece of paper. Exactly! The shelves are manufactured using zBoards patented durable recycled cardboard, and the construction is assembled by gluing the shelves together (just remove the protective film). While the construction isn't overly sturdy, each shelf can hold up to 30 pounds and up to 70 records. You might think the price is a little steep since the cabinet doesn't look expensive. But is clean ecology worth the money?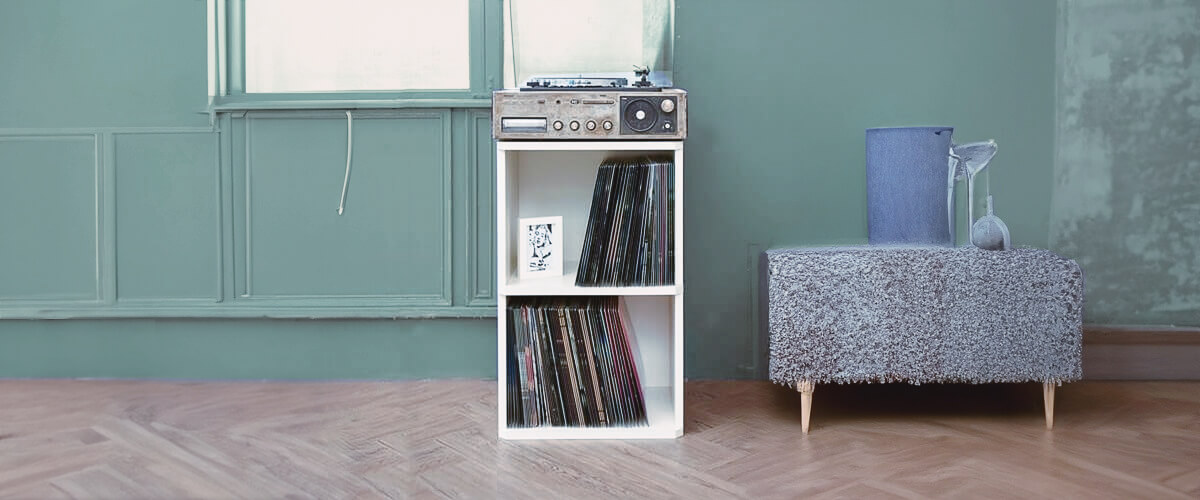 The Way Basics Blox Cube 2 Shelf is a one-of-a-kind record cabinet that offers decent capacity and can be expanded anytime. It may not give you the feeling of durability, but it will beautify your interior and preserve nature.
Key specs
Dimensions, inches/cm: 13.4x15x29.1/34.9×38.1×73.9.
Weight, pounds/gk: 5.2/2.3.
Pros
Made from eco-friendly recycled materials.
Has expandability to the size you need.
Aesthetically pleasing and roomy cabinet.
Cons
Because it is made of paper, it has a weight limit.
Looks inexpensive.
Crosley Stackable Record Storage Crate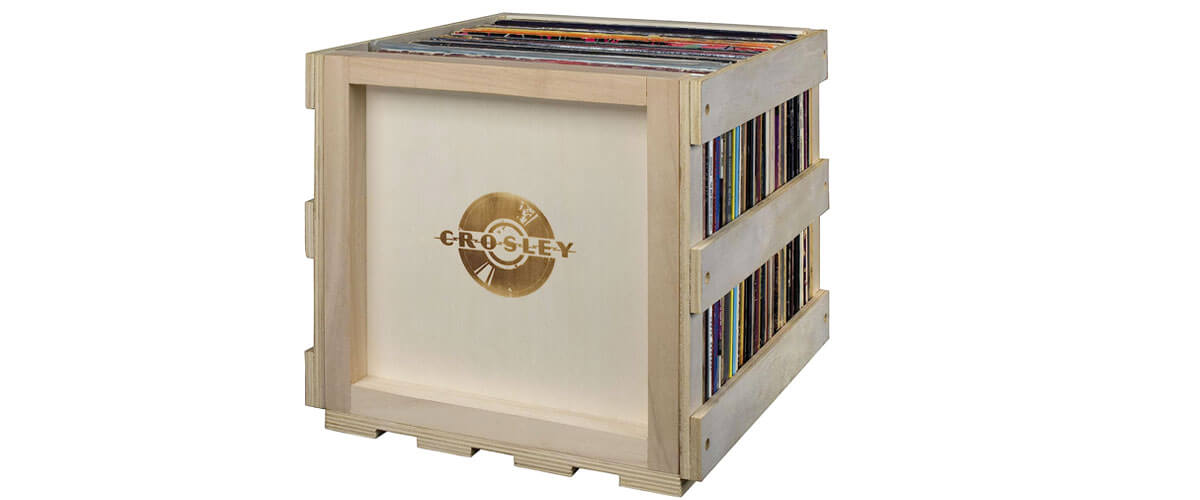 And last but not least, the storage for vinyl albums is a wooden (multi-layered laminated pieces of wood) classic rustic style box with a quality wood finish and fire-branded iconic Crosley logo. Its stackability is the main advantage of the 12.88″ x 13.63″ x 14″ design, which holds 40 to 70 records. It is very handy if you expand your collection, and simply beautiful and ergonomic. The box only weighs 2.5 pounds but is very sturdy. I only noticed that it's a little cramped for larger records, and you might damage the paper sleeve with frequent use. I'd recommend purchasing the vinyl sleeves for such occasions.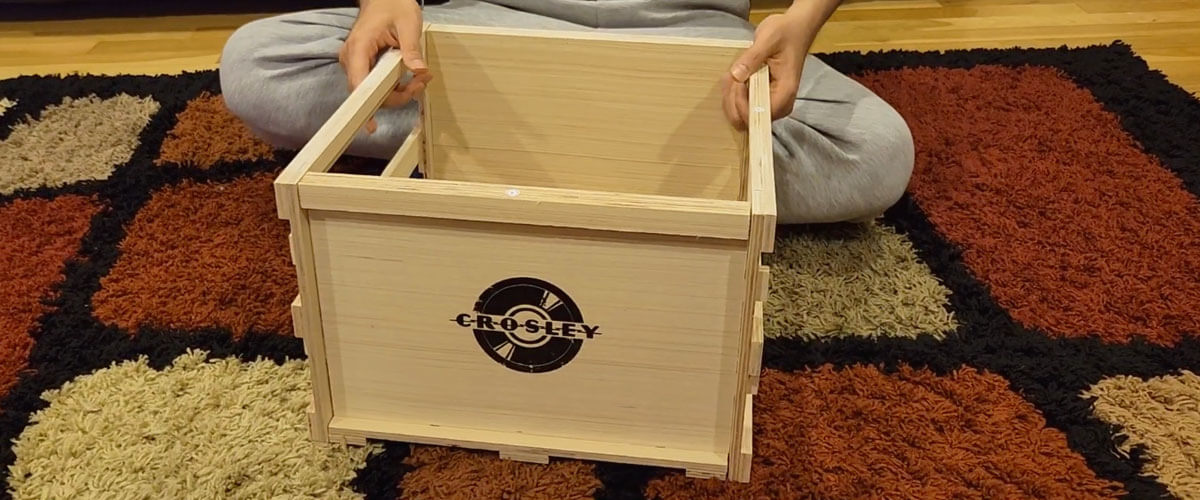 The Crosley Stackable Record Storage Crate might be the perfect option for those who value space, portability, and versatility. The lightweight yet sturdy construction will last you and your records a long time.
Key specs
Dimensions, inches/cm: 14×13.6×12.8/35.5×34.5×32.5.
Weight, pounds/gk: 2.5/1.1.
Pros
Stackable design.
Lightweight, but the crate itself is very sturdy.
Cons
Tight for large records, better to additionally protect the sleeves.
Different types of record storage
Type
Material
Pros
Cons
Shelves
Various

Versatile with different sizes and designs
Allows quick and easy access to the collection

Cabinets
Various

Offers a combination of display and security
Can be locked to provide extra security for valuable collections

Limited access to the collection

Crates
Wood

Suitable for smaller collections
Can be expanded by adding new sections as the collection grows

Not aesthetically pleasing
Limited protection for records

Boxes
Cardboard or plastic

Affordable and easily accessible
Plastic boxes with lids provide protection and portability

Lack of aesthetic appeal
Limited protection for cardboard boxes

Custom Storage Solutions
Various

Tailored to specific needs and tastes
Offers the most flexibility
Factors to consider when choosing record storage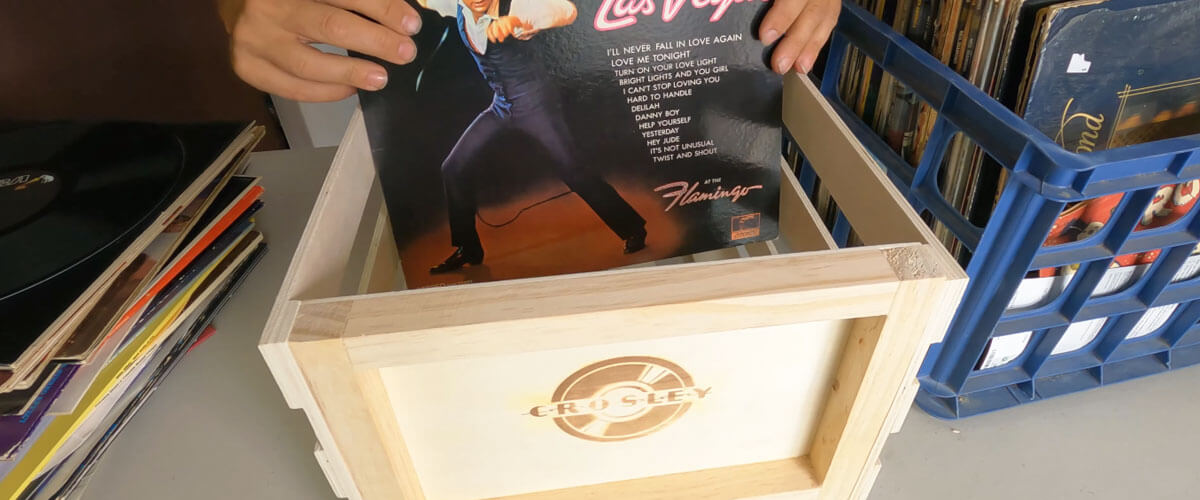 Before choosing record storage, I recommend paying attention to important factors that will make your decision easier:
Material: You can choose from wooden cabinets, drawers, metal, plastic, or cardboard boxes. It all depends on your taste, design preferences, and space options. But what I would pay attention to when choosing a storage method, besides aesthetics, is where you will store the records and for how long. The material from which the cabinet/box is made will ultimately determine the integrity of your collection. Consider durability, water resistance, and possible chemical exposures that can damage records depending on the conditions.
Size and capacity: This aspect depends on the size of your collection and where you intend to place it in the house. Some people need large cabinets with many shelves, while others just need a small cabinet or box. But if you plan to expand your collection, I would pay attention to designs that can be supplemented with sections.
Design and aesthetics: A record collection is often a source of pride for its owner. We exhibit records, take care of them, and cherish them. That means the storage place should be as aesthetically pleasing as possible. Today, even the most inexpensive options offer a variety of designs. Especially popular are cabinets, nightstands, and cases in the retro style, when vinyl was firmly and permanently in the lives of music lovers.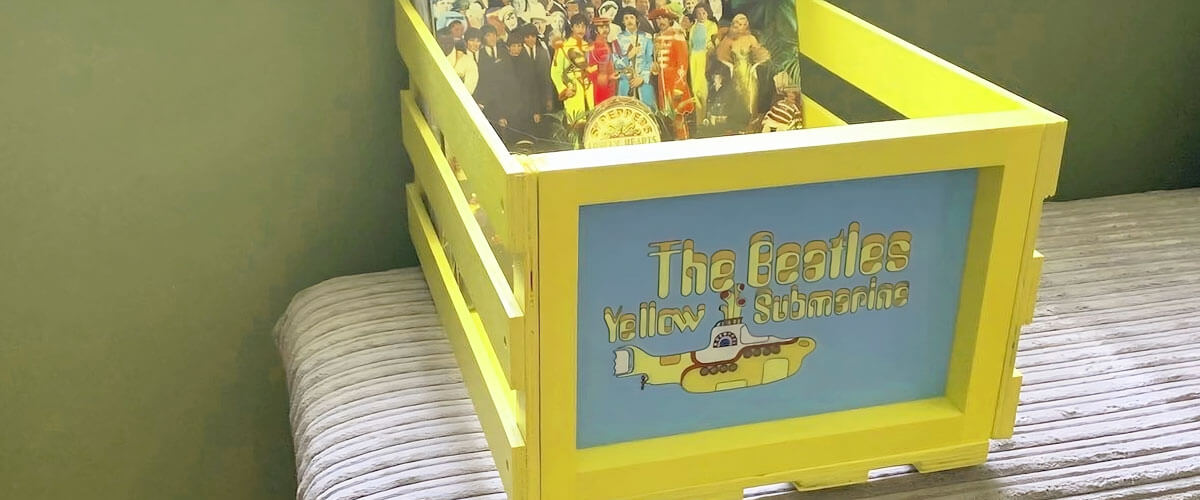 Budget: Well, everything is simple here. Of course, it should be based on your financial capabilities. Thank goodness, there are plenty of options on the market today for every wallet. But also do not forget about such a solution as "do-it-yourself". In addition to saving money, such an item can become especially dear to you in a whole other way.
Durability: It is important since the storage will have to store potentially heavy records for a long time. In fact, I have already explained everything in the previous paragraphs. Consider their weight when choosing your storage method depending on the number of records in your collection.
Ease of access: If you have to dig around every time to find the right record, and you do it often, in addition to the annoyance of wasting time, you can also damage the record. So the importance of easy access to the right records cannot be underestimated. I prefer open shelving, where I can arrange everything alphabetically and by subject. It helps me find what I want in seconds.
Preservation: A proper storage system helps to preserve vinyl records by preventing scratches, warping, and other damage. Don't forget that records prefer to be stored upright, in special sleeves, and optimal environmental conditions, so control the temperature and humidity.
Proper record handling is an important task that should not be neglected. If you value your collection, want it to last a long time, and want all the tracks to sound as good as they did when you bought them, you must keep an eye on their integrity. By following my simple rules, you will prolong the life of your collection.