You are probably looking for the best record player stands that will suit your taste and budget.Most turntable owners have already been there. That feeling of embarrassment, confusion, and even irritation… It seems that you are trapped in a vicious circle and can't make up your mind about which stand to pick. Yet, you definitely want to select a decent match to your turntable that would help you organize your precious vinyl collection and add a special vibe to your room.
The mission looks impossible as a random search reveals thousands of options. Let me spare you from the hassle and save you time (and money). I've already done the toughest part and selected the top-rated stands based on different criteria. Stick with this review to get a list of excellent models and grasp valuable hints on how to select the one that would fulfill your needs.
Our pick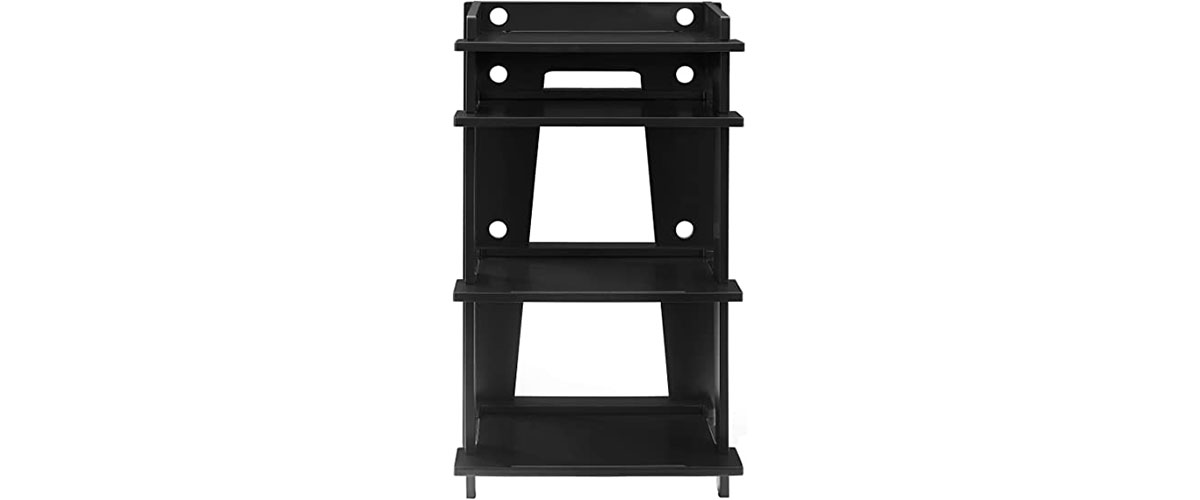 Crosley Soho
Best record player stand
The Soho by Crosley is the music lover's ultimate turntable stand. Fits most component-style turntables and features two cable management holes to keep your set up tidy.
Read the full review
.
Record player stand types
Audio towers
If you are searching for a storage cabinet for all your vinyl and other devices like a tape or CD player, amplifier, or speaker system, take a closer look at audio towers. These stands have enough space and sections to accommodate everything you need and organize your space, equipment, and other stuff.
Record player stands
Record player stands with storage are designed for those who don't have much equipment. You can set up your TT on top of the stand's racks, and you'll have plenty of room for all of your albums down below. These models come in a variety of styles and are made from different materials, so your final decision will be determined by your personal preferences.
Modular turntable stands
Modular stands for turntables have a significant advantage over other storage options – they allow you to mix, match, and rearrange storage units with little effort from your side. In addition, these stands provide you with a decent place to put your turntable on. You can then use as many or as few storage containers as you want for organizing your records.
Best record player stands review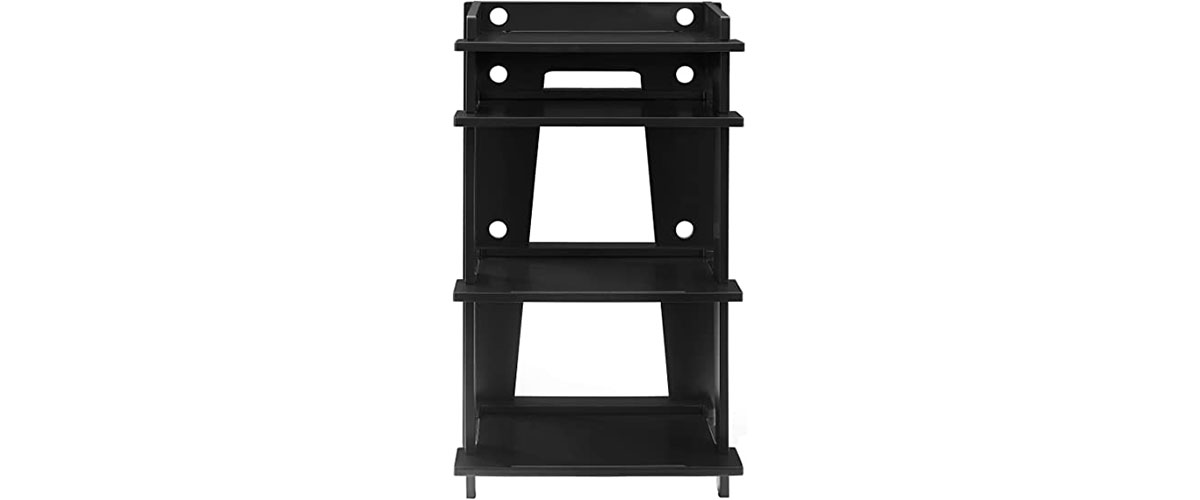 Need a turntable stand that would proudly house your record player and LPs? The Crosley Soho turntable stand is a good match for you.
Thanks to the classic design, it will perfectly match any interior. The color palette is also versatile – you may get a black, gray, mahogany or natural stand to align with other furniture pieces.
The stand is quite spacious – it has three sections. There are two larger compartments for keeping your LP collection (you can place around 200 records there) and one smaller section for accessories like a preamp, mini amp, or cleaning supplies. Two bottom shelves come with bumpers in the back to prevent the records from falling or slipping. You will also find holes for cable management.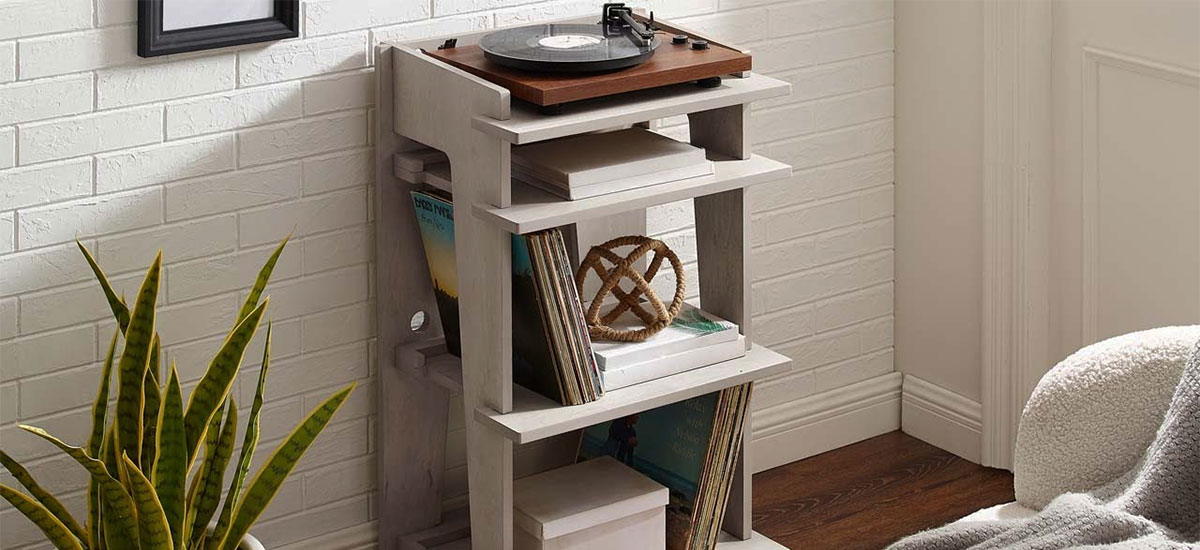 The stand's dimensions are 21.75″ W x 17.75″ D x 39.00″ H, so it fits most TT's components. Plus, its durable wooden construction easily carries the weight of the device and records.
The Crosley Soho record player station is the best turntable stand due to its thoughtful design and material quality. It will proudly carry your turntable, LP collection, and other essential accessories for a long time.
Key specs
Type: audio tower.
Material: wood.
Holds vinyls: 200.
Dimensions, inch/cm: 21.8×17.8×39/55.3×45.2×99.1.
Pros
A classic design and colors to fit any interior.
A special shelf for carrying accessories.
Holds up to 200 records.
Holes for cable management.
Easy to set up.
Cons
The chemical smell during the first days is disturbing.
Line Phono – premium choice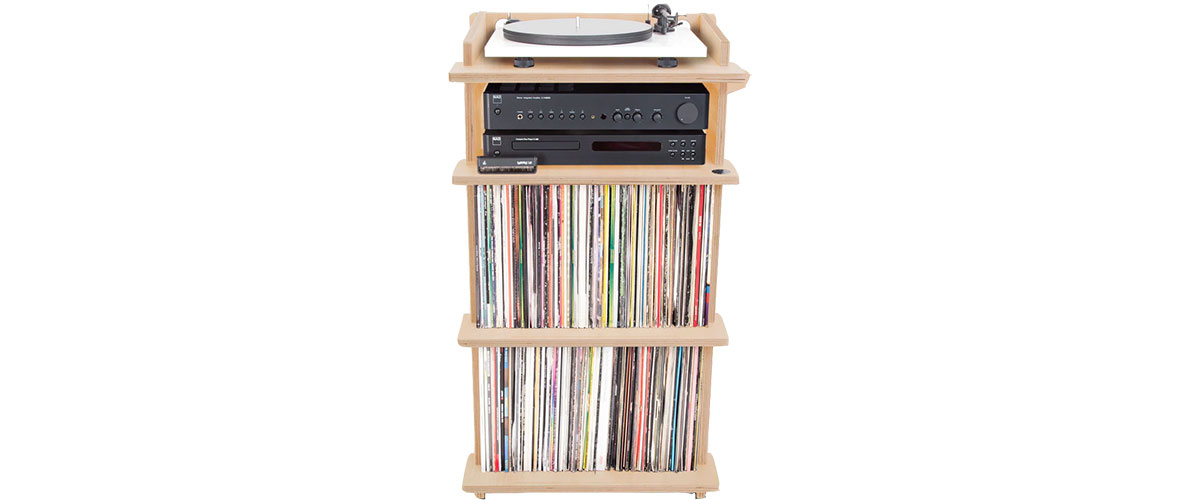 The Line Phono turntable station is great for showcasing your sophisticated record player and LP collection.
This model gives you an option to choose the material to your liking. You can select the MDF construction or Baltic birch with a protective coating. Both of them prove to have fascinating vibration-dampening properties and outstanding durability.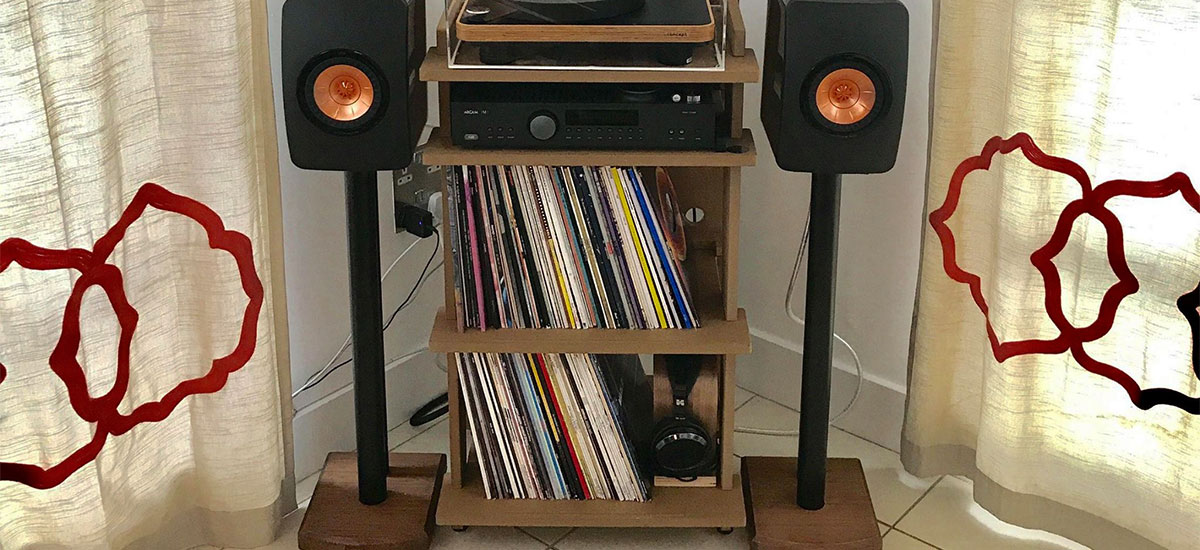 The Line Phono comes equipped with everything you may expect from a premium-quality stand. The same as our winner Crosley Soho, it features 3 sections so that you can house your TT's accessories and big LP collection there. Plus the Phono includes a hook for headphones and a cable management system. The shelves' special record stops keep the LPs from pushing back, and the groove for the currently spinning record highlights the vinyl you're listening to.
Line Phono belongs to the premium segment due to its high-quality construction, details that make using it more convenient, and elegant design. Great investment!
Key specs
Type: audio tower.
Material: MDF.
Holds vinyls: 200.
Dimensions, inch/cm: 21.6×17.5×39.5/55×44.5×100.3.
Pros
Two material variations, both are durable.
Minimalistic yet classy design.
Compact design – perfect for small rooms.
Simple to assemble.
Cons
An accessory shelf may be too small for some amplifiers.
Way Basics – budget stand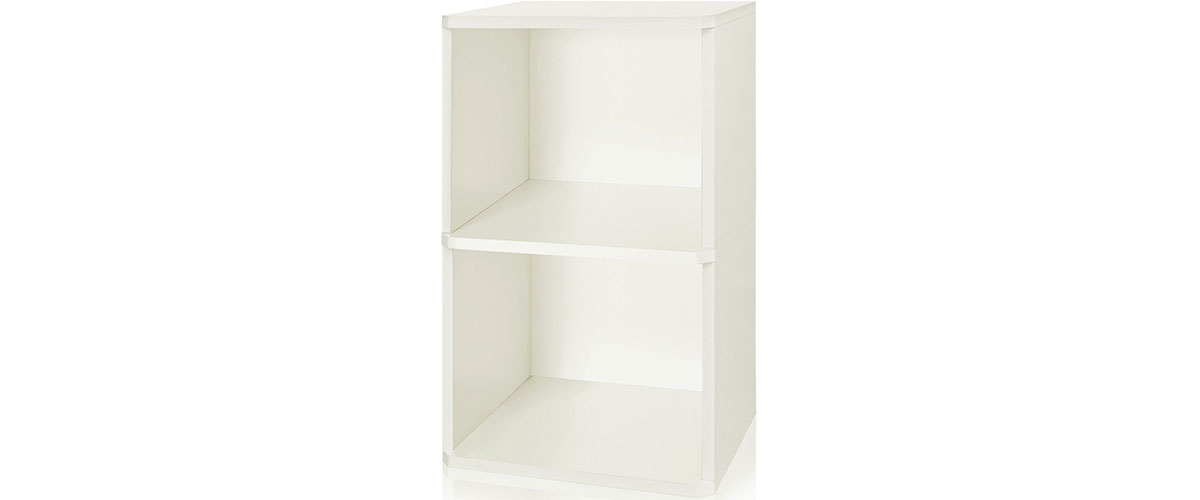 If you are on a tight budget, you can't skip this Way Basics record player shelf. This 2-shelf turntable storage unit will help you organize your record player listening space.
The design of this set is simple. The Way Basics doesn't feature a separate shelf for accessories like in the Crosley Soho or Line Phono, but there are two separate cubes, which are pretty large to store anything that doesn't fit into ordinary furniture pieces. You can keep up to 70 records in each compartment, meaning there is enough space for 140 LPs. Unfortunately, there are no holes for wire management, so you will have to make them on your own if this aspect is critical for you.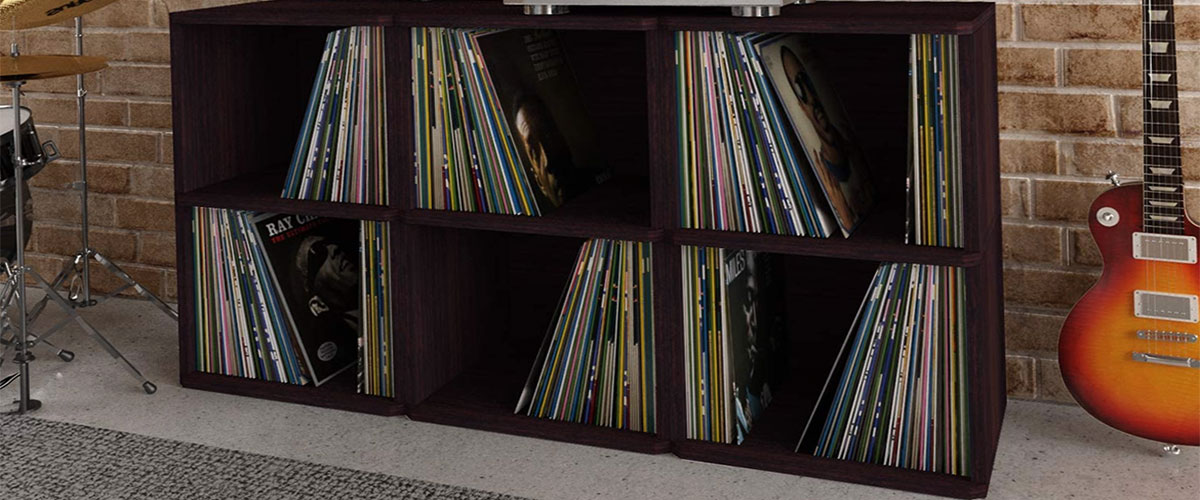 This stand is made of recycled paperboard, making it an eco-friendly solution. But on the other hand, it's not as durable as solid or manufactured wood.
When put together, the shelves are 29,1 inches high and 18 inches wide. If you have other accessories, you may want an extra set of shelves to house all the devices.
Way Basics is the best record player stand for people seeking functionality and style at a reasonable price. These shelves look nice and are easy to set up, so you will definitely love them.
Key specs
Type: modular stand.
Material: zBoard.
Max load, lbs/kg: 30/13.6.
Holds vinyls: 70.
Dimensions, inch/cm: 29.1×13.4×15/74×34.1×38.1.
Pros
Made of eco-friendly material.
Spacious cube for housing large accessories or other items.
Non-toxic, formaldehyde-free, and VOC-free.
Really affordable.
Cons
Made of recycled paperboard – not the toughest material.
You may need to purchase another shelf unit to store other accessories.
No holes for cable management.
Novogratz Regal – small turntable stand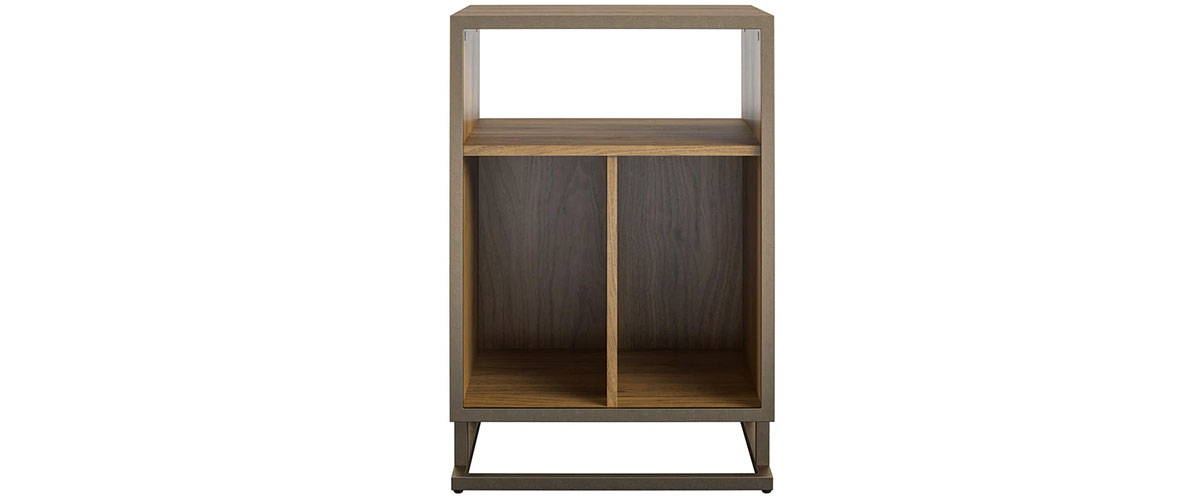 Sometimes you have limited space in your room, so you can't use an ample turntable stand. In this case, the Novogratz Regal record player station comes handy.
Due to its minimalistic and compact design (27.56" H x 19" W x 16.14" D), this stand will fit even into the smallest rooms. The only drawback is the height – I wish it were slightly taller.
The color assortment is fancy. While the Line Phono stands are available in classic colors, the Novogratz Regal stations boast olive green, blue and walnut options.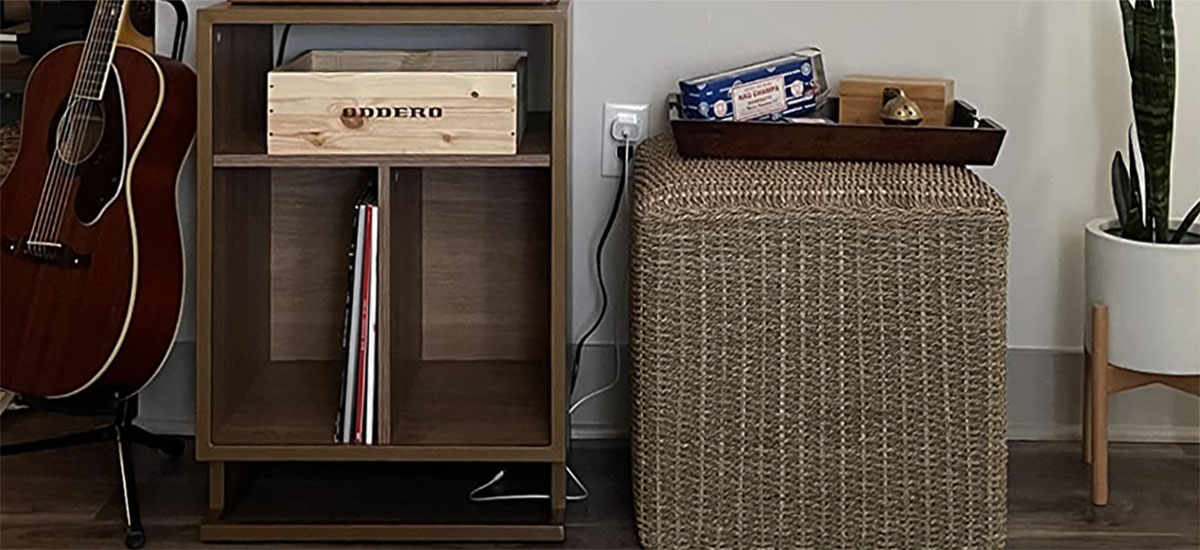 Despite the compact construction, this stand is ergonomic. It has enough space to house most turntables and even features a shelf for accessories. This section features an open back to enable attaching other devices. The record compartments have been diminished, but you can still use two shelves to store around 60 records.
The item is made from durable engineered wood, particleboard, and powder-coated metal. The assembly takes around 30 minutes.
Bright colors, compact design, and durability make the Novogratz Regal item a great small turntable stand.
Key specs
Type: record player stand.
Material: wood, powder coated metal.
Max load, lbs/kg: 40/18.1.
Dimensions, inch/cm: 19×16.1×27.6/48.3x41x70.1.
Pros
Ergonomic design to accomodate accessories and a small vinyl collection.
Open-back upper shelf to connect accessories.
Vivid colors to match your interior.
Cons
Could be higher.
If you have more than 60 records, you may need extra shelves.
Pangea Audio Vulcan TT – carbon styled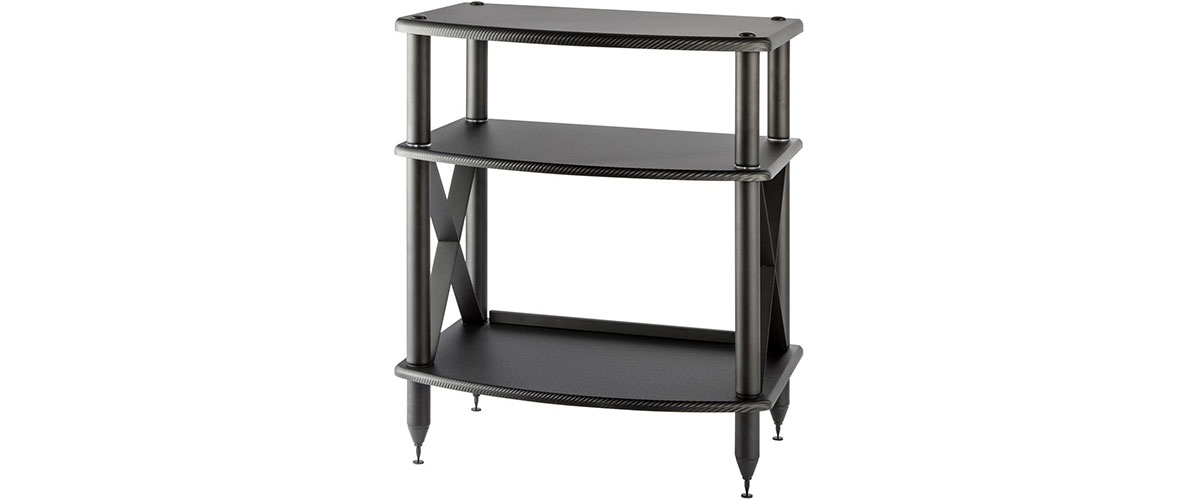 The Pangea Audio Vulcan TT station will rigidly support your turntable and vinyl records.
Because of the well-thought design, you can entrust your precious devices to this stand without hesitations. Unlike the Victrola VA-30 with only one section for storing records, this station offers a space for housing other essential components that allow you to enjoy the vinyl tunes. The bottom shelf for vinyl records holds 100+ LPs.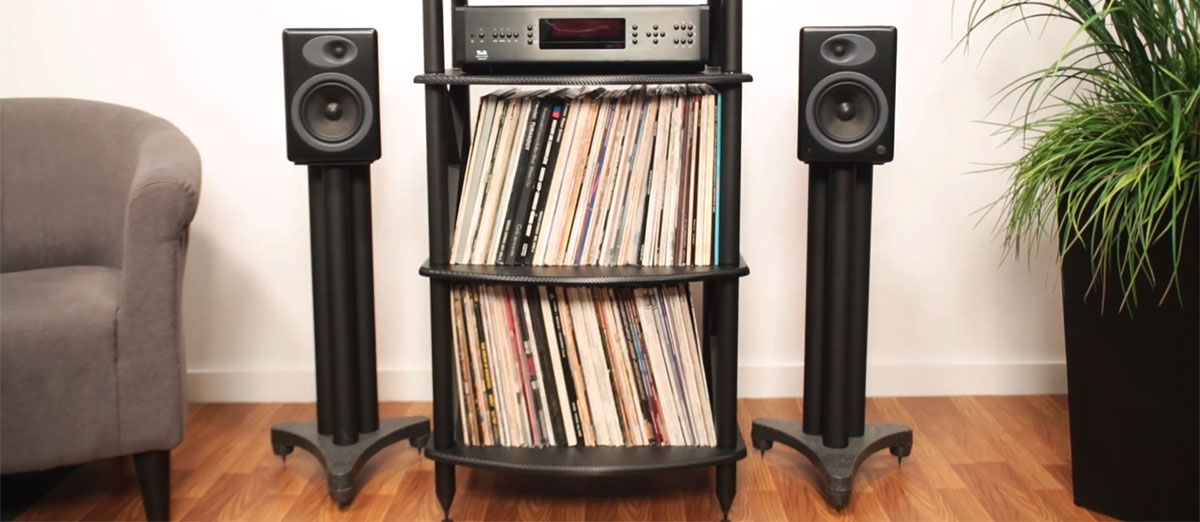 The overall dimensions of the Pangea Audio are 27.5″ H x 23.75″ W x 18″ D. The distinctive feature of this stand is the steel X-braces that reduce vibrations and make the construction super stable. You will also love the appealing carbon-styled finish that protects the item from scratches. But let me give a word of warning – this wrap can be sharp on the edges, so be careful not to cut your thumb. The tapered cone feet add stability to the stand even on the carpet, but they may damage your carpet or make it unsuitable for hard flooring.
You can intuitively set up this stand, note that referencing the instructions may cut the assembly time and spare you from mistakes.
The Pangea Audio Vulcan TT stand is a functional carbon-coated stand that looks stunning. Worth every penny!
Key specs
Type: record player stand.
Material: MDF, steel.
Max load, lbs/kg: 270/122.5.
Holds vinyls: 100.
Dimensions, inch/cm: 27.2×19.5×5.6/69.1×49.5×14.2.
Pros
Carbon-coated for extra protection and a more appealing look.
X-shaped braces for added stability.
Spacious shelves for storing other components and vinyl records.
Hassle-free setup.
Cons
Cones of feet might not be suitable for your needs.
May be sharp on the edges due to carbon wrapping.
Victrola VA-30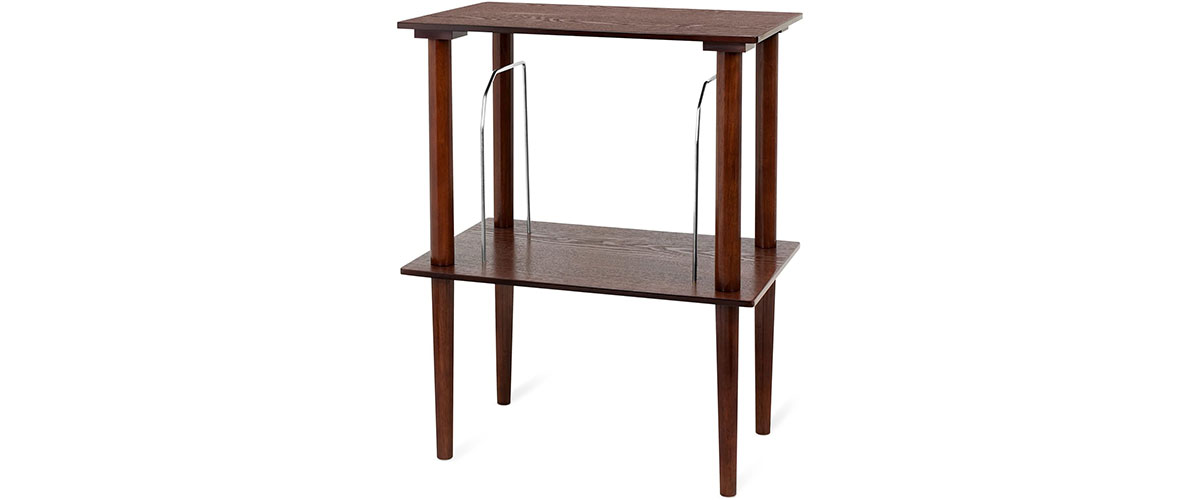 If you own a vintage-looking record player, the Victrola VA-30 stand can be a perfect match.
This beautiful, sturdy piece will make a great addition to any living room or den. It's constructed from real wood, giving your space an elegant and classic feel. With this stand, you can conveniently store up to 50 vinyl records – no need to worry about them taking up too much room! Plus, thanks to its easy assembly without the use of any tools, you'll be able to set it up in no time.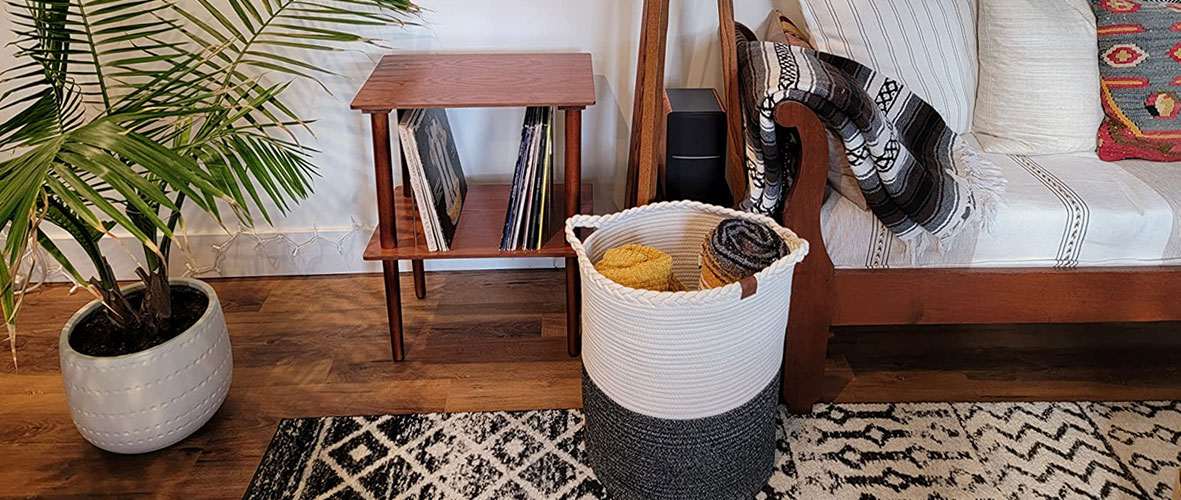 The stand measures 20.75″ x 13.75″ x 27″, fitting most standard turntables. Pity, but it has no shelf for accessories.
You will love this wood turntable stand as it combines the modern and old-school look. Besides, it will look great in your home and snugly store your player and record collection.
Key specs
Type: record player stand.
Material: wood.
Holds vinyls: 50.
Dimensions, inch/cm: 20.8×13.8×27/52.8x35x68.6.
Pros
Made of real wood and features metal elements.
Several classic color options.
The optimal size for most turntables.
Cons
No shelf for accessories or complementing devices.
No cable management due to an open-back design.
Metal pieces might bend under the weight of LPs.
Turntable stand buying guide
Shelf space
You need to consider the shelf space of the turntable stand before you purchase one for your home. Make a list of stuff, including a record player, amplifier, speakers, headphones, or other devices you may want to place on the stand. Otherwise, you will need to purchase additional pieces of furniture, which is not good.
Also, keep your record collection in mind. Many cool record player stands can house around 200 LPs. If you have or plan to have a larger number of records, look for the item that offers enough room to keep all of them.
Turntable stand materials
You may have noticed that most stands are made of wood. But not all stands are the same.
There are record stands made of hardwood, which proves to be the finest solution due to its longevity. You may find oak, poplar, pine, and other stands on the market.
Cheaper record player stands are made of manufactured wood, which keeps the price and shipping costs down. However, this might affect the durability and longevity of the stand in the long run. If you are not ready to pay extra bucks for the hardwood item, you should at least consider the options with high-quality MDF or thick covering layers.
The manufacturers may use glass as additional material. Finally, the fittings are frequently made of steel or other heavy-duty metals.
Cable management and airflow
Turntables tend to get hot when used for an extended period. You may want to use fans or cooling stations to maintain the device temperature at an optimal level, but it may involve additional expenses. The easy solution to this issue can be a turntable stand with a ventilation system. Such stands usually have holes on all sides to promote air circulation preventing the gear from getting hot.
If you are one of those people who gets easily annoyed with the look of cluttered wires and cables at the back, just know that you are not alone. With that in mind, you may find stands with cable management systems to spare you from the hassle. Some units have built-in holes, while others feature channels for concealing numerous wires.
Record player stand design
The market is flooded with turntable stands of different shapes and designs. So, before you even start considering some products , look around the room where you are going to place a stand. Mind the overall design of the room: is it modern, country, or vintage? If the inferior is on the modern side, look for the stands with clear lines and neutral colors. In case classic furniture pieces prevail, you've got to pay attention to corresponding stand designs.
The color of the stand will also play a crucial role. Black and white stands match rooms with a minimalistic interior, but on the other hand, you may want to add an accent to the turntable corner with some contrasting bright colors.
FAQ
How deep does a shelf need to be for a record player?
A shelf needs to be at least 12 inches deep to accommodate a record player. Players with larger bases may require a deeper shelf. Check the player's manual for specific requirements.
Is it bad to put speakers next to turntable?
No, it is not bad to put speakers next to a turntable. In fact, many people believe that it creates a more immersive listening experience. However, if the speakers are too close to the turntable, they can cause unwanted vibration that can affect sound quality. It is important to experiment with speaker placement to find the ideal spot.
How should vinyl be stored flat or upright?
Vinyl
should be stored
upright in a cool, dry place. If they are stored flat, they can warp over time. Warped records can be difficult to play and, plus, they can damage your turntable needle.
How far away should speakers be from turntable?
There is no definitive answer to this question. It depends on the size and power of the speakers, as well as the acoustics of the room. In general, it is better to start with the speakers about 3 feet (91 cm) away from the turntable and adjust from there.
What is the best height for a turntable stand?
The right height for a turntable stand depends on several factors, including the type of vinyl records being used, the size and weight of the turntable itself, and the ergonomics of the user. For standard-sized 12-inch records and lightweight turntables, a height between 30 to 35 inches is ideal for easy access without having to bend or reach uncomfortably.