Looking for a decent amplifier for your vinyl player? You've come to the right place! In this article, I'll provide you with comprehensive info on the best amplifiers for turntable available and give you a buying guide to help you choose a suitable device for your needs.
Our pick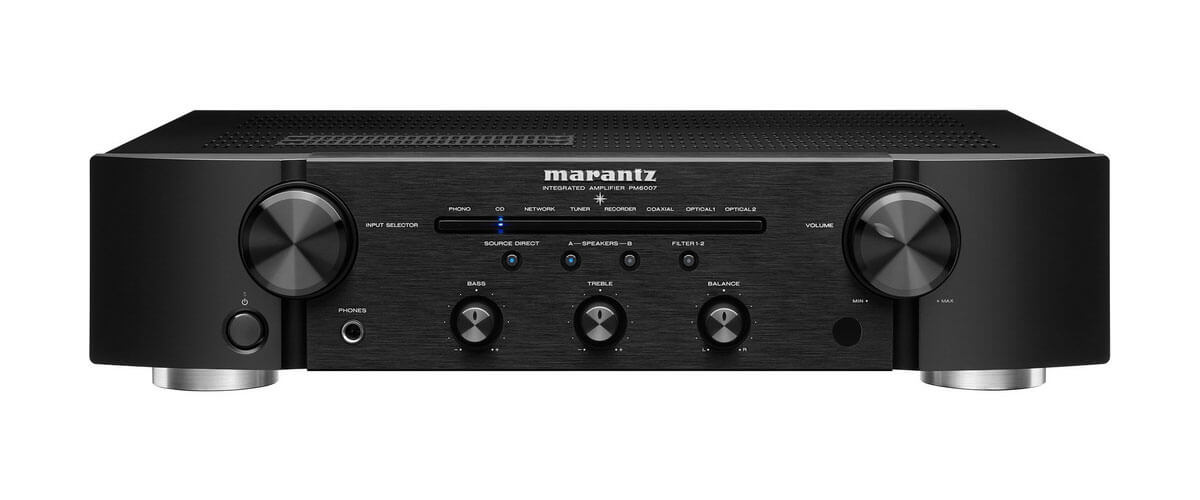 Marantz PM6007
Best amplifier for turntable
The Marantz PM6007 integrated amplifier delivers ample connectivity and creates a realistic listening experience.
Read the full review
.
Audiophiles know that the finest sound quality possible comes from LPs, but to get the most out of your vinyl collection, you need to have a high-quality combo – a turntable and an amplifier. In the most basic sense, an amplifier is a device that takes the audio signal from your player and amplifies it so that you can hear it through speakers or headphones. With the right amp, you can enjoy increased volume, improved sound clarity, and a greater sense of overall satisfaction with your music-listening experience.
Best amps for turntable reviews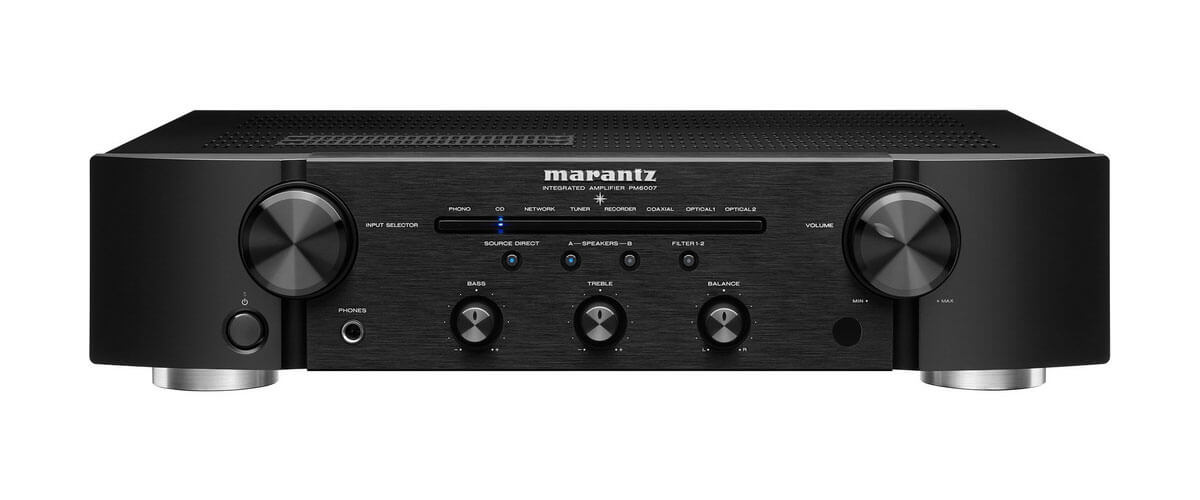 Marantz has a long history of producing high-quality stereo amplifiers at fair prices, and its 6000 series is a regular awardee for this reason.
The PM6007 stereo amplifier is a successor of the popular PM6006. It has taken the finest characteristics from its older brother and included some upgrades, for instance, an improved phono stage with a perfectly balanced signal-to-noise ratio. This enhancement should appeal to vinyl fans who seek the convenience of a built-in phono stage while maintaining superb sound quality.
Those who love little yet powerful beasts will definitely appreciate the PM6007, which is capable of delivering enough power (2x45W/8 ohms RMS, 20Hz – 20kHz) to fill even spacious rooms with sound.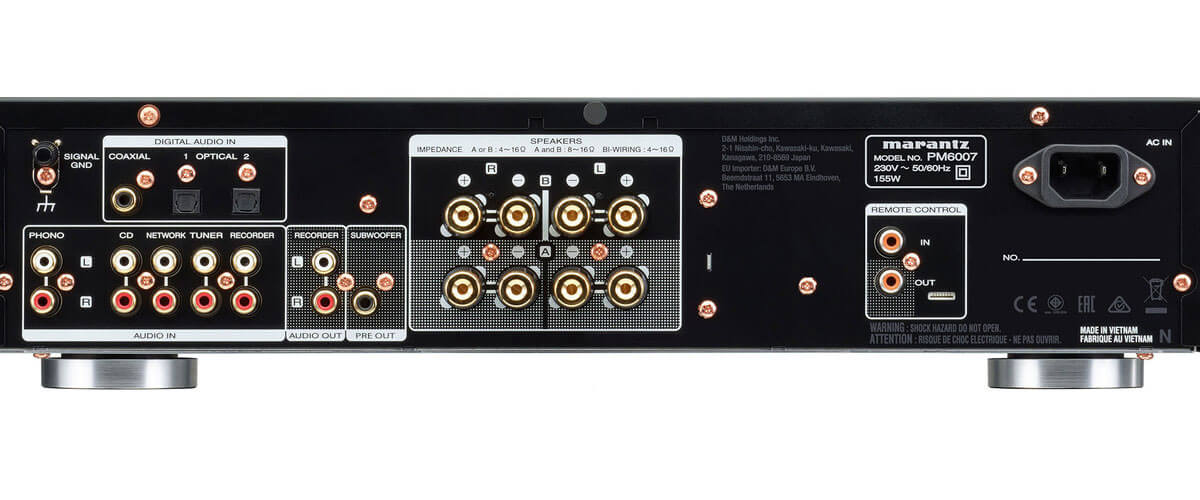 The amp features a wide range of connectivity, offering both digital and analog input options. It means you can use this model with various audio sources – vinyl players, external recorders or another amplifier, MP3 players, various speaker types, CD players, TV, etc. Furthermore, three digital filter modes allow you to customize your listening experience based on the type of input you are using.
There is one more thing to boast – a high-quality DAC AK4490 chip – this type provides a cleaner sound than many other DACs on the market, making it perfect for those who want the finest possible audio quality.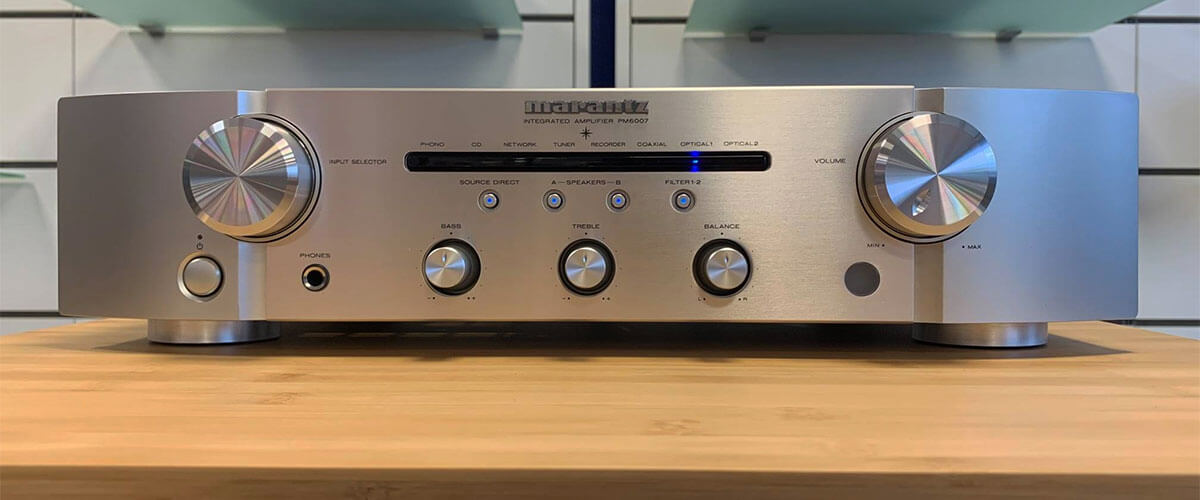 Sonically, this model delivers a smooth, refined sound that will please most listeners. There's plenty of power on tap for most rooms, and the amplifier easily handles difficult speaker loads. The sound is clean and detailed, with a tight bass response and well-defined highs.
Marantz PM6007 is the overall best amplifier for turntable available on today's market – it boasts a killing combination of traditional yet robust features, superb sound quality, and reasonable price. This is a perfect choice for those who don't need any bells and whistles but highly appreciate classic functionality and audiophile-level performance.
Key specs
Power output: 45W/8 Ohm, 60W/4 Ohm.
Frequency response: 10Hz-70kHz.
Audio Inputs/outputs: 5/1.
Bluetooth/USB input: no/no.
Damping factor: 100.
Dimensions, inch/mm: 17.3×14.5×4.1/439x368x104.
Pros
Reliable brand.
Designed with meticulous attention to detail.
Sounds great with a minimum amount of knobs.
Perfect price/quality ratio.
Cons
Not exactly a downside, but this amp doesn't have any extras (Bluetooth, USB port, Wi-Fi, etc.).
Yamaha A-S301 – budget choice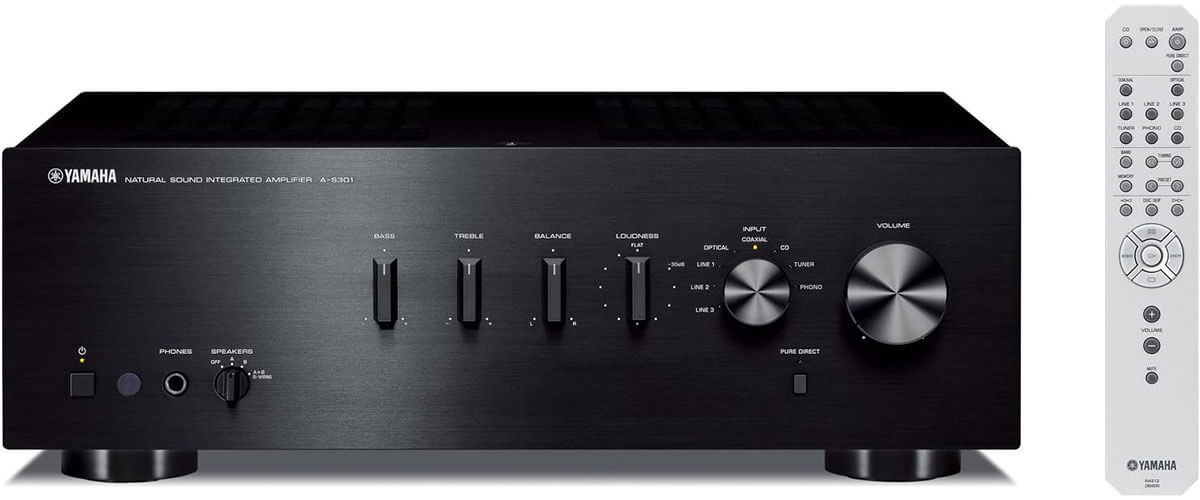 Yamaha's history began in 1887; now, it's the world's largest manufacturer of musical instruments and a leading manufacturer of audio-, visual-, and computer-related products. You can trust this name!
Yamaha A-S301 is an affordable integrated amplifier that punches above its class – it offers an excellent mix of traditional features and performance.
This model provides 60 watts of power per channel, which is more than enough for most music applications. It also has basic yet sufficient connections – 1 x digital optical input, 2 x stereo RCA inputs, and 1 x set of binding post speakers, so you can easily connect the amplifier to your turntable, CD/cassette/Blu-ray player, or TV.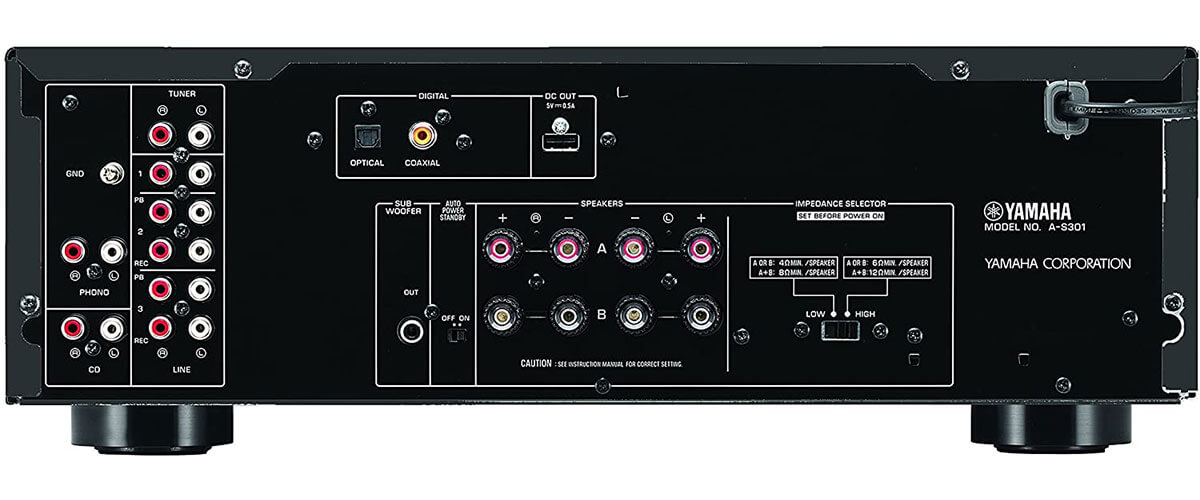 Such features as Pure Direct mode, I/O (input to output) direct symmetrical design, and custom-made power transformer help significantly reduce unwanted noise and distortion, ensuring that the sound quality is always top-notch.
To tell the truth, I didn't expect a high level of audio from the model sitting in this price region. Well, I was wrong! The sound is full and rich, with no apparent attenuations or exaggerations in any frequency bands. While testing, I was listening to classic, jazz, and Indie rock – the amplifier handled it all with aplomb, and everything sounded beautiful to my ears.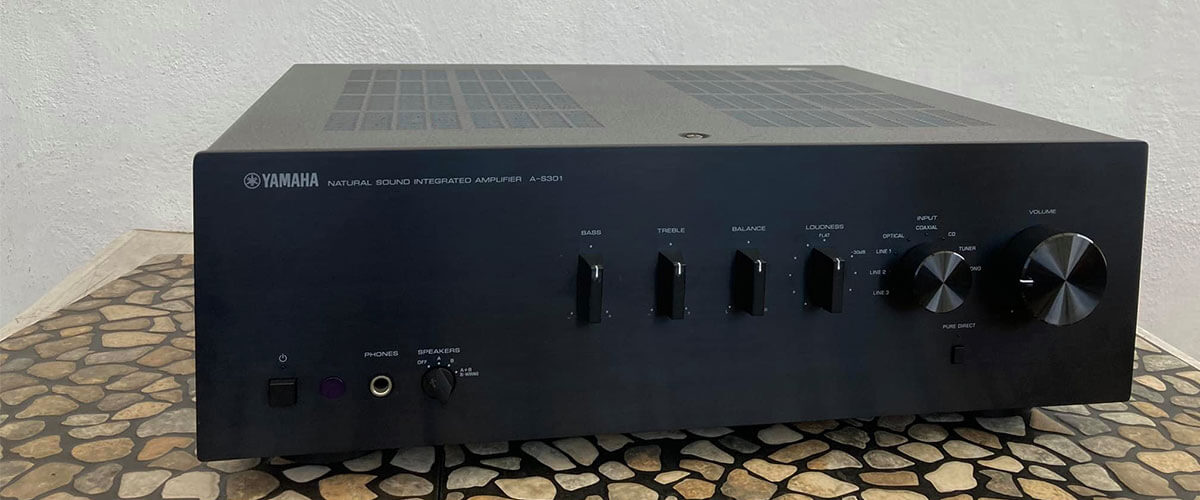 And last but not least, the A-S301's design is minimalistic yet intelligent and attractive. In addition, it can boast an anti-resonance and tough (ART) base that ensures the amp stays stable and quiet even when things get loud.
If you are seeking the best budget amplifier for a turntable that offers excellent sound quality, a solid build, and a wide range of features, do consider Yamaha A-S301. It seriously comps with devices costing 2 or 3 times the price!
Key specs
Power output: 60W/8 Ohm.
Frequency response: 10Hz-100kHz.
Audio Inputs/outputs: 8/2.
Bluetooth/USB input: no/no.
Damping factor: 210.
Dimensions, inch/mm: 17.1×5.9×15.2/435x151x387.
Pros
Built to last – features solid construction.
Delivers great sound.
Detachable power cord – you can change it for a longer or shorter cord if necessary.
Includes remote control.
Cons
DAC needs improvement.
Plastic knobs.
Tiny buttons on the remote.
Cambridge Audio CXA81 – premium choice
Cambridge Audio has been successfully crafting amplifiers for over 50 years, and the CXA81 is the latest example of their expertise. This stereo amplifier delivers 80 watts per channel of Class AB amplification, meaning it sounds great with both music and movies. The toroidal transformer provides plenty of power to drive your speakers, while the ESS Sabre ES9016 DAC ensures high-quality sound reproduction. Actually, I was blown away by the CXA81's sound – it's just phenomenal! The amplifier delivers clear and detailed audio with a wide soundstage. The highs are crisp and well-defined, while the mids and lows are smooth and well-balanced. As a result, I hear things that I've never heard before, especially at the high and low ends.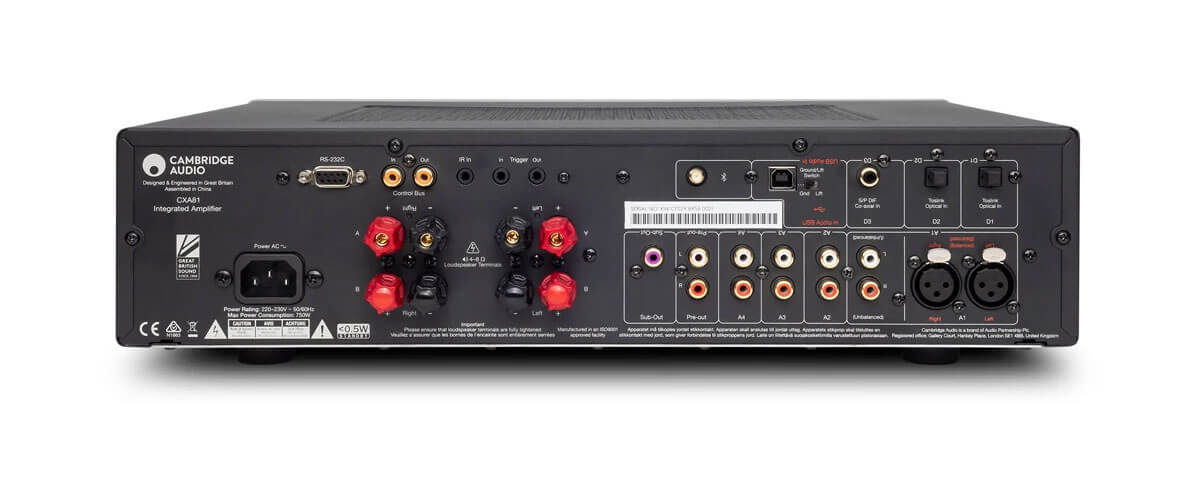 Those who like all-in-one packages will definitely appreciate this model's numerous inputs – Toslink, Coaxial, USB, and balanced XLR inputs – hook up to any audio source you like. Moreover, Bluetooth aptX HD input allows you to stream high-quality music wirelessly from your smartphone or tablet. To top it off, the CXA81 has two speaker zones, so you can listen to different audio sources in different parts of your house.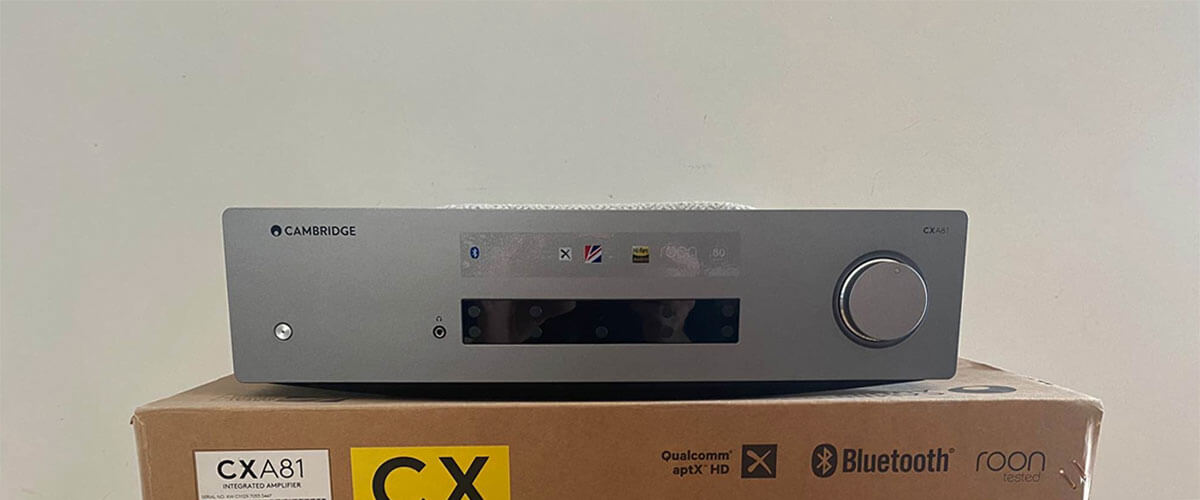 Finally, this model is crafted from aluminum and steel for a sleek, elegant look, and it's sure to add a touch of class to any room.
Cambridge Audio CXA81 is the best premium turntable amplifier – it's bathed in professionalism and modern technology. This model combines power, versatility, and acoustic excellence, meaning it will become the heart of your audio experience for many years to come.
Key specs
Power output: 80W/8 Ohm, 120W/4 Ohm.
Frequency response: 5Hz-60kHz.
Audio Inputs/outputs: 9/4.
Bluetooth/USB input: yes/yes.
Damping factor: 110.
Dimensions, inch/mm: 16.9×4.5×13.4/429x114x340.
Pros
Minimalistic yet elegant design.
Durable construction.
Superb sound quality – the amp brings out the nuances of the music and, at higher volumes, kicks the audio out with no distortion.
Incredibly clear and balanced.
Remote control included.
Cons
Needs a run-in period.
The remote doesn't control the volume.
No home theater bypass.
Rega Brio – also a great choice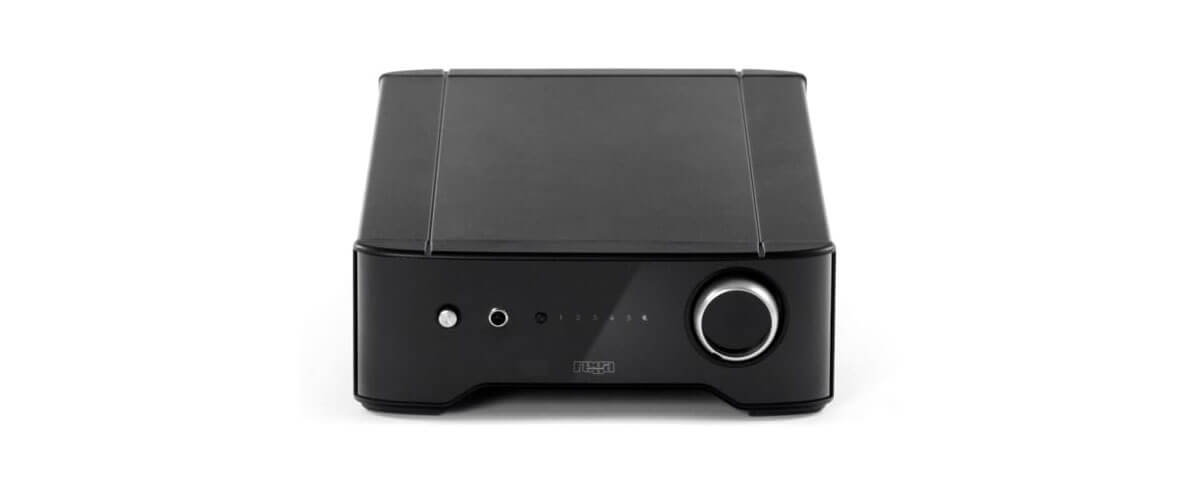 Rega was established in 1973 and has had a long history of developing award-winning turntables, tonearms, amplifiers, and other hi-fi components. The Rega Brio is their latest integrated amplifier, and it builds on the success of its predecessor, the Rega Brio-R.
So, what modifications have been done? First off, Rega engineers significantly enhanced the circuits – now it handles higher specifications for all critical parts, resulting in cleaner and more accurate sound. The housing was also re-designed to be more elegant yet solid and stable.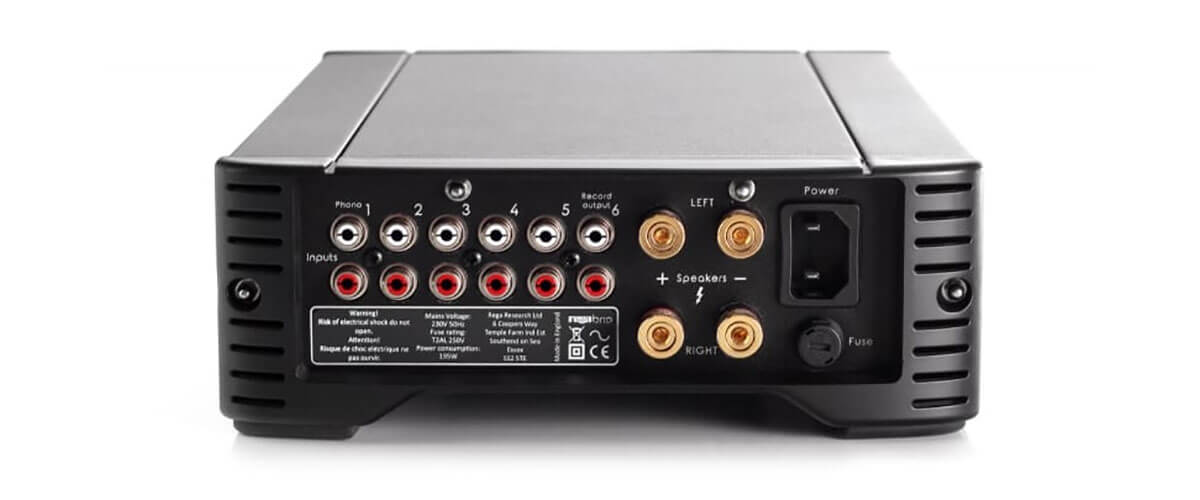 The Brio offers 50 watts per channel into 8 ohms – it's powerful enough to fill a small to medium-sized room with sound. The amp can also drive lower impedance monitors, making it a good choice for use with a wide range of speaker types.
A headphone output was included for those who love private listening sessions. Audiophiles know that such an addition may disrupt the overall sound quality, but this is not the case with Rega Brio! Instead, Rega paid special attention to reducing the socket's impact on the main signal path.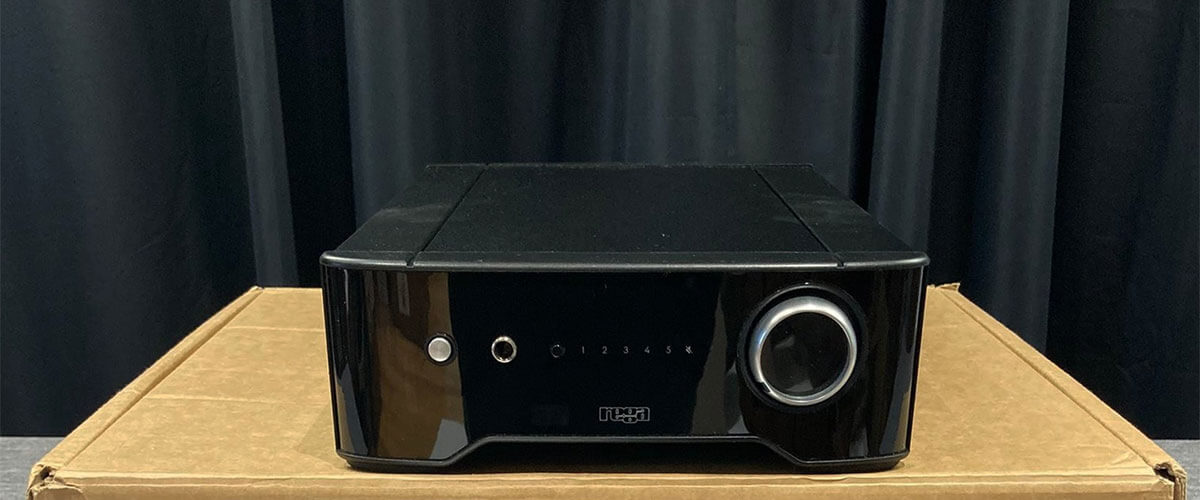 I love how this amp sounds – it delivers an extremely wide & deep soundstage with a rock-solid center image and excellent instrument separation. It makes listening so engaging!
Rega Brio is another great amplifier for a record player on my list. This analog-only amp with premium-quality components provides an immersive, high-quality audio experience. You can rely on Rega – it stands behind its products!
Key specs
Power output: 50W/8 Ohm.
Frequency response: 15Hz-40kHz.
Audio Inputs/outputs: 5/1.
Bluetooth/USB input: no/no.
Damping factor: 200.
Dimensions, inch/mm: 8.5x3x13.5/216x78x345.
Pros
Well-trusted brand.
Great build.
Sounds confident and composed.
High-quality headphone socket.
Nobsound MS-10D MKIII – tube amp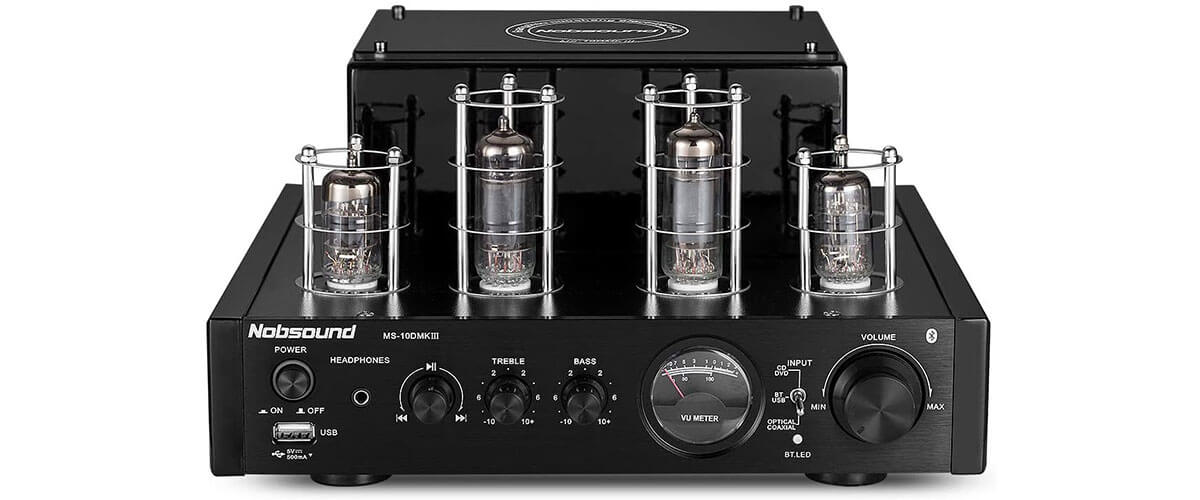 Nobsound MS-10D MKIII is a hybrid model that combines a class AB solid-state amplifier and tube buffer stage. It's an ideal solution for those who have only started embracing a new world of tube amps and potential tube upgrades.
Music enthusiasts will love the versatility of this little device – it comes equipped with plenty of input and output options. You can connect your gadgets via Bluetooth, USB/U-disk, coaxial, optical, or RCA connections. It also includes a speaker jack and 3.5mm headphone jack for maximum flexibility.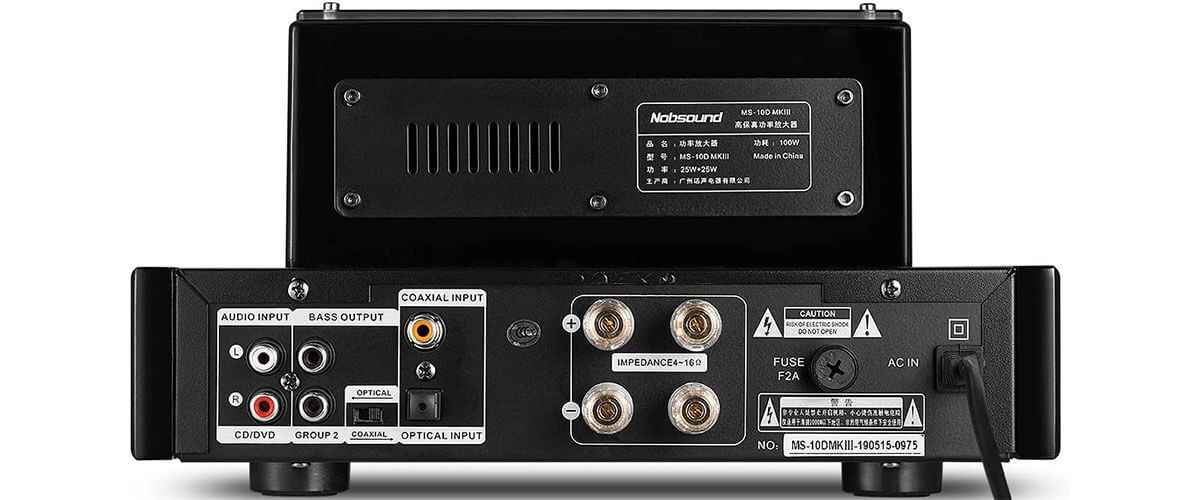 The tube model 6P1x2+6N1x2 provides clear sound with a great bass response for an immersive listening experience. Although the tubes come in solid protective cages, you'll be able to quickly replace them when needed.
Next, the frequency response of 20Hz-20kHz ensures faithful reproduction of your music files. You can also use a wide range of headphones and speakers thanks to a generous input impedance of 47 ohms, while the output impedance of 4-16 ohms lets you fine tune the amp to your specific setup.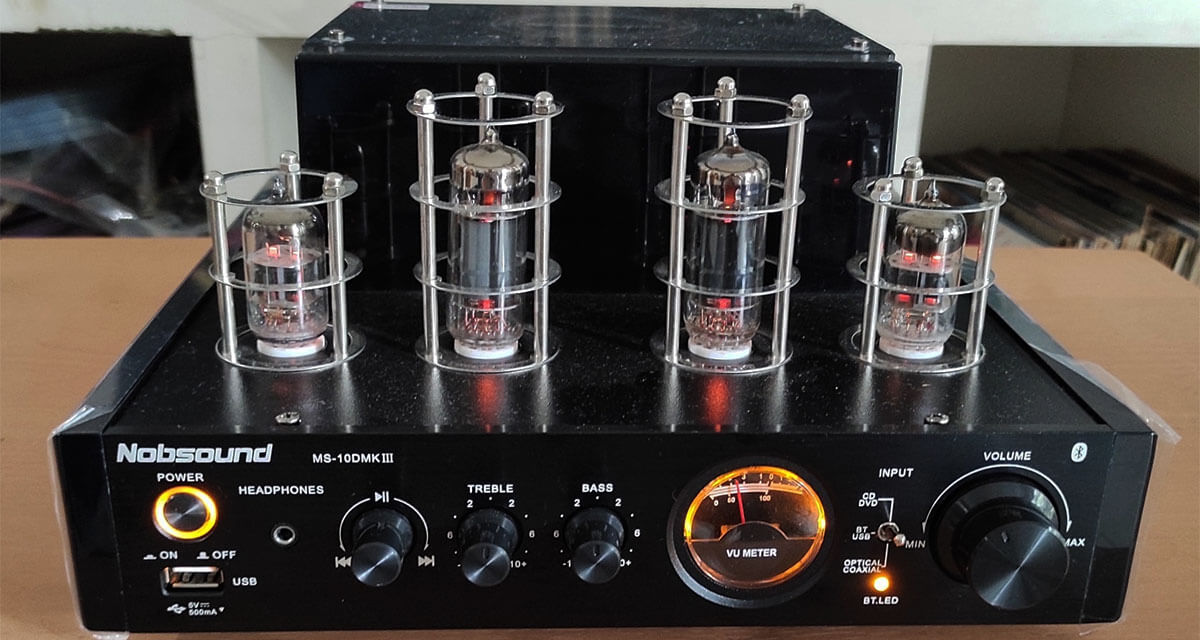 Finally, the rated power of 25Wx2 gives you plenty of headroom to crank up the volume without distortion.
Nobsound MS-10D MKIII is a lovely little gem packed with modern features. It offers plenty of versatility and flexibility due to its hybrid design – you can enjoy both integrated and tube technology. To top it off, this amp comes at a super affordable price!
Key specs
Power output: 25W/8 Ohm.
Frequency response: 20Hz-20kHz.
Audio Inputs/outputs: 5/1.
Bluetooth/USB input: yes/yes.
Dimensions, inch/mm: 12.3×10.6×5.9/312x270x150.
Pros
Good fit and finish for the money.
Tube sound quality.
Upgradable tubes.
Cons
Not a "true" tube amp, but still great for new and mid-level users.
Short and flimsy power cord.
Denon PMA-600NE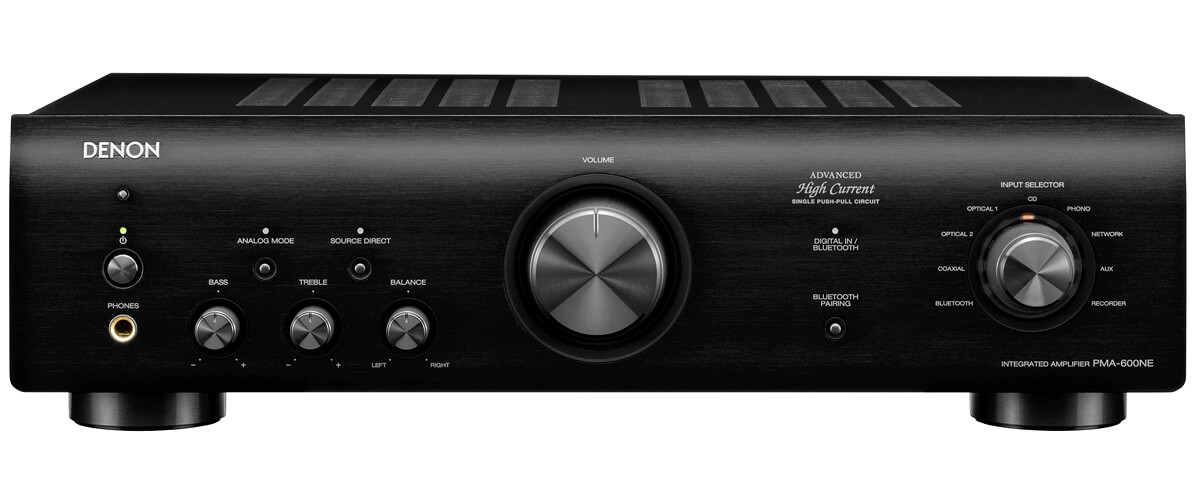 The Denon PMA-600NE is a powerful yet compact stereo amplifier, offering a great array of features and connectivity options. It has been designed to deliver rich sound with 70 watts at 4 ohms, making it perfect for powering a wide range of speakers. The Denon Advanced High Current (AHC) single push-pull circuit ensures that the output audio is crystal clear with no distortion. The amplifier also comes with Bluetooth and digital connectivity, including two Optical ports, one Coaxial port and one phono input allowing users to easily connect a CD Player, Blu-Ray or turntables.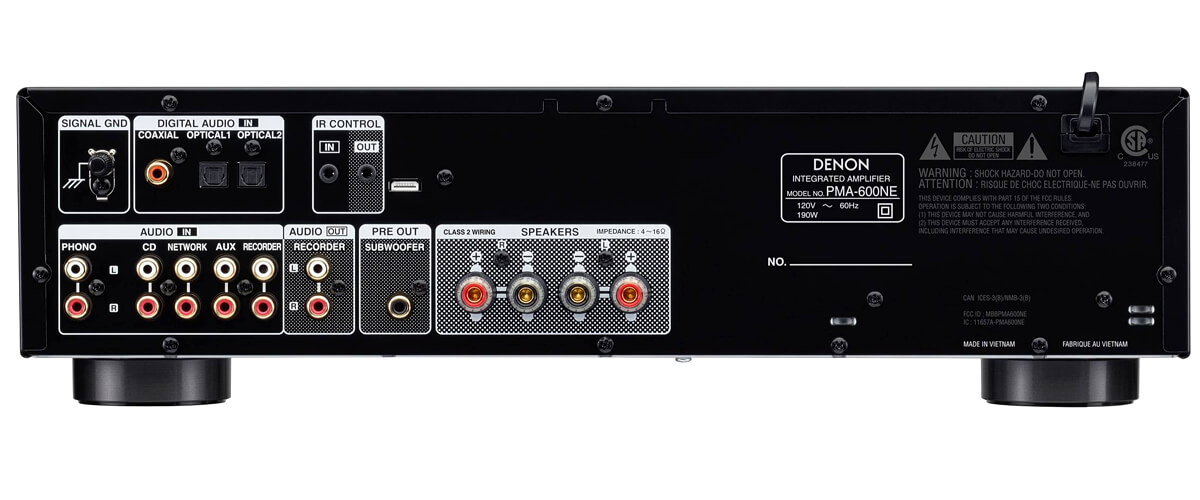 The EQ section bypass ("Source Direct") and "Analog Mode" are pretty nice features that indicate the designers put a lot of care into this amp when they were designing it. When you switch between inputs, there is a click and a pause, which I adore.
However, my biggest surprise that I want to emphasize is how effectively this amp improves the sound. Actually, it has taken my bookshelves to another level of richness – pianos, bells, rhodes, cymbols sound more "awake" and I can hear new things in familiar tracks.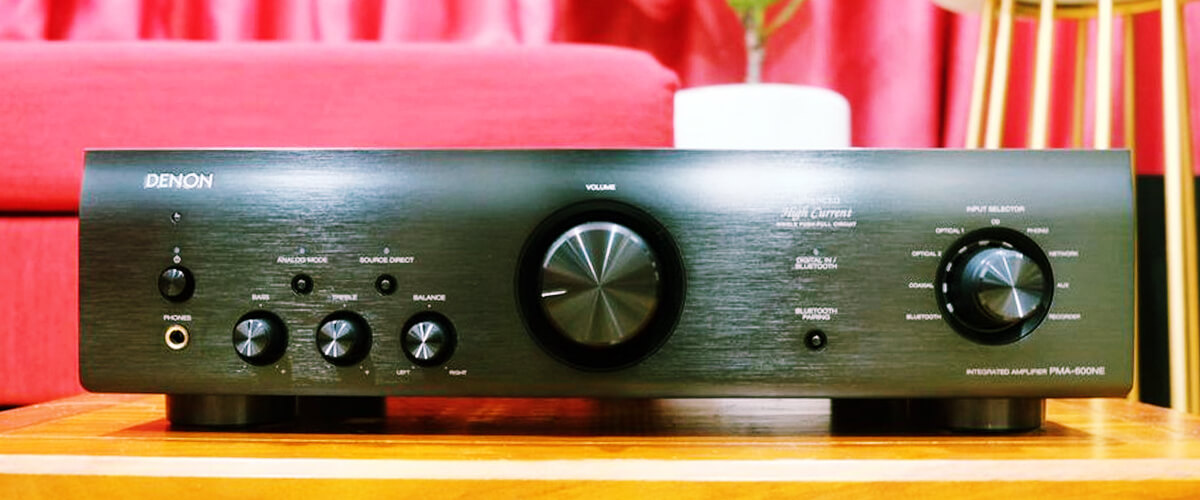 In terms of design, the PMA-600NE is slim in size and fits comfortably into almost any setup without taking up too much space. Its look is modern but retains the classic Denon style.
Denon PMA-600NE is an ideal choice for anyone looking to upgrade their audio setup. With its slim design, powerful performance and wide range of options for connectivity, this amplifier will deliver amazing sound quality time after time.
Key specs
Power output: 70W/8 Ohm.
Frequency response: 20Hz-20kHz.
Audio Inputs/outputs: 11/3.
Bluetooth/USB input: yes/yes.
Dimensions, inch/mm: 17.1×12.1×4.7/434x307x119.
Pros
The amp can get speakers pretty loud.
Clear and punchy sound even on high volume.
Effortless Bluetooth pairing.
Convenient controls.
Nice look.
Easy to install and use – you don't even need manual.
Cons
You may need something more powerful for a bigger room.
Cheap speaker connections.
The font on the input selector dial might be larger – the input selection is difficult to read.
Turntable amplifier buying guide
How much power do you need?
Underpowering or overdriving your speakers is a bad idea because doing so will result in either very low volume or terrible sound distortion. Therefore, you must ensure that your speakers receive the proper amount of power while still producing the highest-quality sound.
When buying a turntable amp, take a look at its RMS power output. It measures how much power an amplifier outputs at a reasonable volume. Next, consider the speakers' recommended amplifier range to pair an amplifier with your speakers. You're good to go if the amplifier's output is within the range specified by the speakers' manufacturer.
Impedance and matching the amplifier to your speakers
Impedance (Ω/ohm) is a measure of electrical resistance. The impedance of speakers' output comes in a 4-16 ohms range; ideally, you need to match an amplifier's impedance to that of your speakers. However, there is something I must reveal to you. While it's true that the sound quality will slightly improve if all of the components have the same impedance, the truth is that impedance does fluctuate. It means that you can safely disregard this part unless you have an extreme interest in amplifier and speakers matching.
Required inputs and outputs
All amps for turntables have a few standard connectors – a phono input, four binding posts for speakers, and a power cable. However, the similarities usually stop here. And it's important to consider all inputs and outputs you require since you don't want to overspend on features you won't use. So, let's discuss some of the most popular connectors briefly:
Line level inputs – these allow you to connect other sources like a CD player, tape deck, or even your TV.
USB input – some amplifiers are equipped with this input that enables you to connect your computer directly to the amplifier. This is a great way to play digital music files (MP3, FLAC, WAV, etc.) or convert your vinyl collection into digital format.
Headphone jack – allows you to hook up headphones directly to the amplifier.
Tube vs. solid state amps
There are two types of amplifiers: tube and solid state. Tube amps use vacuum tubes to amplify the sound, while solid-state amps use transistors. They both have pros and cons, so you'll need to decide which type is better for you.
Tube amps are usually more expensive, but they're also more musical. They have a warmer sound and tend to be more forgiving of the poor source material. Solid state amps are more accurate, but they can sound not so intense and interesting.
If you're just starting out, I recommend getting a solid-state amplifier. It's easier to use, and you can always upgrade to a tube amp later on.
What is the difference between an amplifier and an integrated amplifier?
There are two main types of audio amplifiers for vinyl: integrated amplifiers and separate pre/power amplifiers (sometimes called 'power amps'). As their names suggest, integrated amplifiers combine preamplifier and power amplifier stages in a single box, while separate pre/power amplifiers require two boxes. Let's take a closer look at both types' advantages and drawbacks so that you can understand which one suits your needs better.
Integrated amplifier pros
Easy to set up and use.
Takes up less space.
Affordable.
Integrated amplifier cons
You can't upgrade the preamplifier and power amplifier stages separately. So, if you ever want to improve the performance of your system, you'll need to buy a new integrated amplifier or separate boxes.
If you have particularly demanding speakers – or if you like to listen at the highest volumes – an integrated amplifier might not be powerful enough to drive them adequately.
Separate pre/power amplifier pros
Powerful.
Delivers audiophile-level sound quality.
You can upgrade the preamplifier and power amplifier stages separately.
Separate pre/power amplifier cons
Expensive.
May be complicated to set up.
You'll have to match 2 separate boxes – consider brands, power, impedance, etc.
Such a combo can generate more heat; however, this is not an issue if you have a large, well-ventilated room.
So, which is better – an integrated amplifier or a separate pre/power amplifier system? The answer depends on your budget, your listening habits, and the speakers you're using. If you're just starting out, or if you're on a tight budget, an integrated model is probably the right choice. But if you're looking for the most satisfactory performance or have particularly demanding speakers, a separate pre/power amplifier is the way to go.
FAQ
What is the difference between a preamp and an amp?
A preamp amplifies a low-level signal and converts it to a level compatible with a power amplifier. A power amplifier (also known as an amp) is a device that increases the strength of a low-level signal received from a preamplifier before sending it to speakers.
Do you need a preamp and an amp for a turntable?
You only need one of them. In case your turntable has a built-in preamp, you will only need an amplifier. If not, you will require a preamp. And if you are using an external phono stage, you don't need any additional equipment.
Can I connect a turntable directly to an amplifier?
Yes, you can connect a turntable directly to an amplifier. However, you will need to use a phono preamp to amplify the turntable signal. Phono preamps are relatively inexpensive and can be found at most electronics stores.
If you have a turntable with a built-in phono preamp, you can connect it directly to an amplifier.
Can I use a guitar amp for a turntable?
If you're looking to boost the volume of your turntable, then any old amplifier will do the trick. However, if you want to get the best sound quality out of your vinyl setup, you have to invest in a dedicated phono preamp.
A phono preamp amplifies the signal from your turntable's cartridge and equalizes it, making it compatible with today's home stereo systems. Without a phono preamp, you'll likely hear a lot of hissing and popping from your record player.