Venturing into the world of vinyl records? Ready to experience the warm, rich sounds that only a turntable can provide? Then, don't underestimate the impact of choosing the best powered speakers for a turntable. As a key players in your audio setup, they serve as a sonic bridge between your cherished vinyl collection and your ears. However, pinning down the most suitable monitors can feel like finding a needle in a haystack. Selecting the right ones can unlock the hidden layers of your music, revealing all the audio textures your records have to offer. So, consider this article your roadmap to sound nirvana.
Our pick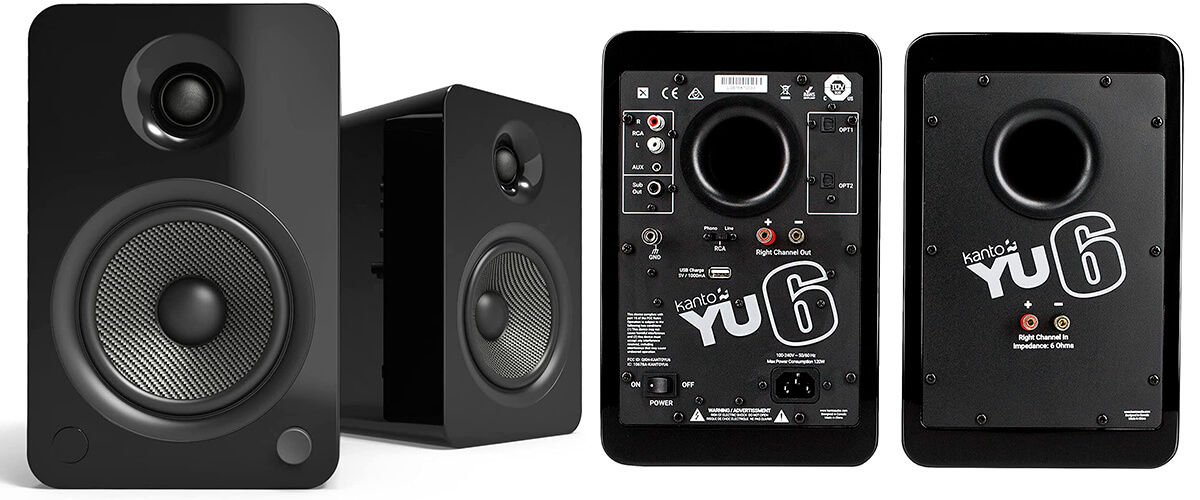 Kanto YU6
Best active bookshelf speakers
The Kanto YU6 powered speakers for powerful, full-impact sound. Armed with a formidable Class D amplifier pumping out 200-Watt peak power, YU6 will have you questioning what it means to be loud.
Read the full review
.
Our pick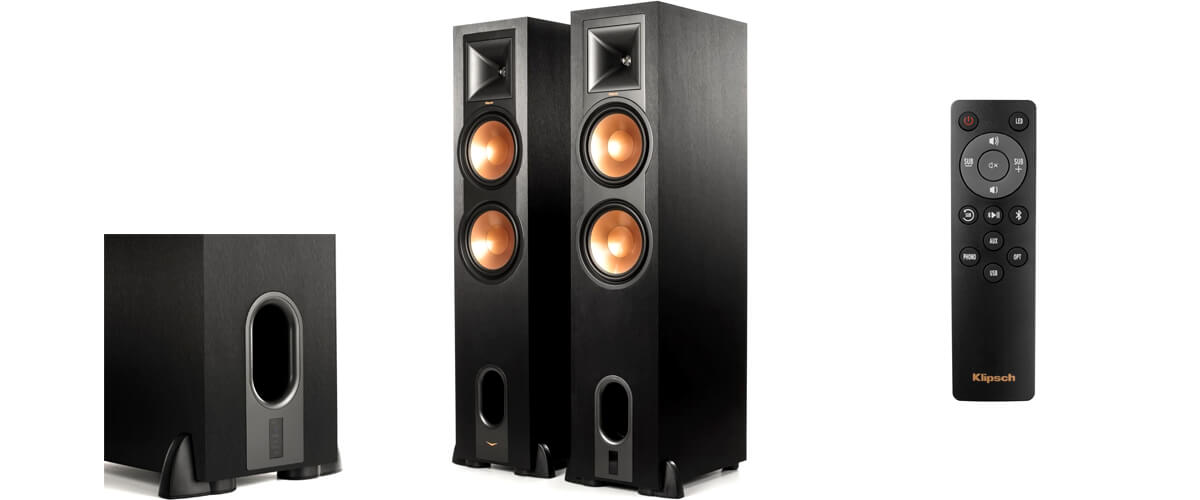 Klipsch R-28PF
Best floorstanding powered speakers
The Klipsch R-28PF is a powered floorstanding stereo speaker system with a 260W integrated amplifier that removes the need for a complicated receiver.
Read the full review
.
Name
Style
Peak power output
Frequency response
Bluetooth
Review
Kanto YU6

active bookshelf speakers

bookshelf
200W
50Hz-20kHz
yes
Review
Edifier R1280T

budget

bookshelf
21W
50Hz-20kHz
yes
Review
Klipsch R-28PF

floorstanding powered speakers

floorstanding
260W
33Hz-20kHz
yes
Review
Types of powered speakers for turntable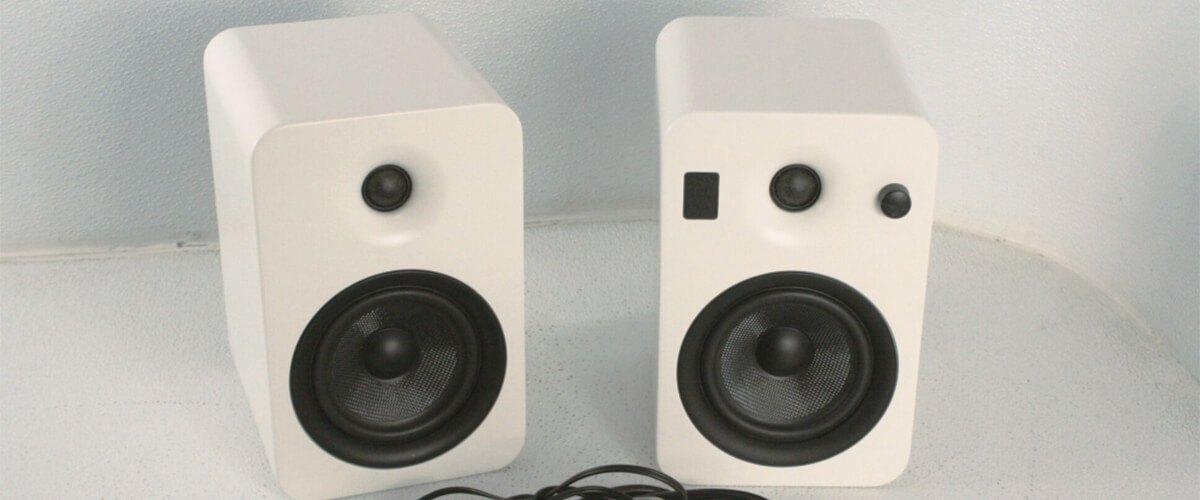 Now, let's delve into the types of powered speakers that you can use with your turntable. I've grouped them into two categories – bookshelf speakers and floorstanding speakers. Each group has its unique characteristics, strengths, and ideal usage scenarios. No matter the size of your room or the depth of your musical taste, one of these categories will harbor the perfect partner for your player.
Bookshelf speakers
As the name suggests, bookshelf speakers are compact enough to fit on a shelf, a desk, or a specially-made speaker stand. These speakers are an ideal choice for smaller rooms or settings where space is at a premium. They can deliver clear, vibrant sound without occupying a large footprint.
Pros
Compact size: Smaller dimensions allow for easy placement within your room.
Price: They are generally more affordable than their larger counterparts.
Sound quality: Despite their size, many models offer impressive audio quality with good clarity and detail.
Cons
Bass response: Given their smaller size, bookshelf speakers might not offer the same depth of bass response as larger floorstanding models.
Power: They might not reach the same volume levels as larger speakers without distorting the sound.
Stand requirement: To perform optimally, they often require dedicated stands, which might incur an additional cost.
Floorstanding speakers
Floorstanding or tower speakers are large free-standing units sitting directly on the floor and providing ear-level sound. They are often the go-to choice for individuals seeking a powerful, room-filling sound.
Pros
Bass response: Their larger size enables superior bass response, delivering rich, resonant lows.
Volume: Floorstanding speakers can reach high volume levels, making them suitable for larger rooms.
Standalone: Unlike bookshelf speakers, floorstanding models don't require additional stands.
Cons
Size: They can be bulky and require more floor space.
Price: Generally, these speakers are more expensive than bookshelf models due to their size and power.
Placement: They require careful placement in a room to achieve optimal sound dispersion.
Best powered speakers for turntable reviews
Bookshelf powered speakers
Kanto YU6 – best active bookshelf speakers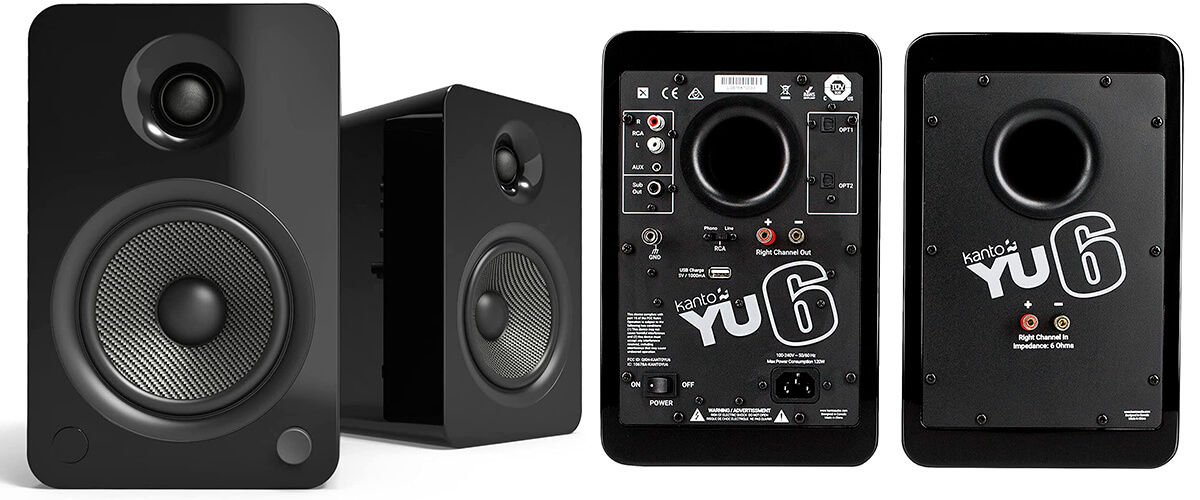 From the moment you look at the Kanto YU6, you realize you're in for an auditory treat. Encased in handcrafted MDF cabinets that exude elegance and quality, these bookshelf speakers offer a stellar performance that belies their compact size.
The YU6 model is truly remarkable in the realm of sound. Employing 1″ silk dome tweeters and 5.25″ Kevlar drivers, these monitors are more than capable of filling a room with crisp highs and a delightfully balanced mid-range. Such a combination paints a sonic landscape that faithfully reproduces everything from the delicate pitter-patter of rain in a quiet symphony to the booming beats of EDM anthems.
Connectivity is a breeze thanks to the built-in Bluetooth with Qualcomm aptX technology. Whether you're streaming from your smartphone, tablet, or computer, the YU6 offers high-quality audio right at your fingertips. Important for vinyl enthusiasts – this model will charm you with its integrated phono preamp, allowing seamless connection to your beloved turntable.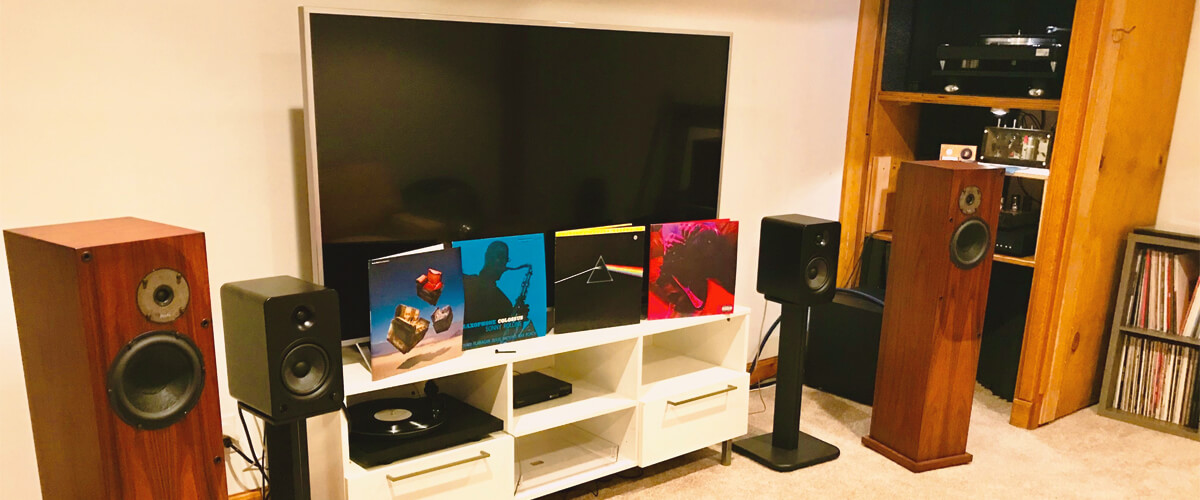 The automatic standby and power-up modes are thoughtful features that help conserve energy without you even noticing it. I love the way the YU6 quietly slips into standby when not in use and promptly wakes up when the music starts playing. The included remote is another convenience, giving you control over volume, input, tone, balance, and even playback options when streaming via Bluetooth.
On the downside, the speakers could benefit from a deeper bass response. However, you can circumvent this limitation by pairing them with a subwoofer if you crave that extra punch in your music.
In conclusion, Kanto YU6 offers a lot more than meets the eye. Combining excellent sound quality, easy connectivity, and thoughtful features in an elegant package, it's no wonder they're the best active speakers for a turntable available today.
Key specs
Style: bookshelf.
Power type: active.
Peak power output: 200W.
Frequency response: 50Hz-20kHz.
Bluetooth: yes.
Dimensions, inch/cm: 6.9×8.1×10.7/17.5×20.5×27.2.
Pros
Durable.
Comes in different colors.
Gets really loud without distortion.
Hyper fast Bluetooth.
Cons
The supplied speaker cable is not of the highest quality – I changed it and was astonished by the new level of refinement and clarity.
Edifier R1280T – budget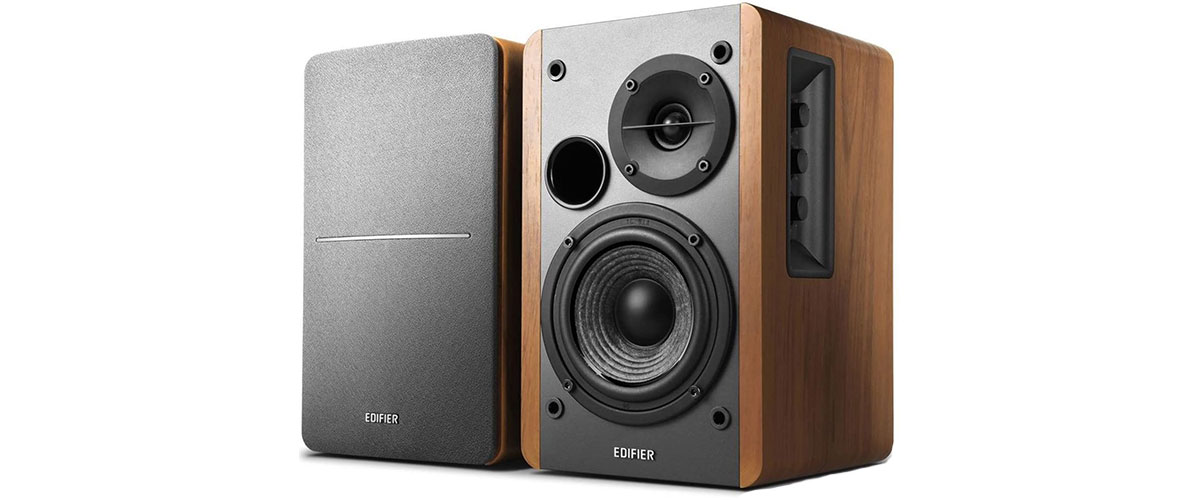 The Edifier R1280T is a steal for its price point! This sound machine has a total power output of 21W and houses a duo of ports for RCA to AUX and RCA to RCA connections at the active speaker's rear. The designers have indeed been thoughtful, ensuring an array of connection options that accommodate a multitude of devices, including your favorite vinyl player.
Previously, I tested the Bluetooth-capable Edifier R1700BT, a superior powered variant, and my expectations from the less powerful R1280T sibling were modest. However, it pleasantly surprised me with its sound, which is tough to match in this price bracket.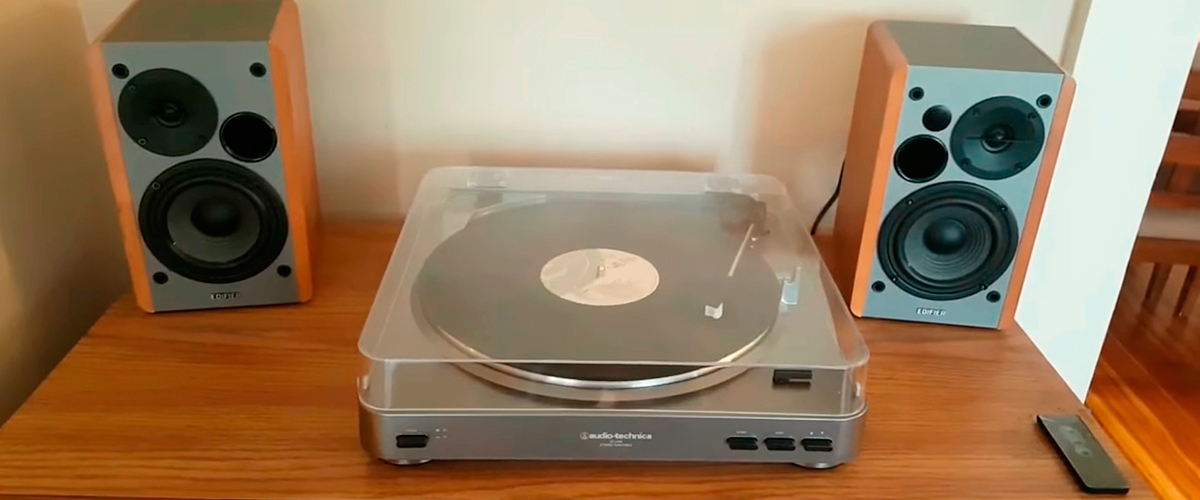 With a signal-to-noise ratio clocking in at 85dBA, the sound may not be sky-high, but it certainly gets the job done. As for me, the R1280T boasts a more profound bass and a more authentic, warmer tweeter compared to the R1700BT. Moreover, the treble notes are delightfully resonant, maintaining a perfect balance of clear sharpness and softness.
If you want to find the best budget powered speakers for a turntable, consider it accomplished with the Edifier R1280T. Its most captivating feature is that it stands toe-to-toe with the higher-ranking product – the Klipsch The Five – in terms of audio quality while being easy on the pocket.
Key specs
Style: bookshelf.
Power type: active.
Peak power output: 21W.
Frequency response: 50Hz-20kHz.
Bluetooth: yes.
Dimensions, inch/cm: 5.7×9.5×7/14.6×23.4×19.6.
Pros
Commendable build.
Sleek finish.
Straightforward to use.
Can reach significant volume levels.
Unbeatable value for the price.
Cons
May lack sufficient power for more discerning ears.
The remote control lacks a critical power button.
Klipsch The Fives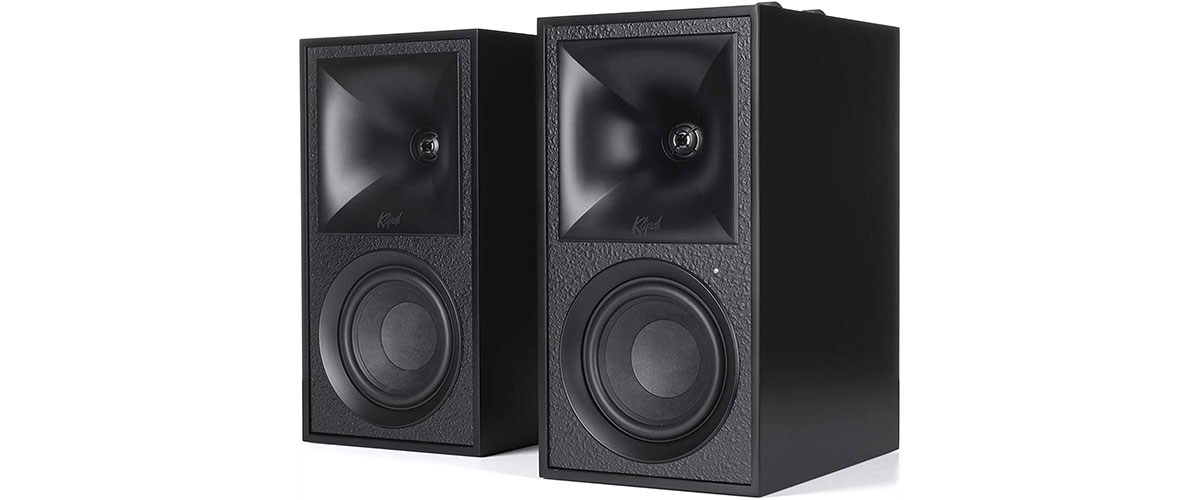 When I unboxed Klipsch The Fives, their compact and sleek design immediately appealed. However, I've come to understand that looks aren't everything this model can boast.
Let me start with the sound. While The Fives are capable of delivering quite a punch, they're not quite the top dogs in the high-fidelity sound arena. They do a solid job at delivering immersive, room-filling sound, handling highs and lows with relative finesse, but when stacked against some other high-end speakers I've tested, they fall a little short. Still, whether it's an intense guitar solo or the soothing strums of an acoustic set, The Fives perform admirably.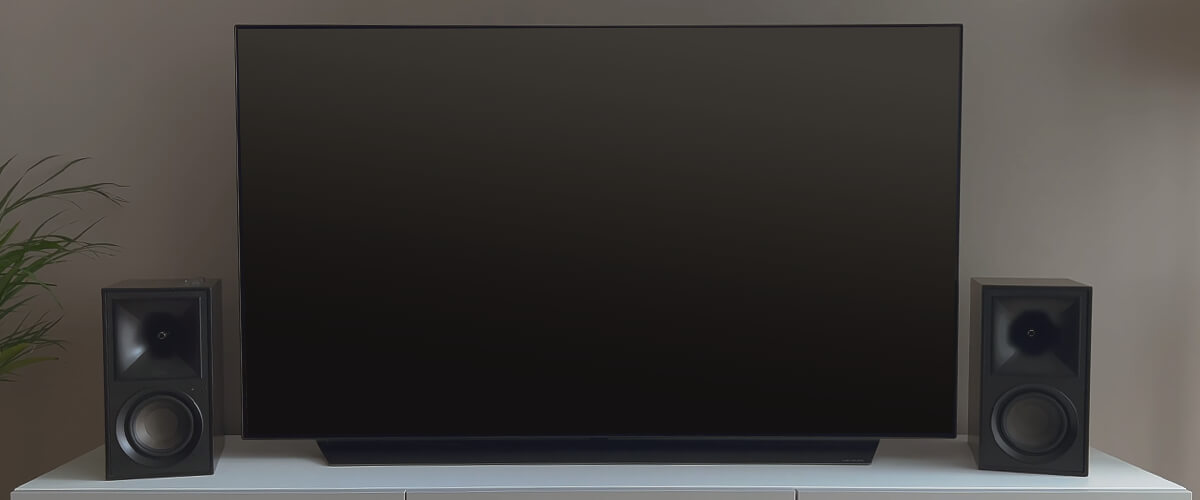 Connectivity is where these monitors manage to score big. They're able to connect to practically anything. I tried them with my phone, computer, and LP player – yes, they make decent powered bookshelf speakers for turntable enthusiasts. Trust me, spinning your favorite vinyl on these is an absolute joy!
Regarding ease of use, The Fives are straightforward, which is great for those who prefer a plug-and-play approach. That being said, it would've been nice to have a remote control, but hey, you can't have everything.
To sum it all up, Klipsch The Fives might not be the absolute finest bookshelf speakers on the block, but they're no slouches either. Their strong points, like versatile connectivity and straightforward operation, make them a solid choice for those looking to upgrade their audio setup without going all out on a premium model. Casual listeners could find a lot to like with The Fives.
Key specs
Style: bookshelf.
Power type: active.
Peak power output: 160W.
Frequency response: 50Hz-25kHz.
Bluetooth: yes.
Dimensions, inch/cm: 12×6.5×9.2/30×16.5×23.4.
Pros
Well-constructed.
Multifaceted with an array of connection options.
Impressive sonic composition.
Delivers optimal performance across diverse music styles.
Effortless installation process.
Cons
Occasionally tends to be slightly dominant on the bass end.
Floorstanding powered speakers
Klipsch R-28PF – best floorstanding powered speakers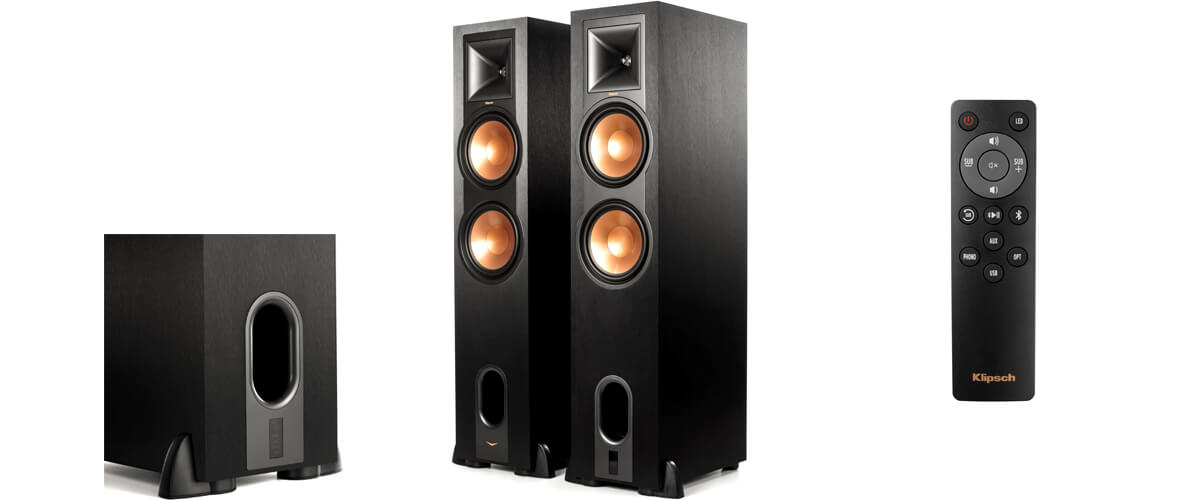 The Klipsch R-28PF effortlessly earns its reputation as the finest floorstanding powered speakers for vinyl in its class. A testament to the renowned Klipsch legacy, this remarkable audio device strikes an impeccable balance between high-level performance and practical functionality.
At first sight, you're greeted by the iconic Klipsch aesthetics – a perfect blend of traditional and contemporary. As weighty as they are, clocking in at a hefty 56.67 lbs each, they exude a feeling of robustness. As you delve deeper into the experience, the true capabilities of the R-28PF model start to unfold.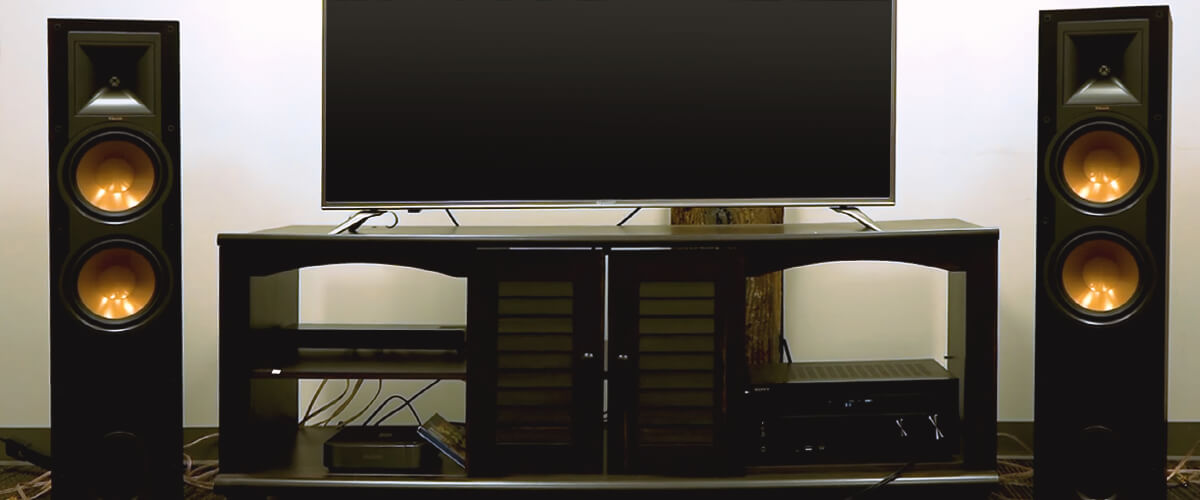 Its 260W total system power, underpinned by bi-amplified digital EQ and crossover, ensures a clear, full-bodied sound that can achieve a staggering 114 dB max output. The breadth of input options from Phono/line analog to USB and optical digital ports promotes flexibility. Indeed, it's a breeze to connect any Bluetooth-enabled device, allowing for effortless music streaming straight from your smartphone or tablet. Moreover, a built-in phono preamp is a huge plus for many vinyl lovers who appreciate a straightforward listening experience.
One of the Klipsch R-28PF's most shining attributes is its versatility. Whether indulging in an LP's rich timbres or immersing yourself in the energetic beat of a digital track, this model delivers unyielding performance.
Key specs
Style: floorstanding.
Power type: active.
Peak power output: 260W.
Frequency response: 33Hz-20kHz.
Bluetooth: yes.
Dimensions, inch/cm: 42×9.5×15.7/106.6×24.1×39.8.
Pros
Aesthetically pleasing.
Eliminate the need for a separate AV receiver by providing analog and digital inputs.
Flexible connectivity.
Convenient front port design.
Cons
Requires break-in period.
Fragile remote.
Fluance Ai81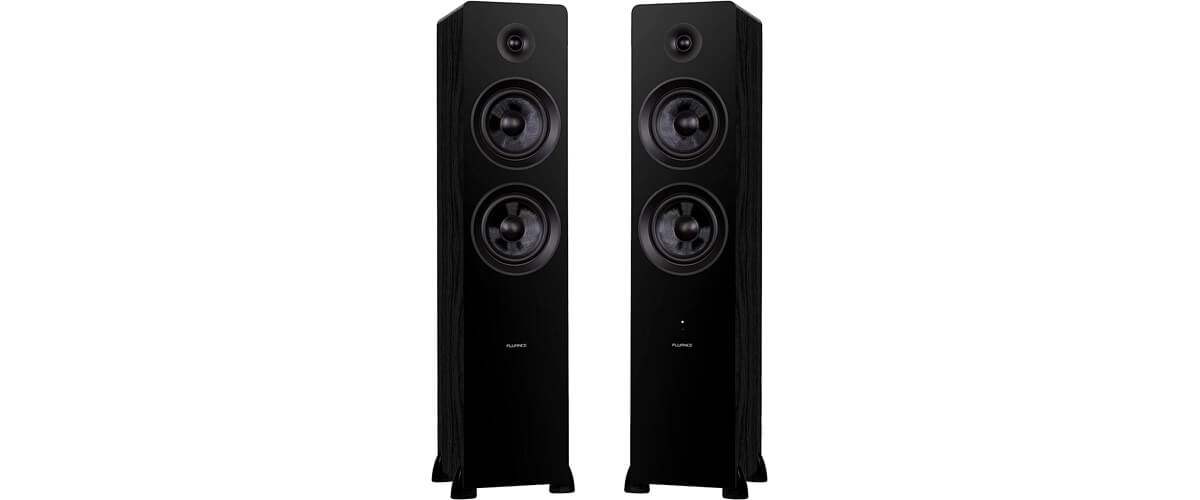 The Fluance Ai81 is a pretty good choice if you're looking for a no-nonsense floorstanding speaker that delivers good vibes all around. As Fluance likes to say, they're all about "serious performance," and let me tell you, the Ai81 holds up its end of the bargain. It's an engaging performer that really gets you into the groove.
Its 150W integrated amp works hand in hand with high-quality tweeters to shape a wide-open stereo soundstage. The high notes? Superbly delivered with a good spread. Its dual 6.5-inch glass fiber drivers, on the other hand, do an amazing job reproducing a clean and precise midrange.
But it doesn't stop there. The Ai81's ability to produce low-frequency sound is equally impressive. Those MDF wood cabinets and down-firing bass ports work together to deliver deep, natural, and all-around bass. Whether it's your favorite LP, a movie, or the latest podcast episode, the Ai81 makes sure you're all in.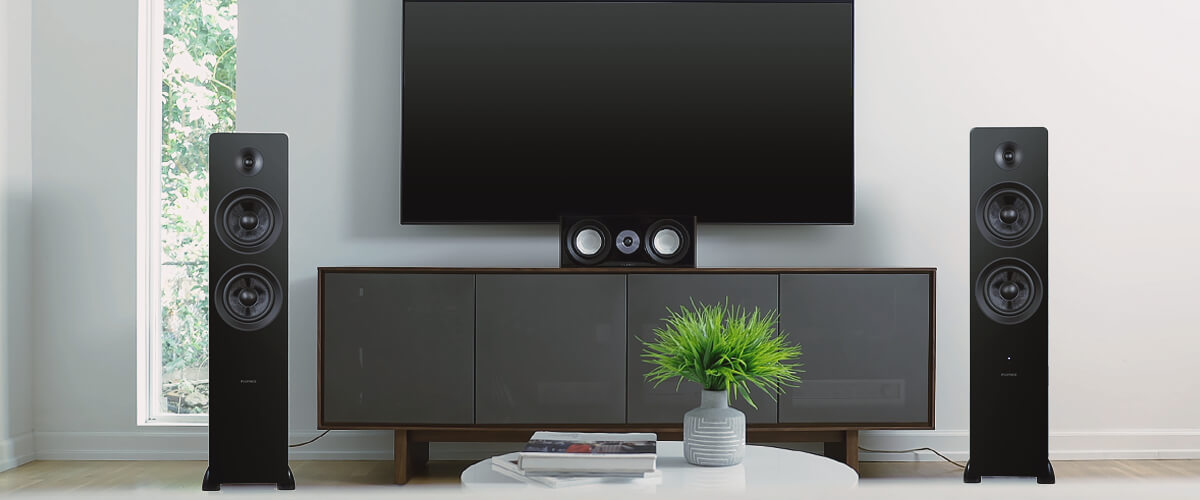 What's more, the Ai81 takes away the hassle of setting up a home theater system. It's got RCA, optical, and Bluetooth 5 connections, so there is no need for a separate amp or receiver.
But let's be real here, when it comes to pure power and output, the Klipsch R-28PF has the edge. The Ai81, though, doesn't exactly play second fiddle – it stands out with its attention to detail and well-rounded sound.
So, if you're hunting for speakers that bring a balanced and immersive sound, the Fluance Ai81 is definitely worth checking out.
Key specs
Style: floorstanding.
Power type: active.
Peak power output: 150W.
Frequency response: 30Hz-20kHz.
Bluetooth: yes.
Dimensions, inch/cm: 37.8×8.5×10.2/96×21.6×26.
Pros
Speakers are primarily targeted toward turntable users.
Excellent sound.
Versatile connectivity.
Cons
Take some time to learn how to switch between different sources.
Key factors to consider when selecting powered speakers for turntables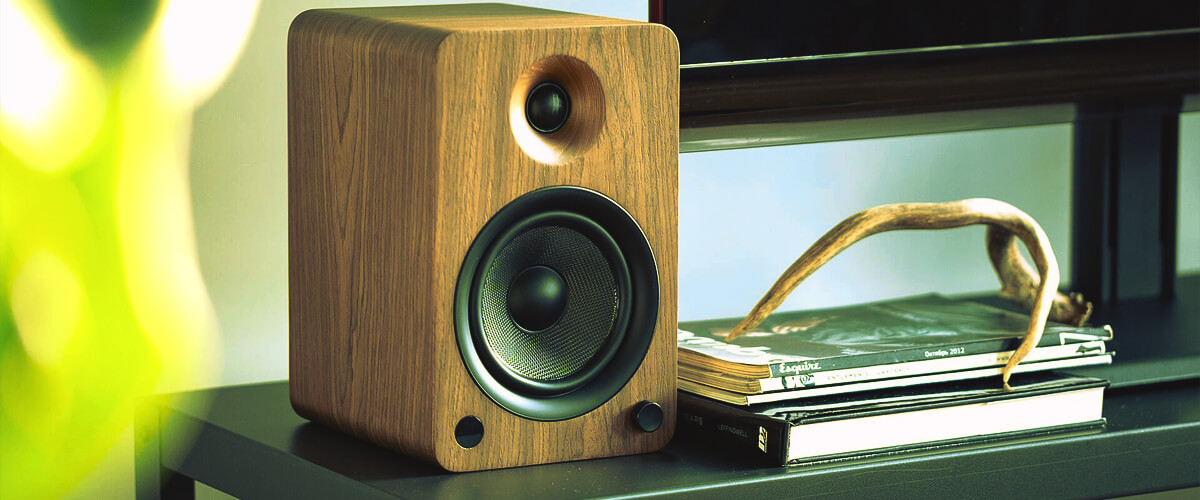 Indeed, when selecting powered speakers to accompany your turntable, there are key factors that need careful consideration. This isn't just about style and aesthetics but also technical specifications and functionalities that can significantly impact your listening experience.
Built-in phono preamp
Some turntables have an integrated preamp, which is an electronic device that amplifies the signal from the vinyl record before it reaches the speakers. However, if your player doesn't have one, you might want to consider speakers with a built-in phono preamp to ensure the finest sound quality.
Power output
Power output, measured in watts (W), is an essential metric for any audio equipment. It indicates how much power a speaker can handle, correlating with its ability to produce volume without distortion. The higher the power output, the louder your speakers can play.
For a modestly sized room, something in the range of 20-50W per channel should suffice for most listeners. However, for larger rooms or if you like to crank up the volume, you may want to consider speakers with an output of 100W or more per channel.
Yet, it's not all about raw power. The sound's clarity and quality shouldn't be overshadowed by volume. It's critical to seek speakers that can deliver clean, undistorted sound, even at high volume levels. Remember, a high-wattage speaker doesn't guarantee superior sound, but it's one part of a bigger puzzle.
Connectivity
When choosing speakers, the types of connections they support is a significant factor. While Bluetooth speakers offer wire-free convenience and ease of setup, not all turntables support Bluetooth. Hence, traditional wired connections such as RCA (common for most turntables) and AUX inputs are vital to check for compatibility. Speakers with a USB input can be an added advantage for turntables with a USB output. Ultimately, selecting speakers with versatile connectivity options can ensure seamless integration into your audio setup.
Price range
When budgeting for your powered speakers, an excellent rule of thumb is to align the speaker's cost with the price of your turntable. This isn't a hard and fast rule, but it helps maintain a balance in terms of quality between the devices. After all, a high-end turntable paired with budget speakers may not deliver the audio performance the table is capable of, and vice versa.
In the vast sea of audio equipment prices, from entry-level to high-end, ensuring this balance between your components can guide you towards a harmonious, high-quality vinyl listening journey.