The world of DJing revolves around the heartbeat of the turntable, a powerful tool that merges technological prowess with vintage appeal. Whether you're a seasoned maestro behind the decks or an eager novice ready to dive into the beat, finding the best DJ turntables can significantly elevate your performance.
Understanding this, I've rolled up my sleeves and sifted through the market's vast array of options, homing in on some standout models that truly shine in their respective brackets. My lineup spans across diverse price ranges, guaranteeing an ideal match for different financial capacities and functional requirements. From high-end machines fine-tuned for the seasoned mixmaster to sturdy, budget-friendly turntables that pave the way for newcomers, this article endeavors to streamline your selection process.
Our pick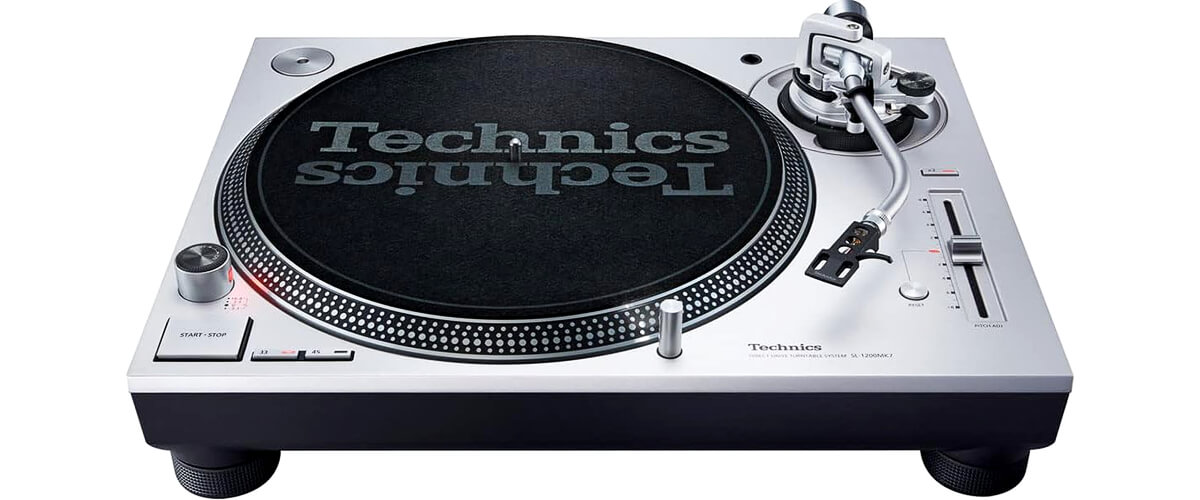 Technics SL 1200 MK7
Best turntable for DJ
A new standard in DJ turntables, the SL-1200MK7 achieves the highest possible sound quality and wide-ranging DJ functions to expand audio possibilities.
Read the full review
.
Turntables for DJ comparison table
Name
Operation type
Speeds
Phono Pre-Amp
Speakers
Bluetooth
Review
Technics SL 1200 MK7

best overall

manual
33 1/3, 45
no
no
no
Review
Pioneer DJ PLX-1000

also great

manual
33 1/3, 45
no
no
no
Review
Reloop 8000 MK2

hybrid option

manual
33 1/3, 45, 78
yes
no
no
Review
Audio-Technica AT-LP1240-USBXP

mid-priced turntable

manual
33 1/3, 45, 78
yes
no
no
Review
Pioneer DJ PLX-500

for beginners

manual
33 1/3, 45, 78
no
no
no
Review
Professional DJ turntables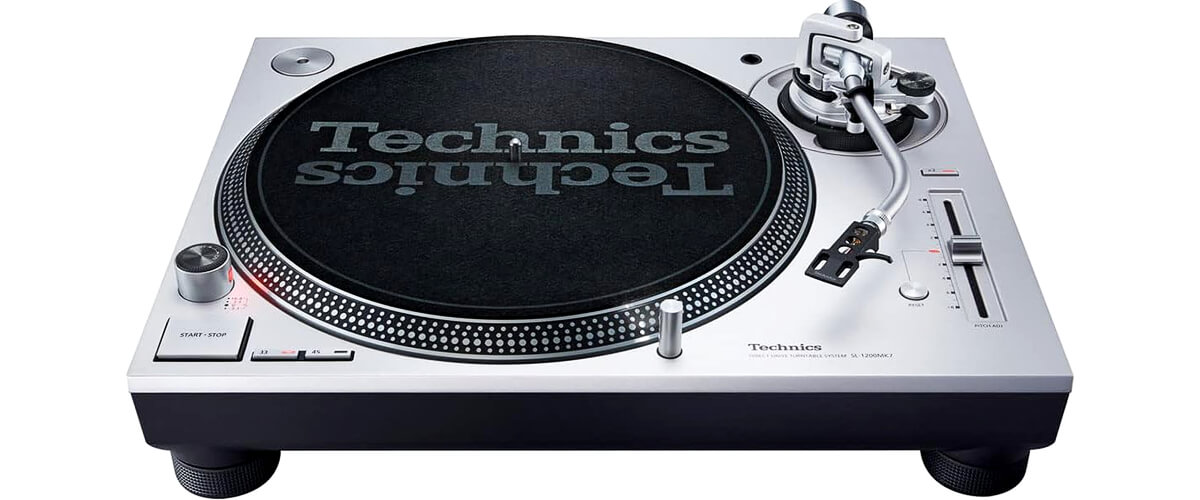 At first sight, the Technics SL 1200 MK7 exhibits an aura of reliable craftsmanship. It stands firmly, exuding confidence and professionalism, courtesy of its fully insulated rigid mass structure. This attribute sets the stage for an unbeatable vibration-damping capability, a quality that significantly impacts your DJing experience.
While spinning records, the dreaded hums, and rumbles can turn a melodious track into an amateurish nightmare. This is where the Technics SL 1200 MK7 shines – its damped feet effectively absorb all vibrations, providing the clearest and crispest sound possible. Imagine commanding the decks at a packed club, and every beat and melody resonates with stunning clarity, leading to a mesmerizing audience experience.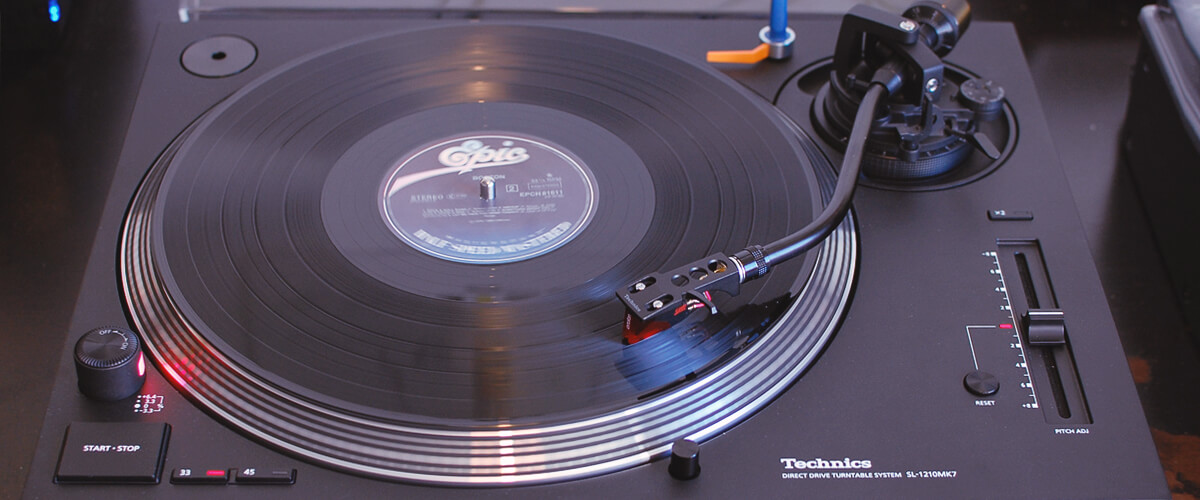 Then, there's the heart of the turntable – the high-precision coreless direct drive motor. With this feature, you can expect a flawless rotation with excellent torque, ensuring that your mixing skills are displayed perfectly. To enhance your mastery, the ±6% or ±16% pitch control facilitates creative mixing, allowing you to experiment with tempo transitions effortlessly.
Now, how does this prime specimen stack up against another formidable competitor – the Pioneer DJ PLX-1000? Both can boast excellent sound reproduction and operation with high-torque direct-drive systems. However, Technics SL 1200 MK7's inclusive package, featuring dough cables, a slipmat, & a 45-turn center, and the robust vibration-damping structure gives it an edge. Although the Pioneer model also provides outstanding performance, Technics' comprehensive design and features make it our top-list model and, arguably, the overall best turntable for DJ.
In conclusion, the Technics SL 1200 MK7 is a maestro's instrument – a combination of engineering marvel and artistic tool! It's a dream device for DJs who strive for precision, flexibility, and crystal-clear sound in their performances.
Key specs
Drive type: belt.
Operation type: manual.
Speeds, RPM: 33 1/3, 45.
Phono Pre-Amp: no.
Speakers: no.
Bluetooth: no.
USB: no.
AUX: no.
Pros
The fully insulated rigid mass structure with damped feet effectively reduces vibrations.
Accurate and consistent sound reproduction.
The pitch control range offers a great deal of flexibility when mixing tracks.
3 speeds of 33/45/78 RPM cater to different music formats and DJ styles.
Cons
The head is not included, meaning you must purchase this separately.
Pioneer DJ PLX-1000 – also great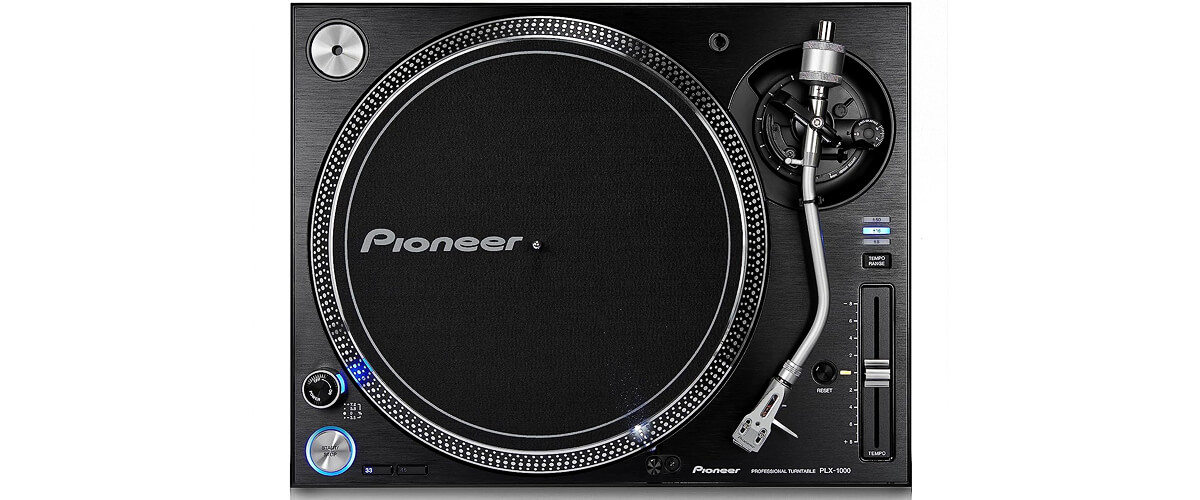 The Pioneer DJ PLX-1000 is a professional DJ turntable that focuses on doing its job well. Eschewing fancy add-ons, it hones in on perfecting its fundamental traits. A high-torque direct-drive analog mechanism is at its nucleus, promising precise, consistent, and steady audio output. As a DJ, this assurance translates into an unwavering performance that orchestrates your audience into a harmonious rhythm with your beats.
A defining feature of the PLX-1000 is its commitment to reducing sound interference. The pet peeve of any DJ is intrusive static or buzzing that distracts from the audio masterpiece they're curating. With this TT, your sound stays pristine, ensuring your audience experiences your set as intended, free of disturbances.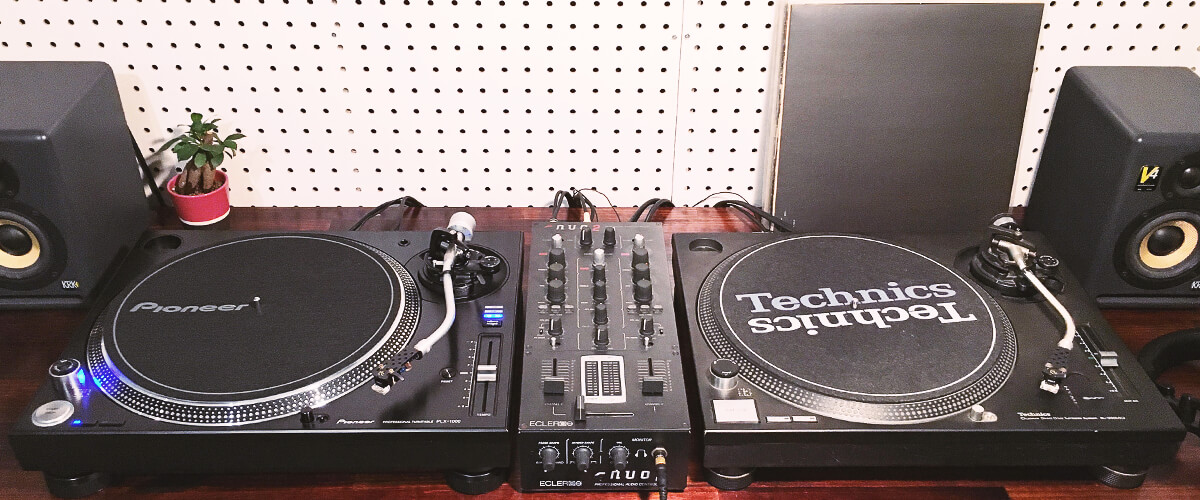 Adding to its allure is the versatility of its tempo adjustments. With three tempo ranges, your creative scope broadens, effortlessly alternating between mellow, ambient soundscapes and pulsating dance anthems. Combined with gold-plated RCA jacks offering reduced impedance and superior audio quality, your performance achieves a higher level of excellence.
This model might not boast certain features like adjustable damping or multiple pitch control settings found on other devices. But therein lies its appeal – the absence of an overwhelming array of controls lets you concentrate on DJing essentials: song selection, mixing, and crowd engagement. For DJs yearning for more complexity, additional peripherals like FX controllers or mixers can complement the setup.
Pioneer DJ PLX-1000 is a tribute to the power of minimalism. It offers a sturdy, dependable, and efficient machine, focusing on essentials without unnecessary frills. It's about delivering a pure DJing experience, making it the ideal companion for those who appreciate simplicity, consistency, and clean, undisturbed sound in their performances.
Key specs
Drive type: belt.
Operation type: manual.
Speeds, RPM: 33 1/3, 45.
Phono Pre-Amp: no.
Speakers: no.
Bluetooth: no.
USB: no.
AUX: no.
Pros
Substantial weight for stability.
Excellent sonic performance, particularly when paired with high-quality preamps and cartridges.
Quiet operation with no noted tonearm bearing issues.
Comes with high-quality cables and a detachable power cord.
Offers good value for money for budget-conscious audiophiles.
Cons
Requires a cartridge and a needle which are sold separately, potentially increasing the overall cost.
The cover is not hinged, making it potentially less convenient to use.
Reloop 8000 MK2 – hybrid option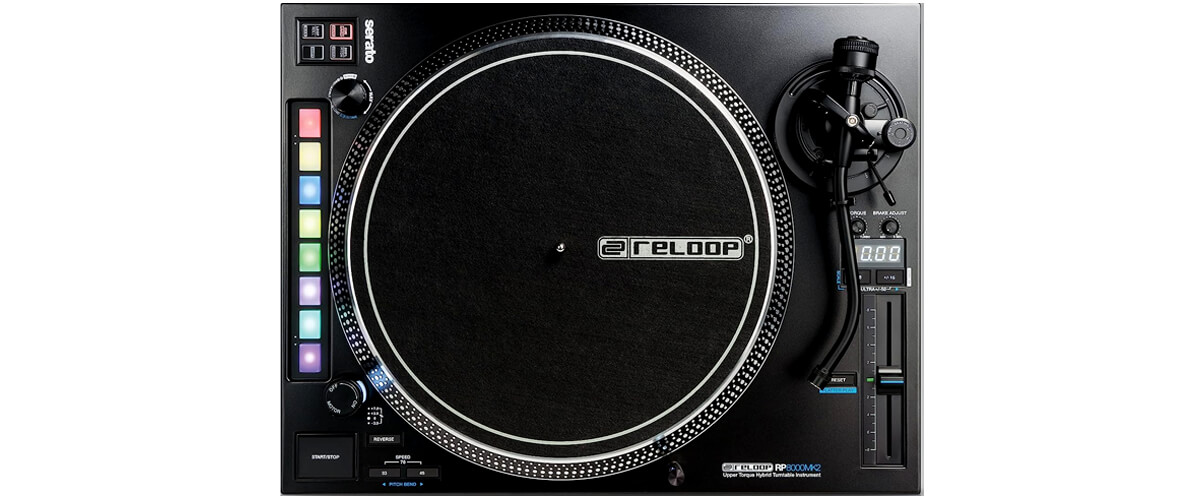 First impressions count, and the Reloop 8000 MK2 does not disappoint. Its robust chassis construction, featuring reinforcements from metal, rubber, and molding compound, marks the beginning of an enthralling DJing journey. This sturdy foundation provides excellent vibration damping and isolation.
What sets the Reloop 8000 MK2 apart from other turntables is its unique hybrid functionality. Crafted in partnership with leading turntable musicians and optimized for Serato DJ Pro, it allows DJs to navigate an advanced and diverse musical terrain. The control of seven unique, color-coded performance settings empowers you to fine-tune your sound in response to your audience's vibe. With this, you can inject an element of surprise into your performance, crafting a memorable atmosphere that sets you apart from the crowd.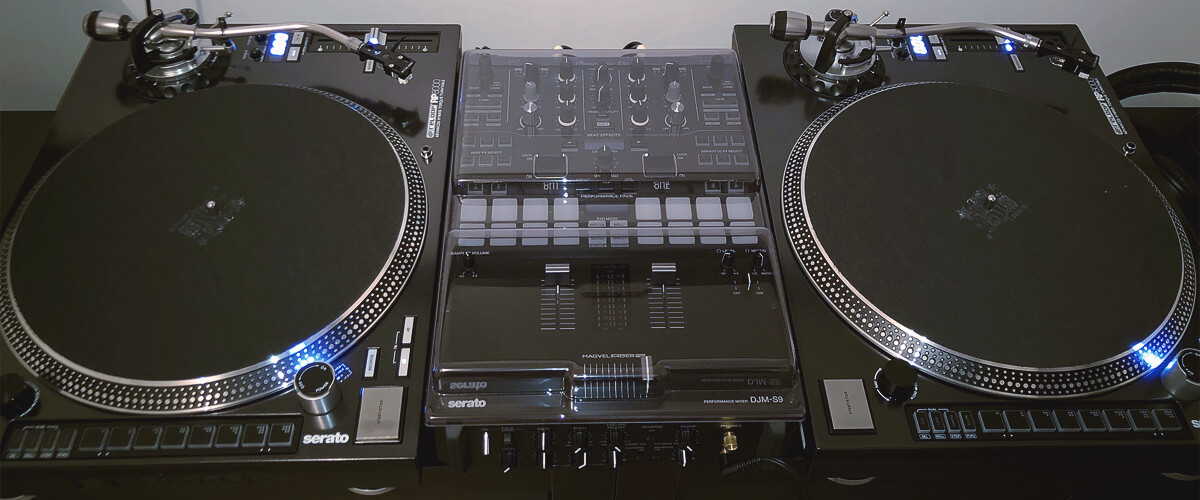 The innovative Platter Play feature is another distinguishing factor. This unique element uses pad controls to alter the platter's speed, allowing for more musical interaction with your tracks and enabling you to perform live melodies on the turntable. This seamless blend of DJing and live music performance elevates a standard set into a truly unique auditory experience, captivating your audience.
On the flip side, the feature-rich interface of the 8000 MK2 may appear daunting for novices or those less tech-savvy. But don't be deterred – the depth and flexibility this turntable offers more than justify the learning curve.
The Reloop 8000 MK2 is a top choice for professional DJs and turntablists who like experimenting and creating complex performances. It's particularly beneficial for those using Serato DJ Pro and keen to explore the creative potential of their turntables.
Key specs
Drive type: belt.
Operation type: manual.
Speeds, RPM: 33 1/3, 45, 78.
Phono Pre-Amp: yes.
Speakers: no.
Bluetooth: no.
USB: yes.
AUX: no.
Pros
Excellent build quality, designed to last for years.
Convenient knobs.
MIDI controls allow you to map your tables and finger drum.
Ultra pitch feature with a display screen showing BPM and key for better control.
Includes eight pads for added functionality during mixing.
Cons
Lacks a built-in beat-matching feature, which may be a downside for some users.
The tonearm weight is light, which could cause balancing issues with certain headshells.
Serato function buttons only work with the Pro version of the software, leading to potential extra costs.
Mid-priced DJ turntables
Audio-Technica AT-LP1240-USBXP – mid-priced turntable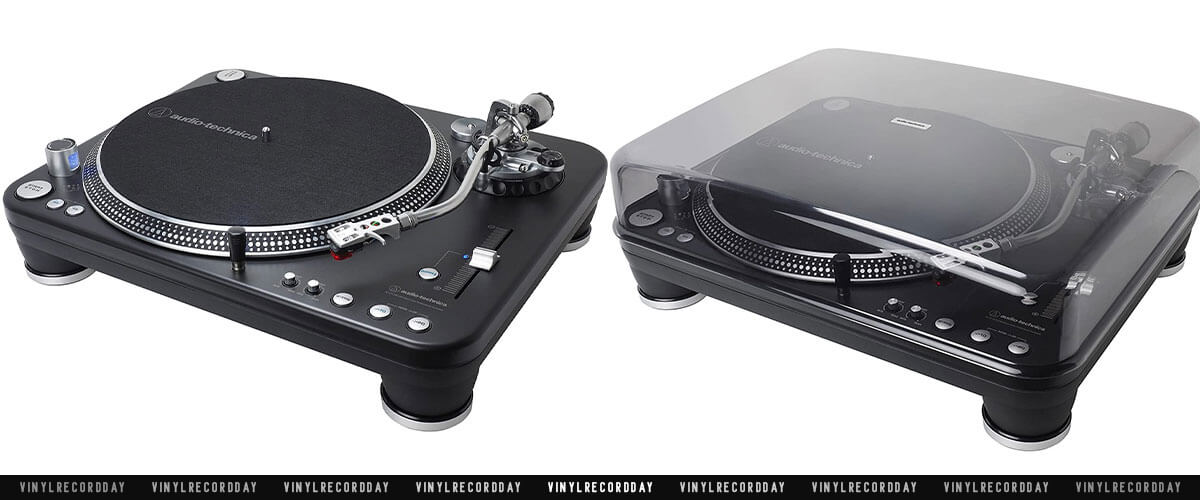 The Audio-Technica AT-LP1240-USBXP proves to be a robust offering in the mid-range market of turntables DJ set options. As a professional DJ, I was impressed by the high-torque multipole motor. This feature manifests in exceptionally responsive start-up times and pinpoints control – critical aspects for DJs handling intense, live mixing scenarios.
One noteworthy attribute of this turntable is its fully manual operation. While this may deter beginners, it's a real perk for DJs valuing hands-on control and real-time manipulation of their mixes. For instance, the variable start and brake control adjustments allow DJs to introduce stylized transitions, providing that personalized touch to their sets.
The selectable 33/45/78 RPM speeds offer a versatile feature often absent in other mid-range models. This flexibility ensures the AT-LP1240-USBXP can accommodate a wider variety of vinyl records, a distinct advantage for DJs with eclectic music collections.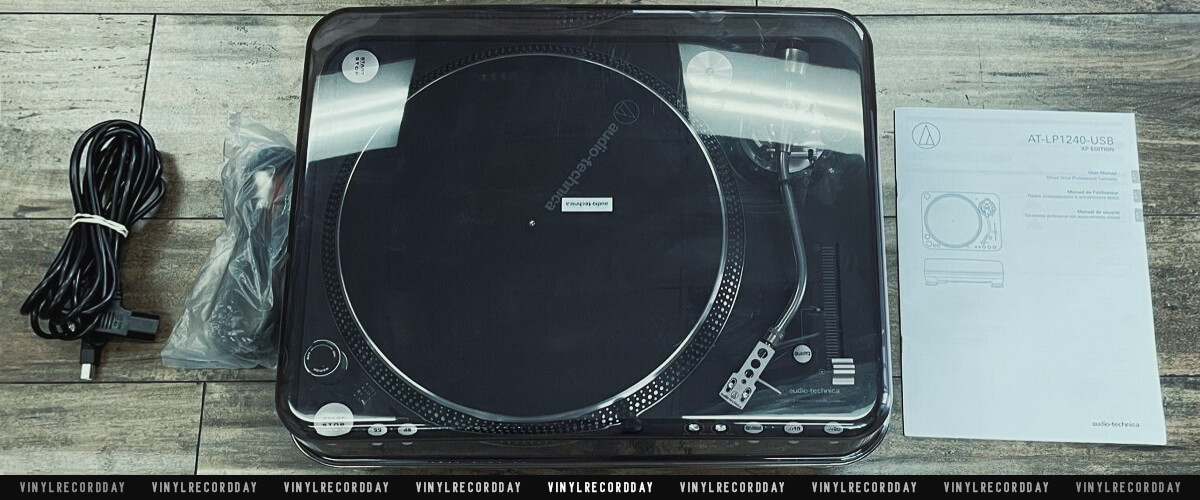 Another triumph is the anti-resonance, damped die-cast aluminum platter. The resultant stability and vibration reduction noticeably enhance sound reproduction. I found the sound output cleaner and clearer, even under demanding DJ use.
Our next-in-line model Reloop RP-7000 MK2 and the current Audio-Technica AT-LP1240-USBXP are both high-quality products sitting in the same price range. So, what's the difference between them? While the former offers advanced tonearm adjustments, the latter's robust motor, increased speed variability, and superior vibration damping make it a more suitable and reliable choice for most DJs.
To wrap up, the Audio-Technica AT-LP1240-USBXP presents a perfect blend of control, versatility, and durability. It's a reliable and competent workhorse in the bustling world of DJ turntables – an optimal balance between performance and price that's hard to surpass.
Key specs
Drive type: belt.
Operation type: manual.
Speeds, RPM: 33 1/3, 45, 78.
Phono Pre-Amp: yes.
Speakers: no.
Bluetooth: no.
USB: yes.
AUX: no.
Pros
Sturdy and durable build quality.
Bright, blue LED tracking lights, useful in low-light conditions.
Comes with a cartridge and stylus included.
Features a phono/line switch for added versatility.
Good isolation helps prevent skipping, even in environments with some movement.
Cons
The tonearm lift control lever doesn't feel really durable.
The counterweight may not feel as heavy and solid as some users might expect.
Reloop RP-7000 MK2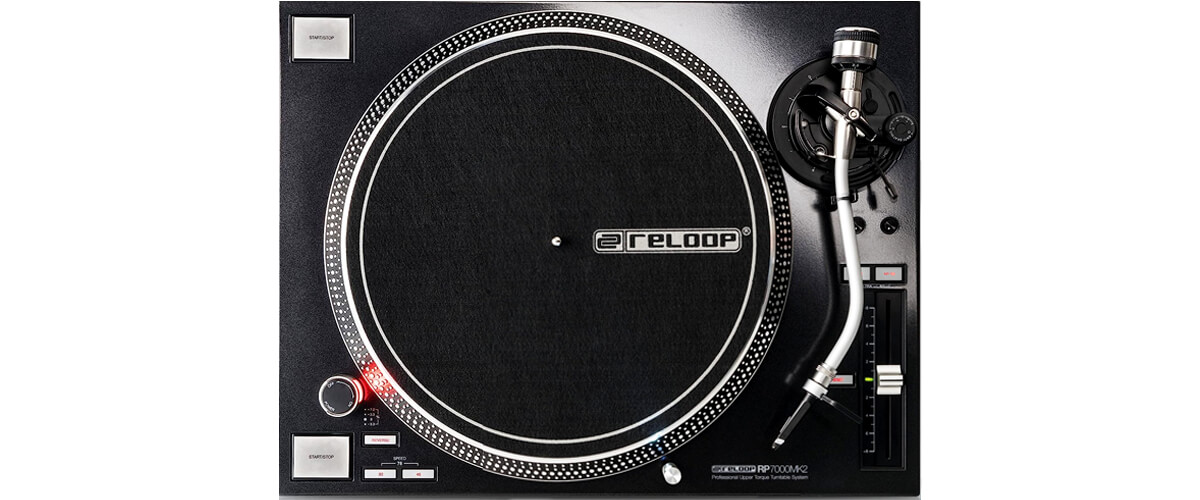 The Reloop RP-7000 MK2 steps up as a formidable contender in the bustling realm of mid-range direct-drive turntables. I was taken by its robust construction and power-torque system, ensuring stable rotation and precise motor control – dream characteristics for any turntablist or club DJ.
A stand-out feature of this model is the height-adjustable tone arm base (VTA) and efficient anti-skating mechanism. This offers users a level of nuanced control often found in higher-end models. By adjusting the VTA, DJs can optimize the stylus angle on the groove, enhancing sound clarity and reducing record wear. This particularly shines in club environments where sound quality is paramount.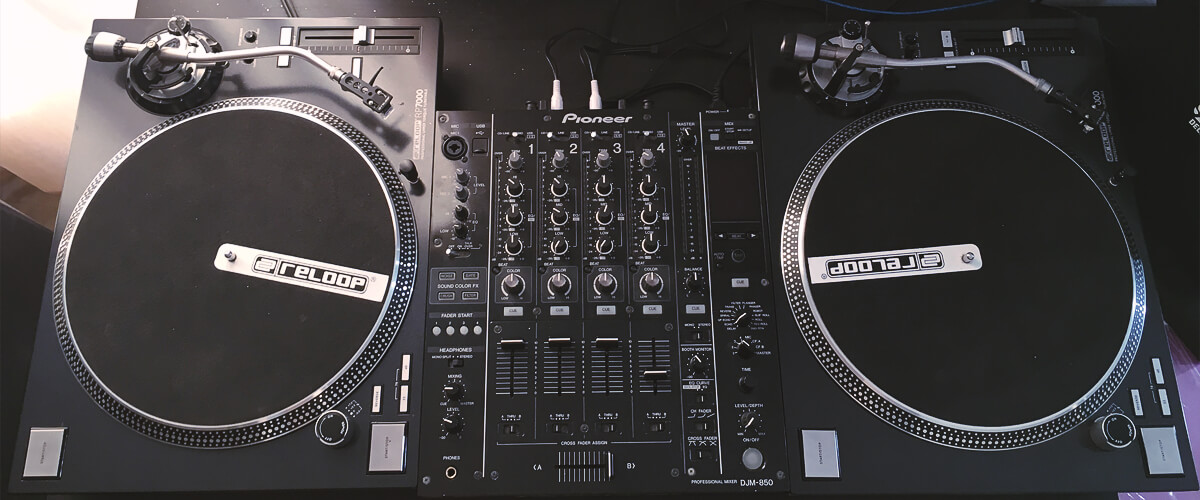 The extra-heavy body design serves as a double-edged sword. On the one hand, it ensures superior damping and sound isolation, keeping those beats pristine. But on the other hand, this sturdiness can impede portability, a limitation for mobile DJs. A possible workaround might be investing in a reliable carrying case to transport this heavyweight machine safely.
While the RP-7000 MK2 might lack the speed variability of the Audio-Technica AT-LP1240-USBXP, it compensates with its firm focus on sound reproduction precision and control. It's worth noting that the most popular vinyl records are either 33 or 45 RPM, which this table handles flawlessly.
In conclusion, the Reloop RP-7000 MK2 is a reliable stalwart among mid-range DJ turntables. With its unwavering design, precision in control, and sound quality, this might be the pivotal gear to elevate your DJing journey from simply satisfying to truly memorable.
Key specs
Drive type: belt.
Operation type: manual.
Speeds, RPM: 33 1/3, 45, 78.
Phono Pre-Amp: yes.
Speakers: no.
Bluetooth: no.
USB: no.
AUX: no.
Pros
Built like a tank.
Easy to use with adjustable arm and stable weight.
Great torque and high-quality pitch slider.
Speed is accurate and anti-skate works well.
Cons
The turntable might not appeal to purists.
DJ turntables for beginners
Pioneer DJ PLX-500 – for beginners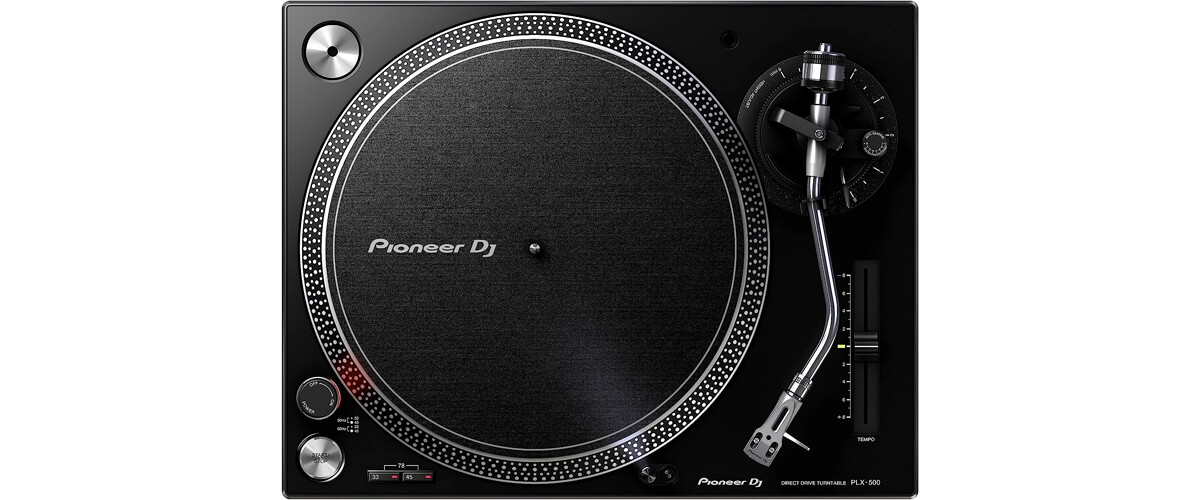 The Pioneer DJ PLX-500 is a beginner-friendly DJ turntable that does not compromise sound quality. Its core appeal lies in its smart design, which enables the shortest possible audio routing from the stylus to the outputs, minimizing distortion. If you're hosting a backyard party or DJing your first gig, this feature guarantees your vinyl records will be heard in full, vibrant glory.
A standout attribute of this model is its seamless blend of the classic and modern. Want to relish the warmth of vinyl but also keep up with the digital age? The PLX-500 shines in this respect, allowing you to convert your vinyl records into high-quality digital files. Simply connect the turntable to your PC or Mac via the USB out and preserve your collection in the digital realm.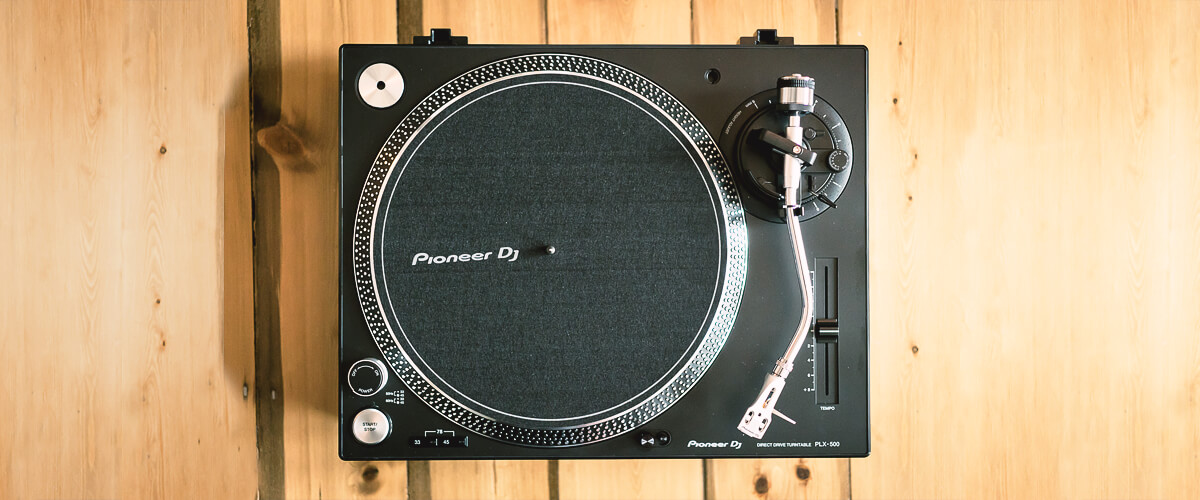 Now, how does the PLX-500 compare to the Reloop RP-2000 MK2? While the RP-2000 MK2 is a robust option for traditional vinyl playback, it lacks the PLX-500's digital convenience and Rekordbox compatibility. The PLX-500 not only allows you to play and mix vinyl records, but it also opens the gateway to perform with your digital files when combined with Rekordbox DVS, a compatible DJ mixer, and the RB-VS1-K Control Vinyl. This provides a platform for you to explore and experiment, pushing the boundaries of your creative expression.
In essence, the Pioneer DJ PLX-500 is the perfect blend of nostalgia and innovation for an aspiring DJ. Turn the tables on your DJing journey with this harmonious blend of the old and new.
Key specs
Drive type: belt.
Operation type: manual.
Speeds, RPM: 33 1/3, 45, 78.
Phono Pre-Amp: no.
Speakers: no.
Bluetooth: no.
USB: yes.
AUX: no.
Pros
Decent build quality for the price point, including large, sound-isolating feet.
Top-notch audio output, which even improves the sound of worn-out records.
Includes a variety of extras like gold-tipped audio cables, USB cable for vinyl-to-MP3 conversion, slipmat, dust cover, stylus, cartridge, and a 45 adapter.
Excellent value for money.
Cons
The tonearm height adjustment might not go low enough for certain cartridges.
The cartridge's heavy tracking force could lead to dust accumulation and resultant distortion.
Built-in output cables cannot be replaced.
Reloop RP-2000 MK2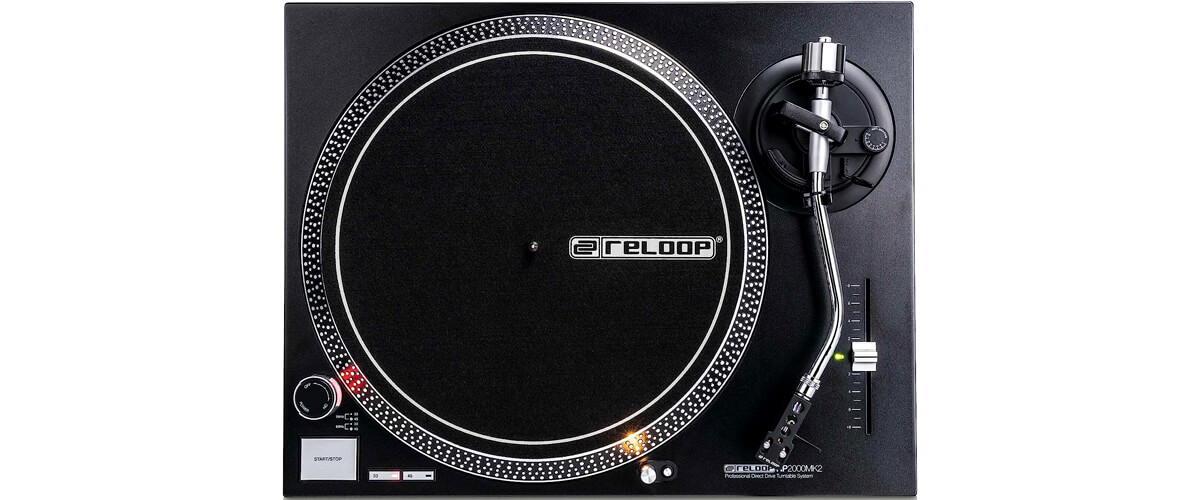 Built for those starting their DJ journey, the Reloop RP-2000 MK2 highlights the beauty of simplicity while ensuring high-quality performance.
This model's sturdy, quartz-driven motor with precise control delivers consistent and accurate platter rotation, which is essential when fine-tuning your beatmatching skills. Imagine setting up for your first live session or a casual gathering with friends – this stable rotation ensures your performance stays smooth and reliable.
Its precision-engineered, die-cast aluminum platter adds to this stability, granting you the confidence of a flawless performance. Accompanied by a redesigned metal top panel and reinforced housing, the RP-2000 MK2 not only sounds good but feels good, too, echoing the craftsmanship often found in higher-end models.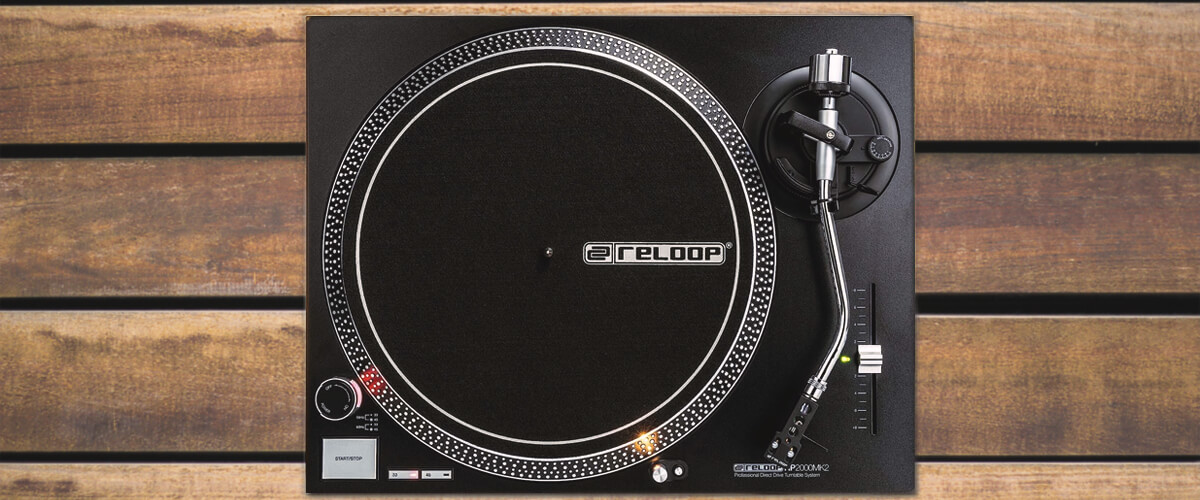 The inclusion of a statically balanced S-shaped tonearm with hydraulic lift and anti-skating mechanism further enhances sound quality. Even as a novice, you'll be able to appreciate the natural, clear audio, elevating your sets from ordinary to extraordinary.
Now, it's important to note the RP-2000 MK2's purist approach. It may not offer the digital conversion features of the Pioneer DJ PLX-500 or its software compatibility. Still, it provides an authentic, hands-on experience ideal for those looking to immerse themselves in traditional vinyl DJing. To bridge this gap, you could pair it with a good digital interface for a hybrid setup, granting you access to both worlds.
In summary, the Reloop RP-2000 MK2 is a champion for beginner DJs who desire a sturdy, reliable, and simple-to-use turntable. It leans into its strengths of delivering excellent analog performance, providing a robust foundation for those eager to explore the art of DJing.
Key specs
Drive type: belt.
Operation type: manual.
Speeds, RPM: 33 1/3, 45.
Phono Pre-Amp: no.
Speakers: no.
Bluetooth: no.
USB: yes.
AUX: no.
Pros
Good build and sound quality.
Silent operation, despite having a direct drive motor.
Maintains speed well, which is especially beneficial for beat matching.
Allows experimentation with different setups due to the Technics' shell connector.
Good balance between the tonearm setup and the provided cartridge.
Cons
The top metal plate might not provide as much dampening as expected.
Dust cover needs to be purchased separately.
What to consider when choosing a DJ turntable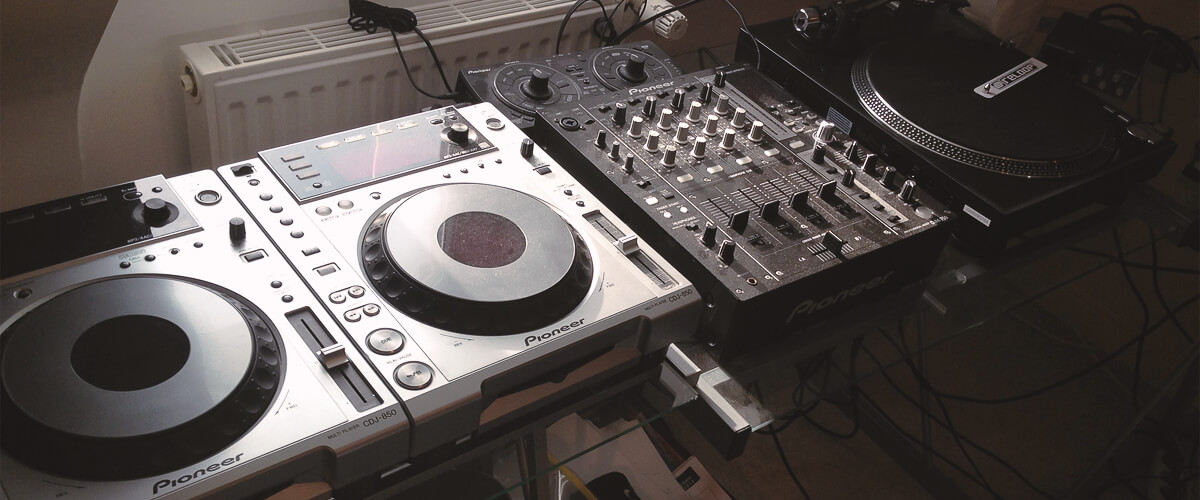 Next up, we're going to demystify the intricacies of choosing the best turntables for DJing. I'll delve into crucial considerations, helping you refine your selection and find your ideal match. Stay tuned!
Drive type
When it comes to the heart of a DJ turntable, the drive type significantly influences its performance. Two main types of drive systems are commonly used: direct drive and belt drive. But the former often stands out as the preferred choice for DJs.
The direct-drive system positions the motor directly beneath the platter, providing a direct transfer of energy and thus ensuring consistent rotational speed. This design equates to a faster start-up time, meaning the platter reaches the desired speed almost instantaneously – an important feature when beatmatching or scratching.
In contrast, belt-drive turntables, where the platter is spun by a belt connected to the motor, have a reputation for excellent sound quality. However, their slower start-up and speed inconsistency make them less ideal for the quick, precise adjustments DJs often require.
Lastly, direct-drive turntables tend to have stronger torque, translating into better control over the record, which is paramount for techniques like cueing, scratching, or backspinning.
Considering all these factors, I've ensured all TTs on my list are direct-drive models, providing you with the precise control and quick response times necessary for stellar DJ performances.
Torque
Torque is a crucial yet often overlooked aspect when selecting good DJ turntables. In layman's terms, torque refers to the player's motor strength – the rotational force it provides to spin the platter. It directly impacts how quickly your TT responds, particularly when starting from a stop or manipulating the record for DJ techniques such as scratching or backspinning.
High-torque machines offer swift start-up times and maintain a consistent speed, which is critical for maintaining seamless beat matching and mix transitions. Too little torque and the platter speed may falter, disrupting your mix and affecting the overall performance.
All the turntables I've curated here come with adequate torque. They offer swift, reliable responses to meet the needs of most DJs, whether you're laying down a smooth mix or showcasing your scratching skills.
Weight and durability
These indicators are the next essential factors on our journey through turntable terrain. It may seem counterintuitive in an era where lightweight and portable are buzzwords in tech, but in the realm of DJing, heavier often equates to better.
A turntable's weight is directly tied to its build quality and, consequently, its performance. Heavier turntables generally contain more metal in their construction, which leads to enhanced sturdiness and durability – key features when your DJ gear is regularly moved and set up at gigs. Additionally, a heavier chassis can better absorb vibrations, preventing unwanted interference from creeping into your sound output.
Moreover, the robustness that comes with a bit of heft also means these players can endure the high-energy handling DJs often employ. From aggressive scratching to rapid-fire cueing, a well-built, weighty machine is less likely to miss a beat.
Tonearm
Now, let's shed some light on the 'arm' of the turntable: the tonearm. This component serves a vital purpose in ensuring the stylus tracks the grooves of your vinyl accurately, hence playing a pivotal role in the sound quality of your mixes.
There are two main forms of tonearms: straight and S-shaped. However, the debate over which form reigns supreme remains hotly contested among DJs and audiophiles.
With its iconic curvature, the S-shaped tonearm offers a wider range of adjustment possibilities. It's traditionally associated with less wear on the vinyl, which can be beneficial for DJs using precious record collections.
On the other hand, straight tonearms are often praised for their superior tracking ability, especially beneficial for scratching since they help prevent skipping.
While each has its merits, the ultimate choice comes down to personal preference and the specific needs of your DJing style. It's a question of balancing your priorities: record wear, tracking performance, or adjustability.
Pitch fader
Pitch fader is a critical control element that dramatically affects your mixing prowess. So, what exactly is this tool, and what is its role in the DJ's arsenal?
The pitch fader, also known as the pitch slider or pitch control, is a device used to adjust the speed of the record's playback. The speed changes consequently affect the pitch of the music being played. The term 'pitch' here is slightly misleading as it does not strictly alter the music's tonality but impacts the track's tempo.
For DJs, a pitch fader is instrumental in beatmatching – the process of aligning the beats of two separate tracks to create a seamless transition or blend. With the right control in your hands, you can guide the energy and flow of your DJ sets, taking your audience on a rhythmic journey they won't forget!
Extra features
As we venture further into mixing turntables, it becomes increasingly evident that while the fundamental components are important, the bonus features amplify your DJing experience, providing practical solutions and creative possibilities. So, let's take a closer look at these added perks.
Reverse play: it allows for creative transitions and effects, giving your mixes an exclusive flavor.
Adjustable start/stop times: the control over how swiftly or gradually your TT starts and stops provides a chance to create dramatic effects and adds depth to your performance.
Target light: a guiding beacon in dimly lit venues, the target light ensures accurate needle drops and seamless transitions, making it an invaluable companion in clubs or outdoor evening sets.
USB connectivity: this modern feature lets you connect your turntable directly to a computer, opening the doors for digital vinyl systems (DVS) or recording your vinyl records digitally.
Built-in phono preamp: skip the hassle of a separate preamp! Turntables with this feature can directly connect to an amplifier or powered speakers, simplifying your setup process.
Replaceable/upgradeable components: turntables that allow component upgrades, such as the cartridge or stylus, give you the freedom to customize your gear, suiting your specific preferences and needs.
Integrated cartridge: especially beneficial for novice DJs, an integrated cartridge removes the need for separate purchase and installation, providing a ready-to-spin solution.
Anti-skating control: this feature ensures balanced stylus tracking, reducing distortion and preserving your beloved vinyl collection.
Vibration damping: minimizing external vibrations, it ensures your sound output remains clean and clear.
Digital display: real-time information like current playback speed at your fingertips can be beneficial for precise, harmonious mixes.
While not every DJ will need all these features, each brings a unique benefit to the table. When choosing your ideal machine, it's worthwhile to consider these 'extras' and how they align with your specific DJing style and requirements.