Audio Technica is a reputable, well-trusted brand that manufactures high-quality vinyl players. If you own a turntable from this brand or plan to buy one, you need to know the best speakers for Audio-Technica record players – they'll help your awesome table to sound even better!
But how to choose the right speakers? You'll find the answers in this review. Now, you don't have to sift through tons of speakers – I handpicked top-rated models based on their overall quality and customers' feedback. So, just make yourself comfortable and keep reading.
Our pick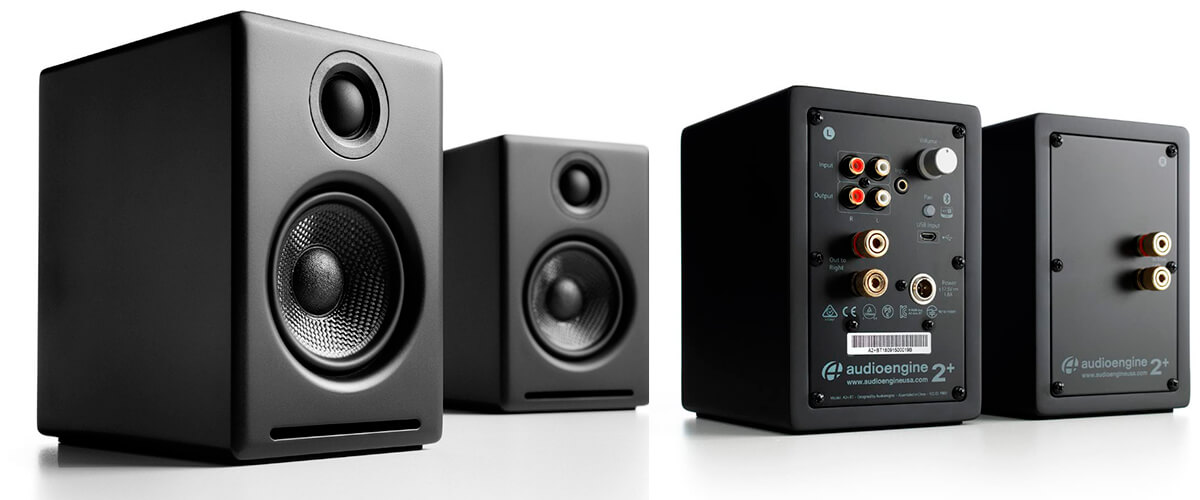 Audioengine A2+
Best speakers for Audio-Technica turntables
The A2+ speakers have good sound. You can connect the speakers to your music from a smart phone, computer, or old tape deck.
Read the full review
.
Speakers for Audio-Technica turntables comparison table
Name
Type
Peak power output
Frequency response
Sensitivity
Bluetooth
Review
Audioengine A2+

best overall

active
60W
65Hz–22kHz
95dBA
yes
Review
Audioengine A5+
active
150W
50Hz–22kHz
95dBA
yes
Review
PreSonus Eris E3.5

budget

active
50W
80Hz–22kHz
100dBA
no
Review
How to choose speakers for an Audio-Technica turntable?
Here are some essentials for choosing the right speakers for your Audio Technica player:
If your deck is Bluetooth-compatible, e.g., AT-LP60XBT or AT-LP120XBT-USB, it's recommended to pick Bluetooth speakers – any of them should work for you.
Choose powered speakers if you don't want to hook up plenty of components. Just make sure they come with a pair of red and white RCA cables that will plug into speakers or a stereo setup.
Choose speakers in a similar price range as the player itself. For instance, there's no point in buying top-class speakers for an entry-level AT-LP60X turntable – you hardly notice any sound improvement.
Best speakers for Audio-Technica record player
For this review, I've selected speakers that are the most compatible with Audio Technica turntables. Moreover, all models you'll find here come equipped with a built-in amplifier – it means you won't have any troubles with hooking up and extra equipment. All you need is to connect speakers to the player and enjoy your tunes!
Speakers under $300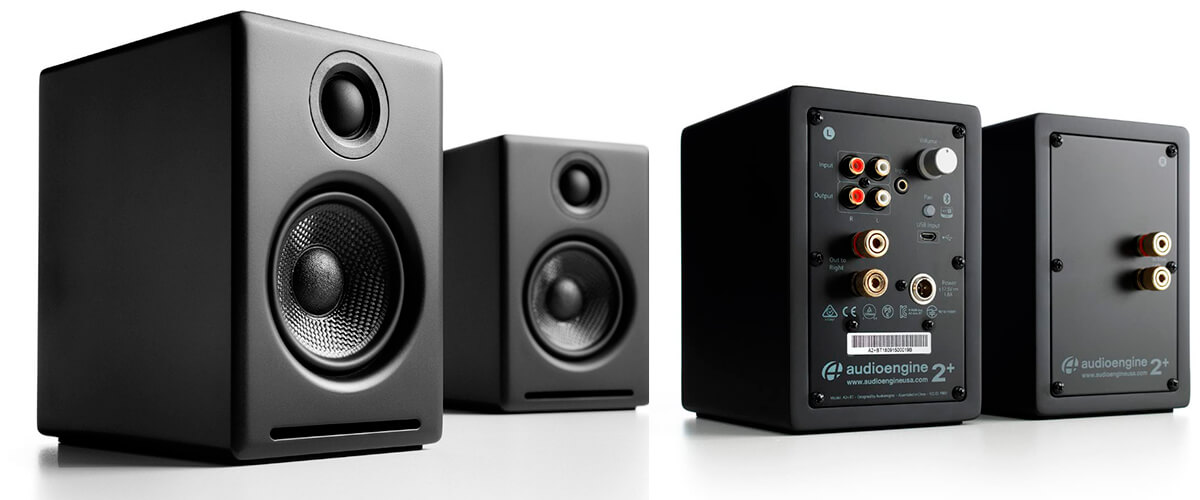 If you are looking for the perfect speakers for your Audio-Technica AT-LP120 or Audio-Technica AT-LP120XUSB, you may end your search here! Audioengine A2+ will provide everything you expect from high-end speakers. They are bathed in professionalism and modern technology.
First off, the A2+ model delivers 60W of power, creating an immersive listening experience. Next, the speakers can boast custom aramid fiber woofers and silk dome tweeters for natural tones, while a built-in DAC with a power supply rail eliminates noise introduced from outside sources.
Thanks to a premium wireless Bluetooth connection with aptX codec support, you can enjoy your audio collection without any wires to worry about tangling up around your feet.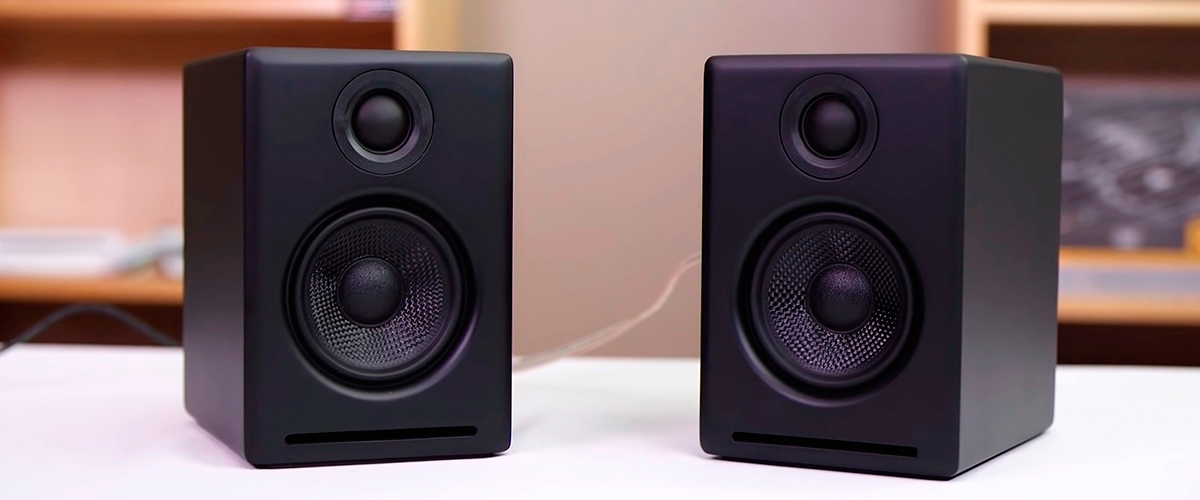 A2+ includes a class A/B power amplifier, USB port, analog inputs, and all necessary cables, which means the system can work right out of the box.
Finally, this speaker system has an elegant, minimalistic design and comes in different colors to complement any home style.
Audioengine A2+ is the overall best speakers for an Audio-Technica record player, especially for the mentioned above models. Their specs and features are impressive for all vinyl lovers who appreciate quality sound and overall feel.
Key specs
Type: active.
Peak power output, W: 60.
Frequency response, Hz: 65Hz–22kHz.
Sensitivity, dBA: 95.
Bluetooth: yes.
Dimensions, inch/cm: 6x4x5.2/15.2×10.2×13.3.
Weight, lb/kg: 6.8/3.
Pros
Big sound in a small body.
Sleek design.
Packed with modern technology.
Easy to get up and running.
Cons
Only 1 input can work at a time – the system doesn't play all sources simultaneously. However, it's a rare need.
Q Acoustics 3020i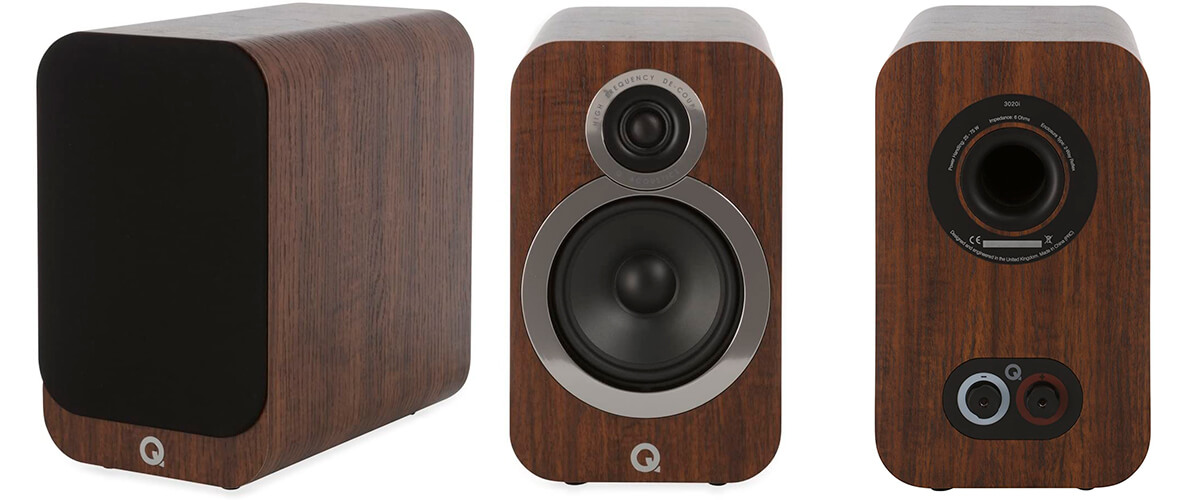 Q Acoustics is a British audio equipment company founded in 1994. Their 3020i model is a cost-effective yet high-performance speaker system that won't disappoint even the most demanding listeners.
The speakers' power output is hefty 50-125W, plus, they feature great sensitivity – 88dB. Moreover, this model boasts 125mm (5 in) and 22mm (0.9 in) decoupled high-frequency drivers with a wide surround that pushes out amazing quality sound. The highs and vocals are crystal clear with zero tinniness. Actually, I listen to a lot of jazz, and I find these speakers just great for my tastes.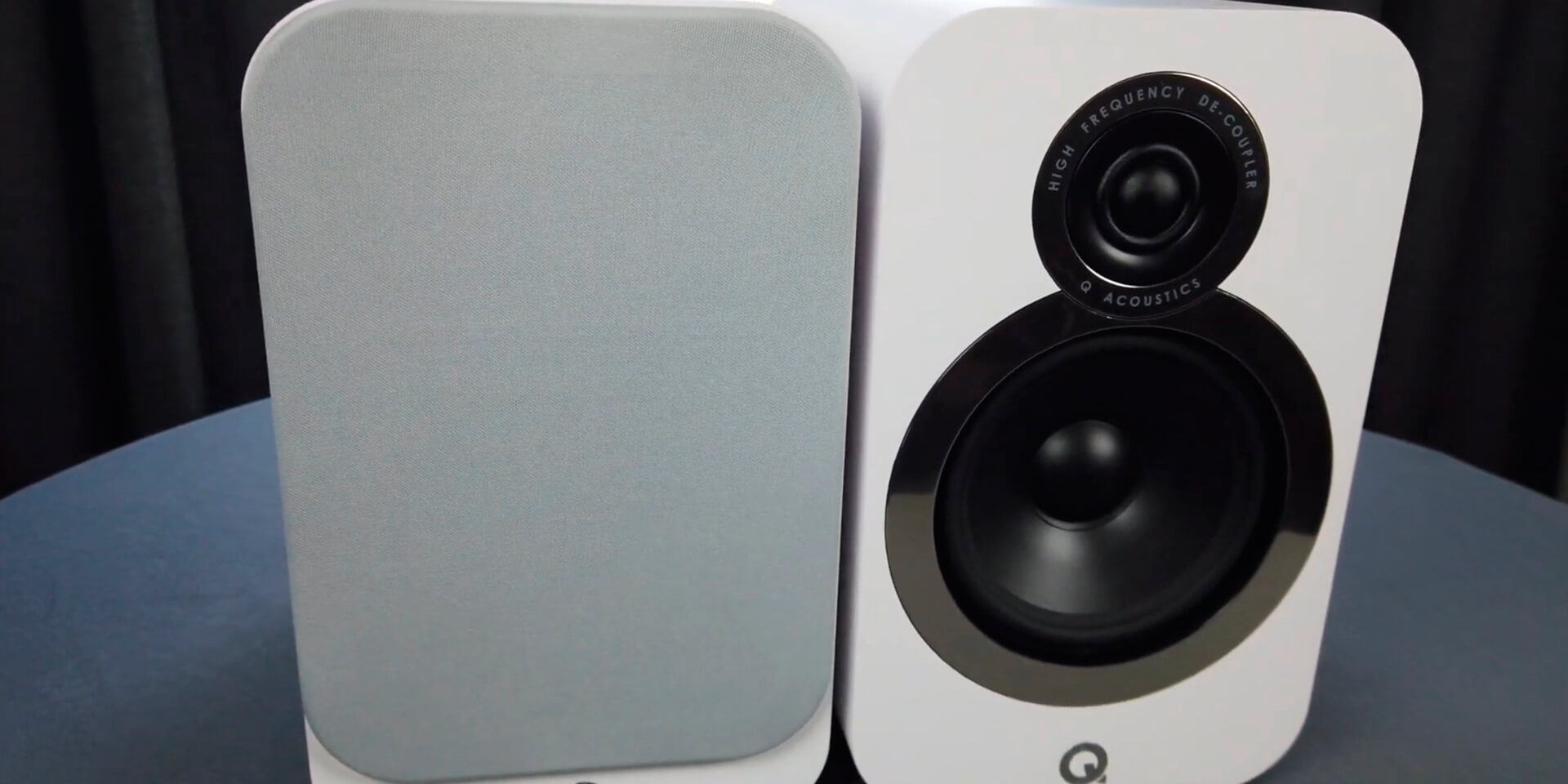 Next, the cabinet volume has been increased over the previous award-winning model and uses the computer-aided placement of internal bracing. It's built to protect speakers against vibration and sound distortion.
Last but not least, using just two wires makes set-up easy, fast, and convenient – there are no messy grounds to worry about!
If you are looking for great speakers for Audio-Technica AT-LPW40 or a similar model, do take a closer look at Q Acoustics 3020i. It's an ideal partner for your turntable for at a reasonable price!
Key specs
Type: active.
Peak power output, W: 75.
Frequency response, Hz: 64Hz–30kHz.
Sensitivity, dBA: 88.
Bluetooth: no.
Dimensions, inch/cm: 10.8×6.7×10.4/27.5x17x26.5.
Weight, lb/kg: 10.6/4.8.
Pros
Excellent, room-filling sound.
Deliver significant power for loud listening.
Good amp.
Binding posts with a low profile for easy room setting.
Cons
Some of the lower and mid-bass may be weak.
Don't do well with hip-hop or bass-heavy genres – you'll need a sub.
Speakers under $500
Audioengine A5+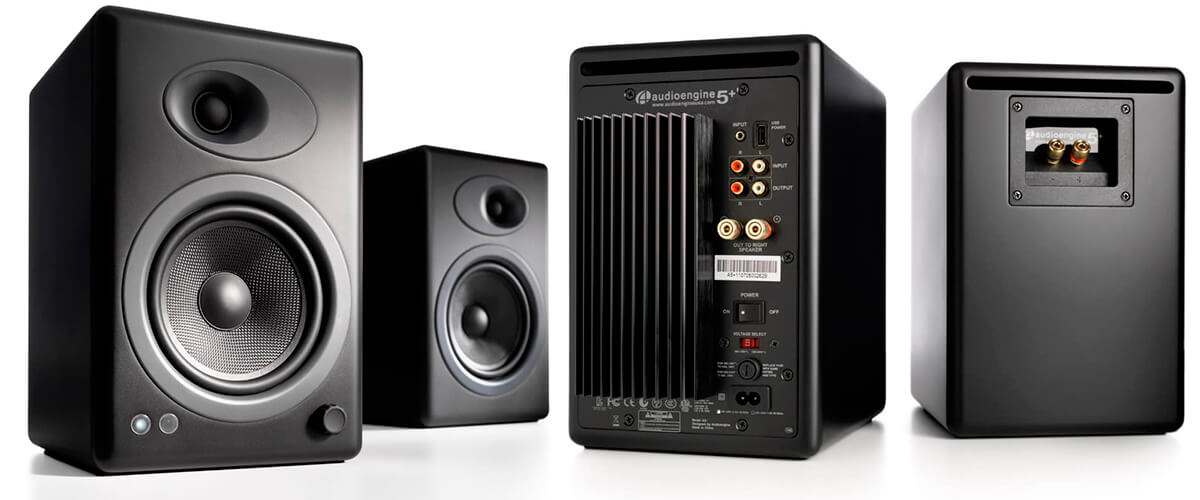 Audioengine A5+ is a one-of-a-kind speaker system designed for audiophile quality music reproduction. It produces crystal-clear, strong audio that fills any room evenly. Actually, I can't think about any aspects of the sound that I'm unhappy with. The guitar and drums sound amazing, while the acoustics feel like you're sitting right in front of them.
All of this is possible due to the great acoustic package! First, the speakers deliver 150 watts of combined peak output, making them super powerful. Next, they can boast premium-class 5'' aramid fiber woofers, ¾'' silk tweeters, and built-in power amps.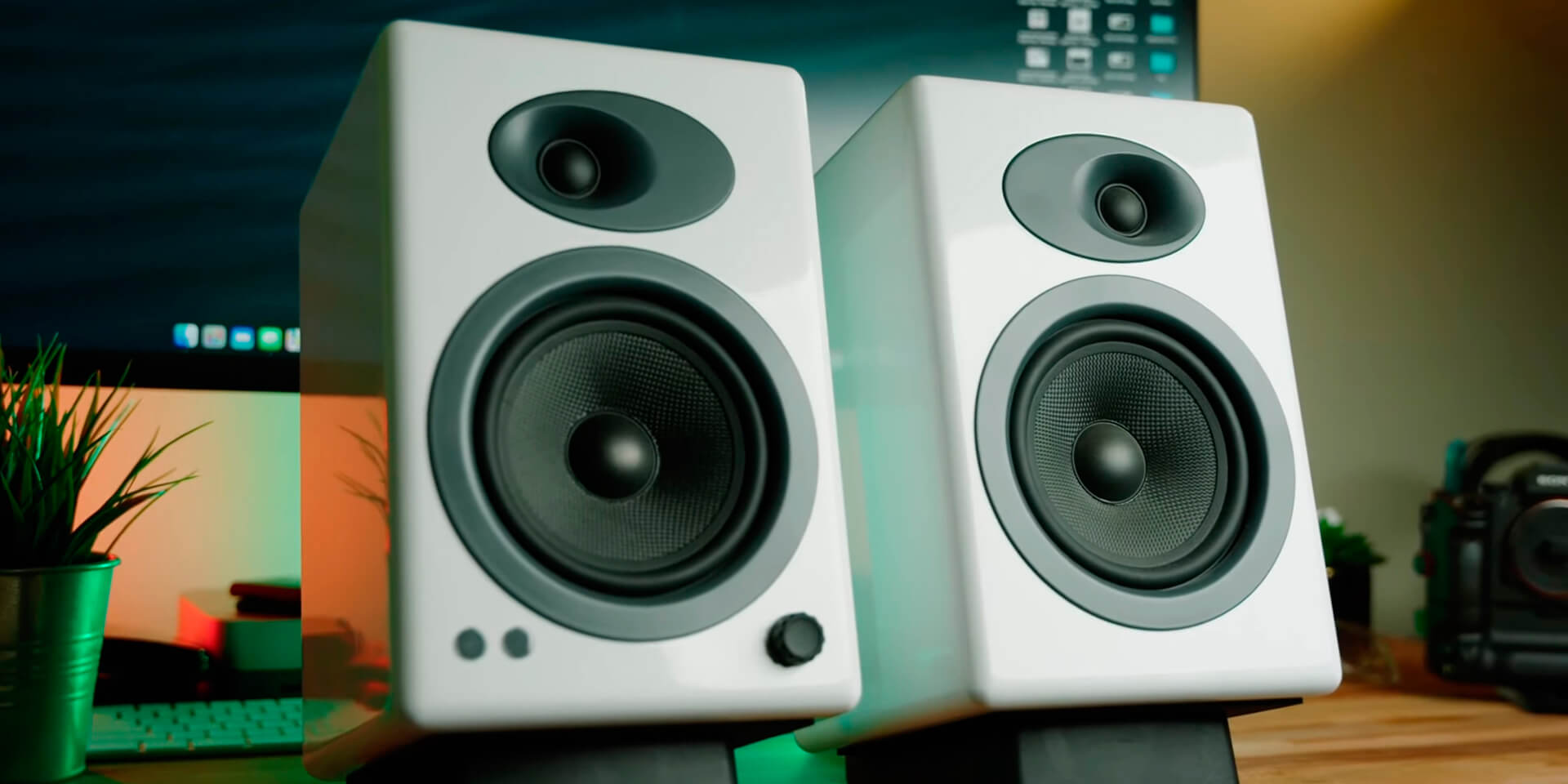 On top of that, the integrated Bluetooth quickly and seamlessly connects to any gadget for an instant upgrade to your listening experience. And if it wasn't enough, this beauty is packed in precision-tuned, meticulously crafted housing!
If you seek good Bluetooth speakers with a bigger sound and more power for the Audio-Technica turntable, try Audioengine A5+. These speakers do exceptionally well with Audio-Technica AT-LP1240-USBXP and Audio-Technica AT-LP7.
Key specs
Type: active.
Peak power output, W: 150.
Frequency response, Hz: 50Hz–22kHz.
Sensitivity, dBA: 95.
Bluetooth: yes.
Dimensions, inch/cm: 10.7x7x9/27x18x23.
Weight, lb/kg: 31/14.
Pros
Superb sound – tight, punchy bass, smooth mid-bass, and clear highs.
Well-tuned for a variety of uses.
Sleek design, comes in different colors.
Hassle-free setup.
Includes remote control.
Cons
It's tough to discern the notch on the dial.
Hard to hide old-fashioned speaker wire.
A bit big for desktop speakers.
Kanto YU6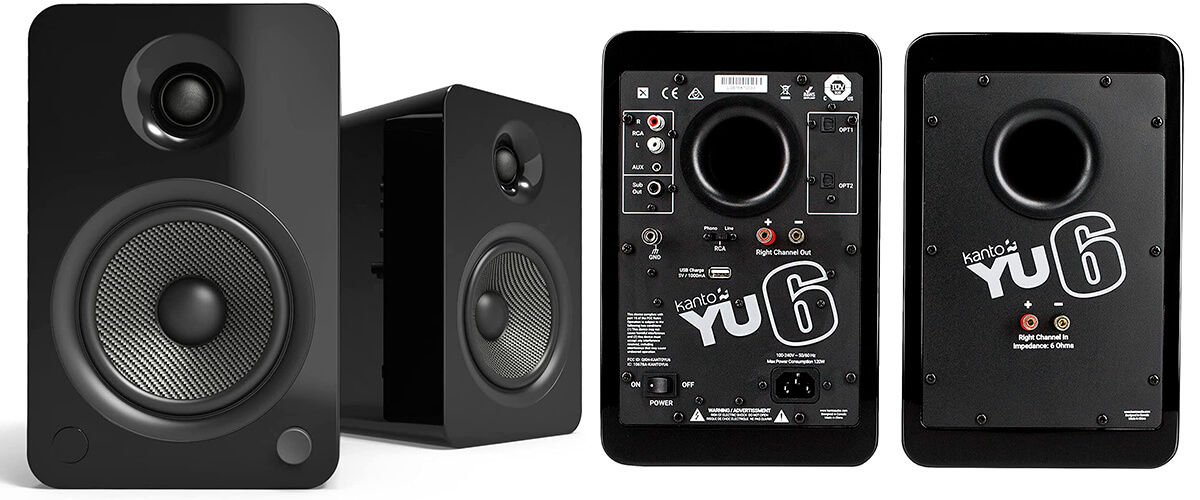 Kanto YU6 speakers are a part of Kanto's latest Artist Series, which was designed with audiophiles in mind. These speakers have an equal appreciation for digital and analog, allowing you to listen to your favorite vinyl as well as digital content.
The YU6 model features 1-inch silk dome tweeters and 5.25-inch Kevlar woofers that produce natural, balanced sound thanks to their larger size and efficient design. With an output power of 200 watts peak Class D amp, the speakers produce the feeling of being at a live performance when enjoying your favorite songs at home. Acoustic grade MDF cabinets only amplify the sound making the speakers perfect for playing music throughout your entire house or office.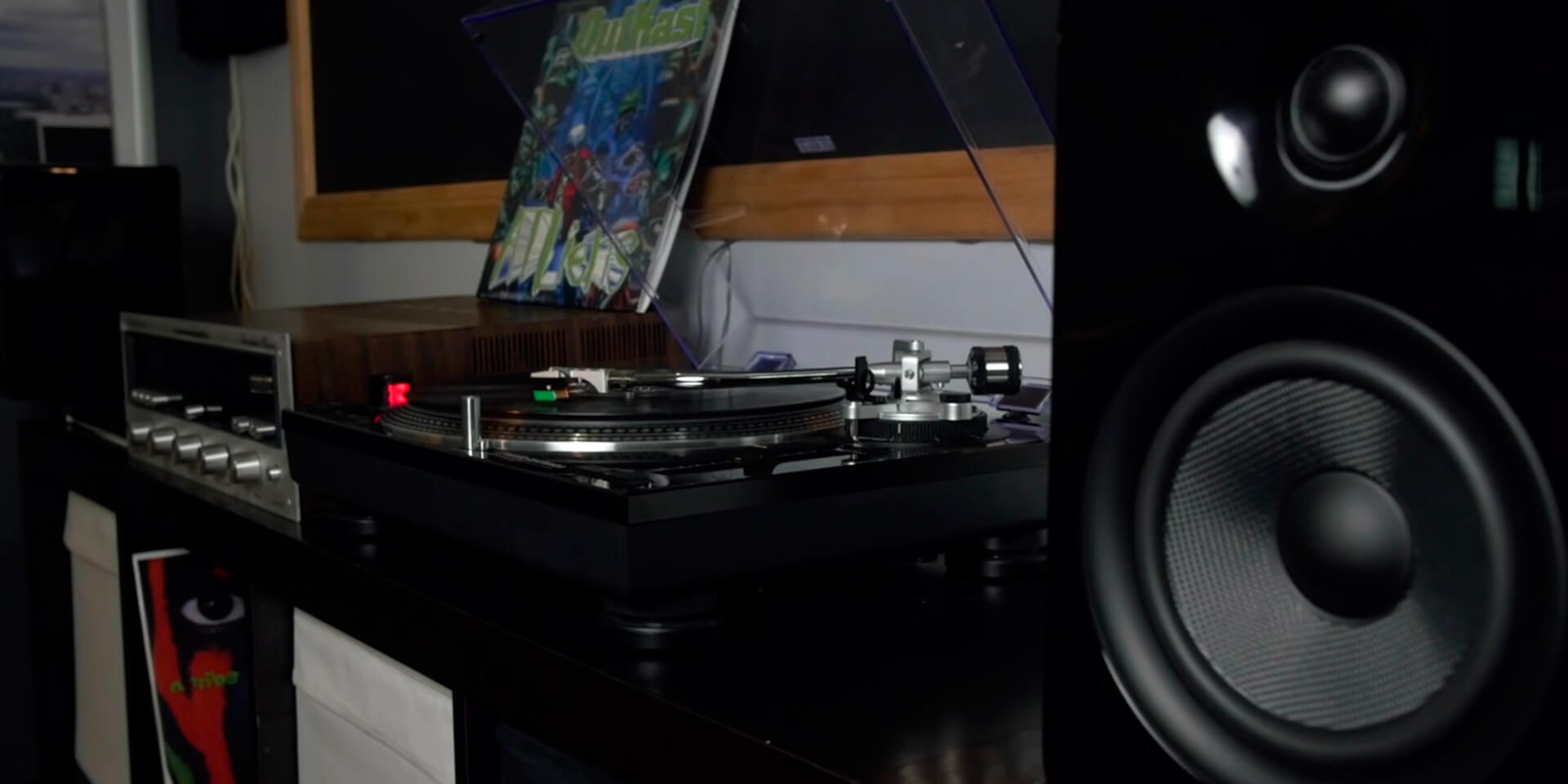 Finally, the speakers are Bluetooth-enabled, so you can connect wirelessly and control your playlists from up to 30 feet (~10m) away.
If you are looking for a perfect partner for your Audio-Technica AT-LPW50PB, do consider Kanto YU6! These speakers are packed with functionality and can satisfy your craving for pure performance and beautiful sound.
Key specs
Type: active.
Peak power output, W: 200.
Frequency response, Hz: 50Hz–20kHz.
Sensitivity, dBA: 95.
Bluetooth: yes.
Dimensions, inch/cm: 6.9×8.1×10.7/17.5×20.5×27.2.
Weight, lb/kg: 20/9.2.
Pros
Full-impact sound.
Elegant design.
Has a remote control.
Is compatible with all gadgets.
Excellent value for money.
Cons
Should be paired with a sub.
Input selection on the remote has tiny buttons.
Speakers under $100
PreSonus Eris E3.5 – budget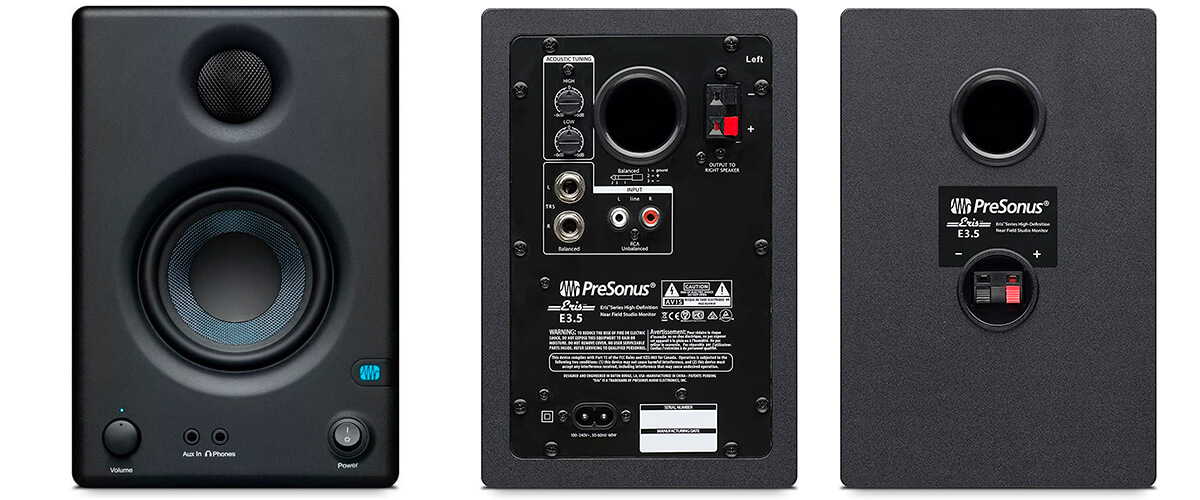 To make sure that no detail is lost in the hustle and bustle of everyday life, be sure to equip yourself with a pair of speakers for Audio-Technica turntables from PreSonus — budget-friendly yet high-performing speakers designed for music fans just like you.
They have an acoustic tuning membrane that can capture crystal clear sounds despite changes in surroundings. Moreover, these babies rock hard with 3.5'' woven composite drivers, 1'' silk dome tweeters, and a frequency response of 80Hz to 20kHz. In fact, I was really impressed with the big sound delivered by such compact speakers!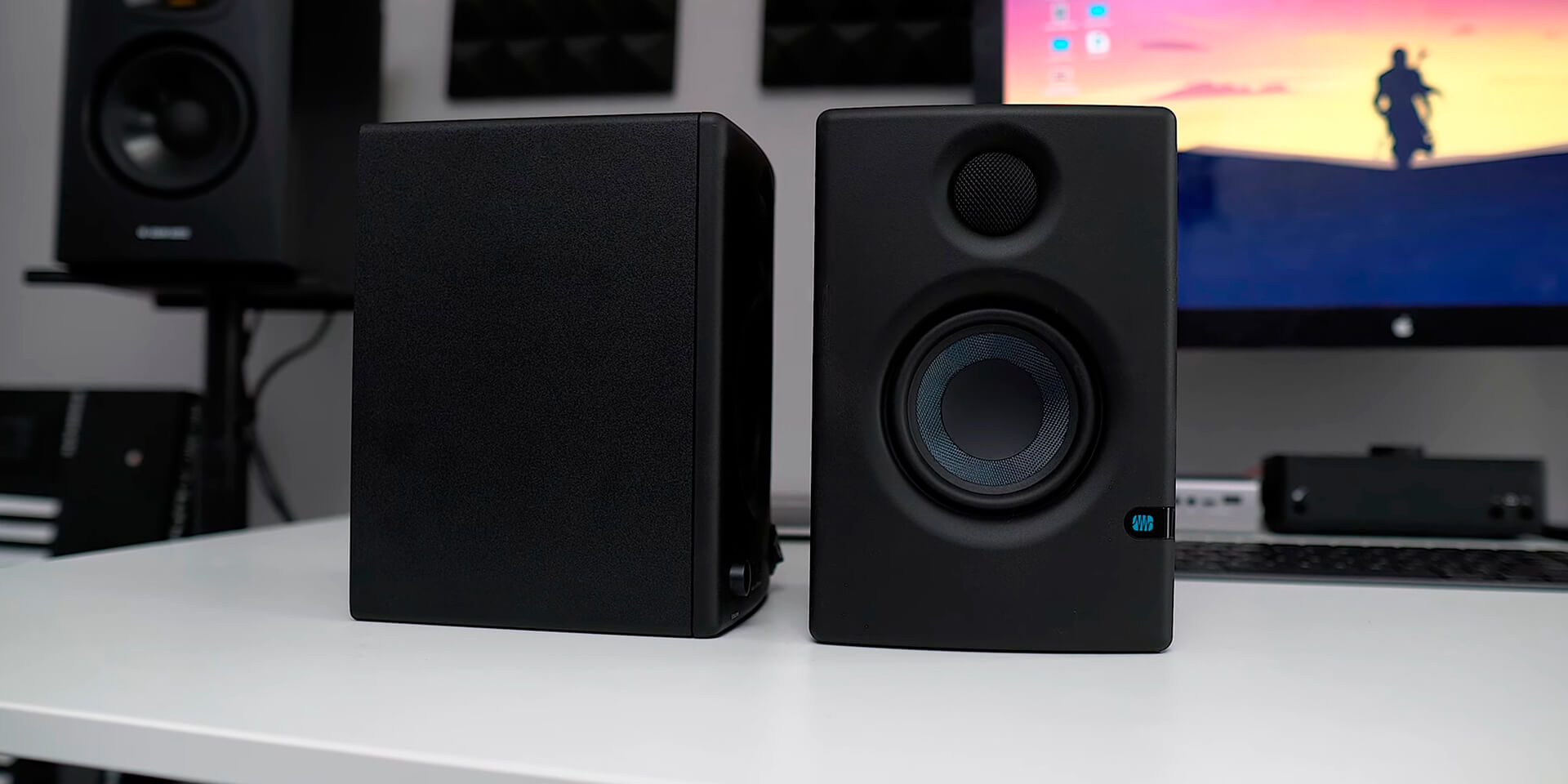 You can use E3.5 with a line-level source or easily connect it to your gadgets thanks to the included jacks on the top panel for easy integration.
If you need speakers for Audio-Technica AT-LP60 and Audio-Technica AT-LP60X, PreSonus E3.5 will be the right choice for you! It's a perfect combination of sleek design, high-end technology, and studio-quality sound.
Key specs
Type: active.
Peak power output, W: 50.
Frequency response, Hz: 80Hz–22kHz.
Sensitivity, dBA: 100.
Bluetooth: no.
Dimensions, inch/cm: 5.6×6.4×8.3/14.1×16.2×21.
Weight, lb/kg: 6.4/2.9.
Pros
Skillfully engineered – the soundstage is so precisely defined.
Compact – can fit almost everywhere.
Versatile – are great for playing vinyl, gaming, and even video production.
Easy to adjust and use.
Cons
Housing feels cheap.
The cables that you receive are quite mediocre.
Edifier R1280T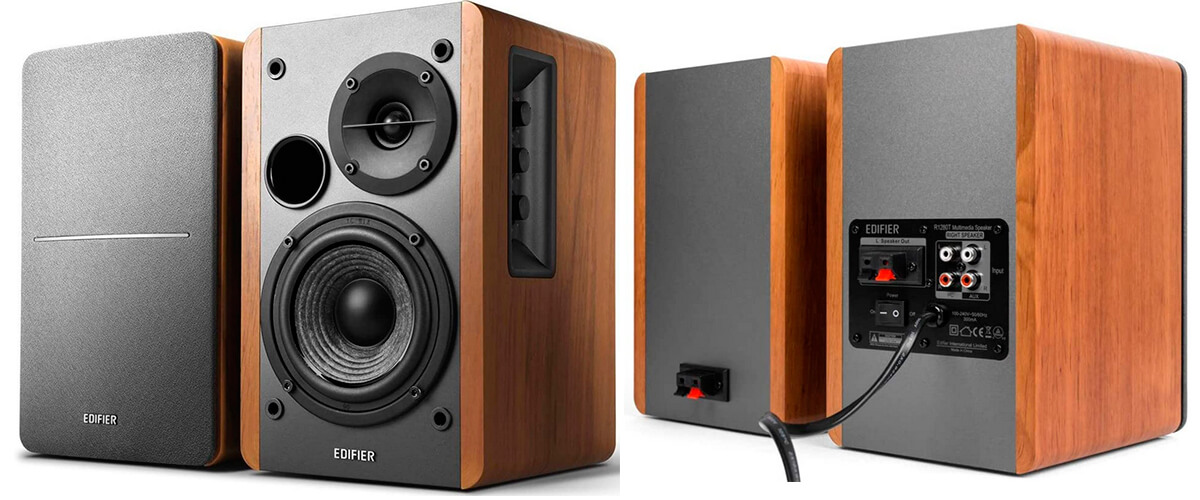 Edifier R1280T is a quality analog speaker system for a casual listener. It can boast great features for more than a reasonable price.
In all honesty, I didn't expect such rich and full sound from this model! However, the speakers are very smooth and easy to listen to – highs are not harsh, mid-bass is soft, and bass is tight enough, but it won't shake your room. Due to 4'' bass drivers, calibrated, flared bass reflex ports, and 13mm silk dome tweeters, the sound is clear and mellow on the ears.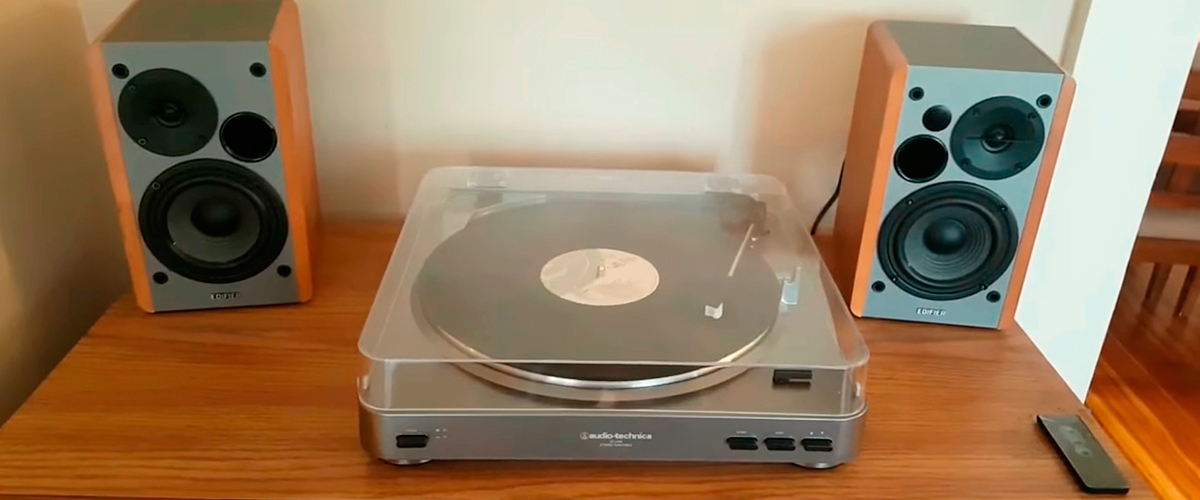 The speakers' overall power output is 21 watts. Further, there are two ports on the back of the active speaker for RCA to AUX and RCA to RCA hookups. The manufacturer thought of everything and included many connections so you could connect the speakers to a variety of gadgets, including a record player.
These are ideal speakers for Audio-Technica AT-LP60XBT! Those who are short on money but still want to add a big sound will definitely appreciate Edifier R1280T.
Key specs
Type: active.
Peak power output, W: 42.
Frequency response, Hz: 75Hz–18kHz.
Sensitivity, dBA: 85.
Bluetooth: no.
Dimensions, inch/cm: 6.9×9.5×5.8/17.5×22.8×12.7.
Weight, lb/kg: 10.8/4.5.
Pros
Beautiful cabinet with wood finish.
Can play very loud.
Includes a remote control.
Perfect price/quality ratio.
Cons
The volume dial doesn't have a "Start" or "Stop" position.
May be not so good for true audiophiles.
Audio-Technica turntable speakers buying guide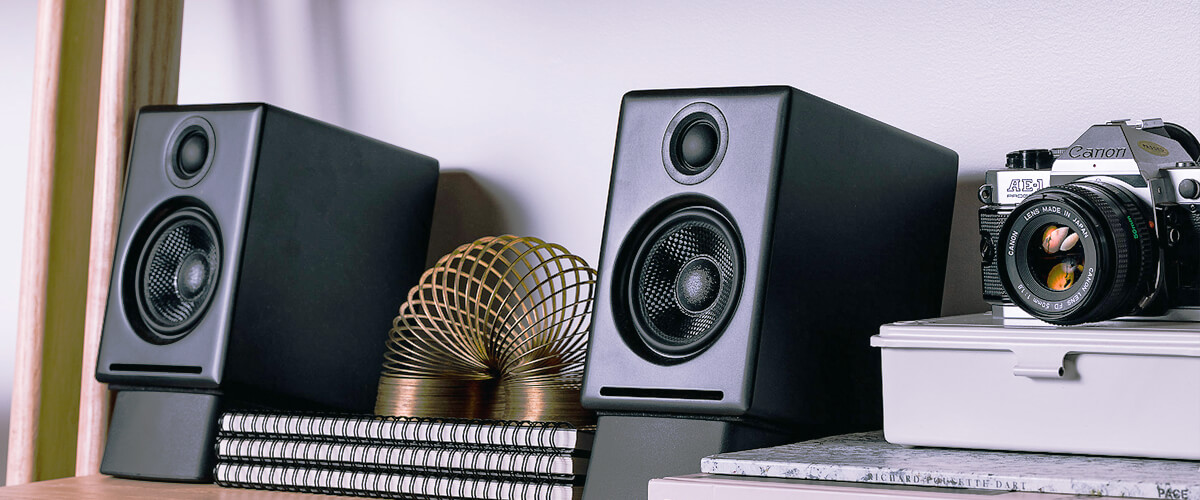 How to connect the Audio-Technica turntable to speakers?
There are a few ways that you can connect the Audio-Technica turntable to speakers.
Use the RCA cables that come with the turntable
Plug the RCA cables into the audio outputs on the back of the turntable.
Plug the other end of the RCA cables into the audio inputs on the back of the speakers.
Turn on the turntable and the speakers.
Adjust the volume on each device until you reach the desired level.
Another way is to use the 3.5mm stereo mini-plug to dual RCA connector cable. You can also use the 6.35mm (1/4″) stereo plugs. Try to use the RCA cables when possible because they will give you a cleaner sound.
If you have Bluetooth-enabled speakers, do the following:
Make sure that your Bluetooth-enabled speakers are in discoverable mode.
Press and hold the "Phono" button on your Audio-Technica turntable for about two seconds.
Open the Bluetooth menu on your speakers – you should see the turntable listed in the pairing queue.
Select it, and within a few seconds, your Bluetooth-enabled speakers will be connected to the Audio-Technica turntable.
Connecting a turntable to your wireless Bluetooth speaker, you can use either of these devices to control playback and volume for both units.
Can you use computer speakers for the Audio-Technica record player?
Using computer speakers with an Audio-Technica turntable is possible, but you should keep a few things in mind. Firstly, the sound quality may not be as good as dedicated speakers usually deliver. Secondly, the computer's sound card may not be powerful enough to provide a good listening experience. If you decide to use computer speakers, be sure to test them out with your particular Audio-Technica turntable to make sure they work well together.
FAQ
What speakers work with Audio-Technica turntables?
Audio-Technica turntables exhibit versatile compatibility with a wide range of speakers, thereby allowing you to customize your audio setup to suit your preferences. Whether you opt for compact bookshelf speakers that save space yet deliver powerful sound, towering floorstanding speakers known for their immersive sound stage, or even a dedicated subwoofer to add depth and richness to the bass notes, you'll find that these turntables can harmoniously work with all these options. Moreover, integrating speakers with suitable impedance levels can further enhance your vinyl listening experience, ensuring a rich and balanced sound output.
Do you need special speakers for the Audio-Technica record players?
This will depend on the specific model of the Audio-Technica turntable you have. However, most Audio-Technica record players do not require special
speakers for vinyl
to function correctly. In fact, many people use bookshelf speakers or floorstanding speakers with their Audio-Technica turntables, and they work just fine.
Can you hear vinyl without speakers?
No, speakers are indispensable for vinyl playback. They translate the grooves in a record into audible sound. Without them, the turntable needle's movement over the LP's ridges remains silent, leaving listeners with a visual display but no accompanying audio.
Are active speakers good for vinyl?
Absolutely. Active speakers, with their built-in amplifiers, offer a streamlined setup for vinyl enthusiasts. They allow for direct connection with your turntable, simplifying the audio system while maintaining a high-quality sound output.
How do I know if my record player has a preamp?
Not all record players
have a preamp
, but if your turntable has one, it will likely be located near the power input. If you're not sure, consult your player's manual or do some research online.
What are connections better for vinyl: phono or line?
Both
phono and line connections can deliver excellent sound quality for vinyl setups. The phono input, being more traditional, might require precise settings but can offer richer sound nuances, while the line input facilitates a more straightforward, user-friendly connection, often preferred for its convenience and ease of use.