If standard decks seem dull to you, and you'd like a fancier device, you've to the right place. I gathered the best vertical record players in this review so that you can find the right model for your needs.
Just like common turntables, vertical record players extract the sound from the LPs' grooves. But there is a significant difference – they sit vertically, creating an impression that the vinyl record floats in the air. Due to this peculiarity, upright turntables have become a hit among people hunting for extraordinary stuff.
Putting the remarkable design aside, there is a rumor that such models wear out vinyl much faster. But is it really the case? Stick with me till the end, and in addition to the list of great products, you will also find answers to the most frequently asked questions.
Our pick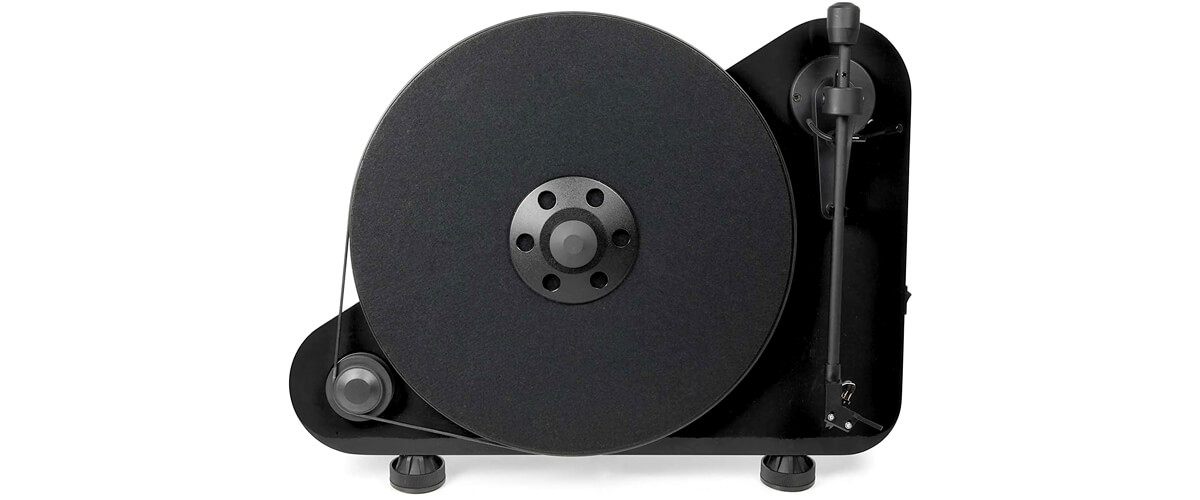 Pro-Ject VT-E
Best vertical record player
The Pro-Ject VT-E is a vertical turntable factory-adjusted for instant playback and super easy setup with a silicone belt drive and low-vibration motor for quiet, dynamic playback.
Read the full review
.
Vertical record players comparison table
Name
Operation type
Speeds
Phono Pre-Amp
Speakers
Bluetooth
Review
Pro-Ject VT-E

best overall

belt
33 1/3, 45 RPM
yes
no
no
Review
Fuse REC

also a great choice

belt
33 1/3, 45 RPM
no
yes
yes
Review
EasyGoProducts

wall-mounted turntable

belt
33 1/3, 45, 78 RPM
no
yes
yes
Review
How I tested a vertical record players
I used the following equipment when testing vertical turntables:
I listened to these recordings to evaluate the sound quality of the vertical record players:
Jeff Buckley – Grace [1994].
Daft Punk – Random Access Memories [2013].
Pink Floyd – Dark Side of the Moon [1973].
Marvin Gaye – What's Going On [1971].
Stravinsky – The Rite of Spring [2017].
Best vertical record player reviews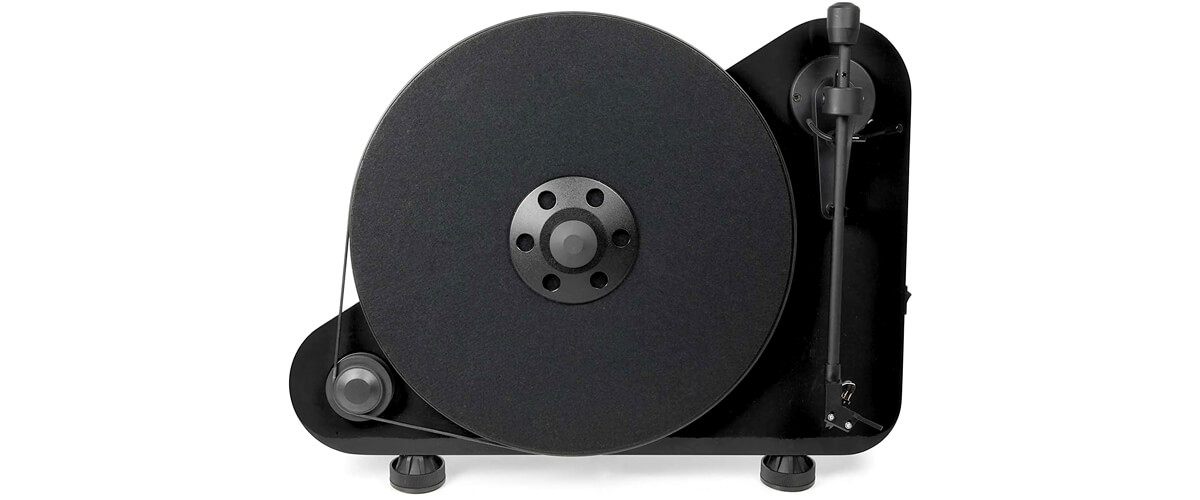 This VT-E turntable by Pro-Ject is a futuristic-looking device packed with great features to make your listening experience even more enjoyable.
This model features a high-quality silicone belt that absorbs vibrations generated by the TT's motor as it operates. The low-vibration synchronous motor adds to the playback quality and sound purity. Unlike the Fuse record player with the Audio Technica cartridge, the Pro-Ject gadget features an 8,6" aluminum tonearm with a pre-mounted Ortofon OM 5E cartridge. A threaded clamp and a special tracking mechanism ensure the record is securely attached to the vertical platter, and the tonearm smoothly tracks the record grooves.
What I like about this turntable is that it is pre-adjusted out of the box. It does not require serious adjustments. No need to set the tracking force and anti-skating force, the manufacturer has already done the homework for you.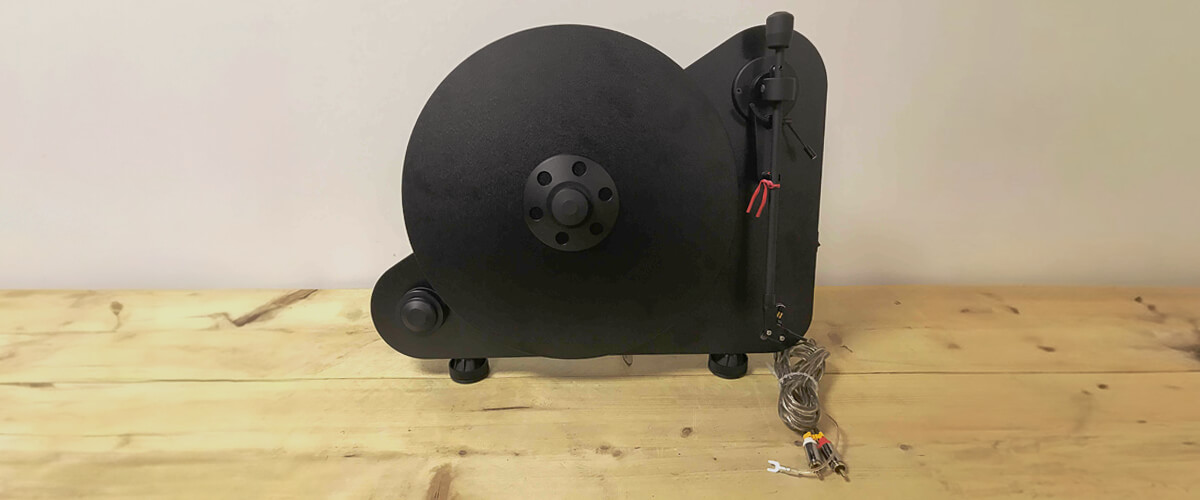 The deck of this turntable is optimized both for right- and left-handed people (two product options are available). Besides, you can place it on the table or mount it on the wall. It supports two speed options: 33 and 45 RPM.
This stand-up record player comes with a phono pre-amplifier to seamlessly set up wireless connectivity to speakers or headphones.
The overall playback quality is gorgeous. Firstly, I was amazed at how quietly the player operates. Secondly, the audio is warm and detailed, the highs are clean, and the bass is deep without being boomy or overwhelming. Even my old records sounded great when played on this table – love it!
Pro-Ject VT-E is the overall best vertical turntable available on today's market. It'll have a wow effect on your friends since it looks cool and saves a lot of space. Plus, this babe will definitely please your ears with a distortion-free sound. Worth every penny!
Key specs
Drive type: belt.
Operation type: manual.
Speeds, RPM: 33 1/3, 45.
Phono Pre-Amp: yes.
Speakers: no.
Bluetooth: no.
USB: no.
AUX: no.
Pros
A belt-driven design for quieter operation.
Already pre-configured for ease of use.
A tonearm comes with a pre-mounted Ortofon OM 5E cartridge.
Cons
Close to the end of the record, the tonearm may slip off.
Fuse REC – also a great choice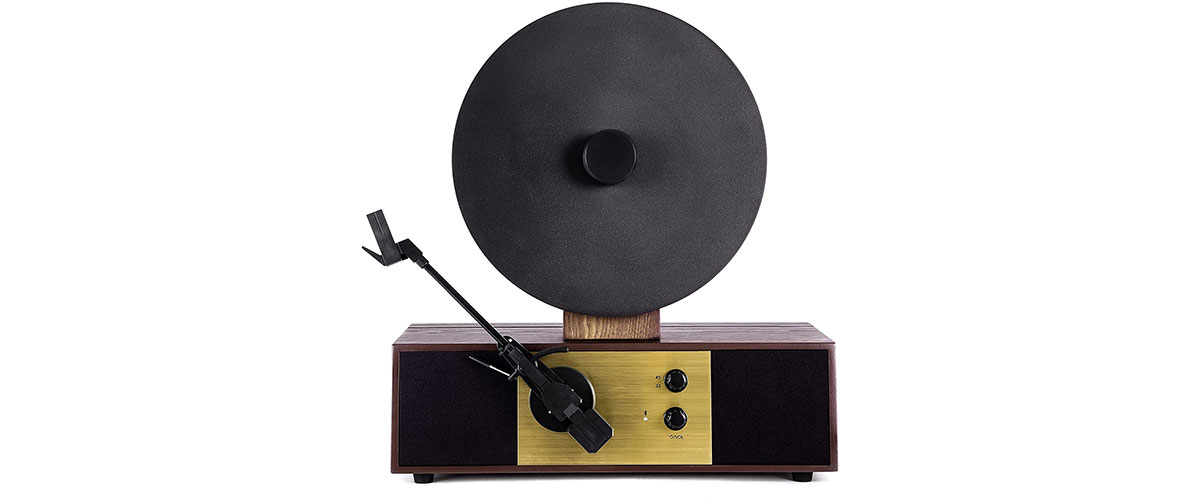 If a second-to-none vertical record player is your target, you can't miss a chance to take a closer look at the Fuse REC turntable with a mid-century design. Because of the rectangular shape, it will easily fit into interiors with geometric shapes and vintage decor elements. Plus, this model features a slot at the back to showcase the record album cover currently on the spin – it looks awesome.
The Fuse TT can play 45 and 33 RPM records or stream the soundtracks from your smartphone, thanks to the Bluetooth 4.1 system.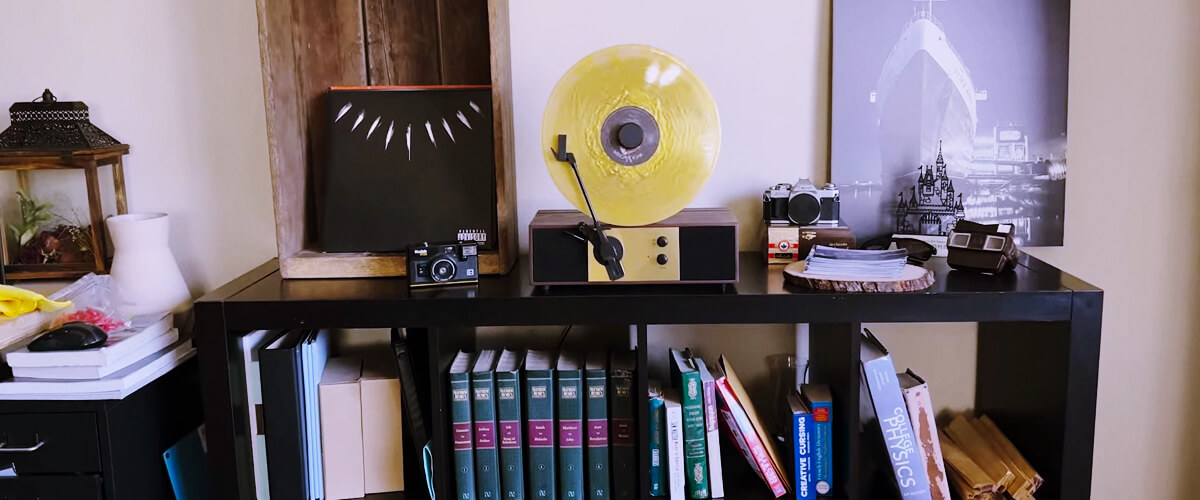 With its belt-driven design, this machine absorbs the vibrations from the motor and delivers a clear and crisp sound. Further, a balanced tonearm with an Audio Technica AT3600L cartridge is meant to ensure every groove of the record gets flawlessly tracked by the stylus. Since this is a vertical vinyl player, the counter-weighted tonearm prevents an LP from wobbling in the vertical position yet applies the optimal tracking force (4g) to prolong records lifespan.
I love this player's performance as much as its gorgeous look. The audio quality is just fantastic – it fills up a room without that annoying choppiness, distorted underwater sound, or rattling feedback. However, if you prefer to play really loud music, you'll need to hook up external speakers.
Yes, Fuse REC is not a super durable machine that will serve you for decades. But if you are looking for a compact, beautiful, good-sounding, Bluetooth-enabled player, you may end your search here.
Key specs
Drive type: belt.
Operation type: manual.
Speeds, RPM: 33 1/3, 45.
Phono Pre-Amp: no.
Speakers: yes.
Speakers power, W: 10.
Bluetooth: yes.
USB: no.
AUX: yes.
Pros
Beautiful yet sturdy design – made of natural Ashtree wood and is available in black, white, or red color with a high-gloss finish.
Supports streaming tracks from your smartphone via Bluetooth.
Small footprint – can fit even in a narrow bookcase.
Bluetooth connects easily.
Hassle-free setup.
Cons
The in-built speakers are not powerful enough.
The plastic tonearm seems fragile, however, it does its job.
EasyGoProducts – budget wall-mounted turntable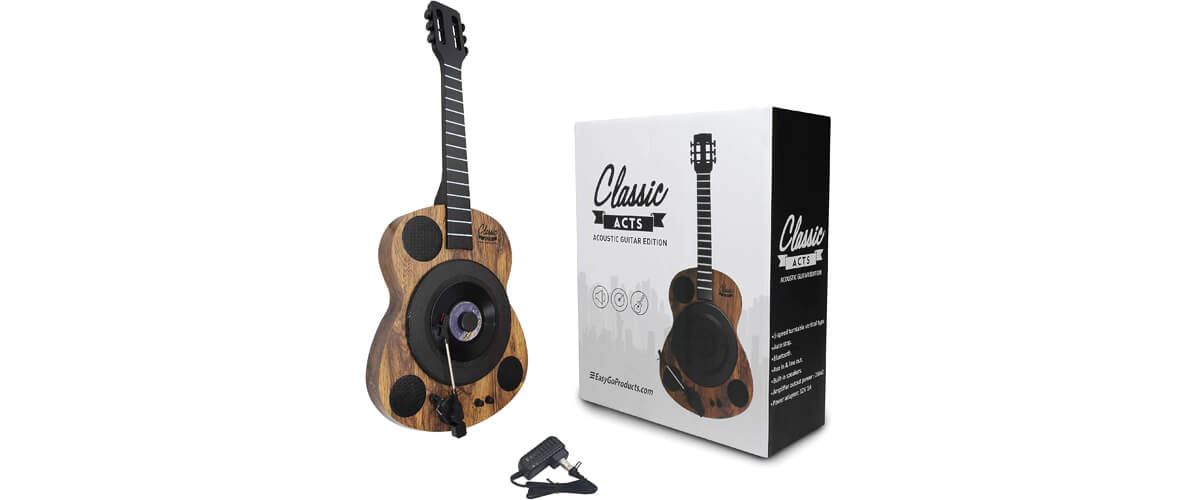 The EasyGoProducts is a unique, modern-looking turntable that will complement any home style.
The set includes brackets and feet, allowing you to choose where to place your TT – on the wall or desk. I should admit that it looks better when it sits on the surface. As you hang it on the wall, you have to put up with seeing all the cables.
The EasyGoProducts turntable, like the Fuse REC, has built-in Bluetooth speakers. They are, however, of lower quality, and there is no way to pair these speakers with your own to enhance audio quality. The good news is that you can wirelessly stream music from your phone, laptop, or any other Bluetooth-enabled device thanks to the Bluetooth feature. The TT also includes a 0,14 inch (3.5 mm) aux cable for connecting non-Bluetooth devices.
You may find that the EasyGoProducts record player is a more beneficial choice for you than the Fuse device because it supports three record speeds: 33, 45, and 78 RPM. Another thing I love about this model is its magnetic holder that securely keeps LPs in a vertical position and allows you to change them easily.
If you have limited shelf space, you should consider this wall-mounted record player that comes at an affordable price. Just hang this beauty on the wall, and enjoy the warm sound of your favorite vinyl records.
Key specs
Drive type: belt.
Operation type: semi-automatic.
Speeds, RPM: 33 1/3, 45, 78.
Phono Pre-Amp: no.
Speakers: yes.
Speakers power, W: 25.
Bluetooth: yes.
USB: no.
AUX: yes.
Pros
Versatile with three record speeds: 33, 45, and 78 RPM.
Can stream tracks from Bluetooth-enabled and non-Bluetooth devices.
You can mount it on the wall or place it on any flat surface.
The magnetic holder keeps the record in its position.
Cons
The in-built Bluetooth speakers are of poor quality and do not pair with other speakers.
Distortions during the playback.
The stylus may skip the grooves.
How well does a vertical record player work?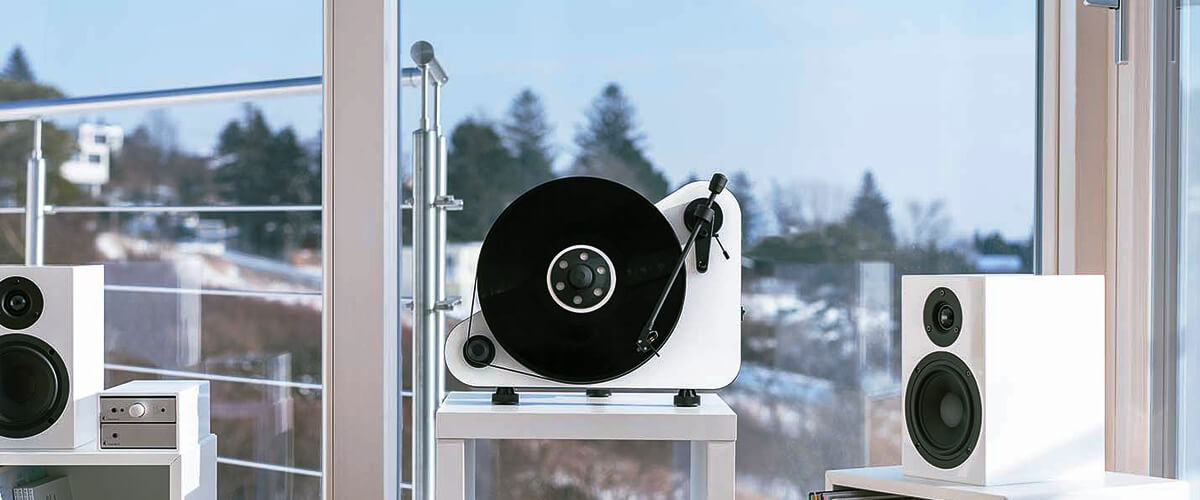 A vertical turntable is a fascinating piece of engineering that immediately grabs people's attention and makes them wonder how this device works.
In fact, there is nothing extraordinary. It works pretty much the same as a traditional TT. An upright record player converts vibrations into signals, which are then transformed into sounds. The machine gets these vibrations from the grooves on the vinyl record. When you place the record on the turntable plate, you place a tonearm over it, which in its turn, has a stylus or needle. The stylus sits into the grooves as the plate turns the LP and grabs all the vibrations.
Vertical turntable buying guide
When choosing a vertical turntable, it is important to consider the following factors:
The size of the turntable. Vertical turntables come in a variety of sizes. It is important to choose a size that will fit comfortably in your available space.
The weight capacity of the turntable. Make sure to choose a model that can accommodate the weight of your records.
The speed of the turntable. Most vertical turntables have two speeds: 33 1/3 RPM and 45 RPM, but some also boast 78 RPM, making them more versatile.
The features of the turntable. Some vertical turntables come with built-in speakers, while others have USB ports for connecting to a computer. Choose the features that are most important to you.
The component's quality and price.
However, that doesn't mean you have to spend a fortune to get good sound. There are some great mid-priced turntables that offer excellent sound quality. The price of the turntable. Vertical turntables range in price from around $100 to $1,000. Choose the model that fits your budget.
FAQ
Does a vertical turntable damage vinyl records?
It is a common misconception that vertical turntables damage vinyl records. However, this is not the case. While it is true that some early models of vertical turntables were not designed properly and could damage records, modern vertical turntables are built with this in mind and are perfectly safe to use.
How can a vertical turntable control the weight of the needle?
A vertical turntable has a heavier platter and a smaller footprint, which helps to keep the needle firmly in place on the record. The weight of the needle is also controlled by a counterweight that is attached to the back of the tonearm. This ensures that the needle does not put too much pressure on the record, which could damage it.
How do you hang a record player on the wall?
There are a few different ways to hang a record player on the wall. The most popular method is to use brackets that are specifically designed for this purpose. You can also use shelves or cabinets that have been reinforced to support the weight of the turntable.
Are vertical vinyl players good?
There is no definitive answer to this question as it depends on personal preference. Some people prefer the sound quality of vertical turntables, while others find them to be less effective than horizontal models. Ultimately, it is up to the individual to decide which type of turntable is right for their needs.